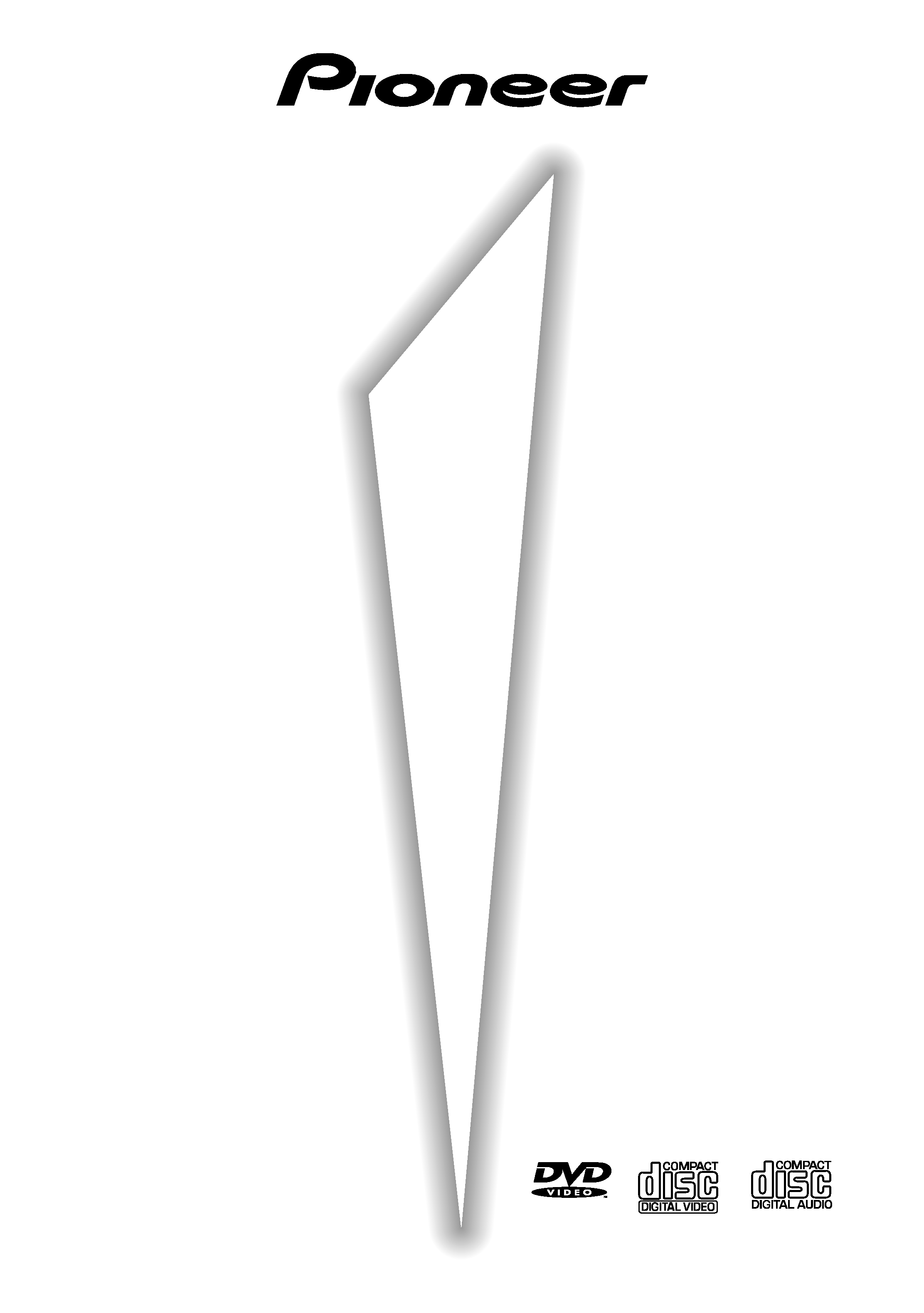 ---

This product contains a laser diode of higher class than 1.
To ensure continued safety, do not remove any covers or
attempt to gain access to the inside of the product.
Refer all servicing to qualified personnel.
The following caution label appear on your player.
Ce produit renferme une diode à laser d'une catégorie
supérieure à 1. Pour garantir une sécurité constante, ne
pas retirer les couvercles ni essayer d'accéder à
l'intérieur de l'appareil.
Pour toute réparation, s'adresser à un personnel qualifié.
La note suivante se trouve sur votre lecteur.
Location: On the rear panel of the player
Sur le couvercle supérieur du lecteur
On the bonnet of the player
Emplacement: Sur le panneau arrière du lecteur
This product complies with the Low Voltage Directive
(73/23/EEC), EMC Directives (8TM9/336/EEC, 92/31/
EEC) and CE Marking Directive (93/68/EEC).
Ce produit est conforme à la directive relative aux
appareils basse tension (73/23/CEE), aux directives
relatives à la compatibilité électromagnétique (89/
336/CEE, 92/31/CEE) et à la directive CE relative aux
WARNING: TO PREVENT FIRE OR SHOCK HAZARD,
DO NOT EXPOSE THIS APPLIANCE TO RAIN OR
ATTENTION: AFIN DE PREVENIR TOUS RISQUES DE
CHOC ELECTRIQUE OU DE DEBUT D'ENCENDIE, NE
PAS EXPOSER CET APPAREIL A L'HUMIDITE OU A LA
VISIBLE AND INVISIBLE LASER RADIATION WHEN OPEN.
SICHTBARE UND UNSICHTBARE LASERSTRAHLUNG, WENN
ABDECKUNG GEÖFFNET NICHT DEM STRAHL AUSSETZEN!
SYNLIG OG USYNLIG LASERSTRÅLING VED ÅBNING
UNDGÅ UDSÆTTELSE FOR STRÀLING.
SYNLIG OCH OSYNLIG LASERSTRÅLNING NÄR DENNA
DEL ÄR ÖPPNAD BETRAKTA EJ STRÅLEN.
AVATTAESSA ALTISTUT NÄKYVÄ JA NÄKYMÄTTÖMÄLLE
LASERSATEIL YLLE. ÄLÄ KATSO SÄTEESEN.
VISIBLE AND INVISIBLE LASER RADIATION WHEN OPEN.
SICHTBARE UND UNSICHTBARE LASERSTRAHLUNG, WENN
ABDECKUNG GEÖFFNET NICHT DEM STRAHL AUSSETZEN!
SYNLIG OG USYNLIG LASERSTRÅLING VED ÅBNING
UNDGÅ UDSÆTTELSE FOR STRÀLING.
SYNLIG OCH OSYNLIG LASERSTRÅLNING NÄR DENNA
DEL ÄR ÖPPNAD BETRAKTA EJ STRÅLEN.
AVATTAESSA ALTISTUT NÄKYVÄ JA NÄKYMÄTTÖMÄLLE
LASERSATEIL YLLE. ÄLÄ KATSO SÄTEESEN.
The wires in this mains lead are coloured
in accordance with the following code :
If the plug provided is unsuitable for your
socket outlets, the plug must be cut off and
The cut-off plug should be disposed of and must not be
inserted into any 13 amp socket as this can result in
electric shock. The plug or adaptor or the distribution
panel should be provided with 5 amp fuse. As the
colours of the wires in the mains lead of this appliance
may not correspond with coloured markings identify-
ing the terminals in your plug, proceed as follows :
The wire which is coloured blue must be connected to
the terminal which is marked with the letter N or
The wire which is coloured brown must be connected
to the terminal which is marked with the letter L or
Do not connect either wire to the earth terminal of
After replacing or changing a fuse, the fuse cover
in the plug must be replaced with a fuse cover
which corresponds to the colour of the insert in the
base of the plug or the word that is embossed on
the base of the plug, and the appliance must not be
used without a fuse cover. If lost, replacement fuse
covers can be obtained from your dealer.
This appliance is rated at 13 amps.
Only 5 amp fuses approved to B.S.
1362 A.S.T.A. should be used.
The lightning flash with arrowhead symbol, within
an equilateral triangle, is intended to alert the user
to the presence of uninsulated "dangerous voltage"
within the product's enclosure that may be of
sufficient magnitude to constitute a risk of electric
TO PREVENT THE RISK OF ELECTRIC SHOCK,
DO NOT REMOVE COVER (OR BACK). NO
USER-SERVICEABLE PARTS INSIDE. REFER
The exclamation point within an equilateral triangle
is intended to alert the user to the presence of
important operating and maintenance (servicing)
instructions in the literature accompanying the
---

CONGRATULATIONS
ON YOUR PURCHASE OF
THIS FINE PIONEER PRODUCT.
Pioneer is on the leading edge of DVD research for
consumer products and this unit incorporates the latest
technological developments.
We are sure you will be fully satisfied with the DVD
Thank you for your support.
Please read through these operating instructions so
you will know how to operate your model properly.
After you have finished reading the instructions, put
them away in a safe place for future reference.
· This player is not suitable for commercial use.
FÉLICITATIONS POUR AVOIR ACHETÉ CET
EXCELLENT PRODUIT PIONEER.
Pioneer se situe à la pointe de la recherche en DVD pour
les produits de consommation et cet appareil intègre les
derniers développements technologiques. Nous
sommes sûrs que vous serez pleinement satisfaits avec
Merci pour votre soutien.
Veuillez prendre le temps de lire ce mode d'emploi
de façon à utiliser l'appareil au mieux de ses
possibilités.Conservez soigneusement ce mode
d'emploi à portée de main pour être en mesure de
vous y référer chaque fois que cela sera
· Cet appareil n'a pas été conçu pour un usage
This product incorporates copyright protection
technology that is protected by method claims of
certain U. S. patents and other intellectual property
rights owned by Macrovision Corporation and other
rights owners. Use of this copyright protection
technology must be Authorized by Macrovision
Corporation, and is intended for home and other
limited viewing uses only unless otherwise
authorized by Macrovision corporation. Reverse
engineering or disassembly is prohibited.
Cet appareil fait appel à divers circuits et principes
destinés á interdire la piraterie des oeuvres protégées
par des droits d'auteurs, circuits et principes qui sont
couverts aux Etats-Unis soit par des brevets détenus
par Macrovision Corporation et d'autres sociétés, soit
par d'autres formes de propriété intellectuelle
appartenant également á Macrovision et à d'autres
sociétés. L'utilisation de la technologie visant à la
protection des droits dàuteur doit être autorisée par
Macrovision Corporation, et doit être limitée à des
fins domestiques, ou similaires, sauf accord préalable
de Macrovision Corporation. La rétro-technique et le
désassemblage sont proscrits.
---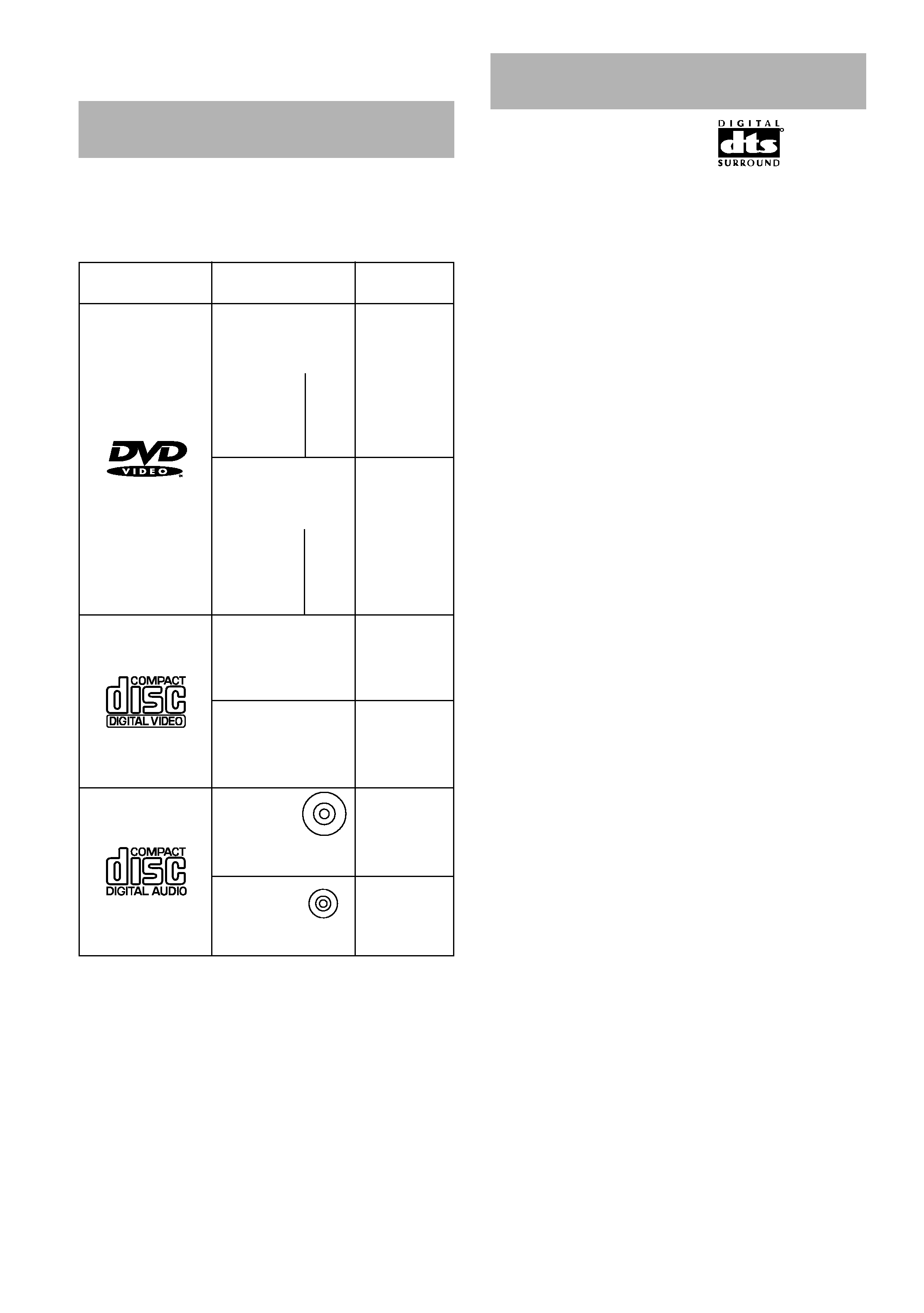 Compatible with DVD, Video CD
DVDs, Video CDs and CDs that display the logos shown
below can be played back on PIONEER DVD players. For
more information on discs compatible with this player,
refer to the table below.
The disc format logos shown above are found on disc
labels or on disc jackets.
· To prevent malfunction, do not use an 8 cm adaptor
· Discs other than the ones indicated above cannot be
· DVDs that have incompatible region numbers, DVD-
Audio, DVD-ROM, and CD-ROM cannot be played on
this unit. The region number of the player can be
State of the art digital audio and
Compatible with a wide range of digital audio
DVDs are recorded in one of four types of digital audio
formats (as of October 1998). The digital audio output
jacks of this player can output Dolby Digital*, DTS**,
MPEG, and linear PCM digital bitstreams to AV
components with built in decoding capabilities.
This player also has a function that converts Dolby Digital
and MPEG audio formats into the linear PCM format.
This allows stereo playback of DVDs recorded in Dolby
Digital and MPEG without the need for a special
Equipped with six channel discrete audio
output and an internal Dolby Digital and DTS
Enjoy the cinematic surround sound produced by Dolby
Digital and DTS audio soundtracks without the need for
an external decoder. This player features six channel
discrete audio output jacks so you can connect this
player directly to an amplifier or receiver with 6 channel
discrete input, and utilize the player's built-in Dolby
Digital and DTS decoding capabilities.
Multiple video output formats that can be
selected to best suit your TV or monitor
This player features two composite, two S-video jacks,
and an AV CONNECTOR terminal. RGB signal output is
possible from the AV CONNECTOR terminal.
Digital Noise Reduction (Video Quality
DNR (Digital Noise Reduction) can be used to improve
the video image and remove digital noise. Select a
preprogrammed setting suited to the program's subject
matter, or make manual adjustments to suit your needs
or preferences and save them in the player's memory.
Manufactured under license from Dolby Laboratories.
"Dolby", "AC­3" and the double-D symbol are trademarks of
Dolby Laboratories. Confidential Unpublished Works. © 1992-
1997 Dolby Laboratories. All rights reserved.
** "DTS" and "DTS Digital Surround" are trademarks of Digital
Theater Systems, Inc. Manufactured under license from
Digital Theater Systems, Inc.
---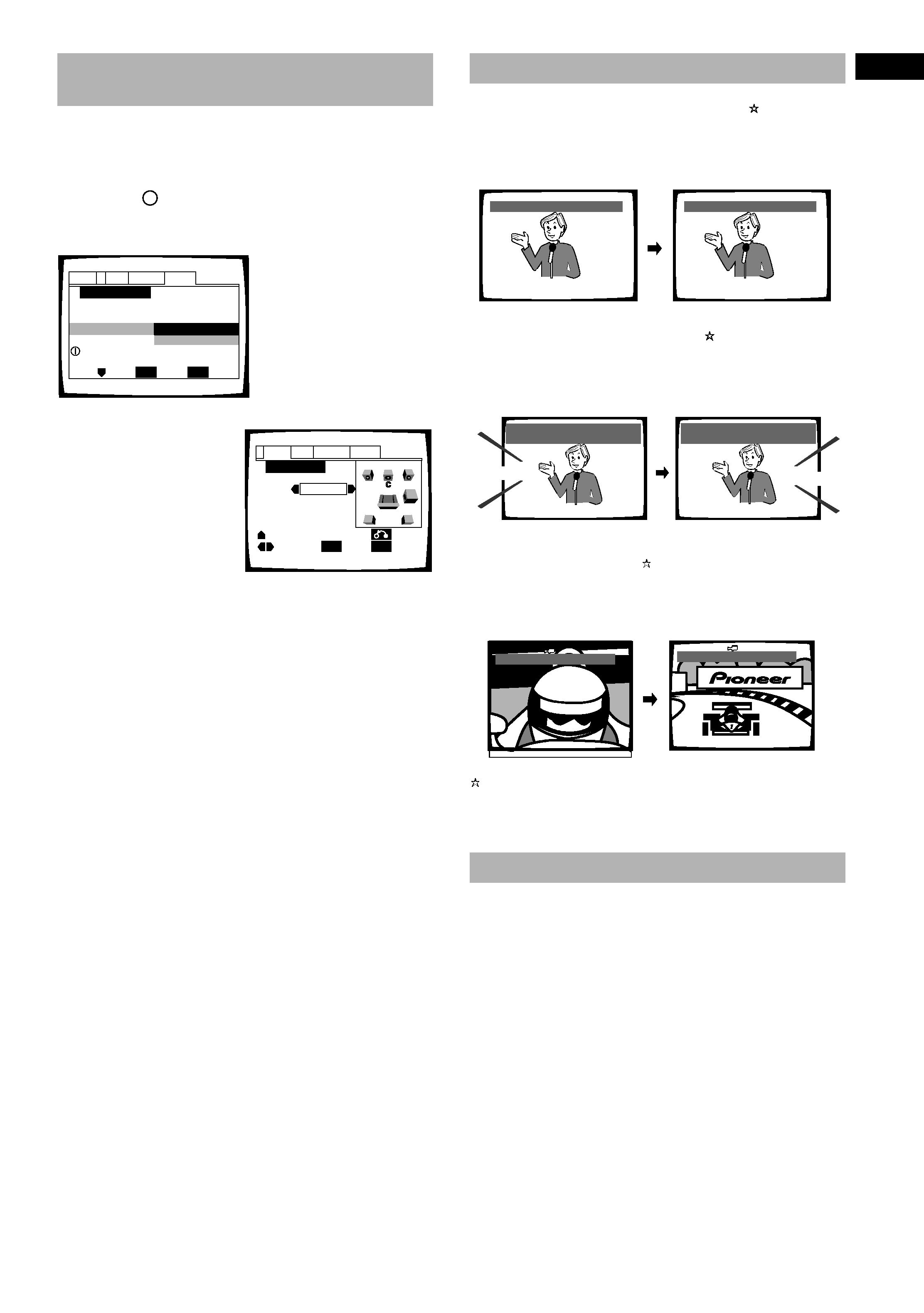 Wide range of DVD viewing options
Multi-Language Subtitles (page 36)
You can select a subtitle language or turn subtitles off
when watching movies or other media with subtitles
Multiple Languages (page 37)
You can select the language when watching movies or
other media that have multiple language and/or audio
soundtracks recorded on them.
You can view scenes from different camera angles when
watching movies or other media with multiple angle
This unit is designed to use minimal electricity when this
player is in standby mode. Regarding the amount of
power consumed in standby mode, refer to
`Specifications' on page 67.
This mark indicates this may not be possible with certain discs.
Answer a few questions and
have all the necessary audio,
automatically by the player
using the Setup Navigator
Setting up using the Setup Navigator
your home audio system in
the Audio 2 menu for ideal
presentation of multichannel
Easy setup and adjustment using
Press SETUP on the remote control to open the Setup
screen and you'll find setting up and adjusting the
system easy to do with on-screen menus conveniently
organized and arranged. Additionally, on-screen
information (
i
) appears to clarify the functions and
explain the options available. Below are just a few
---