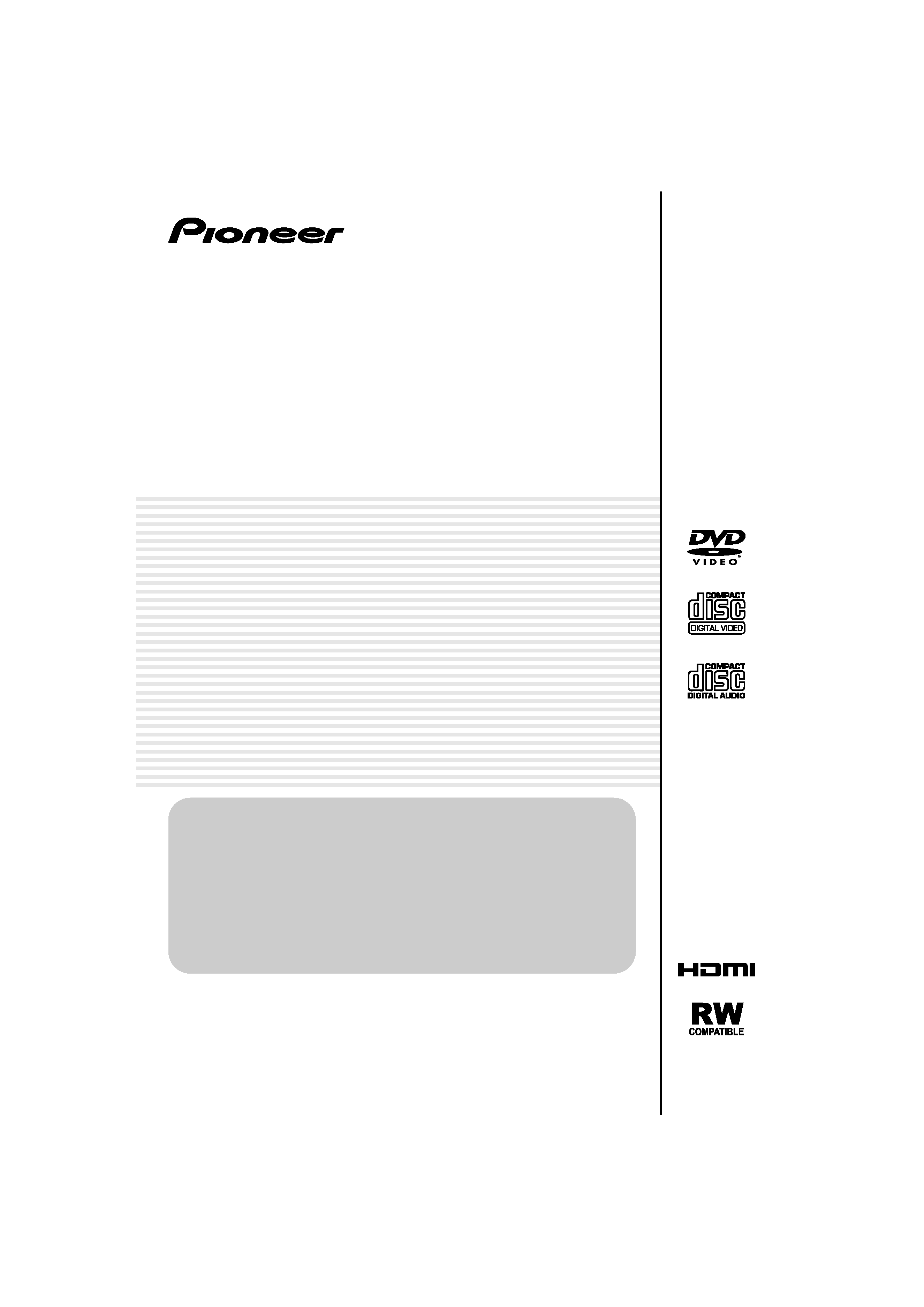 http://www.pioneerelectronics.com (US)
http://www.pioneerelectronics.ca (Canada)
Enregistrez votre produit sur
http://www.pioneerelectronics.com (Éstas-unis)
http://www.pioneerelectronics.ca (Canada)
---

CAUTION : USE OF CONTROLS OR ADJUSTMENTS OR PERFORMANCE OF PROCEDURES OTHER THAN THOSE
SPECIFIED HEREIN MAY RESULT IN HAZARDOUS RADIATION EXPOSURE.
CAUTION : THE USE OF OPTICAL INSTRUMENTS WITH THIS PRODUCT WILL INCREASE EYE HAZARD.
D6-8-2-1_En
Wash hands after handling
The exclamation point within an equilateral
triangle is intended to alert the user to the
presence of important operating and
maintenance (servicing) instructions in the
literature accompanying the appliance.
The lightning flash with arrowhead, within
an equilateral triangle, is intended to alert
the user to the presence of uninsulated
"dangerous voltage" within the product's
enclosure that may be of sufficient
magnitude to constitute a risk of electric
TO PREVENT THE RISK OF ELECTRIC
SHOCK, DO NOT REMOVE COVER (OR
BACK). NO USER-SERVICEABLE PARTS
INSIDE. REFER SERVICING TO QUALIFIED
Thank you for buying this Pioneer product.
Please read through these operating instructions so you will know how to operate your model properly.
After you have finished reading the instructions, put them away in a safe place for future reference.
---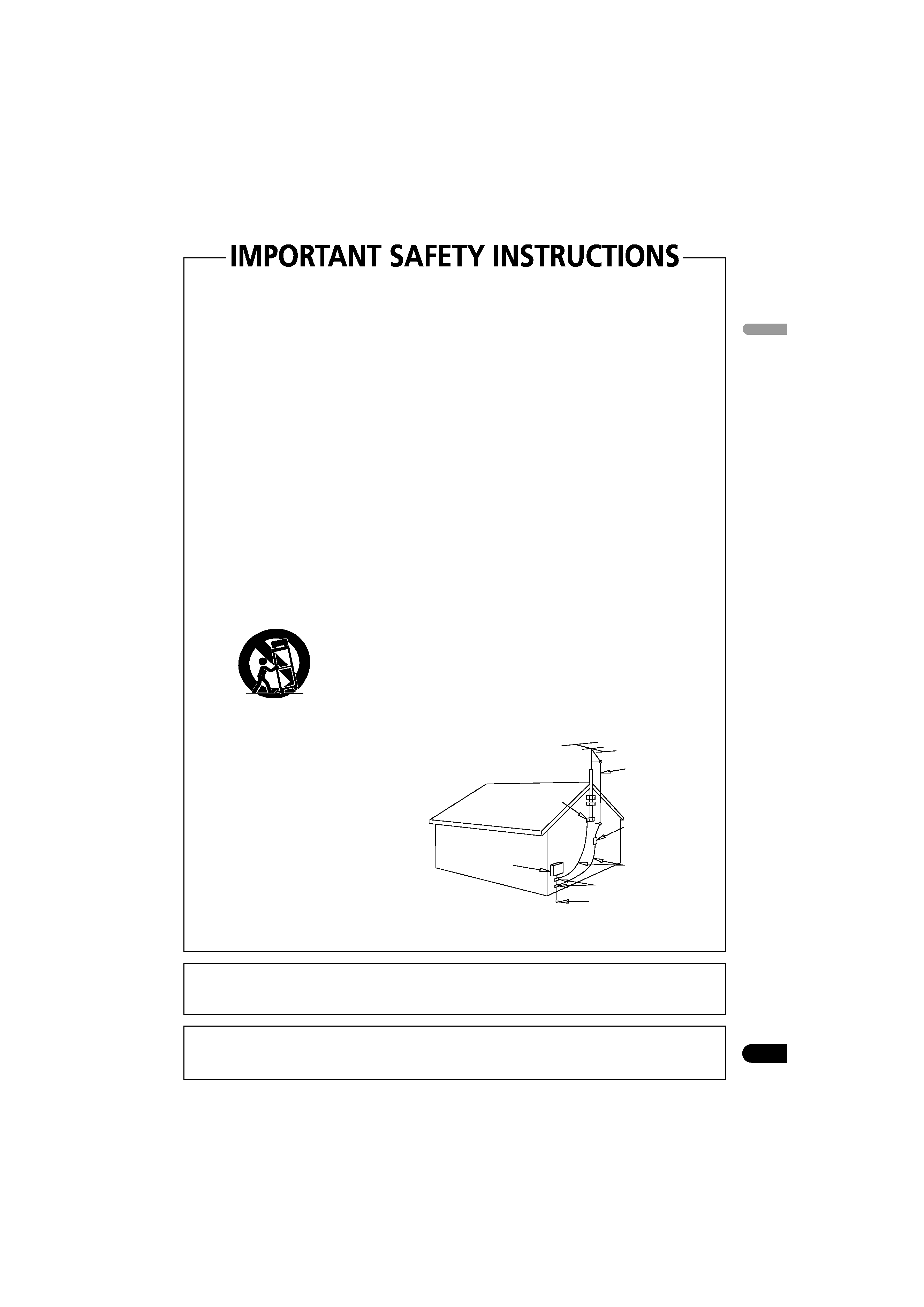 READ INSTRUCTIONS -- All the safety and
operating instructions should be read before the
RETAIN INSTRUCTIONS -- The safety and
operating instructions should be retained for
HEED WARNINGS -- All warnings on the product
and in the operating instructions should be
FOLLOW INSTRUCTIONS -- All operating and use
instructions should be followed.
CLEANING -- The product should be cleaned only
with a polishing cloth or a soft dry cloth. Never
clean with furniture wax, benzine, insecticides
or other volatile liquids since they may corrode
ATTACHMENTS -- Do not use attachments not
recommended by the product manufacturer as
WATER AND MOISTURE -- Do not use this
product near water -- for example, near a
bathtub, wash bowl, kitchen sink, or laundry
tub; in a wet basement; or near a swimming
ACCESSORIES -- Do not place this product on an
unstable cart, stand, tripod, bracket, or table.
The product may fall, causing serious injury to a
child or adult, and serious damage to the
product. Use only with a cart, stand, tripod,
bracket, or table recommended by the
manufacturer, or sold with the product. Any
mounting of the product should follow the
manufacturer's instructions, and should use a
mounting accessory recommended by the
CART -- A product and cart combination should be
moved with care. Quick stops, excessive force,
and uneven surfaces may cause the product
and cart combination to overturn.
VENTILATION -- Slots and openings in the cabinet
are provided for ventilation and to ensure
reliable operation of the product and to protect
it from overheating, and these openings must
not be blocked or covered. The openings should
never be blocked by placing the product on a
bed, sofa, rug, or other similar surface. This
product should not be placed in a built-in
installation such as a bookcase or rack unless
proper ventilation is provided or the
manufacturer's instructions have been adhered
POWER SOURCES -- This product should be
operated only from the type of power source
indicated on the marking label. If you are not
sure of the type of power supply to your home,
consult your product dealer or local power
LOCATION ­ The appliance should be installed in a
NONUSE PERIODS ­ The power cord of the
appliance should be unplugged from the outlet
when left un-used for a long period of time.
GROUNDING OR POLARIZATION
· If this product is equipped with a polarized
alternating current line plug (a plug having one
blade wider than the other), it will fit into the
outlet only one way. This is a safety feature. If
you are unable to insert the plug fully into the
outlet, try reversing the plug. If the plug should
still fail to fit, contact your electrician to replace
your obsolete outlet. Do not defeat the safety
purpose of the polarized plug.
· If this product is equipped with a three-wire
grounding type plug, a plug having a third
(grounding) pin, it will only fit into a grounding
type power outlet. This is a safety feature. If you
are unable to insert the plug into the outlet,
contact your electrician to replace your obsolete
outlet. Do not defeat the safety purpose of the
POWER-CORD PROTECTION --Power-supply
cords should be routed so that they are not likely
to be walked on or pinched by items placed
upon or against them, paying particular
attention to cords at plugs, convenience
receptacles, and the point where they exit from
OUTDOOR ANTENNA GROUNDING -- If an
outside antenna or cable system is connected to
the product, be sure the antenna or cable
system is grounded so as to provide some
protection against voltage surges and built-up
static charges. Article 810 of the National
Electrical Code, ANSI/NFPA 70, provides
information with regard to proper grounding of
the mast and supporting structure, grounding of
the lead-in wire to an antenna discharge unit,
size of grounding conductors, location of
antenna-discharge unit, connection to
grounding electrodes, and requirements for the
grounding electrode. See Figure A.
LIGHTNING -- For added protection for this
product during a lightning storm, or when it is
left unattended and unused for long periods of
time, unplug it from the wall outlet and
disconnect the antenna or cable system. This
will prevent damage to the product due to
lightning and power-line surges.
POWER LINES -- An outside antenna system
should not be located in the vicinity of overhead
power lines or other electric light or power
circuits, or where it can fall into such power
lines or circuits. When installing an outside
antenna system, extreme care should be taken
to keep from touching such power lines or
circuits as contact with them might be fatal.
OVERLOADING -- Do not overload wall outlets,
extension cords, or integral convenience
receptacles as this can result in a risk of fire or
OBJECT AND LIQUID ENTRY -- Never push
objects of any kind into this product through
openings as they may touch dangerous voltage
points or short-out parts that could result in a
fire or electric shock. Never spill liquid of any
SERVICING -- Do not attempt to service this
product yourself as opening or removing covers
may expose you to dangerous voltage or other
hazards. Refer all servicing to qualified service
DAMAGE REQUIRING SERVICE -- Unplug this
product from the wall outlet and refer servicing
to qualified service personnel under the
· When the power-supply cord or plug is
· If liquid has been spilled, or objects have fallen
· If the product has been exposed to rain or water.
· If the product does not operate normally by
following the operating instructions. Adjust only
those controls that are covered by the operating
instructions as an improper adjustment of other
controls may result in damage and will often
require extensive work by a qualified technician
to restore the product to its normal operation.
· If the product has been dropped or damaged in
· When the product exhibits a distinct change in
performance -- this indicates a need for service.
REPLACEMENT PARTS -- When replacement parts
are required, be sure the service technician has
used replacement parts specified by the
manufacturer or have the same characteristics
as the original part. Unauthorized substitutions
may result in fire, electric shock, or other
SAFETY CHECK -- Upon completion of any service
or repairs to this product, ask the service
technician to perform safety checks to
determine that the product is in proper
WALL OR CEILING MOUNTING -- The product
should not be mounted to a wall or ceiling.
HEAT -- The product should be situated away from
heat sources such as radiators, heat registers,
stoves, or other products (including amplifiers)
NEC -- NATIONAL ELECTRICAL CODE
---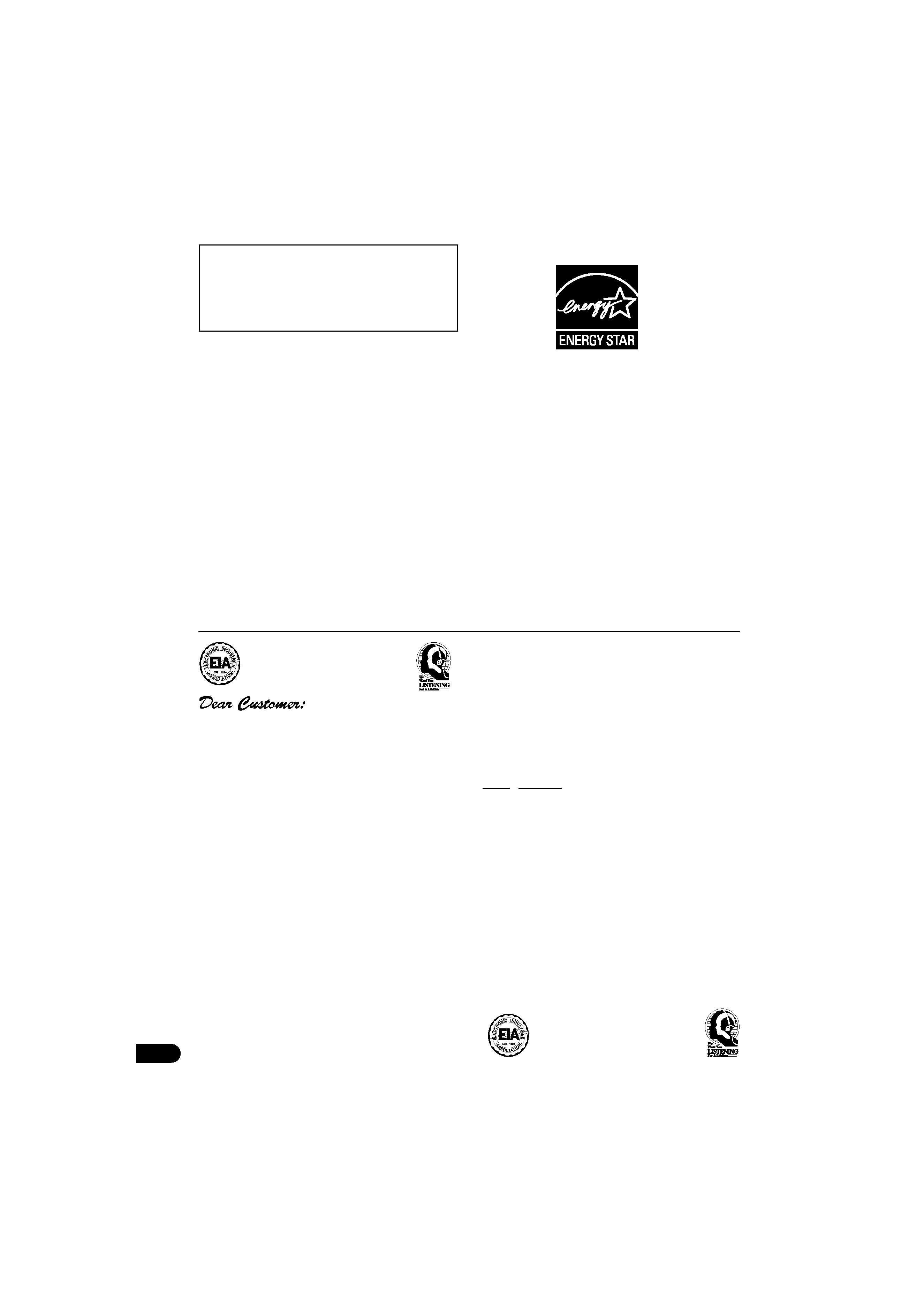 Selecting fine audio equipment such as the unit
you've just purchased is only the start of your
musical enjoyment. Now it's time to consider how
you can maximize the fun and excitement your
equipment offers. This manufacturer and the
Electronic Industries Association's Consumer
Electronics Group want you to get the most out of
your equipment by playing it at a safe level. One that
lets the sound come through loud and clear without
annoying blaring or distortion-and, most importantly,
without affecting your sensitive hearing.
Sound can be deceiving. Over time your hearing
"comfort level" adapts to higher volumes of sound.
So what sounds "normal" can actually be loud and
harmful to your hearing. Guard against this by
setting your equipment at a safe level BEFORE your
To establish a safe level:
· Start your volume control at a low setting.
· Slowly increase the sound until you can hear it
comfortably and clearly, and without distortion.
Once you have established a comfortable sound
· Set the dial and leave it there.
Taking a minute to do this now will help to prevent
hearing damage or loss in the future. After all, we
want you listening for a lifetime.
We Want You Listening For A Lifetime
Used wisely, your new sound equipment will
provide a lifetime of fun and enjoyment. Since
hearing damage from loud noise is often
undetectable until it is too late, this manufacturer
and the Electronic Industries Association's
Consumer Electronics Group recommend you avoid
prolonged exposure to excessive noise. This list of
sound levels is included for your protection.
Quiet library, soft whispers
Living room, refrigerator, bedroom away from traffic
Light traffic, normal conversation, quiet office
Air conditioner at 20 feet, sewing machine
Vacuum cleaner, hair dryer, noisy restaurant
Average city traffic, garbage disposals, alarm clock
THE FOLLOWING NOISES CAN BE DANGEROUS
Subway, motorcycle, truck traffic, lawn mower
Garbage truck, chain saw, pneumatic drill
Rock band concert in front of speakers,
Information courtesy of the Deafness Research Foundation.
This product includes FontAvenue
®
fonts licenced by
NEC Corporation. FontAvenue is a registered
trademark of NEC Corporation.
This product incorporates copyright protection
technology that is protected by method claims of
certain U.S. patents and other intellectual property
rights owned by Macrovision Corporation and other
rights owners. Use of this copyright protection
technology must be authorized by Macrovision
Corporation, and is intended for home and other
limited viewing uses only unless otherwise authorized
by Macrovision Corporation. Reverse engineering or
disassembly is prohibited.
---

. . . . . . . . . . . . . . . . . . . . . . . . . . . .6
. . . . . . . . . . . . . . . . . . . . .6
. . . . . . . . . . . . . . . . . .7
Disc/content format playback
. . . . . . . . . . . . . . . . . . . . . . . .7
. . . . . . . . . . . . . . . . . . . .11
Connecting using the S-Video output
Connecting using the component video
. . . . . . . . . . . . . . . . . . . . . . . . . . . .12
Connecting to an AV receiver
. . . . . . . . . . . . . .14
. . . . . . . . . . . . . . . . . . . . . . . .16
. . . . . . . . . . . . . . . . . . . . .17
. . . . . . . . . . . . . . . . . . . . . . .18
Using the on-screen displays
Setting up the player for your TV
Setting the language of this player's on-screen
. . . . . . . . . . . . . . . . . . . . . . . . . . .19
. . . . . . . . . . . . . . . . . . . . . . .20
. . . . . . . . . . . . . . . . . . . . .23
. . . . . . . . . . . . . . . .23
Frame advance/frame reverse
. . . . . . . . . . . . .24
. . . . . . . . . . . . . . . . . . . . . .25
Browsing Files with the Disc Navigator
Looping a section of a disc
. . . . . . . . . . . .27
. . . . . . . . . . . . . . . . . . . .27
. . . . . . . . . . . . . . . . . .28
. . . . . . . . . . . . . . .29
. . . . . . . . . . . . . . . . . . . .30
. . . . . . . . . . . . . . . . . .30
Switching audio language/channels
. . . . . . . . . . . . . . . . . .31
. . . . . . . . . . . . .31
Displaying disc information
. . . . . . . . . . . . . . 32
07 Audio Settings and Video Adjust
. . . . . . . . . . . . . . . . 33
. . . . . . . . . . . . . . . . . . 34
Using the Initial Settings menu
Digital Audio Out settings
. . . . . . . . . . . . . 36
. . . . . . . . . . . . . . . . 37
. . . . . . . . . . . . . . . . . . 38
. . . . . . . . . . . . . . . . . . . . 38
. . . . . . . . . . . . . . . . . . . . 39
. . . . . . . . . . . . . . . . . . . . . . 39
. . . . . . . . . . . . . . . . . . . . . . 40
. . . . . . . . . . . . 40
About the HDMI audio output
. . . . . . . . . . . . . . . . . . . . . . . . . . . 41
09 Additional information
Taking care of your player and discs
Screen sizes and disc formats
. . . . . . . . . . . . . . . . . 44
. . . . . . . . . . . . . . . . . . 44
Selecting languages using the language code
. . . . . . . . . . . . . . . . . . . . . . . . . . . . . . . 44
. . . . . . . . . . . . . . . . . . . . 45
. . . . . . . . . . . . . . . . . . . . . . . . . . 49
. . . . . . . . . . . . . . . . . . 50
. . . . . . . . . . . . . . . 50
. . . . . . . . . . . . . . . . . . . . . . 51
---