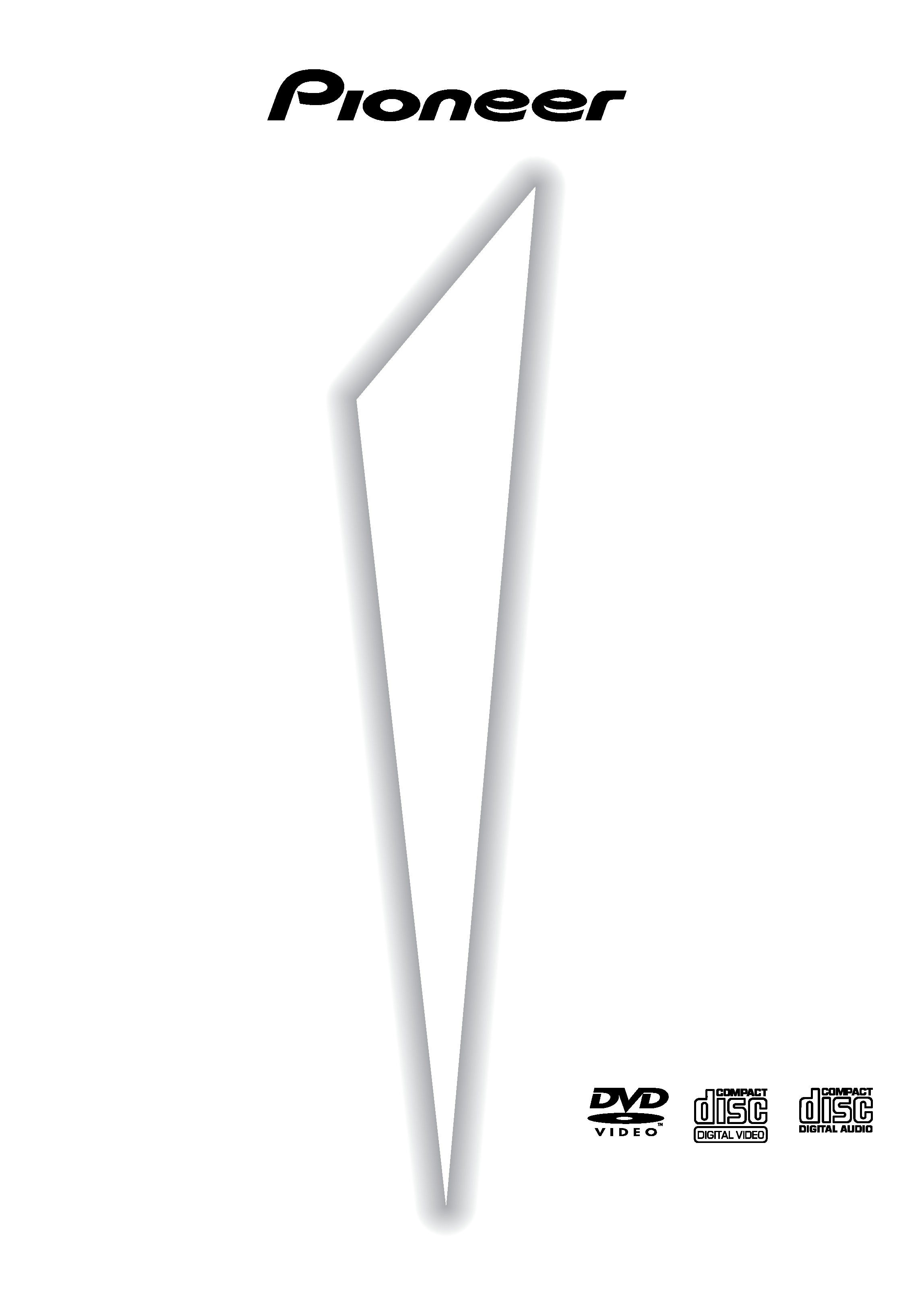 ---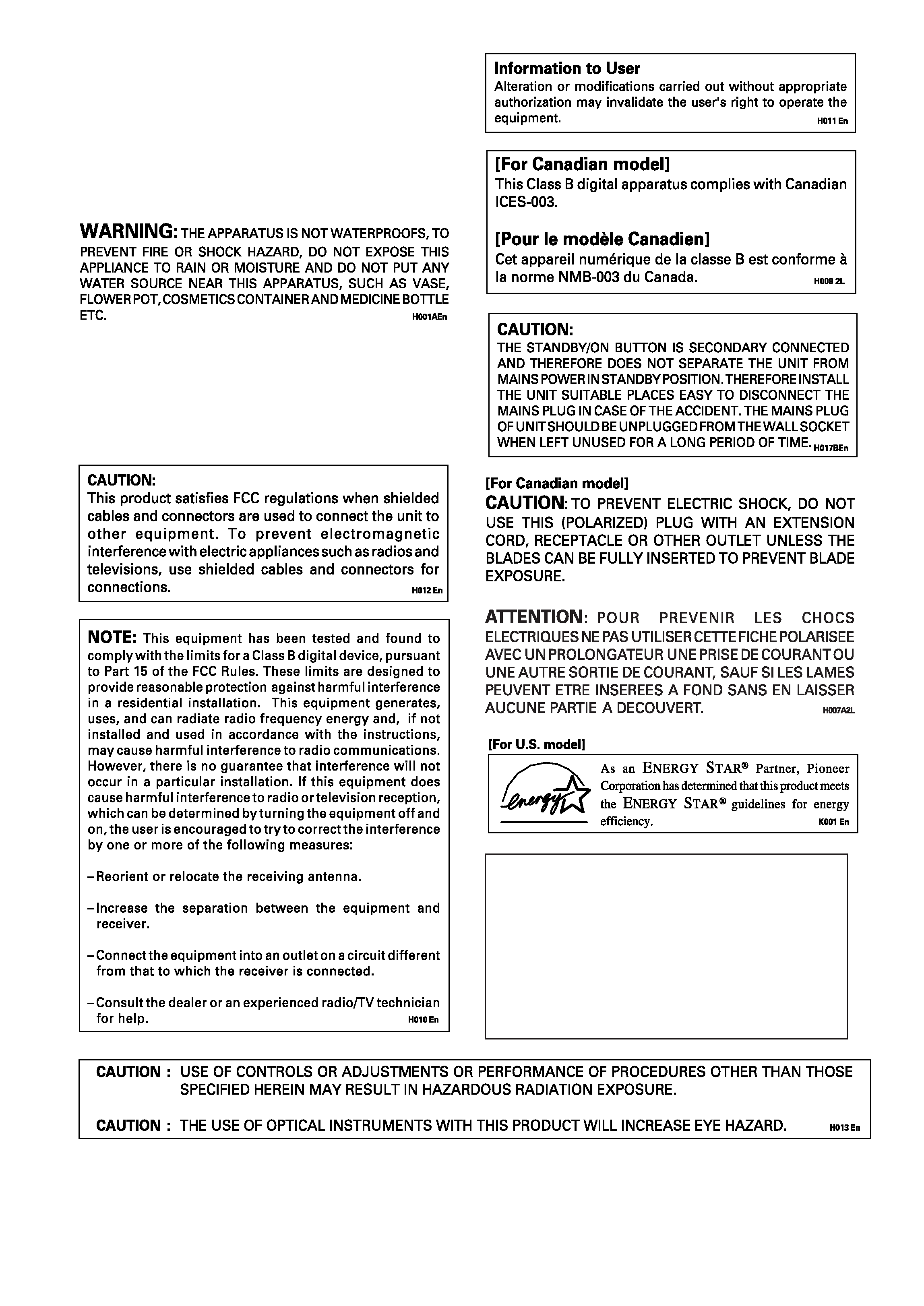 CONGRATULATIONS
ON YOUR PURCHASE OF
THIS FINE PIONEER PRODUCT.
Pioneer is on the leading edge of DVD research for
consumer products and this unit incorporates the latest
technological developments.
We are sure you will be fully satisfied with the DVD
Thank you for your support.
The serial number for this equipment is located on the
rear panel. Please write this serial number on your
enclosed warranty card and keep it in a secure area. This
This product incorporates copyright protection
technology that is protected by method claims of
certain U.S. patents and other intellectual property
rights owned by Macrovision Corporation and other
rights owners. Use of this copyright protection
technology must be authorized by Macrovision
Corporation, and is intended for home and other
limited viewing uses only unless otherwise
authorized by Macrovision Corporation. Reverse
engineering or disassembly is prohibited.
---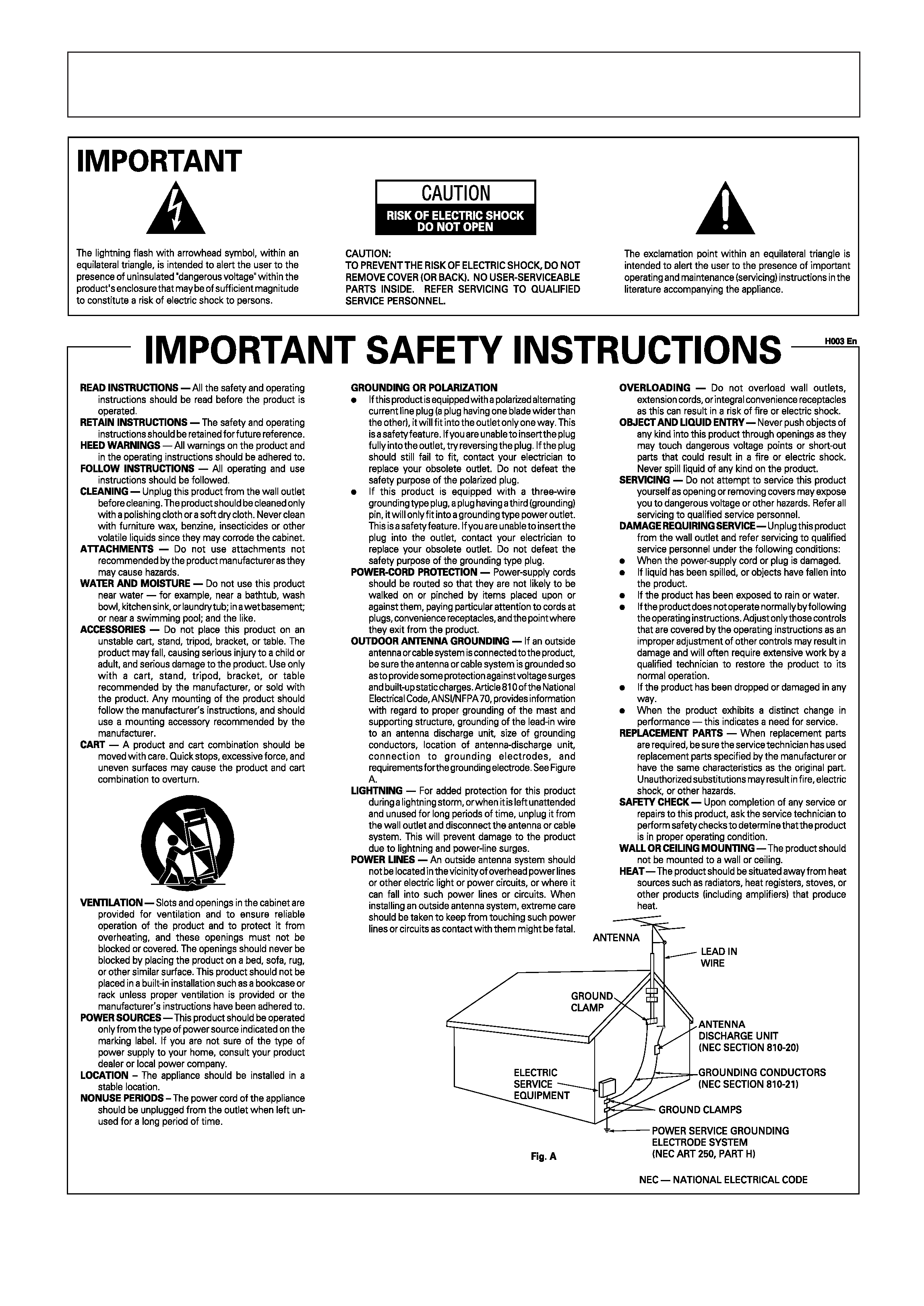 Please read through these operating instructions so you will know how to operate your model properly. After you have
finished reading the instructions, put them away in a safe place for future reference.
· This player is not suitable for commercial use.
---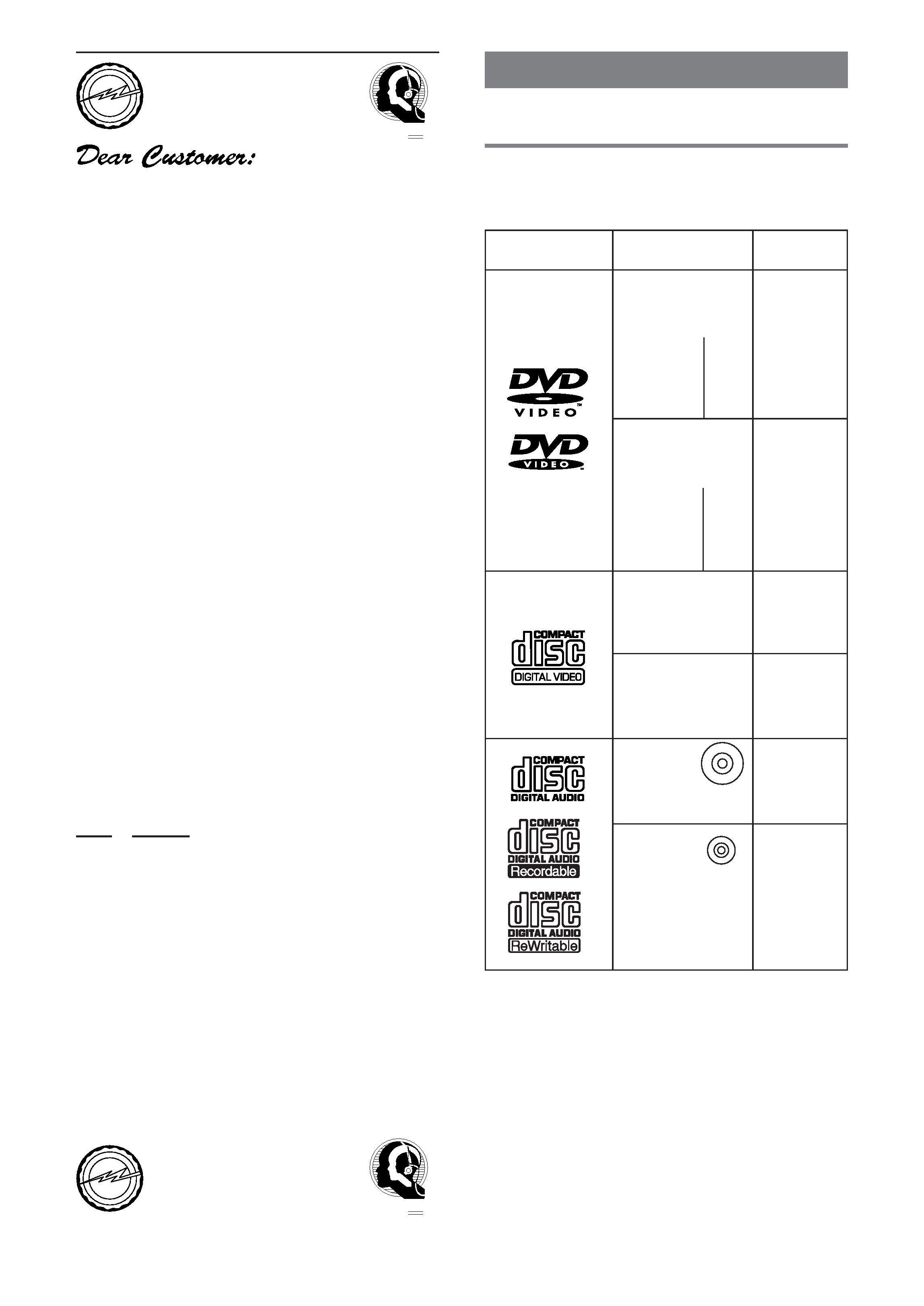 Compatible with DVD, Video CD
DVD, Video CD and CD discs that display the logos
shown below can be played back on PIONEER DVD
players. For more information on discs compatible with
this player, refer to the table below.
The disc format logos shown above are found on disc
labels or on disc jackets.
· To prevent malfunction, do not use an 8 cm (3 in.)
· Discs other than the ones indicated above cannot be
· DVDs that have incompatible region numbers, DVD-
Audio, DVD-ROM, and CD-ROM cannot be played on
this unit. The region number of the player can be
· Note that this unit cannot record onto recordable discs.
· This unit can play music-use CD-R and CD-RW discs.
However, depending on the condition of the player and the
disc, you may find that not all discs will play successfully.
(For example, if the disc is scratched or dirty, or if the
player's pickup lens is dirty.)
Selecting fine audio equipment such as the unit you've just
purchased is only the start of your musical enjoyment. Now
it's time to consider how you can maximize the fun and
excitement your equipment offers. This manufacturer and
the Electronic Industries Association's Consumer Electronics
Group want you to get the most out of your equipment by
playing it at a safe level. One that lets the sound come through
loud and clear without annoying blaring or distortion-and,
most importantly, without affecting your sensitive hearing.
Sound can be deceiving. Over time your hearing "comfort
level" adapts to higher volumes of sound. So what sounds
"normal" can actually be loud and harmful to your hearing.
Guard against this by setting your equipment at a safe level
BEFORE your hearing adapts.
To establish a safe level:
· Start your volume control at a low setting.
· Slowly increase the sound until you can hear it comfortably
and clearly, and without distortion.
Once you have established a comfortable sound level:
· Set the dial and leave it there.
Taking a minute to do this now will help to prevent hearing
damage or loss in the future. After all, we want you listening
We Want You Listening For A
Used wisely, your new sound equipment will provide a
lifetime of fun and enjoyment. Since hearing damage from
loud noise is often undetectable until it is too late, this
manufacturer and the Electronic Industries Association's
Consumer Electronics Group recommend you avoid prolonged
exposure to excessive noise. This list of sound levels is
included for your protection.
Quiet library, soft whispers
Living room, refrigerator, bedroom away from traffic
Light traffic, normal conversation, quiet office
Air conditioner at 20 feet, sewing machine
Vacuum cleaner, hair dryer, noisy restaurant
Average city traffic, garbage disposals, alarm clock
THE FOLLOWING NOISES CAN BE
DANGEROUS UNDER CONSTANT EXPOSURE
Subway, motorcycle, truck traffic, lawn mower
Garbage truck, chain saw, pneumatic drill
Rock band concert in front of speakers, thunderclap
Information courtesy of the Deafness Research Foundation.
---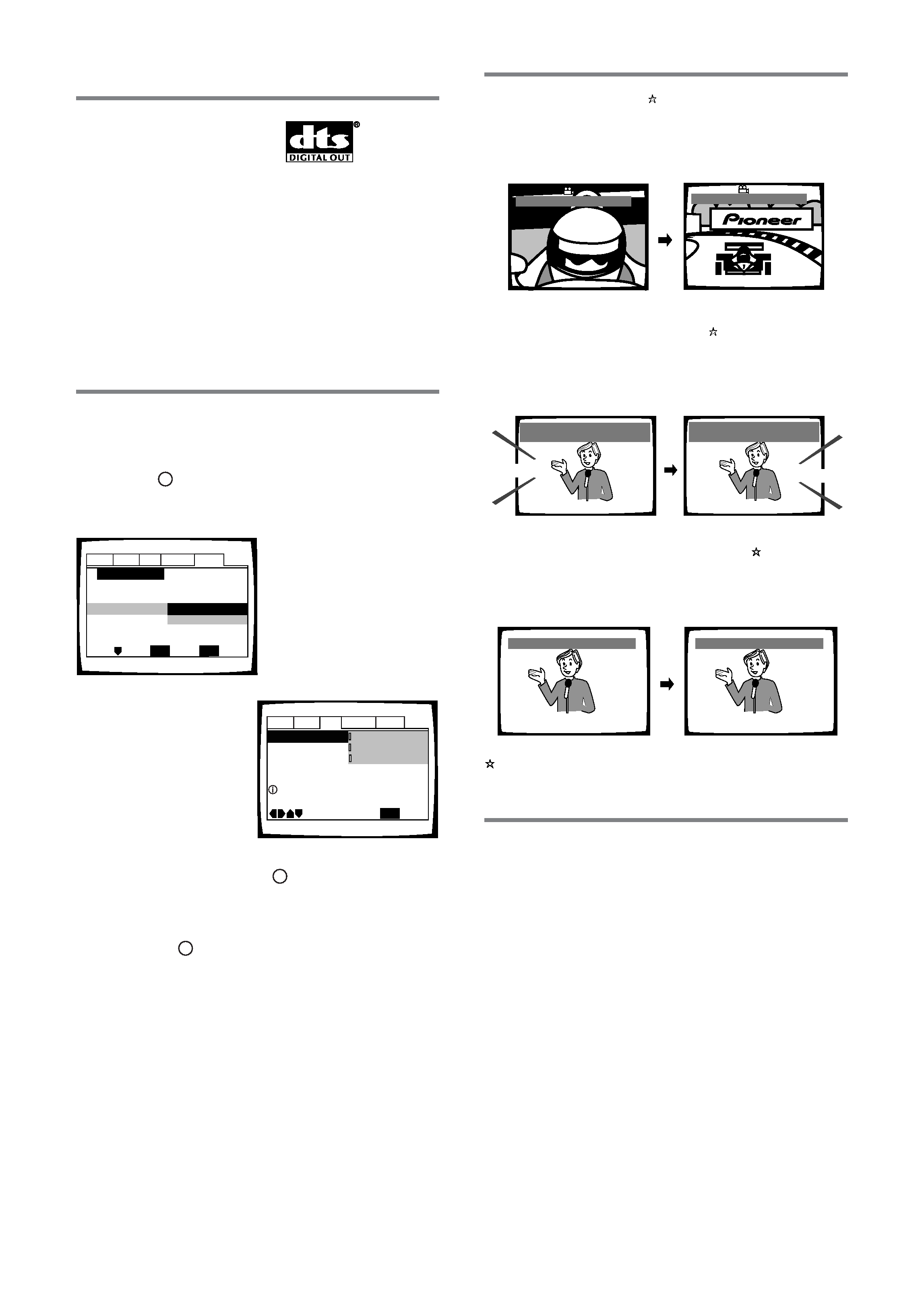 Wide range of DVD viewing options
You can view scenes from different camera angles when
watching movies or other media with multiple angle
Multiple Languages (page 32)
You can select the language on when watching movies
or other media that have multiple language and/or audio
soundtracks recorded on them.
Multi-Language Subtitles (page 33)
You can select a subtitle language or turn subtitles off
when watching movies or other media with subtitles
This mark indicates this may not be possible with certain discs.
This unit is designed to use less than 1 W of energy
when this player is in standby mode.
Compatible with a wide range of
DVD digital audio output formats
DVDs are recorded in one of four types of digital audio
formats (as of October 1998). The digital audio output
jacks of this player output Dolby Digital*, DTS**, MPEG,
and linear PCM digital bitstreams.
This player has a function that converts Dolby Digital and
MPEG audio formats into the linear PCM format. This
allows playback of DVDs recorded in Dolby Digital and
MPEG without the need for a decoder.
Easy setup and adjustment using
Press SETUP on the remote control to open the Setup
screen and you'll find setting up and adjusting the
system easy to do with on-screen menus conveniently
organized and arranged. Additionally, on-screen
information ( i )
appears to clarify the functions and
explain the options available. Below are just a few
Select the type of TV screen
watching DVDs in the Video
Manufactured under license from Dolby Laboratories.
"Dolby" and the double-D symbol are trademarks of Dolby
Laboratories. Confidential unpublished works. © 1992-1997
Dolby Laboratories. All rights reserved.
** "DTS" is a trademark of Digital Theater Systems, Inc.
Select your display preference
Answer a few questions and
have all the necessary audio,
automatically by the player
using the Setup Navigator
The on-screen information ( i ) only appears if you
choose [English] as the [OSD Language] (page 18,
While using the Setup Navigator, no on-screen
information ( i ) is displayed.
---