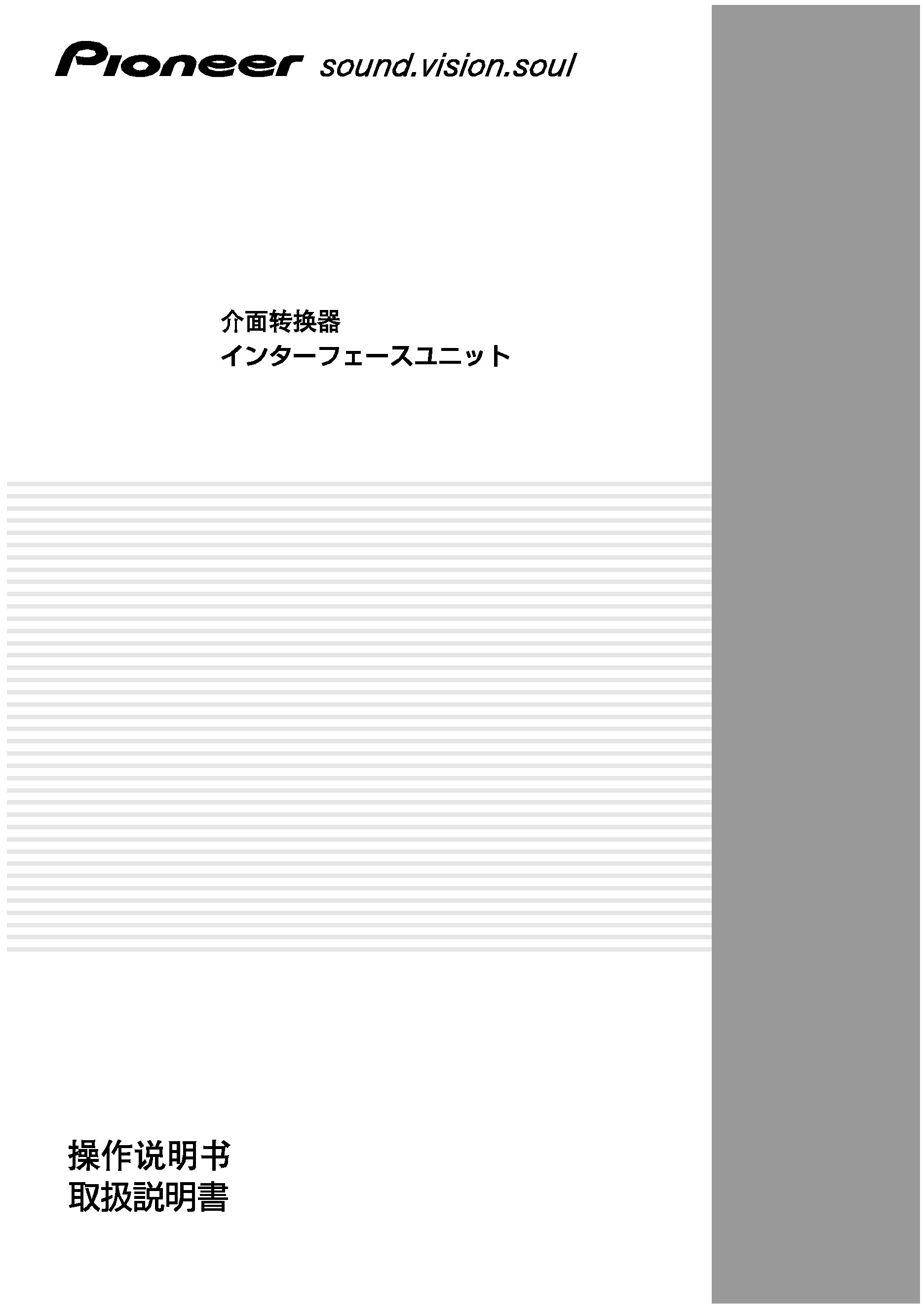 LVD SCSI INTERFACE EINHEIT
---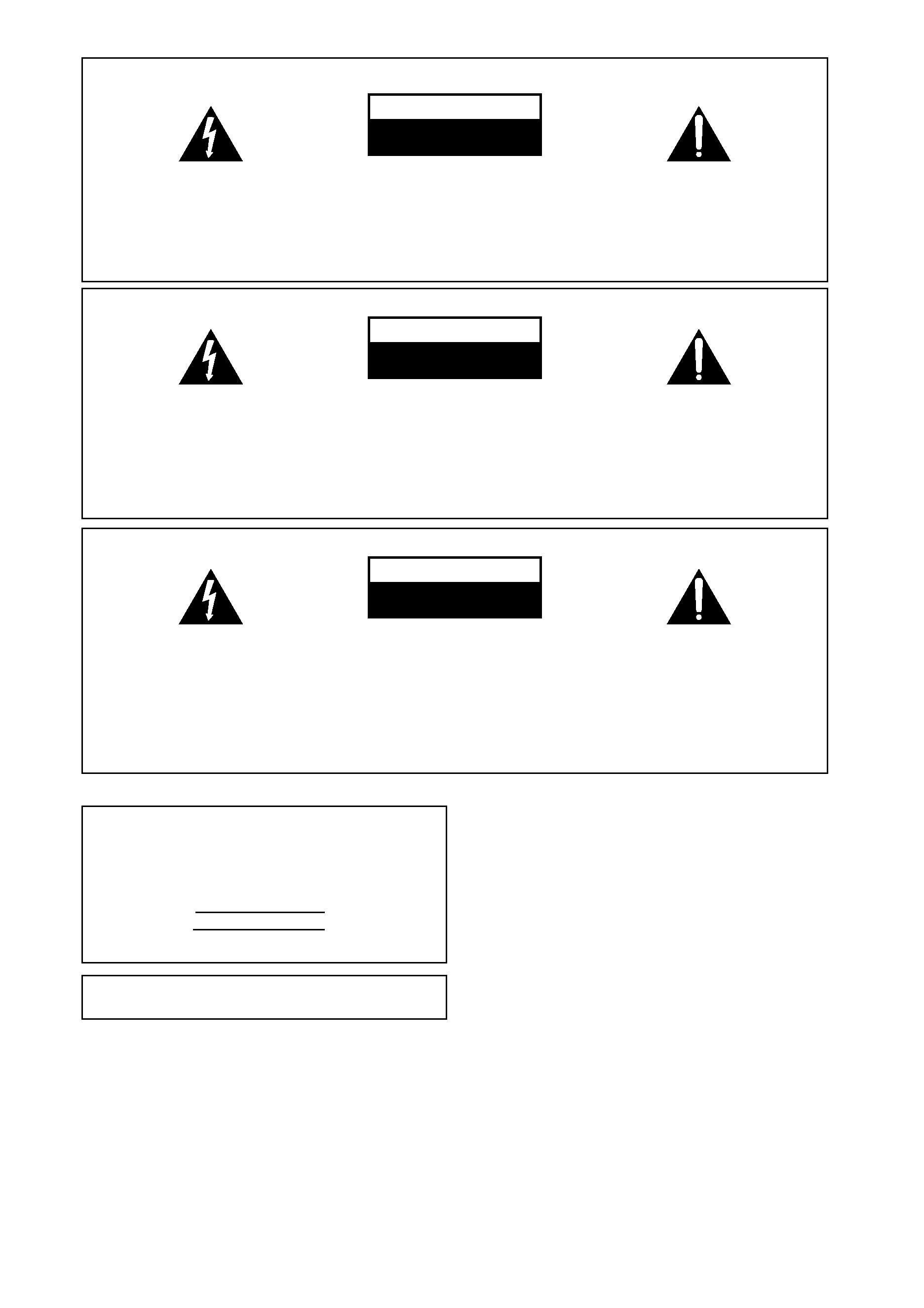 The exclamation point within an equilateral
triangle is intended to alert the user to the
presence of important operating and
maintenance (servicing) instructions in the
literature accompanying the appliance.
The lightning flash with arrowhead symbol,
within an equilateral triangle, is intended to
alert the user to the presence of uninsulated
"dangerous voltage" within the product's
enclosure that may be of sufficient
magnitude to constitute a risk of electric
TO PREVENT THE RISK OF ELECTRIC
SHOCK, DO NOT REMOVE COVER (OR
BACK). NO USER-SERVICEABLE PARTS
INSIDE. REFER SERVICING TO QUALIFIED
Ce point d'exclamation, placé dans un
triangle équilatéral, a pour but d'attirer
l'attention de l'utilisateur sur la présence,
dans les documents qui accompagnent
l'appareil, d'explications importantes du
point de vue de l'exploitation ou de
Ce symbole de l'éclair, placé dans un
triangle équilatéral, a pour but d'attirer
l'attention de l'utilisateur sur la présence, à
l'intérieur du coffret de l'appareil, de
"tensions dangereuses" non isolées d'une
grandeur suffisante pour représenter un
risque d'électrocution pour les êtres
D'ÉLECTROCUTION, NE PAS ENLEVER LE
COUVERCLE (NI LE PANNEAU ARRIÈRE).
AUCUNE PIÈCE RÉPARABLE PAR
L'UTILISATEUR NE SE TROUVE À
L'INTÉRIEUR. CONFIER TOUT ENTRETIEN À
UN PERSONNEL QUALIFIÉ UNIQUEMENT.
Ein Ausrufezeichen in einem Dreieck weist
den Benutzer auf wichtige Bedienungs- und
Wartungsanweisungen in den Dokumenten
hin, die dem Gerät beiliegen.
Das Blitzsymbol in einem Dreieck weist den
Benutzer darauf hin, dass eine
Berührungsgefahr mit nicht isolierten Teilen
im Geräteinneren, die eine gefährliche
Spannung führen, besteht. Die Spannung
kann so hoch sein, dass sie die Gefahr eines
elektrischen Schlages birgt.
UM SICH NICHT DER GEFAHR EINES
ELEKTRISCHEN SCHLAGES AUSZUSETZEN,
DÜRFEN SIE NICHT DEN DECKEL (ODER
DIE RÜCKSEITE) ENTFERNEN. IM
GERÄTEINNEREN BEFINDEN SICH KEINE
VOM BENUTZER REPARIERBAREN TEILE.
ÜBERLASSEN SIE REPARATUREN DEM
QUALIFIZIERTEN KUNDENDIENST.
USE ONLY WITH PIONEER MODELS DRM-7000 AND
IMPORTANT NOTICE ­ RECORD THE MODEL
NUMBER AND SERIAL NUMBERS OF THIS
THE NUMBERS ARE ON THE TOP.
KEEP THESE NUMBERS FOR FUTURE USE.
D1-4-2-6-2_En
---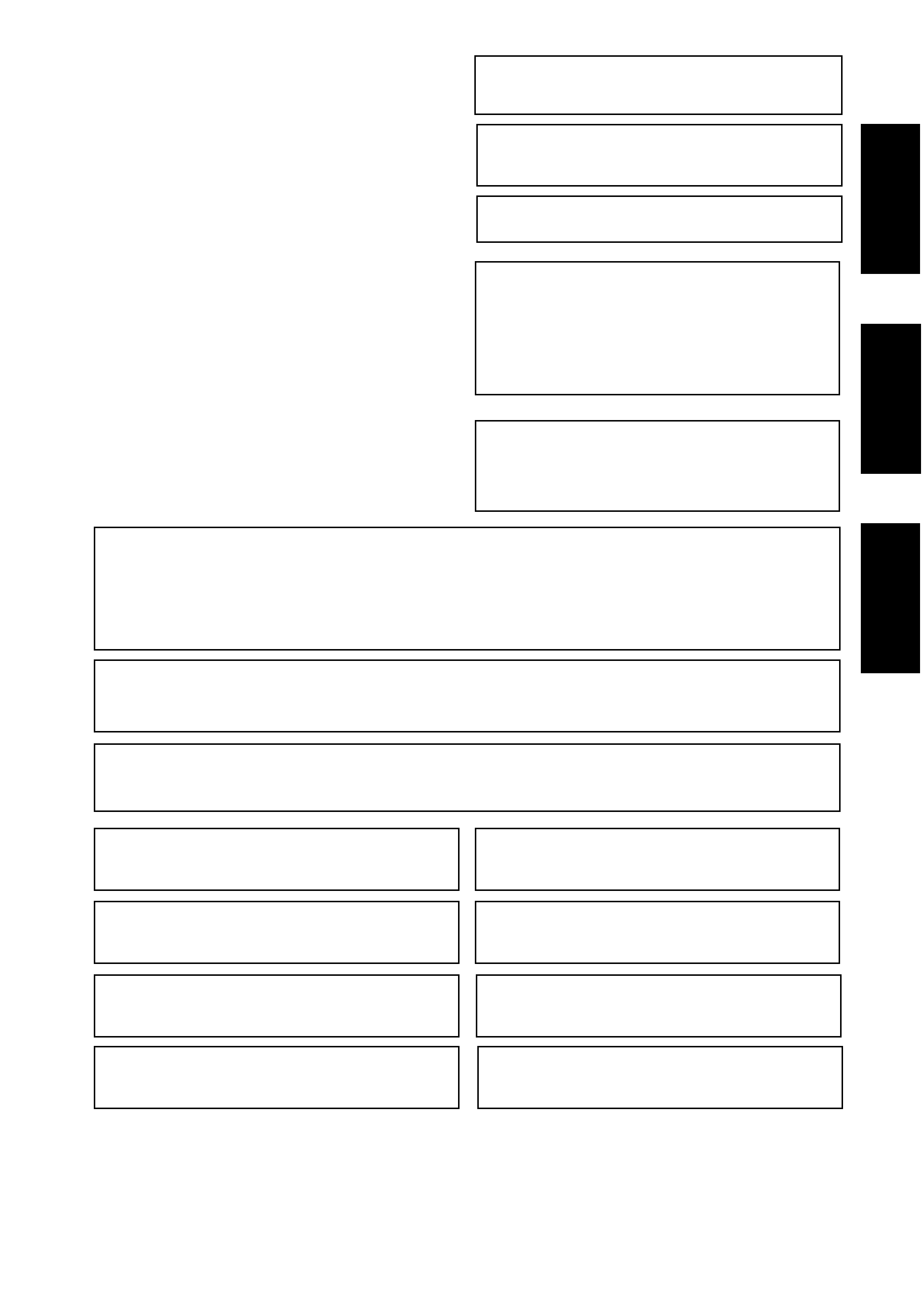 NOTE: This equipment has been tested and found to comply with the limits for a Class A digital device, pursuant to
Part 15 of the FCC Rules. These limits are designed to provide reasonable protection against harmful interference
when the equipment is operated in a commercial environment. This equipment generates, uses, and can radiate
radio frequency energy and, if not installed and used in accordance with the instruction manual, may cause harmful
interference to radio communications. Operation of this equipment in a residential area is likely to cause harmful
interference in which case the user will be required to correct the interference at his own expense.
CAUTION: This product satisfies FCC regulations when shielded cables and connectors are used to connect the
unit to other equipment. To prevent electromagnetic interference with electric appliances such as radios and
televisions, use shielded cables and connectors for connections.
The Generation of Acoustical Noise Is Less
Than 70dB.(ISO7779/DIN45635)
WARNING: Handling the cord on this product or
cords associated with accessories sold with the
product will expose you to lead, a chemical known to
the State of California and other governmental
entities to cause cancer and birth defects or other
Wash hands after handling
This equipment is not waterproof. To prevent a fire
or shock hazard, do not place any container filed
with liquid near this equipment (such as a vase or
flower pot) or expose it to dripping, splashing, rain
Cet appareil n'est pas étanche. Pour éviter les
risques d'incendie et de décharge électrique, ne
placez près de lui un récipient rempli d'eau, tel
qu'un vase ou un pot de fleurs, et ne l'exposez pas
à des gouttes d'eau, des éclaboussures, de la pluie
Dieses Gerät ist nicht wasserdicht. Zur Vermeidung
der Gefahr von Brand und Stromschlag keine
Behälter mit Flüssigkeiten (z.B. Blumenvasen und
-töpfe) in die Nähe des Gerätes bringen und dieses
vor Tropfwasser, Spritzwasser, Regen und Nässe
Alteration or modifications carried out without
appropriate authorization may invalidate the user's
right to operate the equipment.
This Class A digital apparatus complies with Canadian ICES-003.
Cet appareil numérique de la Classe A est conforme à la norme NMB-003 du Canada.
This product complies with the EMC Directives
(89/336/EEC, amended by 92/31/EEC and
Ce produit est conforme aux directives relatives à la
compatibilité électromagnétique (89/336/CEE,
amendements 92/31/CEE et 93/68/CEE).
Dieses Produkt entspricht den EMV-Richtlinien
(89/336/EEC, geändert durch 92/31/EEC und
Questo prodotto è conforme alle direttive EMC
(89/336/CEE, emendate 92/31/CEE e 93/68/CEE).
Dit product voldoet aan de EMC-richtlijnen
(89/336/EEG, gewijzigd bij 92/31/EEG en 93/68/EEG).
Denna produkt överensstämmer med föreskrifterna i
EMC-direktiven (89/336/EEC, uppdaterat med
92/31/EEC och 93/68/EEC).
Este producto cumple con las Directivas EMC
(89/336/CE, correcto por la 92/31/CE y la 93/68/CE).
Este produto cumpre com as Directivas EMC
(89/336/CE, corregida por a 92/31/CE e a 93/68/CE).
La production de bruits acoustiques est
inférieure à 70 dB. (ISO7779/DIN45635)
Das Geräuschaufkommen beträgt weniger
als 70 dB. (ISO 7779/DIN 45635)
---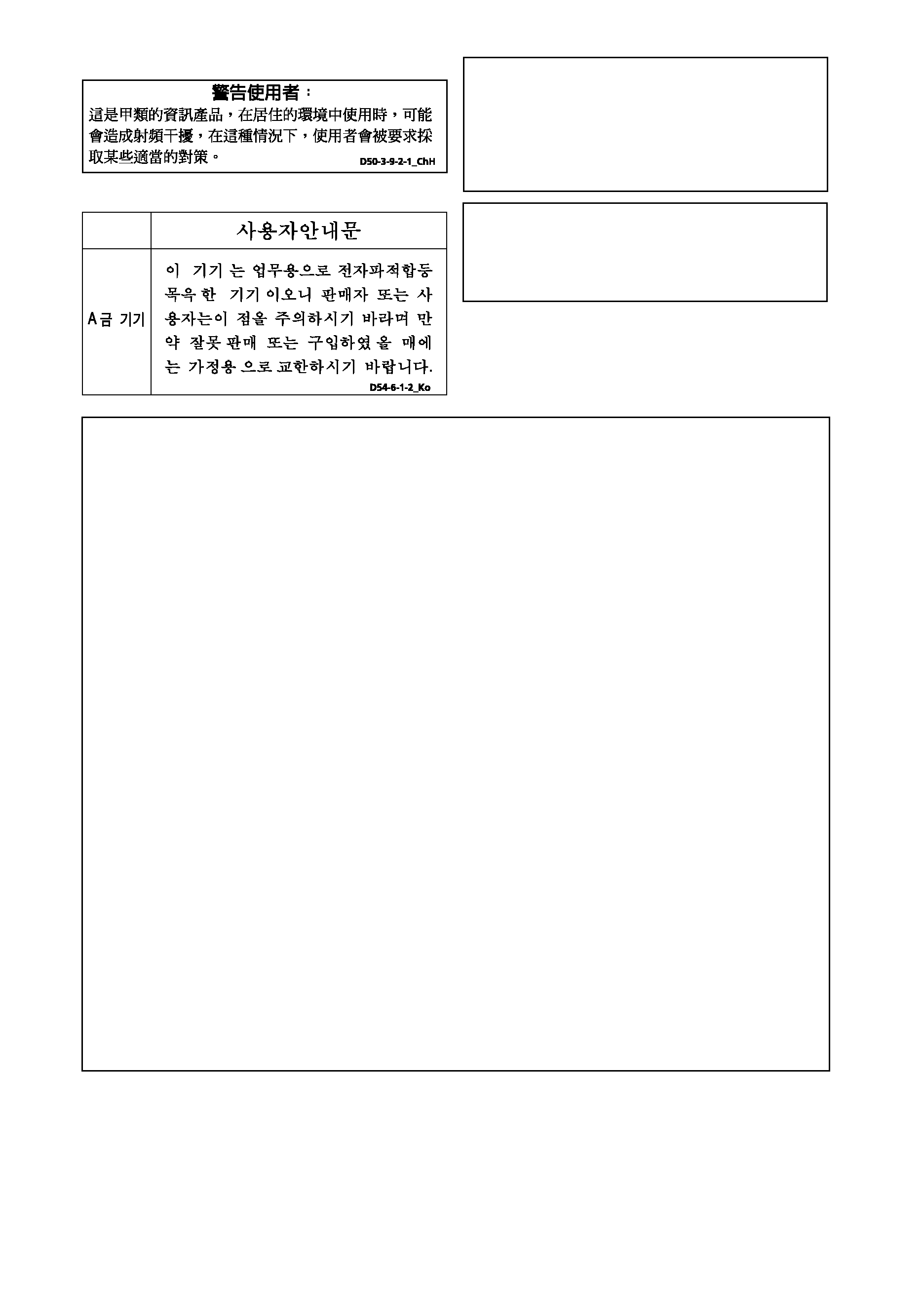 This is a class A product. In a domestic
environment this product may cause radio
interference in which case the user may be
required to take adequate measures.
Ce produit est de classe A. Dans un
environnement domestique, il peut entraîner
des interférences et l'utilisateur peut alors
être améne à prendre les mesures qui
Dies ist ein Produkt der Klasse A. In einer
häuslichen Umgebung kann dieses Produkt
Störgeräusche (Funkstörungen) verursachen.
In diesem Fall kann es erforderlich sein,
geeignete Maßnahmen zu ergreifen.
Questo è un prodotto di classe A. In ambiente
domestico, questo prodotto può provocare
interferenze radio per le quali l'utente deve
adottare contromisure adeguate.
Éste es un producto de clase A. En un entorno
doméstico, este producto Puede causar
radiointerferencias internas que obliguen al
usuario a tomar las medidas adecuadas.
Este produto pertence à classe A. Quando
num ambiente doméstico este produto pode
provocar rádio interferências para as quais o
utilizador pode ter que tomar medidas
FOR BELGIUM AND NETHERLANDS
Dit is een product dat tot klasse A behoort. In
woningen kan dit product radiostoringen
veroorzaken. In voorkomend geval moet de
gebruiker gepaste maatregelen nemen.
Dette er et klasse A-produkt, som kan forårsage
radiointerferens ved brug i hjemmet. Hvis det
er tilfældet, kan brugeren blive nødt til tage
Det här är en klass A-produkt. I hemmiljö kan
radiostörningar uppstå och användaren bör då
This is a class A product. In a domestic environment
this product may cause radio interference in which
cause the user may be required to take adequate
Dieses Produkt entspricht dem EMV-Standard der
Klasse A. Produkte dieser Klasse sind nur für den
industriellen Einsatz geeignet und dürfen in Wohn-
und Gewerbegebieten nicht ohne ausreichende
Entstörungsmaßnahmen betrieben werden"
---

Thank you for purchasing this Pioneer product. Before using the product, please read
these Operating Instructions fully in order to get the best possible performance from
This unit has been designed exclusively as an optional unit to be used with Pioneer disc
changers DRM-7000 and DRM-3000; as a result, it cannot be used alone or in
combination with other products.
¶ Be sure to read these Operating Instructions before use.
¶ After reading these Operating Instructions store them safely to allow later consultation
¶ Do not use this unit in locations exposed to high concentrations of dust, high
temperature, or high humidity.
¶ Do not subject the unit to vibrations or impacts.
¶ Do not allow the unit to be exposed to foreign objects or liquids.
¶ In the event that condensation occurs on the unit, turn off the power and do not
attempt to install it until it has dried thoroughly, since damage may result.
¶ Do not attempt to perform internal inspections or modifications.
¶ If any unnatural smell or noise should be noticed during use, immediately turn off
power and have the unit inspected.
Installation of this product requires a high level of technical expertise, and should
be undertaken only by professional Pioneer service personnel. For details, consult
Pioneer disclaims all responsibility for any loss of data, or other incidental
damages arising from the use or malfunction of this product. All important
data should be backed up to prevent loss.
Use of this product allows SE-supported 700/300 disc changers to be modified so as to
support LVD host-bus adapters.
(SE: Single-Ended SCSI LVD: Low-Voltage Differential SCSI)
¶ A maximum of 15 devices (including changers) can be connected (composed of
both SE and LVD devices).
¶ Maximum connection cable length: 12 m (LVD side, including internal connections)
¶ Supports Ultra 160 SCSI standards* (LVD side)
* Transfer speed may differ depending on the devices connected.
---