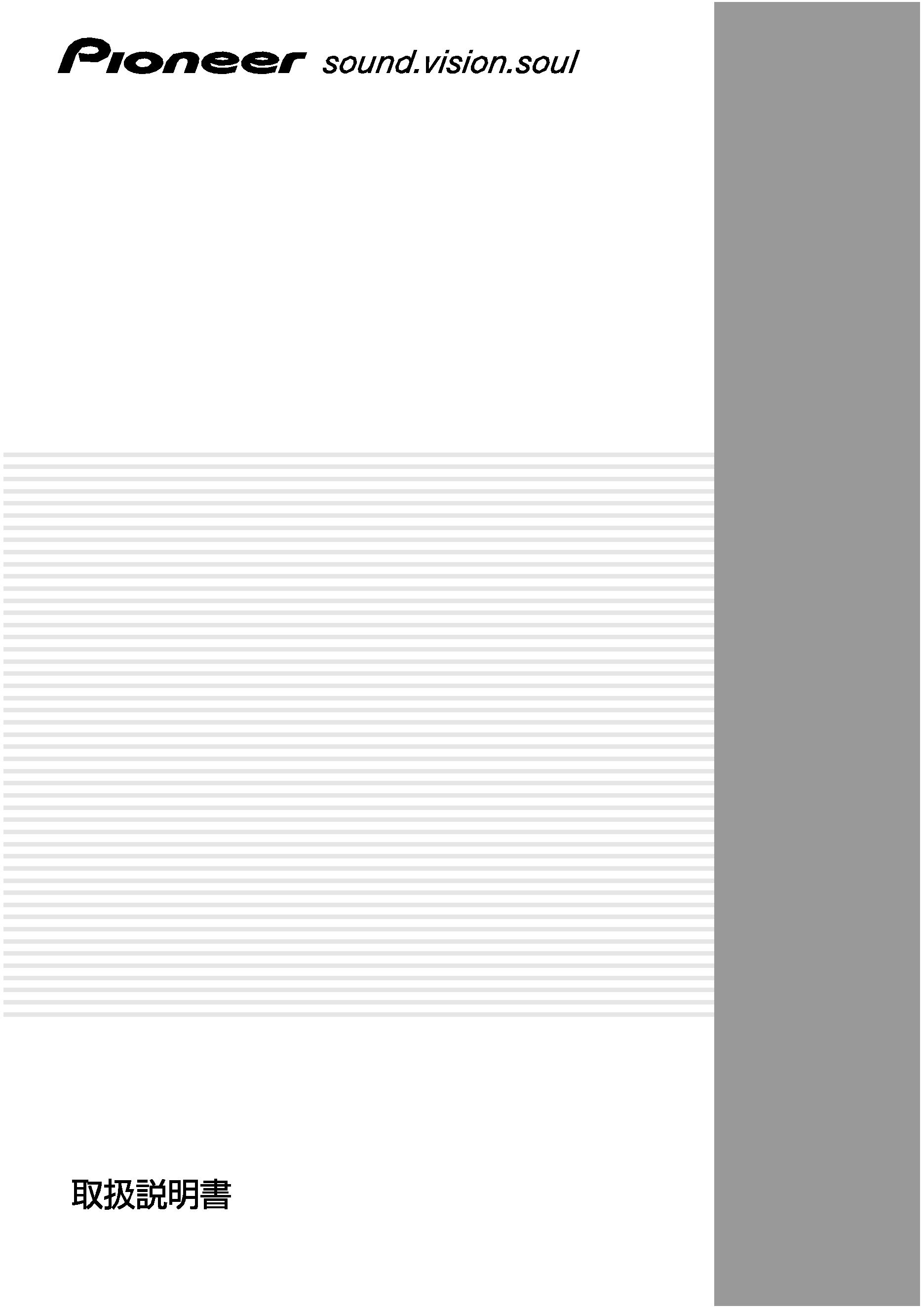 SYSTÉME DE RETOURNEMENT DE DISQUE
---

---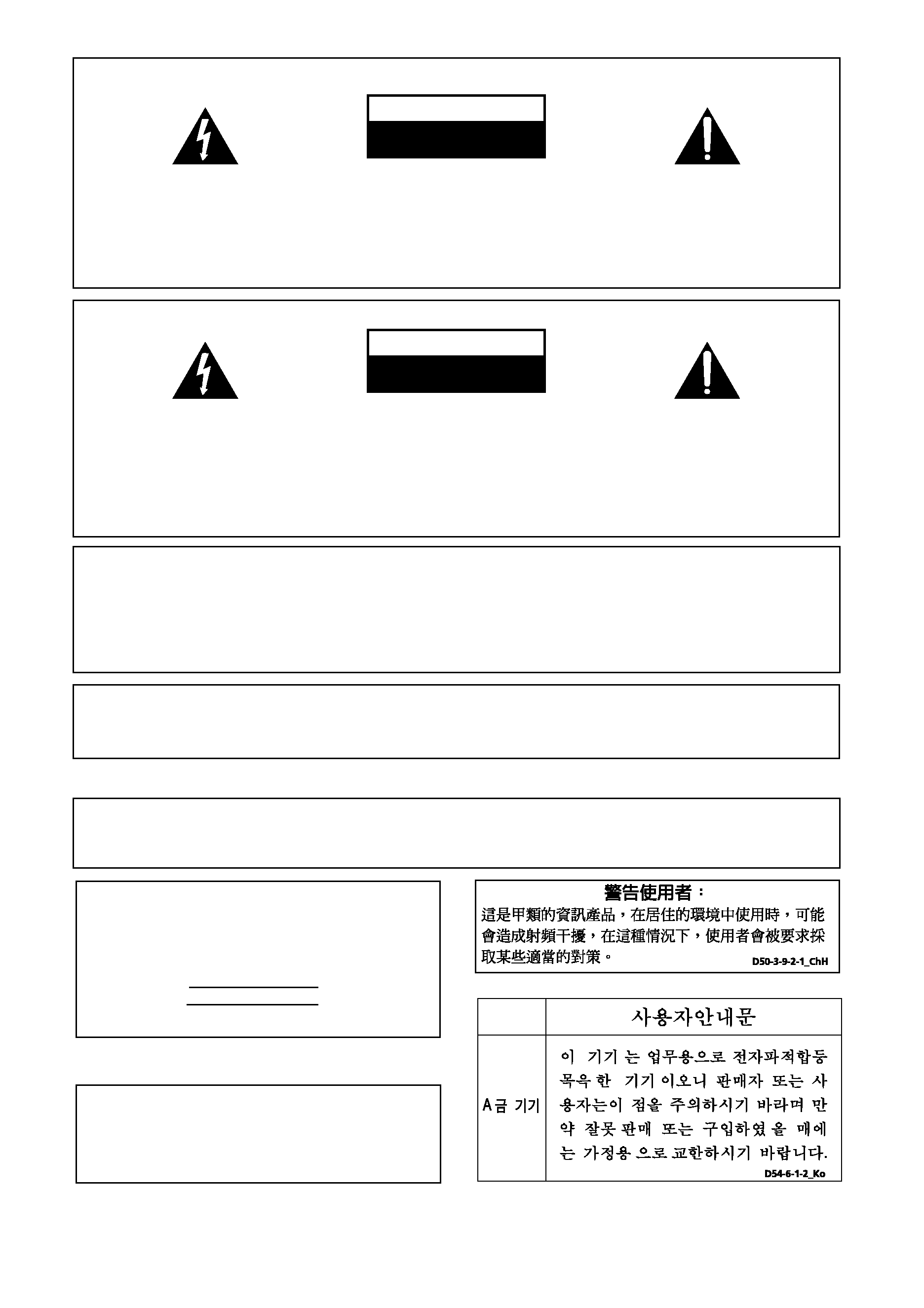 The exclamation point within an equilateral
triangle is intended to alert the user to the
presence of important operating and
maintenance (servicing) instructions in the
literature accompanying the appliance.
The lightning flash with arrowhead symbol,
within an equilateral triangle, is intended to
alert the user to the presence of uninsulated
"dangerous voltage" within the product's
enclosure that may be of sufficient
magnitude to constitute a risk of electric
TO PREVENT THE RISK OF ELECTRIC
SHOCK, DO NOT REMOVE COVER (OR
BACK). NO USER-SERVICEABLE PARTS
INSIDE. REFER SERVICING TO QUALIFIED
NOTE: This equipment has been tested and found to comply with the limits for a Class A digital device, pursuant to
Part 15 of the FCC Rules. These limits are designed to provide reasonable protection against harmful interference
when the equipment is operated in a commercial environment. This equipment generates, uses, and can radiate
radio frequency energy and, if not installed and used in accordance with the instruction manual, may cause harmful
interference to radio communications. Operation of this equipment in a residential area is likely to cause harmful
interference in which case the user will be required to correct the interference at his own expense.
This Class A digital apparatus complies with Canadian ICES-003.
Cet appareil numérique de la Classe A est conforme à la norme NMB-003 du Canada.
[For Canadian model/Pour le modèle Canadien]
IMPORTANT NOTICE ­ RECORD THE MODEL
NUMBER AND SERIAL NUMBERS OF THIS
THE NUMBERS ARE ON THE TOP.
KEEP THESE NUMBERS FOR FUTURE USE.
D1-4-2-6-2_En
Ce point d'exclamation, placé dans un
triangle équilatéral, a pour but d'attirer
l'attention de l'utilisateur sur la présence,
dans les documents qui accompagnent
l'appareil, d'explications importantes du
point de vue de l'exploitation ou de
Ce symbole de l'éclair, placé dans un
triangle équilatéral, a pour but d'attirer
l'attention de l'utilisateur sur la présence, à
l'intérieur du coffret de l'appareil, de
"tensions dangereuses" non isolées d'une
grandeur suffisante pour représenter un
risque d'électrocution pour les êtres
D'ÉLECTROCUTION, NE PAS ENLEVER LE
COUVERCLE (NI LE PANNEAU ARRIÈRE).
AUCUNE PIÈCE RÉPARABLE PAR
L'UTILISATEUR NE SE TROUVE À
L'INTÉRIEUR. CONFIER TOUT ENTRETIEN À
UN PERSONNEL QUALIFIÉ UNIQUEMENT.
Alteration or modifications carried out without appropriate authorization may invalidate the user's right to operate
This is a class A product. In a domestic environment
this product may cause radio interference in which
cause the user may be required to take adequate
[For Australian and New Zealander models]
---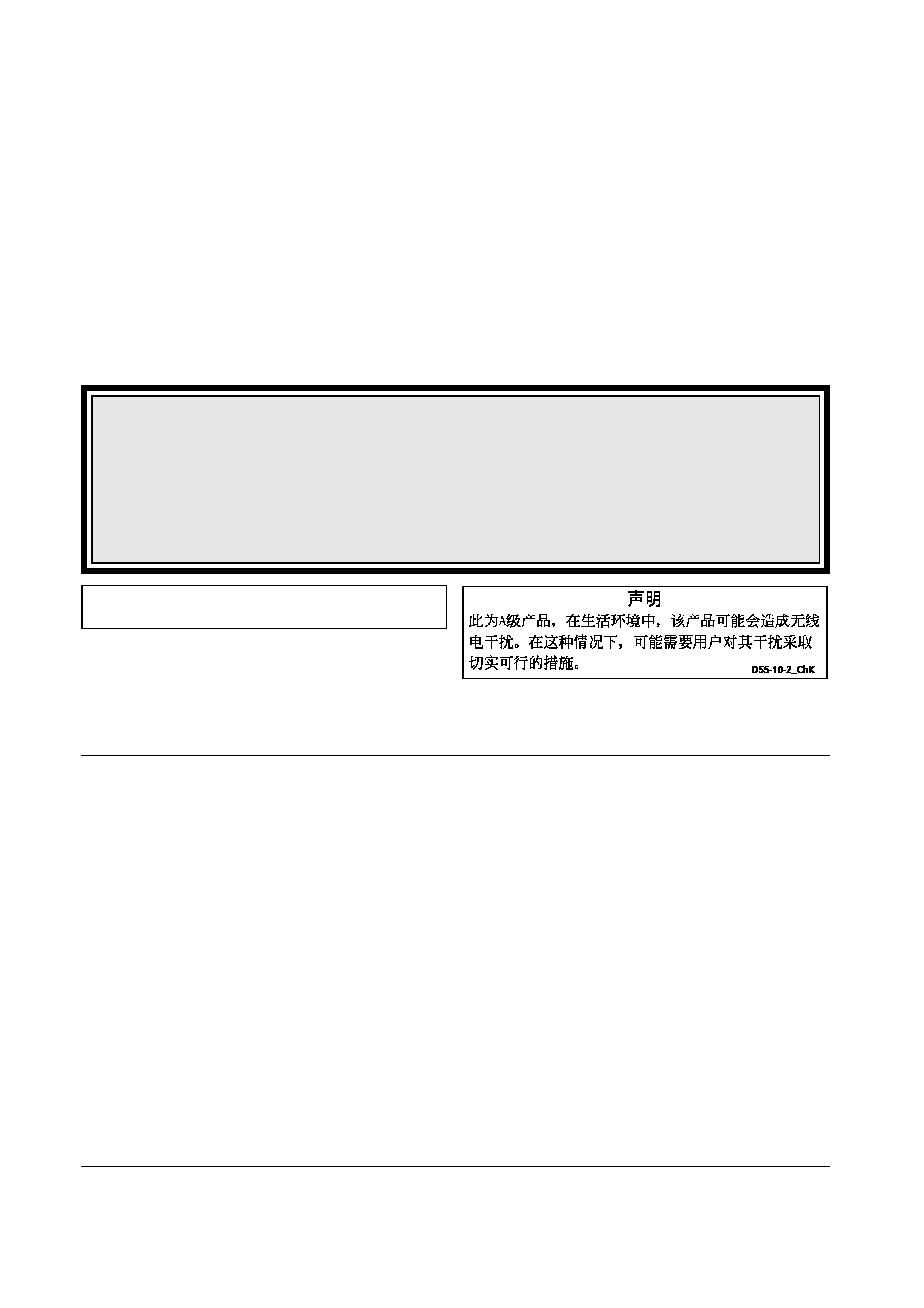 When using double-sided DVD discs, the discs may be turned within the changer.
Thank you for buying this Pioneer product.
Please read through these operating instructions so you will know how to operate your
This product is an optional unit designed for exclusive use as the disc changers, models
DRM-7000 and DRM-3000. This means that this unit cannot be used alone or connected
to other equipment than specified.
Pioneer may not be held liable for the loss of any data or any other direct or indirect
damage suffered as the result of the use or breakdown of this product. It is strongly
recommended that regular backups be taken of all critical data.
A revision to firm wear of 1.12 or higher of the changer is necessary to use
this unit. Because using a revision less than 1.12 will cause the unit to
malfunction and break the discs, be sure to use it after updating to revision
1.12 or higher. Please inquire at the customer service department or a store
that deals in this unit to obtain information about up-dating.
¶ Before using the unit, be sure to read this operating instructions.
¶ After reading the operating instructions, be sure to retain it for future reference. It
will be very useful if you do not understand something about the unit or if it
¶ Please do not use the unit in places that are very dusty, the temperature is high, or
where the humidity is high.
¶ Be very careful to protect the unit from impact and vibration.
¶ Be very careful to keep all foreign matter and water out of the unit.
¶ Do not install unit before completely dry and free of condensation. If not completely
dry mark sure the power is disconnect. If installed before dry a failure may occur.
¶ Do not inspect or modify the interior of the unit.
¶ If you hear any unusual sound or smell any strange odor while the unit is in use, cut
off the power and have it inspected.
This equipment is not waterproof. To prevent a fire
or shock hazard, do not place any container filed
with liquid near this equipment (such as a vase or
flower pot) or expose it to dripping, splashing, rain
USE ONLY WITH PIONEER MODELS DRM-7000 AND
---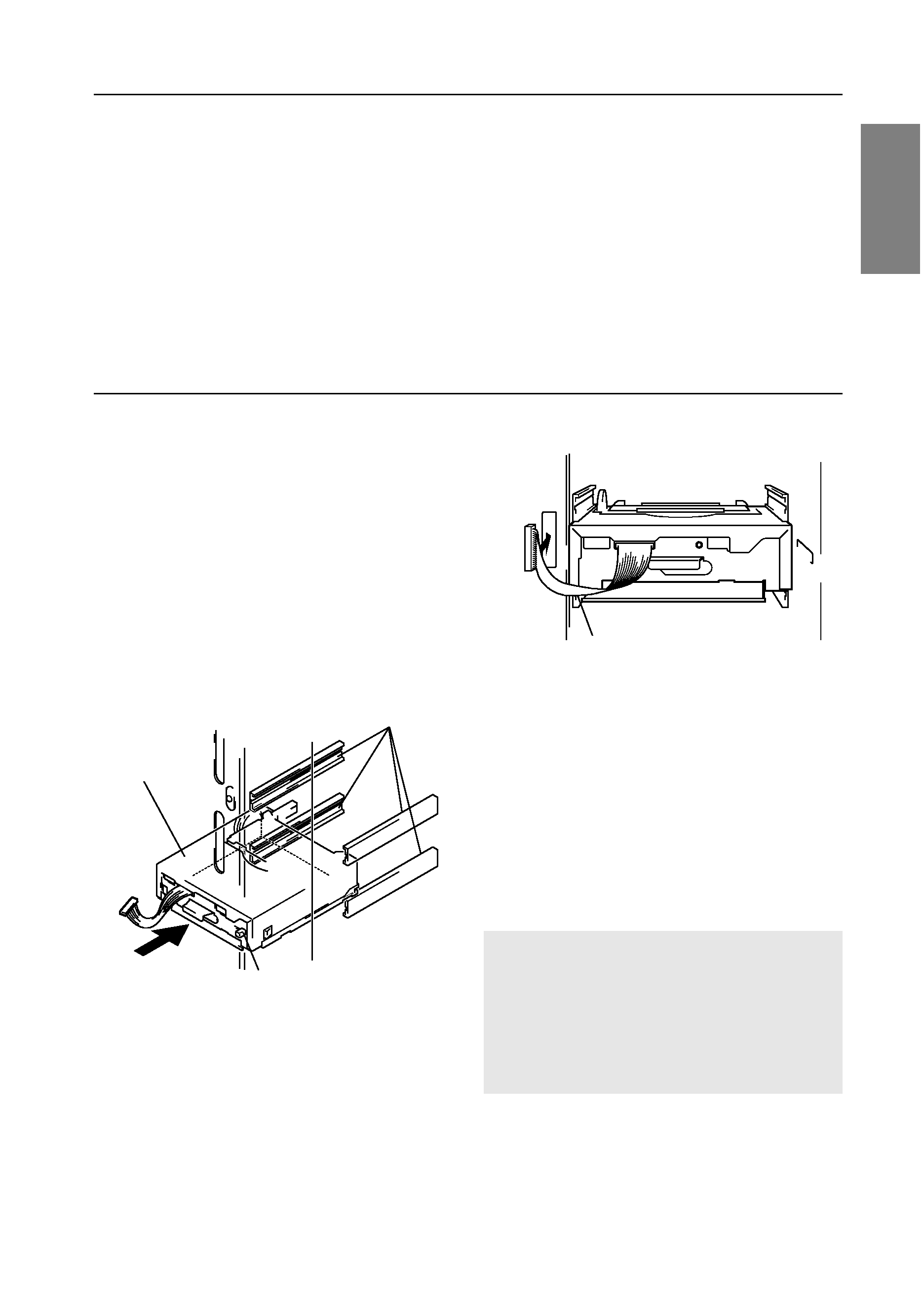 For instructions on how to open the
access doors, see the operating
instructions for the changer.
1. When inserting a unit, be sure to
place the unit on the changer guide
rails and push the unit in until the
lock lever on the unit shifts to the
locked position. Maybe you can hear
2. Connect the changer interface cable.
Warning about static electricity
Always be sure never to touch the
contacts or ports when operating units.
Also be sure to touch a metallic surface
on the changer before installing
additional units to the changer.
When a unit is to be removed from the
changer, flip the lock lever to the released
position and then pull the unit out from the
Connect the changer interface cable to the
connector corresponding to the bay in which
the units have been installed. (Note that labels
are affixed to connectors indicating the
corresponding bay number.) Note that it is
extremely important to do this, as connecting
the changer interface cable to a neighboring bay
will result in damage to discs and the disc
INSTALLATION-RELATED PRECAUTION
Before installing the unit, read and follow the following instructions.
¶ This unit can be installed on only one changer.
¶ This unit occupies two of the rear bays.
The rear bays where this unit can be installed are the odd-numbered rear bays.
¶ It is impossible to install another unit in 1 or more of this unit's rear bays (odd
numbered). Attempting to install another unit will cause a malfunction, so do not
---