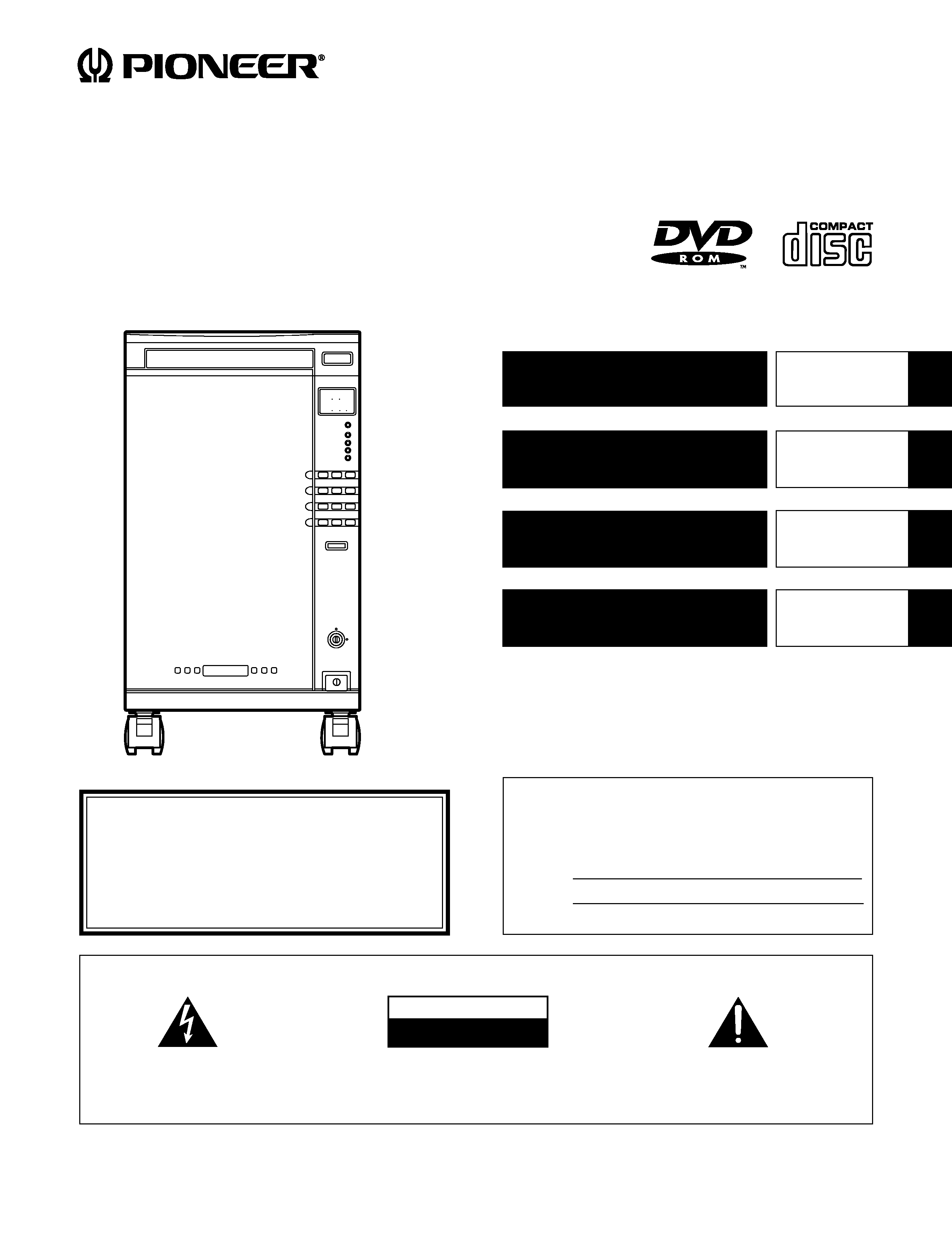 The lightning flash with arrowhead symbol, within an equilateral
triangle, is intended to alert the user to the presence of
uninsulated "dangerous voltage" within the product's enclosure
that may be of sufficient magnitude to constitute a risk of
electric shock to persons.
TO PREVENT THE RISK OF ELECTRIC SHOCK, DO NOT
REMOVE COVER (OR BACK). NO USER-SERVICEABLE
PARTS INSIDE. REFER SERVICING TO QUALIFIED
The exclamation point within an equilateral triangle is
intended to alert the user to the presence of important
operating and maintenance (servicing) instructions in the
literature accompanying the appliance.
Set the line voltage selector switch to the
position of your area before connecting the
power cord. ( Refer to page 4.)
Avant de raccorder le cordon d'alimentation,
régler le sélecteur de tension de ligne sur la
position correspondant au secteur local.
Stellen Sie den Netzspannungs-Wahlschalter
vor dem Anschießen des Netzkabels auf die
örtliche Netaspannung ein. (Siehe Seite 28.)
WARNING: TO PREVENT FIRE OR SHOCK HAZARD. DO
NOT EXPOSE THIS APPLIANCE TO RAIN OR MOISTURE.
IMPORTANT NOTICE [For U.S. model]
RECORD THE MODEL NUMBER AND SERIAL NUMBER OF
THIS EQUIPMENT BELOW. THE NUMBERS ARE ON THE
KEEP THESE NUMBERS FOR FUTURE USE.
CHANGEUR POUR 100 DVD-ROM
DVD-ROM-WECHSLER FÜR 100 DISCS
The export of this product from Japan is regulated by the
Japanese government. The export of this product may be
prohibited without governmental license. To export or re-
export of this product from a country other than Japan may
also be prohibited without a license from that country.
---

This product complies with the Low Voltage Directive (73/23/EEC),
EMC Directives (89/336/EEC, 92/31/EEC) and CE Marking Directive
Ce produit est conforme à la directive relative aux appareils basse
tension (73/23/CEE), aux directives relatives à la compatibilité
électromagnétique (89/336/CEE, 92/31/CEE) et à la directive CE
relative aux marquages (93/68/CEE).
Dieses Produkt entspricht den Niederspannungsrichtlinien (73/23/
EEC), EMV-Richtlinien (89/336/EEC, 92/31/EEC) und den CE-
Markierungsrichtlinien (93/68/EEC).
Questo prodotto è conforme alla direttiva sul basso voltaggio (73/
23/CEE), alle direttive EMC (89/336/CEE, 92/31/CEE) e alla direttiva
sul marchio CE (93/68/CEE).
Este producto cumple con la Directiva de Bajo Voltaje (73/23/CEE),
Directivas EMC (89/336/CEE, 92/31/CEE) y Directiva de Marcación
Este produto cumpre com a Directiva de Voltagem Baixa (73/23/
CEE), Directivas EMC (89/336/CEE, 92/31/CEE) e com a Directiva da
FOR BELGIUM AND NETHERLANDS
Dit produkt voldoet aan de laagspanningsrichtlijn (73/23/EEC),de
EMC-richtlignen (89/336/EEC en 92/31/EEC) en de CE-
markeringsrichtlijn (93/68/EEC).
Dette produkt er i overensstemmelse med direktivet vedrørende
lavspænding (73/23/EEC), direktiverne vedrørende elektromagnetisk
kompatibilitet (89/336/EEC, 92/31/EEC) og CE-direktivet vedrørende
Denna produkt uppfyller föreskrifterna i Lågspänningsdirektiv (73/
23/EEC), EMC-direktiv (89/336/EEC, 92/31/EEC) och CE-
märkningsdirektiv (93/68/EEC).
The following caution label appears on your changer.
Location: rear of the changer
[FOR EUROPEAN AND U.K. MODELS]
This product contains a laser diode of higher class than 1. To ensure
continued safety, do not remove any covers or attempt to gain
access to the inside of the product.
Refer all servicing to qualified personnel.
Laitteen käyttäminen muulla kuin tässä käyttöohjeessa
mainitulla tavalla saattaa altistaa käyttäjän turvallisuusluokan
1 ylittävälle näkymättömälle lasersäteilylle.
[FOR NORTH AMERICA MODELS]
CONSULT WITH THE COMPANY SALES REPRESENTATIVE.
"USE ONLY UL LISTED AND CANADIAN CERTIFIED POWER
A POWER SUPPLY CORD TYPE SJT, 18 AWG MINIMUM, 3-
WIRE GROUNDED TYPE SHALL BE USED WITH THIS
CONSULT WITH THE COMPANY SALES REPRESENTATIVE.
"USE ONLY SAFETY LICENSED POWER SUPPLY CORD."
A CERTIFIED POWER SUPPLY CORD IS TO BE USED WITH
THIS EQUIPMENT. FOR A RATED CURRENT UP TO 6 A, A
TYPE NOT LIGHTER THAN H05VV-F 3G 0.75 mm
2
OR
H05VVH2-F 3G 0.75 mm
2
SHALL BE USED.
Om apparaten används pâ annatt sätt an i denna bruksanvisning
spacificerats, kan användaren utsättas för osynling
laserstrålning som överskrider gränsen för laserklass 1.
Usynlig laserstråling ved åbning når sikkerhedsafbrydere er
ude af funktion. Undgå udsaettelse for stråling.
If the apparatus is fitted with AC mains power outlet(s),
see REAR PANEL FACILITIES for convenient connection
of additional Hi-Fi component(s). Make all connections
to the AC outlet(s) and the signal terminals first. Connect
the plug to the wall socket last (make sure that the
The wires in this mains lead are coloured in
accordance with the following code:
Green- and -yellow: Earth
As the colours of the wires in the mains lead of this
apparatus may not correspond with the coloured making
identifying the terminals in your plug proceed as follows:
The wire which is coloured green- and -yellow must be
connected to the terminal in the plug which is marked by
the letter E or by the safety earth symbol
green or green- and -yellow.
The wire which is coloured blue must be connected to
the terminal which is marked with the letter N or col-
The wire which is coloured brown must be connected to
the terminal which is marked with the letter L or coloured
Equipment sold in the U.K. is not supplied with a
---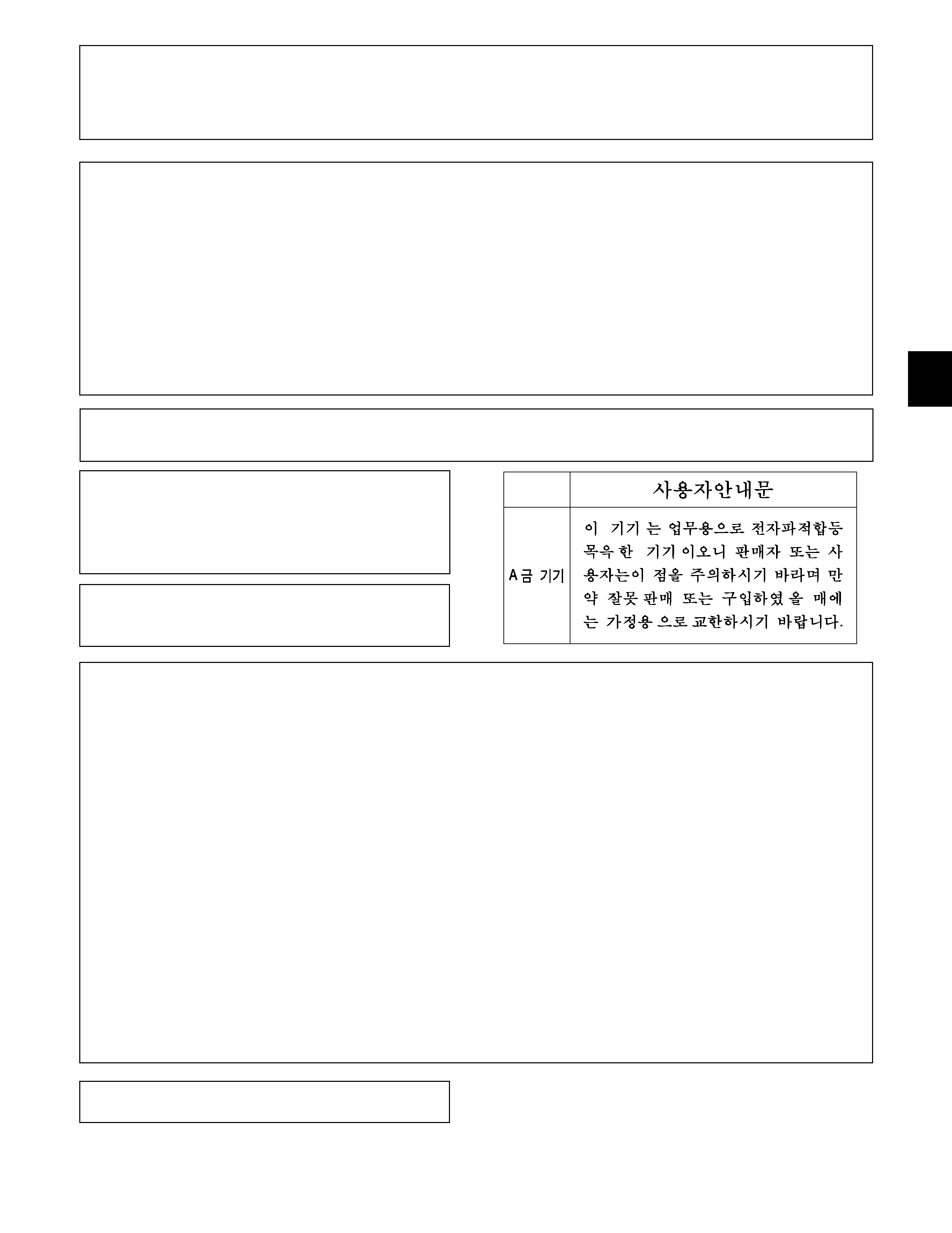 ÷ Use of controls or adjustments or performance of procedures other than those specified herein may result in hazardous radiation
÷ The use of optical instruments with this product will increase eye hazard.
This equipment has been tested and found to comply with the limits for a Class B digital device, pursuant to Part 15 of the FCC Rules.
These limits are designed to provide reasonable protection against harmful interference in a residential installation. This equipment
generates, uses, and can radiate radio frequency energy and, if not installed and used in accordance with the instructions, may cause
harmful interference to radio communications. However, there is no guarantee that interference will not occur in a particular
installation. If this equipment does cause harmful interference to radio or television reception, which can be determined by turning
the equipment off and on, the user is encouraged to try to correct the interference by one or more of the following measures:
­ Reorient or relocate the receiving antenna.
­ Increase the separation between the equipment and receiver.
­ Connect the equipment into an outlet on a circuit different from that to which the receiver is connected.
­ Consult the dealer or an experienced radio/TV technician for help.
Alteration or modifications carried out without appropriate authorization may invalidate the user's right to operate the equipment.
This product satisfies FCC regulations when shielded cables and
connectors are used to connect the unit to other equipment. To
prevent electromagnetic interference with electric appliances
such as radios and televisions, use shielded cables and connectors
This Class B digital apparatus meets all requirements of the
Canadian Interference­Causing Equipment Regulations.
IMPORTANT! SAFETY INSTRUCTIONS
1. READ INSTRUCTIONS ­ All the safety and operating instructions should be read before
the appliance is operated.
2. RETAIN INSTRUCTIONS ­ The safety and operating instructions should be retained for
3. HEED WARNING ­ All warnings on the appliance and in the operating instructions
4. FOLLOW INSTRUCTIONS ­ All operating and use instructions should be followed.
5. CLEANING ­ Unplug this product from the wall outlet before cleaning.
Do not use liquid cleaners or aerosol cleaners. Use a damp cloth for cleaning.
6. WATER AND MOISTURE ­ Do not use this product near water.
7. ACCESSORIES ­ Do not place this product on an unstable cart, stand, or table.
The product may fall and be seriously damaged.
8. VENTILATION ­ Slots and openings in the cabinet and back or bottom are
provided for ventilation and to ensure reliable operation of the product and to
protect it from overheating. These openings must not be blocked or covered.
They should never be blocked by placing the product on a bed, sofa, rug, or other
similar surface. This product should never be placed in a built-in installation
unless proper ventilation is provided.
9. POWER SOURCES ­ This product should be operated only from the type of power
source indicated on the marking label. If you are not sure of the type of power
available, consult your dealer or local power company.
10. PLUG ­ This product is equipped with a wired grounding-type plug (a plug having a third
(grounding) pin). This plug will only fit into a grounding type power outlet. This is a
safety feature. If you are unable to insert the plug fully into the outlet, contact your
electrician to replace your obsolete outlet. Do not defeat the safety purpose of the
11. POWER-CORD PROTECTION ­ When unplugging the apparatus, pull on the plug ­ not
on the cord. Do not handle the cord on plug with wet hands. Doing so could cause an
electric short or shock. Do not allow anything to rest on the power cord. Do not locate
this product where persons will walk on the cord.
12. OVERLOADING ­ Do not overload wall outlets and extension cords as this can result
in fire or electric shock.
13. OBJECT AND LIQUID ENTRY ­ Never push objects of any kind into this product
through openings as they may touch dangerous voltage points or short out parts that
could result in a fire or electric shock. Never spill liquid of any kind on the product.
14. CONDENSATION ­ Moisture will form in the operating section of the product and the
product's performance will be impaired if the product is brought from cool surroundings
into a warm room or if the room temperature rises suddenly. To prevent this, let the
product stand in its new surroundings for about an hour or two before switching it on,
or ensure that the room temperature rises gradually.
15. SERVICING ­ Do not attempt to service this product yourself as opening or
removing covers may expose you to dangerous voltage or other hazards.
Refer all servicing to qualified service personnel.
16. DAMAGE REQUIRING SERVICE
Unplug this product from the wall outlet and refer servicing to qualified service
personnel under the following conditions:
a. When the power cord or plug is damaged.
b. If liquid has been spilled, or objects have fallen into the video product.
c. If the product has been exposed to rain or water.
d. If the product does not operate normally when the operating instructions are
followed. Adjust only those controls that are covered by the operating instructions.
Improper adjustment of other controls may result in damage and will often
require extensive work by a qualified technician to restore the product to its
e. If the product has been dropped or the cabinet has been damaged.
f. When the product exhibits a distinct change in performance ­ this
indicates a need for service.
The Generation of Acoustical Noise Is Less Than 70 dB.
---

LINE VOLTAGE SELECTOR SWITCH
The line voltage selector switch is located on the rear panel of this
changer. Check that it is set properly before plugging the power
cord into the outlet. If the voltage is not properly set or if you move
to an area where the voltage requirements differ, adjust the
selector switch as follows:
÷ Be sure to disconnect the power cord from its outlet before
÷ Use a medium-size (flat blade) screwdriver. Insert the tip of the
screwdriver into the groove of the selector switch and turn it
so that the arrow points to the power voltage making of your
Handle the power cord by the plug. Do not pull out the plug by tugging
the cord and never touch the power cord when your hands are wet
as this could cause a short circuit or an electric shock. Do not place
the unit, a piece of furniture, etc., on the power cord, or pinch the cord.
Never make a knot in the cord or tie it with other cords. The power
cords should be routed such that they are not likely to be stepped on.
A damaged power cord can cause a fire or give you an electrical shock.
Check the power cord once in a while. When you find it damaged, ask
your nearest PIONEER authorized service center or your dealer for a
Thank you for buying this Pioneer product.
Please read through these operating instructions so you
will know how to operate your model properly. After you
have finished reading the instructions, put them away in a
safe place for future reference.
In some countries or regions, the shape of the power plug
and power outlet may sometimes differ from that shown in
the explanatory drawings.
connecting and operating the unit is the same.
100-disc storage ... Two 50-disc magazines are
accommodated and each of them can be changed
Average disc replacement time (from clamp-up to
clamping of next disc) of 5 sec. (Max. time: Below 7
Mail slot (horizontal tray type) is provided (for use
in disc replacement or use of the Plus One disc).
Control panel is provided (for an offline disc
SCSI2 interface (for the changer and drive).
External SCSI terminal is provided for each drive to
allow system integration for multiple purposes.
Automatic recognition of drive IDs from the changer.
FEATURES ................................................................................. 4
HANDLING PRECAUTIONS ...................................................... 5
HOW TO LOCK THE CASTERS ................................................. 6
CHECKING THE ACCESSORIES ............................................... 6
PANEL FACILITIES .................................................................... 7
CONNECTIONS ......................................................................... 9
HOW TO INSTALL OR EXCHANGING DISCS ......................... 10
FUNCTION SWITCH DESCRIPTION ....................................... 13
TROUBLESHOOTING .............................................................. 14
SPECIFICATIONS .................................................................... 15
The export of this product from Japan is regulated by the
Japanese government. The export of this product may be
prohibited without governmental license. To export or re-
export of this product from a country other than Japan may
also be prohibited without a license from that country.
---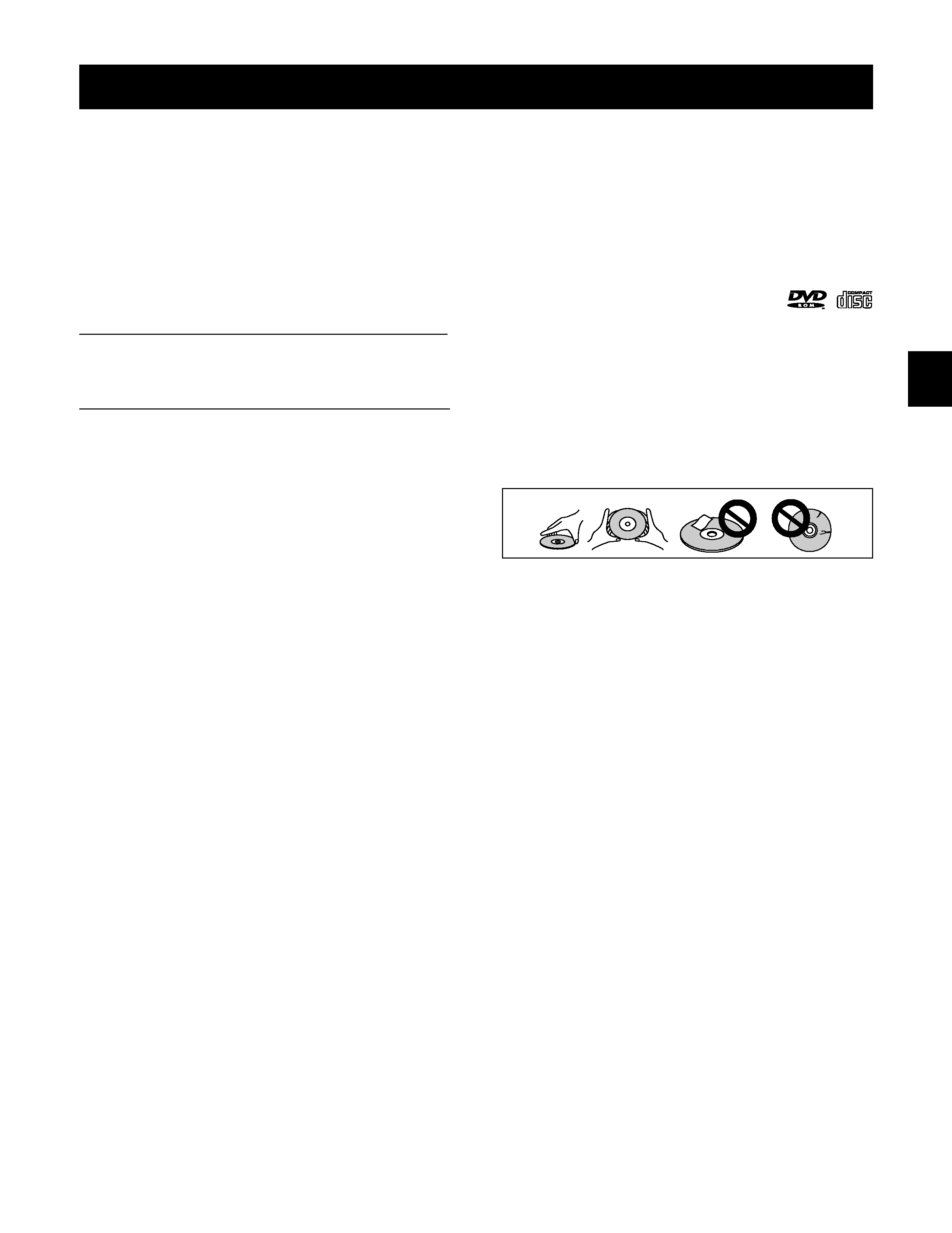 Select an installation site with a flat, solid surface.
Do not install the system where it will suffer any of the following:
1 Exposure to direct sunlight or `a heater
3 Proximity to bathroom or kitchen
5 Proximity to any large electric apparatus such as a refrigerator, air
conditioner, dimmer, etc.
6 Uneven or unsteady installation surface.
(If the surface is not flat, first put down a hard plate or similar
support so that the system is installed level.)
7 Difficulty of service and maintenance.
If you install the system close to a wall, be sure to leave a space
between the wall and the system so that the rear of the system is
Avoid placing objects directly on the changer.
÷ Fingerprints or dust on the disc will not directly in flounce the
signals recorded on it. However, sound quality may decline, since
such contamination diminishes the intensity of the light reflected
Therefore, discs should be kept clean. When you clean a disc, use
a soft cloth and carefully wipe towards outer edge of the disc.
÷ If the disc is heavily soiled, wipe off the dirt using a soft cloth
soaked with water, then wipe the water off using a dry cloth.
÷ Do not use spray-type record cleaner or antistatic agent. Do not
use benzine, thinner or similar volatile chemicals as they may
dissolve the disc surface.
÷ CDs are made of plastic, like conventional audio records. Take
proper care to prevent discs from warping. Always put them in
their case and store them vertically away from humidity or extremes
Do not leave your discs on a car seat for a long time.
÷ Be sure to read the instructions supplied with discs.
The player's pickup lens should not become dirty in normal use,
but if for some reason it should malfunction due to soiling, consult
your nearest PIONEER authorized
service center. Lens cleaners
for CD players are commercially available, but special care should
be exercised in their use since some may cause damage to the
To clean the panel and the cover, use a soft, dry cloth to wipe off dust
and dirt. If the cabinet is heavily soiled, wipe off the dirt using a soft
cloth soaked with neutral detergent diluted 5 to 6 times. Then wipe
the water off with a dry cloth. Do not use benzine, thinner, insecticide
or similar volatile chemicals, as they may dissolve or discolor the
cabinet surface. If you use a chemical polishing cloth, carefully read
the instructions supplied with it.
If the temperature difference between the changer and environment
is too large, water will condense in the changer and the system may
not provide proper performance. For example, if you bring the
changer into a warm room from outside in cold weather, or if you
increase room temperature abruptly, condensation may result.
If condensation occurs, leave the changer for one hour in the room,
or increase room temperature gradually before using it.
÷ Use DVDs and CDs marked with the following
÷ Avoid touching the signal surface when you use a disc.
÷ To hold it, place your fingers on the edge of the disc or the edge
of the center hole and the disc edge.
÷ Do not attach paper or stickers to the label side of the disc. Handle
discs carefully and avoid damaging the label.
÷ Discs rotate at high speed in the changer. Do not use defective
discs (e.g., cracked or considerably warped). Such discs may
÷ Do not use a disc with an electrostatic charge. Remove any
electrostatic charge from the disc with the supplied electrostatic
charge removal sheet before inserting the disc in the changer.
÷ Set the VOLTAGE SELECTOR switch on the rear panel according
to your local voltage. If the switch is not set properly, the specified
performance may not be obtained or the equipment itself may be
÷ Be careful not to stain, scratch or leave fingerprint, etc., on the
signal surface, or recording surface of the discs. The specified
playback performance or recording performance may not be
obtained with such discs.
÷ Do not insert more than one disc in a mail slot, otherwise
÷ Every time after exchanging discs by unloading and loading the
magazine, be sure to issue SCSI command "INITIALIZE ELEMENT
STATUS." However, this command does not have to be issued
provided that the storage element initialization condition has been
set to AUTO (with the 8-pin Function switch inside the front door).
÷ The Changer does not manage the disc contents. The data should
be managed by involving the host.
÷ The recording disc used with the writer should be the disc
recommended by PIONEER. The specified recording performance
or playback performance may not be obtained if a non-
recommended disc is used.
÷ Please note that the data recorded on discs is not covered by
÷ Be sure not to lose the key of the key switch. Without the key, it
will not be possible to remove, install and exchange discs (in both
the mail slots and magazines).
÷ Do not install the unit on the desk, etc., as the unit sometimes
÷ Do not stack the units or do not place a hevy object on the unit.
÷ The Changer can accommodate only the discs with a diameter of
12 cm(5 in). As the Changer detects the presence of disc with
optical detection of the position at about 5 mm(3/16 in) inside the
external periphery of the 12 cm(5 in) disc, the use of a disc which
is transparent at the corresponding position or a 8 cm(3 in) disc
may lead to disc detection error and to the disc damage in the
worst case. Also, the use of a 8 cm disc adapter is strictly
÷ For safety, this unit has been designed so that the door cannot be
opened while the built-in reader or writer is operating.
÷ Since the disc rotates at a high speed in the built-in reader,
vibrations or noise may be generated as a result. Note that this is
not a malfunction and that it will not exert adverse effects on the
---