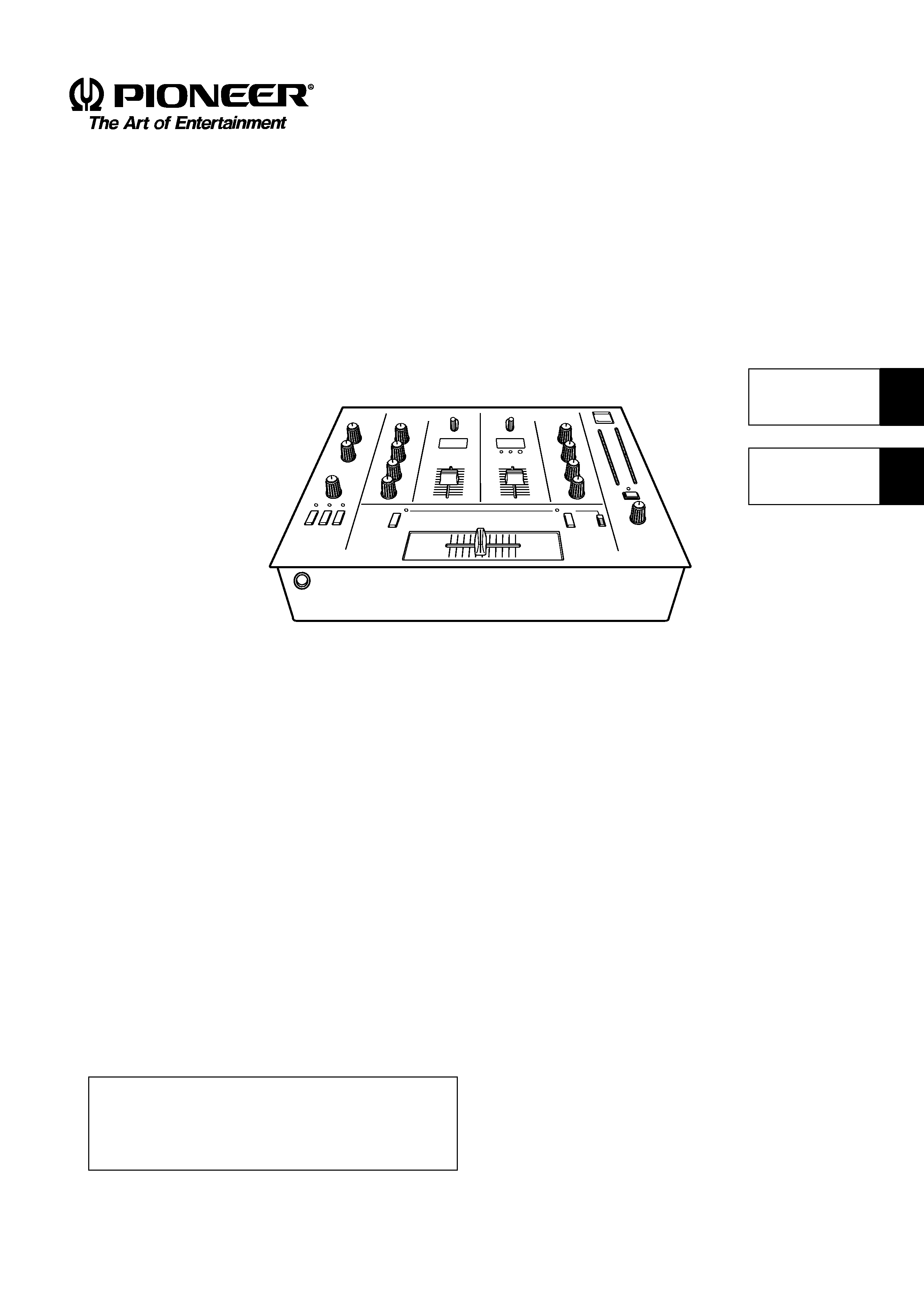 Thank you for buying this Pioneer product.
Please read through these operating instructions so you
will know how to operate your model properly.
After you have finished reading the instructions, put them
away in a safe place for future reference.
Nous vous remercions pour cet achat d'un produit PIO-
Nous vous demandons de lire soigneusement ce mode
d'emploi; vous serez ainsi à même de faire correctement
Après avoir bien lu le mode d'emploi, le ranger dans un
endroit sûr pour pouvoir s'y référer ultérieurement.
WARNING: TO PREVENT FIRE OR SHOCK HAZARD, DO
NOT EXPOSE THIS APPLIANCE TO RAIN OR MOISTURE.
CAUTION: TO PREVENT ELECTRIC SHOCK DO NOT
USE THIS (POLARIZED) PLUG WITH AN EXTENSION CORD,
RECEPTACLE OR OTHER OUTLET UNLESS THE BLADES
CAN BE FULLY INSERTED TO PREVENT BLADE EXPOSURE.
The serial number for this equipment is located on the
rear panel. Please write this serial number on your en-
closed warranty card and keep it in a secure area. This is
CAUTION: This product satisfies FCC regulations when
shielded cables and connectors are used to connect the unit to
other equipment. To prevent electromagnetic interference with
electric appliances such as radios and televisions, use shielded
cables and connectors for connections.
ATTENTION: AFIN DE PREVENIR TOURS RISQUES DE
CHOC ELECTRIQUE OU DE DEBUT D'ENCENDIE, NE PAS EXPO-
SER CET APPAREIL A L'HUMIDITE OU A LA PLUIE.
ATTENTION: POUR PREVENIR LES CHOCS
ELECTRIQUES NE PAS UTILISER CETTE FICHE POLARISEE
AVEC UN PROLONGATEUR, UNE PRISE DE COURANT OU
UNE AUTRE SORTIE DE COURANT, SAUF SI LES LAMES
PEUVENT ETRE INSEREES A FOND SANS EN LAISSER
AUCUNE PARTIE A DECOUVERT.
Le numéro de série de cet appareil est inscrit sur le
panneau arrière. Veuillez noter ce numéro sur la carte de
garantie qui accompagne le lecteur et conserver celle-ci
en lieu sûr. Cette précaution peut être utile en cas de vol.
---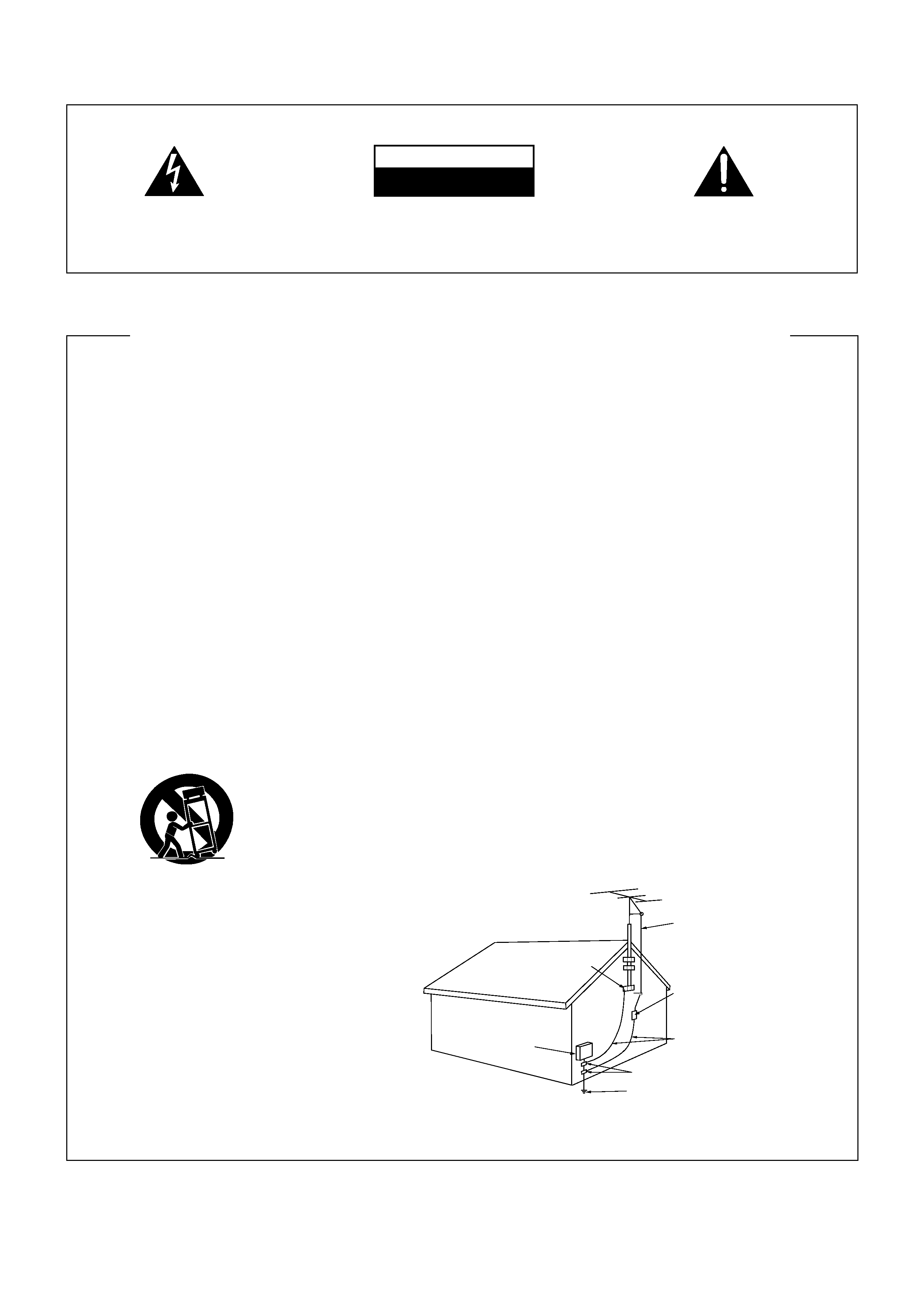 READ INSTRUCTIONS -- All the safety and operating
instructions should be read before the product is
RETAIN INSTRUCTIONS -- The safety and operating
instructions should be retained for future reference.
HEED WARNINGS -- All warnings on the product and
in the operating instructions should be adhered to.
FOLLOW INSTRUCTIONS -- All operating and use
instructions should be followed.
CLEANING -- Unplug this product from the wall outlet
before cleaning. The product should be cleaned only
with a polishing cloth or a soft dry cloth. Never clean
with furniture wax, benzine, insecticides or other
volatile liquids since they may corrode the cabinet.
ATTACHMENTS -- Do not use attachments not
recommended by the product manufacturer as they
WATER AND MOISTURE -- Do not use this product
near water -- for example, near a bathtub, wash
bowl, kitchen sink, or laundry tub; in a wet basement;
or near a swimming pool; and the like.
ACCESSORIES -- Do not place this product on an
unstable cart, stand, tripod, bracket, or table. The
product may fall, causing serious injury to a child or
adult, and serious damage to the product. Use only
with a cart, stand, tripod, bracket, or table
recommended by the manufacturer, or sold with
the product. Any mounting of the product should
follow the manufacturer's instructions, and should
use a mounting accessory recommended by the
CART -- A product and cart combination should be
moved with care. Quick stops, excessive force, and
uneven surfaces may cause the product and cart
VENTILATION -- Slots and openings in the cabinet are
provided for ventilation and to ensure reliable
operation of the product and to protect it from
overheating, and these openings must not be
blocked or covered. The openings should never be
blocked by placing the product on a bed, sofa, rug,
or other similar surface. This product should not be
placed in a built-in installation such as a bookcase or
rack unless proper ventilation is provided or the
manufacturer's instructions have been adhered to.
POWER SOURCES -- This product should be operated
only from the type of power source indicated on the
marking label. If you are not sure of the type of
power supply to your home, consult your product
dealer or local power company.
LOCATION ­ The appliance should be installed in a
NONUSE PERIODS ­ The power cord of the appliance
should be unplugged from the outlet when left un-
used for a long period of time.
GROUNDING OR POLARIZATION
If this product is equipped with a polarized alternating
current line plug (a plug having one blade wider than
the other), it will fit into the outlet only one way. This
is a safety feature. If you are unable to insert the plug
fully into the outlet, try reversing the plug. If the plug
should still fail to fit, contact your electrician to
replace your obsolete outlet. Do not defeat the
safety purpose of the polarized plug.
If this product is equipped with a three-wire
grounding type plug, a plug having a third (grounding)
pin, it will only fit into a grounding type power outlet.
This is a safety feature. If you are unable to insert the
plug into the outlet, contact your electrician to
replace your obsolete outlet. Do not defeat the
safety purpose of the grounding type plug.
POWER-CORD PROTECTION -- Power-supply cords
should be routed so that they are not likely to be
walked on or pinched by items placed upon or
against them, paying particular attention to cords at
plugs, convenience receptacles, and the point where
they exit from the product.
OUTDOOR ANTENNA GROUNDING -- If an outside
antenna or cable system is connected to the product,
be sure the antenna or cable system is grounded so
as to provide some protection against voltage surges
and built-up static charges. Article 810 of the National
Electrical Code, ANSI/NFPA 70, provides information
with regard to proper grounding of the mast and
supporting structure, grounding of the lead-in wire
to an antenna discharge unit, size of grounding
conductors, location of antenna-discharge unit,
connection to grounding electrodes, and
requirements for the grounding electrode. See Figure
LIGHTNING -- For added protection for this product
during a lightning storm, or when it is left unattended
and unused for long periods of time, unplug it from
the wall outlet and disconnect the antenna or cable
system. This will prevent damage to the product
due to lightning and power-line surges.
POWER LINES -- An outside antenna system should
not be located in the vicinity of overhead power lines
or other electric light or power circuits, or where it
can fall into such power lines or circuits. When
installing an outside antenna system, extreme care
should be taken to keep from touching such power
lines or circuits as contact with them might be fatal.
OVERLOADING -- Do not overload wall outlets,
extension cords, or integral convenience receptacles
as this can result in a risk of fire or electric shock.
OBJECT AND LIQUID ENTRY -- Never push objects of
any kind into this product through openings as they
may touch dangerous voltage points or short-out
parts that could result in a fire or electric shock.
Never spill liquid of any kind on the product.
SERVICING -- Do not attempt to service this product
yourself as opening or removing covers may expose
you to dangerous voltage or other hazards. Refer all
servicing to qualified service personnel.
DAMAGE REQUIRING SERVICE -- Unplug this product
from the wall outlet and refer servicing to qualified
service personnel under the following conditions:
When the power-supply cord or plug is damaged.
If liquid has been spilled, or objects have fallen into
If the product has been exposed to rain or water.
If the product does not operate normally by following
the operating instructions. Adjust only those controls
that are covered by the operating instructions as an
improper adjustment of other controls may result in
damage and will often require extensive work by a
qualified technician to restore the product to its
If the product has been dropped or damaged in any
When the product exhibits a distinct change in
performance -- this indicates a need for service.
REPLACEMENT PARTS -- When replacement parts
are required, be sure the service technician has used
replacement parts specified by the manufacturer or
have the same characteristics as the original part.
Unauthorized substitutions may result in fire, electric
SAFETY CHECK -- Upon completion of any service or
repairs to this product, ask the service technician to
perform safety checks to determine that the product
is in proper operating condition.
WALL OR CEILING MOUNTING -- The product should
not be mounted to a wall or ceiling.
HEAT -- The product should be situated away from heat
sources such as radiators, heat registers, stoves, or
other products (including amplifiers) that produce
IMPORTANT SAFETY INSTRUCTIONS
NEC -- NATIONAL ELECTRICAL CODE
The lightning flash with arrowhead symbol, within an
equilateral triangle, is intended to alert the user to the
presence of uninsulated "dangerous voltage" within the
product's enclosure that may be of sufficient magnitude
to constitute a risk of electric shock to persons.
TO PREVENT THE RISK OF ELECTRIC SHOCK, DO NOT
REMOVE COVER (OR BACK). NO USER-SERVICEABLE
REFER SERVICING TO QUALIFIED
The exclamation point within an equilateral triangle is
intended to alert the user to the presence of important
operating and maintenance (servicing) instructions in the
literature accompanying the appliance.
---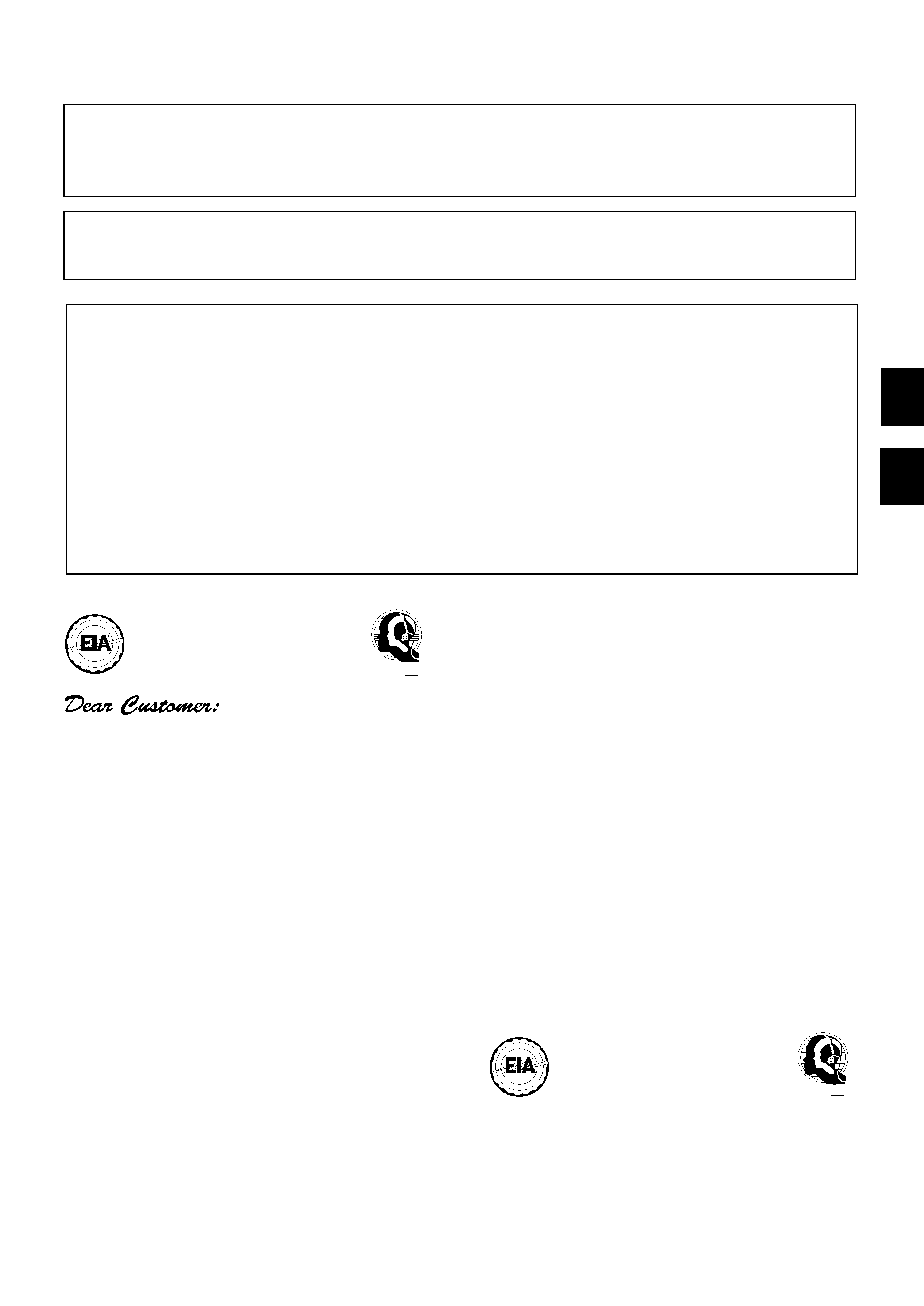 Alteration or modifications carried out without appropriate authorization may invalidate the user's right to operate the
This Class B digital apparatus meets all requirements of the Canadian Interference-Causing Equipment Regulations.
[Pour le modèle Canadien]
Cet appareil numerique de la Classe B respecte toutes les exigences du Reglement sur le material brouilleur du Canada.
This equipment has been tested and found to comply with the limits for a Class B digital device, pursuant to Part
15 of the FCC Rules. These limits are designed to provide reasonable protection against harmful interference in
a residential installation. This equipment generates, uses, and can radiate radio frequency energy and, if not
installed and used in accordance with the instructions, may cause harmful interference to radio communications.
However, there is no guarantee that interference will not occur in a particular installation. If this equipment does
cause harmful interference to radio or television reception, which can be determined by turning the equipment
off and on, the user is encouraged to try to correct the interference by one or more of the following measures:
­ Reorient or relocate the receiving antenna.
­ Increase the separation between the equipment and receiver.
­ Connect the equipment into an outlet on a circuit different from that to which the receiver is connected.
­ Consult the dealer or an experienced radio/TV technician for help.
We Want You Listening For A Lifetime
Used wisely, your new sound equipment will provide a lifetime of
fun and enjoyment. Since hearing damage from loud noise is often
undetectable until it is too late, this manufacturer and the Electronic
Industries Association's Consumer Electronics Group recommend
you avoid prolonged exposure to excessive noise. This list of sound
levels is included for your protection.
Information courtesy of the Deafness Research Foundation.
Subway, motorcycle, truck traffic, lawn mower
Garbage truck, chain saw, pneumatic drill
Rock band concert in front of speakers, thunderclap
THE FOLLOWING NOISES CAN BE DANGEROUS
Quiet library, soft whispers
Living room, refrigerator, bedroom away from traffic
Light traffic, normal conversation, quiet office
Air conditioner at 20 feet, sewing machine
Vacuum cleaner, hair dryer, noisy restaurant
Average city traffic, garbage disposals, alarm clock
Selecting fine audio equipment such as the unit you've just
purchased is only the start of your musical enjoyment. Now it's time
to consider how you can maximize the fun and excitement your
equipment offers. This manufacturer and the Electronic Industries
Association's Consumer Electronics Group want you to get the most
out of your equipment by playing it at a safe level. One that lets the
sound come through loud and clear without annoying blaring or
distortion-and, most importantly, without affecting your sensitive
Sound can be deceiving. Over time your hearing "comfort level"
adapts to higher volumes of sound. So what sounds "normal" can
actually be loud and harmful to your hearing. Guard against this by
setting your equipment at a safe level BEFORE your hearing adapts.
To establish a safe level:
÷ Start your volume control at a low setting.
÷ Slowly increase the sound until you can hear it comfortably and
clearly, and without distortion.
Once you have established a comfortable sound level:
÷ Set the dial and leave it there.
Taking a minute to do this now will help to prevent hearing
damage or loss in the future. After all, we want you listening for a
---

CAUTIONS REGARDING HANDLING .................. 4
CHECKING ACCESSORIES ................................... 5
FEATURES .............................................................. 5
CONNECTIONS ...................................................... 6
1. Connection of Input Equipment ............................ 6
2. Connection of Outputs ........................................... 7
NAME AND FUNCTION OF PARTS ...................... 8
MEASURING BPM ............................................... 12
USING THE FADER START FUNCTION ............. 14
Starting the Cross Fader .......................................... 14
Starting the Channel fader ....................................... 14
TROUBLESHOOTING .......................................... 16
SPECIFICATIONS ................................................. 18
PRECAUTIONS CONCERNANT LA MANIPULATION .... 4
CONTROLE DES ACCESSOIRES .......................... 5
CARACTERISTIQUES PRINCIPALES .................... 5
CONNEXION .......................................................... 6
1. Connexion des appareils d'entrée ........................ 6
2. Connexion des sorties ............................................ 7
DENOMINATION ET FONCTION DES ELEMENTS ... 8
MESURE DU BPM ............................................... 12
UTILISATION DE LA FONCTION DE DEMARRAGE
PAR CURSEUR DE VOLUME (Fader Start) ........ 14
Démarrage par curseur de volume croisé .............. 14
Démarrage par curseur de volume de canal .......... 14
DEPISTAGE DES PANNES .................................. 17
FICHE TECHNIQUE .............................................. 19
Install the unit in a well-ventilated location where it will
not be exposed to high temperatures or humidity.
Do not install the unit in a location which is exposed to
direct rays of the sun, or near stoves or radiators. Exces-
sive heat can adversely affect the cabinet and internal com-
ponents. Installation of the unit in a damp or dusty envi-
ronment may also result in a malfunction or accident. (Avoid
installation near cookers etc., where the unit may be ex-
posed to oily smoke, steam or heat.)
When this unit is brought into a warm room from previ-
ously cold surroundings or when the room temperature
rises sharply, condensation may form inside, and the unit
may not be able to attain its full performance. In cases like
this, allow the unit to stand for about an hour or raise the
room temperature gradually.
CAUTIONS REGARDING HANDLING
Installer l'appareil dans un endroit bien ventilé à l'abri
d'une température ou d'une humidité élevée.
Ne pas installer l'appareil dans un endroit qui est exposé
aux rayons directs du soleil, ni prees d'appareils de chauf-
fage ou de radiateurs. Une chaleur excessive peut affecter
le coffret et les composants internes. Une installation dans
un environnement humide ou opussiéreux peut provoquer
un fonctionnement défectueux ou un accident. (Eviter éga-
lement une installation prés de cuisinières, etc., où le lec-
teur peut être exposé à de la fumée graisseuse, de la va-
Lorsque le lecteur est transporté d'un endroit froid dans
une pièce chaude ou si la température de la pièce augmente
brusquement, de la condensation risque de se former à
l'intérieur du lecteur et il peut ne pas réaliser toutes ses
performances. Dans ce cas, ne pas utiliser l'appareil pen-
dant une heure environ ou augmenter progressivement la
Entretien des surfaces extérieurs
· Se servie d'un linge à polir or d'un chiffon sec pour enle-
ver la poussière ou les souillures.
· Si les surfaces sont très sales, les frotter avec un linge
doux trempé dans un détergent neutre, dilué dans cinq
or six fois son volume d'eau, puis essuyer convenable-
ment les surfaces. Ne pas utiliser de cire ou de produit
· Ne jamais utiliser de diluant pour peinture, de benzine
ou d'insecticide en atomiseur sur or à proximité de l'ap-
pareil, car ses surfaces en seraient endommagées.
· Use a polishing cloth to wipe off dust and dirt.
· When the surfaces are very dirty, wipe with a soft cloth
dipped in some neutral cleanser diluted five or six times
with water and wrung out well, then wipe again with a
dry cloth. Do not use furniture wax or cleaners.
· Never use thinners, benzene, insecticide sprays or other
chemicals on or near this unit, since these will corrode
---

Le compteur auto BPM incorporé permet de vérifier visuel-
lement le tempo de la musique. Ce compteur peut afficher
des valeurs en temps réel ou des valeurs moyennes.
The auto BPM counter provided allows the tempo of songs
to be checked visually. This counter can be switched be-
tween real-time and average.
A 3-band equalizer corresponding to the HI, MID, and LOW
channels. The attenuation level also serves as a kill func-
tion which can decrease the level to ­26 dB.
The CD player can be started by increasing the level of the
cross fader or channel fader, which is selected using the
cross fader switch. (This function can be used only when
the Pioneer CD player CDJ-500 series is connected.)
The peak level meter provided is equipped with 9-bit LED
indicators for each channel. This meter can be switched to
display the master level or channel level.
Enables channel inputs and master outputs to be divided
into the left and right headphones and monitored.
As a result, music can be joined accurately.
Enhanced Input/Output Terminals
Equipped with a total of 7 inputs-2 CD inputs, 2 LINE in-
puts, 2 PHONO inputs (for MM only), and 1 microphone
Egaliseur à 3 bandes et suppression
L'égaliseur à 3 bandes correspond aux canaux HI, MID
et LOW. Le niveau d'atténuation peut également servir
de fonction de suppression qui peut diminuer le niveau
Mesure du niveau de pic sonore
L'indicateur de niveau maxi est équipé d'indicateurs LED
de 9 bits pour chaque canal. Cet indicateur peut être
programmé pour indiquer le niveau principal ou le niveau
Démarrage par curseur de volume
Le lecteur CD peut être démarré en augmentant le niveau
du curseur de volume croisé ou du curseur de canal; ceuxci
peuvent être sélectionnés à l'aide du commutateur du
curseur de volume croisé. (Cette fonction n'est utilisable
que lorsqu'un lecteur CD Pioneer des séries CDJ-500 est
Permet de répartir les entrées canaux et les sorties
principales sur les écouteurs de gauche et de droite et de
Cela permet d'activer des musiques à des heures précises.
Connexions d'entrée et de sortie améliorées
Equipé d'un total de 7 entrées, 2 entrés CD, 2 entrées LINE
(ligne), 2entrées PHONES (casque) (pour MM seulement),
ainsi qu'une entrée et 2 sorties microphone.
---