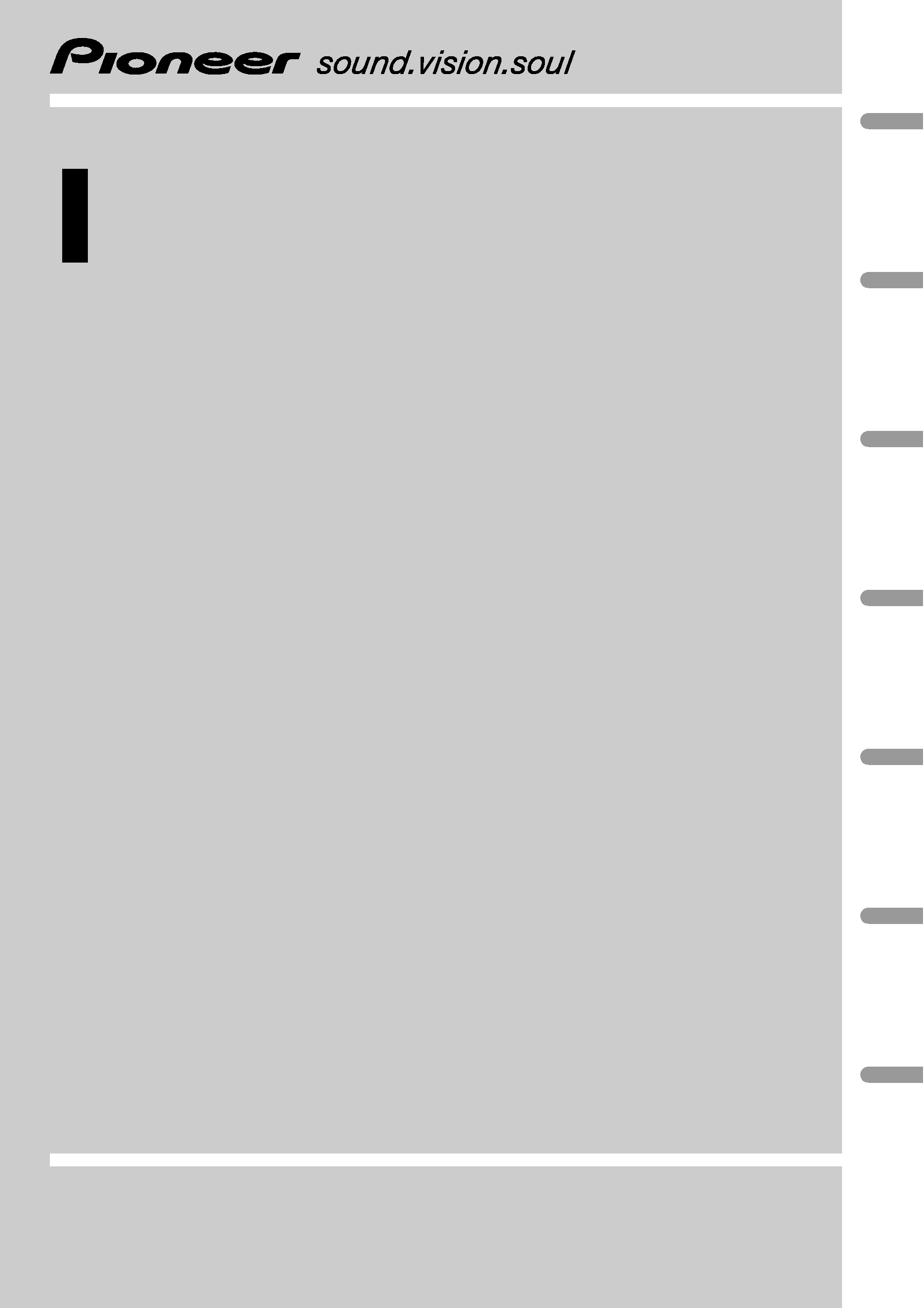 High power CD player with RDS tuner
Lecteur de CD de grande puissance avec syntoniseur
---

Thank you for buying this Pioneer product.
Please read through these operating instructions so you will know how to operate
your model properly. After you have finished reading the instructions, keep this man-
ual in a safe place for future reference.
Protecting your unit from theft 3
Removing the front panel 4
Attaching the front panel 4
Turning the unit on and selecting a
Storing and recalling broadcast
Tuning in strong signals 7
Storing the strongest broadcast
Introduction of RDS operation 8
Switching the RDS display 8
Receiving PTY alarm broadcasts 8
Selecting alternative frequencies 8
Receiving traffic announcements 9
Playing tracks in random order 10
Scanning tracks of a CD 10
Using balance adjustment 11
Adjusting equalizer curves 11
Adjusting source levels 12
Adjusting initial settings 12
Setting the FM tuning step 12
Switching Auto PI Seek 12
Saving the battery consumption 12
Handling guideline of discs and player 14
---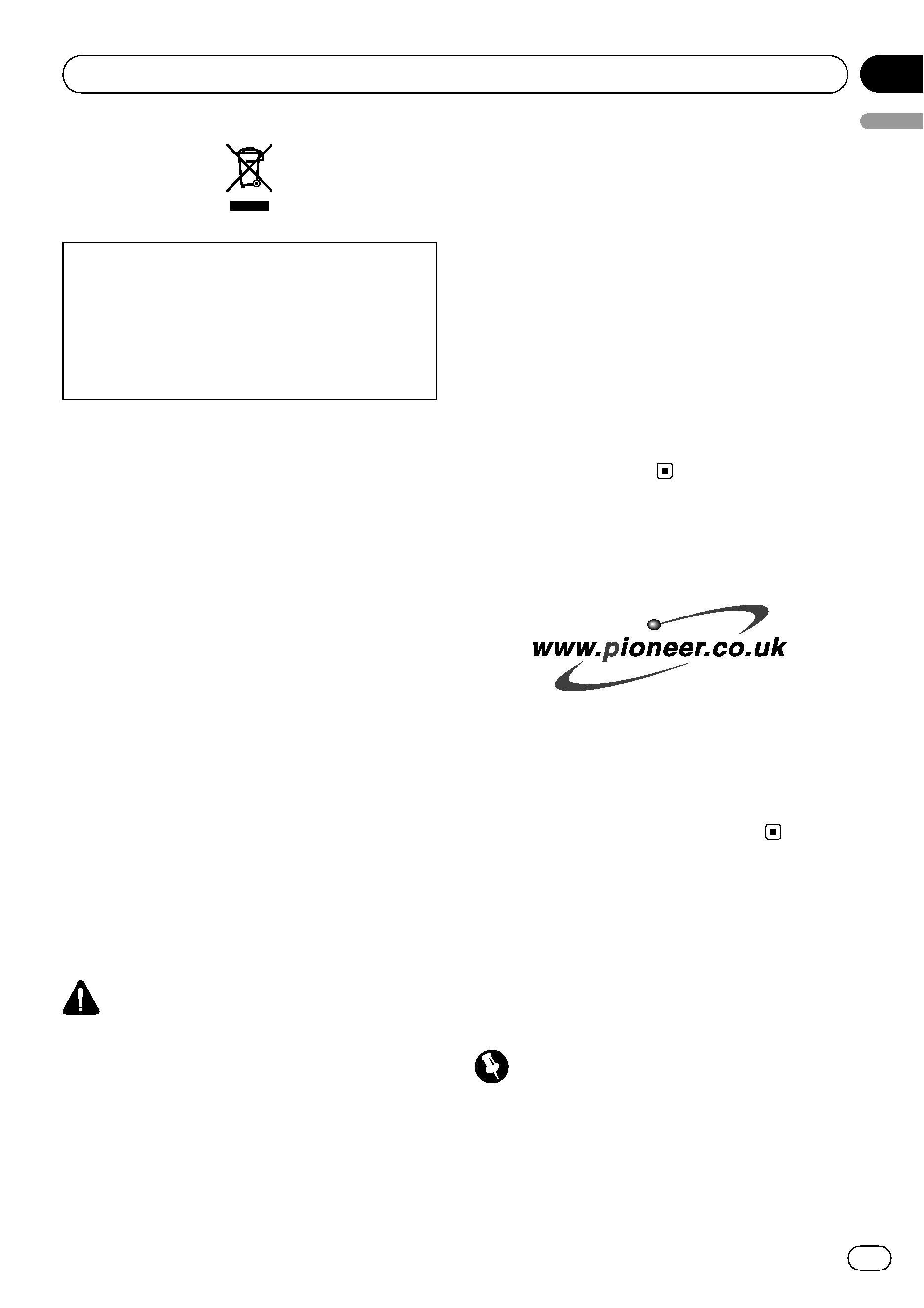 If you want to dispose this product, do not mix
it with general household waste. There is a se-
parate collection system for used electronic
products in accordance with legislation that re-
quires proper treatment, recovery and recy-
Private households in the 25 member states of
the EU, in Switzerland and Norway may return
their used electronic products free of charge
to designated collection facilities or to a retai-
ler (if you purchase a similar new one).
For countries not mentioned above, please
contact your local authorities for the correct
By doing so you will ensure that your disposed
product undergoes the necessary treatment,
recovery and recycling and thus prevent po-
tential negative effects on the environment
The tuner frequencies on this unit are allo-
cated for use in Western Europe, Asia, the
Middle East, Africa and Oceania. Use in other
areas may result in poor reception. The RDS
(radio data system) function operates only in
areas with FM stations broadcasting RDS sig-
! Do not allow this unit to come into contact
with liquids. Electrical shock could result.
Also, this unit damage, smoke, and overheat
could result from contact with liquids.
! This product contains a laser diode of higher
class than 1. To ensure continued safety, do
not remove any covers or attempt to gain ac-
cess to the inside of the product. Refer all ser-
vicing to qualified personnel.
! The Pioneer CarStereo-Pass is for use only in
! Keep this manual handy as a reference for op-
erating procedures and precautions.
! Always keep the volume low enough so that
you can hear sounds from outside the vehicle.
! Protect this unit from moisture.
! If the battery is disconnected or discharged,
the preset memory will be erased and must be
! Should this product fail to operate properly,
contact your dealer or nearest authorized Pio-
Visit us at the following site:
! Register your product. We will keep the de-
tails of your purchase on file to help you
refer to this information in the event of an
insurance claim such as loss or theft.
! We offer the latest information about Pio-
neer Corporation on our website.
Protecting your unit from
The front panel can be detached from the
head unit and stored in the provided protective
! Never use force or grip the display and the
buttons too tightly when removing or attach-
! Avoid subjecting the front panel to excessive
---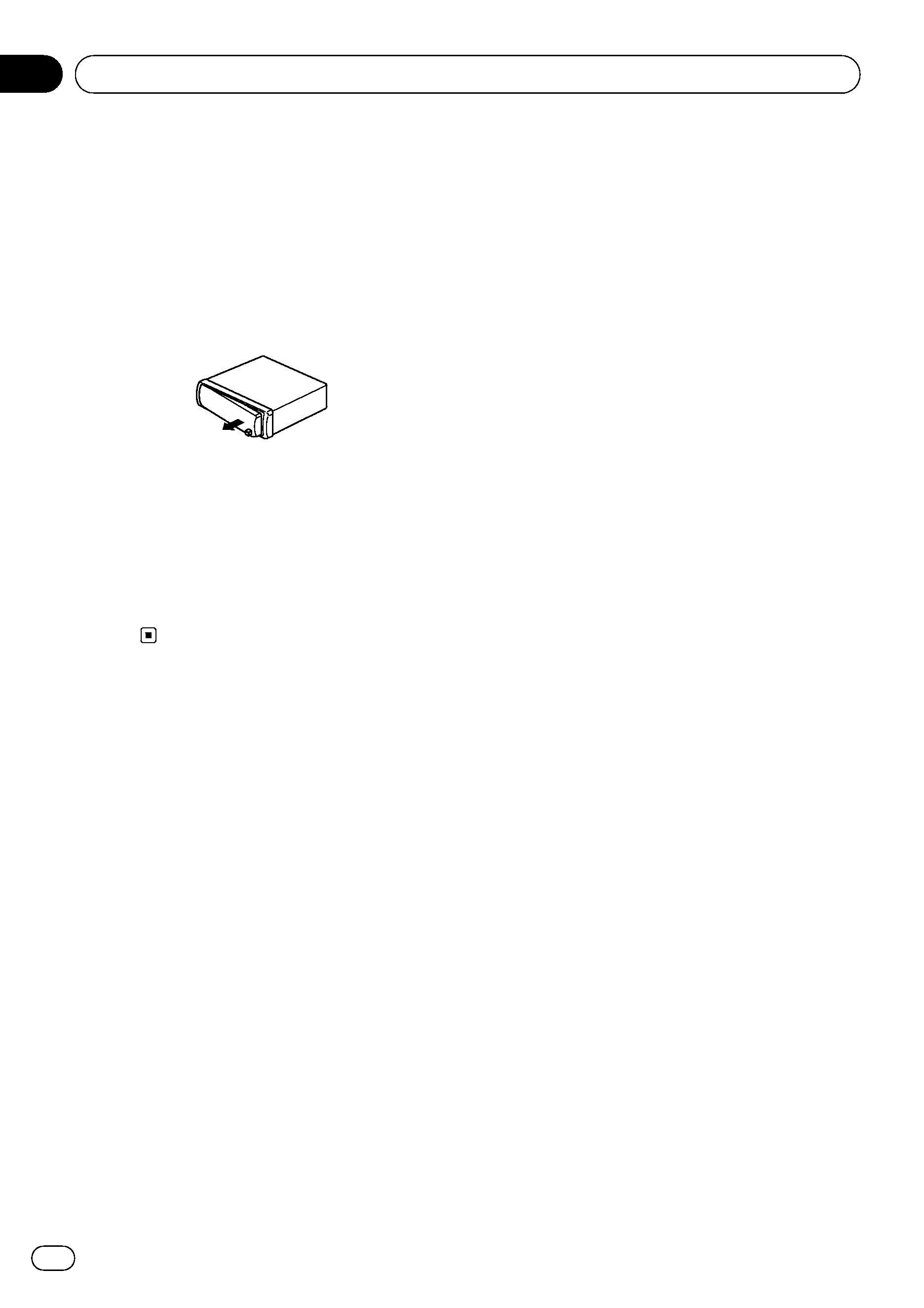 ! Keep the front panel out of direct sunlight and
1 Press DETACH to release the front
2 Grab the front panel and remove.
3 Put the front panel into provided pro-
tective case for safe keeping.
Attaching the front panel
% Place the front panel flat against the
face of the head unit until it is firmly
---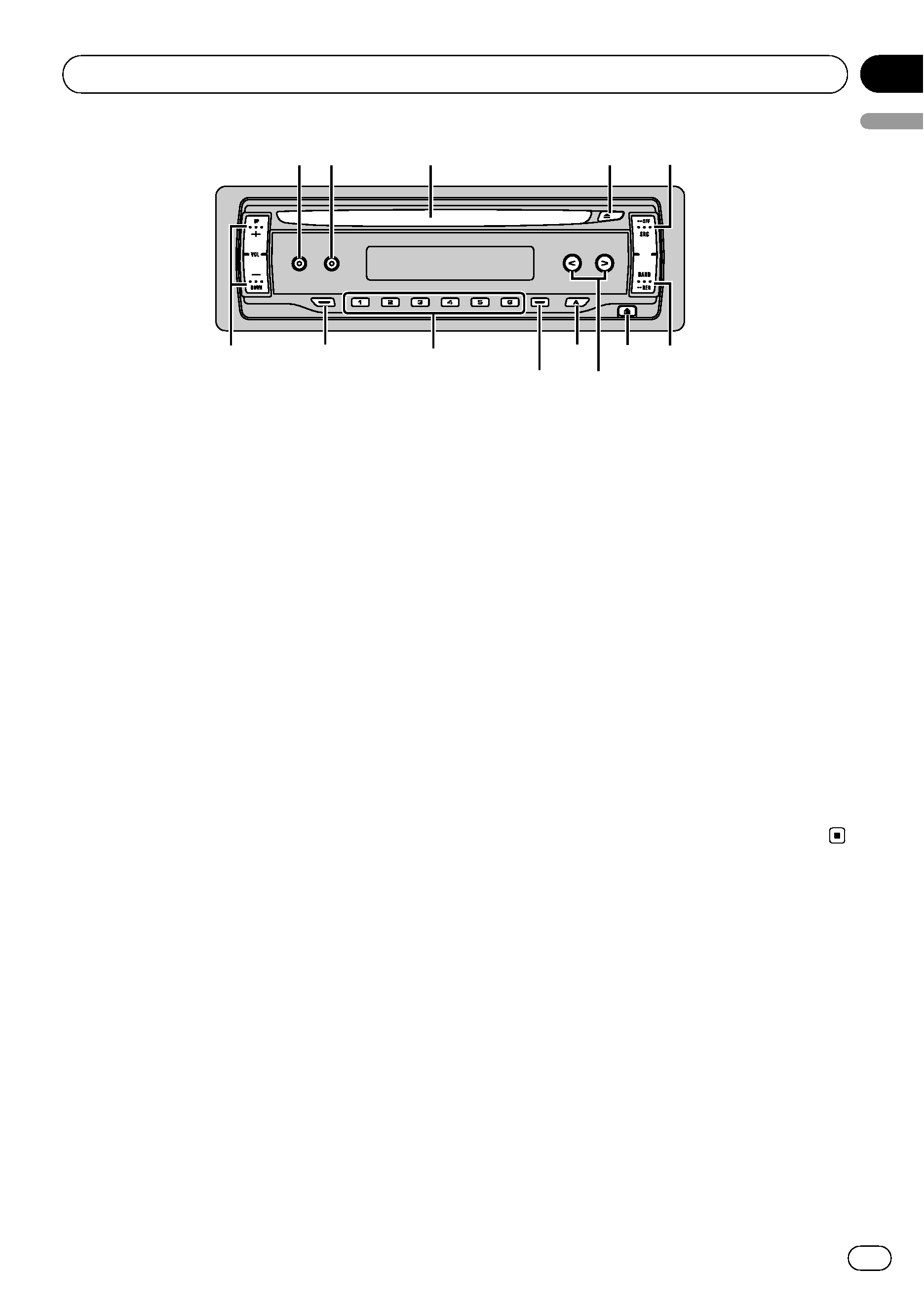 Press to select various equalizer curves.
Press to turn loudness on or off.
Press to eject a CD from your built-in CD
This unit is turned on by selecting a source.
Press to cycle through all the available
Press to select among MW/LW and two FM
bands and cancel the control mode of func-
Press to remove the front panel from the
Press to perform manual seek tuning, fast
forward, reverse and track search controls.
Also used for controlling functions.
Press to select various sound quality con-
Press to turn local function on or off.
Press and hold to turn BSM function on or
Press for preset tuning. Also used for con-
Press to turn TA function on or off. Press
and hold to turn AF function on or off.
Press to increase or decrease the volume.
---