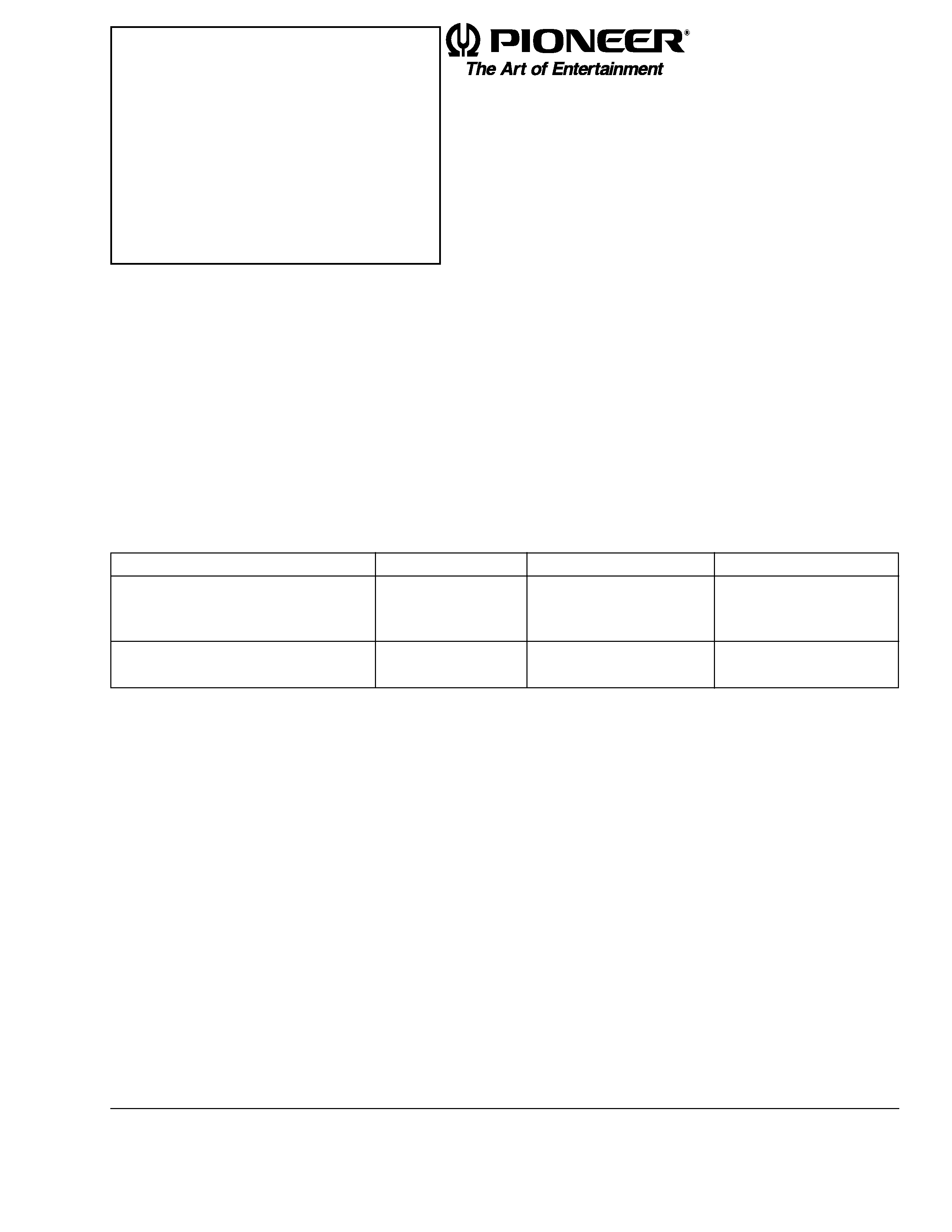 This Service Manual outlines operations of the CD mechanism module used in the models listed
For repair, use this Service Manual and the Service Manual of the model used in the system.
1. CIRCUIT DESCRIPTIONS ........................................... 2
2. MECHANISM DESCRIPTIONS ................................. 15
3. DISASSEMBLY .......................................................... 17
PIONEER ELECTRONIC CORPORATION
4-1, Meguro 1-Chome, Meguro-ku, Tokyo 153-8654, Japan
PIONEER ELECTRONICS SERVICE INC.
P.O.Box 1760, Long Beach, CA 90801-1760 U.S.A.
PIONEER ELECTRONIC [EUROPE] N.V.
Haven 1087 Keetberglaan 1, 9120 Melsele, Belgium
PIONEER ELECTRONICS ASIACENTRE PTE.LTD. 501 Orchard Road, #10-00, Lane Wheelock Place, Singapore 238880
PIONEER ELECTRONIC CORPORATION 1998
K-FES. MAY. 1998 Printed in Japan
---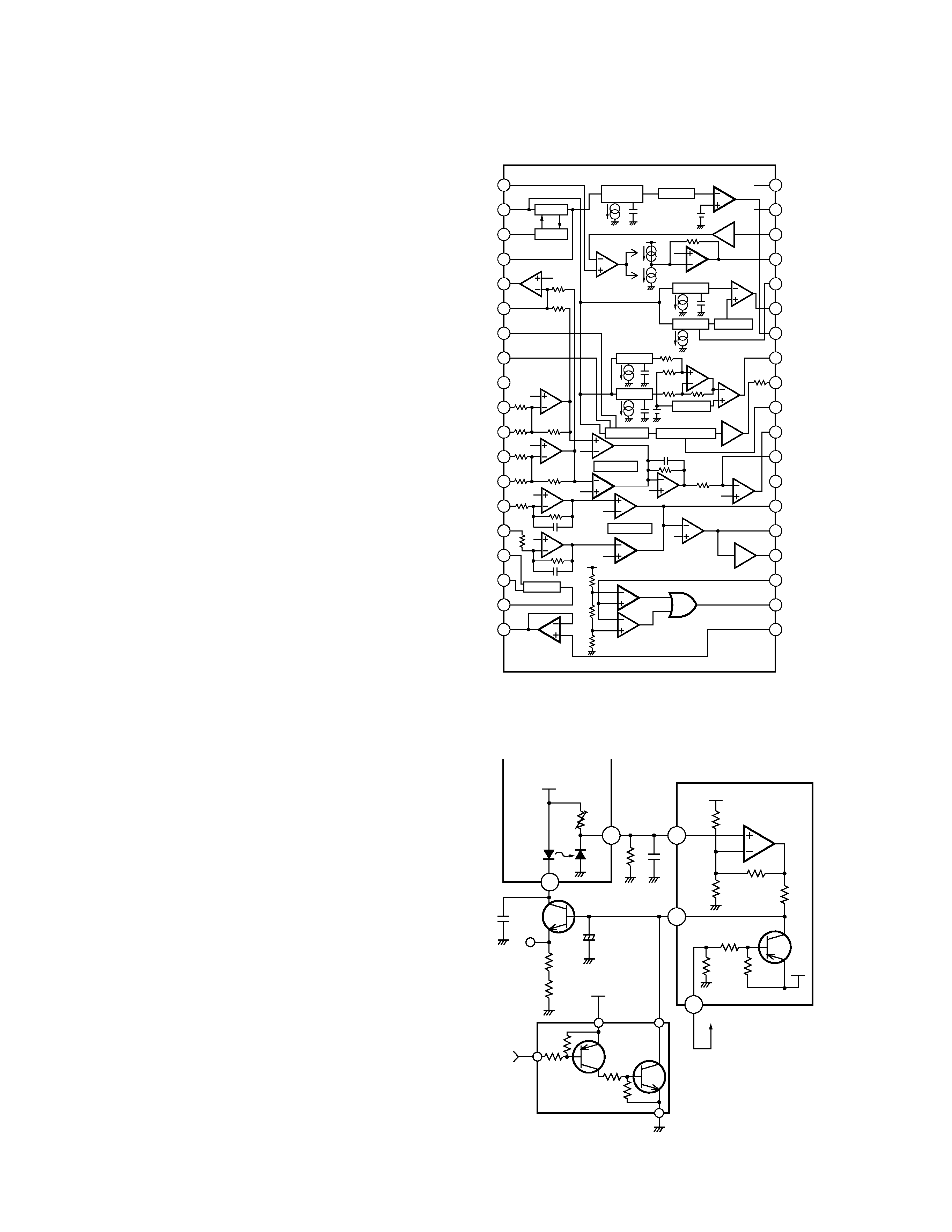 1.1 Preamplifier (UPC2572GS: IC101)
Fig. 1 Block Diagram of UPC2572GS
The preamplifier processes pickup output signals to
generate signals to be sent to the servo, demodula-
tor, and controller. The preamplifier with built-in
photodetector converts signals from the pickup into
intermediate voltage in the pickup. Then, addition is
made in the RF amplifier (IC101) to obtain RF, FE, TE,
and TE zero cross signals. The system consists of the
UPC2572GS and other components explained below.
The system uses a single power source (+5 V). There-
fore, the reference voltage of IC101 and the reference
voltage of the power unit and servo circuit are REFO
(+2.5 V). REFO is obtained from REFOUT of servo LSI
(IC201: UPD63702GF) via a buffer, and is output from
Pin 19 of IC101. This REFO is used as reference for all
Note: Do NOT short-circuit REFO and GND during
1) Automatic Power Control (APC) circuit
Laser diode has negative temperature characteristics
with great optical output when the diode is driven
with constant current. Therefore, current must be
controlled by a monitor diode to ensure constant out-
put. Thus functions the APC circuit. LD current can be
obtained by measuring the voltage between LD1 and
GND. The current value is approximately 35 mA.
---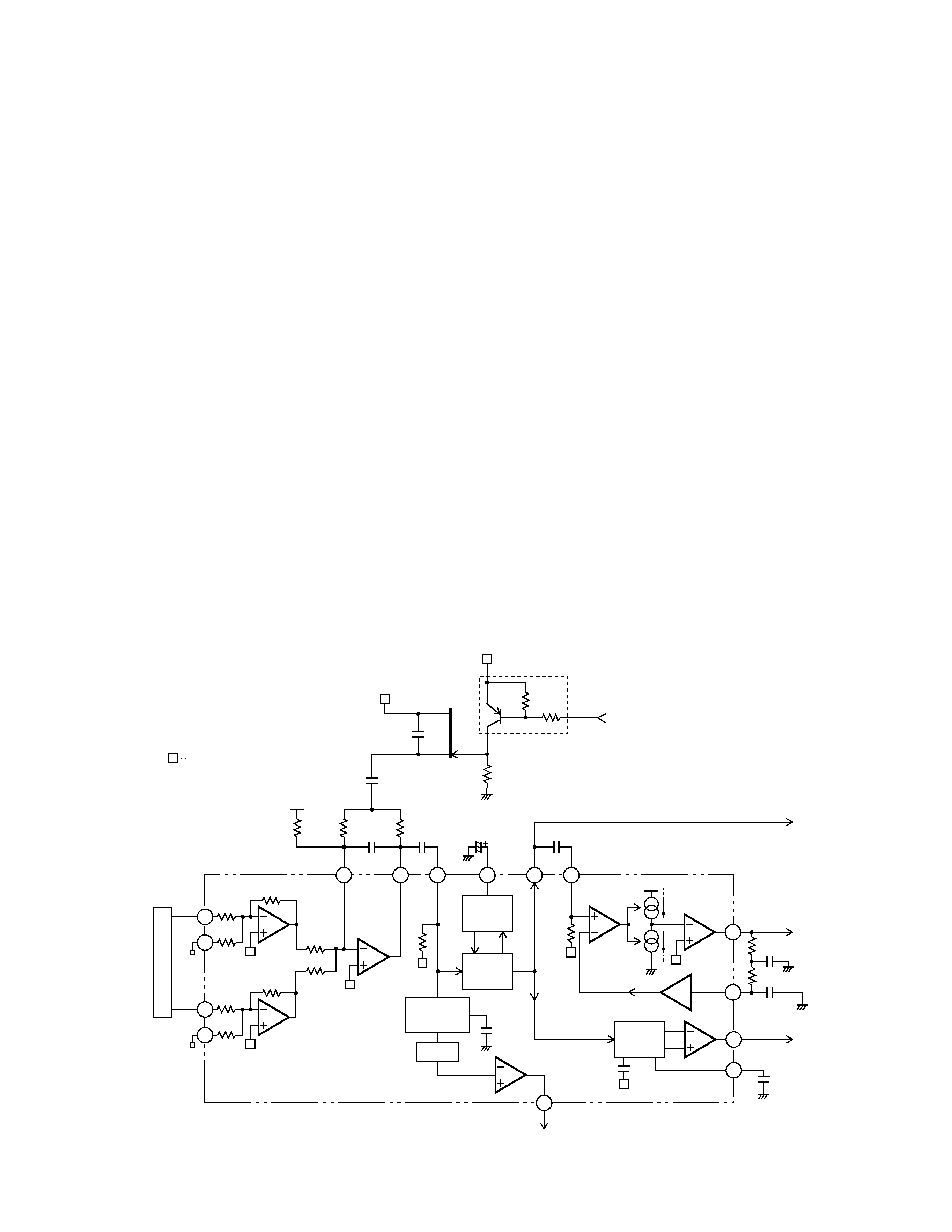 2) RF amplifier and RF AGC amplifier
Photodetector outputs (A+C and B+D) are added, am-
plified and equalized in IC101, and output to the RFI
terminal as RF signal. (Eye pattern can be checked at
Low-frequency components of voltage RFI is:
RFI = (A + B + C + D) x 3.22
where R111 is offset resistor to keep RFI signal within
the output range of the preamplifier. RFI signal is
goes under AC coupling, and is input to Pin 4 (RFIN
IC101 contains an RF AGC circuit. RFO output from
Pin 2 is maintained to a constant level (1.2
The RFO signal is used in the EFM, DFCT, and MIRR
The EFM circuit converts RF signal into digital sig-
nals of "0" and "1." RFO signal after AC coupling is
input to Pin 1, and supplied to the EFM circuit.
Asymmetry caused during manufacturing of discs
cannot be eliminated solely by AC coupling. There-
fore, the system controls the reference voltage ASY
of the EFM comparator by using the fact that proba-
bility to generate "0" and "1" is 50% in EFM signal.
This reference voltage ASY is generated by output
from the EFM comparator through L.P.F. EFM signal
is output from Pin 35. As signal level, amplification is
DFCT signal detects mirror defect in discs, and is out-
put from Pin 33. The system outputs "H" when a mir-
If disc is soiled, the system determines it as lack of
mirror. Therefore, the system inputs the DFCT signal
output to the HOLD terminal of servo LSI. Focus and
tracking servo drives change to Hold status only
when DFCT output is in "H" so that performance of
the system upon detection of defect can be im-
The RFOK circuit outputs signal to show the timing of
focus closing servo, as well as the status of focus
closing during playback. The signal is output from
Pin 32. The system inputs the RFOK signal output to
the RFOK terminal of servo LSI. The servo LSI issues
Focus Close command. The system outputs signal in
"H" during focus closing and playback.
Fig. 3 RF AMP, RF AGC, EFM, DFCT, RFOK Circuit
---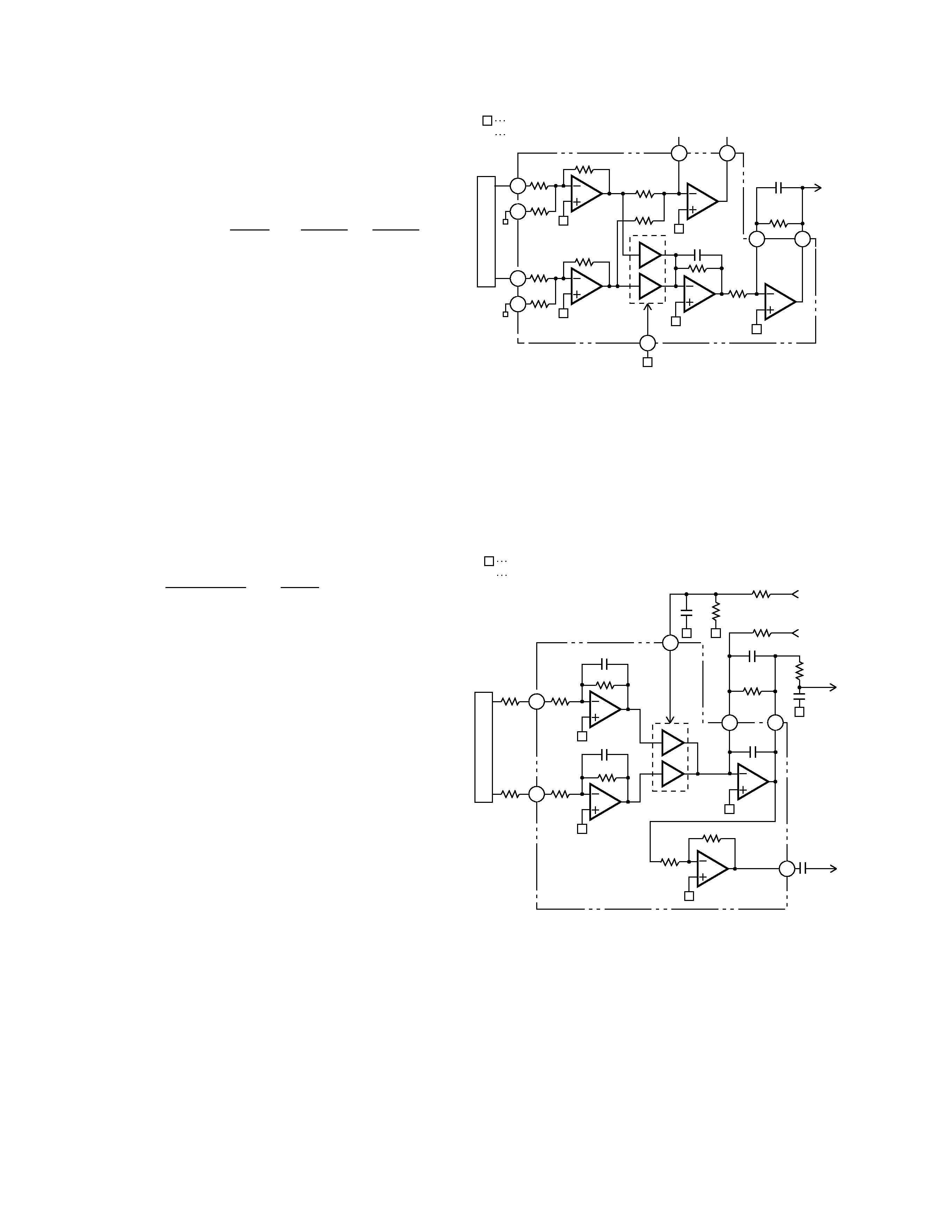 7) Tracking-error amplifier
Outputs E and F from the photodetector are output as
TE signal (E-F) from Pin 24 via the difference amplifi-
er, then via the error amplifier.
Low-frequency components of voltage TEY is:
TE waveforms equivalent to approximately 1.5 Vp-p
are obtained at TE output (Pin 24) by using REFO as
reference. The cut-off frequency of the amplifier of
the last layer is 19.5 kHz.
8) Tracking zero-cross amplifier
Tracking zero-cross signal (TEC signal) is generated
by amplifying TE waveforms (voltage at Pin 24) by a
factor of four. The signal is used for detecting the
zero-cross point of tracking error in the servo LSI
UPD63702GF. The purposes of detecting the zero-
cross point are as follows:
(1) To be used for counting tracks for carriage move
(2) To be used for detecting the direction of lens
movement when tracking is closed. (To be used in
the tracking brake circuit mentioned later.)
The frequency range of TEC signal is from 500 Hz
Voltage TEC = TE level x 4
In other words, the TEC signal level is calculated as 6
Vp-p. This level exceeds the D range of the operation
amplifier, resulting in the signal to clip. However,
there shall be no problem, since the servo LSI uses
The system outputs photodetector output (A+C and
B+D) as FE signal (A+C-B-D) from Pin 28 via the dif-
ference amplifier, then via the error amplifier.
Low-frequency components of voltage FEY is:
An S curve equivalent to approximately 1.6 Vp-p is
obtained at FE output (Pin 28) by using REFO as refer-
ence. The cut-off frequency of the amplifier of the
Fig. 4 Focus-error amplifier
Fig. 5 Tracking-error amplifier,
Tracking zero-cross amplifier
: (FE level of pickup unit x 5.02)
: (TE level of pickup unit x 5.36)
---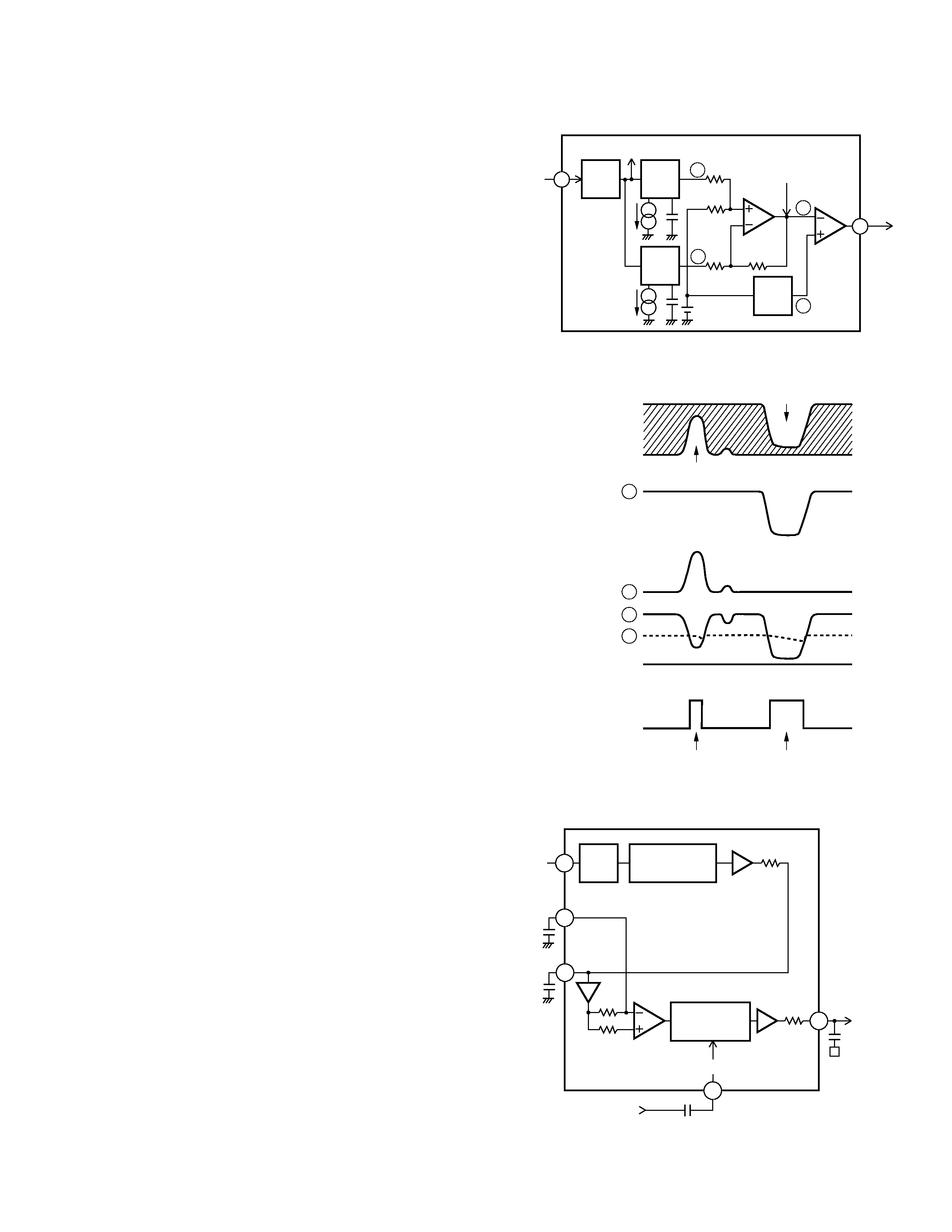 False MIRR caused by dirt
MIRR signal shows ON and OFF track information.
The signal is output from Pin 31.
The status of MIRR signal is as follows:
Laser beam ON track: MIRR = "L"
Laser beam OFF track: MIRR = "H"
The signal is used in the brake circuit mentioned lat-
The system detects flickering of RF signal when dis-
turbance is input to the focus servo loop, and outputs
the difference of phase between FE signal and RF-
level fluctuation signal from Pin 30. The resulting sig-
nal is obtained through L.P.F. with a fc of 40 Hz. This
signal is used for automatic adjustment of FE bias.
---