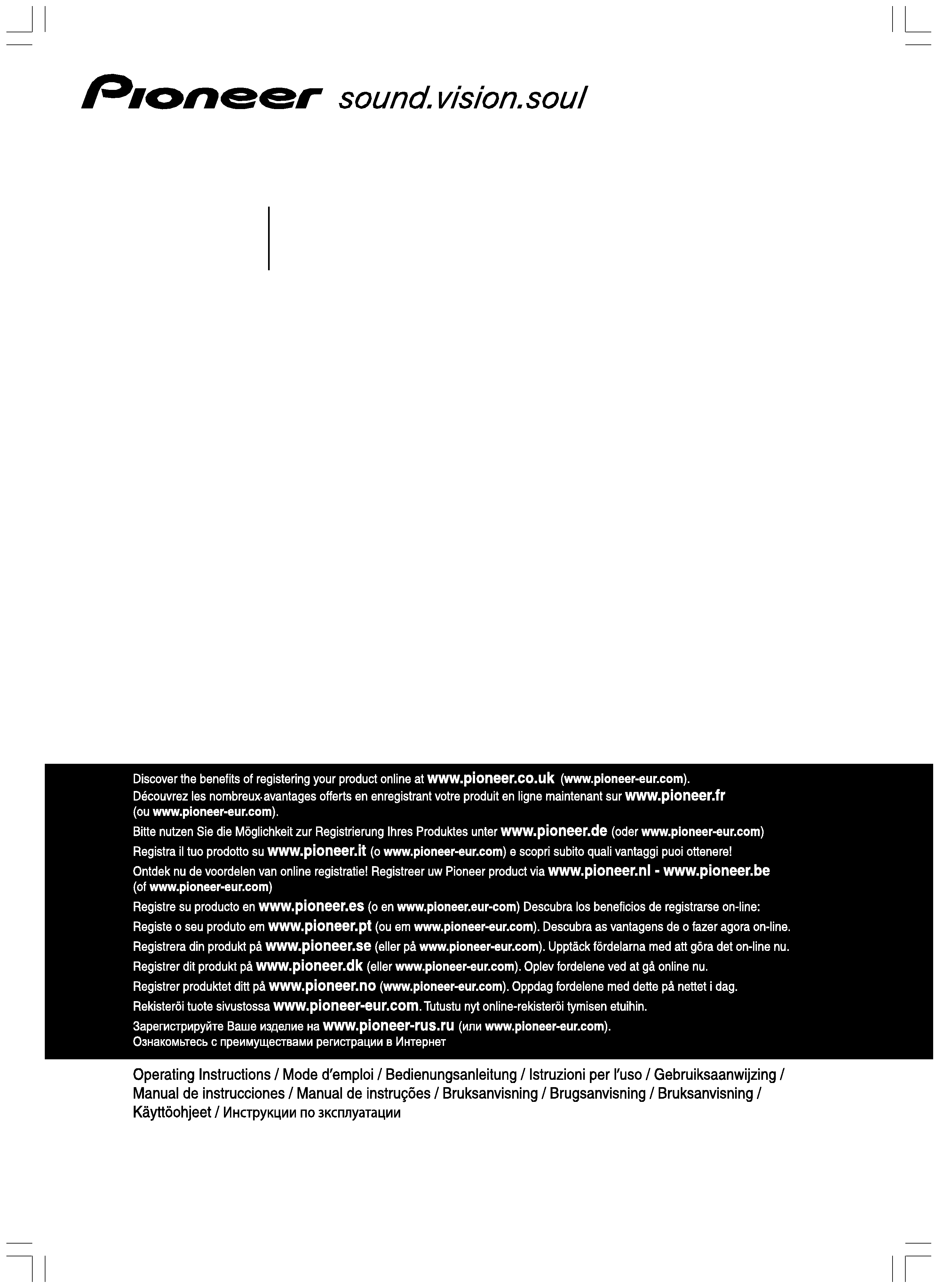 Speaker Stand / Socle d'enceinte / Lautsprecherständer /
Base per diffusori / Luidsprekerstandaard / Soportes de altavoz /
Suporte para colunas / Högtalarstativ / Højttalerstativ /
Høyttalerstativ / Kaiutinjalusta /
---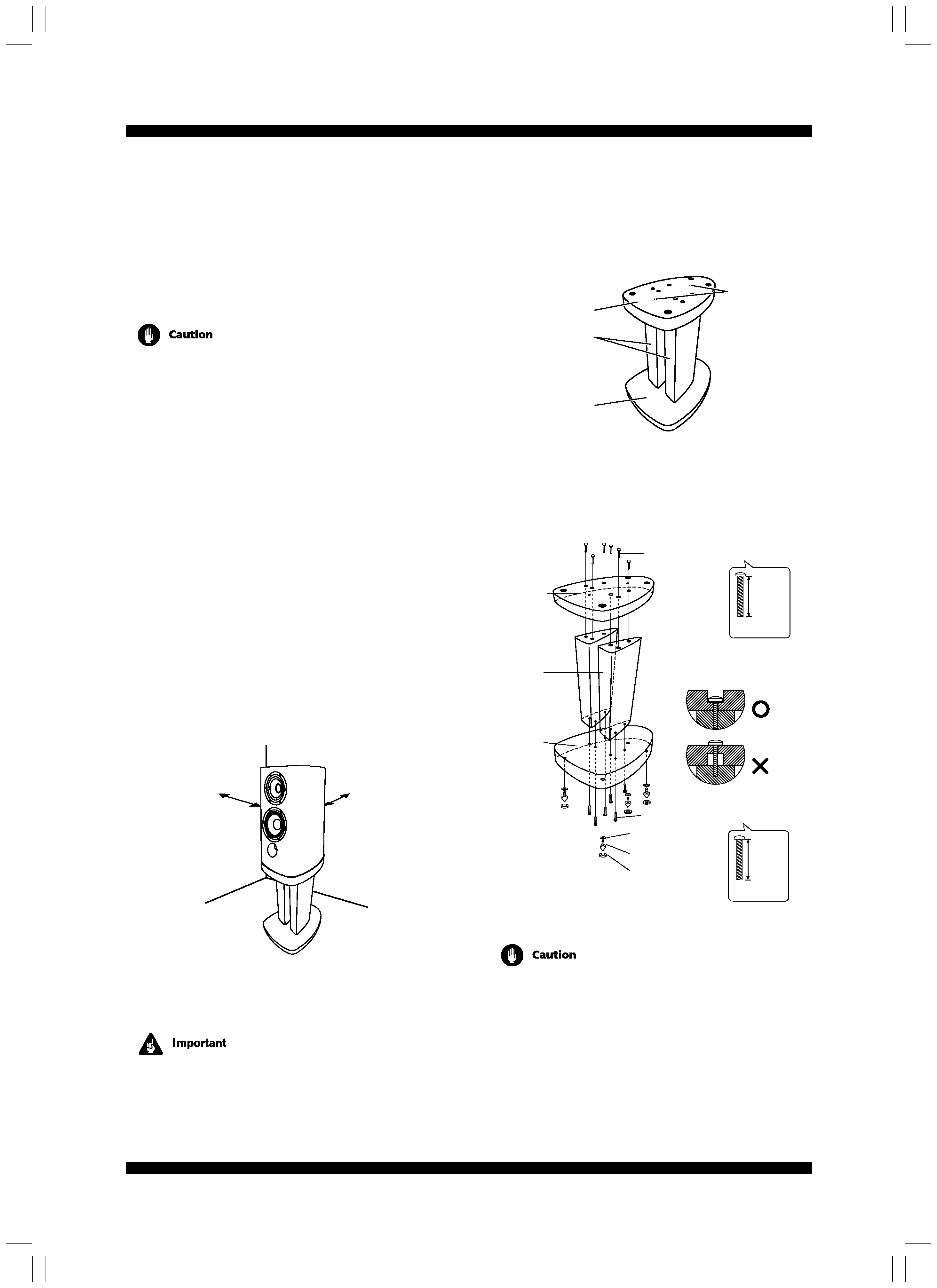 Thank you for buying this Pioneer product. Please read
through these operating instructions for proper assembly
and use. After you have finished reading the instructions, put
them away in a safe place for future reference.
Before setting up your speaker system, we recommend
reading the operating instructions for your system thor-
· Only use the screws supplied when fixing the speaker to
· Do not place the stand on an unstable and/or sloping
surface. The stand and speaker may fall and cause
· Do not use with any speaker system other than the one
for which the unit was designed. The stand may collapse
and be damaged and/or the speaker may fall and cause
· When moving the speaker and stand, first remove the
speaker from the stand, and then move the stand,
holding it by the two stems.
Installing the speaker stands
Place the stand on a stable, level surface; placing the stand
on an unstable surface can be dangerous.
When placing the speaker, keep in mind that the tone is
affected by the position of the speaker.
If the bass is insufficient, move the speaker closer to the wall.
The richest bass sound is obtained when the speaker is right
against the wall. If the bass is too powerful, producing a
muffled tone, move the speaker away from the wall. Placing
the speaker against a thick curtain may also be effective.
Adjust the position as necessary to obtain optimal sound
· Pioneer assumes no liability whatsoever for damages
resulting from assembly, improper mounting, insuffi-
cient reinforcement, misuse of the product, acts of
Assembling the speaker stands
Assemble the speaker stands as illustrated below. Please
note that a flathead screwdriver will be necessary for
assembly. The following illustration shows the fully assem-
Align the screw holes on the stand base and speaker
support with the screw holes in the two stems, then
insert the screws and tighten.
Screws (Bind head, M6xL40)
Screws (Bind head, M6xL40)
· Make sure you assemble the stand on a flat surface that
is relatively soft (such as a carpet).
· Make sure the screws are inserted in the screw holes as
shown above (with the screw head hidden) when
securing the speaker. Improper setup could result in
damage or injury if the speaker falls from the stand.
---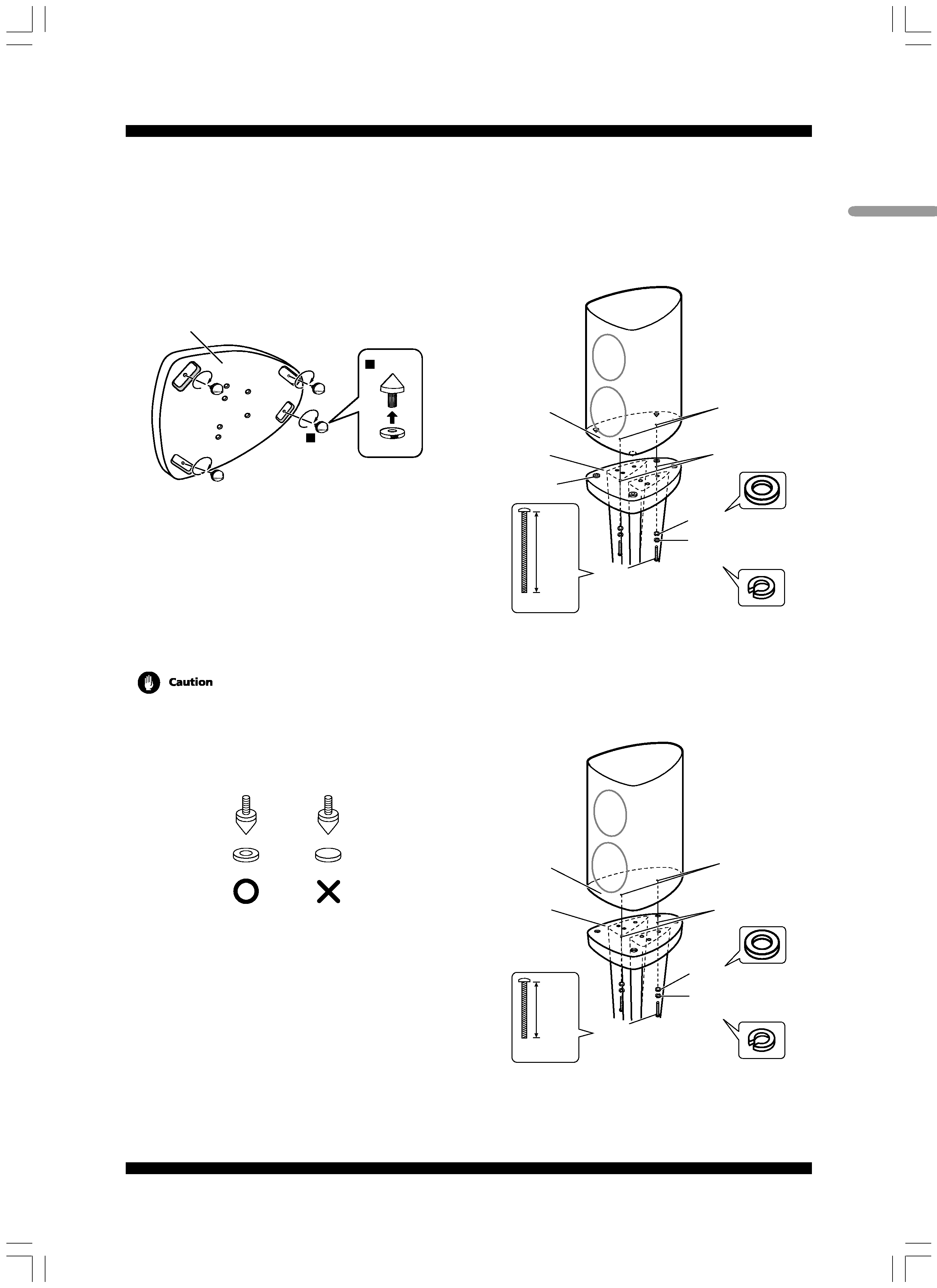 The speaker stands include spikes that you can use to isolate
the speaker from the floor. Spikes are recommended when
placing the stand on a thick carpet (for added stability), or for
better sound when placing the stand on a hard reverberant
surface (such as a concrete or wood floor). Use the supplied
spike bases to avoid scratching the floor or other surface
where the stand is placed.
Attach the spikes to the nuts provided.
Attach all four spikes to the threaded metal inserts
at the base of the speaker stand.
Choose the location for speaker placement then put
the spike bases on the floor.
Place the stand so that the spikes are resting on the
spike bases on the floor.
Before placing the speaker on the speaker stand, make sure
the stand is stable and resting squarely on all four spikes.
· Note that these spikes are sharp metal and can cause
damage to flooring. Make sure to lay down a cloth or
suitable base before setting up.
· The spike bases should be placed as shown below (with
the depression on the top side).
· Make sure to use the spike bases provided to avoid
damaging the surface where you place the stand.
Attaching speakers to the stands
To avoid accident or injury, please use screws to secure the
speakers to the speaker stands.
Assembly with the S-2EX speaker system
If you are using the S-2EX speaker system, note that there is
a fastening nut provided on the speaker base (see below).
When using speaker spikes:
Place the speaker spike bases in the four holes provided on
the speaker support, then secure the speaker to the speaker
support using the washer, spring washer and the 62 mm
When not using speaker spikes:
Secure the speaker to the speaker support using the washer,
spring washer and the 36 mm screws as shown below.
---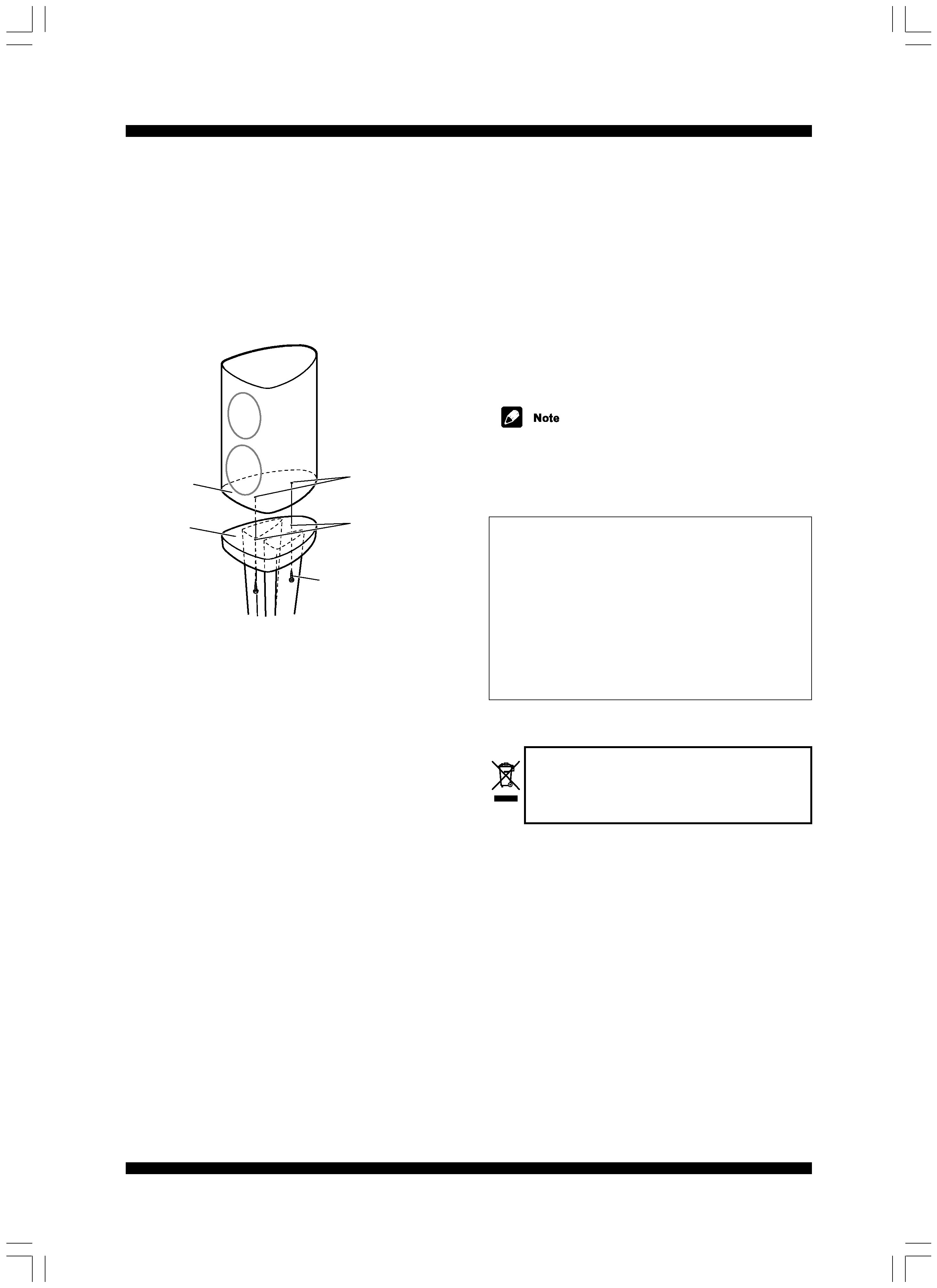 Assembly with a separate speaker system
If you are using a speaker system other than the S-2EX, note
that you will have to use a hand drill (or the like) to make
holes on the speaker base to secure it to the stand. Make
sure the speaker weight does not exceed 29 kg.
After making holes on the speaker base where indicated
(make sure they line up with the screw holes on the speaker
support), secure the speaker to the speaker support using
commercially available wood screws as shown below.
Cabinet and stand maintenance
· Use a polishing cloth or dry cloth to wipe off dust and
· If the cabinet or stand is very dirty, use a soft cloth
dipped in some neutral cleanser diluted 5 or 6 times
with water. Finally, wipe again using a dry cloth. Do not
use furniture wax or cleaners.
· Never use thinners, benzine, insecticide sprays and
other chemicals on or near the cabinet or stand, since
these will corrode the surfaces.
External dimensions ............... 400 (W) x 604 (H) x 513 (D) mm
Weight .............................................................................. 17.8 kg
Stand base plates ...................................................................... 2
Speaker supports ....................................................................... 2
Stems .......................................................................................... 4
Spikes (with attached nuts) [SBA6053] ................................... 8
Spike bases [SLA1057] .............................................................. 8
Screws (Bind head, M5xL62) [SBA6050] ................................. 4
Screws (Bind head, M5xL36) [SBA6048] ................................. 4
Screws (Bind head, M6xL40) [SBA6054] ............................... 24
Spring washers [SBE6005] ........................................................ 4
Washers [SBE6006] ................................................................... 4
These operating instructions [SRD6045] ................................. 1
· Specifications and design subject to possible modifica-
tion without notice, due to improvements.
· The product number are listed above in square brackets.
If you want to dispose this product, do not mix it with
general household waste. There is a separate collection
system for used electronic products in accordance with
legislation that requires proper treatment, recovery and
Private households in the 25 member states of the EU, in
Switzerland and Norway may return their used electronic
products free of charge to designated collection facilities or to a
retailer (if you purchase a similar new one).
For countries not mentioned above, please contact your local
authorities for the correct method of disposal.
By doing so you will ensure that your disposed product under-
goes the necessary treatment, recovery and recycling and thus
prevent potential negative effects on the environment and
Published by Pioneer Corporation.
Copyright © 2005 Pioneer Corporation.
---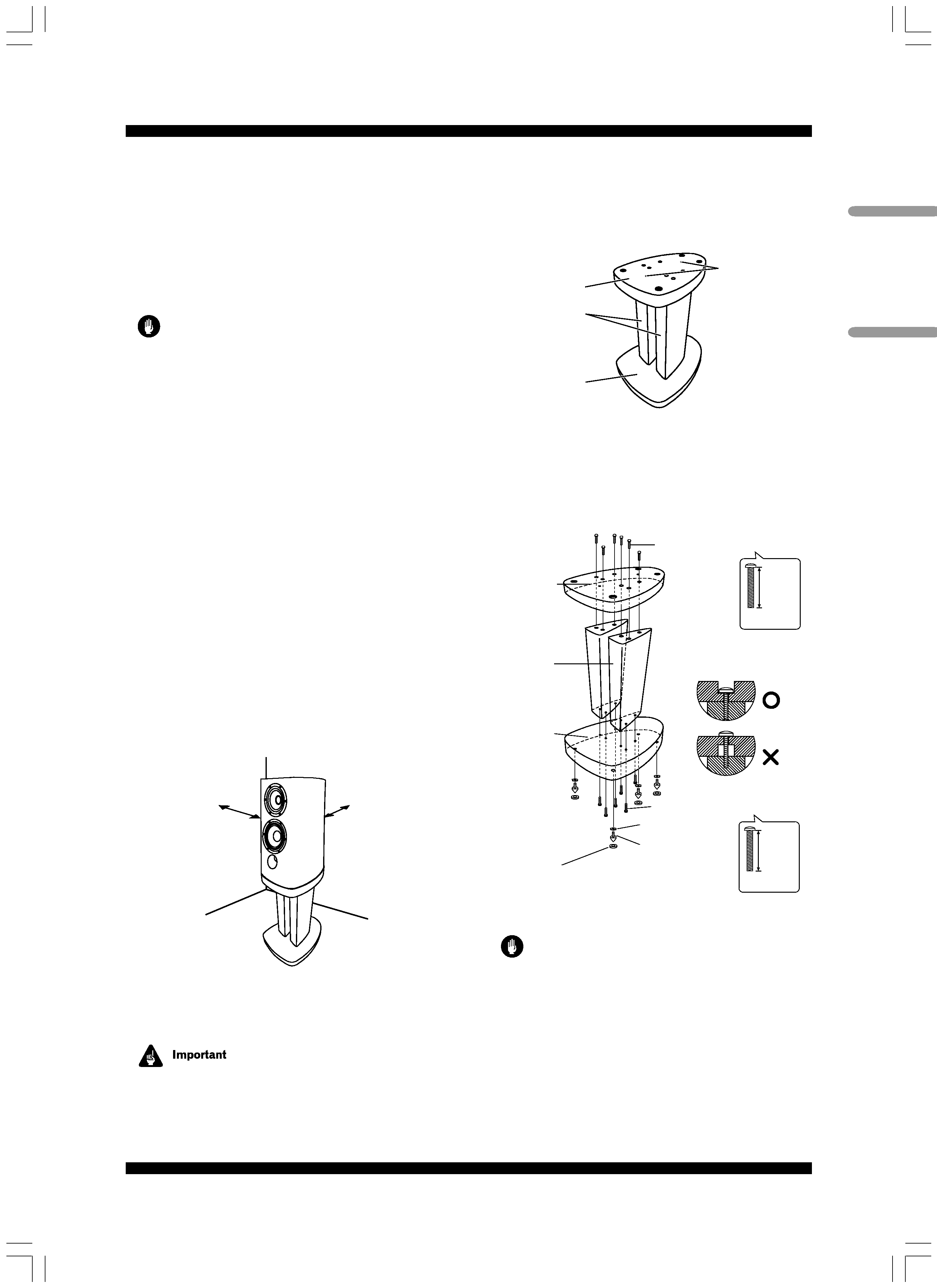 Nous vous remercions pour l'achat de ce produit Pioneer.
Veuillez lire attentivement ce mode d'emploi pour assembler
et utiliser correctement le produit. Après avoir lu ces
explications, rangez-les dans un endroit sûr pour vous y
référer éventuellement à l'avenir.
Avant d'installer les enceintes acoustiques, nous vous
conseillons de lire attentivement le mode d'emploi qui les
· Utilisez uniquement les vis fournies pour fixer l'enceinte
· Ne placez pas le socle sur une surface instable et/ou
glissante, car le socle et l'enceinte pourraient tomber et
· N'utilisez avec aucune autre enceinte que celle pour
laquelle ce socle a été conçu. Le socle pourrait se
renverser et être endommagé et/ou l'enceinte pourrait
tomber et provoquer des blessures.
· Avant de déplacer l'enceinte et le socle, déposez d'abord
l'enceinte, puis déplacez le socle en le tenant par ses
Installation des socles d'enceinte
Placez le socle sur une surface stable et horizontale; il serait
dangereux de le poser sur une surface instable.
Lors de l'installation de l'enceinte, gardez à l'esprit le fait que
les tonalités sont affectées par la position de l'enceinte.
Si les graves laissent à désirer, déplacez l'enceinte plus près
du mur. Des tonalités graves plus riches seront obtenues si
l'enceinte se trouve juste à côté d'un mur. Si les graves sont
trop puissantes au point de produire des tonalités
assourdies, écartez l'enceinte par rapport au mur. Le fait de
placer l'enceinte contre un rideau épais peut aussi fournir
Ajustez la position selon les besoins de manière à obtenir de
votre enceinte un son optimal.
· Pioneer n'assume aucune responsabilité en cas de
dégâts, découlant d'une assemblage ou d'un montage
inadéquat, d'un renforcement insuffisant, d'une
utilisation inapproprié du produit, de catastrophes
Assemblage des socles d'enceinte
Assemblez les socles d'enceinte comme illustré ci-dessous.
Notez qu'un tournevis à tête plate est requis pour cet assem-
blage. L'illustration suivante présente le socle d'enceinte à
Faites correspondre les orifices de vis sur la base du
socle et sur le support d'enceinte avec les orifices de vis
prévus dans les deux montants, puis insérez les vis et
Vis (tête intégrée, M6xL40)
Vis (tête intégrée, M6xL40)
pour vis noyée sont prévu
sur le support d'enceinte.
· Prenez soin d'assembler le socle sur une surface plate
qui soit relativement souple (comme un tapis).
· Lors de la fixation de l'enceinte, prenez soin que les vis
soient insérées dans les orifices de vis comme illustré ci-
dessus (leur tête étant noyée). Une installation
inadéquate pourrait provoquer des dégâts ou des
blessures si l'enceinte devait tomber de son socle.
---