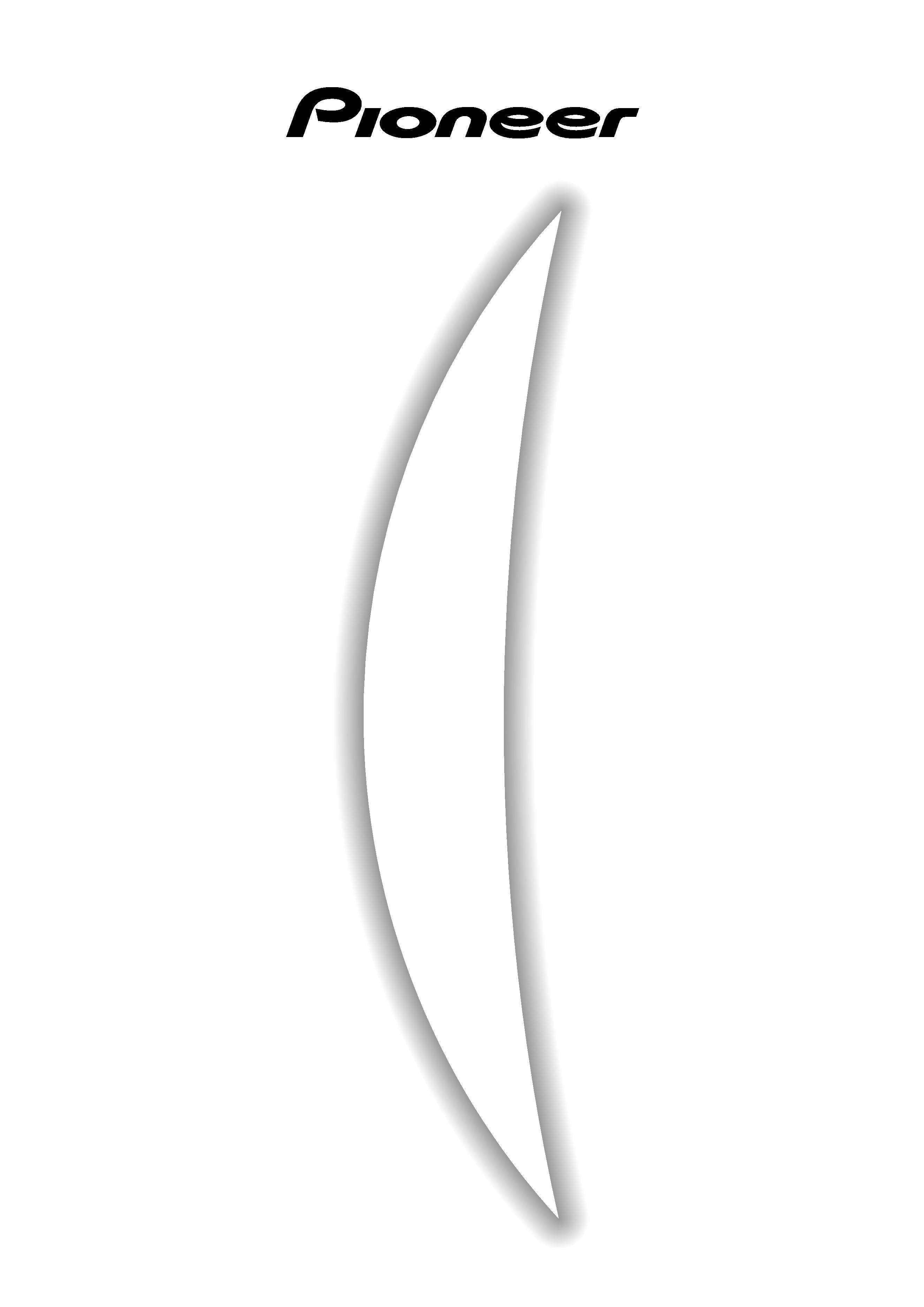 REPRODUCTOR DE DISCOS COMPACTOS
---

Read before use/Instructions préalables à l'emploi
The lightning flash with arrowhead symbol, within an
equilateral triangle, is intended to alert the user to the
presence of uninsulated "dangerous voltage" within the
product's enclosure that may be of sufficient magnitude to
constitute a risk of electric shock to persons.
The exclamation point within an equilateral triangle is
intended to alert the user to the presence of important
operating and maintenance (servicing) instructions in the
literature accompanying the appliance.
TO PREVENT THE RISK OF ELECTRIC SHOCK, DO NOT
REMOVE COVER (OR BACK). NO USER-SERVICEABLE
REFER SERVICING TO QUALIFIED
Alteration or modifications carried out without appropriate authorization may invalidate the user's right to operate the equipment.
Handle the power cord by the plug. Do not pull out the plug by
tugging the cord and never touch the power cord when your hands
are wet as this could cause a short circuit or electric shock. Do not
place the unit, a piece of furniture, etc., on the power cord, or pinch
the cord. Never make a knot in the cord or tie it with other cords. The
power cords should be routed in such a way that they are not likely
to be stepped on. A damaged power cord can cause fire or give you
an electrical shock. Check the power cord once in a while. When you
find it damaged, ask your nearest PIONEER authorized service
center or your dealer for a replacement.
This product complies with the Low Voltage Directive (73/23/EEC),
EMC Directives (89/336/EEC, 92/31/EEC) and CE Marking Directive
Ce produit est conforme à la directive relative aux appareils basse
tension (73/23/CEE), aux directives relatives à la compatibilité
électromagnétique (89/336/CEE, 92/31/CEE) et à la directive CE
relative aux marquages (93/68/CEE).
NOTE IMPORTANTE SUR LE CABLE
Tenir le câble d'alimentation par la fiche. Ne pas débrancher la prise
en tirant sur le câble et ne pas toucher le câble avec les mains
mouilées. Cela risque de provoquer un court-circuit ou un choc
électrique. Ne pas poser l'appareil ou un meuble sur le câble. Ne
pas pincer le câble. Ne pas faire de noeud avec le câble ou l'attacher
à d'autres câbles. Les câbles d'alimentation doivent être posés de
façóon à ne pas être écrasés. Un câble abîmé peut provoquer un
risque d'incendie ou un choc électrique. Vérifier le câble
d'alimentation de temps en temps. Contacter le service après-vente
ou le revendeur PIONEER le plus proche pour un remplacement.
ATTENTION:
AFIN DE PREVENIR TOURS RISQUES DE CHOC
ELECTRIQUE OU DE DEBUT D'ENCENDIE, NE PAS EXPOSER CET APPAREIL
A L'HUMIDITE OU A LA PLUIE.
WARNING:
TO PREVENT FIRE OR SHOCK HAZARD, DO NOT
EXPOSE THIS APPLIANCE TO RAIN OR MOISTURE.
This product contains a laser diode of higher class
than 1. To ensure continued safety, do not remove
any covers or attempt to gain access to the inside
Refer all servicing to qualified personnel.
The following caution label appears on your player.
Location: Rear of the player
Ce produit renferme une diode à laser d'une
catégorie supérieure à 1. Pour garantir une sécurité
constante, ne pas retirer les couvercles ni essayer
d'accéder à l'intérieur de l'appareil.
Pour toute réparation, s'adresser à un personnel
La note suivante se trouve sur le panneau fond de votre lecteur.
Emplacement : Dos du lecteur
Thank you for buying this Pioneer product.
Please read through these operating instructions so you will know how
to operate your model properly.
After you have finished reading the instructions, put them away in a safe
place for future reference.
Nous vous remercions pour cet achat d'un produit PIONEER.
Nous vous demandons de lire soigneusement ce mode d'emploi; vous
serez ainsi à même de faire correctement fonctionner l'appareil.
Après avoir bien lu le mode d'emploi, le ranger dans un endroit sûr pour
pouvoir s'y référer ultérieurement.
---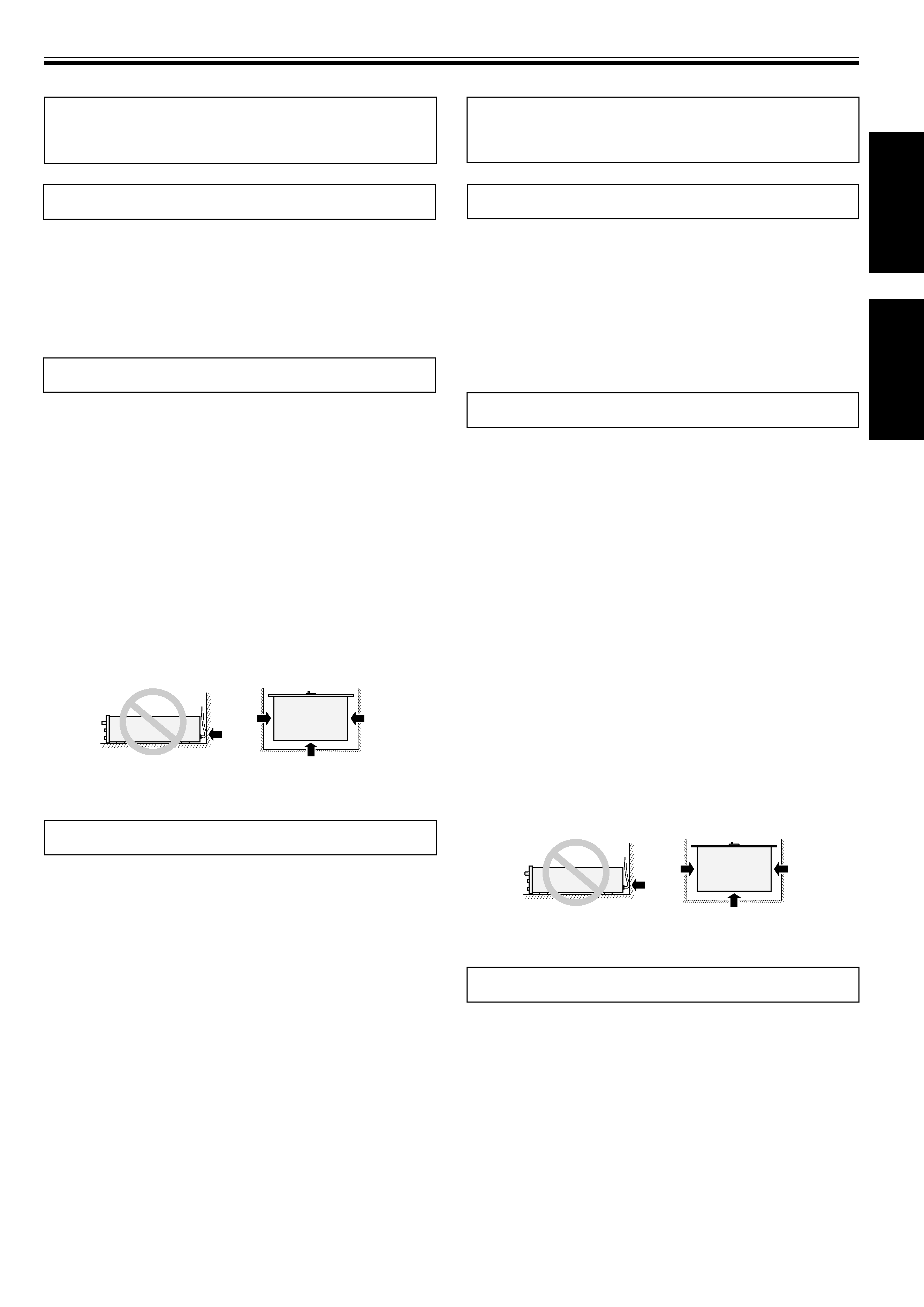 Install the player in a well-ventilated location where it will not be
exposed to high temperatures or humidity.
Do not install the player in a location which is exposed to direct sunlight,
or near stoves or radiators. Excessive heat can adversely affect the
cabinet and internal components. Installation of the player in a damp or
dusty environment may aiso result in a malfunction and can be
hazardous. Avoid installation near cookers etc., where the player may be
exposed to oily smoke, steam or heat.
÷ Placing and using the compact disc player for long periods on heat-
generating sources such as amplifiers or near spotlights, etc. will
affect product performance. Avoid placing the player on heat-
÷ Install this compact disc player as far as possible away from tuners
and TV sets. A compact disc player installed in close proximity to
such equipment may cause noise or degradation of the picture.
÷ Noise may be noticeable when an indoor antenna is used. In such
cases, make use of an outdoor antenna or turn off power to the
÷ When the unit is used in a loud-sound environment, e.g., near a
speaker, sound skip may occur. Install the unit away from the
speaker or reduce the listening volume.
÷ Place this unit on a level surface and a stable platform.
÷ Be sure the player, including its audio and power supply cords, does
not touch vibrating materials. Any cause of vibration other than the
insulators may cause the disc to skip. Take special care when using
the player while it is installed in a carrying case.
Read before use/Instructions préalables à l'emploi
Installer le lecteur dans un endroit bien ventilé à l'abri d'une température
ou d'une humidité elevée.
Ne pas installer le lecteur dans un endroit directement exposé aux
rayons du soleil ou à proximité d'appareils de chauffage ou de
radiateurs. Une chaleur excessive peut avoir des conséquences
néfastes pour le coffret et les composants internes. L'installation du
lecteur dans un local humide ou poussiéreux pourrait provoquer un
fonctionnement défectueux ou un accident. Eviter de l'installer près
d'ustensiles de cuisine, etc. où il pourrait être exposé à de la fumée
huileuse, de la vapeur ou la chaleur.
Conseils concernant l'installation
÷ Conserver ou utiliser le lecteur pendant de longues périodes alors
qu'il se trouve sur un appareil dégageant de la chaleur tel qu'un
amplificateur, ou au voisinage d'une source de chaleur telle qu'un
projecteur, etc., peuvent en altérer ses performances. Eviter de
placer le lecteur sur des sources générant de la chaleur, comme des
÷ Installer ce lecteur de disque compact aussi loin que possible de
syntoniseurs et de téléviseurs.
Un lecteur de disque compact installé à proximité de tels appareils
peut provoquer des parasites ou une détérioration des images.
÷ Ces parasites sont particulièrement prononcés si une antenne
intérieure est installée. Dans ce cas, utiliser une antenne extérieure
ou couper l'alimentation du lecteur de disque compact.
÷ Si vous utilisez cet appareil dans un environnement bruyant, par
exemple à proximité d'enceintes acoustiques, des erreurs de
lecture peuvent survenir. En ce cas, éloignez l'appareil des
enceintes ou réduisez le niveau de sortie.
÷ Placez cet appareil sur une surface plane et stable.
÷ S'assurez que le lecteur, son cordon d'alimentation et ses cordons
de liaison audio, ne sont pas soumis à des vibrations. Les isolateurs
du lecteur comportent des amortisseurs pour atténuer les
vibrations; toutefois, celles qui pourraient lui être transmises
autrement que par les isolateurs provoqueraient des erreurs de
lecture. Etre particulièrement vigilant quand on utilise l'appareil
installé dans sa valise de transport.
Installing the CMX-5000 in an EIA rack
The screw holes on the front panel o the CMX-5000 are designed for
use in attaching the unit to a 19-inch EIA rack.
÷ Remove the four legs on the unit before installing the unit in the
÷ Use four 3/16-inch-diameter, 3/8-inch-length screws to attach to
rack. (Screws not included with CMX-5000 CD player.)
÷ Never place this CD player directly above a power amplifier, as the
heat given off by the amplifier might result in damage to the unit.
Placing the CD player directly above a power amplifier might also
result in ham radio signals being picked up or in other types of
÷ Always be sure to remove the CD player from its rack before
÷ When moving the CD player while still installed in its rack, exercise
caution to avoid subjecting the player to shocks or vibration.
Installation du CMX-500 dans une armoire EIA
Les orifices pour vis du panneau avant du CMX-5000 sont réservés à la
fixation de l'appareil dans une armoire EIA de 48 cm (19 pouces).
÷ Avant d'installer l'appareil dans l'armoire, retirez ses quatre pieds.
÷ Fixez l'appareil à l'armoire à l'aide de vis de 0,47 cm (16 pouces) de
diamètre et de 0,95 cm (8 pouces) de long. (Ces vis ne sont pas
fournies d'origine avec le lecteur CD CMX-5000.)
÷ Ne placez jamais ce lecteur CD directement au-dessus d'un
amplificateur de puissance, car la chaleur qu'il dégage pourrait
endommager le lecteur. Celui-ci risque aussi de capter des signaux
de radio-amateur ou d'autres types d'interférences.
÷ Avant de transporter le lecteur CD, retirez-le toujours de son
÷ Si vous devez déplacer le lecteur CD quand il est installé dans son
armoire, veillez à éviter les chocs et les vibrations.
N'installez pas le lecteur sur une
surface soumise à des vibrations,
ou dans sa proximité immédiate.
Do not place on or against
---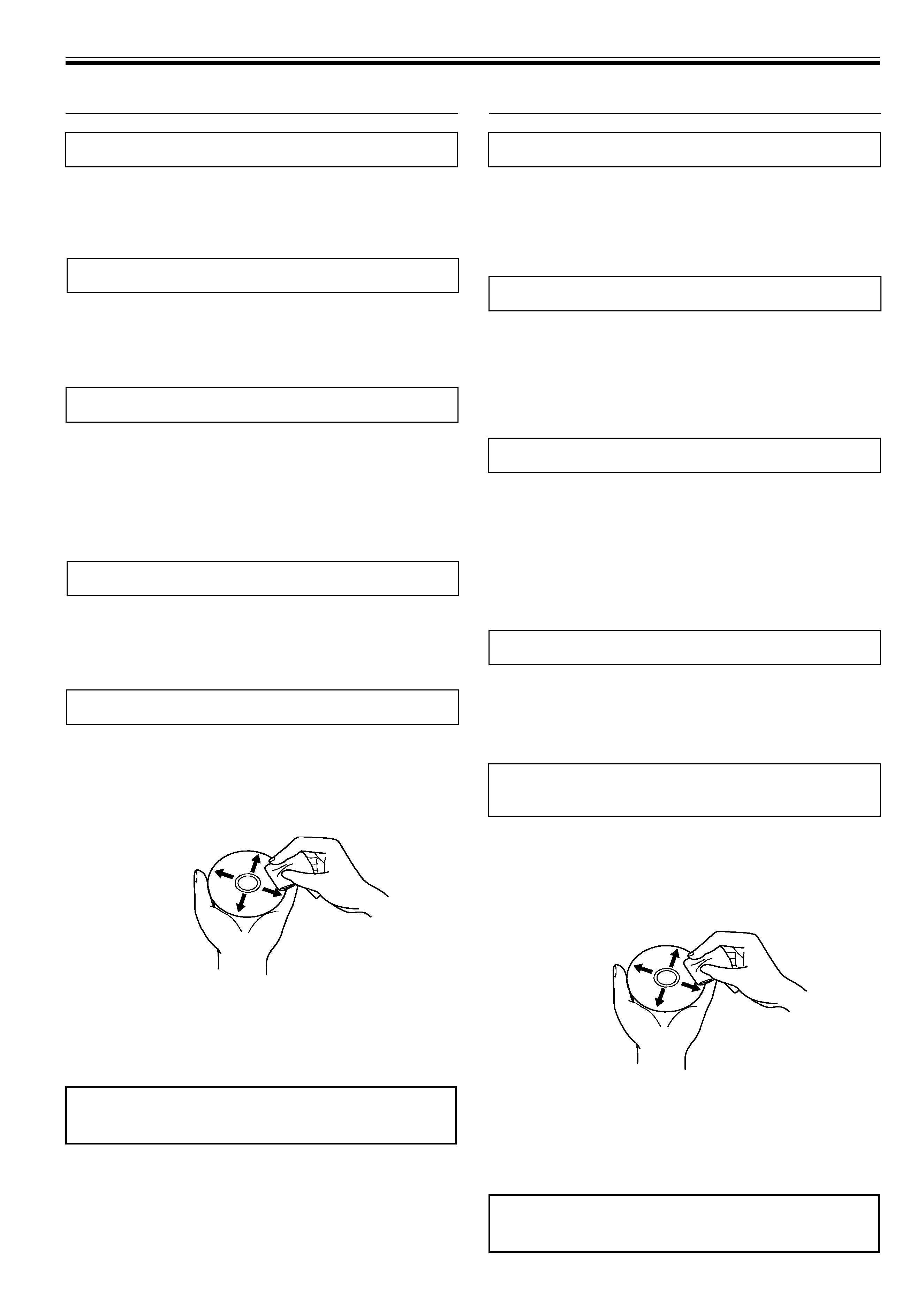 ÷ If a disc becomes very dirty, dampen a soft cloth with water, (be
sure to wring it out well) and wipe the away dirt gently. Remove any
water drops with another soft, dry cloth.
÷ Do not use record cleaning sprays or anti-static agents on discs.
Never clean discs with benzene, thinner, or other volatile solvents or
damage to the disc surface may result.
÷ With this player, use only those discs which
display the mark shown right (Optical audio
÷ Si un disque est très sale, tremper un chiffon doux dans de l'eau.
Après l'avoir bien essoré, essuyer doucement le disque puis enlever
toute trace d'humidité avec un autre chiffon doux et sec.
÷ Ne pas utiliser de produits de nettoyage anti-statiques en aérosol
analogique sur les disques compacts. Ne jamais, non plus, nettoyer
des disques avec de la benzine, un diluant ou autres solvants
volatiles qui peuvent endommager la surface du disque.
÷ Utiliser uniquement des disques portant la
marque indiquée à-droite avec ce lecteur.
(Disques audio numériques optiques).
To clean the PLAYER wipe with a polishing or a soft, dry cloth. For
stubborn dirt, moisten a soft cloth with a weak solution of neutral
detergent (diluted in five to six parts water), wring the cloth well, and
wipe away the dirt. Use a dry cloth to wipe the surface dry. Do not use
volatile liquids such as benzene or thinner which will damage to the unit.
The player's pickup lens should not become dirty in normal use. If for
some reason, the lens becomes soiled and malfunctions, contact your
nearest PIONEER authorized service center. Lens cleaners for CD
players are commercially available, but special care should be exercised
in their use as some may cause damage to the lens.
÷ Discs are made of the same kinds of plastic used for conventional
analog audio records. Be careful not to allow discs to warp. Always
store discs in their cases vertically, avoiding locations with high
heat, humidity, or extremely low temperatures. Avoid leaving discs
in cars; the interior of a car in direct sunlight can become extremely
÷ Always read and abide by the precautionary notes listed on disc
When this unit is brought into a warm room from previously cold
surroundings or when the room temperature rises sharply,
condensation may form inside the unit and impair its performance. In
such cases, allow the unit to stand for about an hour or raise the room
Cleaning and handling compact discs
÷ The presence of fingerprints or smudges on the surface of the disc
will not directly affect the recorded signals, but, depending on the
degree of contamination, the brightness of the light reflected from
the signal surfaces may be reduced causing degradation of sound
quality. Always keep your discs clean by wiping them gently with a
soft cloth from the inner edge toward the outer edge.
Pour nettoyer le lecteur, l'essuyer avec un chiffon doux et sec. S'il est
très sale, imbiber le chiffon d'une solution de détergent doux, fabriquée
en diluant un volume de détergent dans 5 ou 6 volumes d'eau, bien
essorer puis essuyer la saleté. Utiliser aussi un chiffon sec pour sécher
la surface. Ne pas utiliser de produits volatiles comme de la benzine ou
du diluant qui peuvent endommager l'appareil.
Dispositif de nettoyage de l'optique de CD
L'optique de lecture du lecteur ne doit pas devenir sale en usage normal,
mais si pour certaines raisons, le lecteur venait à ne pas fonctionner
correctement en raison d'un encrassement, contacter votre centre de
service autorisé PIONEER le plus proche. Les dispositifs de nettoyage
d'optique pour lecteurs de CD sont disponibles dans le commerce, mais
il est important de faire particulièrement attention à leur usage car ils
risquent d'endommager l'optique.
÷ Les disques sont fabriqués dans les mêmes types de plastiques que
ceux utilis és pour les disques audio analogiques habituels. Prendre
soin à ce qu'ils ne se déforment pas. Pour cela, les ranger toujours
verticalement dans leur boîtier en évitant les endroits très chauds,
très humides ou extrêmement froids. Eviter de laisser des disques
par exemple sur le siège d'une voiture stationnée en plein soleil car
ces endroits peuvent devenir extrêmement chauds.
÷ Lire et respecter les précautions inscrites sur l'étiquette des
Lorsque le lecteur est transporté d'un endroit froid dans une pièce chaude
ou si la température de la pièce augmente brusquement, de la
condensation risque de se former à l'intérieur du lecteur et d'amoindrir
ses performances. Dans ce cas, ne pas utiliser l'appareil pendant une
heure environ ou augmenter progressivement la température de la pièce.
Nettoyage et manipulation des disque
÷ La présence de traces de doigts ou de souillures sur la surface d'un
disque n'affecte pas directement les signaux enregistrés; toutefois,
si l'encrassement est important, l'intensité de la lumière reflétée par
les signaux à la surface peut être réduite, ce qui provoque une
baisse de la qualité du son. Toujours garder les disques en parfait
état de propreté en les frottant délicatement avec un linge doux, du
centre vers la périphérie.
Read before use/Instructions préalables à l'emploi
Cautions regarding handling
Precautions concernant la manipulation
---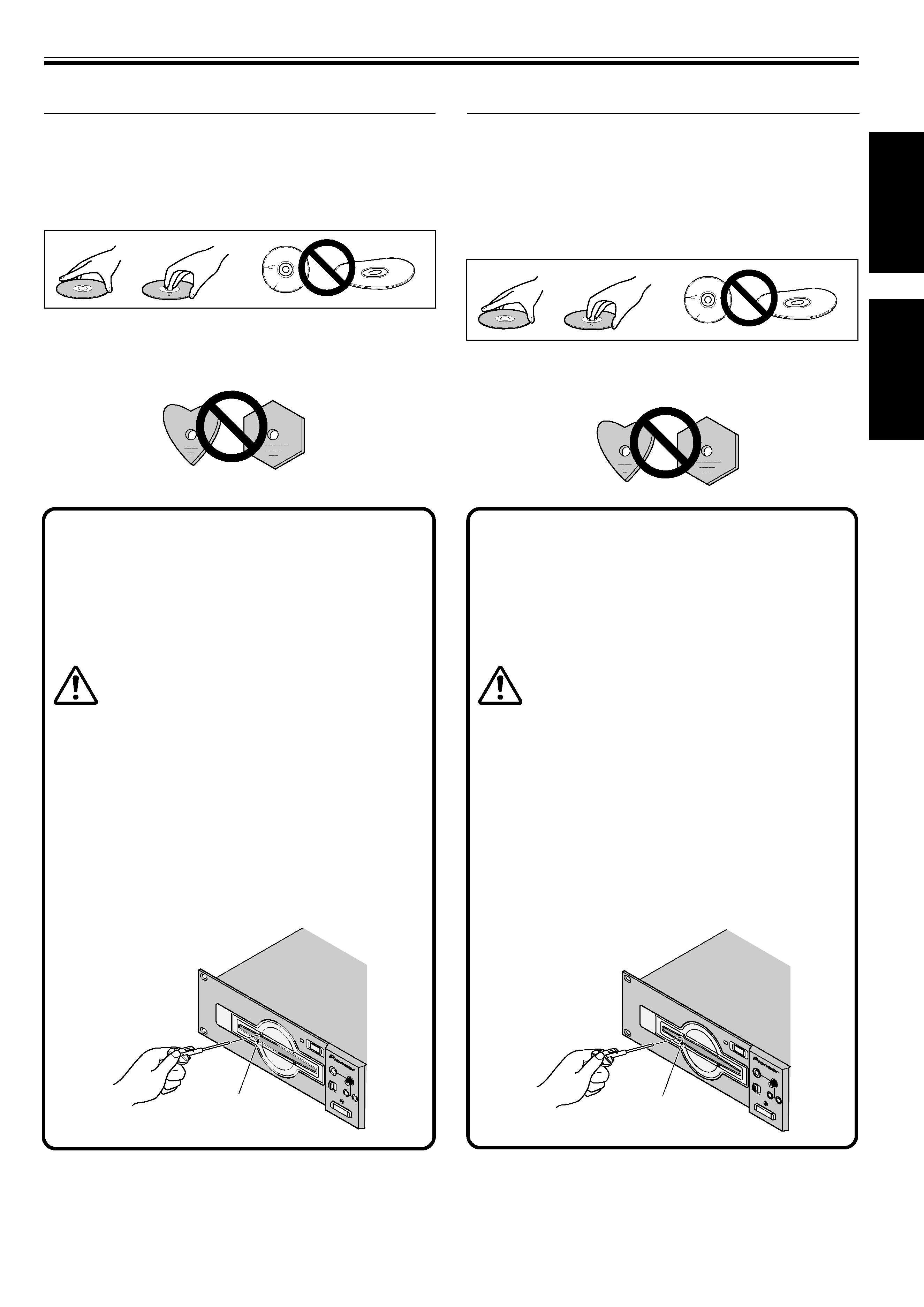 Do not play a CD with a special shape
Do not play a CD having other shape than a circular disc, such as heart
shaped disc. Otherwise malfunction may occur.
Read before use/Instructions préalables à l'emploi
Cautions regarding handling
Precautions concernant la manipulation
Ne reproduisez pas de CD de forme spéciale
Sous peine de provoquer des défaillances, ne reproduisez pas de CD
ayant une forme autre que circulaire, telle que des disques en forme de
If the eject button fails to work and it becomes impossible to eject
a disc, the disc may be ejected by inserting the disc ejection pin in
the manual disc ejection hole located on the front panel of the
Always be sure to observe the following points when manually
1 Be sure to turn off the power to the CD player and wait for 1
minute or more before ejecting the disc.
Manually ejecting a disc immediately after the power
to the unit has been turned off may result in one of
the following problems from occurring, and care
should accordingly be taken never to eject discs
immediately after the power has been turned off.
÷ The disc will still be spinning when it is ejected, thus resulting in
cuts to the fingers or other forms of bodily injury.
÷ The disc clamps will spin in an unstable state, thus resulting in
2 Be sure to use only the disc ejection pin included with your
CMX-5000 (i.e., never use a paper clip or any other object).
Inserting the disc ejection pin into the hole until it encounters
resistance will cause the disc to be ejected some 5 to 10
millimeters from the insertion slot. The disc may then be
removed by grasping it by hand and pulling.
Si la touche d'éjection ne fonctionne pas et vous empêche
d'éjecter un disque, vous pouvez toujours le retirer en insérant la
broche d'éjection dans l'orifice d'éjection manuelle situé sur le
panneau avant du lecteur.
Si vous devez éjecter des disques manuellement, respectez les
1 Mettez le lecteur CD hors tension et attendez une minute au
moins avant d'éjecter le disque.
L'éjection manuelle d'un disque immédiatement
après la mise hors tension de l'appareil peut
engendrer un des problèmes ci-dessous. Veillez donc
à ne jamais éjecter de disque immédiatement après
la mise hors tension de l'appareil.
÷ Le disque continue de tourner au moment de son éjection et
risque de vous blesser, les doigts notamment.
÷ Les dispositifs de fixation du disque tournent de manière
instable et risquent donc de griffer le disque.
2 Utilisez exclusivement la broche d'éjection fournie avec votre
CMX-5000 (n'employez jamais de trombone ou autre objet).
Insérez la broche dans l'orifice jusqu'à ce qu'elle rencontre
une résistance et éjecte le disque en le faisant dépasser de 5 à
10 mm hors de la fente. Vous pouvez ensuite retirer le disque
en le saisissant et en le tirant hors de l'appareil.
÷ When holding discs, do not touch their signal surfaces. Hold by the
edges, or by one edge and the center hole.
÷ Do not affix gummed labels or tape to the disc surface. Also, do not
scratch or damage the label.
÷ Discs rotate at high speeds inside the player. Do not use damaged,
÷ Lorsque vous tenez les disques, ne pas toucher leur surface de
signal (le côté reflétant une forme "arc-en-ciel", au verso de la face
étiquetée). Les tenir par un bord et le trou central.
÷ Ne pas coller d'étiquettes ou de ruban adhésif sur l'étiquette
d'origine. Eviter également de rayer ou d'endommager cette
÷ Les disques tournent à grande vitesse à l'intérieur du lecteur. Ne
pas utiliser de disques endommagés (craquelés ou déformés).
---