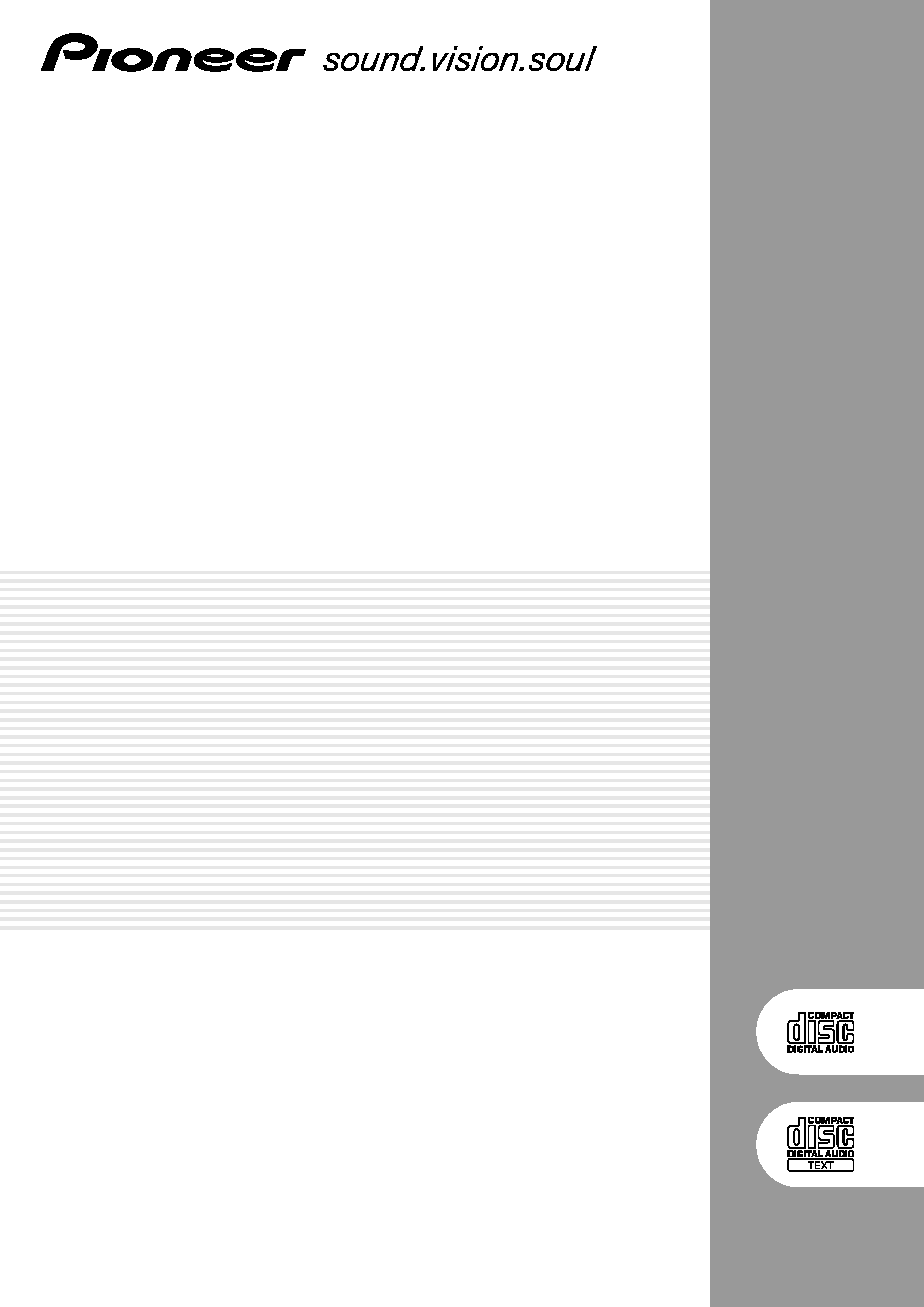 REPRODUCTOR DE DISCOS COMPACTOS
---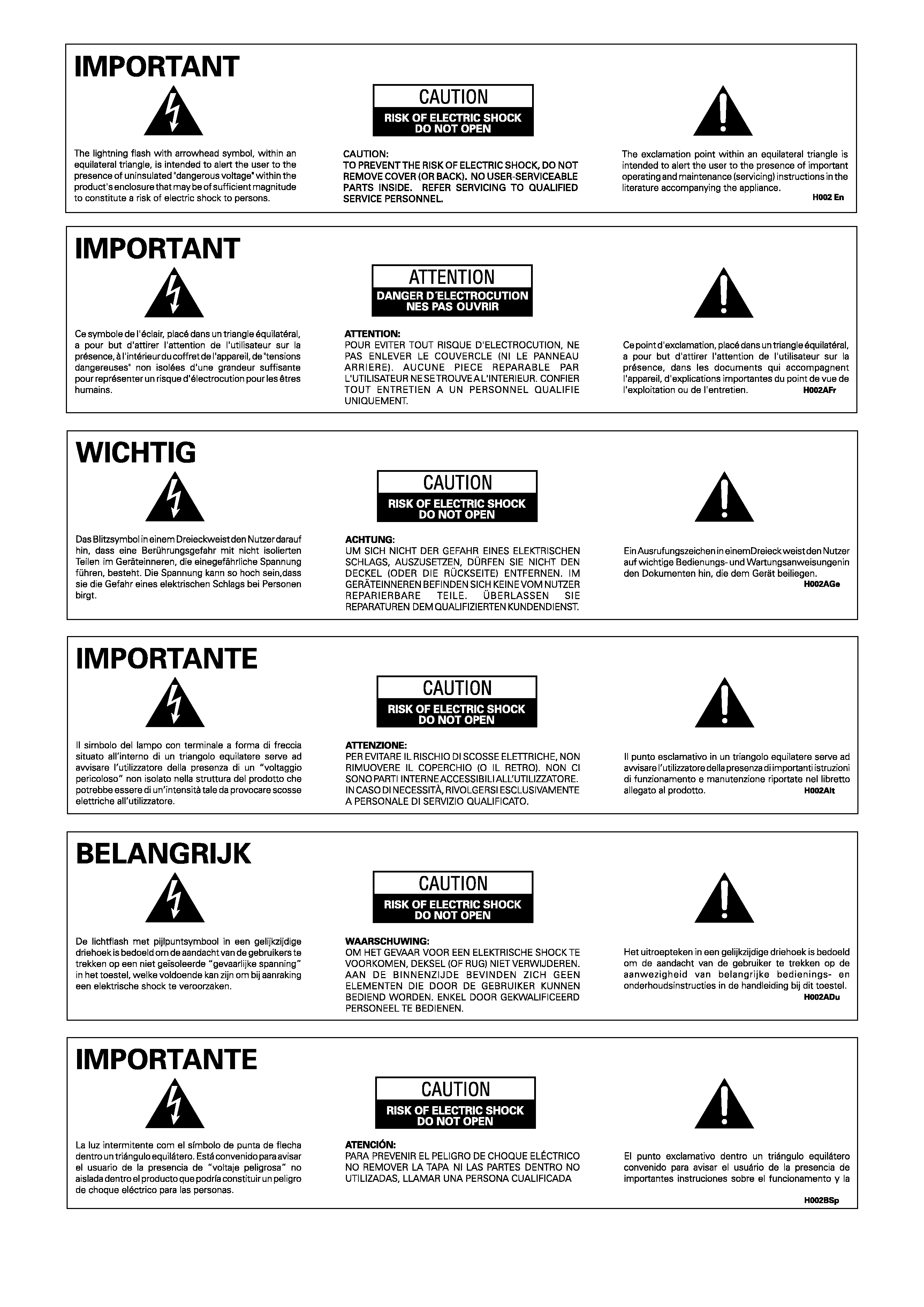 ---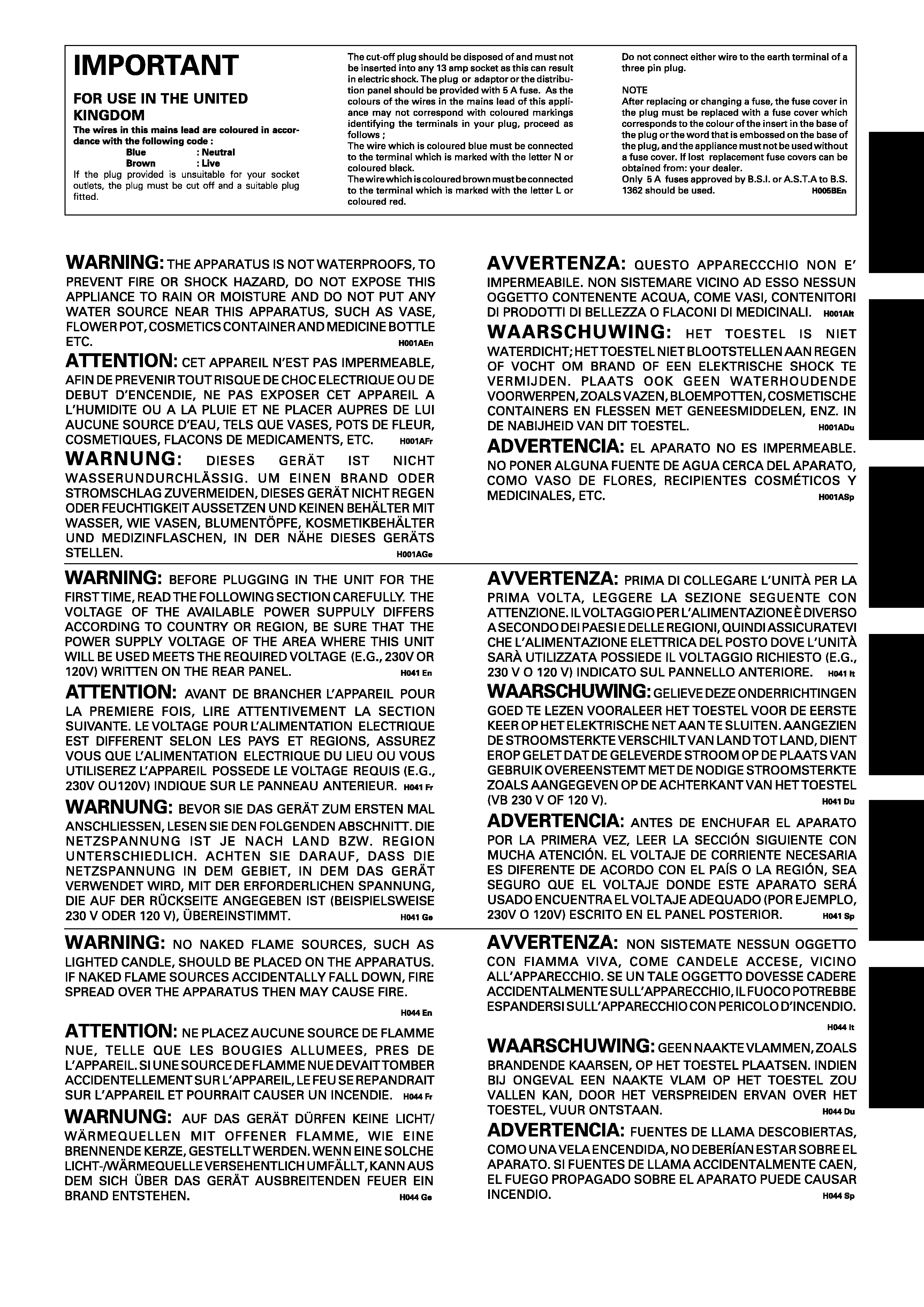 ---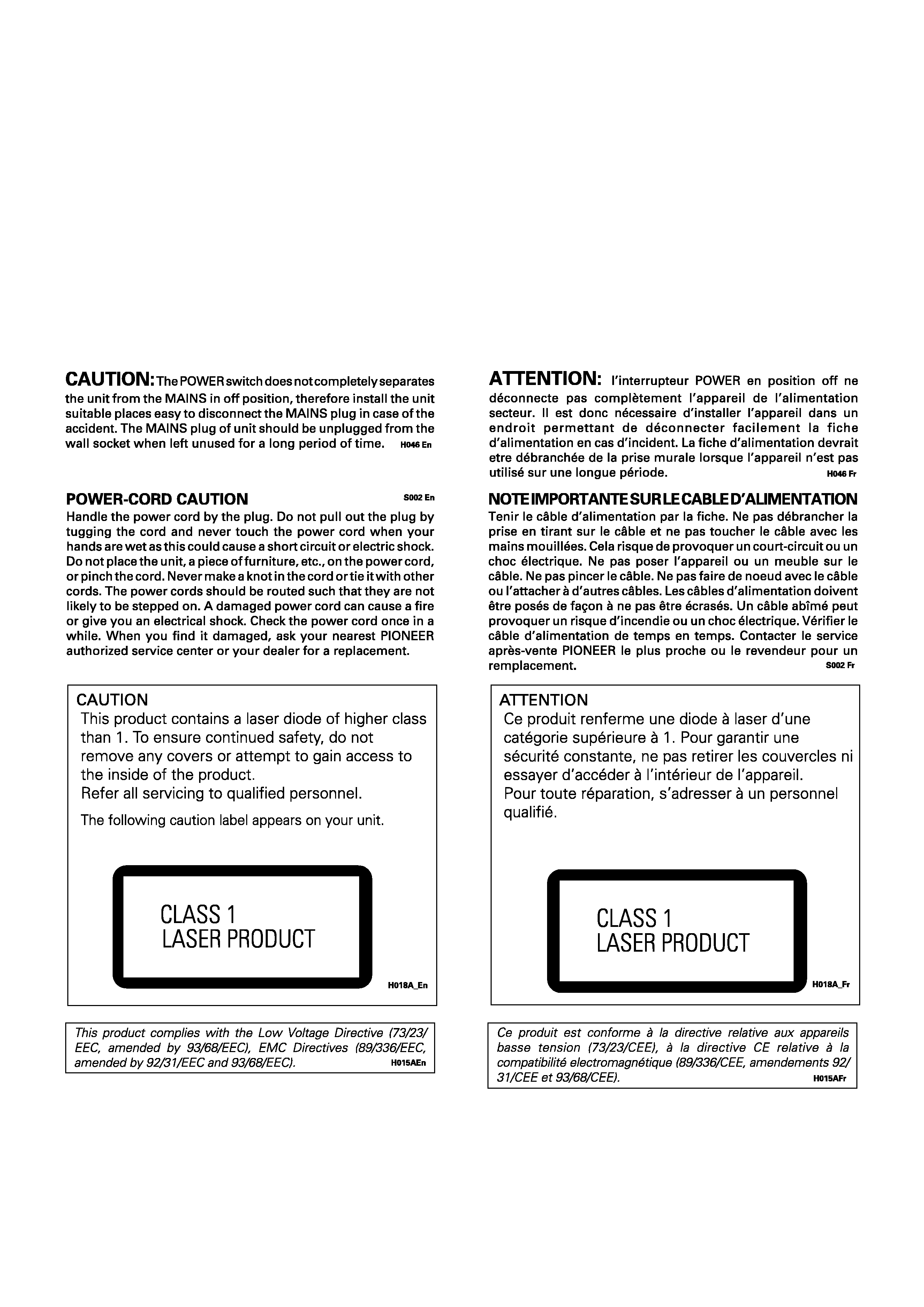 Nous vous remercions pour cet achat d'un produit Pioneer.
Nous vous demandons de lire soigneusement ce mode
d'emploi ; vous serez ainsi à même de faire fonctionner l'appareil
correctement. Après avoir bien lu le mode d'emploi, le ranger
dans un endroit sûr pour pouvoir s'y référer ultérieurement.
Dans certains pays ou certaines régions, la forme de la fiche
d'alimentation et de la prise d'alimentation peut différer de celle
qui figure sur les schémas, mais les branchements et le
fonctionnement de l'appareil restent les mêmes.
Thank you for buying this Pioneer product.
Please read through these operating instructions so you will
know how to operate your model properly. After you have fin-
ished reading the instructions, put them away in a safe place
In some countries or regions, the shape of the power plug and
power outlet may sometimes differ from that shown in the ex-
planatory drawings. However the method of connecting and
operating the unit is the same.
Operating environment temperature and humidity:
+5°C ­ +35°C (+41°F ­ +95°F); less than 85%RH (cooling vents not
Do not install in the following locations
÷ Location exposed to direct sunlight or strong artificial light
÷ Locationexposedtohighhumidity,orpoorlyventilatedlocation
Conditions de Fonctionnement
Tempéraure et humidité ambiante lors du fonctionnement:
+5°C ­ +35°C (+41°F ­ +95°F); inférieur à 85%RH (events d'aération
Ne pas installer dans les lieux suivants
÷ Lieuxexposésàlalumièredirectdusoleiloulumièreartificielle
÷ Lieux exposés à une forte humidité ou lieux peu ventilés
VENTILATION:
When installing this unit, make sure to leave
space around the unit for ventilation to improve heat radiation
(at least 5 cm at rear, and 3 cm at each side).
WARNING:
Slot and openings in the cabinet are provided for
ventilation and to ensure reliable operation of the product and
to protect it from overheating, to prevent fire hazard, the openings
should never be blocked and covered with items, such as
newspapers, table-cloths, curtains, etc. Also do not put the
apparatus on the thick carpet, bed, sofa, or fabric having a thick
VENTILATION:
Lors de l'installation de cet appareil, veillez à
ménager un espace suffisant autour de ses parois de manière à
ce que la chaleur puisse se dissiper aisément (au moins 5 cm à
l'arrière et supérieure 3 cm de chaque côté).
ATTENTION:
Les évents et les ouvertures dans la structure sont
prévus pour la ventilation et pour assurer le bon fonctionnement
du produit et pour la protéger des risques de surchauffe, et des
risques d'incendie, les ouvertures ne doivent jamais etre
bloquées ni couvertes par des matériaux tels que journaux,
nappes, rideaux, etc. De meme, ne pas positionner l'appareil sur
un tapis épais, lit, canapé ou tout meuble possédant un
Location: Rear of the player
Emplacement: Dos du lecteur
---

CAUTIONS REGARDING HANDLING ..................................... 6
FEATURES .............................................................................. 9
PANEL FACILITIES ................................................................ 11
Remote Control Unit ....................................................... 11
Player ............................................................................... 14
CONNECTIONS ..................................................................... 15
DISC LOADING/UNLOADING ............................................... 17
DJ PLAYER OPERATION ...................................................... 18
Auto Cueing .................................................................... 18
Starting Playback ............................................................. 19
Stopping Playback ........................................................... 19
Pausing Playback ............................................................ 19
Skipping Tracks ............................................................... 20
Fast Forward and Rewind ............................................... 20
Cueing Point Settings ..................................................... 21
Changing Playback Speed ............................................... 22
Setting a Master Tempo ................................................. 22
Jog Dial Functions ........................................................... 23
ADVANCED OPERATIONS ................................................... 24
Scratch Play ..................................................................... 24
Hot Cue ........................................................................... 24
Loop Playback ................................................................. 25
WAVE Display ................................................................. 27
CD TEXT Display ............................................................. 27
Mixing (Segueing) Different Tracks ................................ 27
Beat Synchro ................................................................... 29
Auto BPM Synchro ......................................................... 29
Fader Start Playback ....................................................... 30
Relay Play Using Two Players ........................................ 30
Data Copy ........................................................................ 30
SPECIFICATIONS .................................................................. 31
TROUBLESHOOTING ........................................................... 32
Error Message Display .................................................... 33
Cleaning the Jog Dial ....................................................... 33
Instructions préalables à l'emploi
PRECAUTIONS CONCERNANT LA MANIPULATION ............. 6
PARTICULARITES ................................................................... 9
NOMENCLATURE DU PANNEAU DES ORGANES
RÉGLAGE ........................................................................ 11
Télécommande ................................................................ 11
Lecteur ............................................................................ 14
CONNEXIONS ....................................................................... 15
INSERTION/RETRAIT DU DISQUE ....................................... 17
UTILISATION DU LECTEUR DJ ............................................ 18
Repérage automatique .................................................... 18
Lancement de la lecture .................................................. 19
Arrêt de la lecture ............................................................ 19
Interruption momentanée de la lecture ........................... 19
Saut de plages ................................................................. 20
Recherches avant et arrière ............................................ 20
Paramétrage des points de repérage .............................. 21
Modification de la vitesse de lecture ............................... 22
Réglage d'un tempo principal .......................................... 22
Fonctions affectées au volant de commande ................. 23
OPÉRATIONS AVANCÉES .................................................... 24
Lecture de travail ............................................................. 24
Point de repérage instantané .......................................... 24
Lecture en boucle ............................................................ 25
Affichage WAVE .............................................................. 27
Affichage de CD TEXT ..................................................... 27
Mixage de différentes plages (transition entre plages) ... 27
Synchronisation de battements ....................................... 29
Synchronisation automatique aux battements par
minute (BPM) .................................................................. 29
Lecture par démarrage du mélangeur de voies ............... 30
Lecture en relais en utilisant deux lecteurs ..................... 30
Duplicata des données .................................................... 30
CARACTERISTIQUES TECHNIQUES .................................... 31
GUIDE DE DEPANNAGE ....................................................... 34
Affichage des messages d'erreur ................................... 35
Nettoyage du volant de commande ................................ 35
Read before use/Instructions préalables à l'emploi
---