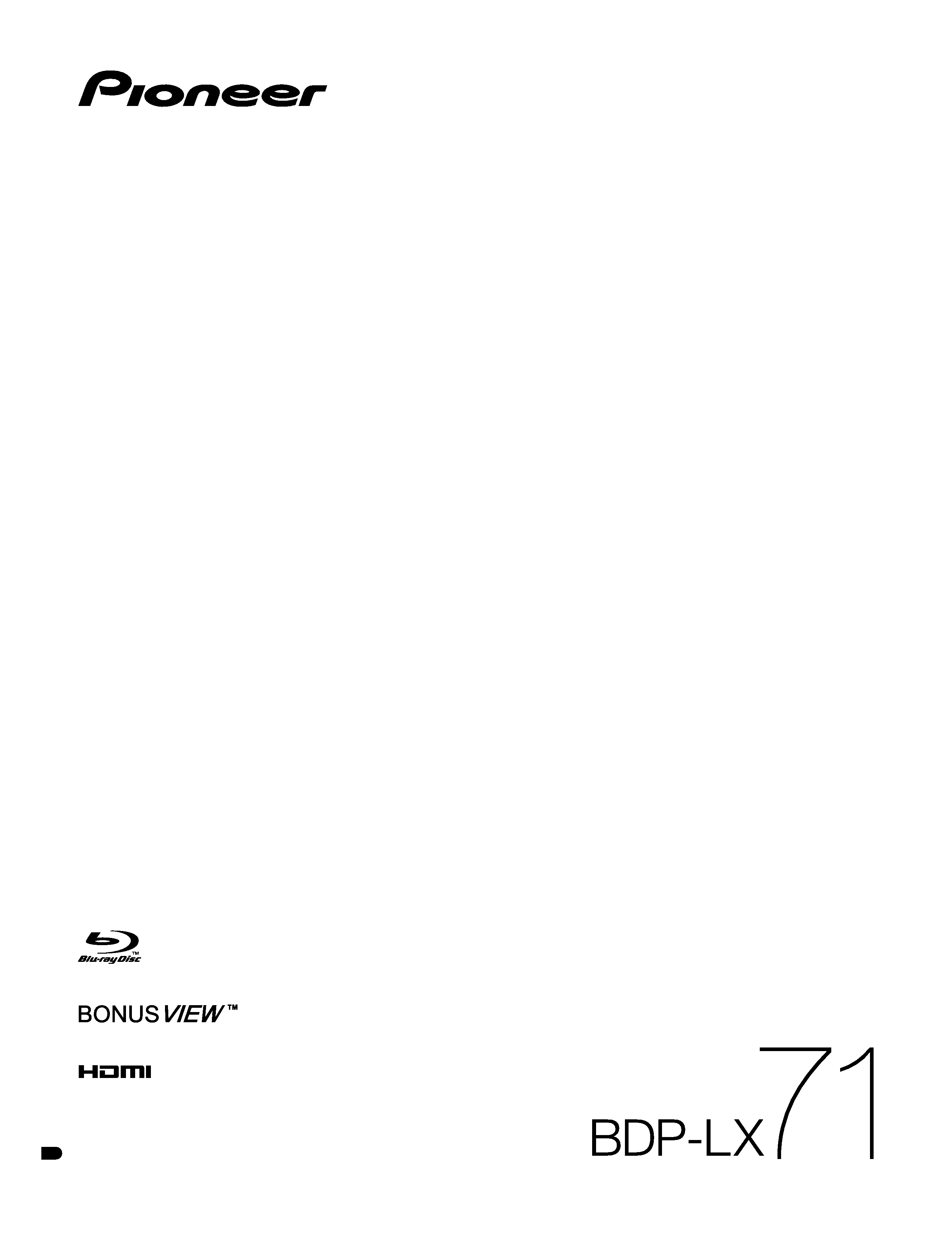 ---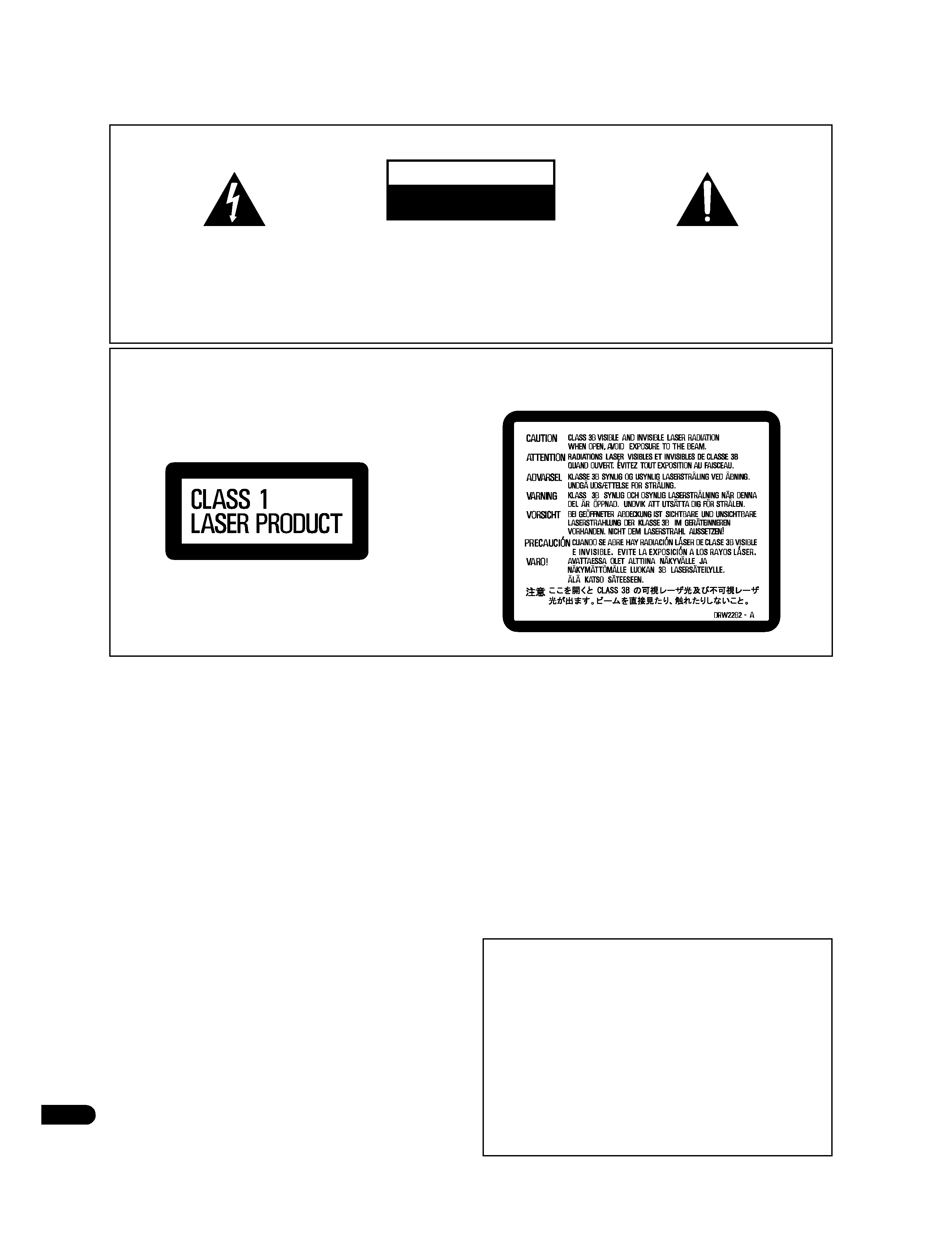 The exclamation point within an equilateral
triangle is intended to alert the user to the
presence of important operating and
maintenance (servicing) instructions in the
literature accompanying the appliance.
The lightning flash with arrowhead symbol,
within an equilateral triangle, is intended to
alert the user to the presence of uninsulated
"dangerous voltage" within the product's
enclosure that may be of sufficient
magnitude to constitute a risk of electric
TO PREVENT THE RISK OF ELECTRIC
SHOCK, DO NOT REMOVE COVER (OR
BACK). NO USER-SERVICEABLE PARTS
INSIDE. REFER SERVICING TO QUALIFIED
Thank you for buying this Pioneer product.
Please read through these operating instructions so you will know how to operate your model properly.
After you have finished reading the instructions, put them away in a safe place for future reference.
This equipment is not waterproof. To prevent a fire
or shock hazard, do not place any container filled
with liquid near this equipment (such as a vase or
flower pot) or expose it to dripping, splashing, rain
STANDBY/ON switch on this unit will not
completely shut off all power from the AC outlet.
Since the power cord serves as the main disconnect
device for the unit, you will need to unplug it from
the AC outlet to shut down all power. Therefore,
make sure the unit has been installed so that the
power cord can be easily unplugged from the AC
outlet in case of an accident. To avoid fire hazard,
the power cord should also be unplugged from the
AC outlet when left unused for a long period of time
(for example, when on vacation).
This product is a class 1 laser product, but this
product contains a laser diode higher than Class 1.
To ensure continued safety, do not remove any covers
or attempt to gain access to the inside of the product.
Refer all servicing to qualified personnel.
The following caution label appears on your unit.
Location: inside of the unit
---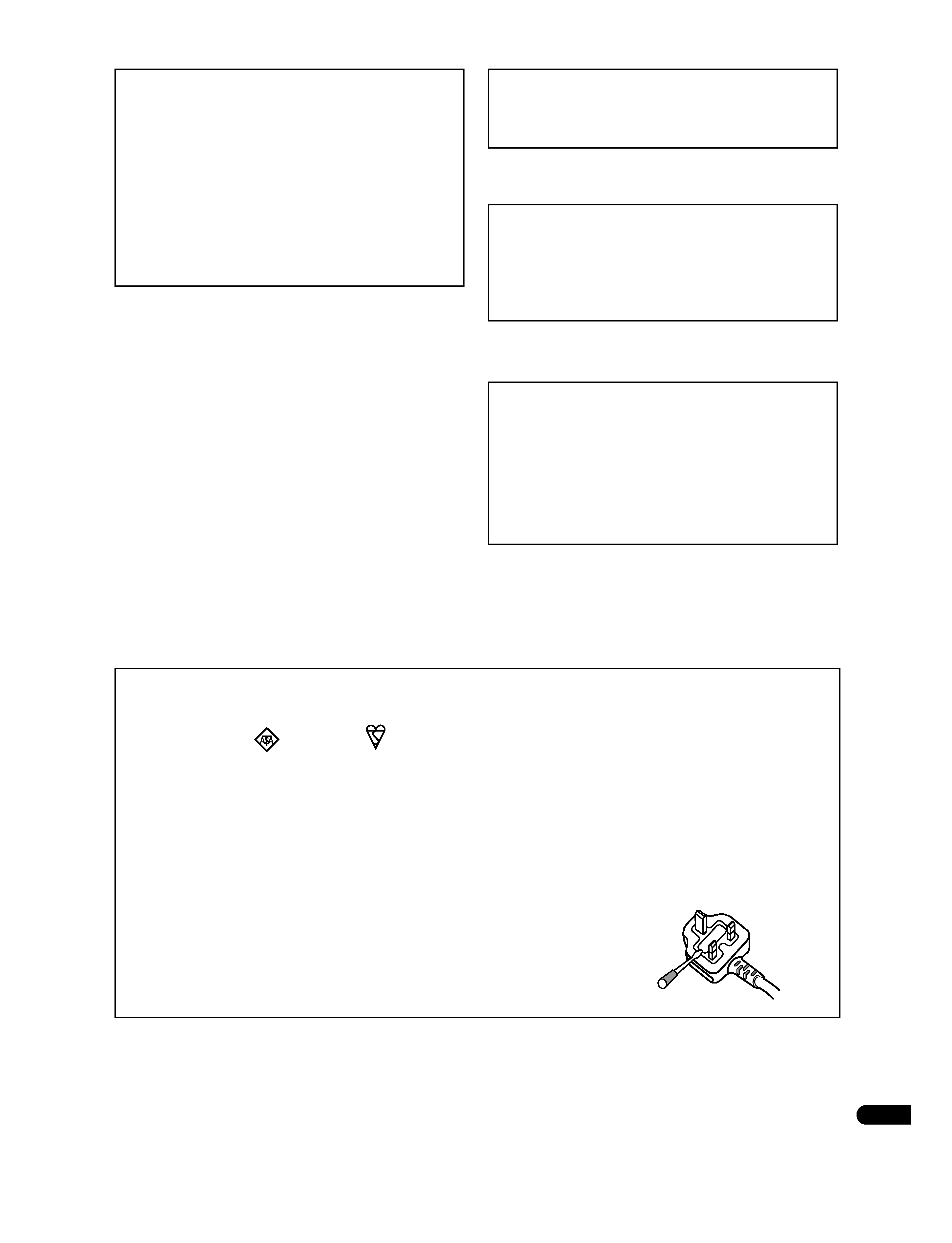 This product complies with the Low Voltage Directive
2006/95/EC and EMC Directive 2004/108/EC.
This product incorporates copyright protection
technology that is protected by method claims of certain
U.S. patents and other intellectual property rights owned
by Macrovision Corporation and other rights owners.
Use of this copyright protection technology must be
authorized by Macrovision Corporation, and is intended
for home and other limited viewing uses only unless
otherwise authorized by Macrovision Corporation.
Reverse engineering or disassembly is prohibited.
Replacement and mounting of an AC plug on the power supply cord of this unit should be performed only by qualified
IMPORTANT: THE MOULDED PLUG
This appliance is supplied with a moulded three pin mains plug for your safety and convenience. A 10 amp fuse is fitted in this plug. Should the
fuse need to be replaced, please ensure that the replacement fuse has a rating of 10 amps and that it is approved by ASTA or BSI to BS1362.
Check for the ASTA markor the BSI mark
If the plug contains a removable fuse cover, you must ensure that it is refitted when the fuse is replaced. If you lose the fuse cover the plug
must not be used until a replacement cover is obtained. A replacement fuse cover can be obtained from your local dealer.
If the fitted moulded plug is unsuitable for your socket outlet, then the fuse shall be removed and the plug cut off and disposed of
safely. There is a danger of severe electrical shock if the cut off plug is inserted into any 13 amp socket.
If a new plug is to be fitted, please observe the wiring code as shown below. If in any doubt, please consult a qualified electrician.
IMPORTANT: The wires in this mains lead are coloured in accordance with the following code:
As the colours of the wires in the mains lead of this appliance may not correspond with the coloured markings identifying the terminals in
your plug, proceed as follows ;
The wire which is coloured BLUE must be connected to the terminal which is marked with the
The wire which is coloured BROWN must be connected to the terminal which is marked with the
How to replace the fuse: Open the fuse compartment with a screwdriver and replace the fuse.
Handle the power cord by the plug. Do not pull out the
plug by tugging the cord and never touch the power
cord when your hands are wet as this could cause a
short circuit or electric shock. Do not place the unit, a
piece of furniture, etc., on the power cord, or pinch the
cord. Never make a knot in the cord or tie it with other
cords. The power cords should be routed such that they
are not likely to be stepped on. A damaged power cord
can cause a fire or give you an electrical shock. Check
the power cord once in a while. When you find it
damaged, ask your nearest PIONEER authorized
service center or your dealer for a replacement.
S002*_En
---

Information for users on collection and disposal of old equipment and used batteries
These symbols on the products, packaging, and/or accompanying documents mean
that used electrical and electronic products and batteries should not be mixed with
For proper treatment, recovery and recycling of old products and used batteries,
please take them to applicable collection points in accordance with your national
By disposing of these products and batteries correctly, you will help to save valuable
resources and prevent any potential negative effects on human health and the
environment which could otherwise arise from inappropriate waste handling.
For more information about collection and recycling of old products and batteries,
please contact your local municipality, your waste disposal service or the point of sale
where you purchased the items.
These symbols are only valid in the European Union.
For countries outside the European Union:
If you wish to discard these items, please contact your local authorities or dealer and
ask for the correct method of disposal.
---

What's in the box . . . . . . . . . . . . . . . . . . . . . . . . . . . . . . . . . . . . . . . . . 6
Putting the batteries in the remote control. . . . . . . . . . . . . . . . . . . 6
Types of discs/files that can be played. . . . . . . . . . . . . . . . . . . . . . . . 7
Playable discs . . . . . . . . . . . . . . . . . . . . . . . . . . . . . . . . . . . . . . . . . . 7
Playable files . . . . . . . . . . . . . . . . . . . . . . . . . . . . . . . . . . . . . . . . . . . 9
Part Names and Functions . . . . . . . . . . . . . . . . . . . . . . . . . . . . . . . . 10
Remote Control . . . . . . . . . . . . . . . . . . . . . . . . . . . . . . . . . . . . . . . . 10
Front Panel. . . . . . . . . . . . . . . . . . . . . . . . . . . . . . . . . . . . . . . . . . . . 12
Front Panel Display . . . . . . . . . . . . . . . . . . . . . . . . . . . . . . . . . . . . . 13
Rear Panel . . . . . . . . . . . . . . . . . . . . . . . . . . . . . . . . . . . . . . . . . . . . 13
Connecting a TV . . . . . . . . . . . . . . . . . . . . . . . . . . . . . . . . . . . . . . . . . 14
Connecting using a commercially available HDMI cable . . . . . . 14
Connecting using a commercially available component video
cable . . . . . . . . . . . . . . . . . . . . . . . . . . . . . . . . . . . . . . . . . . . . . . . . . 16
Connecting using the included audio cable and video
cable . . . . . . . . . . . . . . . . . . . . . . . . . . . . . . . . . . . . . . . . . . . . . . . . . 16
Connecting an AV receiver or amplifier . . . . . . . . . . . . . . . . . . . . . . 17
Connecting using a commercially available HDMI cable . . . . . . 17
Connecting using audio cables . . . . . . . . . . . . . . . . . . . . . . . . . . . 18
Connecting using a commercially available digital audio
cable . . . . . . . . . . . . . . . . . . . . . . . . . . . . . . . . . . . . . . . . . . . . . . . . . 18
Connecting the power cord. . . . . . . . . . . . . . . . . . . . . . . . . . . . . . . . 19
Making settings using the Setup Navigator menu . . . . . . . . . . . . . 20
Operating the TV with the player's remote control . . . . . . . . . . . . . 22
TV Preset code list . . . . . . . . . . . . . . . . . . . . . . . . . . . . . . . . . . . . . . 22
Using the TOOLS menu. . . . . . . . . . . . . . . . . . . . . . . . . . . . . . . . . . . 23
Erasing the additional data from BD-ROMs . . . . . . . . . . . . . . . . . . 24
Switching the video output terminal . . . . . . . . . . . . . . . . . . . . . . . . 24
Switching the output video resolution . . . . . . . . . . . . . . . . . . . . . . . 24
Playing discs or files . . . . . . . . . . . . . . . . . . . . . . . . . . . . . . . . . . . . . 26
Forward and reverse scanning. . . . . . . . . . . . . . . . . . . . . . . . . . . . 26
Playing specific titles, chapters or tracks . . . . . . . . . . . . . . . . . . . 27
Skipping content . . . . . . . . . . . . . . . . . . . . . . . . . . . . . . . . . . . . . . . 27
Playing in slow motion . . . . . . . . . . . . . . . . . . . . . . . . . . . . . . . . . . 27
Step forward and step reverse . . . . . . . . . . . . . . . . . . . . . . . . . . . . 27
Switching the camera angles . . . . . . . . . . . . . . . . . . . . . . . . . . . . 28
Switching the subtitles . . . . . . . . . . . . . . . . . . . . . . . . . . . . . . . . . . 28
Switching the audio streams/channels . . . . . . . . . . . . . . . . . . . . 28
Switching the secondary video . . . . . . . . . . . . . . . . . . . . . . . . . . . 29
Displaying the disc information . . . . . . . . . . . . . . . . . . . . . . . . . . . 29
Using the Play Mode functions . . . . . . . . . . . . . . . . . . . . . . . . . . . . 29
Playing from a specific time (Time Search) . . . . . . . . . . . . . . . . . 29
Playing a specific title, chapter or track (Search) . . . . . . . . . . . . 30
Playing a specific section within a title or track repeatedly
(A-B Repeat). . . . . . . . . . . . . . . . . . . . . . . . . . . . . . . . . . . . . . . . . . . 31
Playing repeatedly (Repeat Play) . . . . . . . . . . . . . . . . . . . . . . . . . . 31
Playing in random order (Random Play). . . . . . . . . . . . . . . . . . . . 32
About Play Mode types . . . . . . . . . . . . . . . . . . . . . . . . . . . . . . . . . . 33
Playing from the Home Media Gallery . . . . . . . . . . . . . . . . . . . . . . . 34
Playing discs . . . . . . . . . . . . . . . . . . . . . . . . . . . . . . . . . . . . . . . . . . 34
Playing movie files. . . . . . . . . . . . . . . . . . . . . . . . . . . . . . . . . . . . . . 34
Playing music files . . . . . . . . . . . . . . . . . . . . . . . . . . . . . . . . . . . . . 35
Playing in the desired order (HMG Playlist). . . . . . . . . . . . . . . . . .36
05 Adjusting audio and video
Adjusting the video . . . . . . . . . . . . . . . . . . . . . . . . . . . . . . . . . . . . . . .38
Adjusting the Audio DRC . . . . . . . . . . . . . . . . . . . . . . . . . . . . . . . . . .39
Changing the settings (Initial Setup) . . . . . . . . . . . . . . . . . . . . . . . .40
Operating the Initial Setup screen . . . . . . . . . . . . . . . . . . . . . . . . .40
Changing to other language at language setting . . . . . . . . . . . . .43
Changing the speaker setup . . . . . . . . . . . . . . . . . . . . . . . . . . . . . .44
Adjusting the output level of the various speakers
(Channel Level) . . . . . . . . . . . . . . . . . . . . . . . . . . . . . . . . . . . . . . . . .44
Registering or Changing the password . . . . . . . . . . . . . . . . . . . . .45
Changing the Age Restriction for watching BD-ROMs . . . . . . . .46
Changing the Parental Lock level for watching DVDs . . . . . . . . .47
Changing the Country/Area code . . . . . . . . . . . . . . . . . . . . . . . . . .48
Changing the terminals for outputting video and audio signals
(Output Terminal Priority) . . . . . . . . . . . . . . . . . . . . . . . . . . . . . . . .49
Restoring all the settings to the factory default settings . . . . . . .49
About the audio output settings . . . . . . . . . . . . . . . . . . . . . . . . . . .50
07 Additional information
Troubleshooting . . . . . . . . . . . . . . . . . . . . . . . . . . . . . . . . . . . . . . . . .51
Playback . . . . . . . . . . . . . . . . . . . . . . . . . . . . . . . . . . . . . . . . . . . . . .51
When connected using an HDMI cable . . . . . . . . . . . . . . . . . . . . .54
Others . . . . . . . . . . . . . . . . . . . . . . . . . . . . . . . . . . . . . . . . . . . . . . . .55
Language Code Table and Country/Area Code Table . . . . . . . . . . .56
Language Code Table . . . . . . . . . . . . . . . . . . . . . . . . . . . . . . . . . . .56
Country/Area Code Table. . . . . . . . . . . . . . . . . . . . . . . . . . . . . . . . .56
Specifications . . . . . . . . . . . . . . . . . . . . . . . . . . . . . . . . . . . . . . . . . . .57
Cautions on use . . . . . . . . . . . . . . . . . . . . . . . . . . . . . . . . . . . . . . . . .58
Moving the player . . . . . . . . . . . . . . . . . . . . . . . . . . . . . . . . . . . . . . .58
Place of installation . . . . . . . . . . . . . . . . . . . . . . . . . . . . . . . . . . . . .58
Turn the power off when not using the player . . . . . . . . . . . . . . . .58
Condensation . . . . . . . . . . . . . . . . . . . . . . . . . . . . . . . . . . . . . . . . . .58
Cleaning the player . . . . . . . . . . . . . . . . . . . . . . . . . . . . . . . . . . . . .58
Caution for when the unit is installed in a rack with a glass
door . . . . . . . . . . . . . . . . . . . . . . . . . . . . . . . . . . . . . . . . . . . . . . . . . .58
Cleaning the pickup lens . . . . . . . . . . . . . . . . . . . . . . . . . . . . . . . . .58
Handling discs . . . . . . . . . . . . . . . . . . . . . . . . . . . . . . . . . . . . . . . . .59
Glossary . . . . . . . . . . . . . . . . . . . . . . . . . . . . . . . . . . . . . . . . . . . . . . . .59
Licenses . . . . . . . . . . . . . . . . . . . . . . . . . . . . . . . . . . . . . . . . . . . . . . . .62
---