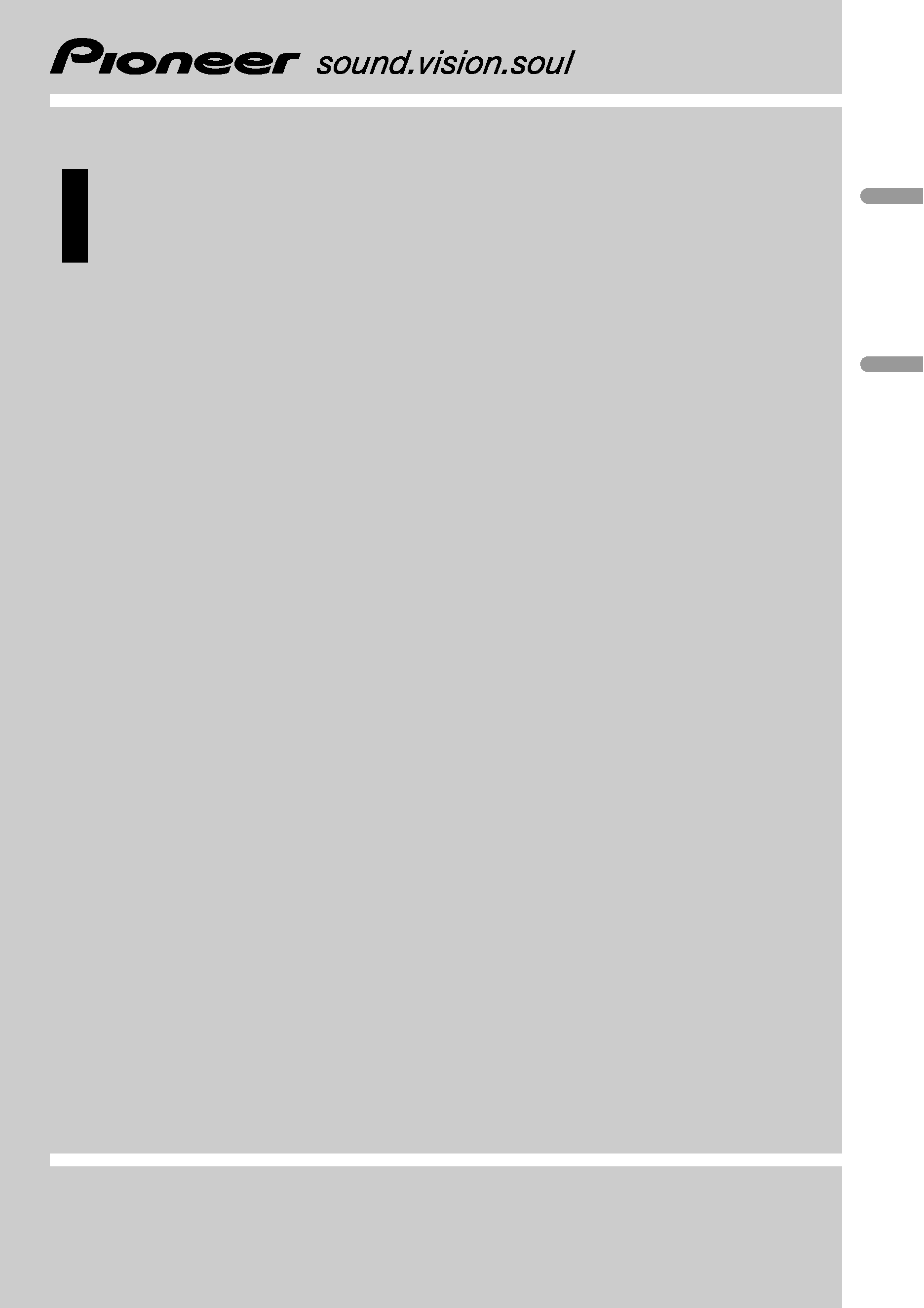 Multi-channel processor controller unit
Contrôleur de processeur multi-canaux
---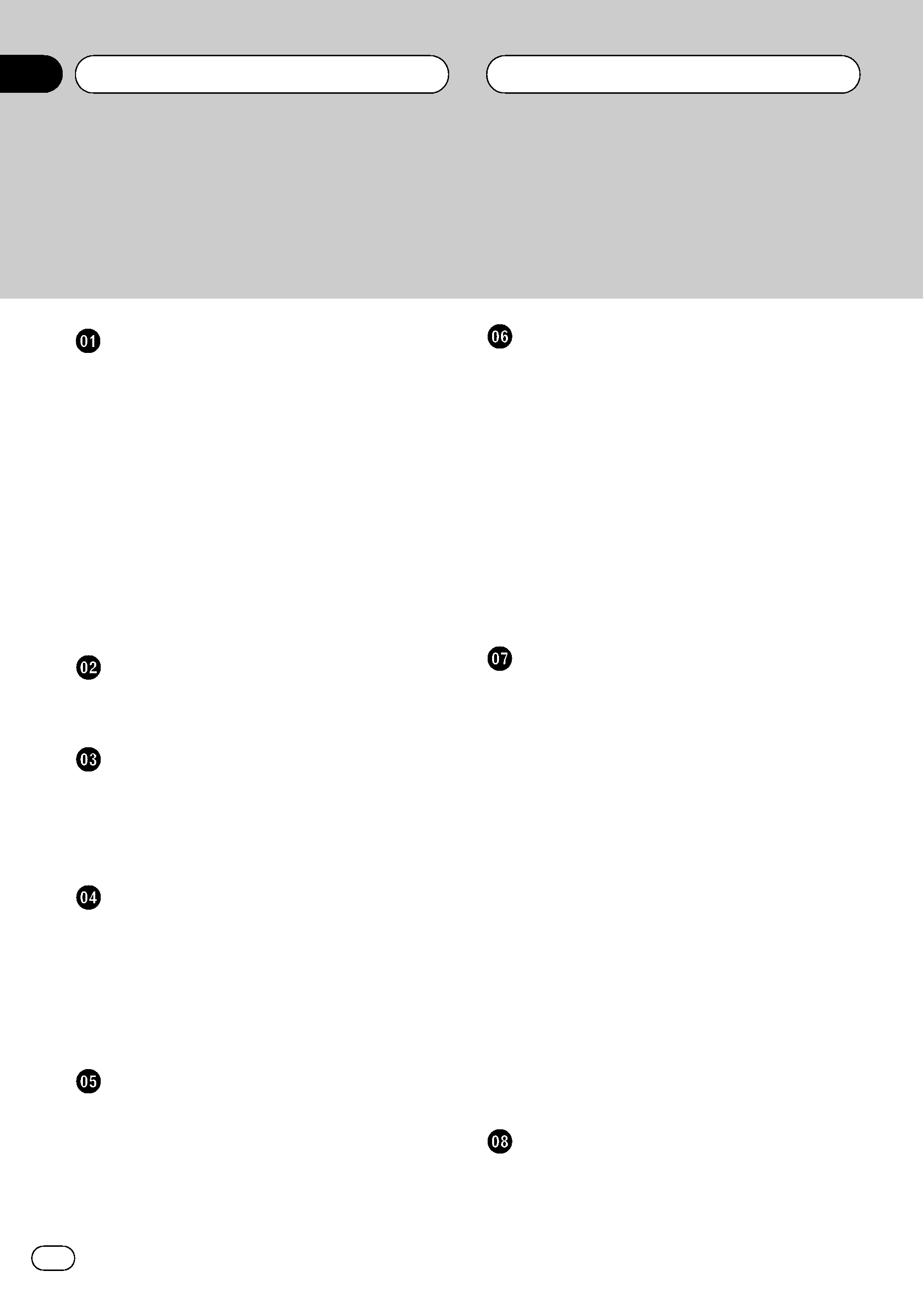 Thank you for buying this Pioneer product.
Please read through these operating instructions so you will know how to operate
your model properly. After you have finished reading the instructions, keep this man-
ual in a safe place for future reference.
After-sales service for Pioneer products 5
About digital and analog source 6
Use and care of the remote control 7
Using the remote control operation mode
Dolby Digital/DTS compatibility 8
Function menu switching 13
Playing tracks in a random order 13
Scanning tracks of a CD 13
Resume playback (Bookmark) 13
Storing and recalling broadcast stations 15
Storing the strongest broadcast stations
50-disc multi-CD player 16
Introduction of advanced multi-CD player
Playing tracks in a random order 17
Scanning CDs and tracks 18
Using disc title functions 20
Using CD TEXT functions 20
Using compression and bass emphasis 21
Introduction of DSP adjustments 22
Using the sound field control 23
Using the position selector 24
Using balance adjustment 24
Adjusting source levels 24
Using the dynamic range control 25
Using the direct control 25
Using the Dolby Pro Logic B 25
Using the down-mix function 26
Setting the speaker setting 26
Selecting a cross-over frequency 27
Adjusting the speaker output levels 28
Adjusting the speaker output levels using a
Using the time alignment 29
Using the auto-equalizer 30
Auto TA and EQ (auto-time alignment and
Adjusting initial settings 35
Switching the dimmer setting 35
---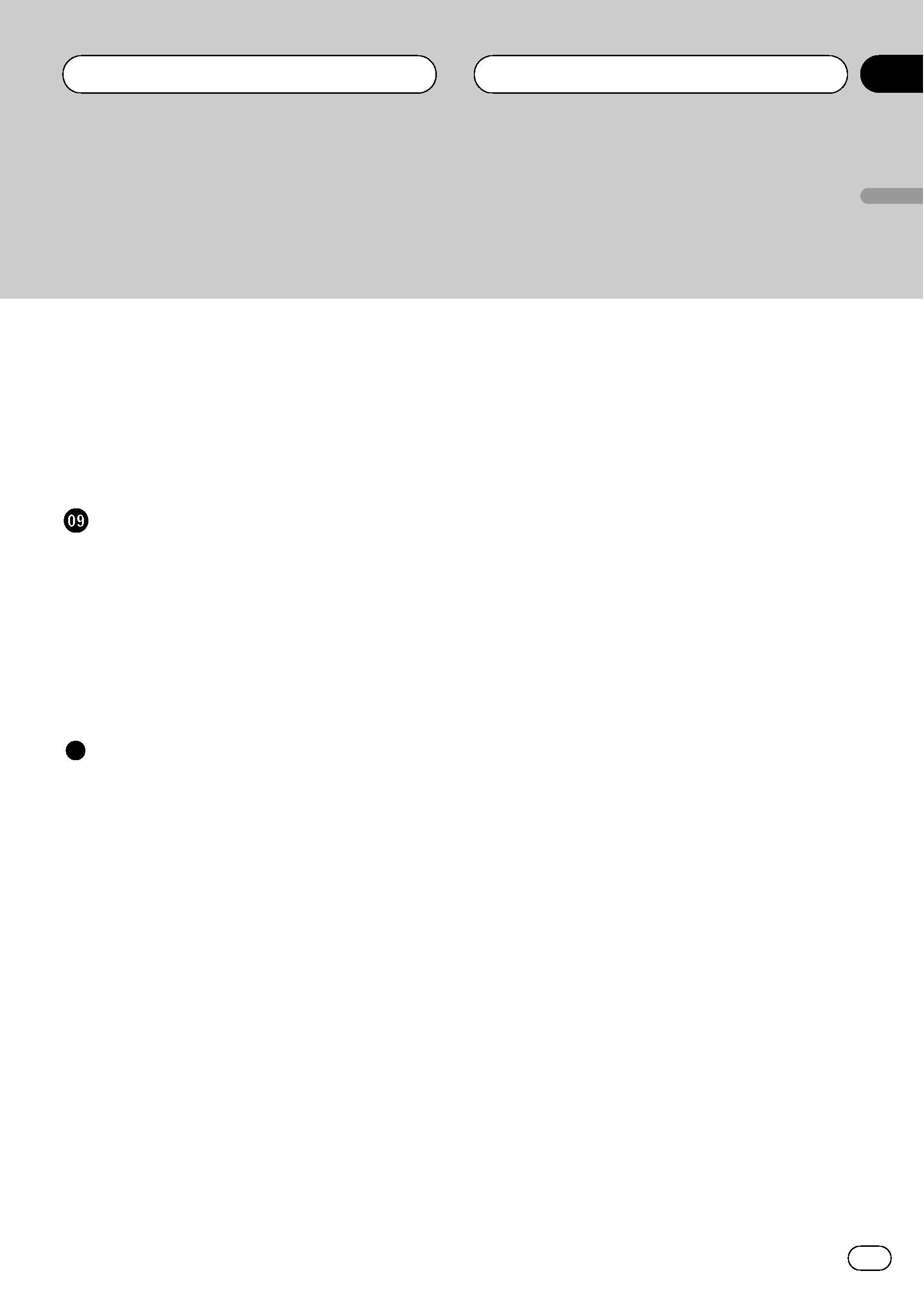 Adjusting the brightness 36
Correcting distorted sound 36
Switching the sound muting/attenuation 36
Switching the auxiliary setting 36
Switching the digital source setting 37
Switching the analog input setting 37
Resetting the audio functions 37
Turning the clock display on or off 38
Using different entertainment displays 38
Setting the digital source title 38
Setting the analog source title 38
Setting remote control code type 39
Understanding auto TA and EQ error
---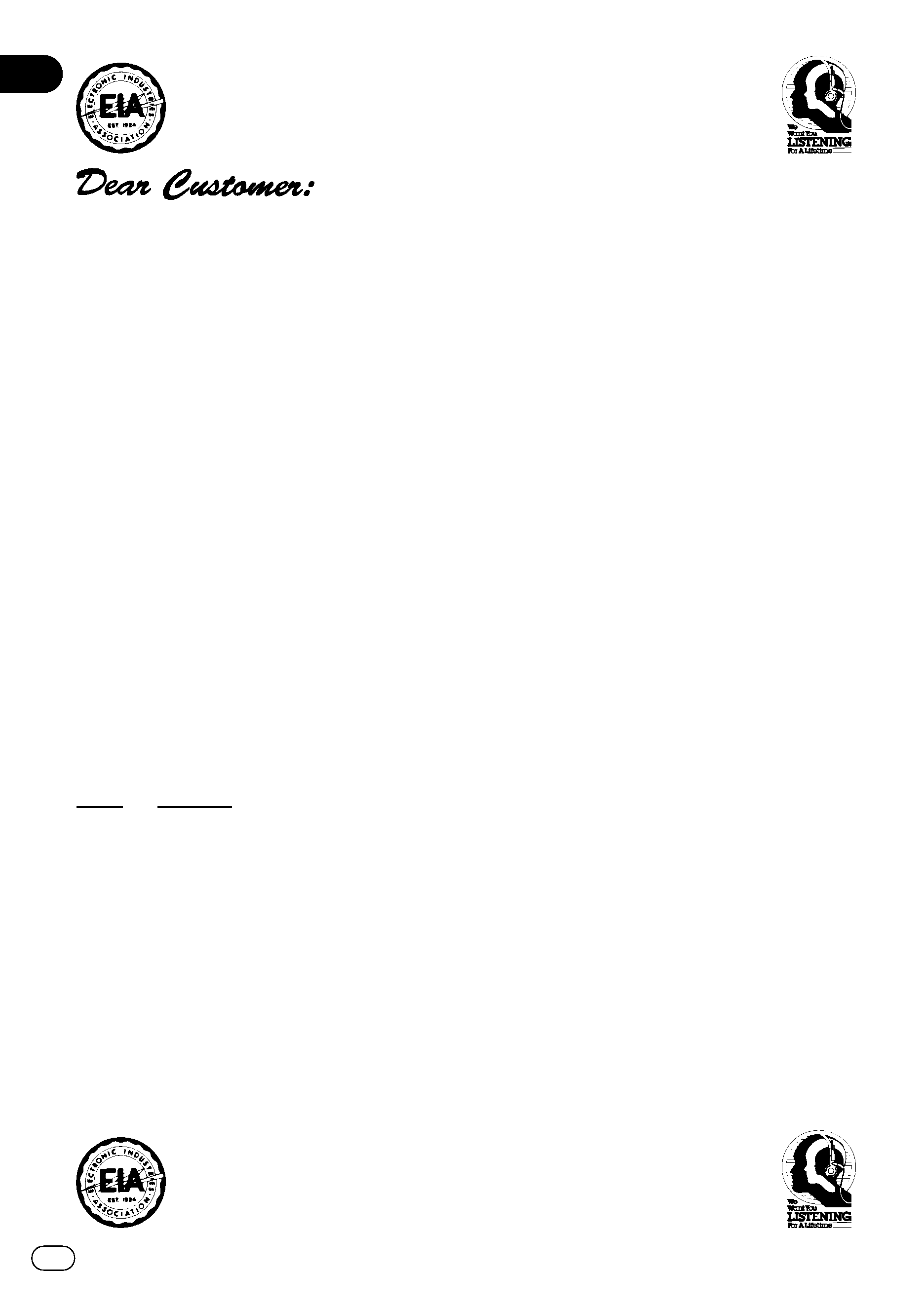 Selecting fine audio equipment such as the unit you've just purchased is only the start of your
musical enjoyment. Now it's time to consider how you can maximize the fun and excitement your
equipment offers. This manufacturer and the Electronic Industries Association's Consumer
Electronics Group want you to get the most out of your equipment by playing it at a safe level. One
that lets the sound come through loud and clear without annoying blaring or distortion--and, most
importantly, without affecting your sensitive hearing.
Sound can be deceiving. Over time your hearing "comfort level" adapts to higher volumes of
sound. So what sounds "normal" can actually be loud and harmful to your hearing. Guard against
this by setting your equipment at a safe level BEFORE your hearing adapts.
To establish a safe level:
· Start your volume control at a low setting.
· Slowly increase the sound until you can hear it comfortably and clearly, and without distortion.
Once you have established a comfortable sound level:
· Set the dial and leave it there.
Taking a minute to do this now will help to prevent hearing damage or loss in the future. After
all, we want you listening for a lifetime.
We Want You Listening For A Lifetime
Used wisely, your new sound equipment will provide a lifetime of fun and enjoyment. Since
hearing damage from loud noise is often undetectable until it is too late, this manufacturer and the
Electronic Industries Association's Consumer Electronics Group recommend you avoid prolonged
exposure to excessive noise. This list of sound levels is included for your protection.
Quiet library, soft whispers
Living room, refrigerator, bedroom away from traffic
Light traffic, normal conversation, quiet office
Air conditioner at 20 feet, sewing machine
Vacuum cleaner, hair dryer, noisy restaurant
Average city traffic, garbage disposals, alarm clock at two feet
THE FOLLOWING NOISES CAN BE DANGEROUS UNDER CONSTANT EXPOSURE
Subway, motorcycle, truck traffic, lawn mower
Garbage truck, chain saw, pneumatic drill
Rock band concert in front of speakers, thunderclap
Information courtesy of the Deafness Research Foundation.
--- Alteration or modifications carried out without
appropriate authorization may invalidate the
users right to operate the equipment.
This unit features a number of sophisticated
functions ensuring superior reception and op-
eration. All the functions have been designed
for the easiest possible use, but many are not
self-explanatory. This operation manual will
help you benefit fully from this units potential
and to maximize your listening enjoyment.
We recommend that you familiarize yourself
with the functions and their operation by read-
ing through the manual before you begin
using this unit. It is especially important that
you read and observe precautions noted on
the next page and in other sections.
This unit can control separately sold Pioneer
multi-channel processor (e.g. DEQ-P8000).
Also, supplied remote control can control the
functions of separately sold Pioneer DVD
player (e.g. XDV-P90), Pioneer multi-CD player,
Pioneer television and the part of functions of
Also, this unit has universal connector for
your car-stereo or other equipment, allowing
you to connect to this unit and to enjoy the
high quality sound of DEQ-P8000. If you want
to connect them, use either the speaker input
connector or the RCA input connector. You
can connect six sources at a time for speaker
input connector and RCA input connector as
analog source. You can change the setting of
each analog source between speaker input or
RCA input. (Refer to Switching the analog
input setting on page 37.)
Instructions in this operation manual use DEQ-
P8000 as an example multi-channel processor. If
multi-channel processor other than DEQ-P8000 is
connected to this unit, some functions in this
manual may not be available. In this case, refer to
multi-channel processors operation manual for
Please contact the dealer or distributor from
where you purchased this unit for after-sales
service (including warranty conditions) or any
other information. In case the necessary infor-
mation is not available, please contact the
Please do not ship your unit to the companies
at the addresses listed below for repair without
Pioneer Electronics (USA) Inc.
CUSTOMER SUPPORT DIVISION
Long Beach, CA 90801-1760
Pioneer Electronics of Canada, Inc.
CUSTOMER SATISFACTION DEPARTMENT
For warranty information please see the Lim-
ited Warranty sheet included with this unit.
---