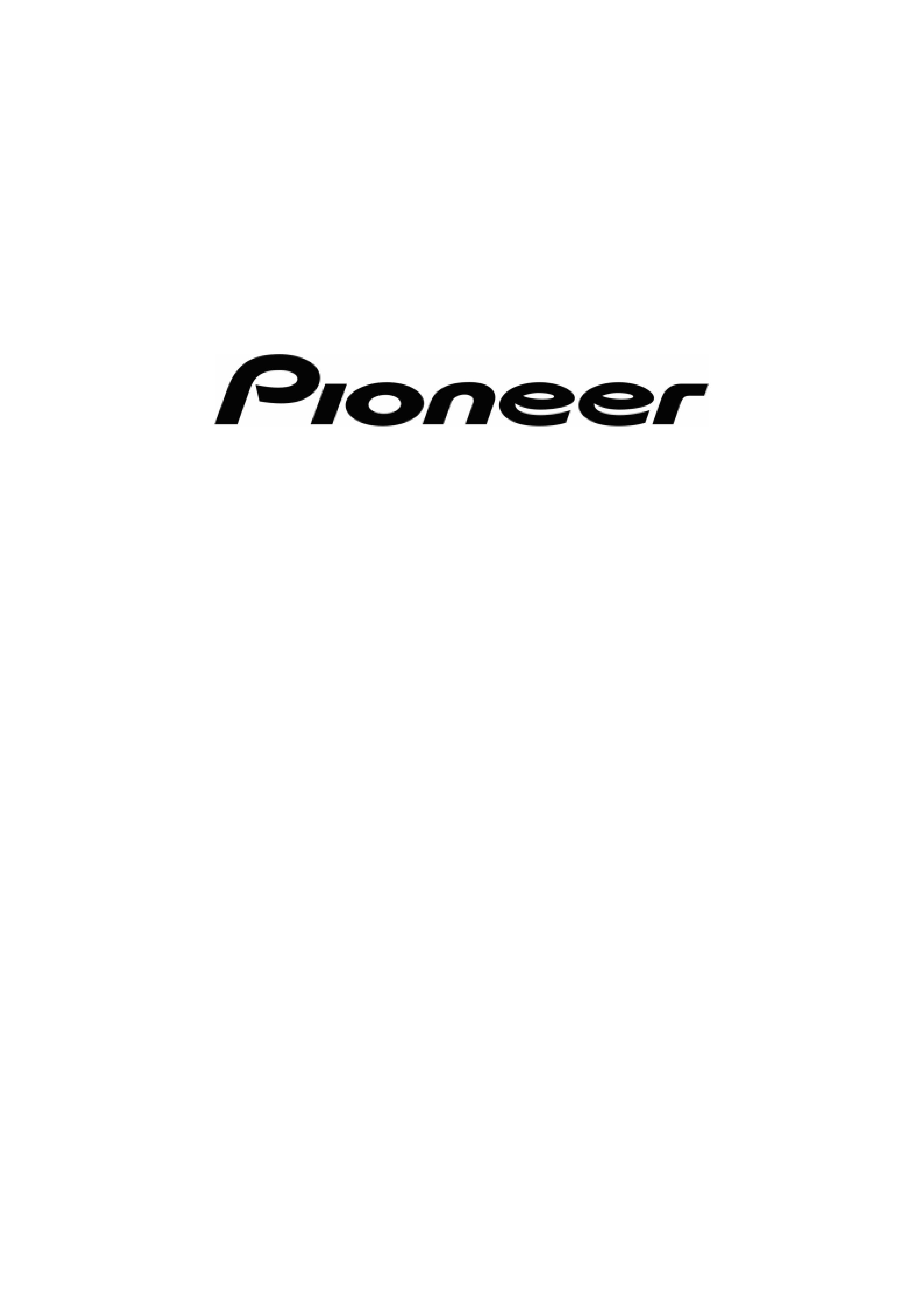 Navigation software for AVIC-S2
---

The product and the information contained herein may be changed at any time
without prior notification.
This manual nor any parts thereof may not be reproduced or transmitted in any form
either electronically or mechanically, including photocopying and recording, without
the express written consent of Pioneer.
Whereis® map data is © 2006 Telstra Corporation Limited and its licensors
Data Source © 2007 Tele Atlas N.V.
© Copyright 2007, PIONEER Corporation
---

Before using your navigation system, be sure to read and fully understand the
information provided in the "Important Information for the User" document. Read the
entire User Manual before operating this navigation system.
---

Warnings and safety information......................................................................... 8
General information............................................................................................. 9
Operating AVIC-S2 (Controls)........................................................................... 10
Hardware buttons....................................................................................... 10
Power on/off button............................................................................. 10
Menu button........................................................................................ 10
Map button.......................................................................................... 11
Volume setting scroll wheel ................................................................ 11
Screen buttons and controls ...................................................................... 11
List selectors....................................................................................... 11
Sliders................................................................................................. 12
Switches ............................................................................................. 12
Switches in the Display menu ............................................................. 12
Virtual keyboards ................................................................................ 13
3.2.5.1 ABC-type keyboards ....................................................................... 13
3.2.5.2 QWERTY-type keyboards ............................................................... 14
3.2.5.3 The numeric keyboard..................................................................... 14
Discovering the program through the screens .................................................. 15
The map..................................................................................................... 15
2D and 3D map views......................................................................... 15
Zoom levels ........................................................................................ 16
Daylight and night colour schemes ..................................................... 16
Streets and roads ............................................................................... 17
Other objects ...................................................................................... 18
Current position and Lock-on-Road .................................................... 18
Selected map point, also known as the Cursor................................... 19
Visible POIs (Points of Interest) .......................................................... 19
Elements of the Active Route.............................................................. 21
4.1.9.1 The start point, via points and the destination ................................. 21
4.1.9.2 Animated turn guidance .................................................................. 21
4.1.9.3 The active leg of the route............................................................... 21
4.1.9.4 Inactive legs of the route ................................................................. 22
4.1.9.5 Roads in the route excluded by your preferences ........................... 22
GPS Data screen ....................................................................................... 22
GPS data displayed ............................................................................ 23
GPS connection indicator ................................................................... 23
GPS data quality indicator .................................................................. 23
Time synchronization .......................................................................... 24
Screens with map ...................................................................................... 24
Turn preview (No. 1) ........................................................................... 26
---

Zoom in and out (No. 2 & 3)................................................................ 26
Tilt up and down (No. 4 & 5) ............................................................... 27
Back to navigation - lock to GPS position and heading (No. 6)........... 27
Cursor (No. 7) ..................................................................................... 28
Map scale (No. 8) ............................................................................... 28
Navi button - Menu (No. 9).................................................................. 28
Map orientation and Overview (No. 10) .............................................. 29
GPS position quality (No. 11).............................................................. 29
Battery status (No. 12) ........................................................................ 30
Sound muting (No. 13)........................................................................ 30
Track Log recording/playback indicator (No. 14) ................................ 31
Cursor menu (No. 15) ......................................................................... 31
Current street (No. 16) ........................................................................ 32
Travel and Route data (No. 17) .......................................................... 32
Distance to next turn (No. 18) ............................................................. 33
Next street / Next manoeuvre (No. 19) ............................................... 33
Approaching next turn (No. 20)........................................................... 33
Mode button (No. 21).......................................................................... 34
Route Information screen........................................................................... 34
Route data displayed (for destination and via points) ......................... 34
4.4.1.1 Route line ........................................................................................ 34
4.4.1.2 Distance Left ................................................................................... 35
4.4.1.3 Method ............................................................................................ 35
4.4.1.4 Time Left ......................................................................................... 35
4.4.1.5 Estimated Arrival ............................................................................. 35
4.4.1.6 Destination / Via point ..................................................................... 36
Warning icons ..................................................................................... 36
Fit to screen ........................................................................................ 37
Parameters ......................................................................................... 37
Menu.......................................................................................................... 37
Destination tab.................................................................................... 37
Display tab .......................................................................................... 38
4.5.2.1 3D/2D Map ...................................................................................... 38
4.5.2.2 Zoom & Tilt (switch)......................................................................... 38
4.5.2.3 Day/Night (switch) ........................................................................... 39
4.5.2.4 Manage POI (Points of Interest)...................................................... 39
4.5.2.5 Popup Information (switch).............................................................. 42
4.5.2.6 Manage Track Logs......................................................................... 42
Route tab ............................................................................................ 45
4.5.3.1 Recalculate ..................................................................................... 45
4.5.3.2 Delete.............................................................................................. 46
4.5.3.3 Itinerary ........................................................................................... 46
4.5.3.4 Fly Over........................................................................................... 48
4.5.3.5 Edit .................................................................................................. 48
4.5.3.6 Info .................................................................................................. 49
Map Search button ............................................................................. 49
Settings button.................................................................................... 49
Settings ............................................................................................................. 50
Safety settings ........................................................................................... 50
Safety Mode........................................................................................ 50
---