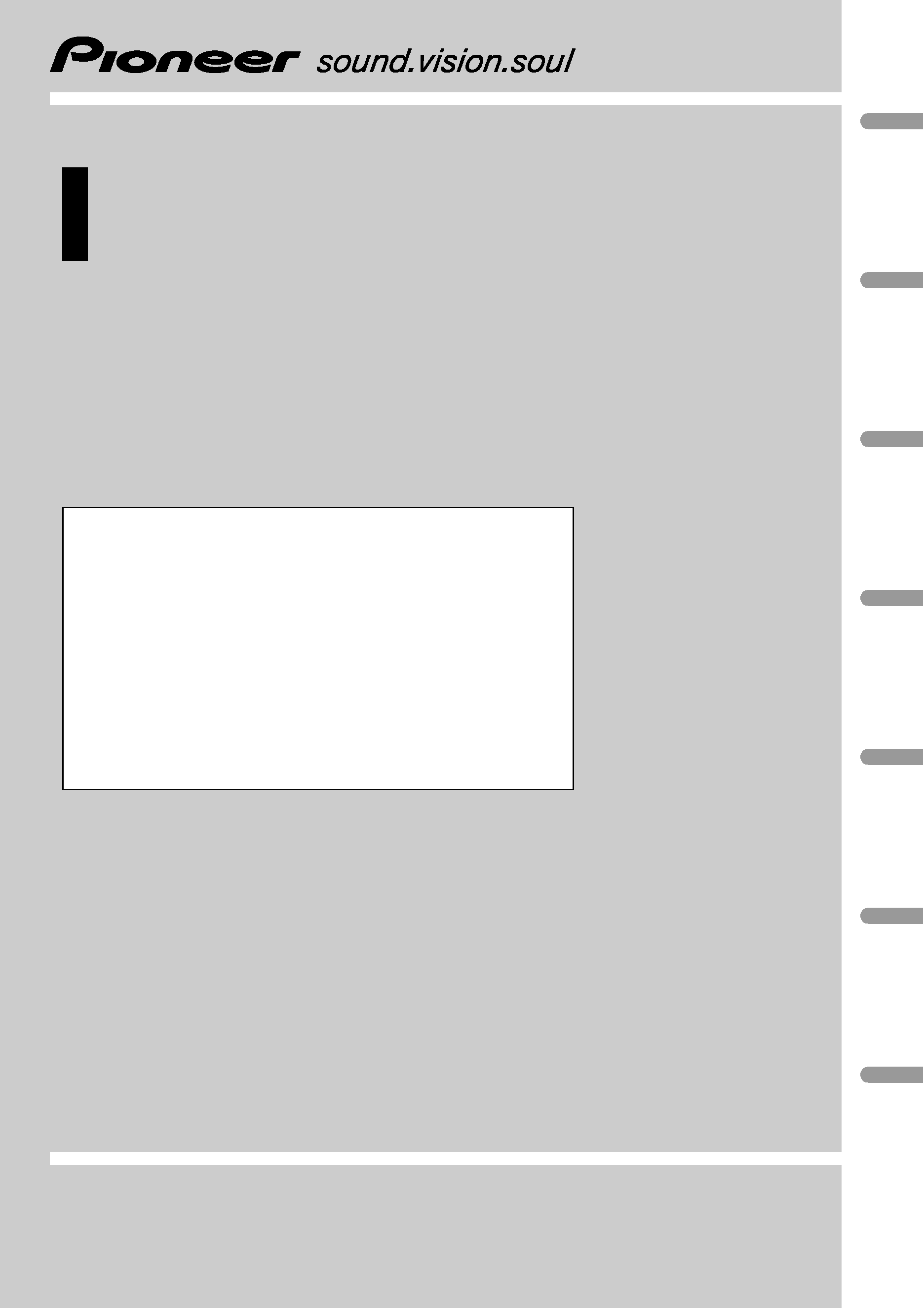 7-INCH REAR SEAT ENTERTAINMENT DISPLAY
AFFICHAGE DIVERTISSANT 7 POUCES POUR
This product conforms to new cord colors.
Los cables de este producto son conformes a un nuevo
Dieses Produkt entspricht den neuen Kabelfarben.
Ce produit respecte un nouveau code de couleur des
Questo prodotto è conforme ai nuovi codici colori.
De kleuren van de snoeren van dit toestel zijn gewijzigd.
---

Thank you for buying this Pioneer product.
Please read through these operating instructions so you will know how to operate
your model properly. After you have finished reading the instructions, keep this man-
ual in a safe place for future reference.
­ When using a display connected to
To avoid battery exhaustion
To protect the LCD screen
For viewing LCD comfortably
­ Changing the wide screen size 6
­ Changing the picture adjustment 6
Installing and removing the display unit
­ Installing the display unit 6
­ Removing the display unit 7
Resetting the microprocessor
­ Changing the wide screen mode 8
­ Switching the dimmer setting 9
­ Changing the picture adjustment 9
­ Selecting the video format 10
Connection and installation
­ Mounting with flush mounting
­ Removing the display unit 13
Using the display correctly
­ Handling the display 14
­ Liquid crystal display (LCD) screen 14
­ Keeping the display in good
­ Small fluorescent tube 15
--- Please read all of these instructions regarding
your display and retain them for future refer-
Read this manual fully and carefully be-
fore operating your display.
Keep this manual handy as a reference for
operating procedures and safety informa-
Pay close attention to all warnings in this
manual and follow the instructions care-
Do not allow other persons to use this sys-
tem until they have read and understood
the operating instructions.
Do not install the display where it may (i)
's vision, (ii) impair the
performance of any of the vehicle
ating systems or safety features, includ-
ing air bags, hazard lamp buttons or (iii)
's ability to safely oper-
As with any accessory in your vehicle
terior, the display should not divert your
attention from the safe operation of your
vehicle. If you experience difficulty in op-
erating the system or reading the display,
please park safely before making adjust-
Please remember to wear your seat belt at
all times while operating your vehicle. If
you are ever in an accident, your injuries
can be considerably more severe if your
seat belt is not properly buckled.
! Do not attempt to install or service your
display by yourself. Installation or servi-
cing of the display by persons without
training and experience in electronic
equipment and automotive accessories
may be dangerous and could expose you
to the risk of electric shock or other ha-
! NEVER install this display in a location
where it is visible by the driver. Doing so
can cause the driver to be distract by
images while the vehicle is in motion.
! Use of this display is subject to all govern-
ment laws regarding placement or use.
! PIONEER does not accept any liability for
any problems, damage or loss incurred as
a result of the display being used with an
incorrect setting or in violation of any gov-
! To avoid the risk of accident and the potential
violation of applicable laws, rear display units
should not be in a location where it is a visible
distraction to the driver.
! This display is designed solely for use from
the rear seats. NEVER install the display in a
location that enables the driver to watch
! In some countries or states the viewing of
images on a display inside a vehicle even by
persons other than the driver may be illegal.
Where such regulations apply, they must be
obeyed and display units should not be used.
connected to VIDEO OUTPUT
's VIDEO OUTPUT is for connection
of a display to enable passengers in the rear
seats to watch the DVD or TV.
---

NEVER install the rear display in a location that
enables the driver to watch the DVD or TV while
To avoid battery exhaustion
Be sure to run the vehicle engine while using
this unit. Using this unit without running the
engine can result in battery drainage.
---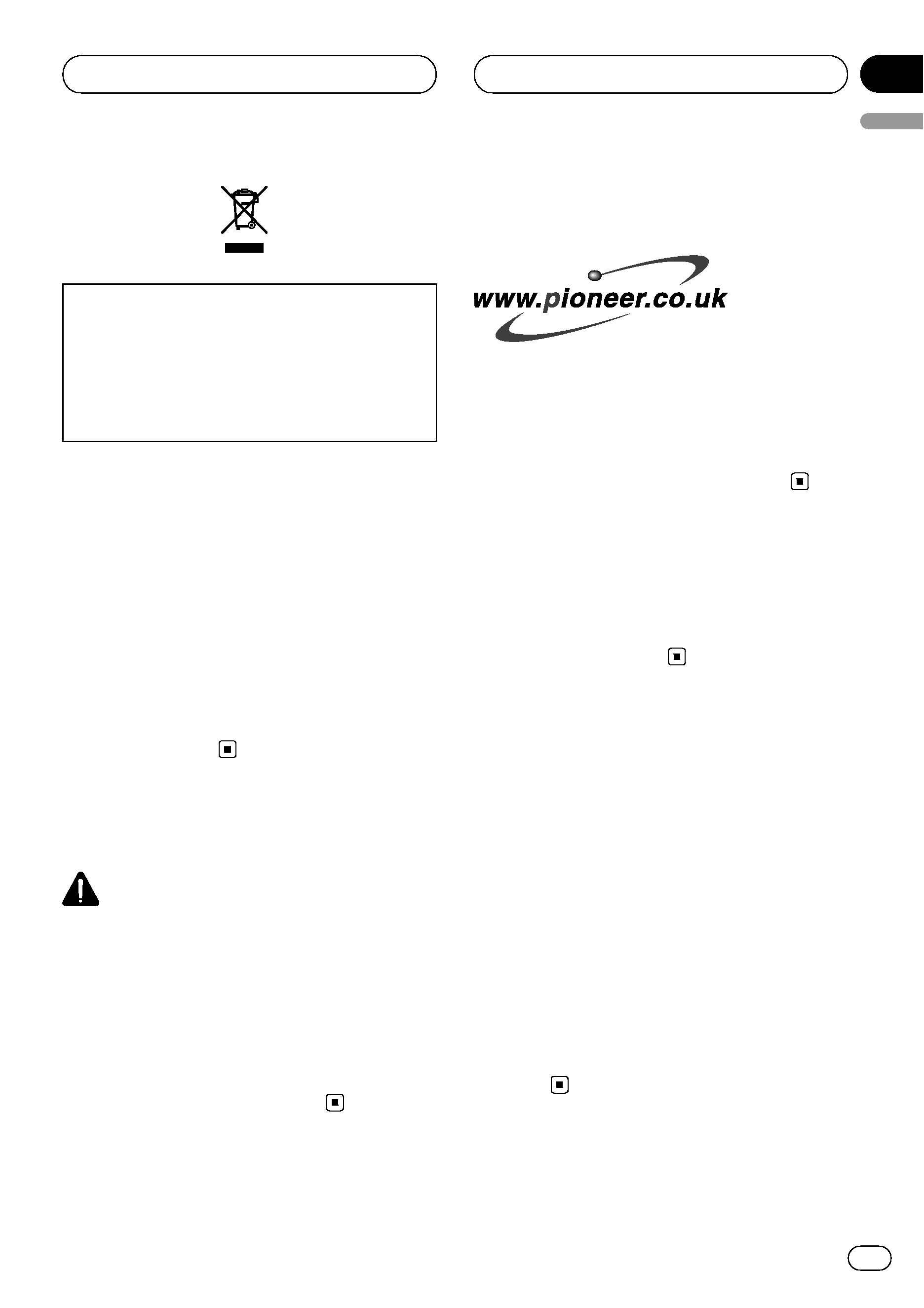 If you want to dispose this product, do not mix
it with general household waste. There is a se-
parate collection system for used electronic
products in accordance with legislation that re-
quires proper treatment, recovery and recy-
Private households in the member states of
the EU, in Switzerland and Norway may return
their used electronic products free of charge
to designated collection facilities or to a retai-
ler (if you purchase a similar new one).
For countries not mentioned above, please
contact your local authorities for the correct
By doing so you will ensure that your disposed
product undergoes the necessary treatment,
recovery and recycling and thus prevent po-
tential negative effects on the environment
! Do not allow this unit to come into contact
with liquids. Electrical shock could result.
Also, damage to this unit, smoke, and over-
heating could result from contact with liquids.
! Keep this manual handy as a reference for op-
erating procedures and precautions.
! Always keep the volume low enough so that
you can hear sounds from outside the vehicle.
! Protect this unit from moisture.
Visit us at the following site:
! Register your product. We will keep the de-
tails of your purchase on file to help you
refer to this information in the event of an
insurance claim such as loss or theft.
! We offer the latest information about
Pioneer Corporation on our website.
Should this product fail to operate properly,
contact your dealer or nearest authorized
To protect the LCD screen
! Do not allow direct sunlight to fall on the
display when this unit is not being used.
Extended exposure to direct sunlight can
result in LCD screen malfunction due to
the resulting high temperatures.
! When using a cellular phone, keep the an-
tenna of the cellular phone away from the
display to prevent disruption of the video by
the appearance of spots, colored stripes,
! Never touch the screen with anything be-
sides your finger when operating the touch
panel function. The screen can scratch
---