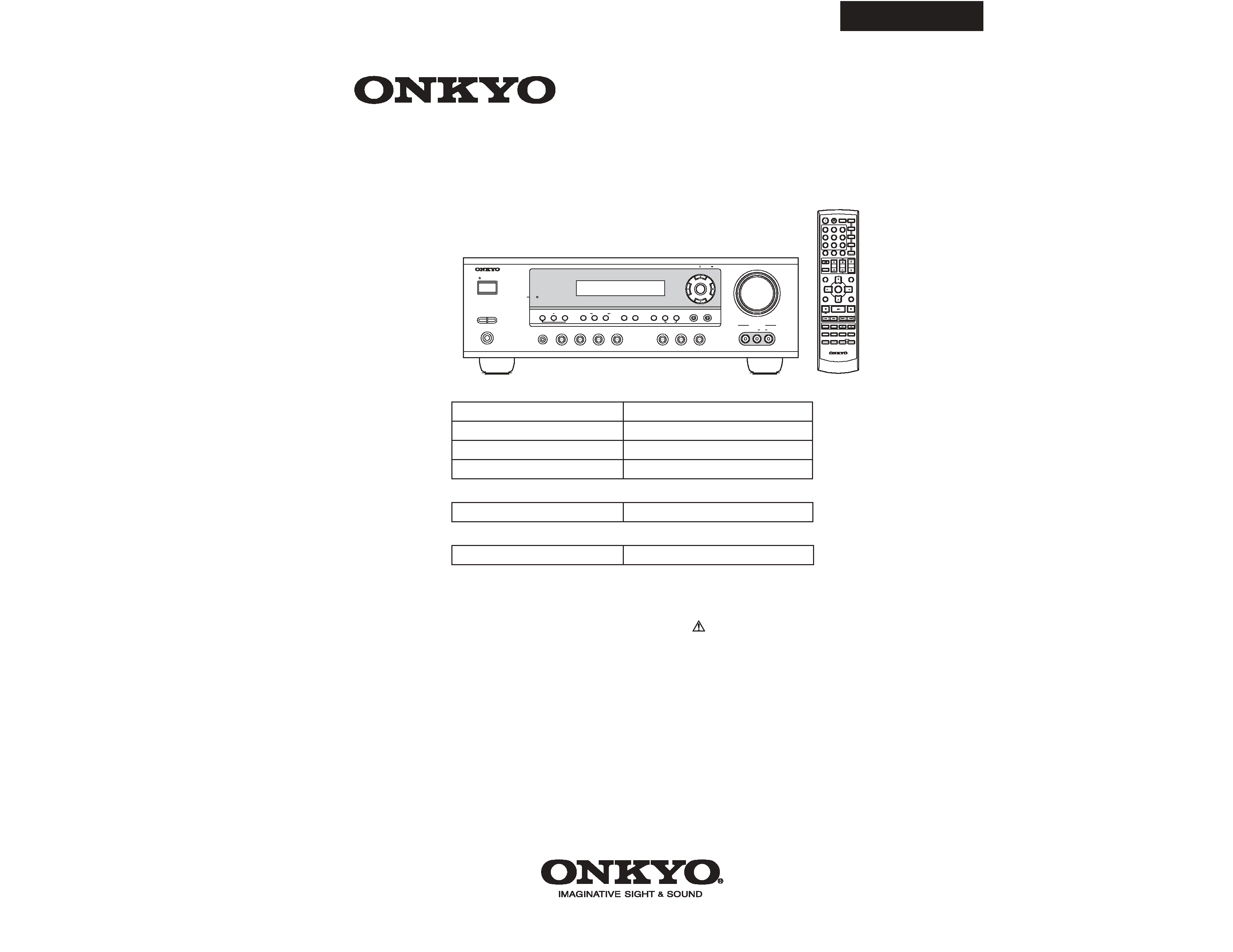 TX-SR503
Black and Silver and Golden models
120V/220-230V AC, 50/60Hz
TX-SR503E
Black and Silver models
COMPONENTS IDENTIFIED BY MARK
SCHEMATIC DIAGRAM AND IN THE PARTS LIST ARE
CRITICAL FOR RISK OF FIRE AND ELECTRIC SHOCK.
REPLACE THESE COMPONENTS WITH ONKYO
PARTS WHOSE PART NUMBERS APPEAR AS SHOWN
MAKE LEAKAGE-CURRENT OR RESISTANCE
MEASUREMENTS TO DETERMINE THAT EXPOSED
PARTS ARE ACCEPTABLY INSULATED FROM THE
SUPPLY CIRCUIT BEFORE RETURNING THE
APPLIANCE TO THE CUSTOMER.
---

SP A (L, R, C, SL, SR, SBL, SBR)
Specifications and features are subject to change without notice.
North American: AC 120 V, 60 Hz
Others: AC 120/220-240 V, 50/60 Hz
Stand-by Power Consumption
Australian and European: 0.2 W
17-1/8" x 5-7/8" x 14-3/4"
DVD(MULTICHANNEL), VIDEO1,
North American: 75 W + 75 W
Asian, Australian: 130 W + 130 W
180 W + 180 W (3 , Front)
140 W + 140 W (4 , Front)
(Total Harmonic Distortion)
Input Sensitivity and Impedance
Output Level and Impedance
10 Hz-100 kHz/ +1 dB-3 dB (Direct
Input Sensitivity/Output Level
(Component and S-Video Y)
North American: 87.5 MHz- 107.9 MHz
Other: 87.5 MHz- 108.0 MHz
North American: 530 kHz-1710 kHz
DVD, VIDEO1, VIDEO2, VIDEO3
---

This symbol located near the fuse indicates that the
fuse used is show operating type, For continued protection against
fire hazard, replace with same type fuse, For fuse rating, refer to
the marking adjacent to the symbol.
Ce symbole indique que le fusible utilise est e lent.
Pour une protection permanente, n'utiliser que des fusibles de meme
type. Ce demier est indique la qu le present symbol est apposre.
2. To initialize the unit
The AV receiver uses a battery-less memory backup system in order to retain radio presets and other settings
when it's unplugged or in the case of a power failure.
Although no batteries are required, the AV receiver must be plugged into an AC outlet in order to charge the
backup system. Once it has been charged, the AV receiver will retain the settings for several weeks,
although this depends on the environment and will be shorter in humid climates.
1. Press and the hold down the VIDEO 1/VCR button , then press the STANDBY/ON button when the unit is Power on.
2. After " Clear " is displayed, the preset memory and each mode stored in the memory, are initialized and will return to
Main microprocessor Q701 only.
1. Press and the hold down the DISPLAY button , then press the STANDBY/ON button when the unit is Power on.
Version is displayed on FL display only for 3 seconds.
2. Press the STANDBY/ON button to Power off.
3. To check version of microprocessor
!, <503 GK, GQ, GR,PA, WT>
!, <503 GK, GQ, GR,PA, WT>
!, <503 GK, GQ, GR,PA, WT>
!, <503 GK, GQ, GR, PA, WT>
!, <503 GK, GQ, GR, PA, WT>
!, <503 GK, GQ, GR, PA, WT>
<DC> : Canadian model only
<GQ> : Hong kong model only
<503E> : TX-SR503E (European model) only
<8350> : TX-SR8350 (Chinese model) only
<GR> : Chinese model only
<PA> : Australian model only
<WT> : World wide model only
---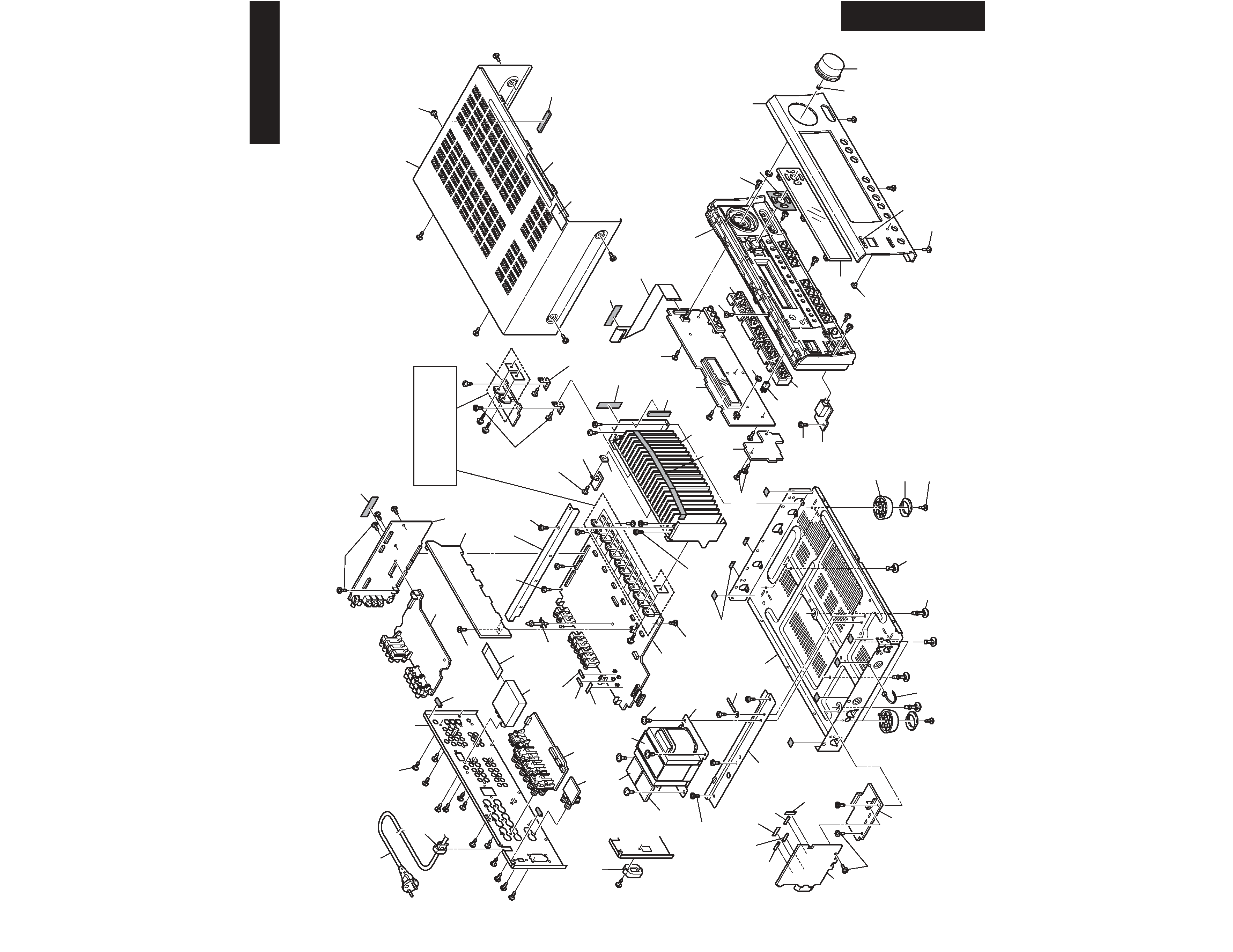 ---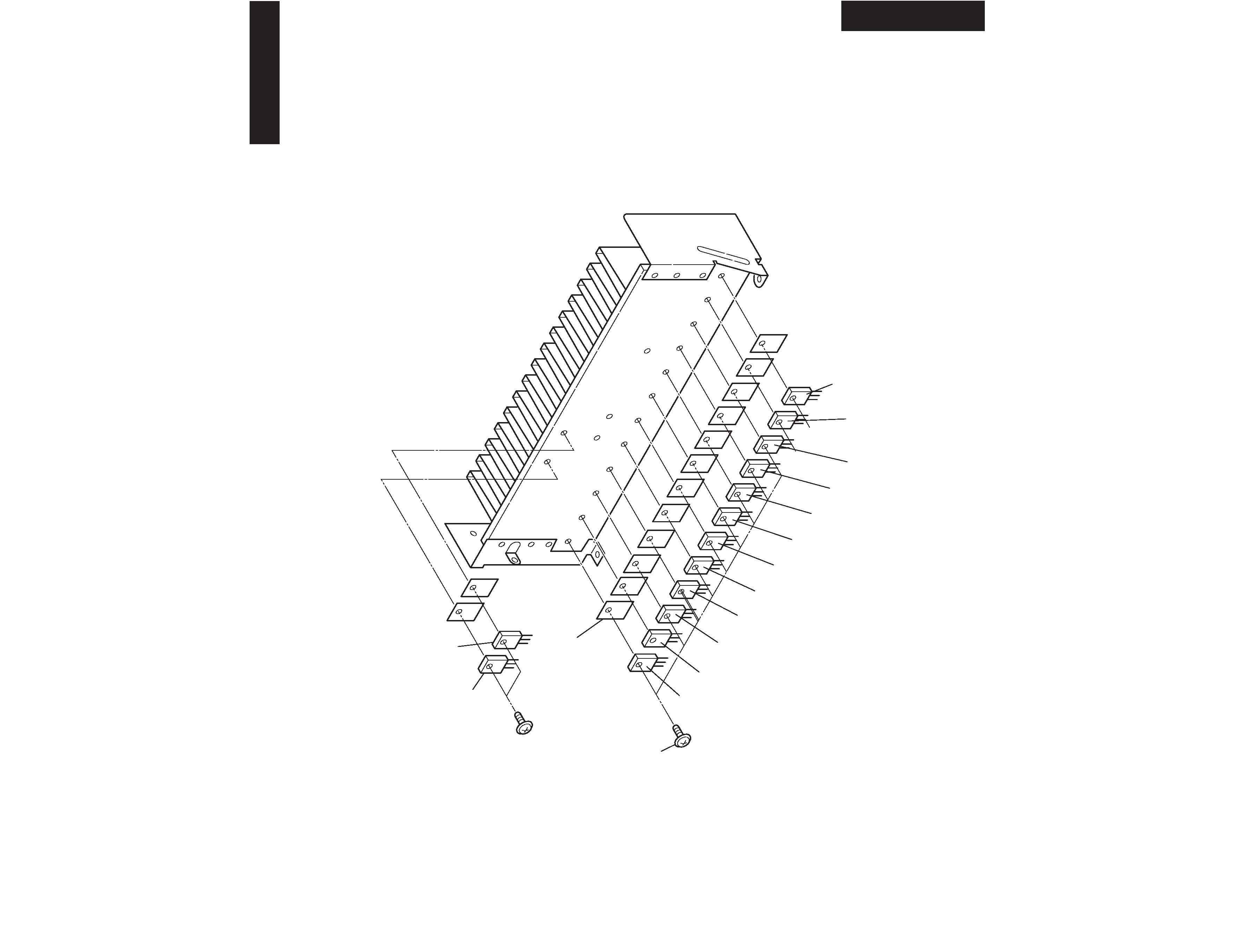 ---