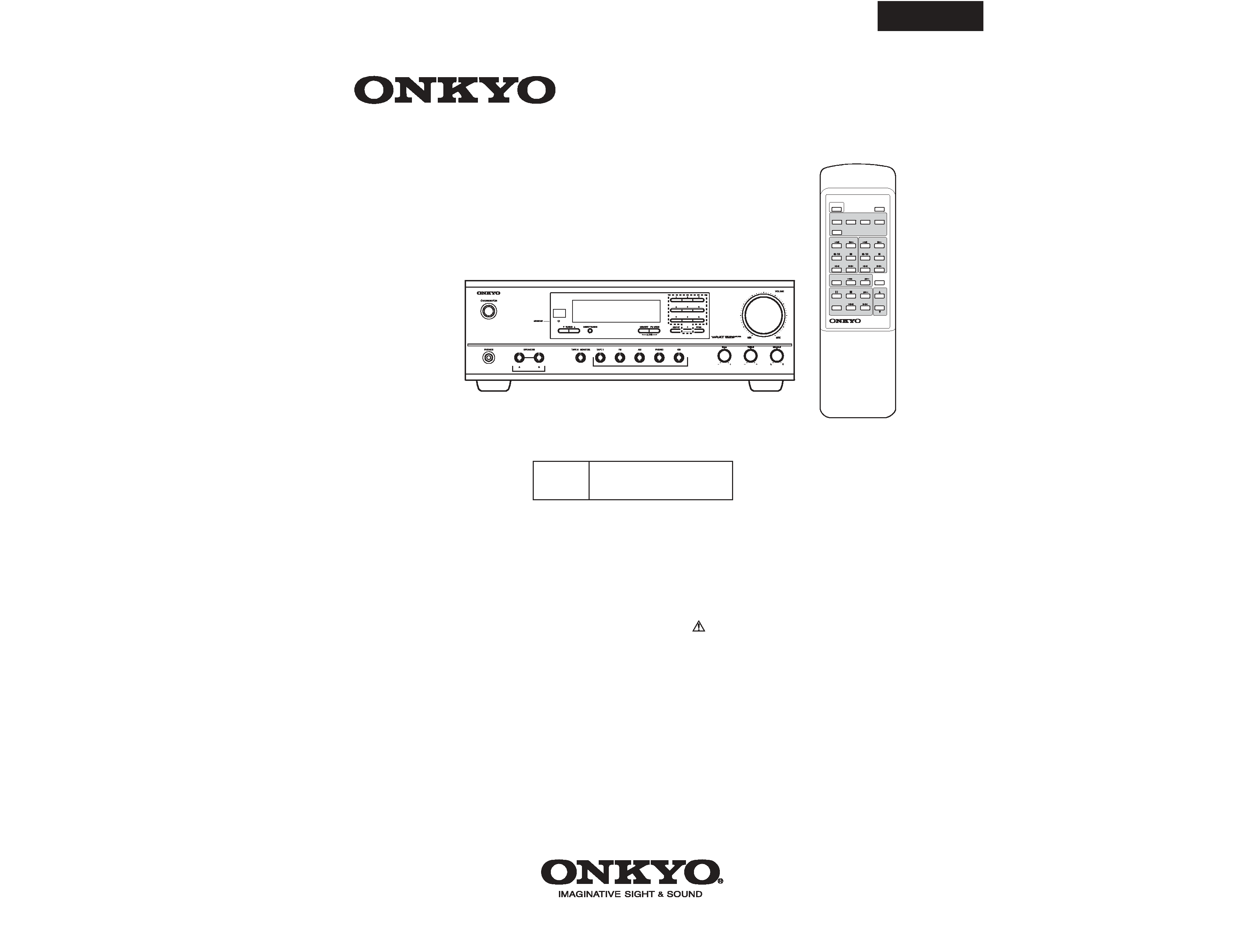 REMOTE CONTROLLER RC-330S
COMPONENTS IDENTIFIED BY MARK
SCHEMATIC DIAGRAM AND IN THE PARTS LIST ARE
CRITICAL FOR RISK OF FIRE AND ELECTRIC SHOCK.
REPLACE THESE COMPONENTS WITH ONKYO
PARTS WHOSE PART NUMBERS APPEAR AS SHOWN
MAKE LEAKAGE-CURRENT OR RESISTANCE
MEASUREMENTS TO DETERMINE THAT EXPOSED
PARTS ARE ACCEPTABLY INSULATED FROM THE
SUPPLY CIRCUIT BEFORE RETURNING THE
APPLIANCE TO THE CUSTOMER.
---

(8ohm , 20 Hz-20 kHz, FTC)
THD (Total Harmonic Distortion)
60 (Front, 1 kHz, 8 ohm )
Input Sensitivity and Impedance
2.5 mV/50 kohm (PHONO MM)
Output Level and Impeadance
Frequency Response 10 Hz-100 kHz/+1 dB -3 dB
Stereo 17.2 dBf 2.0 µV(75 ohm IHF)
Mono 11.2 dBf 1.0 µV(75 ohm IHF)
Frequency Response 30 Hz-15 kHz/±1.5 dB
Stand-by Power Comsumption
17-1/8" x 5-7/8" x 12-11/16" inches
PHONO, CD, TAPE-1, TAPE-2/
Specifications and features are subject to change with-
---

This symbol located near the fuses indicates that the
fuse used is fast operating type. For continued protection against
fire hazard, replace with same type fuse. For fuse rating refer to
the marking adjacent to the symbol.
Ce symbole indique que le fusible utlise est a rapide.
Pour une protection permanente, n'untiliser que fusibles de
meme type. Ce darnier est la qu le present symbol est
2. To initialize the unit
This device employs a microprocessor to perform various
functions and operations. If interference generated by an external
power supply, radio wave, or other electrical source results in
accident which causes the specified operations and functions to
To perform a result, please follow the procedure below.
1.Press and hold down the TAPE 1 button, then press the
2.After "CLEAR" is displayed, the preset memory stored in the memory,
are initialized and will return to the factory setting.
After correcting the original service problem, perform the
following safety check before releasing the set to the customer.
Connect the insulating-resistance tester between the plug of power
supply cord and screw on the back panel.
This unit does not require memory preserv ation batteries. A
built-in memory power back-up system preserv es the contents
of the memory during po wer f ailures and even when the unit is
unplugged. The unit must be plugged in order to char ge the
The memory preserv ation period after the unit has been
unplugged v aries depending on climate and placement of the
unit. On the average, memory contents are protected over a
period of a fe w weeks after the last time the unit has been
unplugged. This period is shorter when the unit is exposed to a
---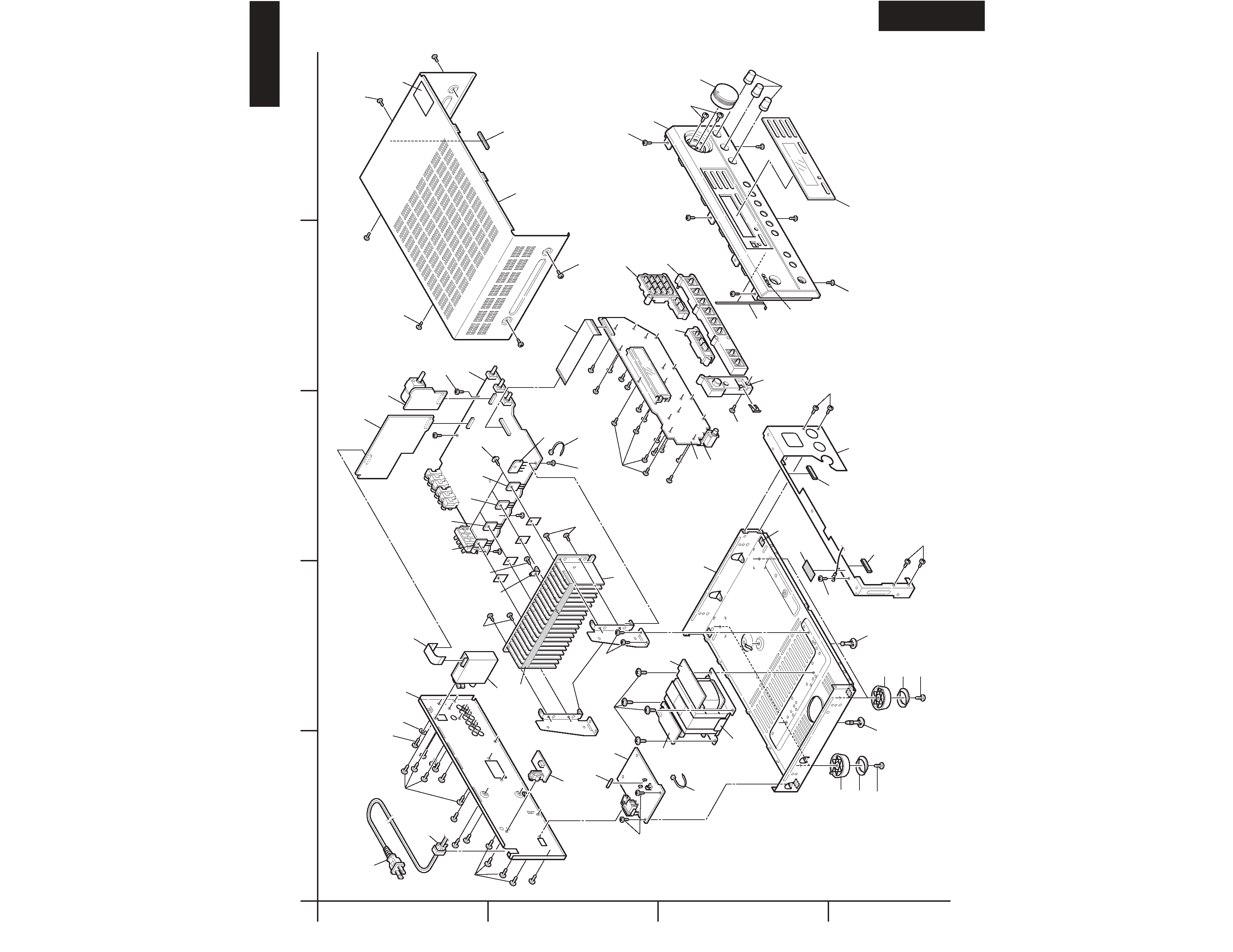 ---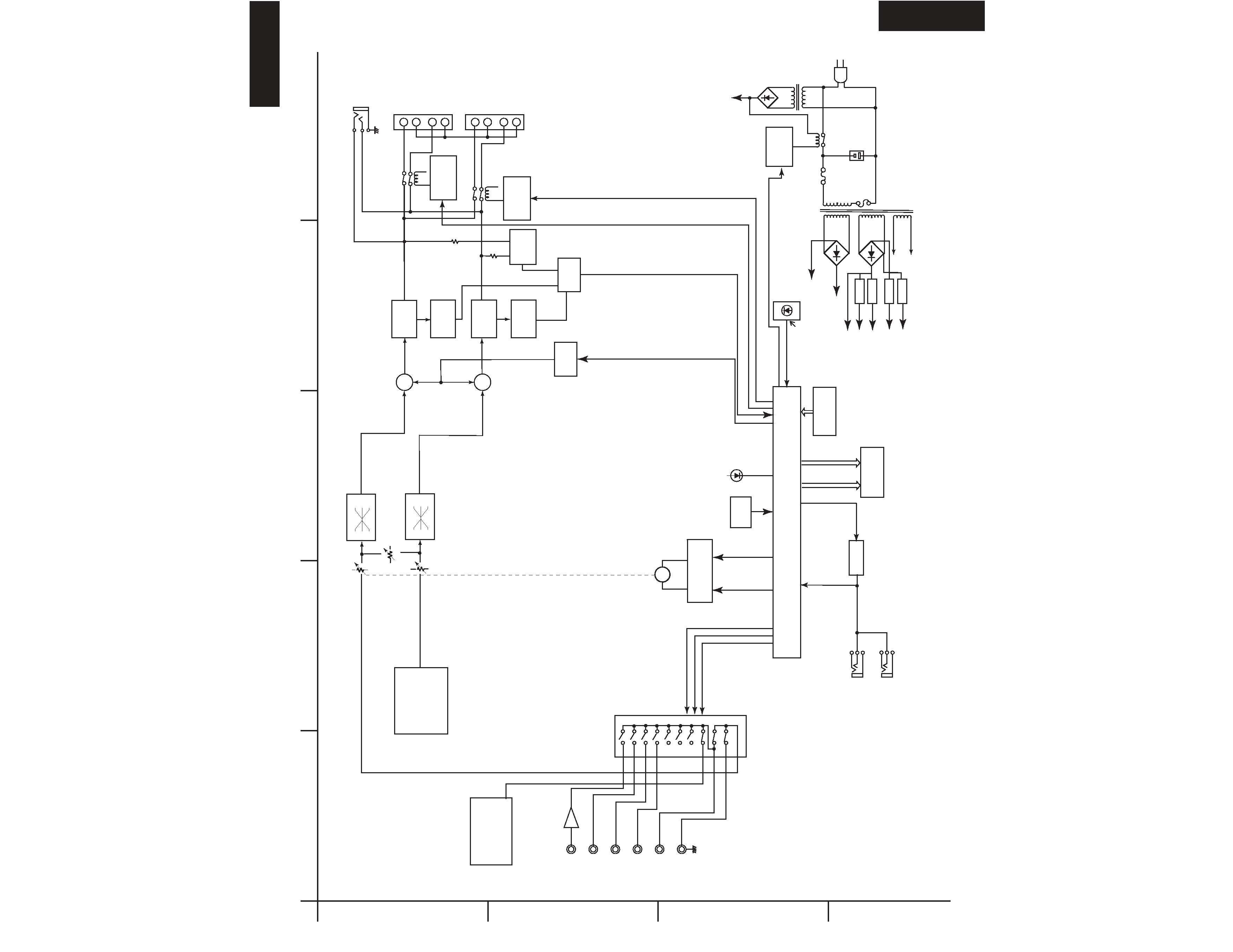 ---