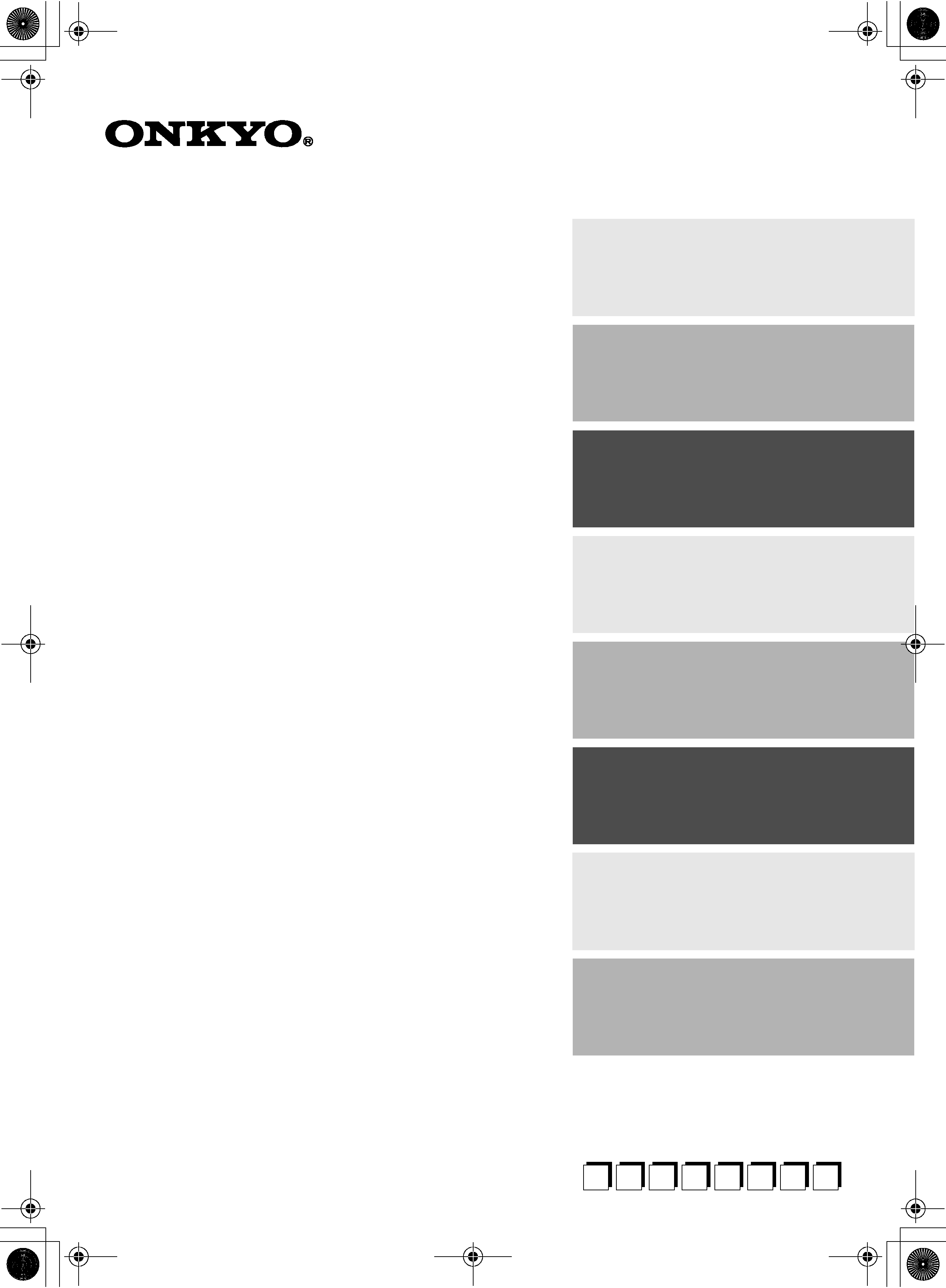 ---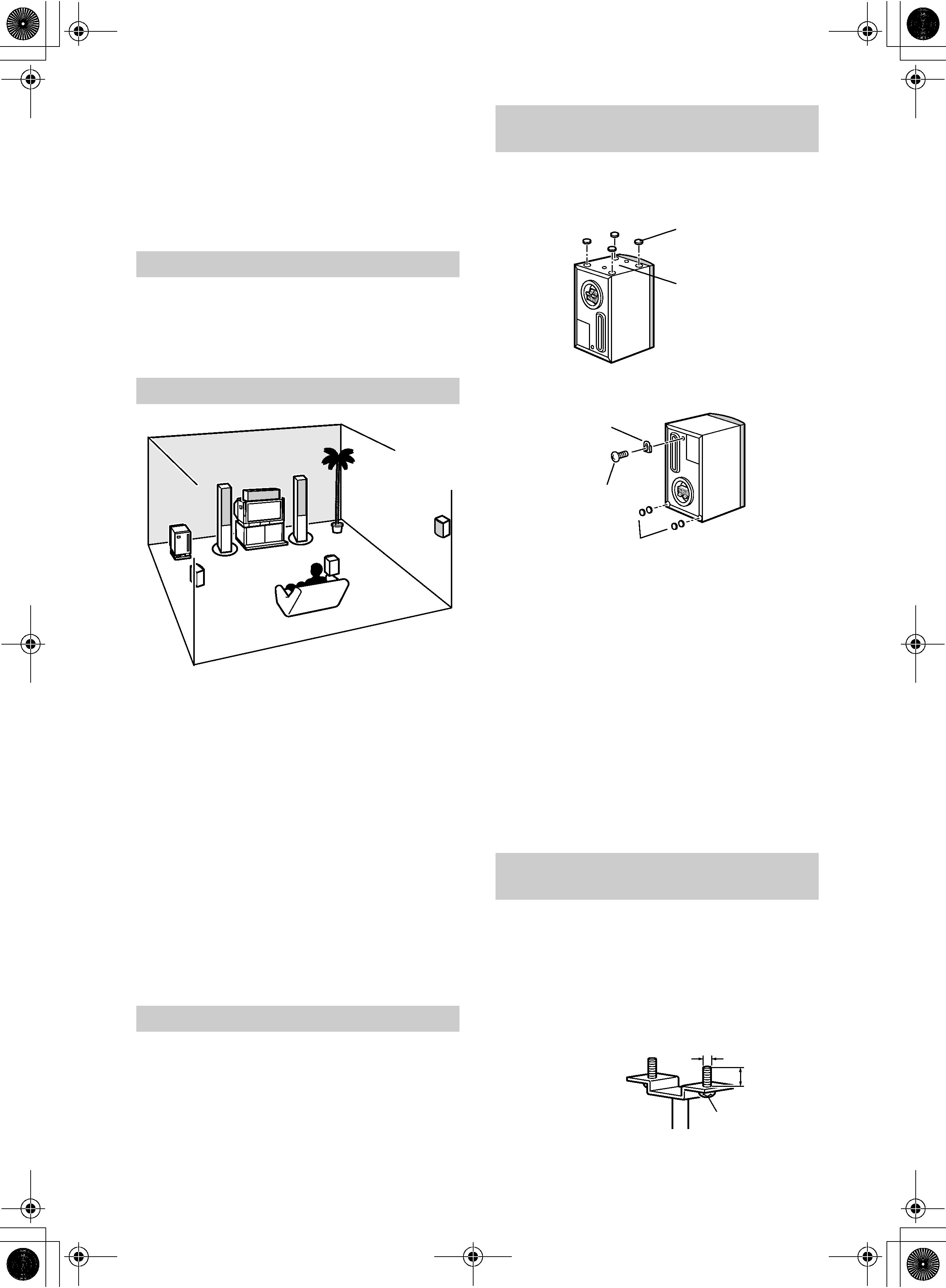 Thank you for your purchase of the Onkyo speaker
Please read this manual thoroughly before using it.
Following the instructions in this manual will
enable you to obtain optimum performance and lis-
tening enjoyment from your new speaker system.
Please retain this manual for future reference.
SKR-3600 (surround back speaker)
SKR-3600 (Surround back speaker)
When using as a surround back speaker.
It is very important to place your speaker properly to
obtain the optimum sound space for your listening plea-
The surround back speaker is required for enjoying
Dolby Digital EX or DTS-ES audio. The surround back
speaker will also improve the quality of sound effects
for far more realistic acoustics.
Place the speaker so that its height is 1 meter higher
than that of the listener's ears.
The speaker cabinet is made of wood and sensitive to
extreme temperatures and humidity. Avoid placing the
speaker system in locations subjected to direct sunlight
or in humid places such as near an air conditioner, bath-
Your Onkyo speaker is finished with a very high quality
polymer laminate covering that serves to protect the
The covering may be cleaned with a soft cloth moist-
ened with water and a mild soap. Avoid the use of furni-
ture polishes or harsh cleansers.
Use a soft brush or hand vacuum cleaner to remove dust
and lint from the grille material.
We recommend that you use the included cork spacers
so you can enjoy superior sound. The cork spacers also
prevent the speaker from slipping.
Wall-mount the speaker upside down. Layer two spac-
ers and attach them to two locations. The plaques rotate
so that you can position the speaker upside down.
Use the included screw to attach the bracket to the back
· Make sure that the walls are rigid enough for support-
ing the speaker's weight.
· The weight a mounting screw can support varies
greatly depending on the wall material and the posi-
tion of the reinforcing ribs embedded in the wall. Use
the thickest and longest possible mounting screw
whose head diameter is less than 10 mm and shank
diameter is less than 4 mm (consult with your
The surround back speaker bottom and rear are
equipped with screw holes so that you can attach com-
mercially-available stands or mounting fixtures for a
variety of mounting options. (Two M5 screw holes, 60
mm pitch on the bottom and one M5 screw hole on the
only screw that provide the required strength with a
screw length between 7 and 12 mm.
Using the included cork spacers and
Installation using commercially-
available stands and fixtures
---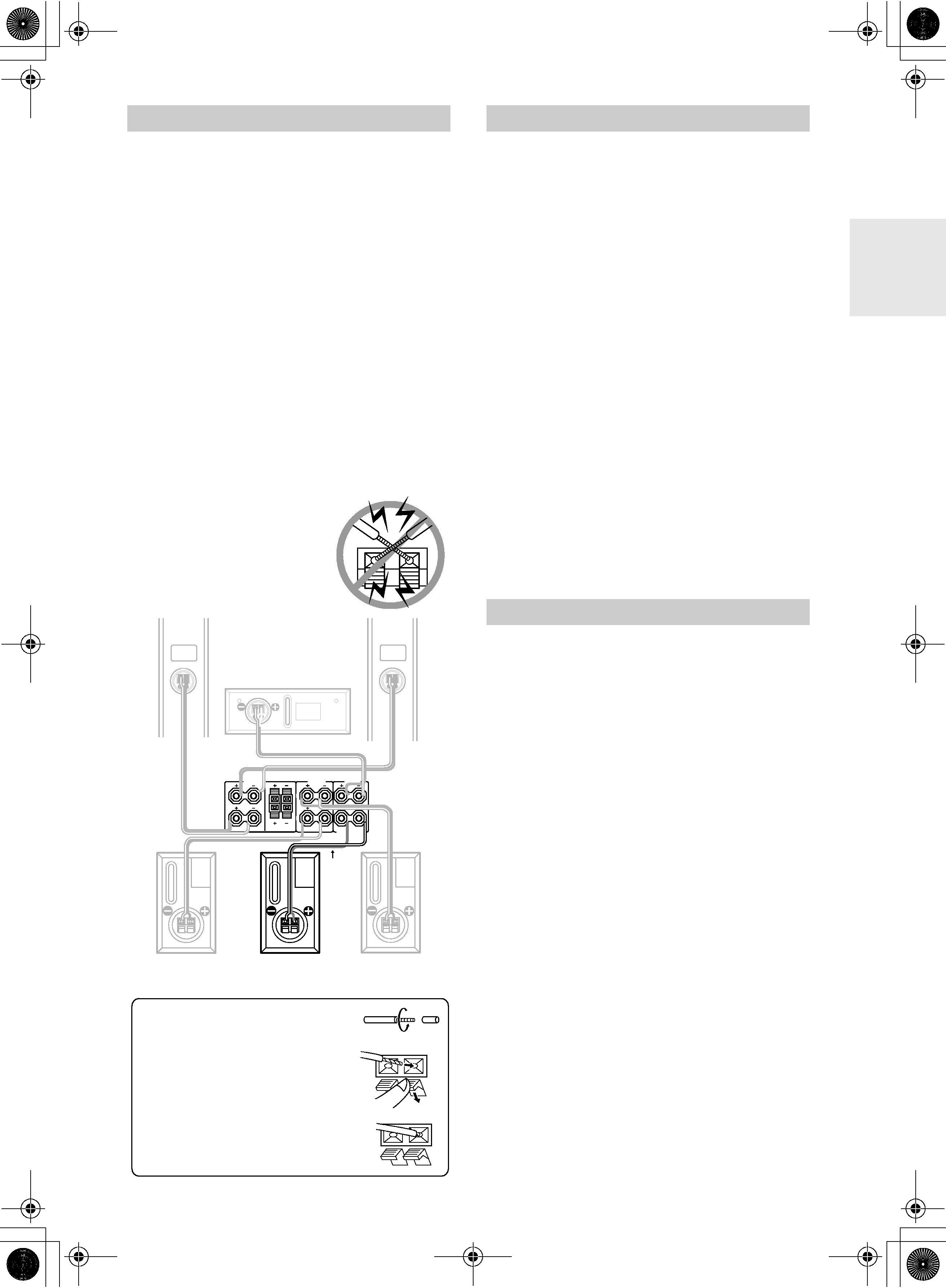 · Be sure to turn off your amplifier before connecting
the speaker system. Connecting it while the amplifier
is on may result in damage to the amplifier or the
· The nominal impedance of this speaker system is 8
Use only amplifiers capable of handling this imped-
· Use the supplied speaker cable to connect between
the speaker's input terminals and the amplifier's
speaker terminals as illustrated below.
· Be sure to connect the Surround Back speaker with
the amplifier's corresponding speaker terminals.
Also, be sure that you are connecting the speaker's
positive (+) and negative (­) input terminals with the
amplifier's corresponding positive and negative
speaker terminals. Otherwise, undesirable sound field
or impaired bass-range reproduction will result.
· Before turning on the amplifier's power switch, pull
lightly on the speaker cable to ensure that they are
· To prevent damage to cir-
cuitry, never short-circuit the
positive (+) and negative (­)
· This speaker system can handle the specified input
power when it is used for ordinary music reproduc-
tion. If the following abnormal signals are fed to the
speaker, however, an overcurrent may flow in the
internal circuits, causing burning or breakage of the
wires even if the input power is below the specified
1. Noise produced when FM station is not tuned in.
2. Sound produced when fast-forwarding cassette
3. High-frequency sound generated by an oscillator,
an electronic musical instruments, etc.
4. Oscillating amplifier signals.
5. Special test signals produced by audio checking
6. Sound produced when connecting or disconnect-
ing audio connection cables. (Always turn off the
amplifier's power before connecting or discon-
7. Howling when a microphone is used.
· Do not place magnetic objects such as screwdrivers
and iron parts near the speaker system since they use
speaker with strong magnets. Otherwise, the objects
may be attracted, causing injury or damaging the dia-
Output sound pressure level: 81 dB
Specifications and appearance are subject to change for
improvement without prior notice.
In catalogs and on packaging, the letter added to the end
of the product name indicates the color of the SKR-
3600. Specifications and operation are the same regard-
1. Strip the insulation of speaker
cables, and twist the core wires
2. While pressing the lever, insert
the wire into the hole, and then
3. Make sure that the terminals
are gripping the core wires, not
---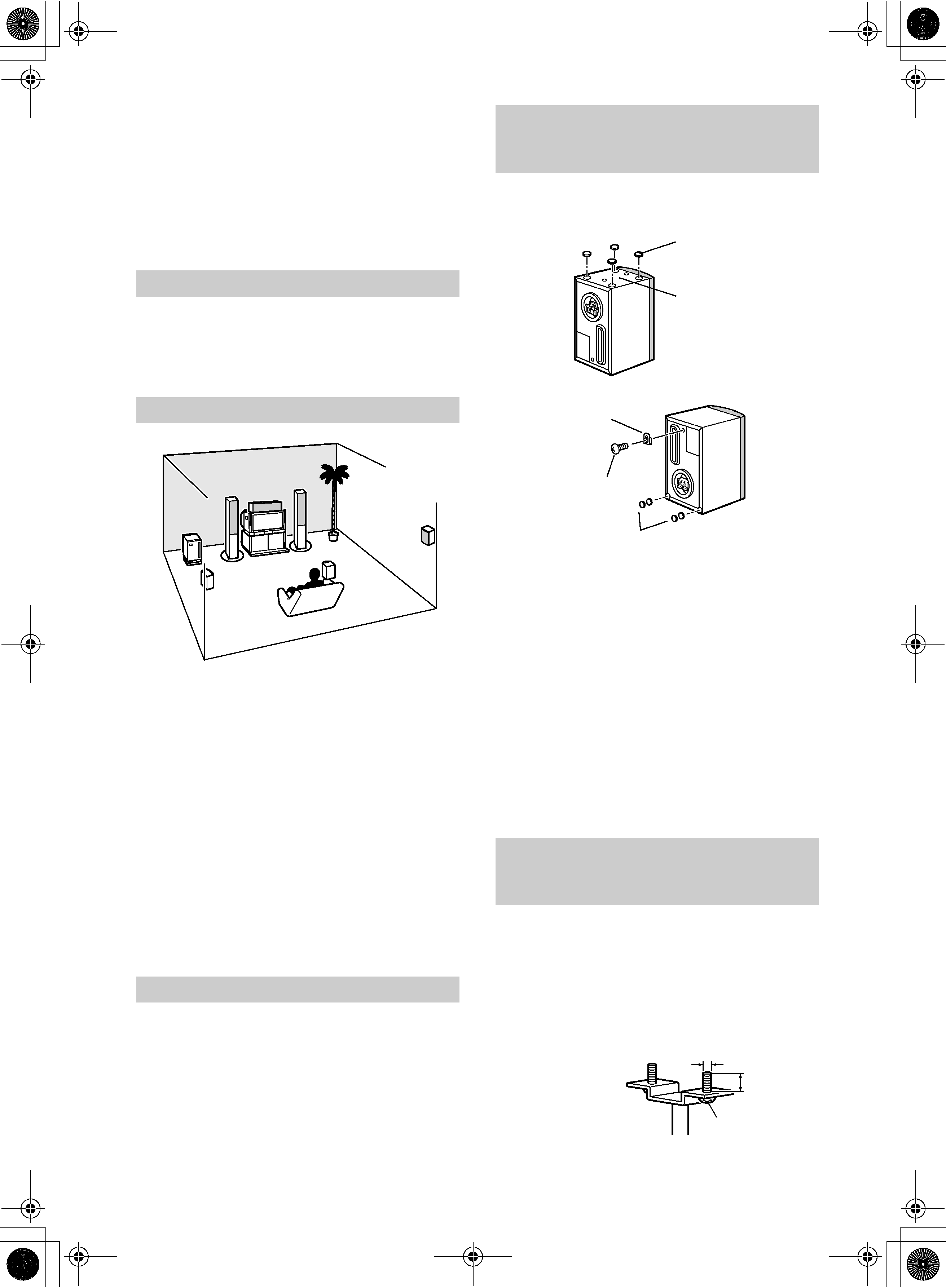 Merci d'avoir choisi ce système d'enceintes Onkyo.
Veuillez lire ce manuel attentivement avant
Respectez les instructions du présent manuel afin
de pouvoir profiter pleinement des performances
de vos nouvelles enceintes et de découvrir un
plaisir d'écoute incomparable.
Veuillez conserver ce manuel pour un usage ultérieur.
SKR-3600 (enceinte surround arrière)
SKR-3600 (Enceinte surround arrière)
Utilisation comme enceinte sourround arrière
Il est important de disposer les enceintes de façon à obtenir un
espace sonore optimal pour un plaisir d'écoute maximum.
L'enceinte surround arrière est nécessaire pour profiter
de l'effet Dolby Digital EX ou DTS-ES. L'enceinte
surround arrière améliore également la qualité des effets
sonores et l'acoustique réaliste.
Placer ces enceintes à 1 mètre au-dessus de l'oreille de
Le meuble de l'enceinte est en bois très sensible aux
températures très chaudes ou très froides et à
l'humidité. Evitez de placer le système d'enceintes dans
des endroits exposés à un ensoleillement direct ou
humides tels qu'à proximité de climatiseurs, dans la
salle de bains ou dans la cuisine.
Les enceintes Onkyo sont finies par un laminé polymère
de très haute qualité spécialement conçu pour la
protection du meuble en bois.
La protection peut être nettoyée avec un chiffon doux
humecté d'une solution d'eau et de détergent doux.
Evitez d'utiliser des produits pour faire briller les
meubles ou des détergents durs.
Utilisez une brosse souple ou un aspirateur manuel pour
enlever la poussière et les peluches de la grille.
Nous vous conseillons d'utiliser les entretoises en liège
pour apprécier un meilleur son. Les entretoises en liège
évitent aussi à l'enceinte de glisser.
Montez l'enceinte à l'envers sur le mur. Posez deux
entretoises et fixez-les aux deux emplacements. Les
plaques tournent pour vous permettre de placer
Utilisez la vis fournie pour fixer le tasseau à l'arrière de
· Assurez-vous que les murs sont suffisamment forts
pour supporter le poids des enceintes.
· Le poids qu'une vis de fixation peut supporter varie
beaucoup en fonction du matériau du mur et de la
position des nervures de renfort noyées dans le mur.
Utilisez les vis les plus épaisses et les plus longues
possibles avec un diamètre de tête inférieur à 10 mm et
un fût inférieur à 4 mm (consultez votre installateur).
Le fond et le côté arrière de l'enceinte surround arrière
sont munis de trous pour la fixation de supports ou
d'accessoires disponibles dans le commerce vous
permettant de réaliser différents types de montage.
(Deux trous pour vis M5, pas de 60 mm sur le fond et
un trou pour vis M5 sur le côté arrière.)
vis possédant la robustesse appropriée et une longueur
comprise entre 7 et 12 mm.
Utilisation des entretoises en liège et
du tasseau d'installation livrés avec
Installation au moyen de supports et
d'accessoires disponibles dans le
---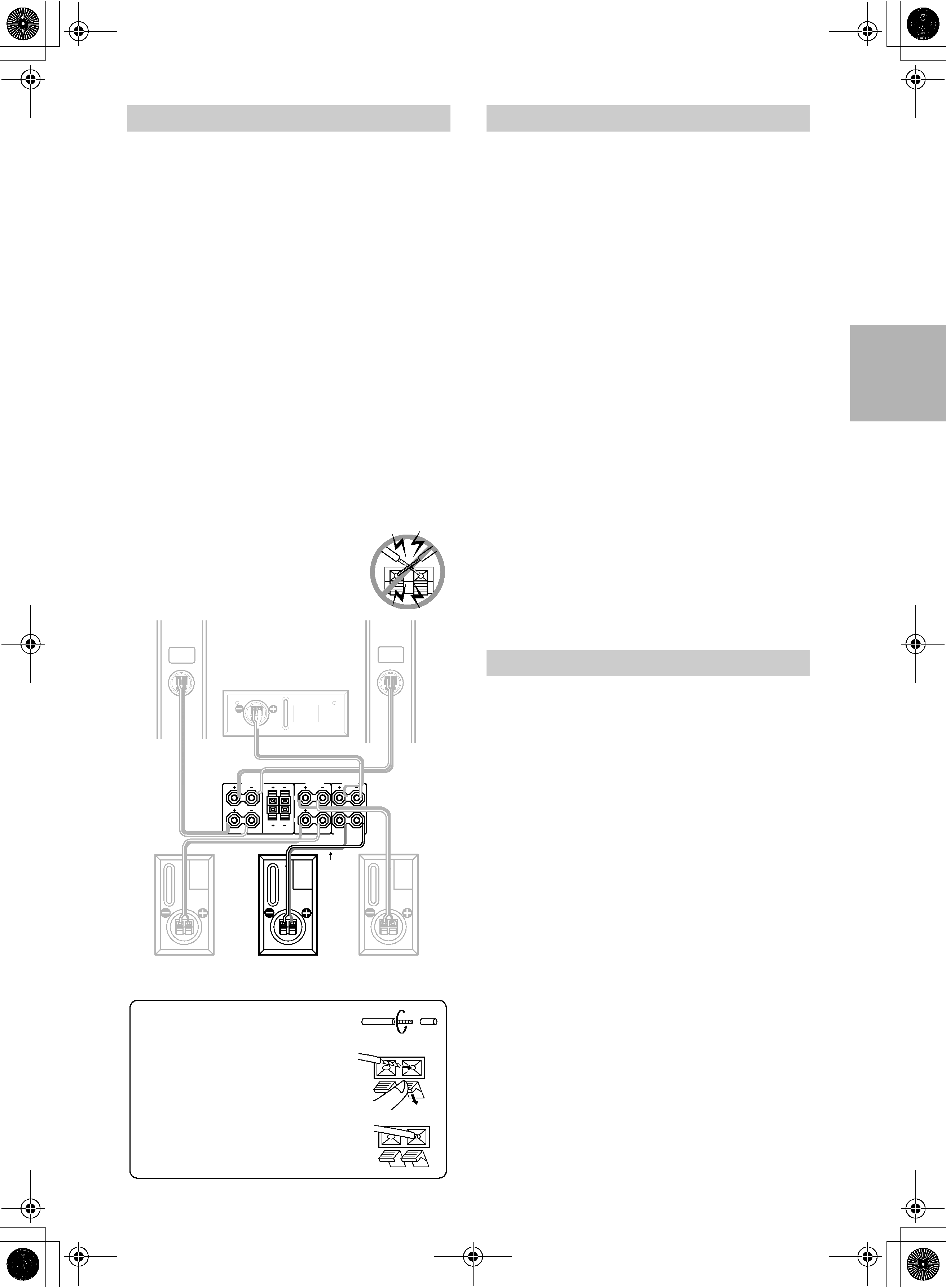 · Avant de brancher le système d'enceintes, assurez-vous
de mettre l'amplificateur hors tension. Le branchement
des enceintes pendant que l'amplificateur est sous
tension peut endommager ce dernier ou les enceintes.
· L'impédance nominale de ce système d'enceintes est
. N'utilisez que des amplificateurs qui sont en
mesure de gérer cette impédance.
· Utilisez les câbles d'enceintes fournis pour brancher les
bornes d'entrée de l'enceinte sur les bornes d'enceinte
situées sur l'amplificateur comme illustré ci-après.
· Assurez-vous de brancher l'enceinte surround arrière
sur les bornes d'enceinte correspondantes de
l'amplificateur. Assurez-vous, également que vous
êtes en train de brancher la borne d'entrée positive
(+) et celle négative (­) des enceintes sur les bornes
correspondantes positive et négative des enceintes
situées sur l'amplificateur. Dans le cas contraire, des
sons indésirables ou une mauvaise restitution de la
plage des basses pourraient s'avérer.
· Avant de mettre l'amplificateur en marche, tirer
légèrement les câbles des enceintes pour vous assurez
qu'ils sont bien branchés.
· Pour éviter d'endommager le circuit
électrique, les câbles d'enceinte
positif (+) et négatif (­) ne doivent
jamais se toucher au risque de
provoquer un court-circuit.
· Ce système d'enceintes peut gérer la puissance
d'entrée spécifiée lorsqu'il est utilisé pour la
restitution de musique normale. Si les signaux
anormaux énumérés ci-après sont transmis à
l'enceinte, un courant de surcharge pourrait pénétrer
dans les circuits intérieurs en provoquant la brûlure
ou la rupture des fils même si la puissance d'entrée
est inférieure à l'intensité prescrite.
1. Bruits produits par une station FM non syntoni-
2. Sons produits par l'avance rapide d'une cassette
dans la platine à cassettes.
3. Son à haute fréquence produit par un oscillateur,
un instrument musical électronique, etc.
4. Signaux d'amplificateur oscillants.
5. Signaux de test spéciaux produit par le contrôle
6. Sons produits lors du branchement ou du débran-
chement des câbles de connexion audio. (Avant
de brancher ou de débrancher les câbles, mettez
toujours hors tension l'amplificateur.)
7. Sifflements lors de l'utilisation d'un microphone.
· Ne mettez pas des objets magnétiques, tels que
tournevis et éléments en fer, à proximité du système
d'enceintes, ces dernières étant munies d'aimant très
puissants. Les objets pourraient être attirés et
provoquer des lésions ou des dommages au
système bass reflex à 2 voies
Entrée de puissance max. :
Niveau de pression sortie audio : 81 dB
Les caractéristiques techniques et les fonctions sont
susceptibles d'être modifiées sans préavis.
La lettre ajoutée à la fin du nom de produit (voyez nos
catalogues et emballages) indique la couleur du SKR-
3600. La fiche technique et le fonctionnement sont
cependant identiques pour tous les modèles.
1. Dénudez les câbles d'enceintes
de la gaine isolante et torsadez
2. Tout en appuyant sur le levier,
introduisez le fil dans le trou
3. Assurez-vous que les bornes
saisissent les câbles dénudés et
Précautions d'utilisation
Caractéristiques techniques
---