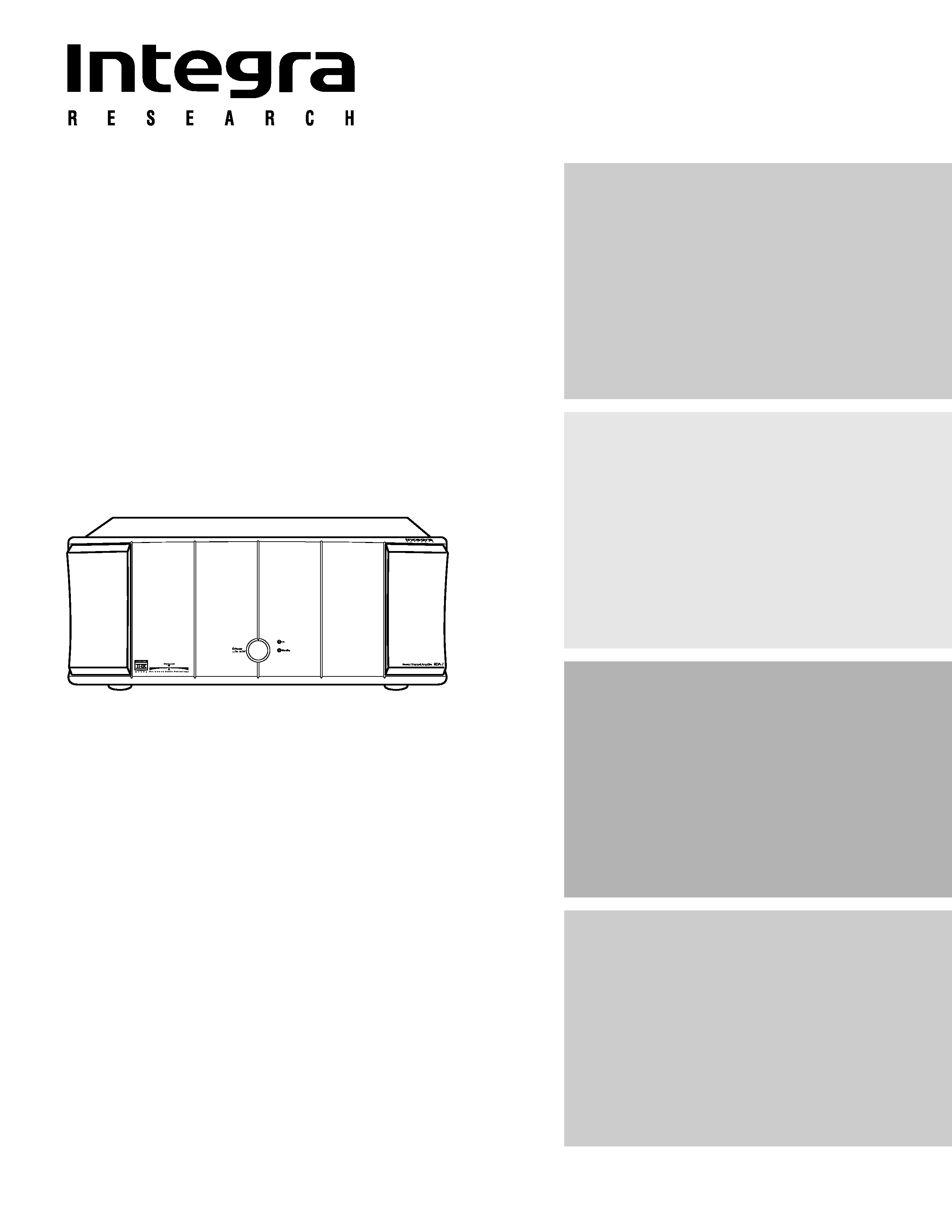 Thank you for purchasing the Integra
RESEARCH Seven Channel Amplifier.
Please read this manual thoroughly before
making connections and plugging in the unit.
Following the instructions in this manual will
enable you to obtain optimum performance
and listening enjoyment from your new Seven
Channel Amplifier. Please retain this manual for
---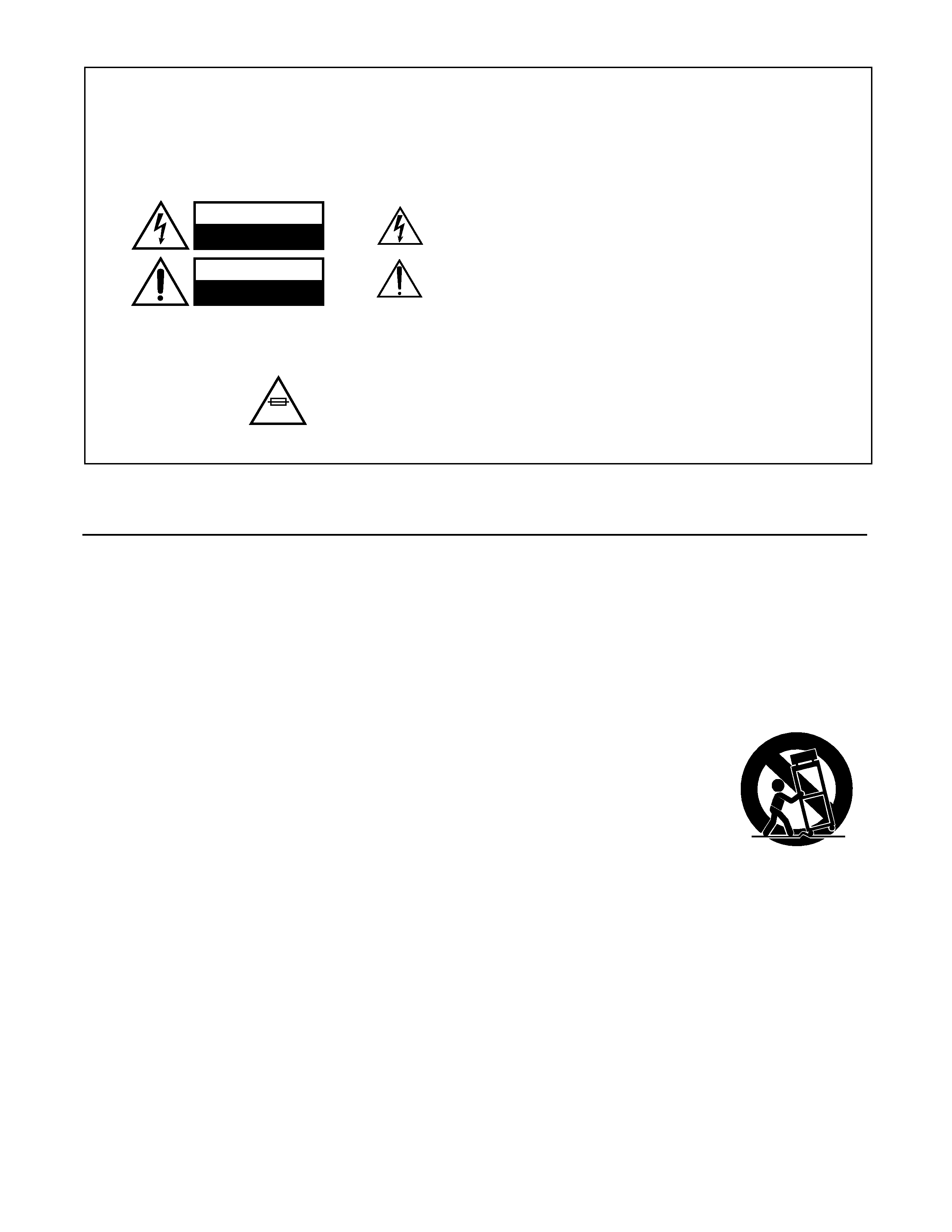 Important Safety Instructions
10.Protect the power cord from being walked on or
pinched particularly at plugs, convenience
receptacles, and the point where they exit from
11.Only use attachments/accessories specified by
12.Use only with the cart, stand, tripod, bracket, or
13.Unplug this apparatus during lightning storms or
when unused for long periods of time.
14.Refer all servicing to qualified service
personnel. Servicing is required when the
apparatus has been damaged in any way,
such as power-supply cord or plug is damaged,
liquid has been spilled or objects have fallen
into the apparatus, the apparatus has been
exposed to rain or moisture, does not operate
normally, or has been dropped.
TO REDUCE THE RISK OF FIRE OR ELECTRIC SHOCK, DO NOT EXPOSE THIS APPLIANCE TO RAIN OR MOISTURE.
TO REDUCE THE RISK OF ELECTRIC SHOCK, DO NOT REMOVE COVER (OR BACK).
NO USERSERVICEABLE PARTS INSIDE. REFER SERVICING TO QUALIFIED SERVICE PERSONNEL.
The lightning flash with arrowhead symbol, within an equilateral triangle, is intended to alert
the user to the presence of uninsulated "dangerous voltage" within the product's enclosure
that may be of sufficient magnitude to constitute a risk of electric shock to persons.
The exclamation point within an equilateral triangle is intended to alert the user to the
presence of important operating and maintenance (servicing) instructions in the literature
accompanying the appliance.
RISQUE DE CHOC ELECTRIQUE
RISK OF FIRE-REPLACE FUSE AS MARKED
REMPLASER PAR UN FUSIBLE INDIQUE
The fuse symbol, within an equilateral triangle, is intended to alert the user to always replace the fuse
with a fuse of the same type. The "T" in T15A refers to "time lag," and the "15A" refers to a current
The important safety instruction shall include
where applicable, the following information and
1. Read these instructions.
2. Keep these instructions.
4. Follow all instructions.
5. Do not use this apparatus near water.
6. Clean only with dry cloth.
7. Do not block any ventilation openings. Install in
accordance with the manufacture's instructions.
8. Do not install near any heat sources such as
radiators, heat registers, stoves, or other
apparatus (including amplifiers) that produce
9. Do not defeat the safety purpose of the
polarized or grounding-type plug. A polarized
plug has two blades with one wider than the
other. A grounding type plug has two blades
and a third grounding prong. The wide blade or
the third prong are provided for your safety. If
the provided plug does not fit into your outlet,
consult an electrician for replacement of the
---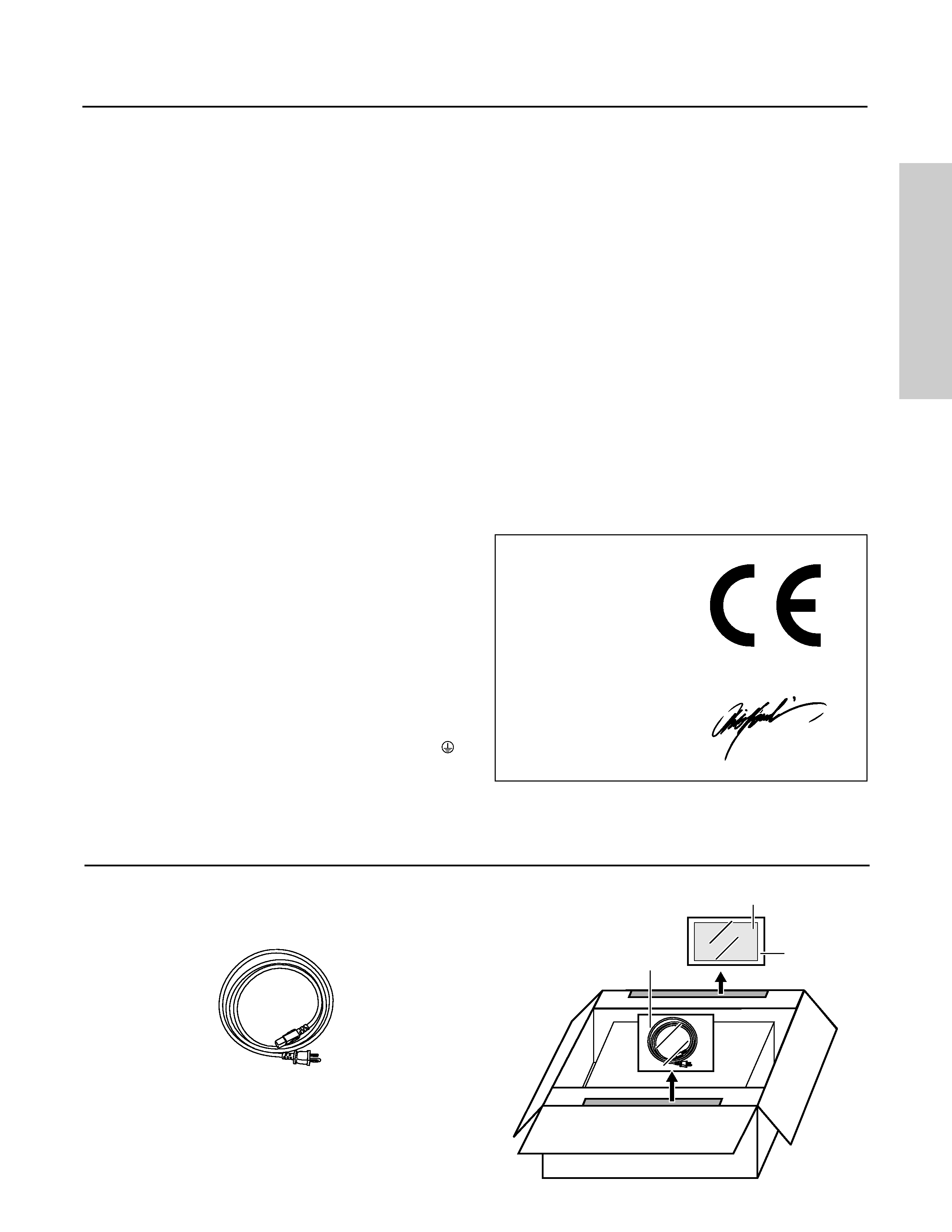 Important Safety Instructions
For models having a power cord with a polarized plug:
CAUTION:
TO PREVENT ELECTRIC SHOCK, MATCH WIDE
BLADE OF PLUG TO WIDE SLOT, FULLY INSERT.
Sur les modèles dont la fiche est polarisée:
ATTENTION:
POUR ÉVITER LES CHOCS ÉLECTRIQUES,
INTRODUIRE LA LAME LA PLUS LARGE DE LA FICHE DANS
LA BORNE CORRESPONDANTE DE LA PRISE ET POUSSER
Declaration of Conformity
ONKYO EUROPE ELECTRONICS GmbH
declare in own responsibility, that the ONKYO product described
in this instruction manual is in compliance with the corresponding
technical standards such as EN60065, EN55013, EN55020 and
EN61000-3-2, -3-3 (or EN60555-2, -3)
Replacement and mounting of an AC plug on the
power supply cord of this unit should be performed
only by qualified service personnel.
The wires in the mains lead are coloured in
accordance with the following code:
As the colours of the wires in the mains lead of this
apparatus may not correspond with the coloured
markings identifying the terminals in your plug,
The wire which is coloured green and yellow must
be connected to the terminal in the plug which is
marked with the letter E or by the earth symbol
or coloured green or green and yellow.
Check that the following accessories are supplied with the RDA-7.
The power cord may differ
The wire which is coloured blue must be
connected to the terminal which is marked with
the letter N or coloured black.
The wire which is coloured brown must be
connected to the terminal which is marked with
the letter L or coloured red.
A 13 ampere fuse is fitted in this plug. Should the
fuse need to be replaced, please ensure that the
replacement fuse has a rating of 13 amperes and
that it is approved by ASTA or BSI to BS1362. Check
for the ASTA mark or the BSI mark on the body of
IF THE FITTED MOULDED PLUG IS UNSUITABLE FOR
THE SOCKET OUTLET IN YOUR HOME THEN THE FUSE
SHOULD BE REMOVED AND THE PLUG CUT OFF AND
DISPOSED OF SAFELY. THERE IS A DANGER OF
SEVERE ELECTRICAL SHOCK IF THE CUT OFF PLUG IS
INSERTED INTO ANY 13 AMPERE SOCKET.
If in any doubt, please consult a qualified
---

IRDA-7 was designed by Balanced Audio
Technology in USA. They are known for
producing superbly engineered, meticulously
crafted products that recreate music with
unmatched fidelity and accuracy.
ITHX Surround EXTM Capable (7 Channels)
ILow-Negative Feedback Design for Optimum
Signal-to-Noise Performance and Superior
Dynamic Contrasts (Both Large and Small)
IBalanced XLR Inputs for Better Frequency
Response, Dynamic Range and Stability on long
IHigh-Current Driver Stage for the Finest
Performance from Any Loudspeaker
I3 Gain Stages to Minimize Signal Coloration and
Improve the Amplifier's Sonic Neutrality
IWide Range Design to Ensure the Full Sonic
Benefits from the Latest High-Resolution Source
IMassive, High-Quality, Dual 1kVA toroidal
IOver 1000 Watts of Total Output Power (150W ×
Important Safeguards ............................................. 2
Features .................................................................... 4
Contents ................................................................... 4
the packing materials ............................................ 5
Precautions .............................................................. 6
Installation ............................................................... 7
Quick operation guide ........................................... 8
Front panel facilities ............................................... 9
Rear panel facilities and connections ............... 10
Connecting speakers ........................................... 12
Connecting to the RDC-7 ..................................... 13
Cautions regarding humming noise ................... 14
Troubleshooting guide .......................................... 15
Specifications ........................................................ 15
Before any home theatre component can be THX Ultra
certified, it must pass a rigorous series of quality and
performance tests. Only then can a product feature the
THX Ultra logo, which is your guarantee that the Home
Theatre products you purchase will give you superb
performance for many years to come.
requirements define hundreds of parameters, including
power amplifier performance, and pre-amplifier
performance and operation for both digital and analog
domains. THX Ultra receivers also features proprietary THX
technologies which accurately translate film soundtracks
for home theater playback.
is Trademark of Balanced Audio
* Lucasfilm, THX, THX Ultra and THX Surround EX are
registered trademarks of Lucasfilm LTD.
---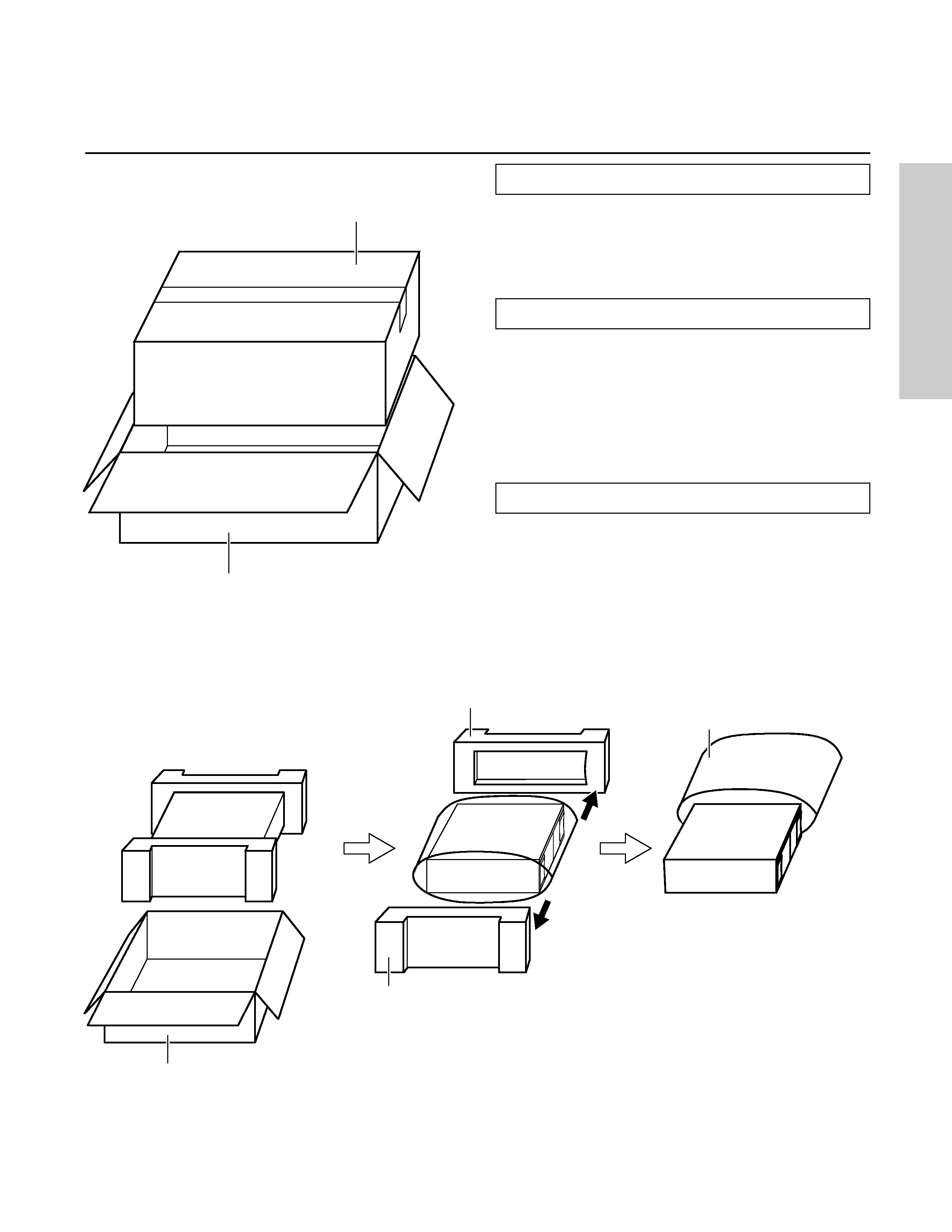 Unpacking and storing the packing
When unpacking the RDA-7, be sure to remove all
accessories from the cardboard box and then check
that all are included and none are missing.
After removing the RDA-7, carefully inspect it to make
sure that it has not been damaged during the shipping
processes. If damaged, contact an Onkyo service
station or representative immediately. Also, take down
the name of the carrier in case it is necessary to obtain
compensation from the carrier service.
Storing the packing materials
After unpacking, store the cardboard box and packing
materials in a safe place; do not throw them away. If
you are to transport the RDA-7 at a later date, you will
need this cardboard box and the packing materials.
The RDA-7 is very heavy and may become damaged if
it is transported in a different box.
---