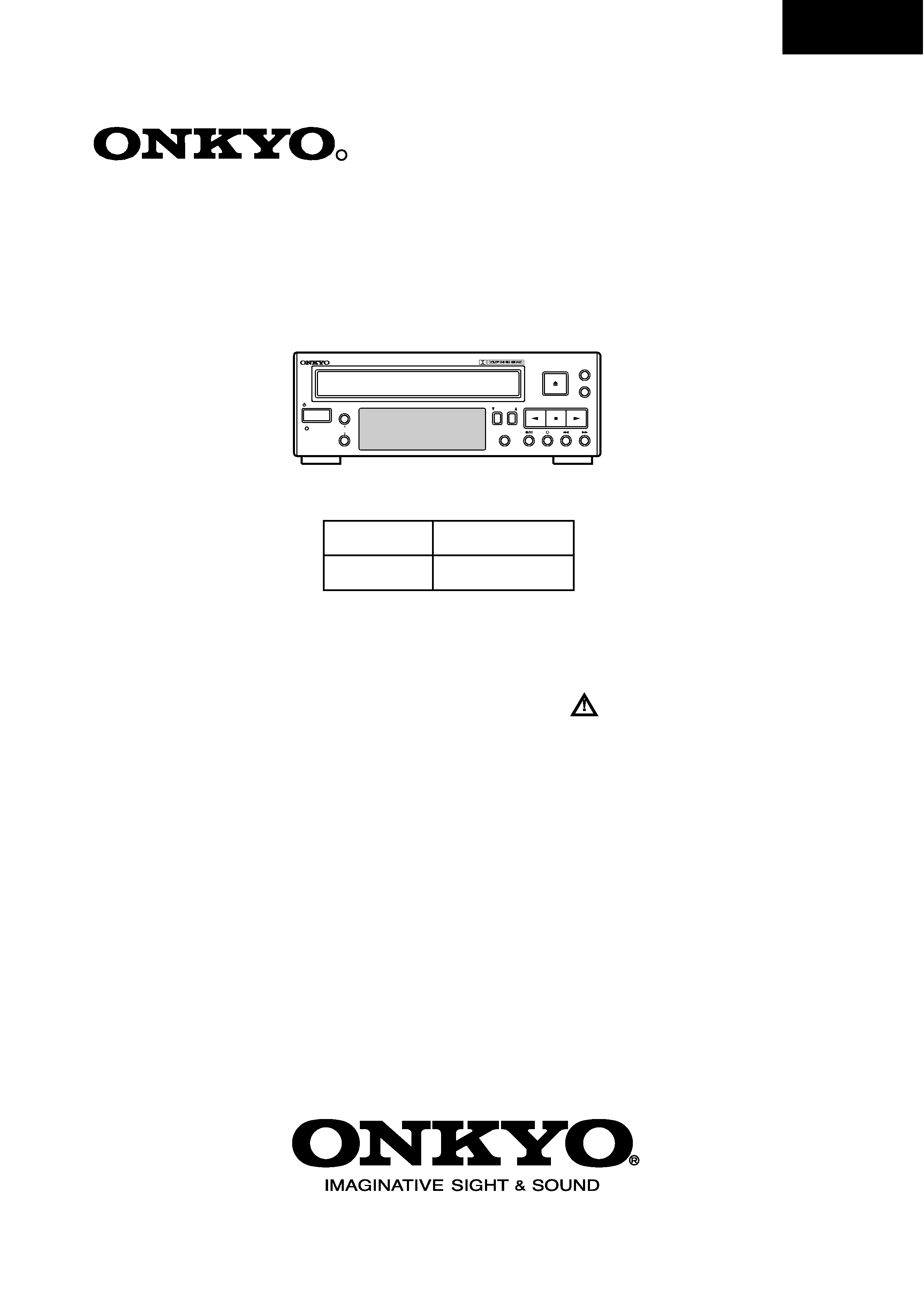 SAFETY-RELATED COMPONENT WARNING!!
COMPONENTS IDENTIFIED BY MARK
CRITICAL FOR RISK OF FIRE AND ELECTRIC SHOCK.
REPLACE THESE COMPONENTS WITH ONKYO
PARTS WHOSE PART NUMBER APPEAR AS SHOWN
MAKE LEAKAGE CURRENT OR RESISTANCE
MEASUREMENTS TO DETERMINE THAT EXPOSED
PARTS ARE ACCEPTABLY INSULATED FROM THE
SUPPLY CIRCUIT BEFORE RETURNING THE
APPLIANCE TO THE CUSTOMER.
SCHEMATIC DIAGRAM AND IN THE PARTS LIST ARE
STEREO CASSETTE TAPE DECK
CASSETTE LOADING MECHANISM
---

· 54 dB (metal position tape, Dolby NR
· Noise reduction of 10 dB above 5 kHz
and 5 dB at 1 kHz is possible with Dolby
· Noise reduction of 20 dB at 5 kHz is
possible with Dolby C NR.
Input impedance: 50 kohms
Standard output level: 500 mV
REC/PB: Special Hard Permalloy: 1
Specifications and external appearance are
subject to change without notice as a result of
This symbol located near the fuses indicates that the
fuse used is fast operating type. For continued protection against
fire hazard, replace with same type fuse. For fuse rating refer to
the marking adjacent to the symbol.
Ce symbole indique que le fusible utlise est a rapide.
Pour une protection permanente, n'untiliser que fusibles de
meme type. Ce darnier est la qu le present symbol est
---

DOLBY NR. REC EQ. METER AMP
---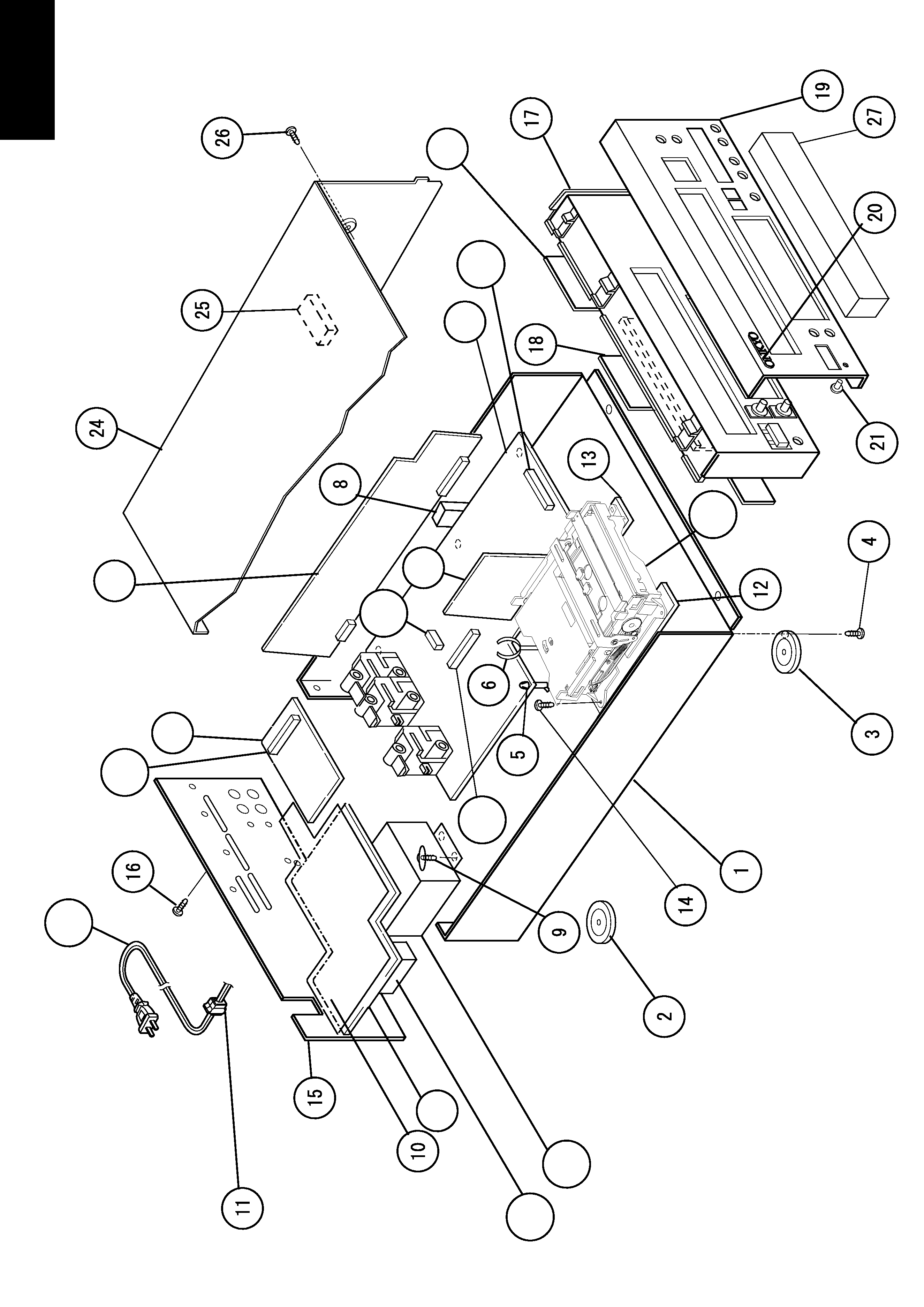 ---

3TTB+8B.Self tapping screw
4TTC+6C(BC).Self tapping screw
S-RELIEF #2271.Bushing cord
3TTP+10P.Self tapping screw
3TTB+8B(BC).Self tapping screw
3TTB+8B(UN).Self tapping screw
20022392635A
NSAS-26P0918.Socket AS
AS-CEE. Power supply cord <P>
AS-UC-2#18.Poewr supply cord <D>
NPT-1314P.Power transformer <P>
NPT-1314D.Power transformer <D>
1N281546-1A
NAAR-7146-1A.Main cuircuit PC board ass'y <D>
1N281546-1B
NAAR-7146-1B,Main circuit PC board ass'y <P>
1N281547-1A
NAAF-7147-1A,Playback amp. PC board ass'y <D>
1N281547-1B
NAAF-7147-1B,Playback amp. PC board ass'y <P>
1N281548-1A
NAAF-7148-1A,Dolby circuit PC board ass'y <D>
1N281548-1B
NAAF-7148-1B,Dolby circuit PC board ass'y <P>
1N281549-1A
NAAF-7149-1A,Recording amp. PC board ass'y <D>
1N281549-1B
NAAF-7149-1B,Recording amp. PC board ass'y <P>
1N281550-1A
NAPS-7150-1A,Power transformer PC board ass'y <D>
1N281550-1B
NAPS-7150-1B,Power transformer PC board ass'y <P>
1N281551-1A
NADIS-7151-1A,Display circuit PC board ass'y <D>
1N281551-1B
NADIS-7151-1B,Display circuit PC board ass'y <P>
2A-SE-EAK,Fuse <European model only>
---