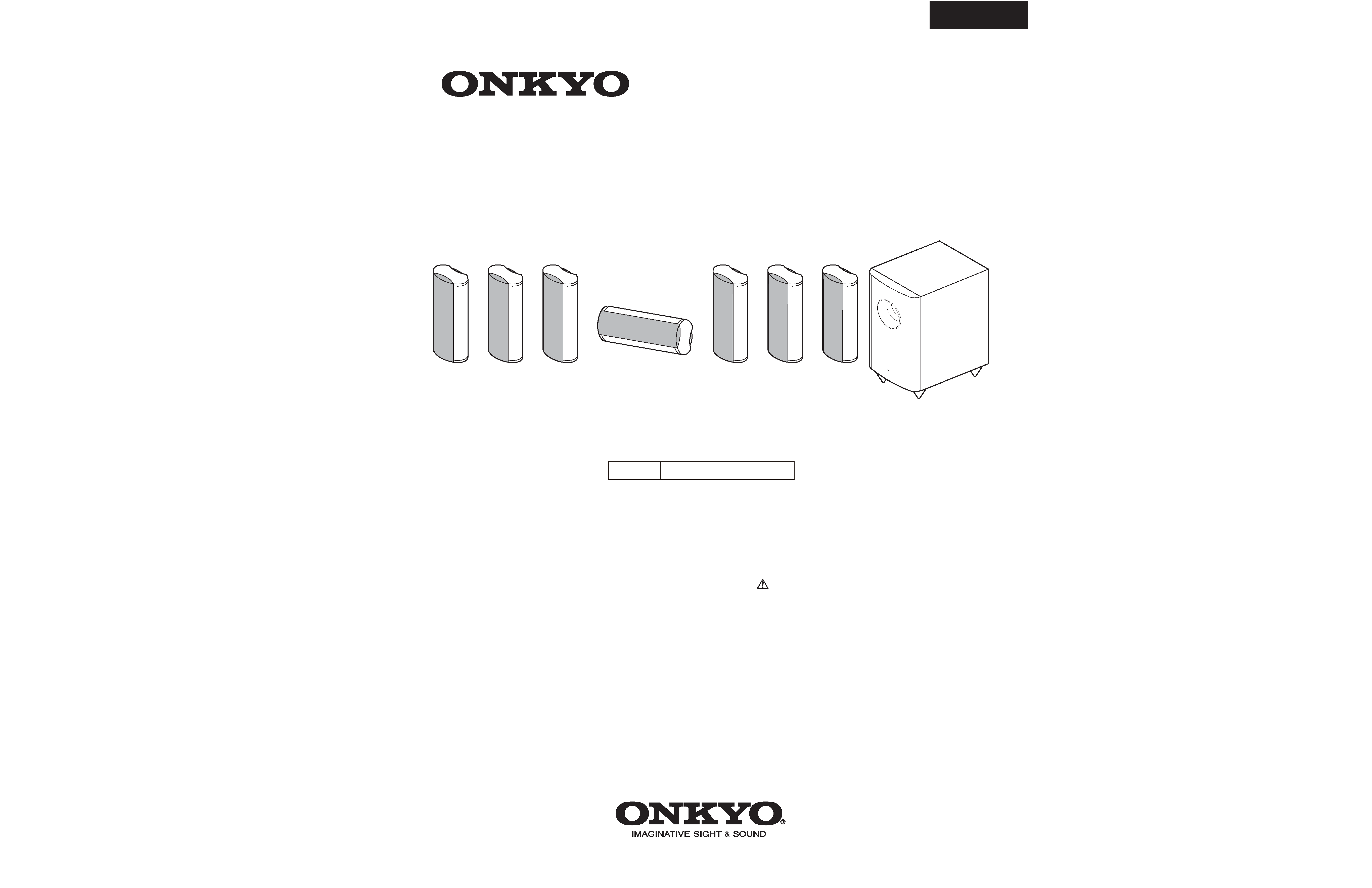 7.1-CH HOME THEATER
SPEAKER PACKAGE
Surround Speakers (L / R)
Surround Back Speakers (L / R)
COMPONENTS IDENTIFIED BY MARK
SCHEMATIC DIAGRAM AND IN THE PARTS LIST ARE
CRITICAL FOR RISK OF FIRE AND ELECTRIC SHOCK.
REPLACE THESE COMPONENTS WITH ONKYO
PARTS WHOSE PART NUMBERS APPEAR AS SHOWN
MAKE LEAKAGE-CURRENT OR RESISTANCE
MEASUREMENTS TO DETERMINE THAT EXPOSED
PARTS ARE ACCEPTABLY INSULATED FROM THE
SUPPLY CIRCUIT BEFORE RETURNING THE
APPLIANCE TO THE CUSTOMER.
---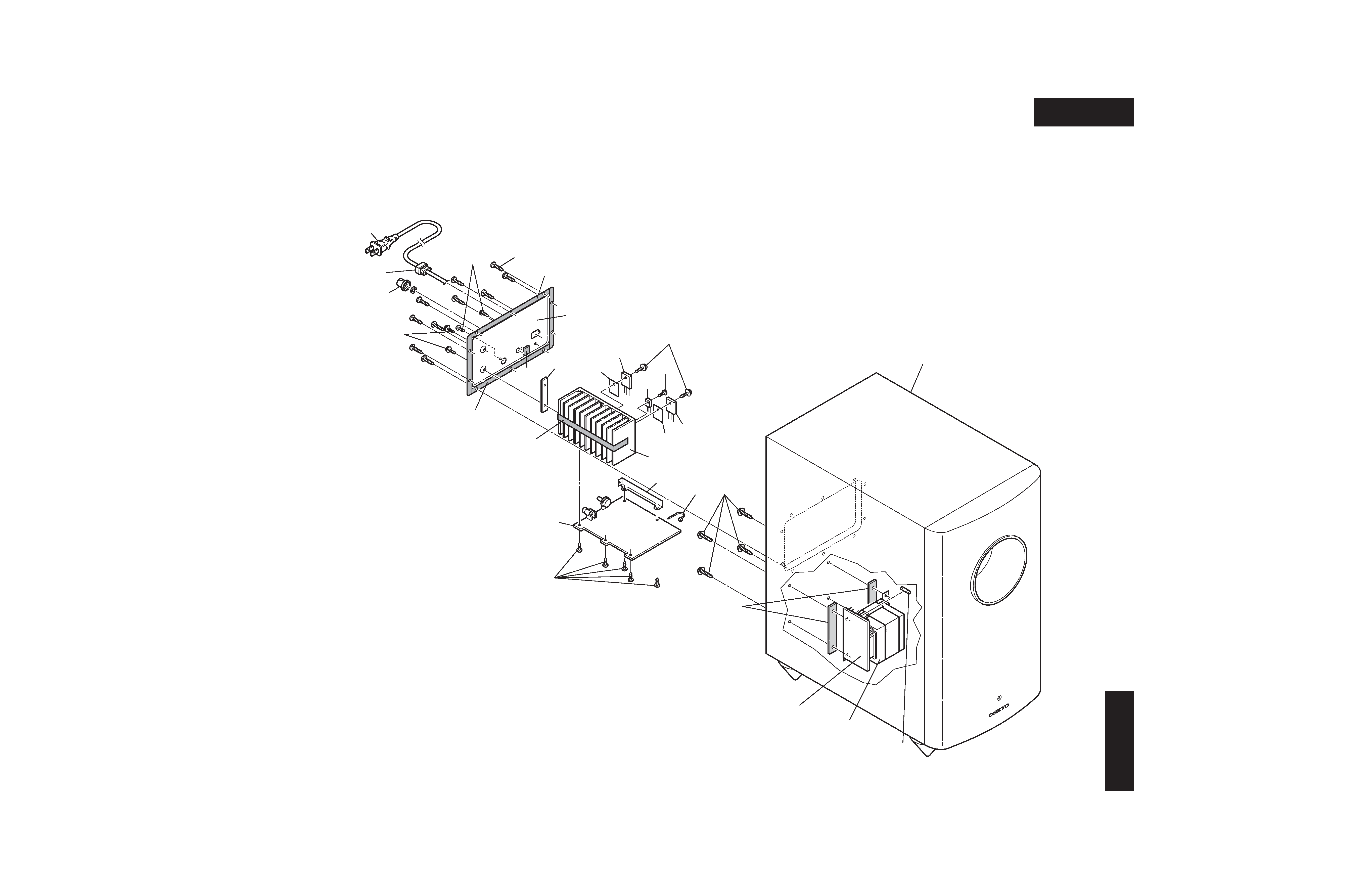 SKW-750 : POWERED SUBWOOFER
Refer to "EXPLODED VIEWS-2"
---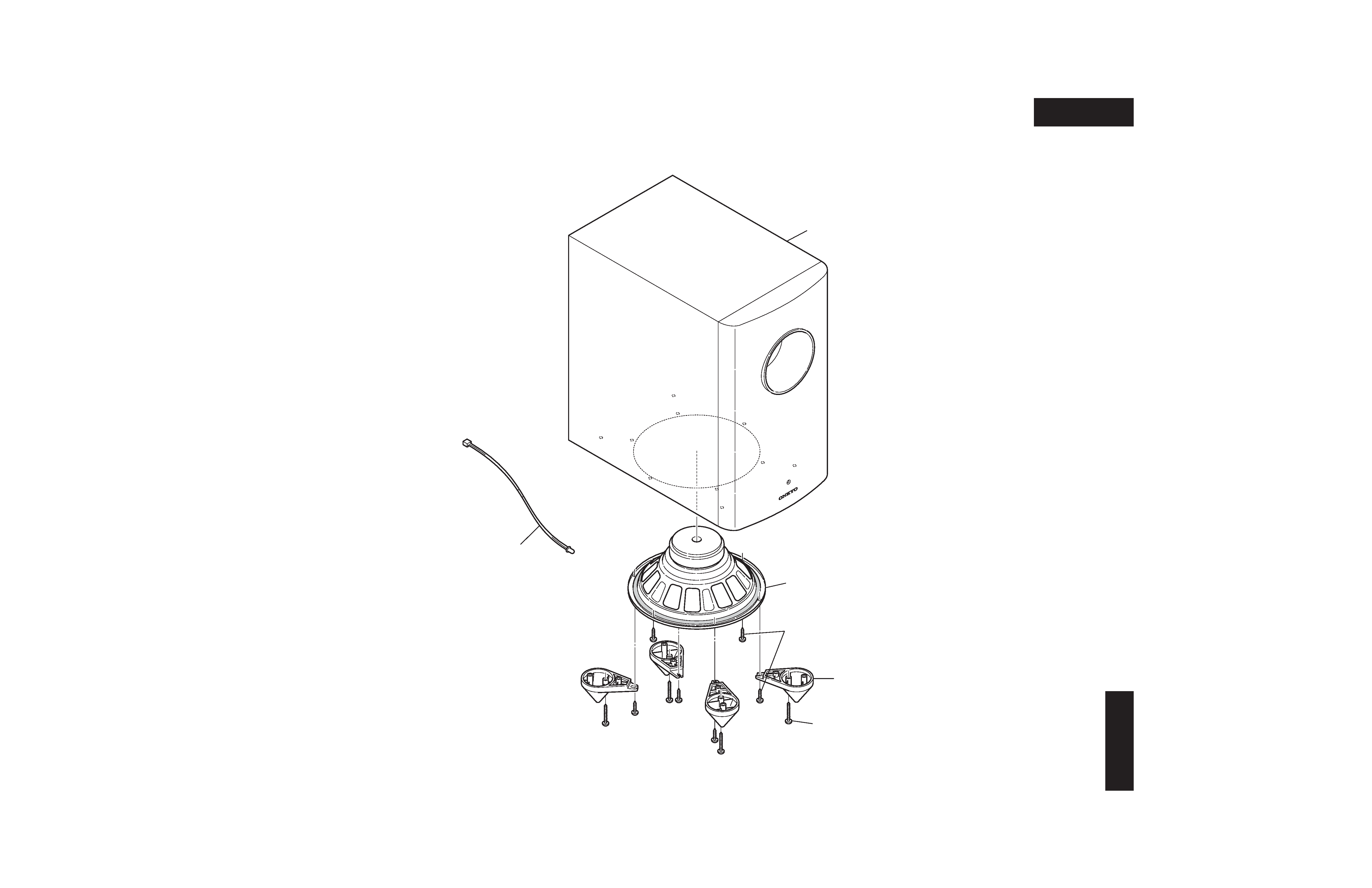 SKW-750 : POWERED SUBWOOFER
---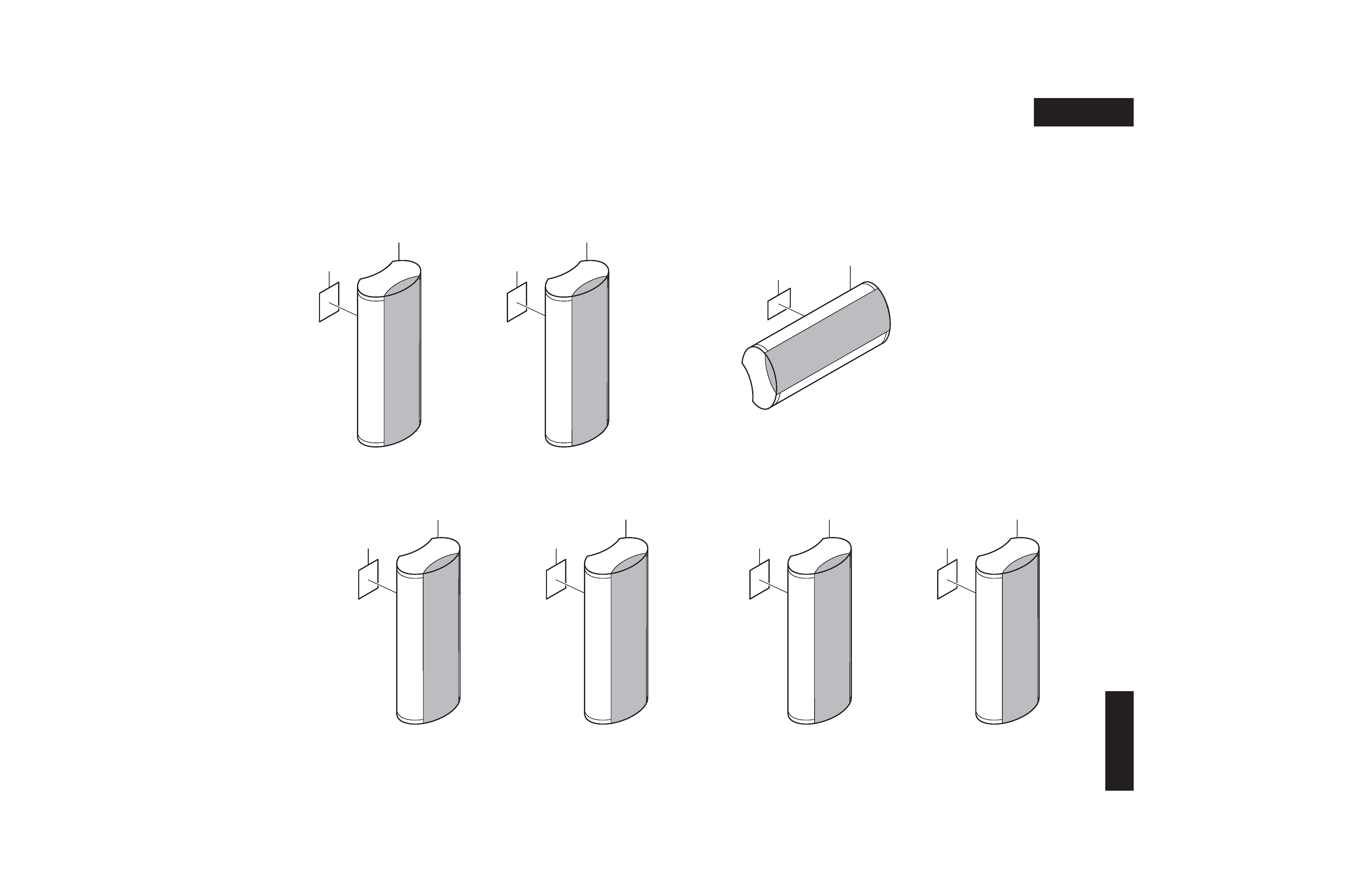 SKF-750F / SKC-750C / SKM-750S / SKB-750
Cannot remove the speaker grill.
---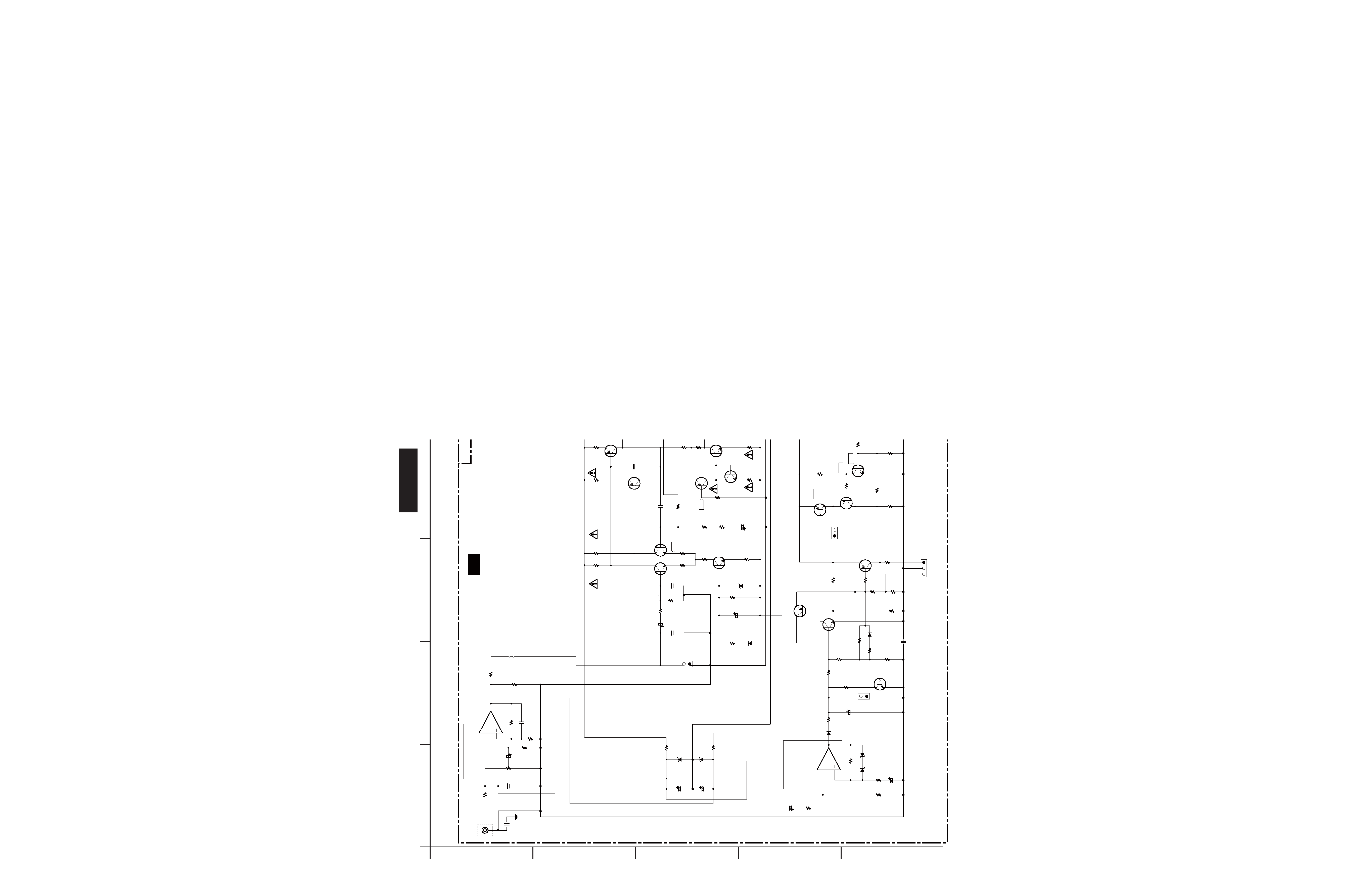 SKW-750 : POWERED SUBWOOFER
AGAINST FIRE HAZARD, REPLACE
ONLY WITH FUSE OF SAME TYPE
ET CALIBRATION COMME INDIQUE.
D'INCENDIE, REMPLACER UNIQUEMENT
PERMANENTE CONTRE LES RISQUES
AFIN D'ASSURER UNE PROTECTION
PAR UN FUSIBLE DE MEME TYPE
E LENT.POUR UNE PROTECTION PERMANENTE,N'UTILISER
INDIQUE LA QU LE PRESENT SYMBOL EST APPOSE.
QUE DES FUSIBLES DE MEME TYPE. CE DARNIER EST
CE SYMBOLE INDIQUE QUE LE FUSIBLE UTLISE EST
FOR CONTINUED PROTECTION AGAINST FIRE
RATING REFER TO THE MARKING ADJACENT TO THE SYMBOL.
HAZARD,REPLACE WITH SAME TYPE FUSE. FOR FUSE
THIS SYMBOL LOCATED NEAR THE FUSE INDICATES
THAT THE FUSE USED IS SLOW OPERATING TYPE
THE COMPONENTS IDENTIFIED BY MARK
REPLACE ONLY WITH PART NUMBER SPECIFIED.
VOLTAGE (MEASURED WITH VOLTMETER)
IS DC VOLTAGE.(NO INPUT SIGNAL).
ALL PNP TRANSISTORS ARE EQUIVALENT TO 2SA1015-GR UNLESS OTHERWISE NOTED.
ALL NPN TRANSISTORS ARE EQUIVALENT TO 2SC1815-GR UNLESS OTHERWISE NOTED.
ALL DIODES ARE EQUIVALENT TO 1SS133 UNLESS OTHERWISE NOTED.
ELECTROLYTIC CAPACITORS (
ALL CAPACITORS ARE IN pF/50WV UNLESS OTHERWISE NOTED.
EX) 030- 3pF 330- 33pF 331- 330pF 333- 0.033uF
ALL RESISTORS ARE IN OHMS 1/4WATTS UNLESS OTHERWISE NOTED.
THE THICK LINES ON PC BOARD ARE THE PRINTING SIDE OF THE PARTS.
CIRCUIT IS SUBJECT TO CHANGE FOR IMPROVEMENT.
---