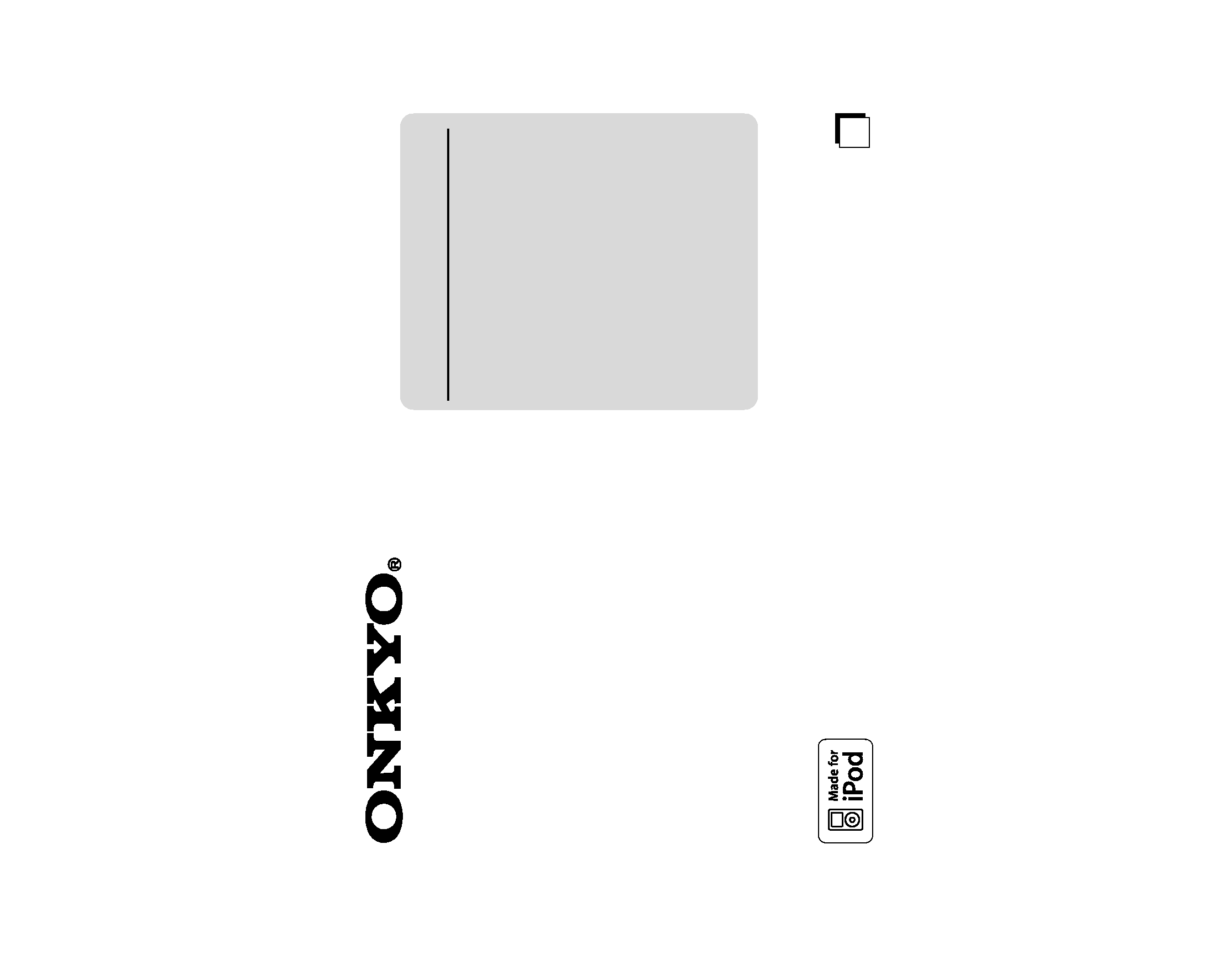 Thank you for purchasing an Onkyo product. Please
read this manual carefully before making any connec-
tions or using this product. By following these instruc-
tions, you'll get the best audio performance and the
most listening pleasure from your Onkyo product.
Keep this manual for future reference.
Getting Started. . . . . . . . . . . . . . . . . . . . . . 5
About the RI Dock . . . . . . . . . . . . . . . . . . . . 5
Features . . . . . . . . . . . . . . . . . . . . . . . . . . . . . 5
Package Contents . . . . . . . . . . . . . . . . . . . . 6
Compatible iPods . . . . . . . . . . . . . . . . . . . . 6
Getting to Know the RI Dock . . . . . . . . . . 7
Hooking Up the RI Dock . . . . . . . . . . . . . . 8
Using the RI Dock. . . . . . . . . . . . . . . . . . . . 9
Putting Your iPod in the RI Dock . . . . . . 9
Function Overview . . . . . . . . . . . . . . . . . . 10
Controlling Your iPod. . . . . . . . . . . . . . . . 12
iPod Functions . . . . . . . . . . . . . . . . . . . . . . 14
Troubleshooting . . . . . . . . . . . . . . . . . . . 15
Specifications . . . . . . . . . . . . . . . . . . . . . . 15
---

Important Safety Instructions
1. Read these instructions.
2. Keep these instructions.
4. Follow all instructions.
5. Do not use this apparatus near water.
6. Clean only with dry cloth.
7. Do not block any ventilation openings. Install in accor-
dance with the manufacturer's instructions.
8. Do not install near any heat sources such as radiators,
heat registers, stoves, or other apparatus (including
amplifiers) that produce heat.
9. Do not defeat the safety purpose of the polarized or
grounding-type plug. A polarized plug has two blades
with one wider than the other. A grounding type plug
has two blades and a third grounding prong. The wide
blade or the third prong are provided for your safety. If
the provided plug does not fit into your outlet, consult
an electrician for replacement of the obsolete outlet.
10. Protect the power cord from being walked on or
pinched particularly at plugs, convenience receptacles,
and the point where they exit from the apparatus.
11. Only use attachments/accessories specified by the
12. Unplug this apparatus during lightning storms or when
unused for long periods of time.
TO REDUCE THE RISK OF FIRE OR ELECTRIC SHOCK, DO NOT
EXPOSE THIS APPARATUS TO RAIN OR MOISTURE.
TO REDUCE THE RISK OF ELECTRIC SHOCK, DO NOT REMOVE
COVER (OR BACK). NO USER-SERVICEABLE PARTS INSIDE.
REFER SERVICING TO QUALIFIED SERVICE PERSONNEL.
The lightning flash with arrowhead symbol, within an equilateral
triangle, is intended to alert the user to the presence of
uninsulated "dangerous voltage" within the product's enclosure
that may be of sufficient magnitude to constitute a risk of electric
The exclamation point within an equilateral triangle is intended
to alert the user to the presence of important operating and
accompanying the appliance.
RISQUE DE CHOC ELECTRIQUE
---

Important Safety Instructions--Continued
13. Refer all servicing to qualified service personnel. Servic-
ing is required when the apparatus has been damaged
in any way, such as power-supply cord or plug is dam-
aged, liquid has been spilled or objects have fallen into
the apparatus, the apparatus has been exposed to rain
or moisture, does not operate normally, or has been
14. Damage Requiring Service
Unplug the apparatus from the wall outlet and refer
servicing to qualified service personnel under the fol-
A. When the power-supply cord or plug is damaged,
B. If liquid has been spilled, or objects have fallen into
C. If the apparatus has been exposed to rain or water,
D. If the apparatus does not operate normally by fol-
lowing the operating instructions. Adjust only
those controls that are covered by the operating
instructions as an improper adjustment of other
controls may result in damage and will often
require extensive work by a qualified technician to
restore the apparatus to its normal operation,
If the apparatus has been dropped or damaged in
When the apparatus exhibits a distinct change in
performance this indicates a need for service.
Recording Copyright--Unless it's for personal use
only, recording copyrighted material is illegal without
the permission of the copyright holder.
Care--Occasionally you should dust the unit all over
with a soft cloth. For stubborn stains, use a soft cloth
dampened with a weak solution of mild detergent and
water. Dry the unit immediately afterwards with a clean
cloth. Don't use abrasive cloths, thinners, alcohol, or
other chemical solvents, because they may damage the
finish or remove the panel lettering.
Never Touch this Unit with Wet Hands--Never han-
dle this unit or its power cord while your hands are wet
or damp. If water or any other liquid gets inside this
unit, have it checked by your Onkyo dealer.
The user changes or modifications not expressly approved
by the party responsible for compliance could void the user's
authority to operate the equipment.
This equipment has been tested and found to comply with
the limits for a Class B digital device, pursuant to Part 15 of
the FCC Rules. These limits are designed to provide reason-
able protection against harmful interference in a residential
---
This equipment generates, uses and can radiate radio fre-
quency energy and, if not installed and used in accordance
with the instructions,may cause harmful interference to radio
communications. However, there is no guarantee that inter-
ference will not occur in a particular installation. If this equip-
ment does cause harmful interference to radio or television
reception, which can be determined by turning the equip-
ment off and on, the user is encouraged to try to correct the
interference by one or more of the following measures:
·Reorient or relocate the receiving antenna.
Increase the separation between the equipment and
·Connect the equipment into an outlet on a circuit differ-
ent from that to which the receiver is connected.
·Consult the dealer or an experienced radio/TV technician
For models having a power cord with a polarized plug:
TO PREVENT ELECTRIC SHOCK, MATCH WIDE BLADE OF PLUG
TO WIDE SLOT, FULLY INSERT.
Sur les modèles dont la fiche est polarisée:
POUR ÉVITER LES CHOCS ÉLECTRIQUES, INTRODUIRE LA
LAME LA PLUS LARGE DE LA FICHE DANS LA BORNE CORRE-
SPONDANTE DE LA PRISE ET POUSSER JUSQU'AU FOND.
Before use, fit the appropriate AC plug adapter to the AC adapter.
Declaration of Conformity
ONKYO EUROPE ELECTRONICS GmbH
declare in own responsibility, that the ONKYO product
described in this instruction manual is in compliance with the
technical standards such as EN60065,
EN55013, EN55020 and EN61000-3-2, -3-3.
---

With the Onkyo RI Dock,you can easily play the music
stored on your Apple
*
iPod
*
through your Onkyo
audio system and enjoy great sound, and use your
Onkyo remote controller to operate your iPod. Music
from your iPod is fed via the RI Dock to your amp and
speakers, and video from an iPod photo can be fed
via the RI Dock to your TV.
, which stands for Remote Interactive, is an exclu-
sive Onkyo control system that allows
ble Onkyo audio components to be controlled with a
single remote controller. In addition, all components
can be turned on or off together, and the amp will
automatically turn on and select the appropriate
input source when playback is started on a source
In this manual, the DS-A1 Remote Interactive Dock is
referred to as the "RI Dock."
Play the music stored on your iPod through your
Onkyo audio system with great sound
Control your iPod with your Onkyo remote con-
S-Video output for watching iPod photo slide-
Supports all iPods with a dock connector, includ-
ing the iPod mini and iPod photo
Charges your iPod battery while you enjoy your
For the latest information on the RI Dock, see the
Onkyo Web site at: www.onkyo.com
*Apple and iPod are trademarks of Apple Computer, Inc., regis-
tered in the U.S. and other countries.
Requires remote controller supplied with
Onkyo receiver or amp. Available functionality depends on the
amp and the generation of iPod.
---