---

SERVICE SAFETY PRECAUTIONS
CAUTION: FOR CONTINUED PROTECTION AGAINST THE RISK OF FIRE REPLACE ONLY
3.15A TIME-LAG 5x20 VDE-SEMKO
1.6A TIME-LAG 5x20 UL/CSA
<*AH > : USA, CANADIAN MODEL ONLY.
<*C > : EUROPEAN MODEL ONLY.
Before returning the product to the customer, make leakage current or resistance measurements
to determine that exposed parts are acceptably insulated from the supply circuit.
Parts marked with the symbol
are critical with regard to the risk of fire and electric shock.
Replace only with parts recommended by the manufacturer.
SPECIFICATIONS . . . . . . . . . . . . . . . . . . . . . . . . . . . . . . . . . . . . . . . . . . . . . . . . . . . . . . . . .3-4
REAR PANEL / FRONT PANEL . . . . . . . . . . . . . . . . . . . . . . . . . . . . . . . . . . . . . . . . . . . . . . . .5
DISASSEMBLY INSTRUCTIONS . . . . . . . . . . . . . . . . . . . . . . . . . . . . . . . . . . . . . . . . . . . . . . .6
WIRING DIAGRAM . . . . . . . . . . . . . . . . . . . . . . . . . . . . . . . . . . . . . . . . . . . . . . . . . . . . . . . .7-8
BLOCK DIAGRAM . . . . . . . . . . . . . . . . . . . . . . . . . . . . . . . . . . . . . . . . . . . . . . . . . . . . . . . . . .9
ADJUSTMENT POINTS DIAGRAM . . . . . . . . . . . . . . . . . . . . . . . . . . . . . . . . . . . . . . . . . .10-11
INSTRUMENT SETUP . . . . . . . . . . . . . . . . . . . . . . . . . . . . . . . . . . . . . . . . . . . . . . . . . . . . . .12
ALIGNMENT PROCEDURES . . . . . . . . . . . . . . . . . . . . . . . . . . . . . . . . . . . . . . . . . . . . . .12-13
IMPORTANT NOTES . . . . . . . . . . . . . . . . . . . . . . . . . . . . . . . . . . . . . . . . . . . . . . . . . . . . . . .13
PCB LAYOUT . . . . . . . . . . . . . . . . . . . . . . . . . . . . . . . . . . . . . . . . . . . . . . . . . . . . . . . . . .14-24
SCHEMATIC DIAGRAM . . . . . . . . . . . . . . . . . . . . . . . . . . . . . . . . . . . . . . . . . . . . . . . . . .25-42
IC BLOCK DIAGRAM . . . . . . . . . . . . . . . . . . . . . . . . . . . . . . . . . . . . . . . . . . . . . . . . . . . .43-51
ELECTRICAL PARTS LIST . . . . . . . . . . . . . . . . . . . . . . . . . . . . . . . . . . . . . . . . . . . . . . . .52-71
EXPLODED VIEW . . . . . . . . . . . . . . . . . . . . . . . . . . . . . . . . . . . . . . . . . . . . . . . . . . . . . . . . .72
EXPLODED VIEW PARTS LIST . . . . . . . . . . . . . . . . . . . . . . . . . . . . . . . . . . . . . . . . . . . .73-74
PACKING DIAGRAM . . . . . . . . . . . . . . . . . . . . . . . . . . . . . . . . . . . . . . . . . . . . . . . . . . . . . . .75
---

POWER AMPLIFIER AND PREAMPLIFIER SECTION (all channels stated 8 ohms)
(THD 20Hz-20 kHz FL/C/FR)
(A-wtd, 1KHz, 80W, 8 ohm)
(-41 dB to -50 dB, 1 kHz)
Headphone O/P in 0.1%, 600 ohm load, CD in 500mV, 1 kHz
Continuous average power output (L/R/C RL/RR 8 ohms)
(at 500mV in, 1W out, 100 Hz)
(at 500mV in, 1W out, 10 kHz)
: o/p at unexpected, 1 kHz, Ch C
: o/p at unexpected, 1 kHz, Ch C
: o/p at unexpected, 1 kHz, Ch SL, SR
S/N Ratio ( 200mV in, 1, A-WTD w/ 1k termination)
THD (2.2V in, 1W, w/ 80 kHz LPF, 1 kHz)
Distortion 1W all channels
---

Input level is expressed as the reading in open-circuit
of 75-ohm source impedance signal generator
Usable sensitivity (999/1000kHz)
Loop sensitivity (20dB S/N)
Frequency response (100 - 2.3 kHz, 5mV)
Input level is expressed as the reading in open-circuit
of 75-ohm source impedance signal generator
Usable Sensitivity ( 98 MHz)
Frequency Response (20 Hz - 15 kHz, 60 dBµ)
Channel Separation (60 dBµ)
Alternate Channel Selectivity
(60 dBµ, 100% Mod.FM, 30% Mod.AM)
Image Rejection (119.4 MHz)
I.F. Rejection ( 10.7 MHz)
Pilot Suppression (60 dBµ)
THD (60 dBµ, L=R 75 kHz for AH, 40 kHz Dev for C)
Dimensions (Width x Height x Depth)
---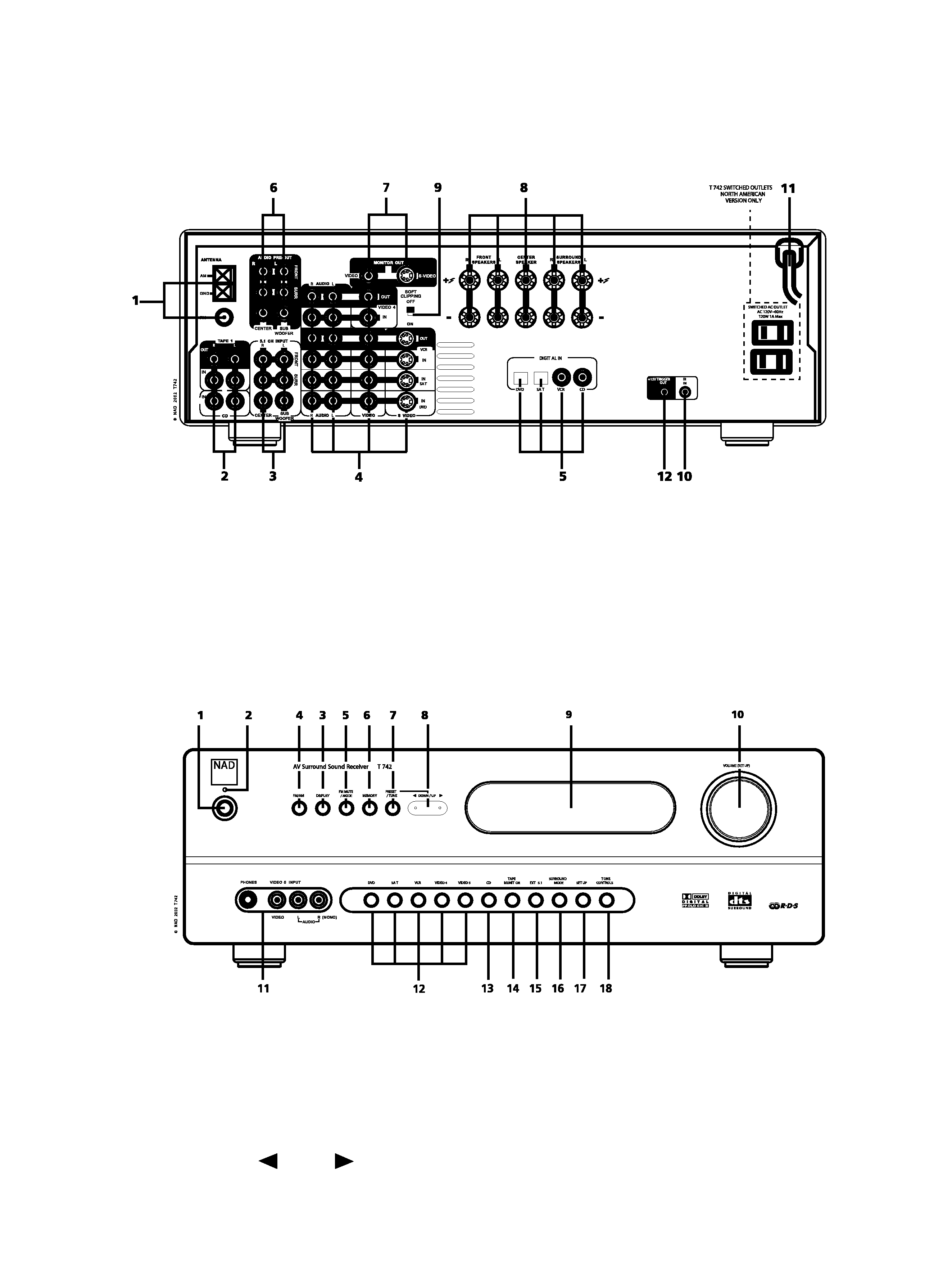 4. DVD - SAT VCR - VIDEO 4 (AUDIO &
6. AUDIO PRE OUTS / SUBWOOFER OUT
8. SPEAKERS: FRONT, CENTER & SUR-
11. HEADPHONE SOCKET & VIDEO 5 INPUT
12. AUDIO & VIDEO INPUT SELECTORS
---