--- FRONT PANEL / REAR PANEL VIEW . . . . . . . . . . . . . . . . . . . . . . . . . . . . . . . . . . . 3
SPECIFICATIONS . . . . . . . . . . . . . . . . . . . . . . . . . . . . . . . . . . . . . . . . . . . . . . . . . . . 4
ALIGNMENT PROCEDURE / ALIGNMENT POINTS . . . . . . . . . . . . . . . . . . . . . . . . 5
WIRING DIAGRAM . . . . . . . . . . . . . . . . . . . . . . . . . . . . . . . . . . . . . . . . . . . . . . . . . . 6
PCB LAYOUT . . . . . . . . . . . . . . . . . . . . . . . . . . . . . . . . . . . . . . . . . . . . . . . . . . . . . 7-8
SCHEMATIC DIAGRAM . . . . . . . . . . . . . . . . . . . . . . . . . . . . . . . . . . . . . . . . . . . . 9-11
ELECTRICAL PARTS LIST . . . . . . . . . . . . . . . . . . . . . . . . . . . . . . . . . . . . . . . . . 12-1
EXPLODED VIEW . . . . . . . . . . . . . . . . . . . . . . . . . . . . . . . . . . . . . . . . . . . . . . . . . . 1
EXPLODED VIEW PARTS LIST . . . . . . . . . . . . . . . . . . . . . . . . . . . . . . . . . . . . . . . 1
PACKING DIAGRAM . . . . . . . . . . . . . . . . . . . . . . . . . . . . . . . . . . . . . . . . . . . . . . . . 1
SERVICE SAFETY PRECAUTIONS
CAUTION: FOR CONTINUED PROTECTION AGAINST THE RISK OF FIRE REPLACE ONLY
12.5A 250V Time Lag 6.3x32mm UR
6.3A 250V HBC Time Lag 5x20mm SEMKO/VDE
6.3A 250V Time Lag 5x20mm UL
6.3A 250V HBC Time Lag 5x20mm SEMKO/VDE
*AH : North American version only
*C : European version only
2. Safety-check out (North American model only)
Before returning the product to the customer, make leakage current or resistance measurements
to determine that exposed parts are acceptably insulated from the supply circuit.
Parts marked with the symbol
are critical with regard to the risk of fire and electric shock.
Replace only with parts recommended by the manufacturer.
---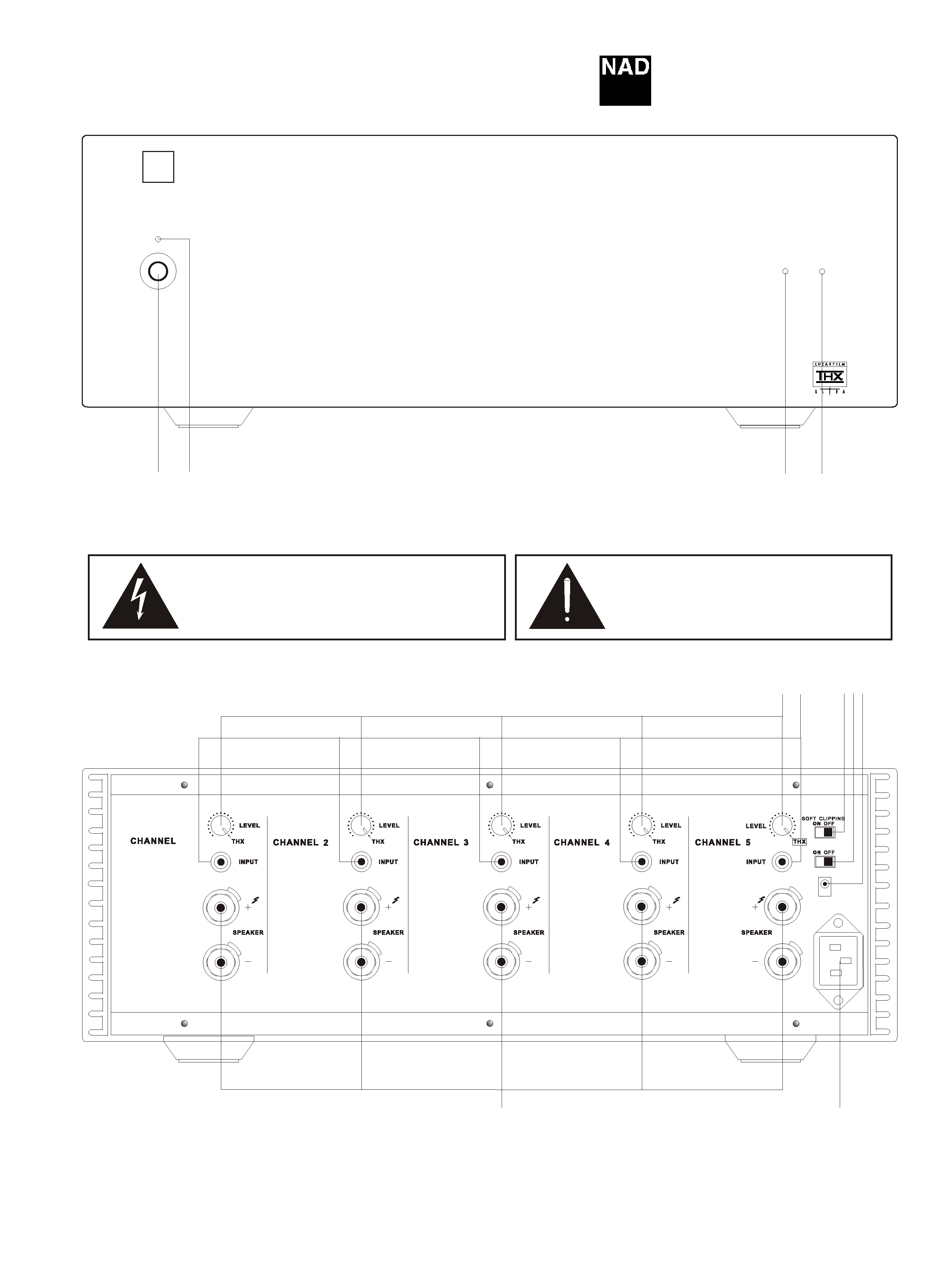 Five Channel Power Amplifier S250
4. SOFT CLIPPING INDICATOR
FRONT PANEL / REAR PANEL VIEW
The graphic symbol of a lightning flash with an arrow point
within a triangle signifies that there is dangerous voltage
within the unit and it posses a hazard to anyone removing
the cover to gain access to the interior of the unit. Only
qualified service personnel should make such attempt.
The graphic symbol of an exclamation point within
an equilateral triangle warns a user of the device
that it is necessary to refer to the instruction
manual and its warnings for proper operation of
---

2. Continuous Power Output
20kHz, 5 ch. for 8 ohms, 4 ch. for 4 ohms)
0.4 ~ 0.6 dB 0.3 ~ 1.0 dB
---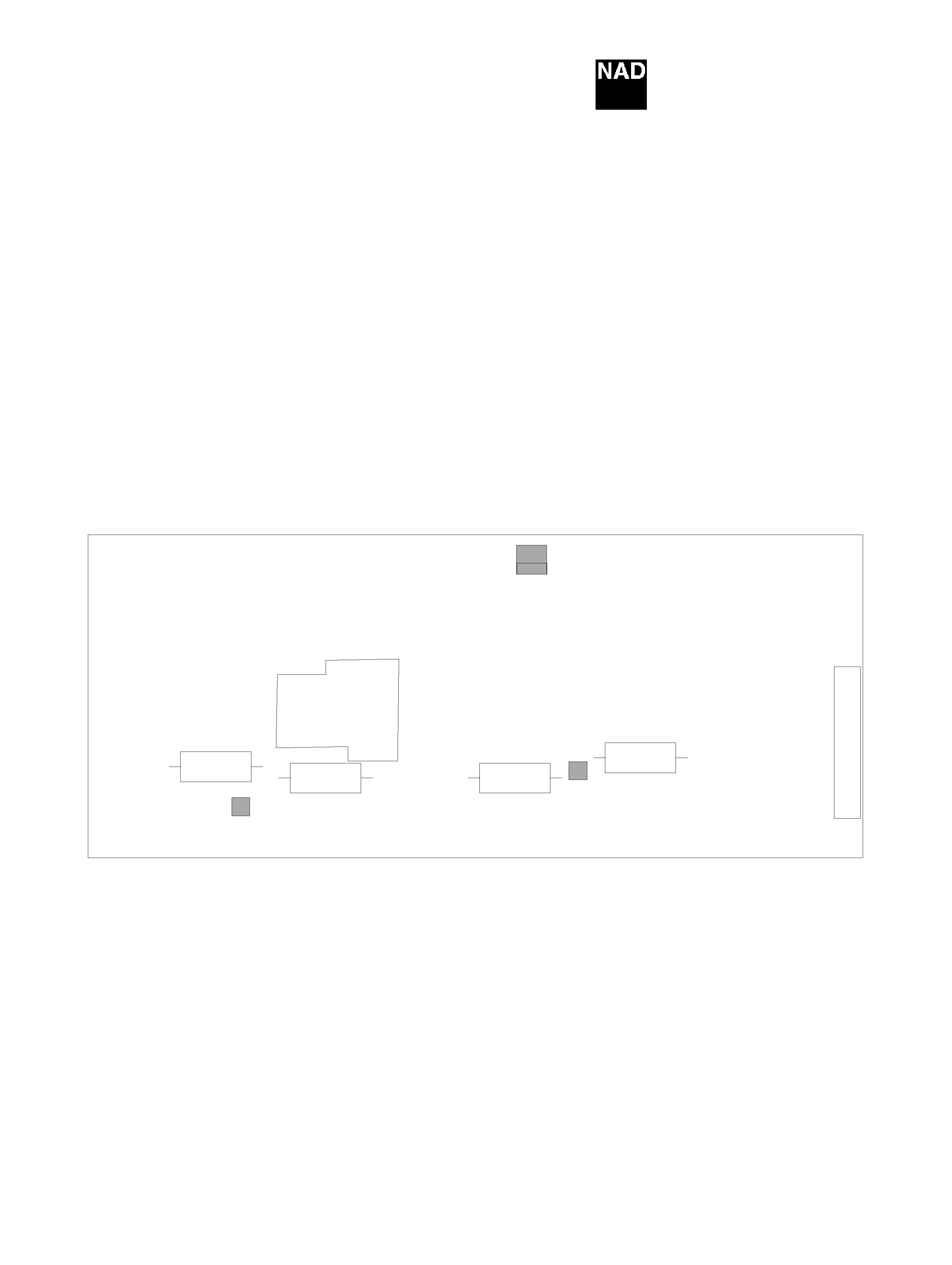 IDLE CURRENT ALIGNMENT FOR EVERY POWER AMPLIFIER MODULE
1. Remove the load and the input signal.
2. Connect a digital voltmeter between TP1 and TP2.
3. Switch the amplifier on and, after one minute, adjust R27 to obtain a reading of
4. Leave power on for 3 minutes to allow the idle currents to stabilize. Re-adjust R27
as necessary to obtain a reading of 4.4mV ±0.5mV.
---