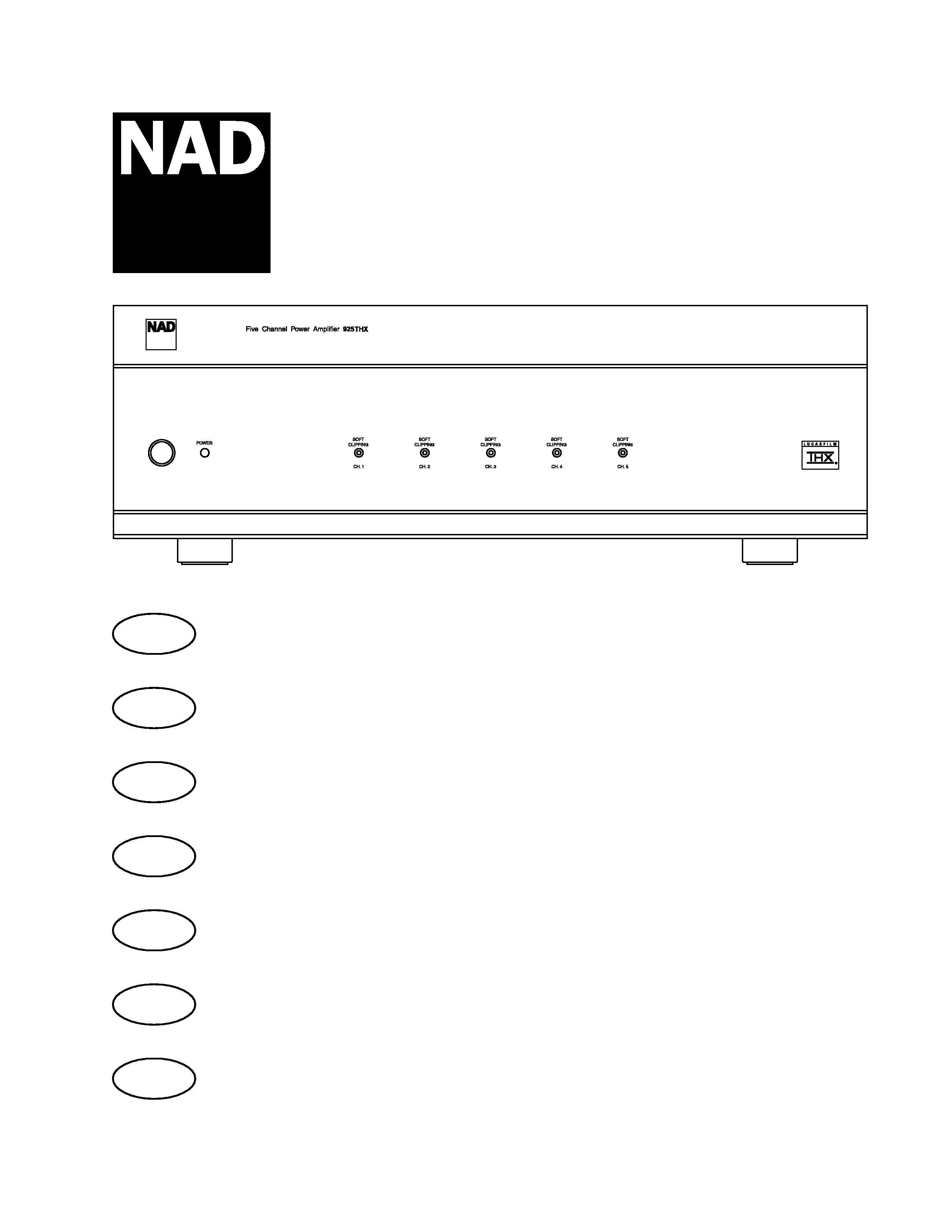 · MANUALE DELLE ISTRUZIONI
---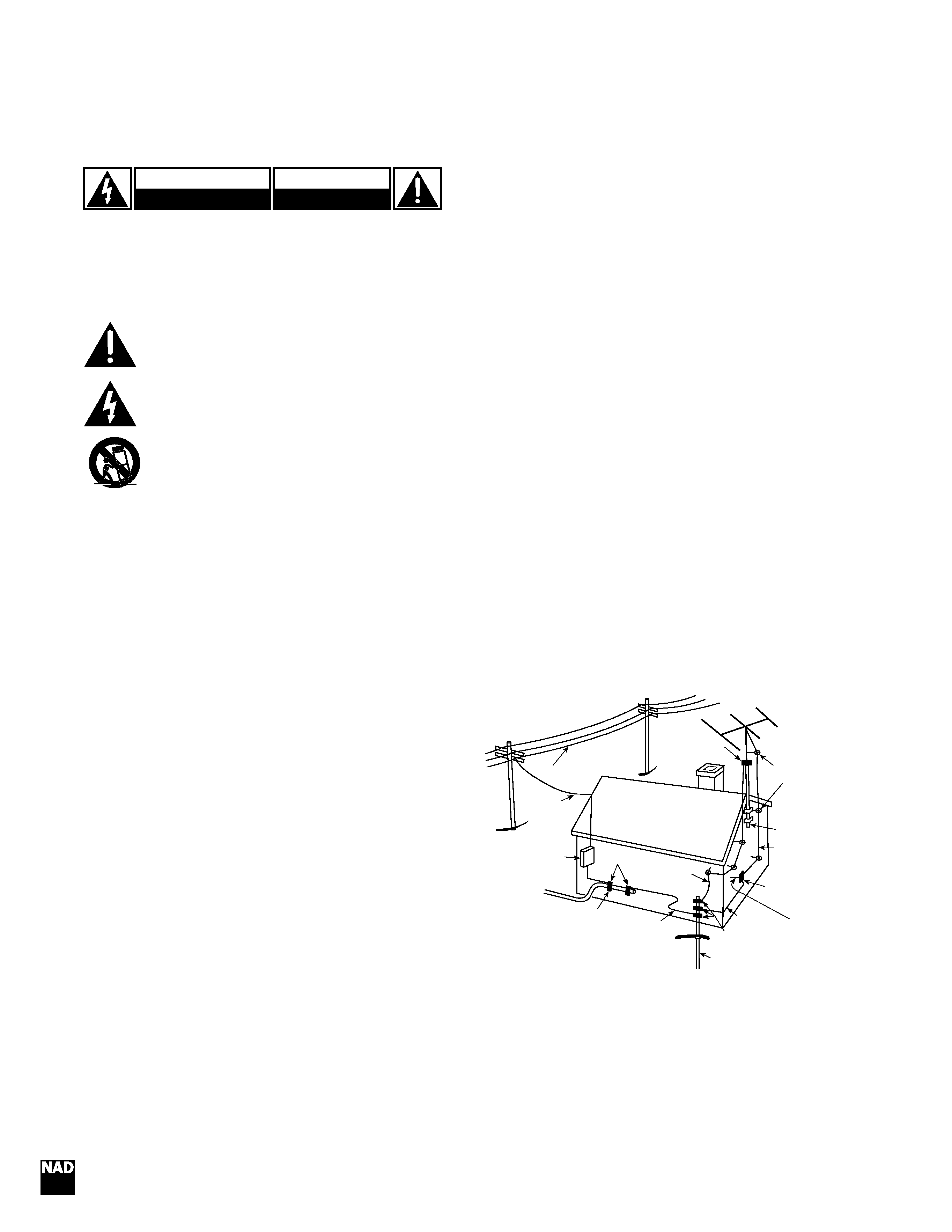 THE FOLLOWING PRECAUTIONS AND SAFETY INSTRUCTIONS
ARE REQUIREMENTS OF UL AND CSA SAFETY REGULATIONS
Do not place this unit on an unstable cart, stand or tripod, bracket or table.
The unit may fall, causing serious injury to a child or adult and serious
damage to the unit. Use only with a cart, stand, tripod, bracket or table
recommended by the manufacturer or sold with the unit. Any mounting of
the device on a wall or ceiling should follow the manufacturer's instructions
and should use a mounting accessory recommended by the manufacturer.
An appliance and cart combination should be moved with care. Quick stops, excessive
force and uneven surfaces may cause the appliance and cart combination to overturn.
Read and follow all the safety and operating instructions before connecting or using
this unit. Retain this notice and the owner's manual for future reference.
All warnings on the unit and its operating instructions should be adhered to.
Do not use this unit near water: for example, near a bath tub, washbowl, kitchen sink,
laundry tub, in a wet basement or near a swimming pool.
The unit should be installed so that its location or position does not interfere with its
proper ventilation. For example, it should not be situated on a bed, sofa, rug or similar
surface that may block the ventilation openings; or placed in a built-in installation, such
as a bookcase or cabinet, that may impede the flow of air through its ventilation open-
The unit should be situated away from heat sources such as radiators, heat registers,
stoves or other devices (including amplifiers) that produce heat
The unit should be connected to a power supply outlet only of the voltage and fre-
quency marked on its rear panel.
The power supply cord should be routed so that it is not likely to be walked on or
pinched, especially near the plug, convenience receptacles, or where the cord exits from
Unplug the unit from the wall outlet before cleaning. Never use benzine, thinner or
other solvents for cleaning. Use only a soft damp cloth.
The power supply cord of the unit should be unplugged from the wall outlet when it is to
be unused for a long period of time.
Care should be taken so that objects do not fall, and liquids are not spilled, into the
enclosure through any openings.
This unit should be serviced by qualified service personnel when:
The power cord or the plug has been damaged; or
Objects have fallen, or liquid has been spilled into the unit; or
The unit has been exposed to rain or liquids of any kind; or
The Unit does not appear to operate normally or exhibits a marked change
The device has been dropped or the enclosure damaged.
DO NOT ATTEMPT SERVICING OF THIS UNIT YOURSELF. RE-
FER SERVICING TO QUALIFIED SERVICE PERSONNEL.
Upon compIetion of any servicing or repairs, request the service shop's assurance that
only Factory Authorized Replacement Parts with the same characteristics as the original
parts have been used, and that the routine safety checks have been performed to guar-
antee that the equipment is in safe operating condition.
REPLACEMENT WITH UNAUTHORIZED PARTS MAY RESULT
IN FIRE. ELECTRIC SHOCK OR OTHER HAZARDS.
(e.g. Interior metal water pipe)
DRIVEN 8 FEET (2.44M) INTO
RISQUE DE CHOC ELECTRIQUE
CAUTION: TO REDUCE THE RISK OF ELECTRIC SHOCK, DO NOT REMOVE COVER OR BACK)
ATTENTION: AFIN DEVITER UN CHOC ELECTRIQUE ET LES CONEQUENCES GRAVES OUI
POURRAIENT EN RESULTER, TENTEZ PAS D'OUVRIR L'APPAREL ET DE TOUCHER AUX
COMPOSANTS INTERNES SANS LA PRESENCE D'UNE SERVICE PERSONNEL
WARNING: TO REDUCE THE RISK OF FIRE OR ELECTRIC
SHOCK, DO NOT EXPOSE THIS UNIT TO RAIN OR MOISTURE.
The graphic symbol of a lightning flash with arrow point within a triangle signifies
that there is dangerous voltage within the unit and it poses a hazard to anyone
removing the cover to gain access to the interior of the unit. Only qualified
personnel should make any such attempt.
The graphic symbol of an exclamation point within an equilateral triangle warns
the user of the device that it is necessary to refer to the instruction manual and
its warnings for proper operation of the unit.
CAUTION: TO PREVENT ELECTRIC SHOCK, MATCH WIDE
BLADE OF PLUG TO WIDE SLOT, FULLY INSERT.
ATTENTION: POUR EVITER LES CHOCS ÉLECTRIQUES
,
INTRODUIRE LA LAME LA PLUS LARGE DE LA FlCHE DANS
LA BORNE CORRESPONDANTE DE LA PRISE ET POUSSER
If an indoor antenna is used (either built into the set or installed separately), never
allow any part of the antenna to touch the metal parts or other electrical appliances such
CAUTION - POWER LINES: ANY OUTDOOR ANTENNA MUST
BE LOCATED AWAY FROM ALL POWER LINES.
OUTDOOR ANTENNA GROUNDING
If an outside antenna is connected to your tuner or tuner-preamplifier, be sure the
antenna system is grounded so as to provide some protection against voltage surges
and built-up, static charges. Section 810 or the National Electrical Code ANSl/NFPA NO.
70-1984, provides information with respect to proper grounding of the mast and support-
ing structure, grounding of the lead-in wire to an antenna discharge unit, size of ground-
ing conductors, location of antenna discharge unit, connection to grounding electrodes
and requirements for the grounding electrode.
Use No.10 AWG (5.3mm
2
) copper, No. 8 AWG (8.4mm
2
) aluminium. No. 17 AWG
(1.Omm
2
) copper-clad-steel or bronze wire, or larger, as a ground wire.
Secure antenna lead-in and ground wires to house with stand-off insulators spaced
from 4-6 feet (1.22 - 1.83m) apart.
Mount antenna discharge unit as close as possible to where lead-in enters house.
Use jumper wire not smaller than No.6 AWG (13.3mm
2
) copper, or the equivalent
when a separate antenna-grounding electrode is used. See NEC Section 810-21 (j).
EXAMPLE OF ANTENNA GROUNDINGAS PER NATIONAL ELEC-
TRICAL CODE INSTRUCTIONS CONTAINED IN ARTICLE 810 -
RADIO AND TELEVISION EQUIPMENT.
NOTE TO CATV SYSTEM INSTALLER: This reminder is provided to call the CATV
installer's attention to Article 820-22 of the National Electrical Code that provides guide-
lines for proper grounding and, in particular, specifies that the ground cable ground shall
be connected to the grounding system of the building, as close as possible to the point of
cable entry as practical.
--- ---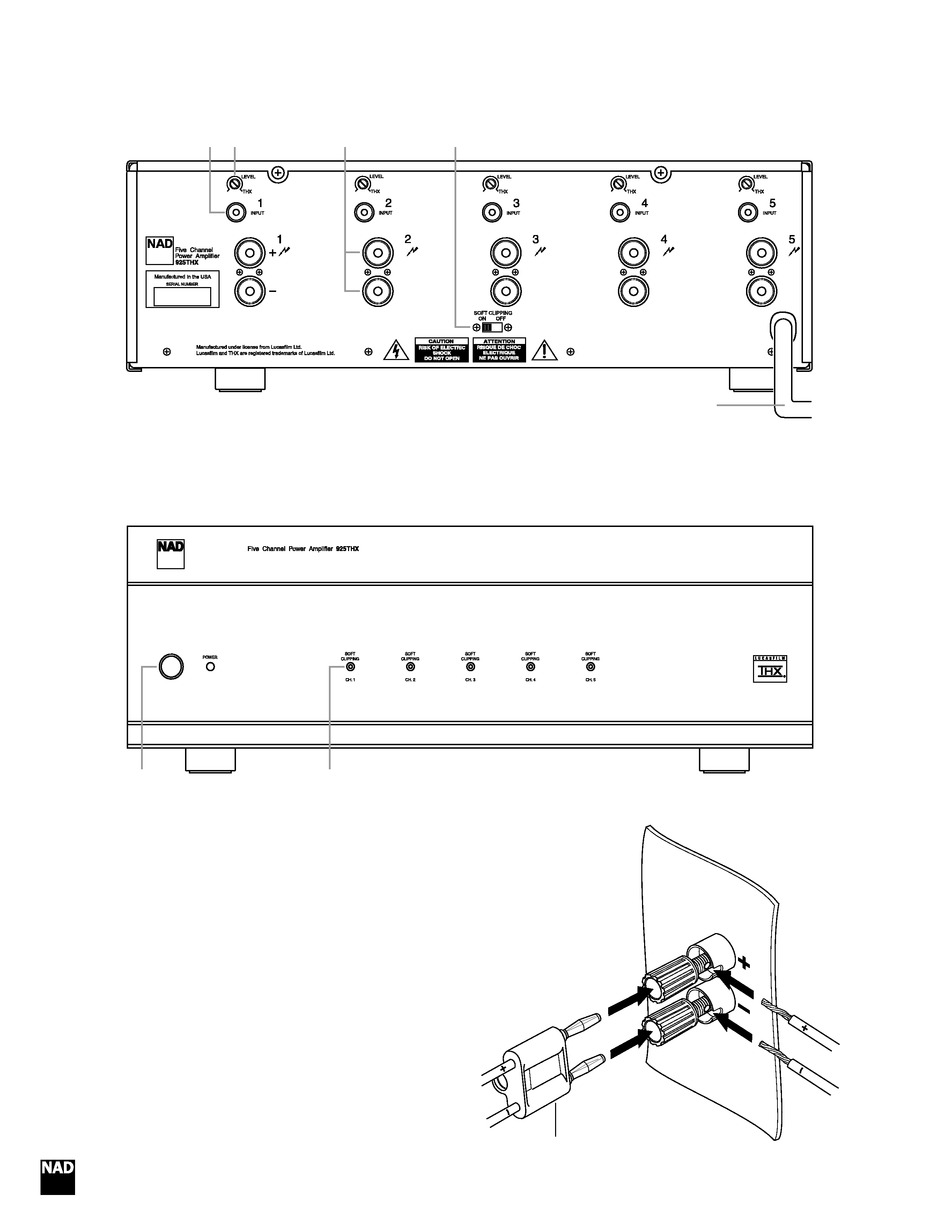 ---

Designed specifically for home theater and cus-
tom installation set-ups, the NAD 925THX Power
Amplifier delivers uncompromising performance. It
combines supreme reliability, flexibility, and perfor-
mance with outstanding value.
Flexibility has always been an important part of NAD
components. Such flexibility is particularly important
in home theater and other multi-channel systems.
That's because it is common for a multi-channel sys-
tem to incorporate different brands and models of loud-
speakers. Often these speakers have different levels
of efficiency. The individual input level controls for the
five channels of the NAD 925THX make it easy to
compensate for such differences in efficiency, and
achieve the ideal system balance.
Ample dynamic headroom of the 925THX ensures
that the very wide dynamic range of modern cinema
soundtracks and digital music sources will be pre-
served. In addition, the 925THX will handle low im-
pedance speakers with ease.
The 925THX incorporates NAD's unique Soft-Clip-
ping circuitry in all five channels. Any amplifier can be
overdriven if it is played too loud, exceeding the maxi-
mum output power. Under such circumstances, am-
plifiers produce extreme high levels of distortion which,
besides sounding very unpleasant, can damage your
loudspeakers. The Soft Clipping circuit suppresses
such distortion and minimizes the risk of damage to
speakers. This is particularly important with movie
soundtracks which often contain very dynamic out-
bursts in which, unlike music, it is difficult to hear this
potentially damaging distortion. Five status LED's on
the front panel illuminate when the Soft Clipping cir-
cuit is engaged. Soft Clipping can be defeated with a
The NAD 925THX houses five individual amplifi-
ers, each on separate circuit board. Each amplifier
channel acts as a "mono block" within the chassis.
Each input connector, and set of loudspeaker output
terminals, is directly connected to that channel's cir-
cuit board. This design eliminates extra wiring and
keeps signal paths short. Furthermore, this modular
design increases reliability and thermal efficiency.
The input circuit uses a totally new dual differential
input topology that operates in true Class-A mode.
The special HolmgrenTM toroidal transformer has
less hum and magnetic leakage than conventional
toroidal transformers, but retains the usual benefits
of high efficiency and high power-to-weight ratio.
Ruggedness and reliability are critical in custom-
installed systems. The 925THX uses a combination
of fuses and non-intrusive electronic protection. This
provides highly effective protection that does not ef-
fect audio performance. Each channel is protected
against excess temperature, DC fault and loudspeaker
short-circuit. The 925THX's inherently conservative,
high-voltage/high-current output stage has been de-
signed for years of trouble-free service.
NAD was the first company to introduce a THX
certified power amplifier. In that tradition, the 925THX
easily passes Lucas Films' stringent THX performance
requirements. As a result the NAD 925THX will handle
the most demanding signals with ease, and yet pre-
serve every subtle audio detail in the most demand-
ing THX and Dolby Surround systems.
WARNING ­ To reduce the risk of fire or electrical
shock, do not expose the amplifier to rain or moisture.
CAUTION ­ For units factory-set at 115 volts AC
match the wide blade of the power plug to the wide
slot of the power outlet, to prevent electrical shock.
Be sure the plug is completely inserted into the re-
Turn off all the components in the system when-
ever connecting or disconnecting any audio signal
wiring. Once all signal connections have been com-
pleted, turn down all the system's main volume con-
trol before turning the system components on. Then
increase the volume control setting carefully to avoid
damage to the system components.
---