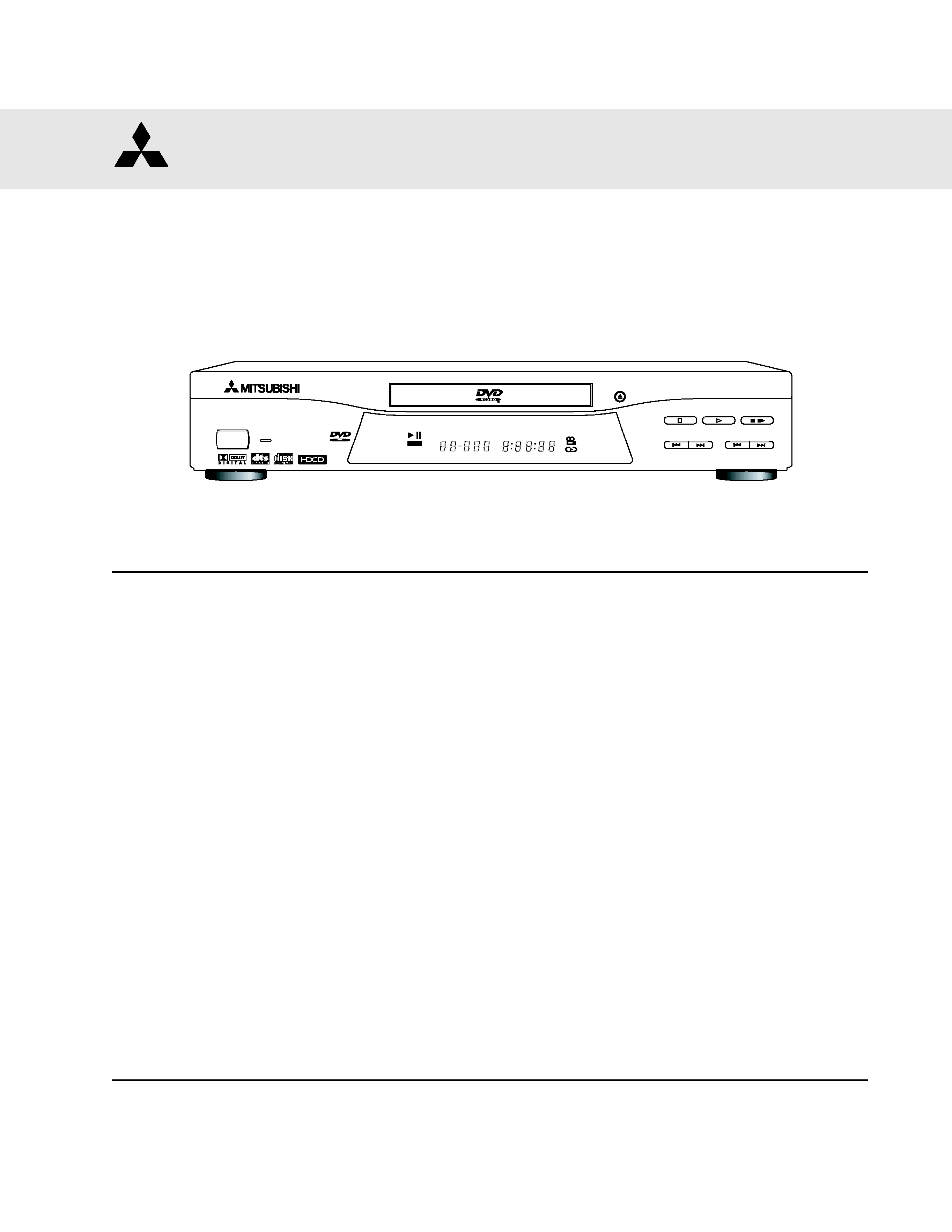 MITSUBISHI DIGITAL ELECTRONICS AMERICA, INC.
9351 Jeronimo Rd. Irvine, CA 92618
Copyright © 2002 Mitsubishi Digital Electronics America, Inc.
tive sync., Mini DIN 4-pin x 1
Color Difference outputs: (Y) 1.0 V (p-p), 75
negative sync., pin jack x 1
(Cr, Pr)/(Cb, Pb) 0.7 V (p-p),
(Bitstream/PCM) 0.5 V (p-p),
Before servicing this chassis, it is important that the service person reads all SAFETY PRECAUTIONS and the
SAFETY NOTICE in this manual.
48 kHZ Sampling: 4 Hz to 22 kHz
96 kHZ Sampling: 4 Hz to 44 kHz
Audio Dynamic Range: More than 108 dB (EIAJ)
---

---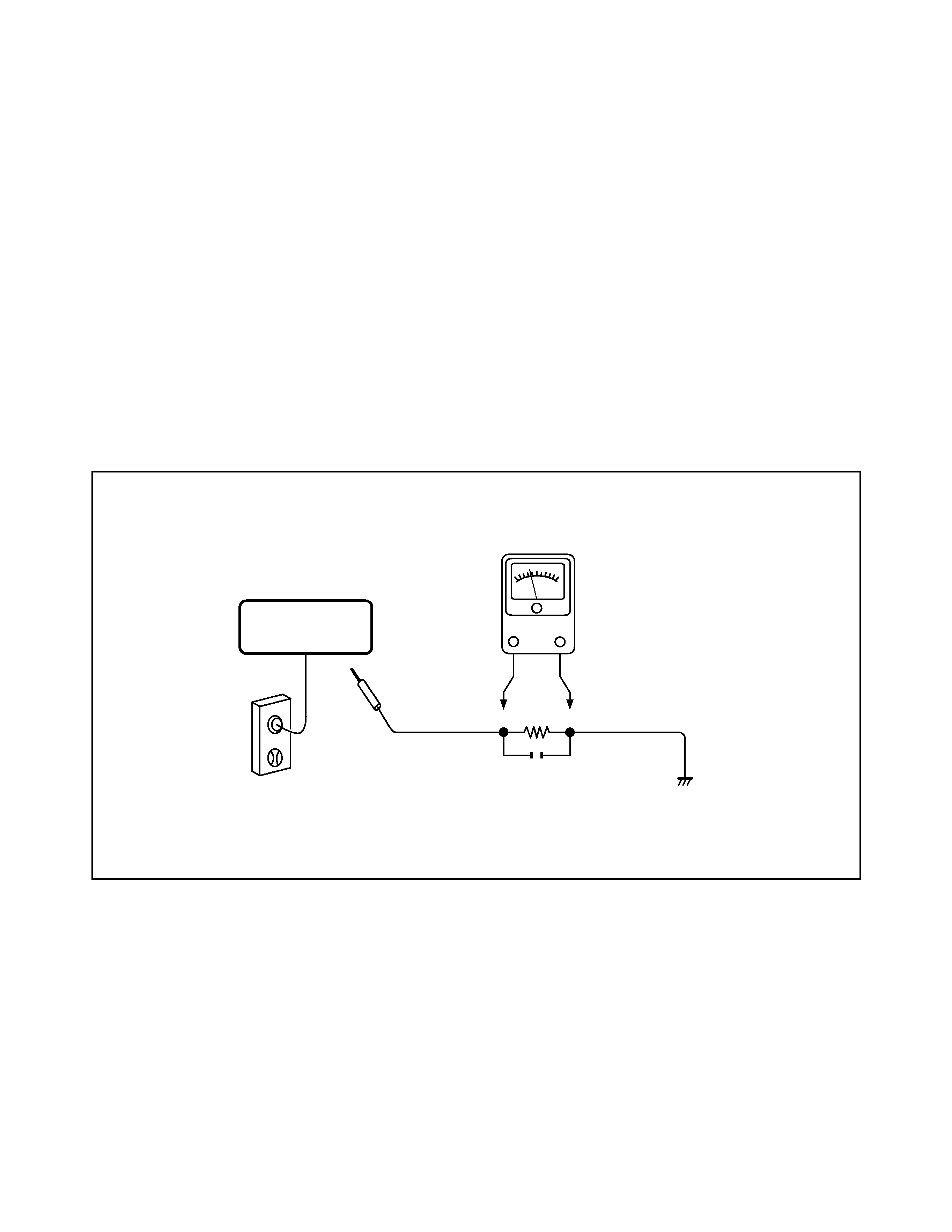 Plug the AC line cord directly into a 120V AC outlet (do
not use an isolation transformer for this check). Use an
AC voltmeter, having 5000
per volt or more sensitivity.
10 W resistor, paralleled by a 0.15 µF
150V AC capacitor between a known good earth ground
(water pipe, conduit, etc.) and all exposed metal parts of
cabinet (antennas, handle bracket, metal cabinet
screwheads, metal overlays, control shafts, etc.).
Measure the AC voltage across the 1500
The test must be conducted with the AC switch on and
then repeated with the AC switch off. The AC voltage
indicated by the meter may not exceed 0.3 V. A reading
exceeding 0.3 V indicates that a dangerous potential
exists, the fault must be located and corrected.
Repeat the above test with the DVD VIDEO PLAYER
NEVER RETURN A DVD VIDEO PLAYER TO THE
CUSTOMER WITHOUT TAKING NECESSARY
READING SHOULD NOT EXCEED 0.3V
Voltmeter Hook-up for Leakage Current Check
---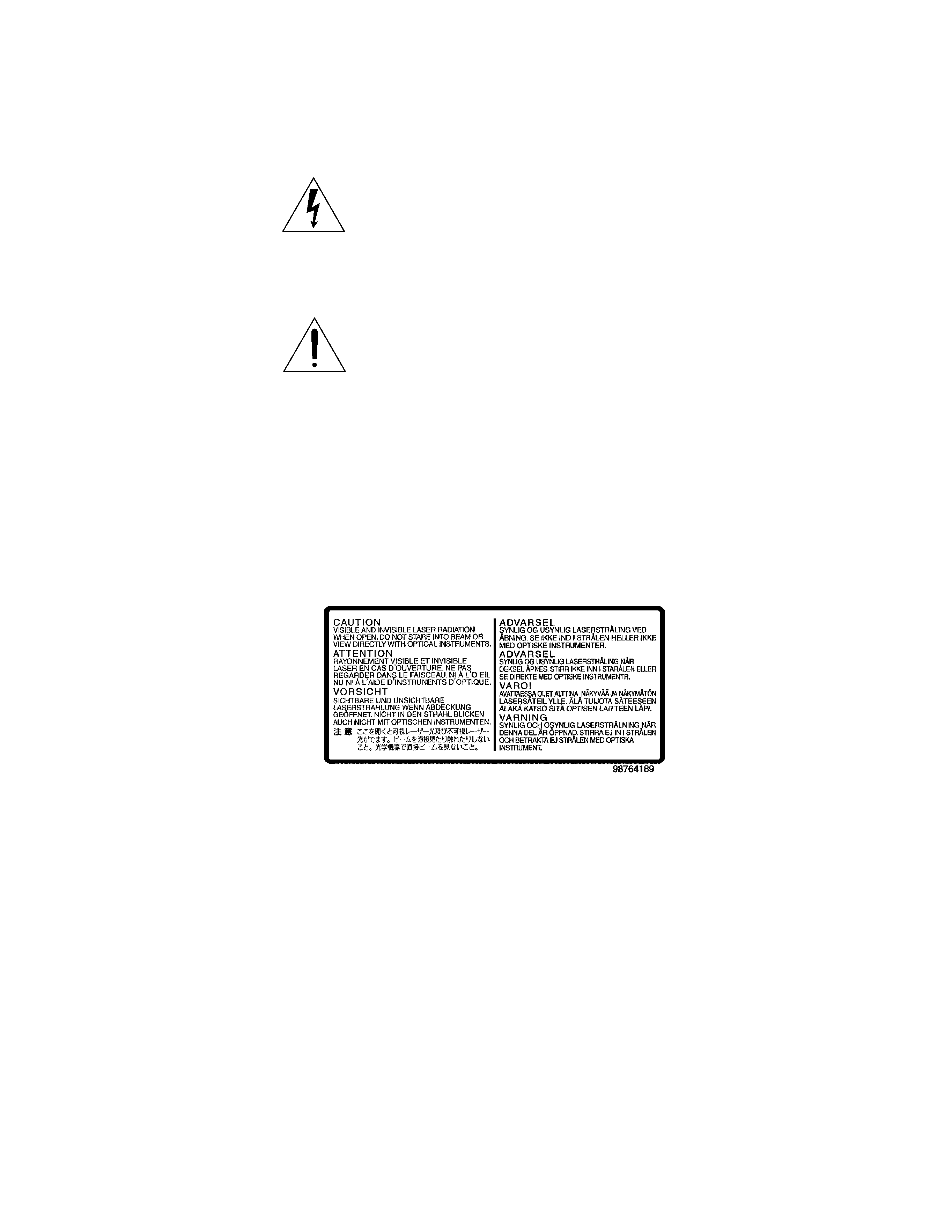 When the power supply is turned on, you may not remove this laser caution label. If it is removed, laser radiation
The lightning flash with arrowhead symbol, within an
equilateral triangle, is intended to alert the user to the
presence of uninsulated "dangerous voltage" within the
product's enclosure that may be of sufficient magnitude to
constitute a risk of electric shock to persons.
The exclamation point within an equilateral triangle is
intended to alert the user to the presence of important
operating and maintenance (servicing) instructions in the
literature accompanying the appliance.
---

PART REPLACEMENT AND ADJUSTMENT PROCEDURES
1 . STANDING PC BOARDS FOR SERVICING ..................... 3-1
SUPPLEMENTARY EXPLANATION ..................................... 3-2
2-1. Precautions for Part Replacement .................................... 3-2
2-2. Solid Resistor Indication .................................................... 3-2
2-3. Capacitance Indication ....................................................... 3-2
2-4. Inductor Indication ............................................................. 3-3
2-5. Waveform and Voltage Measurement .............................. 3-3
3 . PRINTED WIRING BOARD AND
SCHEMATIC DIAGRAM .......................................................... 3-5
4. BLOCK DIAGRAMS .................................................................. 3-7
4-1. Overall Block Diagram ...................................................... 3-7
4-2. Power Supply Block Diagram ........................................... 3-9
4-3. Front Display, Power Switch Block Diagram ................ 3-10
4-4. Main Block Diagrams .................................................... 3-13
4-5. Output Block Diagram .................................................. 3-17
5 . CIRCUIT DIAGRAMS ........................................................... 3-19
5-1. Power Supply Circuit Diagram .................................... 3-19
5-2. Front Display, Power Switch Circuit Diagram ......... 3-21
5-3. Main Circuit Diagram ................................................... 3-24
5-4. Output Circuit Diagram ................................................ 3-29
5-5. Motor System Circuit Diagrams .................................. 3-34
6 . PC BOARDS ............................................................................ 3-35
6-1. Power Supply PC Board ................................................ 3-35
6-2. Main PC Board ............................................................... 3-37
6-3. Output PC Board ............................................................ 3-47
1. PREPARATION FOR SERVICING ......................................... 1-1
2. LOCATION OF MAIN PARTS AND
MECHANISM PARTS ............................................................... 1-2
2-1. Location of Main Parts ....................................................... 1-2
2-2. Location of Mechanism Parts ............................................ 1-3
1 . REPLACEMENT OF MECHANICAL PARTS ................... 2-1
1-1. Cabinet Replacement ....................................................... 2-1
1-1-1. Top Cover ...................................................................... 2-1
1-1-2. Clamper Stay ................................................................ 2-1
1-1-3. Tray Panel ..................................................................... 2-2
1-1-4. Front Panel and Tray .................................................. 2-3
1-1-5. Rear Panel ..................................................................... 2-3
1-2. PC Board Replacement ................................................... 2-4
1-2-1. Main PC Board ............................................................. 2-4
1-2-2. Output PC Board ......................................................... 2-4
1-2-3. Power PC board ........................................................... 2-5
1-2-4. Front PC Board ............................................................ 2-5
1-3. Mechanism Parts ............................................................... 2-6
1-3-1. Mechanism Chassis Assembly ..................................... 2-6
1-3-2. Loading Belt .................................................................. 2-6
1-3-3. Loading Motor .............................................................. 2-7
1-3-4. Sub Chassis (with a pickup mechanism) ................... 2-7
1-3-5. Pickup Mechanism Assembly ...................................... 2-8
1-3-6. Gear A Assembly, Gear B and
Rack Gear Assembly ...................................................... 2-8
1-3-7. Feed Motor ...................................................................... 2-9
3 . TROUBLESHOOTING ............................................................ 1-7
3-1. Main Circuit ....................................................................... 1-7
3-1-1. Servo System ................................................................. 1-7
3-1-2. Location Diagram of Servo Test Point .................. 1-14
SAFETY PRECAUTION ............................................................... 4-1
NOTICE ............................................................................................ 4-1
ABBREVIATIONS .......................................................................... 4-1
1. Integrated Circuit (IC) ........................................................ 4-1
2. Capacitor (Cap) .................................................................... 4-1
3. Resistor (Res) ......................................................................... 4-1
4 . EXPLODED VIEWS ................................................................. 4-2
4-1. Packing Assembly ............................................................. 4-2
4-2. Chassis Assembly ............................................................... 4-3
4-3. Mechanism Assembly ........................................................ 4-4
5 . PARTS LIST ............................................................................... 4-6
---