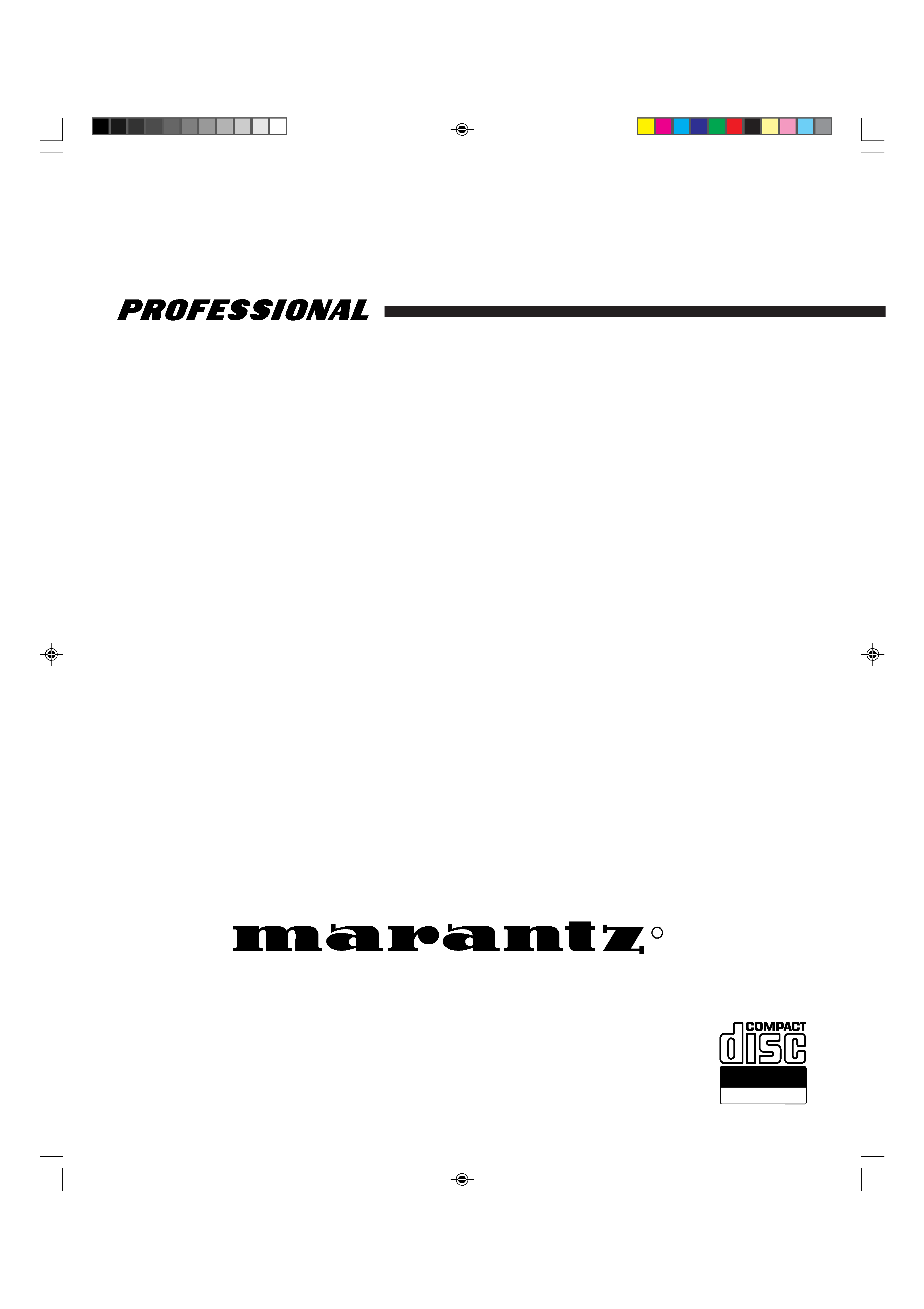 --- ---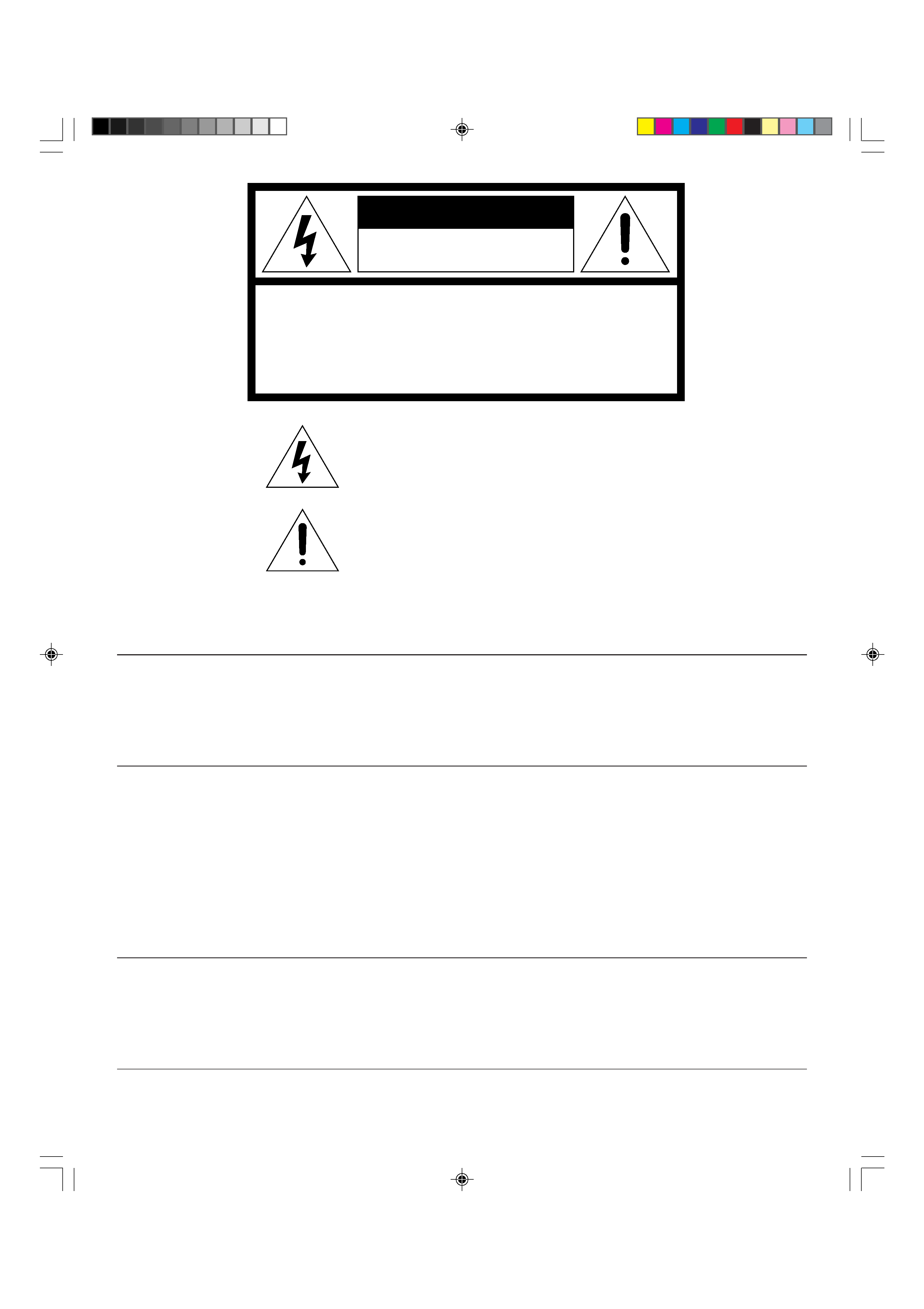 CAUTION: TO REDUCE THE RISK OF ELECTRIC SHOCK,
DO NOT REMOVE COVER (OR BACK).
NO USER-SERVICEABLE PARTS INSIDE.
REFER SERVICING TO QUALIFIED SERVICE PERSONNEL.
The lightning flash with arrowhead symbol, within
an equilateral triangle, is intended to alert the user
to the presence of uninsulated "dangerous voltage"
within the product's enclosure that may be of suffi-
cient magnitude to constitute a risk of electric shock
The exclamation point within an equilateral triangle
is intended to alert the user to the presence of
important operating and maintenance (servicing)
instructions in the literature accompanying the
CAUTION:
TO PREVENT ELECTRIC SHOCK, MATCH WIDE BLADE
OF PLUG TO WIDE SLOT, FULLY INSERT.
ATTENTION:
POUR ÉVITER LES CHOCS ÉLECTRIQUES,
INTRODUIRE LA LAME LA PLUS LARGE DE LA FICHE DANS LA BORNE
CORRESPON DANTE DE LA PRISE ET POUSSER JUSQU'AU FOND.
TO REDUCE THE RISK OF FIRE OR ELECTRIC SHOCK,
DO NOT EXPOSE THIS APPLIANCE TO RAIN OR MOISTURE.
This unit employs a LASER. Only a qualified service person should remove the cover or attempt to service this
device, due to possible eye injury.
CAUTION-USE OF CONTROLS OR ADJUSTMENTS OR PERFORMANCE OF PROCEDURE OTHER THAN
THOSE SPECIFIED HEREIN MAY RESULT IN HAZARDOUS RADIATION EXPOSURE.
This equipment has been tested and found to comply with the
limits for a Class B digital device, pursuant to Part 15 of the FCC
Rules. These limits are designed to provide reasonable protec-
tion against harmful interference in a residential installation.
This equipment generates, uses and can radiate radio fre-
quency energy and, if not installed and used in accordance with
the instructions, may cause harmful interference to radio com-
munications. However, there is no guarantee that interference
will not occur in a particular installation. If this equipment does
cause harmful interference to radio or television reception,
which can be determined by turning the equipment off and on,
the user is encouraged to try to correct the interference by one
or more of the following measures:
­ Reorient or relocate the receiving antenna.
­ Increase the separation between the equipment and re-
­ Connect the equipment into an outlet on a circuit different
from that to which the receiver is connected.
­ Consult the dealer or an experienced radio/TV technician for
NOTE:
Changes or modifications may cause this unit to fail to
comply with Part 15 of the FCC Rules and may void the user's
authority to operate the equipment.
This Class B digital apparatus meets all
requirements of the Canadian Interference-
Causing Equipment Regulations.
Cet appareil numérique de la Classe B respecte
toutes les exigences du Règlement sur le materiel
---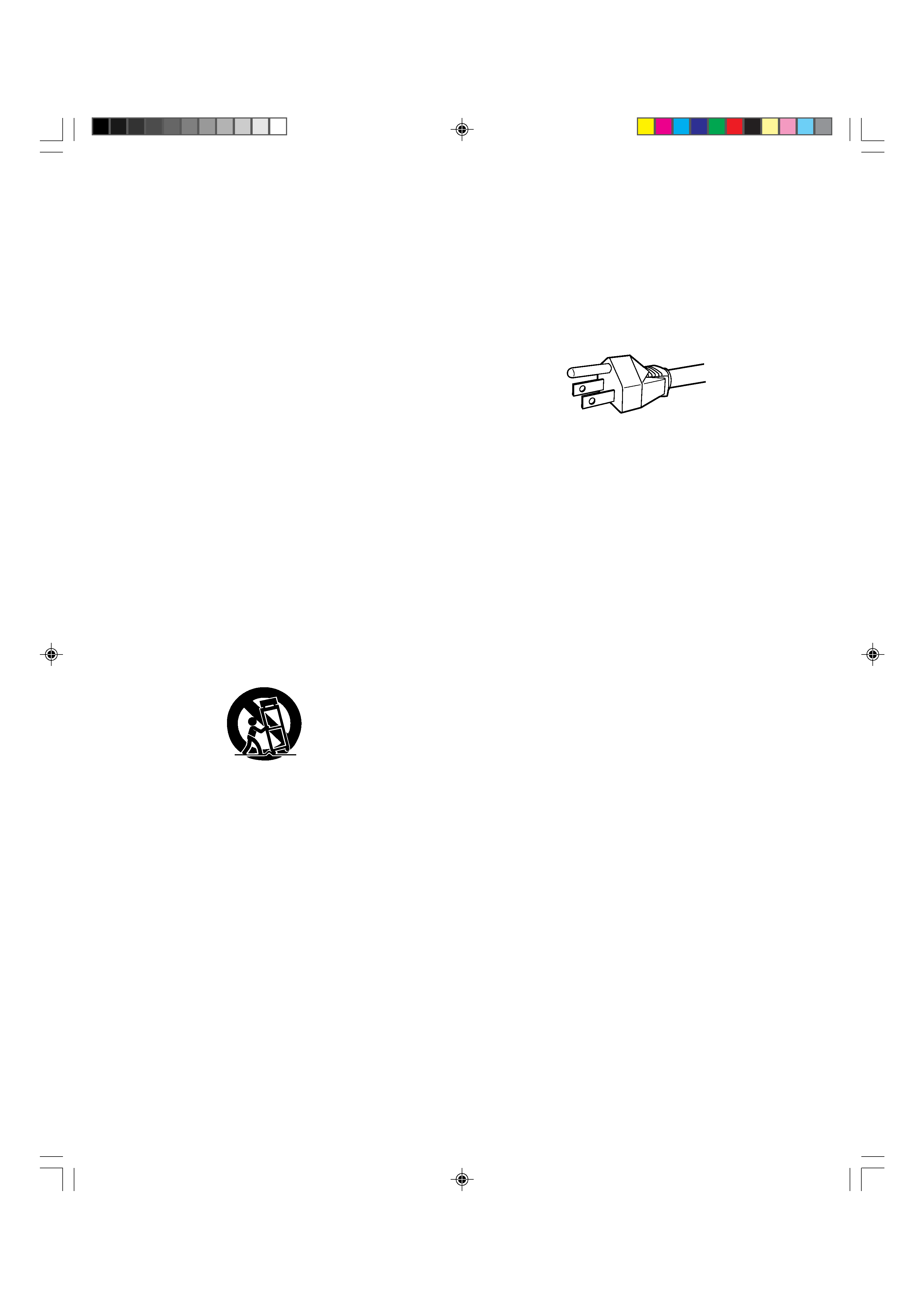 READ BEFORE OPERATING EQUIPMENT
This product was designed and manufactured to meet strict
quality and safety standards. There are, however, some installa-
tion and operation precautions which you should be particularly
1. Read Instructions -- All the safety and operating instruc-
tions should be read before the appliance is operated.
2. Retain Instructions -- The safety and operating instructions
should be retained for future reference.
3. Heed Warnings -- All warnings on the appliance and in the
operating instructions should be adhered to.
4. Follow Instructions -- All operating and use instructions
5. Water and Moisture -- The appliance should not be used
near water -- for example, near a bathtub, wash-bowl,
kitchen sink, laundry tub, in a wet basement, or near a
6. Carts and Stands -- The appliance should be used only
with a cart or stand that is recommended by the manufac-
7. An appliance and cart combination should be moved with
care. Quick stops, excessive force, and uneven surfaces
may cause the appliance and cart combination to overturn.
8. Wall or Ceiling Mounting -- The appliance should be
mounted to a wall or ceiling only as recommended by the
9. Ventilation -- The appliance should be situated so that its
location or position does not interfere with its proper ventila-
tion. For example, the appliance should not be situated on a
bed, sofa, rug, or similar surface that may block the ventila-
tion openings; or, placed in a built-in installation, such as a
bookcase or cabinet that may impede the flow of air through
the ventilation openings.
10. Heat -- The appliance should be situated away from heat
sources such as radiators, heat registers, stoves, or other
appliances (including amplifiers) that produce heat.
11. Power Sources -- The appliance should be connected to a
power supply only of the type described in the operating
instructions or as marked on the appliance.
12. Grounding or Polarization -- The precautions that should be
taken so that the grounding or polarization means of an
appliance is not defeated.
13. Power-Cord Protection -- Power-supply cords should be
routed so that they are not likely to be walked on or pinched
by items placed upon or against them, paying particular at-
tention to cords at plugs, convenience receptacles, and the
point where they exit from the appliance.
14. Cleaning -- The appliance should be cleaned only as recom-
mended by the manufacturer.
15. Nonuse Periods -- The power cord of the appliance should
be unplugged from the outlet when left unused for a long pe-
16. Object and Liquid Entry -- Care should be taken so that
objects do not fall and liquids are not spilled into the enclo-
17. Damage Requiring Service -- The appliance should be
serviced by qualified service personnel when:
A. The power-supply cord or the plug has been damaged; or
B. Objects have fallen, or liquid has spilled into the appli-
C. The appliance has been exposed to rain; or
D. The appliance does not appear to operate normally or ex-
hibits a marked change in performance; or
E. The appliance has been dropped, or the enclosure dam-
18. Servicing -- The user should not attempt to service the
appliance beyond that described in the operating instruc-
tions. All other servicing should be referred to qualified ser-
---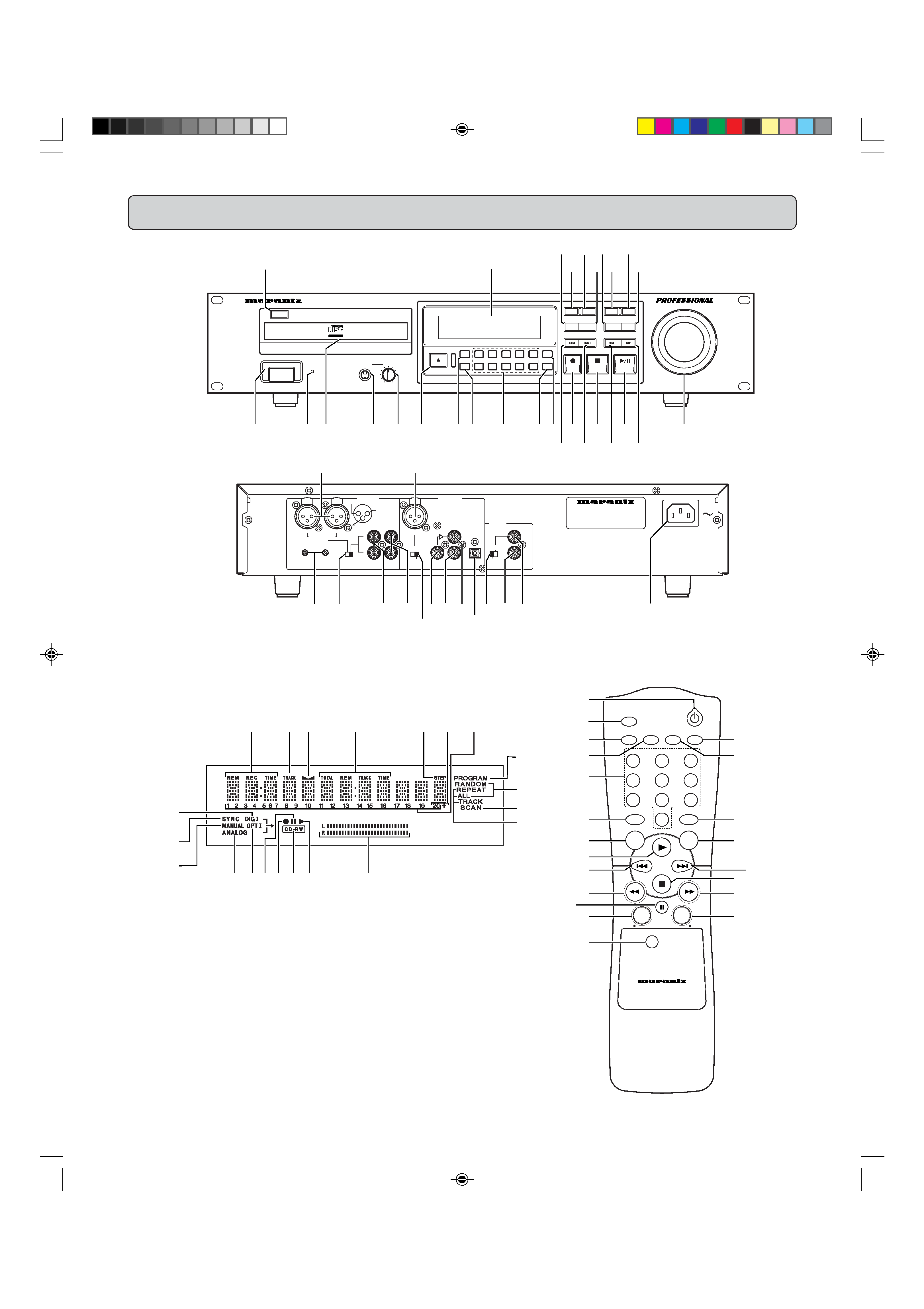 ---