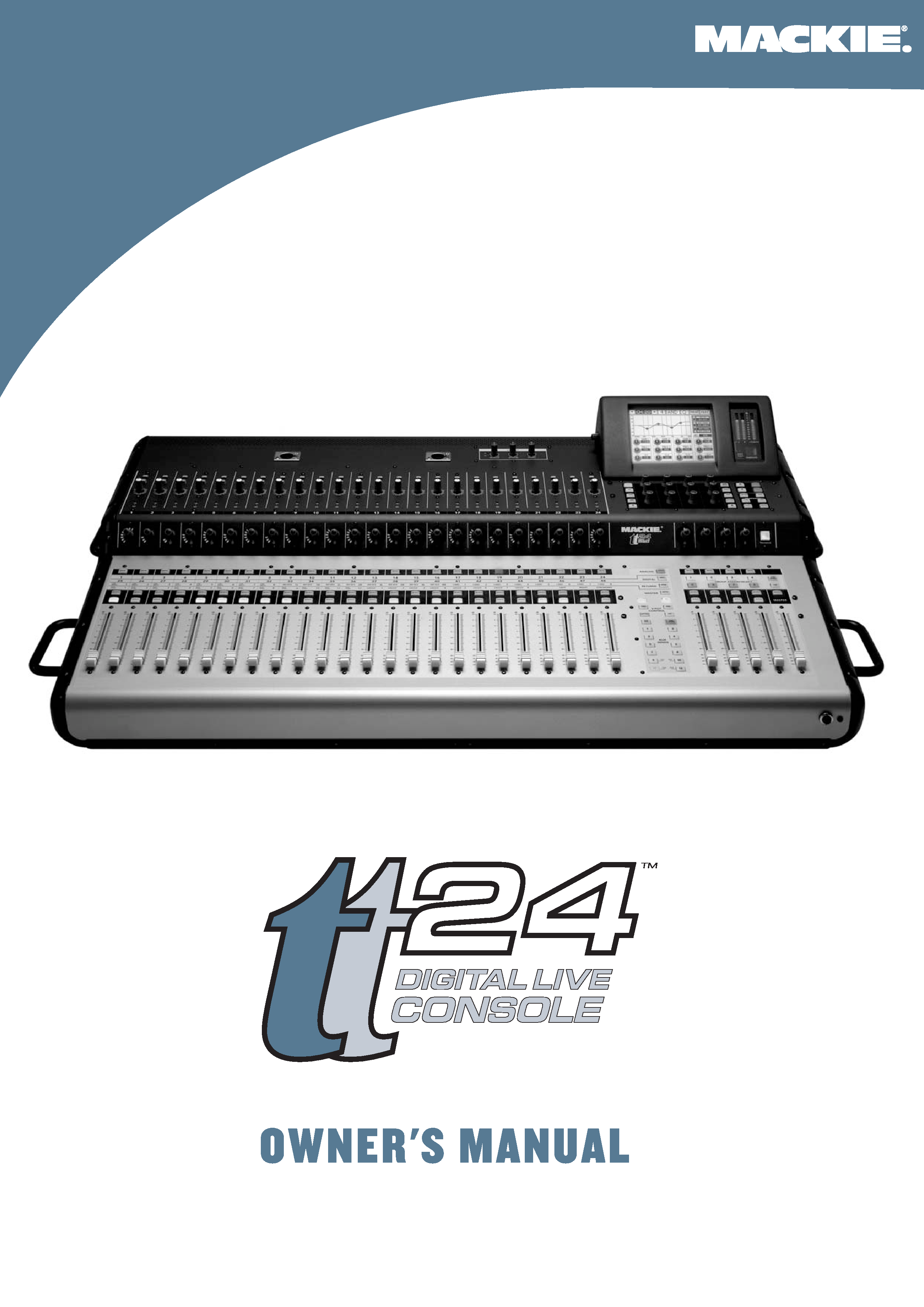 ---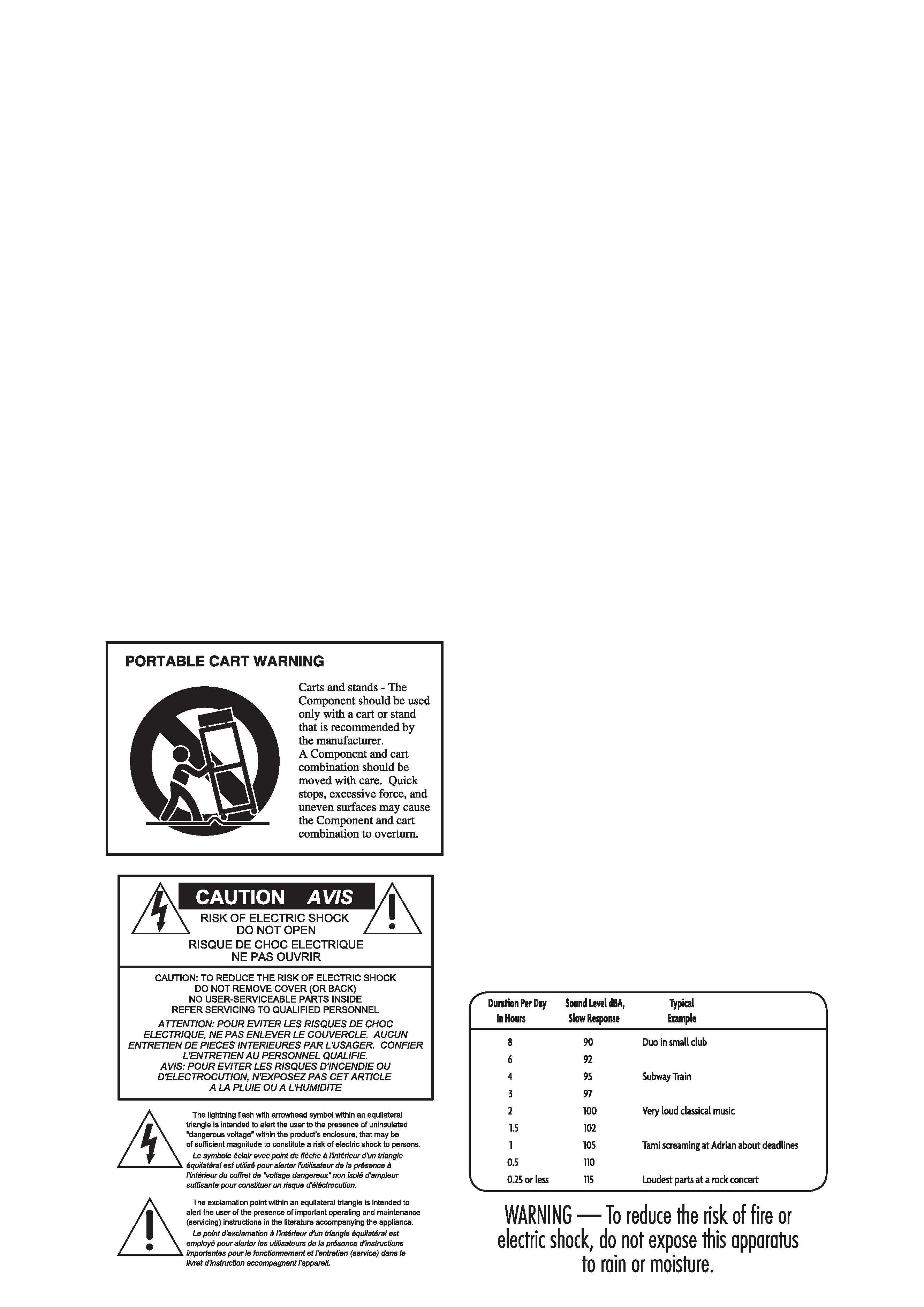 Important Safety Instructions
Do not use this apparatus near water.
Clean only with dry cloth.
Do not block any ventilation openings. Install in
accordance with the manufacturer's instructions.
Do not install near any heat sources such as
radiators, heat registers, stoves, or other
apparatus (including amplifiers) that produce heat.
Do not defeat the safety purpose of the polarized
or grounding-type plug. A polarized plug has two
blades with one wider than the other. A grounding-
type plug has two blades and a third grounding
prong. The wide blade or the third prong are
provided for your safety. If the provided plug does
not fit into your outlet, consult an electrician for
replacement of the obsolete outlet.
10. Protect the power cord from being walked on or
pinched particularly at plugs, convenience
receptacles, and the point where they exit from
11. Only use attachments/accessories specified by
12. Use only with a cart, stand, tripod, bracket, or
table specified by the manufacturer, or sold with
the apparatus. When a cart is used, use caution
when moving the cart/apparatus combination to
avoid injury from tip-over.
13. Unplug this apparatus during lightning storms or
when unused for long periods of time.
14. Refer all servicing to qualified service personnel.
Servicing is required when the apparatus has
been damaged in any way, such as power-supply
cord or plug is damaged, liquid has been spilled
or objects have fallen into the apparatus, the
apparatus has been exposed to rain or moisture,
does not operate normally, or has been dropped.
15. This mixer has been designed with Class-I
construction and must be connected to a mains
socket outlet with a protective earthing connection
(the third grounding prong).
16. This mixer has been equipped with an all-pole,
rocker-style AC mains power switch. This switch is
located on the rear panel and should remain
readily accessible to the user.
17. This apparatus does not exceed the Class A/Class
B (whichever is applicable) limits for radio noise
emissions from digital apparatus as set out in the
radio interference regulations of the Canadian
Department of Communications.
ATTENTION -- Le présent appareil numérique
n'émet pas de bruits radioélectriques dépassant las
limites applicables aux appareils numériques de
class A/de class B (selon le cas) prescrites dans le
réglement sur le brouillage radioélectrique édicté
par les ministere des communications du Canada.
18. Exposure to extremely high noise levels may
cause permanent hearing loss. Individuals vary
considerably in susceptibility to noise-induced
hearing loss, but nearly everyone will lose some
hearing if exposed to sufficiently intense noise for
a period of time. The U.S. Government's
Occupational Safety and Health Administration
(OSHA) has specified the permissible noise level
exposures shown in the following chart.
According to OSHA, any exposure in excess of
these permissible limits could result in some
hearing loss. To ensure against potentially
dangerous exposure to high sound pressure
levels, it is recommended that all persons
exposed to equipment capable of producing high
sound pressure levels use hearing protectors
while the equipment is in operation. Ear plugs or
protectors in the ear canals or over the ears must
be worn when operating the equipment in order to
prevent permanent hearing loss if exposure is in
excess of the limits set forth here.
---

Mackie TT24 Digital Live Console Owner's Manual
Chapter 1: Introduction..................................................................................... 9
1.1 Evolution of the TT24 Console ...................................................... 9
1.2 Summary of Features .................................................................. 10
1.2.1 DSP Functionality............................................................. 10
1.3 Terminology and Conventions..................................................... 12
Chapter 2: Quickstart Tutorial ..................................................................... 13
2.1 Connect Amplifier/Speakers........................................................ 13
2.2 Connect a Mic............................................................................... 13
2.3 Connect a CD/Tape Device .......................................................... 17
2.4 Aux Functions .............................................................................. 19
2.5 Effects ........................................................................................... 21
Chapter 3: Console Surface Controls .................................................... 23
3.1 Channel Strip............................................................................... 23
3.1.1 LINE .................................................................................. 24
3.1.2 48 V Phantom Power......................................................... 24
3.1.3 GAIN .................................................................................. 25
3.1.4 OL and SIG........................................................................ 25
3.1.5 V-Pot .................................................................................. 25
3.1.6 MUTE ................................................................................ 26
3.1.7 Bank/Channel Description Area ...................................... 26
3.1.8 SELECT............................................................................. 26
3.1.9 SOLO ................................................................................. 27
3.1.10 Channel Fader................................................................... 27
3.2 Bank Select Area.......................................................................... 28
3.2.1 ANALOG............................................................................ 28
3.2.2 DIGITAL............................................................................ 28
3.2.3 RETURNS ......................................................................... 28
3.2.4 MASTER............................................................................ 29
---

Mackie TT24 Digital Live Console Owner's Manual
3.3 V-Pot Control Area....................................................................... 29
3.3.1 TRIM.................................................................................. 29
3.3.2 PAN.................................................................................... 30
3.3.3 HPF.................................................................................... 30
3.3.4 METERS............................................................................ 31
3.3.5 AUX SENDS 1­12............................................................. 31
3.3.6 AUX PAN........................................................................... 31
3.3.7 AUX MODE ....................................................................... 32
3.4 QuickMix Area ............................................................................. 32
3.4.1 FAT .................................................................................... 34
3.4.2 EQ ...................................................................................... 34
3.4.3 DYN ................................................................................... 34
3.4.4 GRP/AUX........................................................................... 34
3.4.5 AUX MSTR ........................................................................ 35
3.4.6 SNAP.................................................................................. 35
3.4.7 EFX .................................................................................... 35
3.4.8 MATRIX............................................................................. 35
3.4.9 Engineer's Utility .............................................................. 35
3.4.10 Main Meters and RUDE SOLO LED ............................... 37
3.5 UTILITY Area.............................................................................. 38
3.5.1 TALKBACK ....................................................................... 38
3.5.2 MONITOR ......................................................................... 38
3.5.3 PHONES............................................................................ 39
3.6 Snapshots ..................................................................................... 39
3.7 Group and Master Controls......................................................... 40
3.7.1 Changing the Group Bank................................................ 40
3.7.2 Group Assignment ............................................................ 41
3.7.3 Group Parameter Control................................................. 41
3.8 Solo Area....................................................................................... 41
3.8.1 CLEAR SOLO.................................................................... 41
3.8.2 PFL..................................................................................... 41
---

Mackie TT24 Digital Live Console Owner's Manual
Chapter 4: Rear Panel Connectors.......................................................... 43
4.1 Analog I/O..................................................................................... 43
4.1.1 MIC Inputs 1­24 ............................................................... 43
4.1.2 LINE Inputs 1­24 ............................................................. 44
4.1.3 INSERTS 1­24 .................................................................. 44
4.1.4 AUX SENDS 1­12............................................................. 45
4.1.5 LINE INPUTS 1­8 (RETURNS) ...................................... 45
4.1.6 MONITOR ......................................................................... 46
4.1.7 CD/TAPE A IN/OUT ......................................................... 46
4.1.8 CD/TAPE B Input ............................................................. 46
4.1.9 TALKBACK MIC Input .................................................... 47
4.1.10 MAINS OUT...................................................................... 47
4.1.11 GROUP/MATRIX OUT ..................................................... 47
4.2 Digital I/O..................................................................................... 48
4.2.1 ADAT DIGITAL I/O .......................................................... 48
4.2.2 AES/EBU IN/OUT............................................................. 49
4.2.3 SPDIF IN/OUT.................................................................. 49
4.2.4 WORD CLOCK IN/OUT ................................................... 50
4.2.5 MIDI IN/OUT .................................................................... 50
4.2.6 USB.................................................................................... 50
4.3 IEC Power Receptacle.................................................................. 50
4.4 POWER Switch ............................................................................ 50
Chapter 5: DSP and Internal Effect Allocation.................................. 51
5.1 Analog, Digital, and Line Inputs................................................. 51
5.2 Master L/R and C/Mono............................................................... 52
5.2.1 L/R+Mono and LCR Modes............................................... 52
5.2.2 Six-Band EQ...................................................................... 53
5.2.3 Compressor ........................................................................ 53
5.2.4 Fader Position in Signal Path .......................................... 53
5.3 Aux Send ...................................................................................... 53
5.3.1 Six-Band Parametric EQ .................................................. 54
5.3.2 Compressor ........................................................................ 54
---