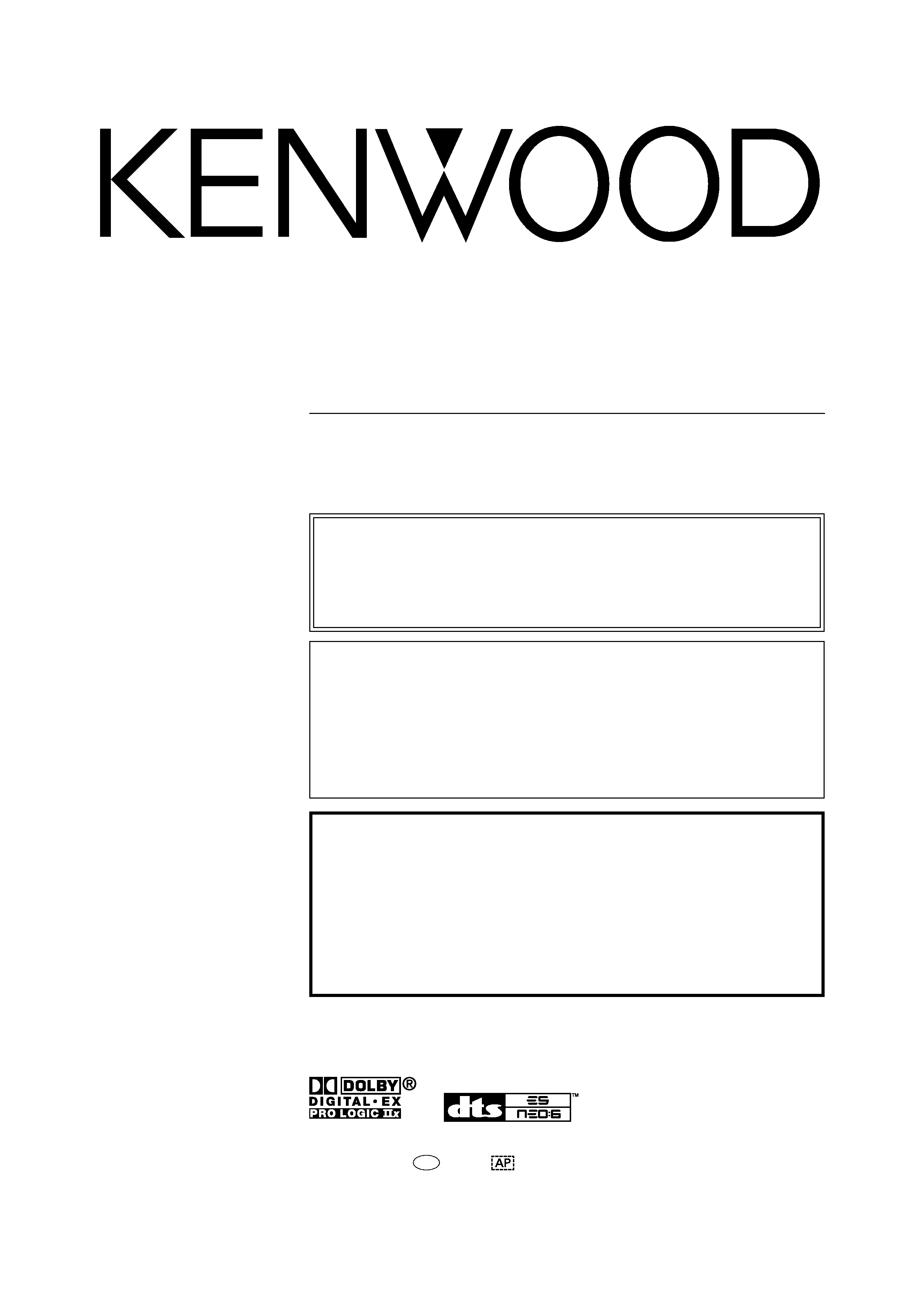 B60-5484-00 00 MA ( K, P )
AUDIO VIDEO SURROUND RECEIVER
About the supplied remote control
Compared to standard remote controls, the remote control supplied with this receiver has
several operation modes. These modes enable the remote control to control other audio/
video components. In order to effectively use the remote control, it is important to read
the operating instructions and obtain a proper understanding of the remote control and
how to switch its operation modes (etc.).
Using the remote control without completely understanding its design and how to switch the
operation modes may result in incorrect operations.
Please read the following pages so that you can enjoy the surround sound at the best
(These pages give shortcut explanations on how to connect the speaker system to the
receiver, set up the speakers and play a source.)
"Let's play DVD video software"
Register your Kenwood Home Audio product
Plus opt in to receive e-mail updates and other offers when you
register at our web site.
---

Units are designed for operation as follows.
Caution : Read this page carefully to ensure safe operation.
U.S.A. and Canada ........................................... AC 120 V only
THE EXCLAMATION POINT WITHIN AN EQUILATERAL TRIANGLE IS INTENDED TO ALERT THE USER TO
THE PRESENCE OF IMPORTANT OPERATING AND MAINTENANCE (SERVICING) INSTRUCTIONS IN THE
LITERATURE ACCOMPANYING THE APPLIANCE.
THE LIGHTNING FLASH WITH ARROWHEAD SYMBOL, WITHIN AN EQUILATERAL TRIANGLE, IS INTENDED
TO ALERT THE USER TO THE PRESENCE OF UNINSULATED "DANGEROUS VOLTAGE" WITHIN THE PROD-
UCT'S ENCLOSURE THAT MAY BE OF SUFFICIENT MAGNITUDE TO CONSTITUTE A RISK OF ELECTRIC
CAUTION: TO REDUCE THE RISK OF ELECTRIC SHOCK, DO
NOT REMOVE COVER (OR BACK). NO USER-SERVICEABLE
PARTS INSIDE. REFER SERVICING TO QUALIFIED SERVICE
TO PREVENT FIRE OR ELECTRIC SHOCK, DO NOT EXPOSE
THIS APPLIANCE TO RAIN OR MOISTURE.
---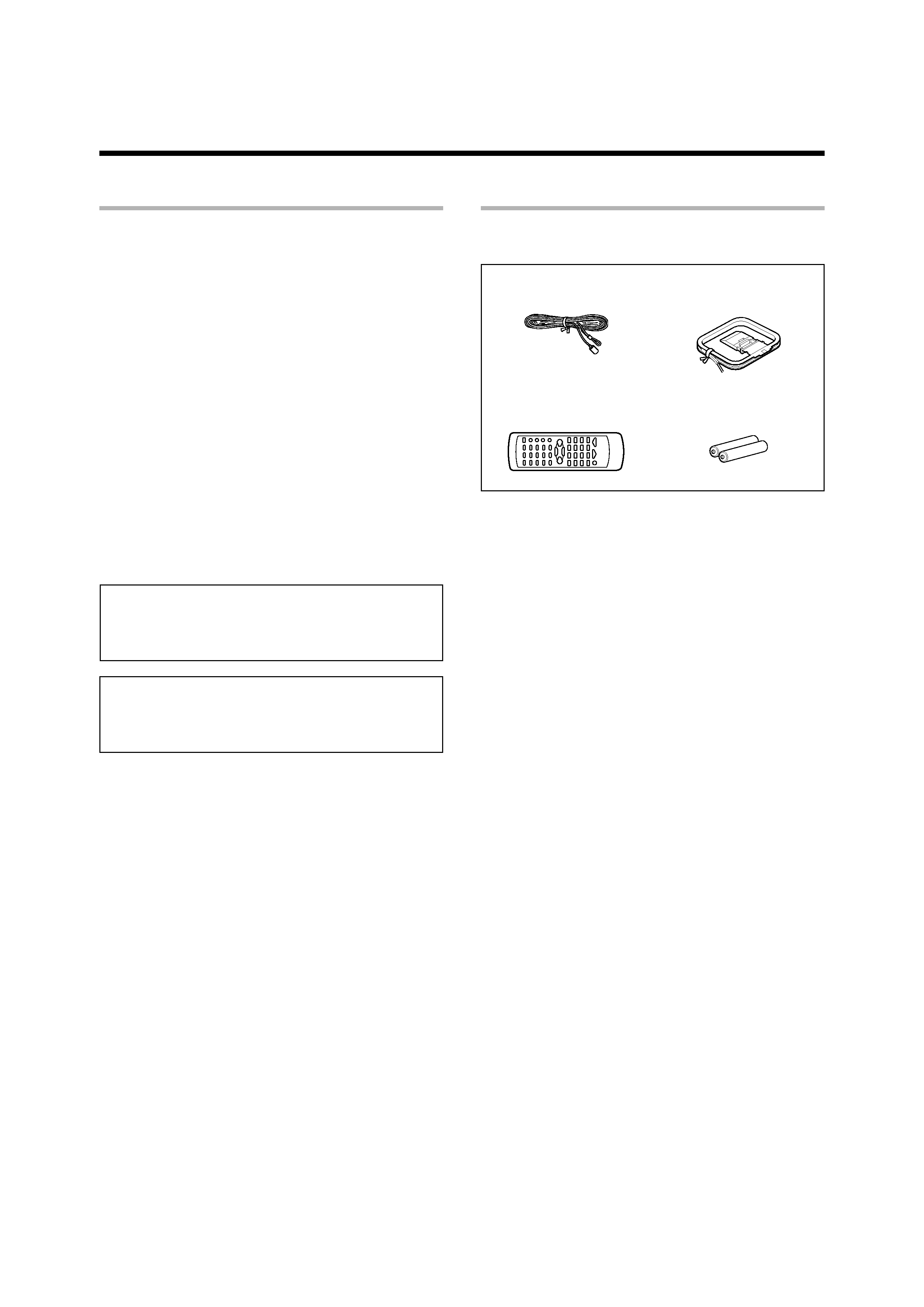 Before applying the power
This manual is divided into four sections, Preparations, Operations,
Remote Control, and Additional Information.
Shows you how to connect your audio and video components to the
receiver and prepare the surround processor. Since this receiver works
with all your audio and video components, we will guide you in setting up
your system to be as easy as possible.
Shows you how to operate the various functions available on the
Shows you how to operate other components using the remote control,
as well as a detailed explanation of all remote control operations. Once
you have setup the remote control, you'll be able to operate both this
model and your KENWOOD DVD player using the remote control
supplied with this model.
Shows you additional information such as "In case of difficulty" (trouble
shooting) and "Specifications".
When the front panel or case becomes dirty, wipe with a soft, dry
cloth. Do not use thinner, benzine, alcohol, etc. for these agents may
In regard to contact cleaner
Do not use contact cleaners because it could cause a malfunction. Be
specially careful not to use contact cleaners containing oil, for they
may deform the plastic component.
Unpack the unit carefully and make sure that all the accessories
If any accessories are missing, or if the unit is damaged or fails
to operate, notify your dealer immediately. If the unit was
shipped to you directly, notify your shipper immediately. Kenwood
recommends that you retain the original carton and packing
materials in case you need to move or ship the unit in the future.
Keep this manual handy for future reference.
---

Before applying the power
This receiver incorporates a wide variety of surround modes to bring you
maximum enjoyment from your video software. Select a surround mode
according to your equipment or the software you are going to play and enjoy!
÷ Dolby PRO LOGIC IIx, Dolby PRO LOGIC II
ACTIVE EQ mode will produce a more dynamic sound quality in any
condition. You can enjoy a more impressive sound effect when ACTIVE
EQ is turned on during Dolby Digital and DTS playback.
In addition to the basic receiver, the remote control supplied with this
receiver can also operate KENWOOD DVD player. Just follow the simple
---

Before applying the power
Caution : Read the pages marked
carefully to ensure safe operation.
Before applying power ........................................... 2
Safety precautions ............................................... 2
How to use this manual ............................................. 3
Unpacking .................................................................. 3
Special features ......................................................... 4
Contents .................................................................... 5
Names and functions of parts ...................................... 6
Main unit .................................................................... 6
Remote control unit ................................................... 7
Setting up the system ............................ 8
Connecting a DVD player ............... 9
Connecting video components, audio
components ................................. 10
Digital connections ....................... 11
Connecting the speakers ............. 12
Connecting the speaker terminals ... 13
PRE OUT connections .................. 14
Connecting to the FRONT AUX jacks ... 14
Connecting the antennas ............. 15
Preparing the remote control ....... 15
Let's play DVD video software
......................................................... 16
Preparing for playback ......................... 18
Speaker settings .......................... 18
Normal playback ................................... 22
Listening to a source component ... 22
Adjusting the sound ..................... 23
Recording .............................................. 25
Analog sources .............................. 25
Digital sources ............................... 25
Listening to radio broadcasts .............. 26
Tuning radio stations .................... 26
Presetting radio stations .............. 26
Receiving preset stations ............. 27
Receiving preset stations in order
(P.CALL) ........................................ 27
Ambience effects .................................. 28
Surround modes ........................... 28
Surround play ............................... 30
Convenient functions ........................... 32
Basic remote control operations for other
components .......................................... 34
DVD player operation keys ........... 34
In case of difficulty ................................ 35
Specifications ........................................ 37
---