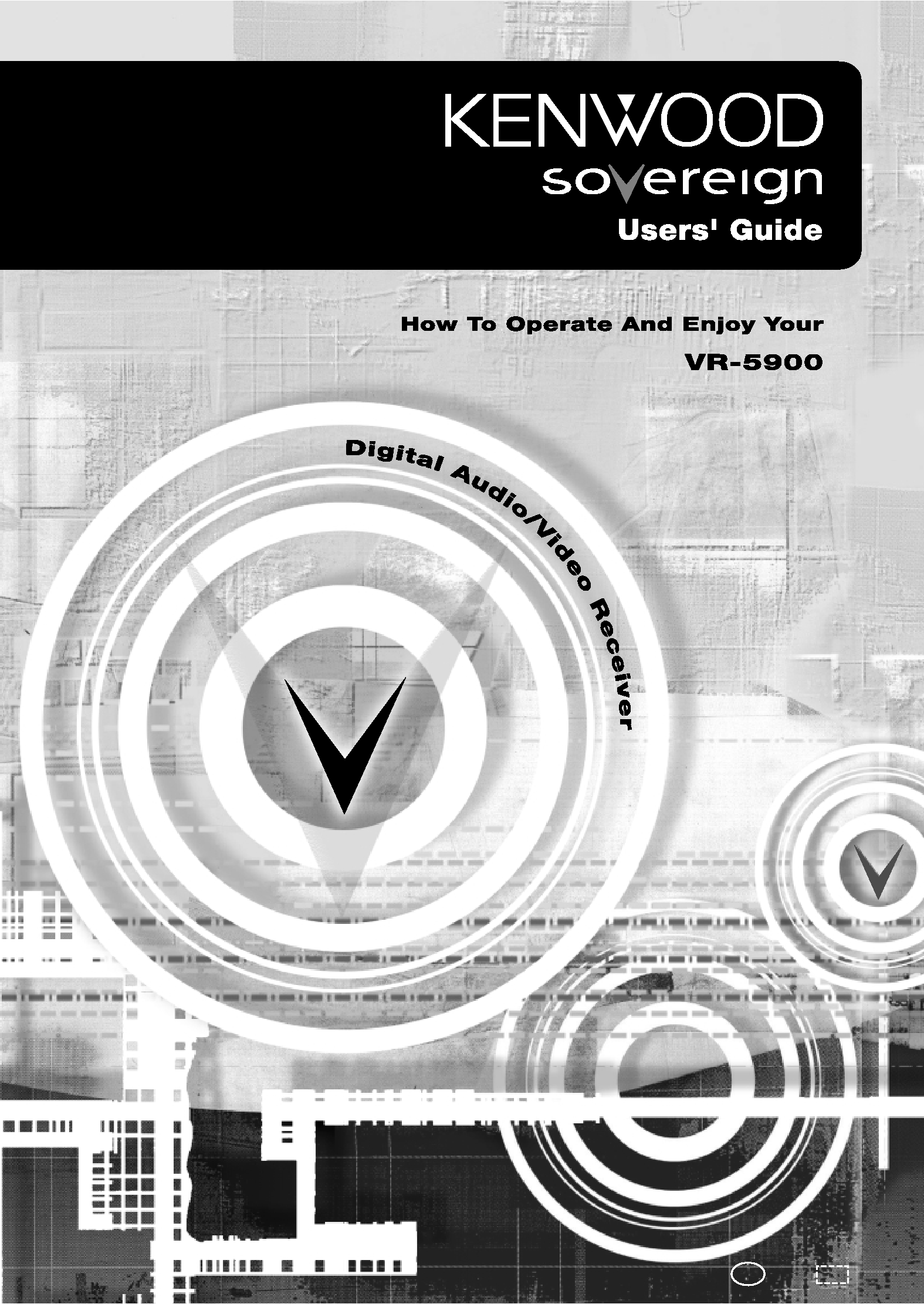 B60-5016-00 02 CH (K,P) OC 0011
--- Using Your New Kenwood Audio-Video
Welcome to the Users' Guide for your new Kenwood Audio-Video Receiver.
The VR-5900 connects all your current audio and video components. It
allows you to control them all with Kenwood's remarkable PowerTouch
III touch screen remote--a graphical user interface without having to use
The VR-5900 adds dual-zone/dual-source operation, letting you play two
different A/V sources independently in two different rooms! For a match
made in "dual-zone heaven," add Kenwood's dual-transport CD-2280M,
or CD-3280M 200-Disc CD Changer to the VR-5900.
NetFront® by Access Co., Ltd. is adopted for this product.
Copyright© 1996, 1997 Access Co., Ltd.
NetFront® is registered trademark of Access Co.,Ltd. in Japan.
---

Chapter One: Moving Around ................................. 1
What's on the Front Panel of Your Kenwood Audio - Video
Receiver? ................................................................................... 2
What's on PowerTouch III? ...................................................... 3
What's on PowerTouch III's Screen? ....................................... 4
The Quick Access Menu: ...........................................................4
How is PowerTouch III Powered? ............................................. 5
How Do I Use PowerTouch III? ................................................ 6
How Do I Move Around? ........................................................ 7
How Do I Enter Text? ............................................................... 8
Chapter Two: Using PowerTouch III ........................ 9
How Do I Adjust the Sound? ................................................. 10
Turning the Speakers On ........................................................ 10
Adjusting the Volume ............................................................. 11
Adjusting the Loudness (Only in STEREO mode with THX
mode Off) ........................................................................... 11
Adjusting the Tone (Only in STEREO mode with THX mode
Off) ..................................................................................... 12
Adjusting Speaker Levels ....................................................... 13
Muting Sound ........................................................................ 15
Midnight Theater Function (Dolby Digital, DTS and DTS-ES
only) ................................................................................... 16
To balance volume extremes ................................................. 16
---

How Do I Adjust the Surround Modes? ................................. 17
What is the THX? ................................................................... 17
What are Listen Modes? ......................................................... 18
To check the Surround Play Status ........................................ 21
Input Modes ........................................................................... 22
To set the Input Mode manually .......................................... 23
To set the THX Mode ............................................................. 24
To set the Listen Mode manually .......................................... 26
Selectable Listen Modes ........................................................ 27
Selecting the Pro Logic mode with PowerTouch III ............ 28
Description of Dolby Pro Logic II: Music Modes ................ 29
Applying Digital Signal Processor (DSP) Effects ................. 30
HDCD® and D.R.I.V.E. Effects .............................................. 33
Headphone Operation .......................................................... 34
How Do I Operate Devices? ................................................... 35
Controlling a device without altering the receiver's input
selection (Operations using the SHIFT button) .............. 36
HOME1, HOME2 Devices ..................................................... 37
Playback of the device connected to the CD2/TAPE2
MONITOR .......................................................................... 39
CD player ................................................................................ 40
Kenwood System Connected 200-Disc CD Changer .......... 40
To play Kenwood 200-Disc CD Changer (without system
connection) using PowerTouch III ................................... 46
Single CD or Carrousel CD Player ......................................... 51
CD-R Recorder ....................................................................... 52
MD Recorder .......................................................................... 53
Tape Deck ............................................................................... 55
Turntable ................................................................................ 56
---

Tuner ....................................................................................... 57
TV ........................................................................................... 62
VCR/PVR ................................................................................. 66
DVD Player ............................................................................. 67
Laser Disc Player .................................................................... 68
Operation on the More menu .............................................. 69
How Do I Record? (Edit Mode) ............................................. 70
Digital to Digital Recording .................................................. 72
Digital to Analog Recording .................................................. 72
How Do I Adjust PowerTouch III's Display? .......................... 73
How Do I See PowerTouch III's Screen More Clearly? ........ 74
How Do I Turn the Beeping On or Off? ............................... 74
Using PowerTouch III to Dim or Brighten the Receiver's
Front Panel ......................................................................... 75
How Do I Perform Several Actions at Once? ......................... 76
Creating Macros ..................................................................... 77
To check a Macro ................................................................... 78
Modifying a macro ................................................................ 78
Using Macros .......................................................................... 80
How Do I Control Home Automation Equipment? .............. 82
To switch on or switch off the RELAY CONTROL output
using PowerTouch III ........................................................ 82
To switch the video and audio outputs to Zone A or Zone B
while Zone A or Zone B is selected .................................. 83
X-10 Home Automation ........................................................ 83
Lutron ..................................................................................... 85
---