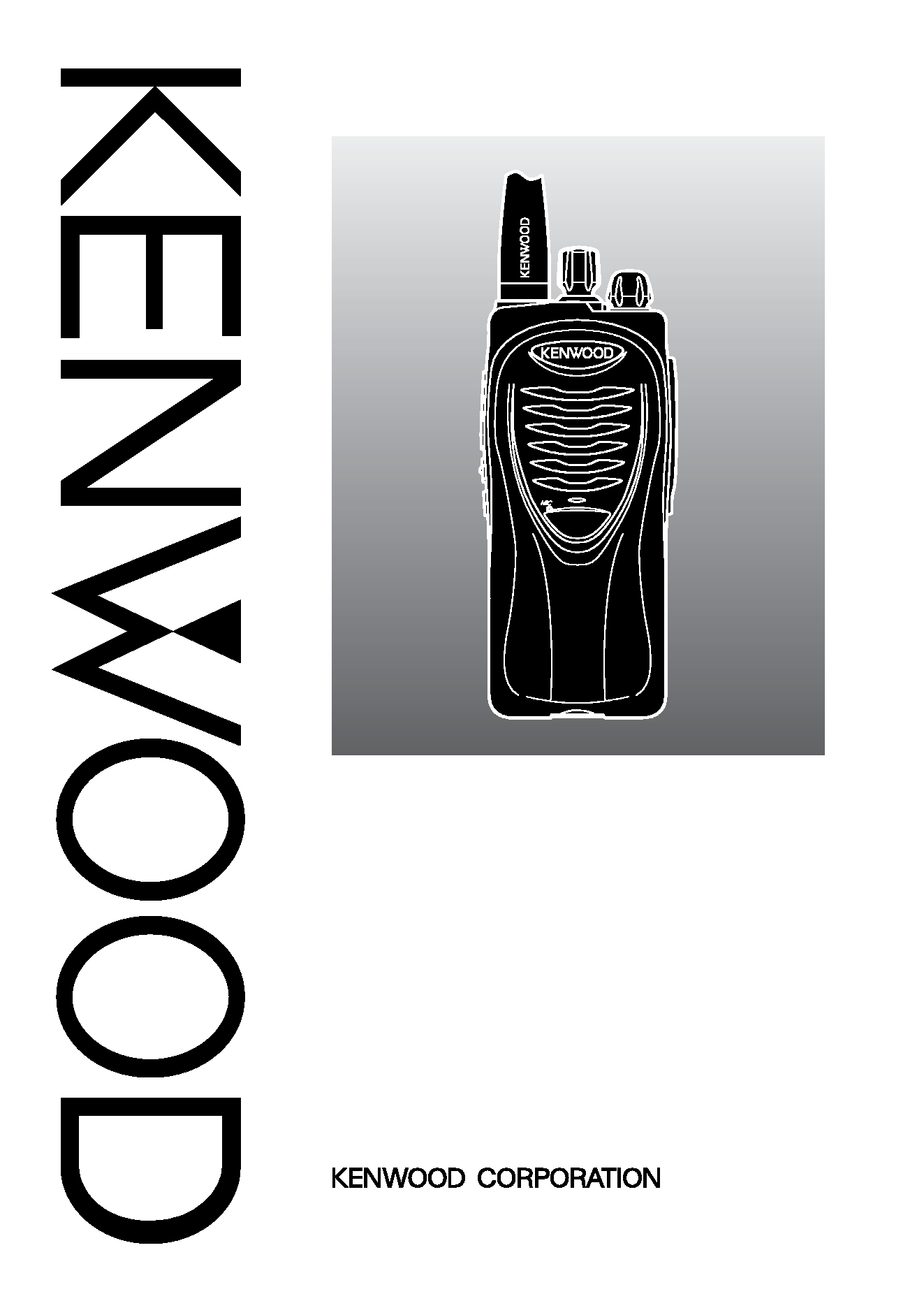 09 08 07 06 05 04 03 02 01 00
---

We are grateful for your purchase of this KENWOOD product
and welcome you to the Business Radio Service (BRS).
Your KENWOOD 2-way Business Radio is called a
"transceiver", meaning "transmitter & receiver". We believe
this easy-to-use transceiver will provide you with dependable
and reliable communications. This KENWOOD transceiver is
a precision device. Treat it with care, and you will enjoy years
M
ODELS
C
OVERED BY THIS
M
ANUAL
2-channel VHF FM Transceiver
2-channel UHF FM Transceiver
TK-2200 (K2): 8-channel VHF FM Transceiver
TK-3200 (K2): 8-channel UHF FM Transceiver
·2 channels (K) or 8 channels (K2) with 27 operating
frequencies (TK-2200) or 56 operating frequencies
(TK-3200) and 122 tone/ code settings for each channel
allowing you to ignore unwanted calls.
Built in voice scrambler gives you complete privacy for
Hands free operation when using an optional headset.
·Voice announcement lets you know which channel you
have selected and which settings you have made when
reassigning key functions and channel settings.
---

Note: The listed ranges are based on field testing and may vary with
your operating conditions and individual transceiver.
---

Your KENWOOD transceiver operates on communications
frequencies which are subject to FCC (Federal
Communications Commission) Rules & Regulations. FCC
Rules require that all operators using Private Land Mobile
radio frequencies obtain a radio license before operating their
equipment. Application for license must be made on FCC
form 601, schedules D and H, and Remittance form 159
FAX: Forms can be obtained by fax from the FCC Fax-On-
Demand system. Call 1-202-418-0177 from your fax machine
and request document number 000601 for the form,
schedules, and instructions.
MAIL: Forms can be ordered by telephone, and will be sent
to you by first class mail. Call the FCC Forms Hotline at
1-800-418-FORM (1-800-418-3676).
INTERNET: Form 601 and instructions can be downloaded
from the FCC Forms website at
http://www.fcc.gov/formpage.html
Before filling out your Form 601 application Technical Data
section, you must decide on which frequencies you will
operate. See the frequency charts on pages 18 and 19.
QUESTIONS? Call the FCC for license application questions
at 1-888-CALL-FCC (1-888-225-5322).
The TK-2200 uses 25 kHz channel spacing and the TK
uses 12.5 kHz channel spacing per FCC regulations. Optimal
sound quality may not be obtained when communicating with
other transceivers that do not have these channel spacing
---

Refer service to qualified technicians only. Do not modify
or attempt to adjust this transceiver for any reason.
Do not expose the transceiver to long periods of direct
sunlight, nor place it close to heating appliances.
Do not place the transceiver in excessively dusty, humid,
or wet areas, nor on unstable surfaces.
·Avoid extremes in exposure to weather, heat, and cold.
This transceiver can be used in mild weather conditions,
but it is not waterproof.
·Turn OFF your transceiver while taking on fuel or while
parked in gasoline service stations.
Do not operate your transceiver or charge your battery pack
in an explosive atmosphere (gases, dust, fumes, etc.).
If an abnormal odor or smoke is detected coming from the
transceiver, immediately switch OFF the power and
remove the battery pack from the transceiver. Contact
Government law prohibits the operation of unlicensed radio
transmitters within the territories under government control.
Illegal operation is punishable by fine and/or imprisonment.
Refer service to qualified technicians only.
Safety: It is important that the operator is aware of, and
understands, hazards common to the operation of any
EXPLOSIVE ATMOSPHERES (GASES, DUST, FUMES, etc.)
Turn off your transceiver while taking on fuel, or while parked in
gasoline service stations.
---