 Complete Guide to Your Entré Entertainment Hub, ver. 3.0
Complete Guide to Your New Kenwood
Welcome to the Complete Guide to your new Kenwood Sovereign Entré.
With Entré, enjoy traditional media, like FM/AM radio, CDs, and DVDs,
alongside exciting new media, such as MP3s and Internet radio. Entré allows
you to control, organize and enjoy your collections from one easy-to-
In fact, Entré's on-screen menus are so easy to use that you can begin
enjoying Entré right away, without even reading through this guide. Keep this
guide handy as a reference to take full advantage of Entré's more
Many of Entré's features require Entré to be connected to the Internet, a
Kenwood Sovereign DVD/CD changer, Kenwood CD changer with Compact
Disc Database (CDDB) capability, and/or a Kenwood Sovereign Receiver.
Features requiring external products or services are noted throughout the
Entré is a dynamic product. Software updates allow Kenwood and
OpenGlobe to provide new functions and capabilities. Refer to the Kenwood
USA Web site at www.kenwoodusa.com for the latest information regarding
Use this guide to familiarize yourself with Entré's capabilities--and quickly
enjoy its state-of-the-art technology.
OpenGlobe, the OpenGlobe logo,
CE-Commerce and entertain simplicity are
trademarks of OpenGlobe, Inc.
CDDB is a registered trademark of GraceNote.
All other trademarks are property of their registered owners.
---
Complete Guide to Your New Kenwood Sovereign Entré
Complete Guide to Your Entré Entertainment Hub, ver. 3.0
How Should I Unpack My Entré?
Unpack your new Entré carefully and make sure that all of the accessories are
If any accessories are missing, or if the Entré is damaged or fails to operate,
notify your dealer immediately. If your Entré was shipped to you directly,
notify your shipper immediately. Kenwood recommends that you retain the
original carton and packing materials in case you need to move or ship your
Read this section carefully to ensure safe operation.
Kenwood Sovereign Entré is designed for operation only on AC 120V current.
Entré must be connected to a 120V AC outlet that supplies constant voltage.
Do not use an outlet controlled by a switch, or the switched power outlet on
a receiver or other audio component.
---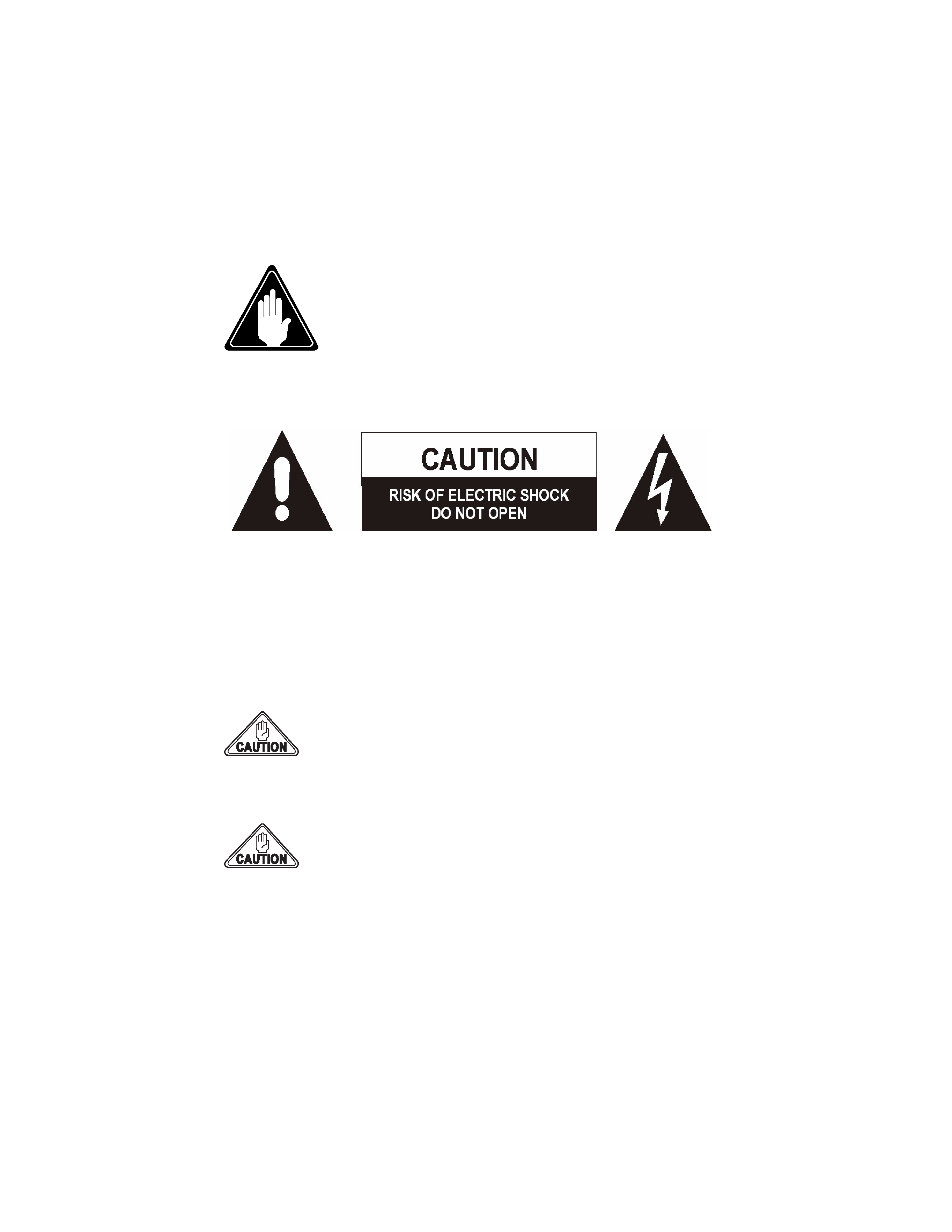 How Do I Use My Entré Safely?
Complete Guide to Your Entré Entertainment Hub, ver. 3.0
How Do I Use My Entré Safely?
Read this section carefully to ensure safe operation.
·Do not expose your Entré to rain or moisture.
·Do not remove the cover.
There are no user-serviceable parts inside. If your Entré
requires repair, take it to an authorized service outlet.
The following icons indicate the presence of uninsulated dangerous voltage
that may be of sufficient magnitude to cause electric shock:
How Does Entré Connect to the Internet?
Many of Entré's capabilities, including downloading CD information,
connecting to Internet radio stations, and automatic software updates, require
a specific type of Internet connection.
You must have a third-party Internet Service Provider (ISP) to access the
above-mentioned features.
You must have an ISP to enjoy Entré. If you don't already
have an ISP, you will be prompted to obtain one from
OpenGlobe during the Quick Start Setup process (see "How
Do I Power-Up Entré for the Very First Time?" on page 24)
by calling a toll-free number.
Because free ISPs, AOL, and CompuServe do not use
standard methods of Internet connectivity, and do not open
their networks to outside users, you cannot use these ISPs
---

Complete Guide to Your New Kenwood Sovereign Entré
Complete Guide to Your Entré Entertainment Hub, ver. 3.0
If Entré fails to respond to front panel or remote commands or if it responds
erroneously, use the following procedure to reset it:
1. Hold
POWER
down until the Standby Indicator begins to flash on and off,
2. When the Standby Indicator stops flashing and is lit constantly, press
---

Complete Guide to Your Entré Entertainment Hub, ver. 2.0
Complete Guide to Your New Kenwood Sovereign Entré i
How Should I Unpack My Entré? ........................................ii
How Do I Apply Power? .....................................................ii
How Do I Use My Entré Safely? .........................................iii
How Does Entré Connect to the Internet? ..........................iii
How Do I Reset Entré?....................................................... iv
Table of Contents ............................................................ v
Chapter 1: Setting Up and Configuring Your Entré.......... 1
How Do I Connect to My TV?.............................................2
Understanding Video Connection Types................................. 3
Watching TV without Turning on Entré.......................................... 3
What Do You Want to Do Next?................................................... 3
How Do I Connect to My Kenwood Sovereign Receiver or
Amplifier? ...........................................................................4
Before You Begin.................................................................... 5
Connecting a Kenwood Sovereign Receiver................................... 5
Connecting to Power .................................................................... 5
What Do You Want to Do Next?................................................... 5
How Do I Connect to My Kenwood Sovereign DVD or CD
Changer (with a Sovereign Receiver)?..................................6
Before You Begin.................................................................... 7
Connecting to Power .................................................................... 7
What Do You Want to Do Next?................................................... 7
How Do I Connect to My Kenwood Sovereign DVD Changer
(with a Non-Kenwood Receiver)?, continued ......................9
Before You Begin .......................................................................... 9
Connecting Entré to a non-Sovereign Primary Receiver ................. 9
---