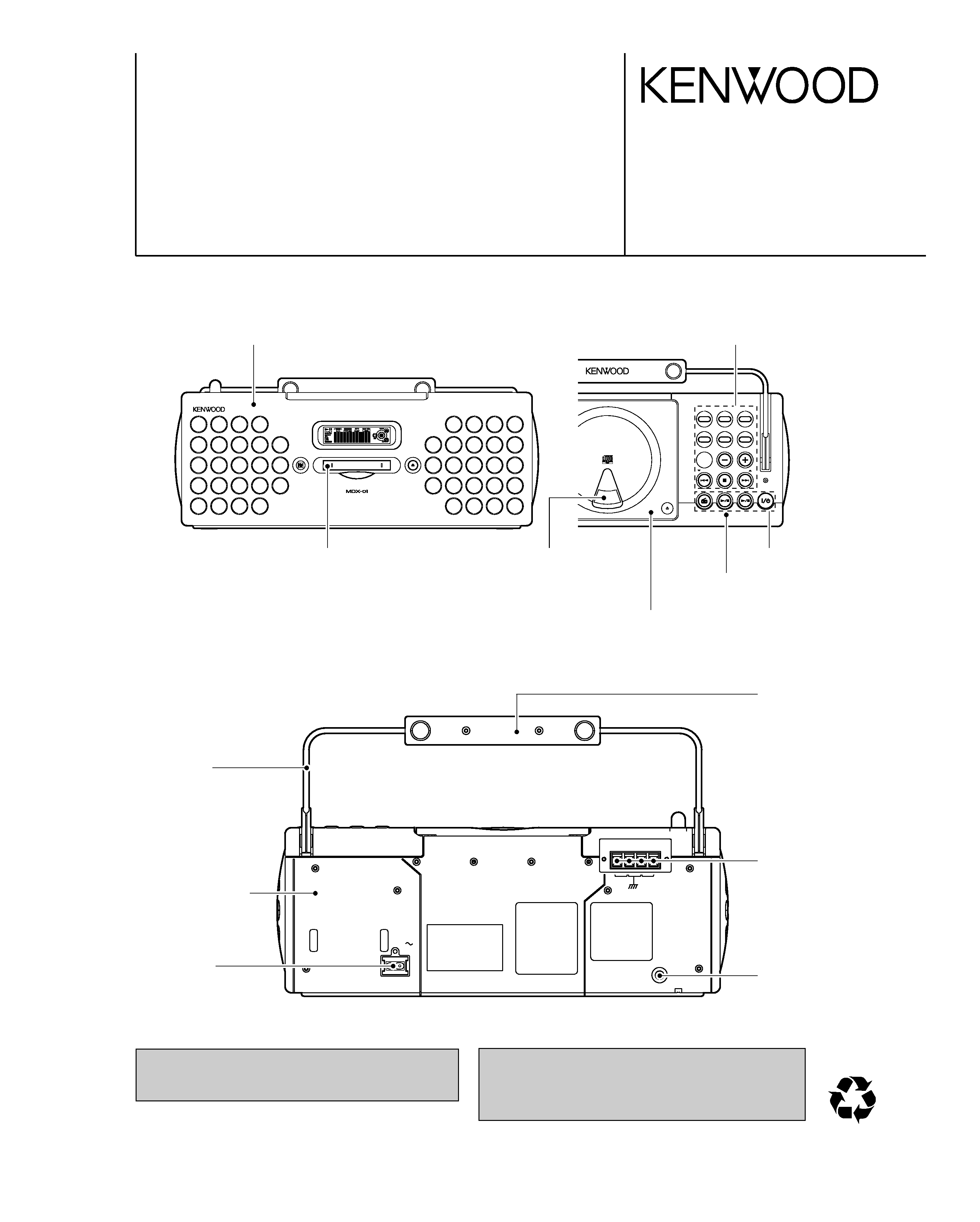 MD PERSONAL STEREO SYSTEM
© 2000-12/B51-5691-00 (K/K) 332
MD PERSONAL STEREO SYSTEM
Note:
Please contact KENWOOD service in your side if
you want to get the AC power cord.
In compliance with Federal Regulations, following are
repro-duction of labels on, or inside the porduct relating to
KENWOOD-Crop. certifies this equipment conforms to DHHS
Regulations No.21 CFR 1040. 10, Chapter 1, Subchapter J.
DANGER : Laser radiation when open and interlock defeated.
AVOID DIRECT EXPOSURE TO BEAM.
Front cabinet(OUTER) ass'y
D: ORANGE, H: GREY, L: BLUE, R: RED, S: SILVER
---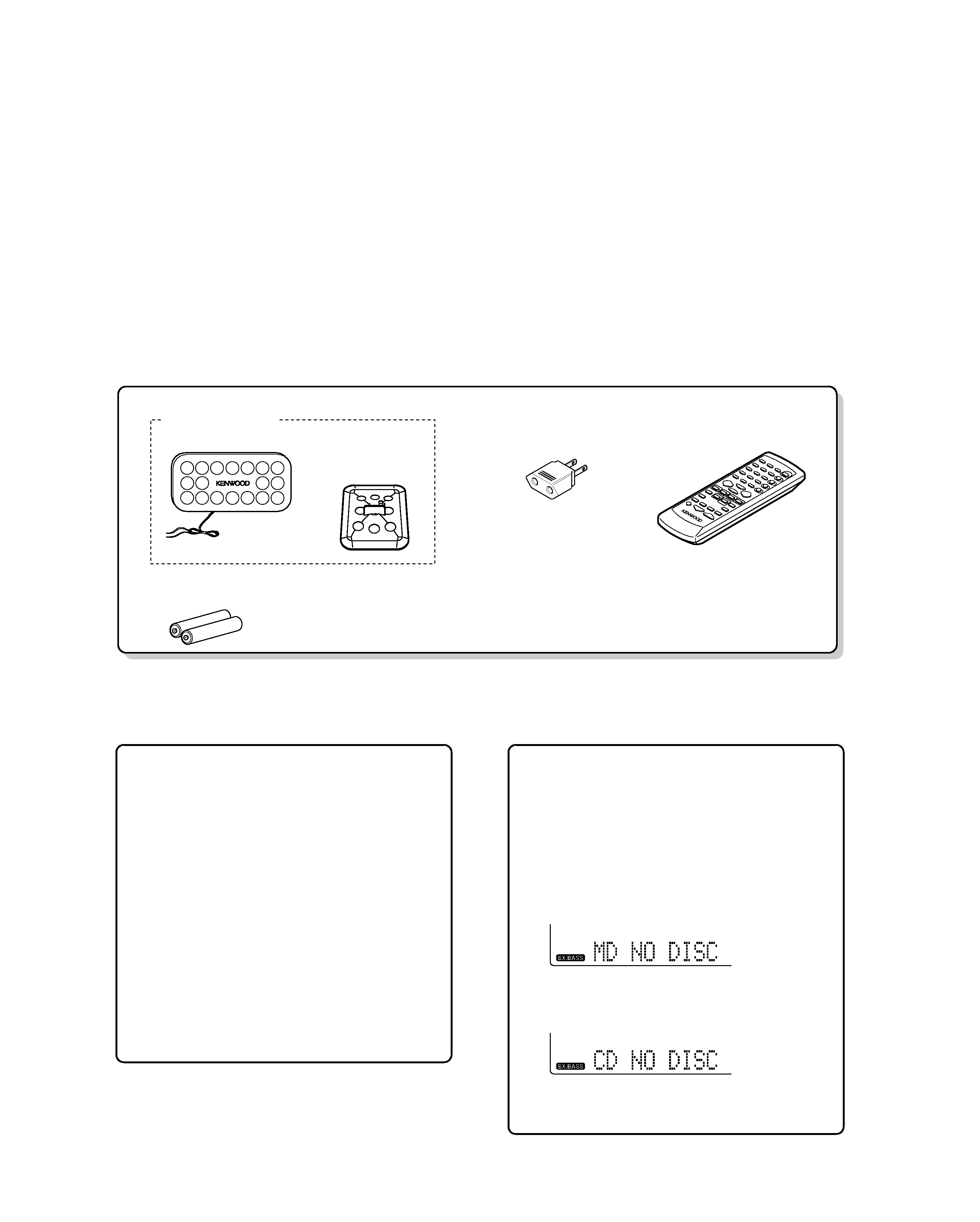 Battery cover (A09-1191-08)
CONTENTS / ACCESSORIES .................................. 2
DISASSEMBLY FOR REPAIR....................................3
CIRCUIT DESCRIPTION ............................................4
ADJUSTMENT ............................................................8
PARTS DESCRIPTIONS ............................................9
PC BOARD .............................................................. 10
SCHEMATIC DIAGRAM .......................................... 13
EXPLODED VIEW ....................................................25
PARTS LIST..............................................................27
SPECIFICATIONS ......................................Back cover
Condensation (of dew) may occur inside
the unit when there is a great difference in
temperature between this unit and the out-
This unit may not function properly if con-
densation occurs. In this case, leave the
unit for a few hours and restart the opera-
tion after the condensation has dried up.
Be specially cautious against condensation
in a following circumsatance:
When this unit is carried from a place to
another across a large difference in tem-
perature, when the humidity in the room
where this unit is installed increases, etc.
Note related to transportation
Before transporting or moving this unit,
carry out the following operations.
(1) Remove the CD or MD from the unit.
(3) Wait for some time and verify that the
display becomes as shown in the figure.
(5) Wait for some time and verify that the
display becomes as shown in the figure.
(6) Wait a few seconds and turn the unit
---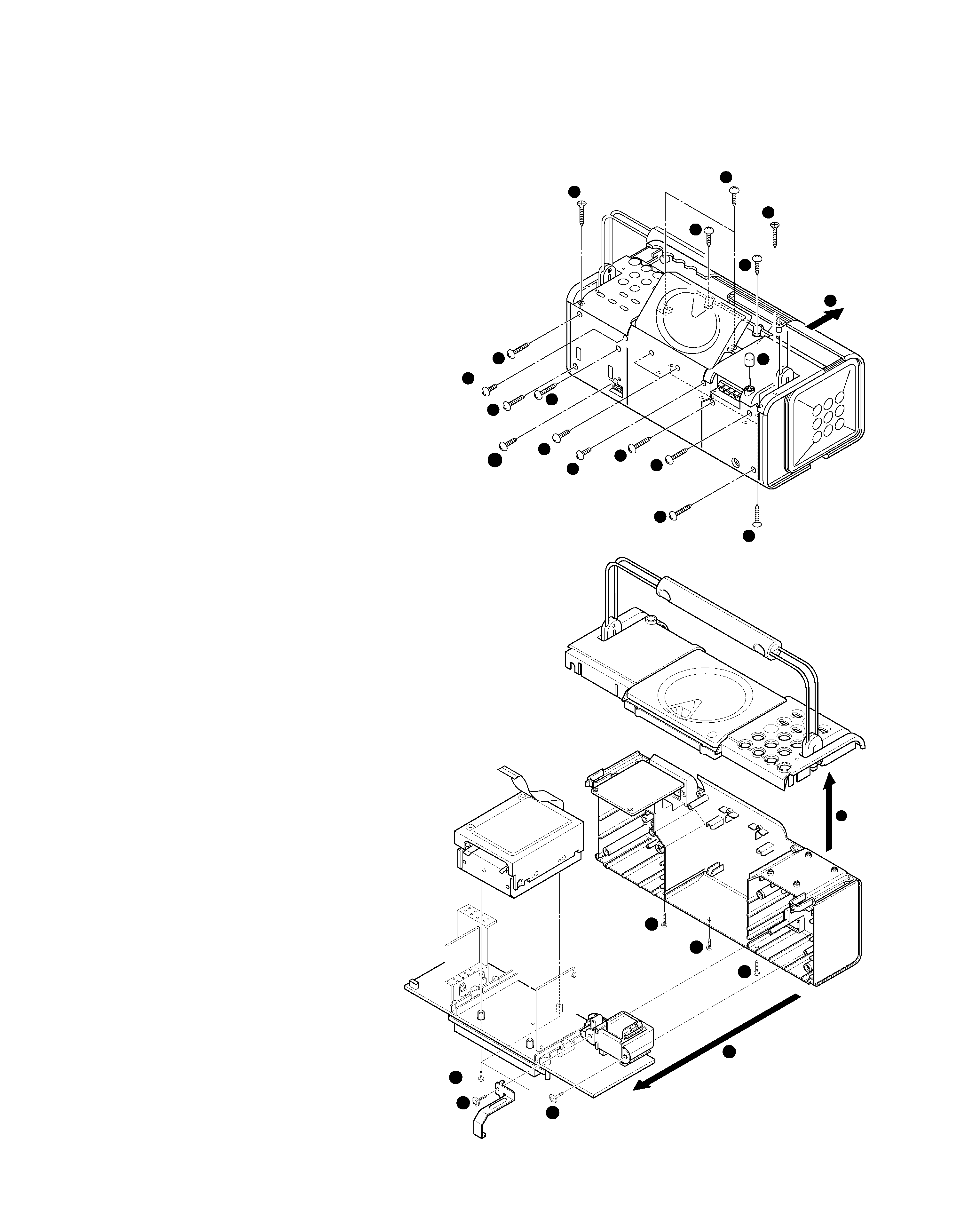 1. How to Remove Front Cabinet
1) from the rear cabinet side.
2) fixed CD and the front
3) from the bottom front side.
4. Move the front cabinet frontwards(
2. How to Remove CD and Top Covers
1. Remove 2 screws fixed CD and top covers(
2. Remove 8 screws fixed the carrying handle
6x4) and the rear cabinet(7x4).
8) to remove and lift the
carrying handle and CD mechanism(
3. How to Remove MD Mechanism
0) fixed the AC inlet socket.
2. Remove 5 screws fixed the bottom cabinet(
and the power transformer(
3. Move the main pcb frontwards(
$) fixed the MD mechanism.
---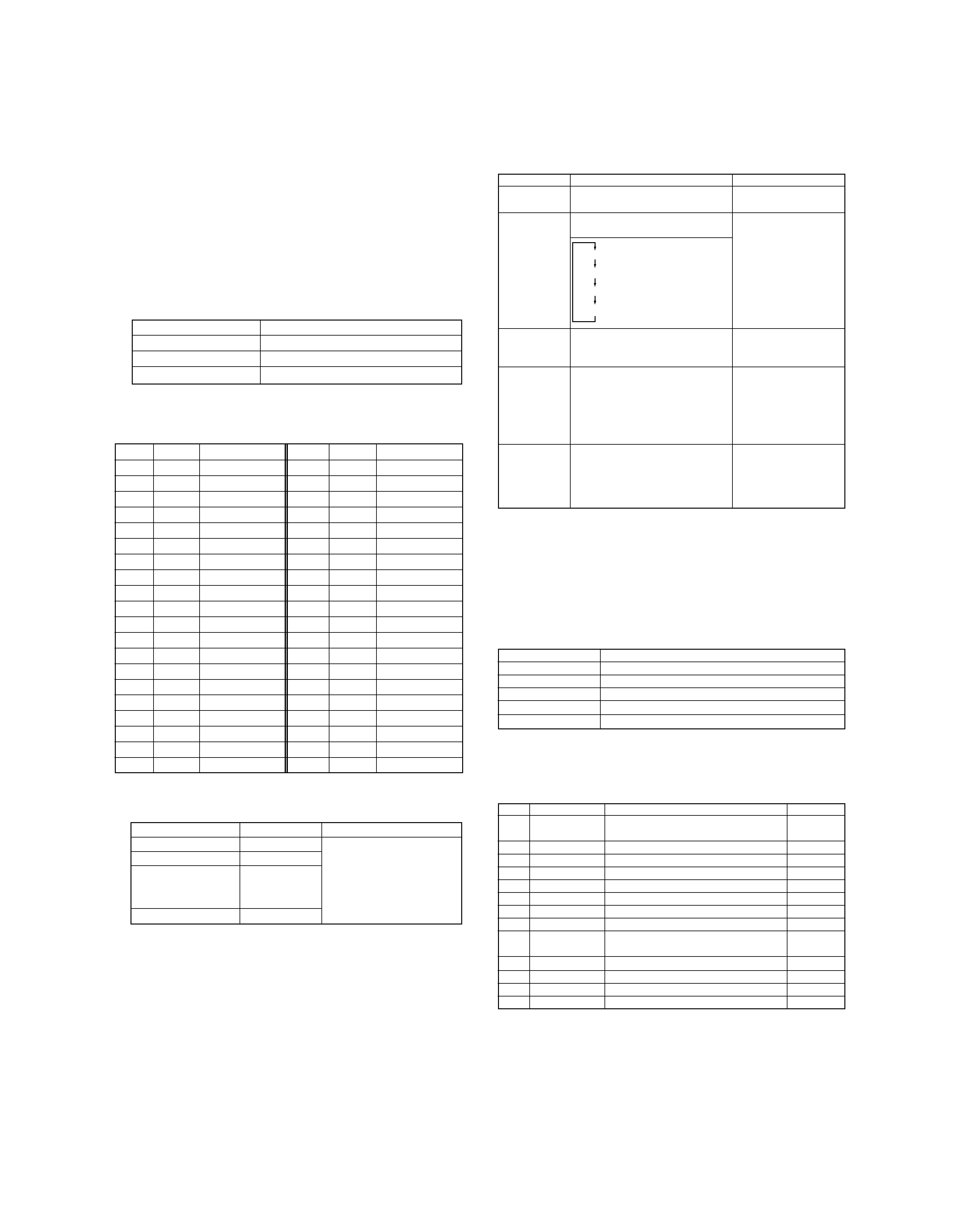 For more information on each adjustment mode, refer to
each section of 5, "Electrical adjustment".
If other adjustment mode has been entered incorrectly,
press the STOP key to exit the mode.
The number 9 - 13 are not used for service. If these
mode have been entered incorrectly, press the STOP
key immediately to exit the mode. Specially, do not use
EEP INITIAL. (E2PROM data has initialized if used it.)
4. MD TEST MODE FOR ADJUSTMENT
4-1 Entering the Test Mode (MD Mode2)
While pressing the SKIP DOWN key, turn the AC on.
4-2 Cancelling the Test Mode
4-3 Key Operations for Adjustment
The work of adjustment is unnecessary
Automatic EF balance adjustment.
Continuous playback mode.
Continuous recording mode.
Check the mechanism start limit
Track jump checking mode.
E2PPROM data reading or rewrite.
E2PPROM data initializing.
Select mode or adjustment value change.
Fix mode or adjustment value.
Cancel the selected mode.
Pickup moves outwards when pressed skip up key.
Pickup moves inwards when pressed skip down key.
4-4 Selection of Adjustment Test Mode
Whenever the [volume/multi-control] knob is turned, the
adjustment test mode is selected.
1-1 How to Set Initialization
Insert the power cord to AC outlet with pressing REPEAT
1-2 Operation in Initialization mode
Display shows INITIALIZE, and Standby mode after
The Display shows error code if mechanism has malfunc-
The until changes to shipment mode after RAM and back-
up clear, disc out, and so.
3-3 Key Function in Test Mode
FF search of CD if key pressed
Pickup move outwards in STOP
mode if key pressed more 400ms.
FB search of CD if key pressed
Pickup moves inwards in STOP
mode if key pressed more 400ms.
digital or analog in stop
FTC&Sub-Clock Oscillation Check Mode
FTC test mode is after Sub-Clock Oscillation Check
Mode(Internal Oscillation, Check of Period) Check Mode
is 5 times maximum. FTC carries if 1 tlme OK.
The unit is STOP mode after display shows error if 5
(FTC mode is factory use only)
The unit cancel the test mode after initialization if pull out
The unit cancel the test mode after no initialization if
---

1. Setting of Continuous Playback Mode
(xxxx=C1 error, yy=ADIP error)
(xxxx=C1 error, yy=ADIP error)
2. Change of Playback Points(in continuous playback mode)
(xxxx=C1 error, yy=ADIP error)
Carry out No.1 to 3 in the above table.
1. Continuous Recording Setting
[CREC (zzzz)] CREC address
(0300h cluster=recording start point)
2. Change and End of Recording Points
Carry out No.1 to 3 in the above table Select[CREC MID]
[CREC (zzzz)] CREC address
(0700h cluster=recording start point)
¢ (2time) Select [CREC IN]
[CREC (zzzz)] CREC address
(0300h cluster=recording start point)
1. The recording start addresses of IN, MID, and OUT are
2. An erasure prevention control is not detected in the test
mode. Be careful not to enter the continuous recording
mode using a disc containing the data that should not be
3. Do not record continuously for more than five minutes.
4. Take care that no vibration is applied during continuous
5-1 Precaution during confirmation of Laser
During adjustment, do not view the emission of a laser
diode from just above for confirmation. This may dam-
5-2 Precaution on handling of Optical pick-up
The laser diode in an optical pick-up is easy to be sub-
ject to electrostatic destruction. Therefore, solder-
bridge the laser tap on the flexible board when han-
dling the optical pick-up.
4-5 Continuous Playback Mode
4-6 Continuous Recording Mode
When removing the flexible board from the connector,
make a solder bridge in advance, then remove the
board. Be careful not to remove the solder bridge before
inserting the connector. Moreover, take careful mea-
sures against electrostatic destruction. The flexible
board is cut easily. Handle the flexible board with care.
5-3 Precaution during adjustment
1) Perform the adjustment and confirmation marked with "O"
in the order shown in the table when the parts below are
2) In the test mode, perform the adjustment. After adjust-
ment is completed, cancel the test mode.
3) Perform the adjustment in the order described.
4) Use the following tools and measurement equipment.
· Oscilloscope (with bandwidth of more than 40 M
(Calibrate the probe before measurement.)
5) Take care that VC and GND (ground) are not connected
on the oscilloscope when two or more signals are moni-
tored on the oscilloscope. (VC and GND are short-circuit-
5-4 Creating the recordable continuous recording
This disc is used for focus bias adjustment and error rate
confirmation. How to create the recordable continuous
5.Error rate confirmation
(xx=compensation data, yy=setting temperature)
Input "yy" with present temp..
5-6 Laser Power Check and Adjustment
Laser power setting in playback and recording modes.
1. Remove the MD mechanism from the unit.
2. Connect the digital voltmeter to IOP1 and 2 on X33 pcb.
3. Remove the top plate from traverse unit.
4. Remove the magnetic head.
5. Remount the MD mechanism to the unit
---