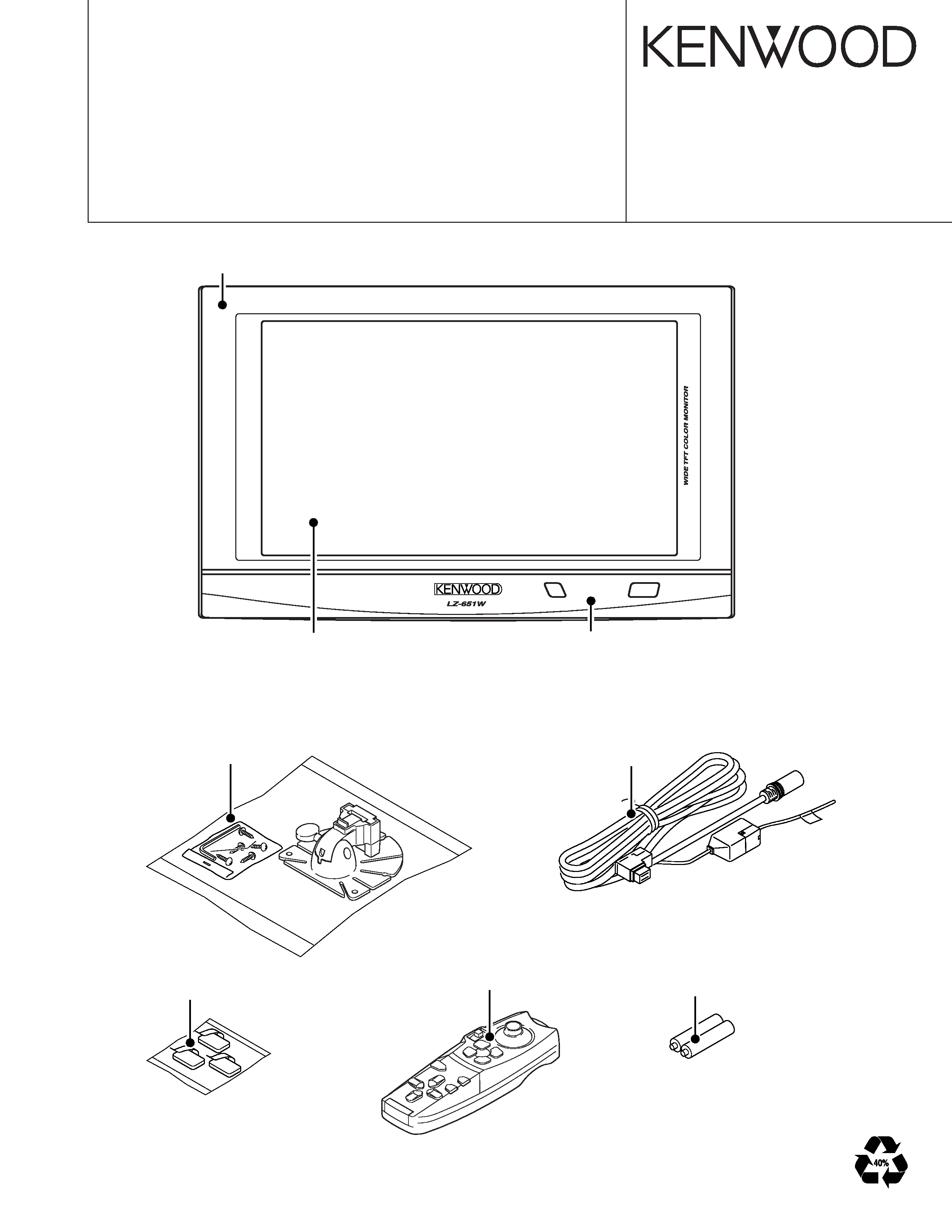 © 2003-5 PRINTED IN JAPAN
6.5-inch WIDE TFT COLOR MONITOR
---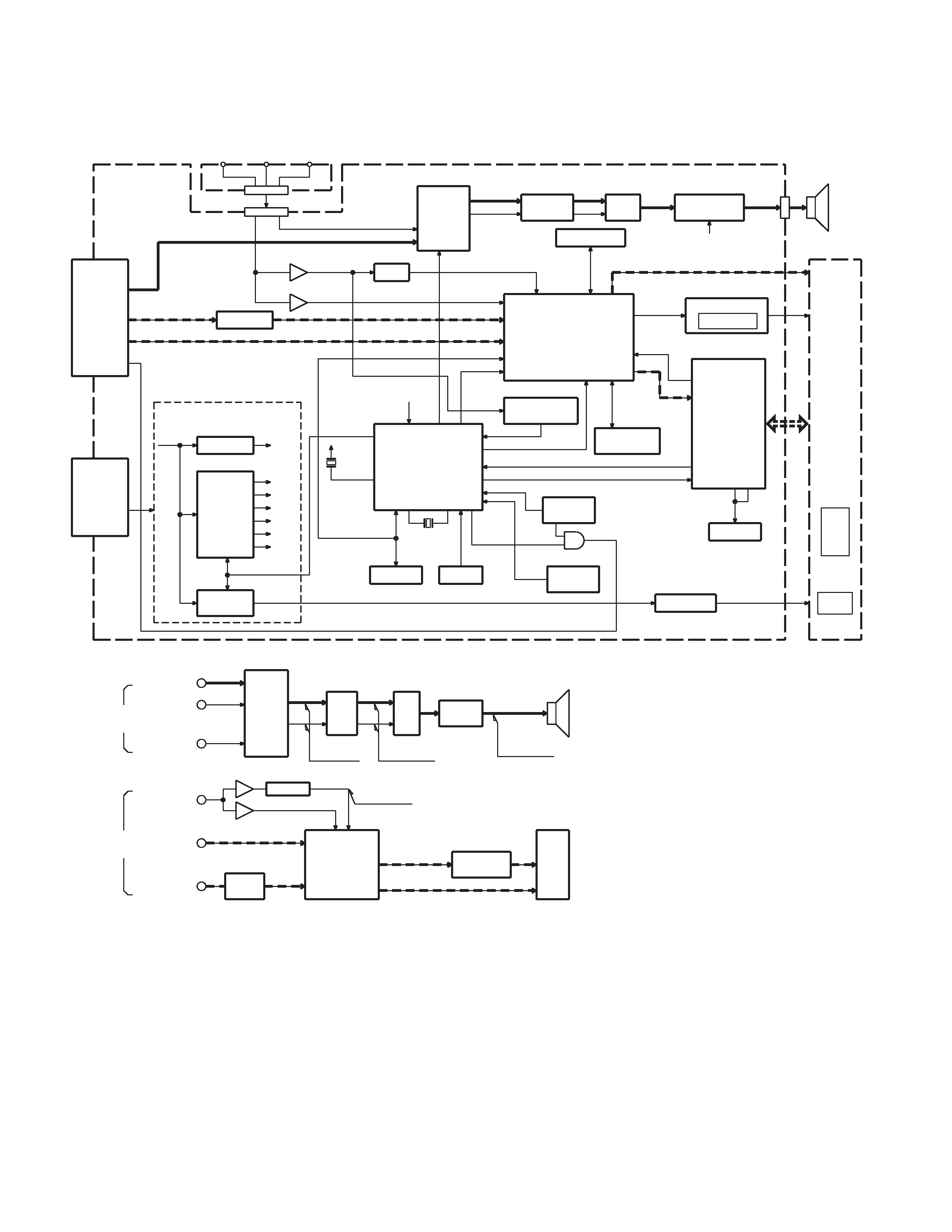 ---

MAIN UNIT (X09-7161-00/7162-00)
Switching power supply control IC (Main system and the power supply for inverters are
controlled. It has the regulator of 2.2V in an inside.)
Remote control IC (In response to the infrared signal from remote control data is
transmitted to a microprocessor).
Remote control signal buffer (When the microprocessor pin No. 14 is H, remote control
signal is sent to NAVI unit)
System control microprocessor (In addition to the demand processing from remote control
etc., OSD is displayed on a liquid crystal display monitor by the RGB output data)
E2PROM (Such as a user setup data is back up for E2PROM memory)
C-mos analog switch (Selector of Input audio signals)
Reduces of in-phase of noise for input signal
Monophonic power amplifier of an audio power amplifier BTL system. Volume is controlled
on the voltage of VC terminal.
Base band delay line (One-line delay line)
Video signal processing IC for liquid crystal display monitor
Timing control IC for liquid crystal display monitor
Vertical synchronies separation IC (PAL/NTSC automatic distinction)
VCOM signal is received from the dual operational amplifier IC 502, and gain adjustment
and a level shift are performed.
Switching regulator (Main power supply : Power MOS FET)
Power supply for COM signal line (7.5V)
Power supply for microprocessor (5V)
PWM signal buffer (from microprocessor)
Switching for inverter circuit (receiving to PWM signal from microprocessor)
Inverter voltage circuit (Switching frequency 55KHz)
ACC voltage detector (detect voltage=9.5V)
ACC voltage high detector (17V)
Switching transistor (select to input signal NAVI or AV IN)
Vertical synchronize separation
Composite synchronize buffer amp (Voltage shift 3V to 5V)
---

Microprocessor : TMP88CP38AF-NK (MAIN unit : IC301)
NAVI voice interruption detection input terminal (Hi : With no voice interruption L : Navigation voice interruption)
Parking sensor detection input terminal (H : Parking brake-on, L : Parking brake-off)
Change condition of microprocessor (H : NTSC, L : PAL)
Voice select output terminal for NAVI or AV-IN (H : Navigation, L : AV IN)
Accessories power supply detection input terminal (H : ACC on, L : Drop down of ACC voltage line)
Beep signal output terminal (2kHz pulse : timing for 60ms)
Audio muting control signal output terminal (H : Muting on, L : Muting off)
NAVI SYNC detection input terminal (NTSC sync)
Optical sensor data input terminal (Analog input)
A screen display mode setting output terminal (* Please see for Table of Display mode)
A screen display mode setting output terminal (* Please see for Table of Display mode)
Transformer output voltage surveillance input terminal (H : Abnormalities With transformer no output, L : Normal)
Change condition of NTSC or PAL signal (H : NTSC, L : PAL)
Remote control data transmission change output to NAVI unit (H : transmission, L : no transmission)
Picture signal muting output terminal (H : Muting on, L : Muting off)
A screen display mode setting output terminal (* Please see for Table of Display mode )
R signal output for OSD (digital RGB)
G signal output for OSD (digital RGB)
B signal output for OSD (digital RGB)
MICROCOMPUTER'S TERMINAL DESCRIPTION
VCO circuit (23.979MHz for NTSC)
Buffer amp for synchronize signal
Croma trap selector (PAL : L, NTSC : H)
Synchronize signal clamp circuit
Synchronize signal amp (for NAVI signal)
Liquid crystal display drive circuit (-side)
Liquid crystal display drive circuit (+ side)
Adjustment to horizontal position for NAVI / AV IN video signal
---

MICROCOMPUTER'S TERMINAL DESCRIPTION
The blanking signal output for OSD (H : Displaying for OSD, L : Non-displaying for OSD)
Horizontal synchronized signal input (for OSD)
Vertical synchronized signal input (for OSD)
Power supply for OSD circuit
TEST terminal (Low fixed)
oscillator input terminal
oscillator output terminal
RESET signal input terminal
Remote control data input terminal (NEC transmitting format, command single transmitting mode)
Picture signal detection (vertical synchronized signal) from AV-IN
Power supply control output terminal (H : Power supply ON, L : Power supply OFF)
Screen position adjustment and the time constant change output terminal (H : AUX, L : NAVI)
Back light tone light control output (PWM control : 150Hz)
Speaker volume control output (PWM control : 31.2kHz)
---