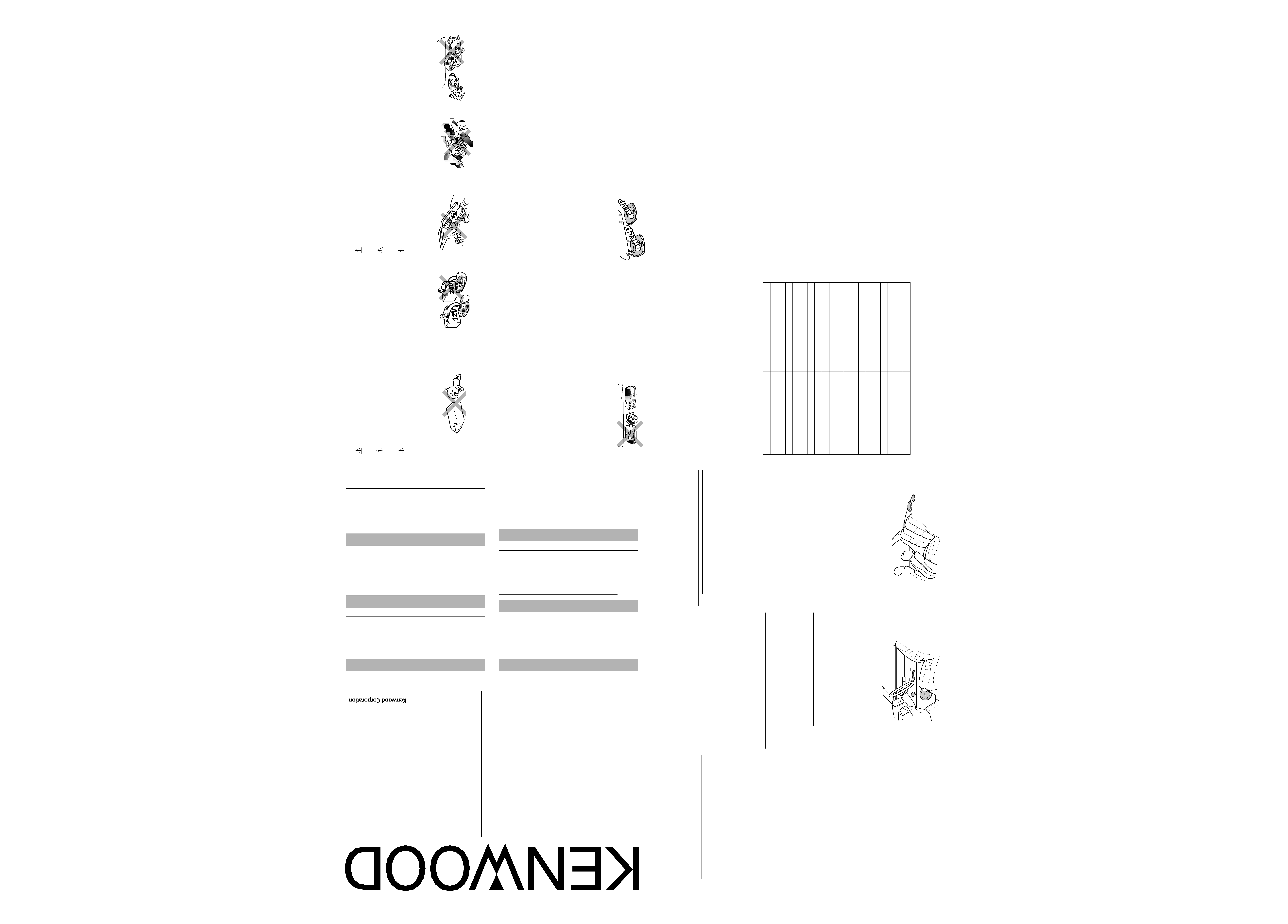 Resonance Frequency Impedance
Volume Acoustic Compliance
Emissive Diameter of the Diaphragm
1. Suffocation -- After taking the unit out of the polyethylene
bag, be sure to dispose of the polyethylene bag out of the
reach of children. Otherwise, they may play with the bag,
which could cause hazard of suffocation.
Etouffement -- Après avoir retiré l'appareil du sac de
polyéthylène, bien placer ce dernier hors de la portée des
enfants. S'ils jouent avec ce sac, un risque d'étouffement est
Erstickungsgefahr -- Nach der Entnahme der Lautsprecher
aus dem Polyäthylenbeutel muß dieser für Kinder unerreichbar
endsorgt werden. Wenn Kinder mit dem Beutel spielen,
besteht Erstickungsgefahr.
Verstikking -- Nadat u de luidsprekers uit de polyethyleen zak
heeft verwijderd, moet u deze zak weggooien. Zorg dat de zak
uit de buurt van kinderen blijft. Kinderen zouden met de zak
kunnen gaan spelen en de zak bijvoorbeeld over hun hoofd
trekken met verstikking tot gevolg.
Pericolo di soffocamento -- Estratta l'unità dal sacchetto in
polietilene, gettatelo in modo che non possa cadere in mano a
bambini. Essi potrebbero altrimenti rimanere soffocati.
Asfixia -- Después de sacar la unidad de la bolsa de
polietileno, asegúrese de poner la bolsa de polietileno donde
no puedan alcanzarla los niños. De otra forma, éstos podrían
jugar con la bolsa y se podría producir un peligro de asfixia.
2. Power supply voltage -- Connect the
illumination lamp-equipped speakers
to DC 12V, negative ground.
Tension d'alimentation -- Raccorder
les haut-parleurs munis d'in éclairage
sur 12 V CC, mise à la terre négative.
Betriebsspannung -- Die Lautsprecher
mit Beleuchtung an Gleichstrom 12 V
mit negativer Masse anschließen.
Spanningvoorziening -- Verbind de
luidsprekers voorzien van verlichting
met een 12 Volt, negatieve geaarde
Alimentazione -- Se i diffusori
possiedono indicatori, collegateli ad
una sorgente di energia a 12V di c.c. a
Tensión de alimentación -- Conecte
los altavoces equipados con lámpara
de iluminación a una batería de 12 V
CC con puesta a masa negativa.
3. Water and moisture -- Do not install
the speakers in locations which may
be subject to water or moisture.
Eau et humidité -- Ne pas installer
les haut-parleurs dans des endroits où
ils peuvent être exposés à de l'eau ou
Wasser und Feuchtigkeit -- Die
einbauen, wo sie Wasser oder
Feuchtigkeit ausgesetzt werden.
Water en vocht -- Installeer de
luidsprekers niet op plaatsen waar ze
mogelijk aan water of vocht bloot
Acqua ed umidità -- Non installate i
diffusori in posizioni esposte ad acqua
Agua y humedad -- No instale los
altavoces en lugares sometidos al
4. Dust and unstable locations -- Do
not install the speakers in unstable
locations or locations subject to dust.
Poussière et endroits instables --
Ne pas installer les haut-parleurs dans
des endroits instables ou exposés à
Staub und unstabile Stellen -- Die
Lautsprecher nicht an unstabilen
Stellen oder Stellen, wo sie Staub
ausgesetzt sind, einbauen.
Stoffige en instabiele plaatsen --
Installeer de luidsprekers niet op
stoffige plaatsen of instabiele plaatsen
onderhevig aan trillingen.
Urti e polvere -- Non installate i
diffusori in posizioni pericolose
instabili o esposte a polvere e sporco.
Polvo y ubicaciones inestables --
No instale los altavoces en lugares
inestables ni en lugares donde haya
5. Modification -- Do not attempt to
open or modify the unit, for this could
cause fire hazard or malfunction.
Modification -- Ne pas essayer de
démonter ni de modifier l'appareil car
ceci risque de provoquer un risque
d'incendie ou un fonctionnement
Veränderungen -- Niemals ver-
suchen, die Lautsprecher zu öffnen
oder zu verändern, weil dadurch
Feuergefahr und Fehlfunktionen her-
vorgerufen werden können.
Aanpassingen -- Voorkom brand of
beschadiging en open derhalve de
luidsprekers niet en breng er geen
Modifiche -- Non tentate di aprire o
modificare l'unità, dato che ciò
potrebbe causare incendi o errori di
Modificación -- No trate de abrir ni
modificar la unidad porque podría pro-
ducirse un peligro de incendio o una
7. Malfunction -- In the event the unit generates smoke or abnormal smell or
no sound comes out from the speaker, immediately switch the power OFF.
After this, please contact your dealer or nearest service station as soon as
Mauvais fonctionnement -- Dans le cas où l'appareil dégage de la fumée
ou une odeur anormale, ou si aucun son ne provient du haut-parleur,
couper immédiatement l'alimentation. Contacter ensuite votre
concessionnaire ou centre de service le plus proche le plus rapidement
Fehlfunktion -- Wenn aus dem Gerät Rauch austritt oder kein Ton von
den Lautsprechern zu hören ist, so schalten Sie sofort die Stromversorgung
aus. Wenden Sie sich anschließend so bald wie möglich an Ihren Händler
oder an die nächstliegende Kundendienststation.
Storing -- Wanneer er rook of een vreemde geur uit de luidsprekers komt
of deze in het geheel geen geluid produceren, moet u direct de stroom uit
(OFF) schakelen. Raadpleeg vervolgens uw handelaar of een erkend
Malfunzionamento -- Nel caso che l'unità producesse del fumo o un
odore anomalo, oppure non si sentisse nessun suono dagli altoparlanti,
spegnerla immediatamente (OFF).Ciò fatto, contattare appena possibile il
rivenditore di fiducia o il centro di assistenza tecnica più vicino.
SCOLLEGATE L'ALIMENTAZIONE!
Fallo de funcionamiento -- En caso de que la unidad genere humos u
olores anormales o no genere sonido a través del altavoz, desconecte
inmediatamente la alimentación. Después, consulte con su concesionario o
centro de reparaciones más cercano tan pronto como sea posible.
¡DESCONECTE LA ALIMENTACION!
6. Cleaning -- Do not use gasoline,
naphtha, or any type of solvent to clean
the speakers. Clean by wiping with a
Nettoyage -- Ne pas utiliser d'essence,
de naphte ni de diluant pour nettoyer les
haut-parleurs. Les nettoyer avec un
Reinigung -- Zum Reinigen der
Lösungsmittel verwenden. Zum Reinigen
ein weiches, trockenes Tuch verwenden.
Reinigen -- Gebruik geen benzine,
thinner of andere oplosmiddelen voor
het reinigen van de luidsprekers. Reinig
de luidsprekers met een zachte, droge
Pulizia -- Non pulite l'unità con benzina,
nafta o solventi molto volatili in generale.
Usate solo un panno morbido ed
Limpieza -- No utilice gasolina, nafta ni
ningún otro tipo de disolvente para
limpiar los altavoces. Límpielos con un
· Always wear protective eyewear during instllation.
· To prevent noise pick-up, keep the wiring of this unit away from motors, high-
voltage leads and other possible noise sources.
· To prevent short-circuit, keep all wiring away from moving parts, sharp edges,
· When removing or installing the grille, be careful not to brush the unit with the
· Do not switch ON power until wiring is completed.
For mounting location, do not select the following places.
· When the door window glass is lowered (opened), the unit is damaged.
· When the window crank handle is rotated, it comes into contact with the unit.
· When the unit comes into contact with the boot lid spring (trunk lid spring) or
shock absorbers (shock towers).
· When the unit damages the gas tank or fuel hose.
· When the unit comes into contact with the rear window glass, car wall, etc.
· Portez toujours de protections oculaires pendant l'installation.
· Afin de supprimer les bruits, placer le câblage de cet appareil loin des moteurs,
câbles conducteurs de haute tension et autres sources possibles de bruit.
· Afin d'éviter la création de courts-circuits, éloigner le câblage des pièces
mobiles, arêtes vives, métal découpé, etc.
· Faire attention, au cours de la dépose ou pose de la grille, de ne pas toucher
l'appareil avec les bords de la grille.
· Ne pas mettre l'appareil en route tant que le câblage n'est pas complètement
Ne pas choisir les emplacements suivants pour effectuer le montage.
· Lorsque le fait d'abaisser la vitre risque d'endommager l'appareil.
· Lorsque le fait de tourner la poignée d'ouverture de la vitre la met en contact
· Lorsque l'appareil vient en contact avec l'amortisseur arrière ou le renfort du
· Lorsque l'appareil risque d'endommager le réservoir à gaz ou la tuyauterie
· Lorsque l'appareil entre en contact avec la vitre de la lunette arrière, les parois
· Tragen Sie während der Installation immer Augenschutz.
· Zur Verhinderung von Störgeräuschen die Kabel dieses Geräts von Motoren,
Hochspannungskabeln und anderen möglichen Störquellen fernhalten.
· Zur Verhinderung von Kurzschlüssen die Kabel von beweglichen Teilen,
scharfen Kanten usw, fernhalten.
· Beim Aus- und Einbauen des Grills darauf achten, daß die Membran nicht mit
der Kante des Grills beschädigt wird.
· Die Spannungsversorgung erst einschalten, wenn alle Anschlüsse durchgeführt
Die folgenden Stellen sollten nicht für den Einbau gewählt werden.
· Stellen, wo das Gerät durch Öffnen (Senken) der Fenster beschädigt werden
· Stellen, wo beim Öffnen der Fenster die Kurbel in Kontakt mit dem Gerät
· Stellen, wo das Gerät mit den Federn oder Dämpfern des Kofferraumdeckels in
· Stellen, wo das Gerät den Kraftstofftank oder die Benzinleitungen beschädigen
· Stellen, wo das Gerät mit dem Rückfenster, der Karosserie usw. in Kontakt
· Draag altijd een beschermende bril tijdens de installatie.
oorkom interferentie en houd de draden van de luidsprekers uit de buurt van
de motor, spanningsdraden en andere bronnen die mogelijk ruis of interferentie
zouden kunnen veroorzaken.
· Voorkom kortsluiting en houd de draden uit de buurt van bewegende
onderdelen, scherpe randen, etc.
· Let bij het verwijderen of plaatsen van de rooster op, dat u de luidsprekers niet
met de rand van de rooster beschadigt.
· Schakel de spanning pas aan (ON) nadat alle aansluitingen zijn gemaakt.
Installeer de luidsprekers niet op de volgende plaatsen
· Op plaatsen waar de luidsprekers mogelijk worden beschadigd wanneer het
raam wordt geopend (het raam "zakt" omlaag).
· Op plaatsen waar de luidsprekers mogelijk worden beschadigd door het
draaien van de raamhendel voor het openen en sluiten van het raam.
· Op plaatsen waar de luidsprekers in kontakt komen met de veer van de
kofferdeksel of schokdempers.
· Op plaatsen waar de luidsprekers mogelijk de benzinetank of -slang kan
· Op plaatsen waar de luidsprekers in kontakt komen met het glas van het
achterruit, of andere onderdelen van de auto.
· Durante l'installazione portate sempre gli occhiali di protezione.
· Per evitare l'intercettazione di rumori, tenere i fili di questo apparecchio lontani
da motori, fili ad alta tensione ed altre possibili sorgenti di rumori.
· Per prevenire corti circuiti, tenere i fili di collegamento lontani da parti mobili,
spigoli, parti di metallo taglienti, ecc.
· Quando si monta o smonta la griglia, fare attenzione a non rovinare l'unità con
gli spigoli della griglia.
· Non accendere l'apparecchio fino a quando tutti i collegamenti siano terminati.
Non installare l'apparecchio nei punti seguenti.
· Se abbassando il finestrino, l'apparecchio viene danneggiato.
· Se facendo girare la leva del finestrino, essa urta contro l'apparecchio.
Dietro i sedili posteriori
· Se l'apparecchio viene in contatto con le molle del cofano o con gli
· Se l'apparecchio danneggia il serbatoio della benzina o il tubo del carburante.
· Se l'apparecchio viene in contatto con il vetro del finestrino posteriore, con le
· Siempre use protección para los ojos durante la instalación.
· Para evitar la captación de ruidos, mantenga el cableado de esta unidad
alejado de motores, conductores de alta tensión y otras posibles fuentes de
· Para evitar cortocircuitos, mantenga todo el cableado alejado de las partes
móviles, bordes agudos, metal cortado, etc.
· Cuando extraiga o instale la rejilla, tenga cuidado para no rozar la unidad con
· No conecte la alimentación hasta después de completar todas las conexiones.
Como ubicación de montaje, no seleccione ninguno de los lugares siguientes
· Donde la unidad pueda estropearse cuando baje (abra) el cristal de la
· Donde la manilla de la ventana entre en contacto con la unidad al girarla.
· Donde la unidad entre en contacto con el muelle de la tapa del compartimiento
de equipajes (muelle de la tapa del portamaletas) o con los amortiguadores
(torres de amortiguadores).
· Donde la unidad pueda estropear el depósito o la manguera de combustible.
· Donde la unidad entre en contacto con la ventana trasera, paredes del
Caution : Read this page carefully to keep your safety.
AVERTISSEMENTS IMPORTANTS
Attention : Lire attentivement cette page pour votre sécurité.
WICHTIGE SICHERHEITSHINWEISE
Achtung : Diese Seite aus Sicherheitsgründen sorgfältig durchlesen.
BELANGRIJKE VOORZORGSMAATREGELEN
Let op : Lees voor uw veiligheid deze bladzijde zorgvuldig door.
Attenzione : Per vostra sicurezza, leggete attentamente questa pagina.
Precaución : Para su seguridad, lea con atención esta página.
Precautions / Précautions / Zur Beachtung / Voorzorgsmaatregelen / Precauzioni / Precauciones
KOMPONENTEN-LAUTSPRECHERSYSTEM
Fig. 1 Abb. 1 Afb. 1 Figura 1
Fig. 2 Abb. 2 Afb. 2 Figura 2
---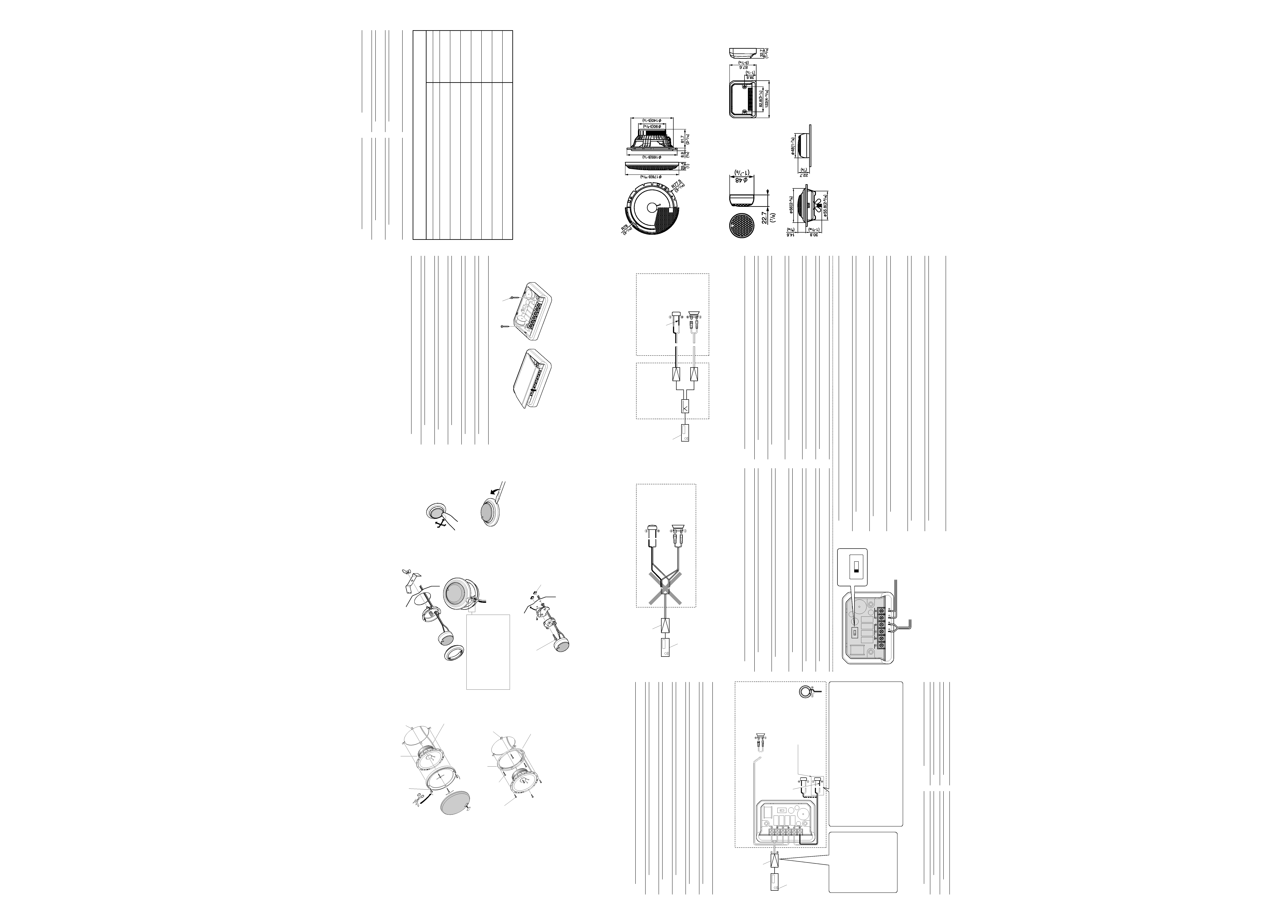 · Be sure to use the supplied Passive crossover network.
· Il est indispensable d'utiliser le Réseau séparateur passif.
· Unbedingt die mitgelieferte Passive Frequenzweiche.
· Gebruik het bijgeleverde Passief scheidingsfilter-netwerk.
· Accertarsi di utilizzare il filtro crossover passivo.
· Asegúrese de utilizar el filtro separador pasivo incluido.
· With such a connection, large energy of the low frequencies is applied to the tweeters and may destroy them.
Never use such a connection.
· Avec une telle méthode de raccordement, les haut-parleurs d'aigus (tweeters) encaissent tout la puissance des basse fréquence, ce qui
risque de les endommager.
Ne jamais adopter ce type de raccordement.
· Bei einem Anschluß ohne Frequenzweiche wird den Hochtönern eine große niederfrequente Energie zugeführt, wodurch sie zerstört
Daher darf ein derartiger Anschluß niemals verwendet werden.
· Met een dergelijke verbinding, worden te sterke lage frekwenties naar de tweeters gestuurd waardoor de tweeters mogelijk worden
beschadigd. Sluit derhalve nooit op deze manier aan.
· Con tale collegamento, la grande energia delle basse frequenze viene applicata ai tweeter e può causare danni.
Non utilizzare mai tale collegamento.
· Con esta conexión, se aplica una gran energía de bajas frecuencias a los altavoces de agudos que podría estropearlos.
Nunca utilice esta conexión.
With this unit, the speaker cords are not supplied. Obtain
the audio speaker cords with the required length. To
connect the speaker cords to the unit, terminate the wires
with female spade connectors.
12 AWG speaker wire is recommended.
Avec cet appareil, les câbles des enceintes ne sont pas
fournis. Se procurer des câbles d'enceinte de la longueur
requise. Pour connecter les câbles à l'appareil, les équiper à
leur extremité d'une prise femelle à cosse.
Conducteur d'enceinte de calibre 12 AWG recommandé.
Die Lautsprecherkabel werden nicht mitgeliefert und müssen
in der erforderlichen Länge selbst besorgt werden. Zum
Anschließen der Lautsprecherkabel a das Gerät müssen die
Kabel mit weiblichen Kabelschun-Steckern versehen
Draht der mit einer Dicke entsprechend 12 AWG (3,5
Luidsprekersnoeren zijn niet bij deze luidsprekers geleverd.
Schaf audio-luidsprekersnoeren van de benodigde lengte
aan. Voor het aansluitingen van de luidsprekersnoeren met
een toeste! gebruikt u vrouwelijke stekkers.
Wij bevelen gebruik van 3,5 mm
2
Cu (12 AWG)
I cavi per i diffusori non sono forniti di serie. Procurarsi dei
fili di lunghezza adeguata. Per collegare i cavi per i diffusori
all'apparecchio, munirsi di connettori a spada femmina
Si raccomanda il filo per diffusori di dimensioni 12 AWG.
Con esta unidad no se suministran los cables de los
altavoces. Obtenga los cables de altavoces de la longitud
necesaria. Para conectar los cables de altavoces a la
unidad, ponga antes conectores de horquilla hembra en los
Se recomienda utilizar el cable de altavoz 12 AWG.
1. Select the mounting position, referring to "Precautions".
2. Place the supplied template on the door panel or the rear
deck and mark the hole positions.
3. Cut off a large hole and make screw holes.
4. Install the unit as shown in Fig. 3, Fig. 4.
1. Déterminer la position de montage en se référant aux
instructions intitulées "Précautions".
2. Placer la gabarit fourni sur la plage arrière et repérer la
position des trous de montage.
3. Découper un trou de grande dimension et percer trous
4. Installer l'appareil de la manière indiquée à la Fig. 3, Fig. 4.
1. Die Einbauposition unter Beachtung von "Zur Beachtung"
2. Die mitgelieferte Schablone auf die Hutablage legen und
die Positionen für die Löcher markieren.
3. Eine große Öffnung schneiden und Schraubenlöcher
4. Das Gerät einbauen, wie in Abb. 3, Abb. 4 dargestellt.
2. Plaats het bijgeleverde malplaatje op het portierpaneel of
de hoedeplank en markeer de gaten.
3. Snijd een opening en maak schroefgaten.
4. Installeer de luidsprekers zoals in Afb. 3 en 4 aangegeven.
1. Scegliere la posizione di montaggio facendo riferimento
alla sezione "Precauzioni".
2. Disporre la mascherina in dotazione sulla superficie di
montaggio e marcare la posizione dei fori.
3. Tagliare il foro centrale ed i fori laterali per le viti.
4. Installare l'apparecchio come illustrato in Fig. 3 e Fig. 4.
1. Seleccione la posición de montaje consultando
2. Ponga la plantilla suministrada en el panel de la puerta o
en la estantería trasera y marque las posiciones de los
3. Haga un agujero grande y agujeros para los tornillos.
4. Instale la unidad como se muestra en las figuras 3 y 4.
Specifications / Caractéristiques / Technische Daten /
Technische gegevens / Dati tecnici / Especificaciones
2-Way 2-Speaker System / 2-Wage 2-Lautsprecher-System /
2-2-weg 2-luidsprekersysteem / Diffusore a 2 vie e 2 altoparlanti / Sistema de 2 altavoces de 2 vías
Woofer / Basses / Tieftöner/Altavoz de graves
Tweeter / Aigus/Hochtöner / Altavoz de agudos
Rated Impedance / Impédance nominale / Nenn-Impedanz /
Nominale impedantie / Impedenza nominale / Impedancia nominal
Peak Input Power / Entrée de crête momentanée / Spitzenbelastung /
Piekingangsvermogen / Picco istantaneo di ingresso / Potencia máxima de entrada
Rated Input Power / Entrée nominale / Nenn-Belastbarkeit /
Nominaal ingangsvermogen / Ingresso nominale / Potencia de entrada nominal
Sensitivity / Niveau de pression sonore de sortie / Schalldruckpegel /
Gevoeligheid / Pressione suono emesso / Sensibilidad
Frequency Response / Réponse en fréquence / Frequenzgang /
Frekwentierespons / Risposta in frequenza / Respuesta de frecuencia
Crossover Frequency / Fréquence de recouvrement / Übergangsfrequenz /
Crossover-frekwentie / Frequenza di crossover / Frecuencia de cruce
Net Weight / Poids net / Nettogewicht / Netto gewicht / Peso netto / Peso neto
Dimensions / Abmessungen / Afmetingen / Dimensioni /
KENWOOD follows a policy of continuous advancements in develop-
ment. For this reason specifications may be changed without notice.
KENWOOD applique une politique de progrès continus. Les
caractéristiques peuvent donc être modifiées sans préavis
KENWOOD arbeitet ständig an der technologischen Weiterentwicklung
seiner Produkte. Aus diesem Grund bleibt die Änderung der technischen
KENWOOD technische gegevens zijn ter produktverbetering zonder
voorafgaande kennisgeving wijzigbaar.
KENWOOD persegue una plitica di continua ricerca e sviluppo. Per
tale ragione, i dati tecnici sono soggetti a modifiche senza preavviso.
KENWOOD sigue una política de avances continuos en el campo del
desarrollo. Por esta razón, las especificaciones están sujetas a cam-
Fig. 3-1 Abb. 3-1 Afb. 3-1 Figura 3-1
Fig. 4-1 Abb. 4-1 Afb. 4-1 Figura 4-1
Fig. 4-4 Abb. 4-4 Afb. 4-4 Figura 4-4
Fig. 4-2 Abb. 4-2 Afb. 4-2 Figura 4-2
Fig. 5 Abb. 5 Afb. 5 Figura 5
Tweeter / Aigus / Hochtöner / Altavoz de agudos
Woofer / Basses / Tieftöner / Altavoz de graves
Pour un trou de haut-parleur de 160 mm /
Für 160 mm Lautsprecheröffnung
Voor een 160 mm luidsprekergat /
Per fori per altoparlanti da 160 mm
Para agujero de altavoz de 160 mm
Passive crossover network / Réseau séparateur passif / Passive Frequenzweiche /
Passief scheidingsfilter-netwerk / Filtro crossover passivo / Red divisora pasiva
· Do not install in places under direct sunlight.
· Do not touch the electronic parts inside the crossover network.
· N'installez pas en plein soleil.
· Ne touchez pas les pièces électroniques à l'intérieur du diviseur de fréquence.
· Nicht an Orten installieren, die direktem Sonnenlicht ausgesetzt sind.
· Berühren Sie nicht die elektronischen Teile in der Frequenzweiche.
· Niet installeren op plekken die bloot staan aan direct zonlicht.
· Raak in geen geval de elektronische onderdelen in het crossover netwerk aan.
· Non installare in posti esposti alla luce diretta del sole.
· Non toccare le parti elettroniche all'interno del network di transizione.
· Evite la instalación en lugares sujetos a la luz directa del sol.
· No toque las partes electrónicas del interior del filtro divisor de frecuencias.
Align the brackets so that the slit and the hole is
facing the same direction.
Alignez les supports de sorte que la fente et l'orifice
soient orientés dans le même sens.
Die Bügel so ausrichten, dass Schlitz und Loch in die
Plaats de beugels zo dat de sleuf en het gat dezelfde
Allineare le staffe con la fessura ed il foro in modo che
siano rivolte nella stessa direzione.
Alinee las ménsulas de modo que la ranura y el
orificio queden orientados en la misma dirección.
Passive crossover network
Fig. 6-2 This kind of connection is not permitted
Fig. 6-2 Ce type de raccordement n'est pas possible
Abb. 6-2 Dieser Anschluß zerstört den Hochtöner
Afb. 6-2 Sluit nooit op deze manier aan
Fig. 6-2 Questo tipo di collegamento non è idoneo
Figura 6-2 No se permite realizar este tipo de conexión
Amplificateur de puissance
Example / Beispiel / Voorbeeld / Esempio / Ejemplo
Amplificateur de puissance
*Passive crossover network
*Réseau séparateur passif
*Passief scheidingsfilter-netwerk
*Filtro crossover passivo
Collegamenti raccomandati
Fig. 6-1 General connection
Fig. 6-1 Raccordement ordinaire
Abb. 6-1 Allgemeiner Anschluß
Afb. 6-1 Algemene aansluiting
Fig. 6-1 Collegamenti generali
Figura 6-1 Conexión general
Schwarz / grauer Streifen
· When using these speakers in multi-amplifier system, be sure to set the cut-off frequency of the tweeter to 3,500 Hz or more. If the cut-off
frequency is set to less than 3,500 Hz, the tweeter may be damaged.
· Lors de l'utilisation de ces haut-parleurs dans un système multi-amplificateur, bien régler la fréquence de coupure du haut-parleur des
aigus sur 3.500 Hz ou plus. Si la fréquence de coupure est réglée sur moins de 3.500 Hz, le haut-parleur des aigus peut être endommagé.
· Bei Verwendung dieser Lautsprecher in einem System mit mehreren Verstärkern ist esunbedingt erforderlich, die Trennfrequenz des
Hochtöners auf 3.500 Hz oder höher einzustellen. Wenn die Trennfrequenz auf weniger als 3.500 Hz eingestellt ist, kann der Hochtöner
· Wanner u deze luidsprekers met een multi-versterkersysteem gebruikt, moet u de drempelfrewentie (cut-off frekwentie) van de tweeter op
3.500 Hz of meer stellen. the tweeter may be damaged. Wanner de cut-off frekwentie lager dan 3.500 is, wordt de tweeter mogelijk
· Se pilotate i diffusor con amplificatori multipli, ricordate di regolare la frequenza di taglio dei tweeter sui 3.500 Hz o piú. Se essa fosse
inferiore, i tweeter stessi potrebbero subire danni.
· Cuando utilice estos altavoces en un sistema multiamplificador, asegúrese de ajustar la frecuencia de corte del altavoz de agudos a 3.500
Hz o más. Si la frecuencia de corte se ajusta a menos de 3.500 Hz, el altavoz de agudos podría estropearse.
Fig. 6-3 Connection using multi-amp system
Fig. 6-3 Raccordement dans un montage à amplificateurs multiples
Abb. 6-3 Anschluß bei einem Mehrverstärkersystem
Afb. 6-3 Aansluiting met gebruik van een multiversterkersysteem
Fig. 6-3 Collegamento utilizzando un sistema ad amplificatori multipli
Figura 6-3 Conexión utilizando un sistema multiamplificador
· The tweeter level is selectable by swiching the tweeter attenuator to the desired level.
· Large power input will cause the protection circuit for the tweeter to operate, which will decrease output level. In this case, turn the volume of the receiver to "0", then eventually the tweeter
will automatically start working again. Using the crossover network in high temperature (under direct sunlight) may cause the protection circuit to operate easily.
· Le niveau du tweeter peut être sélectionné en réglant l'atténuateur du tweeter au niveau souhaité.
· Le circuit de protection du tweeter s'activera si le signal entrant est trop puissant, et le niveau de sortie diminuera. Dans ce cas, réglez le volume de l'ampli-tuner sur «0», pour que le
tweeter fonctionne de nouveau. Le circuit de protection risque de s'enclencher facilement si un filtre d'aiguillage est utilisé à haute température (par exemple en plein soleil).
· Der Hochtönerpegel ist durch Umschalten der Hochtönerdämpfung auf den gewünschten Pegel wählbar.
· Große Eingangsleistung bewirkt Aktivierung der Schutzschaltung für Hochtöner, wodurch der Ausgangspegel gesenkt wird. In diesem Fall die Lautstärke des Receivers auf "0" stellen, und
dann beginnt der Hochtöner wieder zu arbeiten. Bei Verwendung des Crossover-Netzes bei hoher Temperatur (in direktem Sonnenlicht) kann die Schutzschaltung leicht ausgelöst werden.
· Het niveau kan worden ingesteld door de demper voor de tweeter op het gewenste niveau in te stellen.
· Bij een te hoog ingangsniveau zal de beveiliging voor de tweeter in werking treden, waardoor het uitgangsniveau lager zal worden. In een dergelijk geval dient u het volume van de receiver
op "0" te zetten, waarna de tweeter automatisch weer normaal zal gaan functioneren. Gebruik van een crossover netwerk bij hoge temperaturen (in direct zonlicht bijvoorbeeld) kan de
beveiliging gemakkelijker in werking doen treden.
· Il livello del tweeter può venire scelto portandone l'attenuatore sul livello desiderato.
· Un aumento considerevole della potenza farà scattare il circuito di protezione del tweeter, che farà diminuire il livello di uscita. In questo caso, portare il volume del ricevitore su "0" e poi il
tweeter riprenderà a funzionare automaticamente. L'uso della rete di crossover a temperature elevate (in luce solare diretta) può far facilmente scattare il circuito di protezione.
· El nivel del altavoz de agudos puede seleccionarse cambiando el atenuador del altavoz de agudos al nivel deseado.
· Una gran entrada de potencia causará la activación del circuito de protección del altavoz de agudos, lo cual reducirá el nivel de salida. En este caso, gire el volumen del receptor a "0", y
luego el altavoz de agudos eventualmente volverá a funcionar. El empleo de la red de cruce a altas temperaturas (bajo la luz directa del sol) puede facilitar la activación del circuito de
Fig. 6-4 Usage of Passive crossover network terminals
Fig. 6-4 Utilisation des bornes de réseaux séparateurs passifs
Abb. 6-4 Verwendung der Anschlußklemmen für die passiven Frequenzweichen
Afb. 6-4 Gebruik van passief scheidingsfilter-netwerk
Fig. 6-4 Uso di terminali di filtro crossover passivo
Figura 6-4 Utilización de los terminales red divisora pasiva
Woofer / Basses / Tieftöner / Altavoz de graves
· When using the speaker as a Three-way speaker combined with a sub woofer connect nonpolar capacitors in series (with voltage resistance
greater than 63V and capacitance less than 270µF) as H.P.F.
· Lorsque les enceintes sont utilisées comme haut-parleurs 3-voies en combinaison avec un haut-parleur d'extrême grave, raccorder des conden-
sateurs non polarisés en série (tenue en tension supérieure 63V, moins de 270µF) comme H.P.F.
· Wenn der Lautsprecher als mit einem Subwoofer kombinierten Dreiwege-Lautsprecher verwendet wird, sind nichtpolarisierte Kondensatoren in Reihe
zu schalten, die dann als H.P.F. dienen (Spannungswiderstand ist größer als 63V und niedriger als 270µF).
· Bij gebruik van de luidspreker als een drie-weg luidspreker in kombinatie met een subwoofer moet u niet-polaire zekeringen in serie aansluiten
(voltage weerstand hoger dan 63V en minder dan 270µF) als H.P.F.
· Se si usa il diffusore come diffusore a tre vie in combinazione con un subwoofer, collegare dei condensatori non polari in serie con (resistenza a
voltaggi superiori ai 63 V e capacità da meno di 270 µF) come H.P.F.
· Cuando utilice el altavoz como un altavoz de tres vías combinado con un altavoz de subgraves, conecte los capacitores no polares en serie (con
una resistencia de tensión superior a 63 V y una capacitancia inferior a 270 µF) como H.P.F.
Connecting the tweeter in reverse phase is recommended. However, depending on the mounting
location of the speaker, the overall response and sound stage will change. Please choose either
connection for optimum sound.
Il est conseillé d'inverser la phase lors du raccordement du tweeter. Cependant, selon l'emplacement
du montage du haut-parleur, la réponse générale et l'étage sonore changeront. Choisissez la connexion
Anschließen der Höchtöner mit umgekehrter Phase wird empfohlen. Je nach Montageort des
Lautsprecher ändert sich aber die Gesamtwirkung und Klangbühne. Eine der Anschlussarten für
Het verdient aanbeveling de tweeter aan te sluiten in tegengestelde fase. Afhankelijk van de plek waar
de luidspreker is opgesteld zullen echter de algehele weergave en het geluidsbeeld veranderen. Kiest u
daarom de aansluitmethode die de beste geluidsweergave oplevert.
Si raccomanda di collegare il tweeter con la fase invertita. Tuttavia, a seconda della posizione di
installazione del diffusore, il rendimento generale e la sonorità cambieranno. Scegliere quella delle due
modalità audio che rende meglio.
Se recomienda conectar el altavoz de agudos en fase inversa. Sin embargo, dependiendo de la
posición de montaje del altavoz, es posible que cambie la respuesta global y la etapa del sonido.
Seleccione la conexión que proporcione el mejor sonido.
Schwarz / grauer Streifen
· Changing the direction of tweeter (Fig. 4-2)
· Modification de l'orientation du haut-parleur d'aigus (Fig. 4-2)
· Ändern der Richtung des Hochtöners (Abb. 4-2)
· Veranderen van de richting van de tweeter (Afb. 4-2)
· Cambio della direzione del tweeter (Fig. 4-2)
· Cambio de dirección del altavoz de agudos (Figura. 4-2)
Pour un trou de haut-parleur de 170 mm
Für 170 mm Lautsprecheröffnung
Voor een 170 mm luidsprekergat
Per fori per altoparlanti da 170 mm
Para agujero de altavoz de 170 mm
Fig. 3-2 Abb. 3-2 Afb. 3-2 Figura 3-2
Must use amplifier with 2 capability.
Un amplificateur de 2 doit être utilisé.
Verwendung von Verstärker mit 2
Leistung ist erforderlich.
Gebruik van een versterker met 2
Si deve usare un amplificatore da 2 .
Se debe utilizar un amplificador con
---