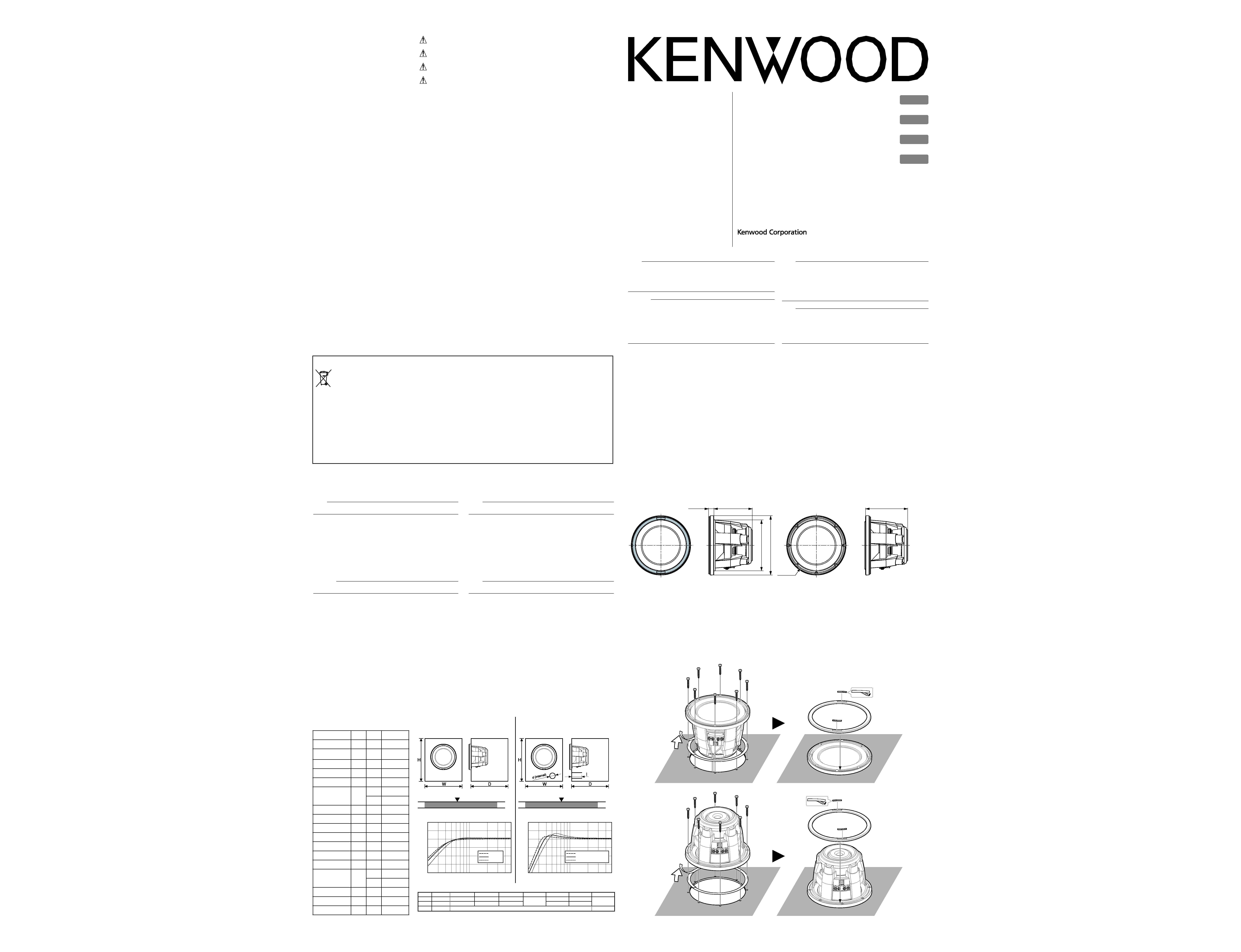 Observe the following cautions to prevent damage to the speakers.
· You cannot input the same power as "peak power" continually.
· When the volume is set too high, the sound may be distorted or abnormal. Reduce
the volume promptly in case of such phenomena.
· While the listening volume is set to a high level, do not load or eject a disc or cas-
sette tape or operate the selector and power switches of the amplifier.
Respecter les consignes suivantes pour éviter que les haut - parleurs ne soient
· Vous ne pouvez pas régler une puissance identique à la "puissance crête" de façon
· Si le niveau de sortie est trop puissant, les sons peuvent étre déformés ou anor-
maux. Réduire le niveau de sortie aussitôt que l'on constate ce phénomène.
· Si le niveau de sortie a été réglé à une valeur élevée, ne pas mettre en place ou
éjecter un disque ou une cassette, ne pas agir sur les sélecteurs ou l'interrupteur
d'alimentation de l'amplificateur.
Tome las precauciones siguientes para evitar estropear los altavoces.
· No es posible suministrar la misma potencia como "potencia máxima" continua-
· Cuando ajuste un volumen demasiado alto, el sonido podrá distorsionarse o no
ser normal. Reduzca rápidamente el volumen en este caso.
· Mientras el volumen de escucha esté ajustado a un nivel alto, no introduzca ni
expulse un disco o un casete, ni utilice los selectores ni el interruptor de la alimen-
Per evitare danni ai diffusori, osservate le seguenti precauzioni.
· Non è possibile alimentare continuamente i "correnti di cresta".
· Se il volume è troppo alto, il suono può risultare distorto o anormale. In tat caso,
riducete il volume immediatamente.
· Se il volume di ascolto è stato impostato ad un livello elevato, non caricate o
espellete un disco o una cassetta, non azionate nè il selettore nè gli interruttori di
alimentazione dell'amplificatore.
Caution : Read this page carefully to keep your safety.
AVERTISSEMENTS IMPORTANTS
Attention : Lire attentivement cette page pour votre sécurité.
Precaución : Para su seguridad, lea con atención esta página.
Attenzione : Per vostra sicurezza, leggete attentamente questa pagina.
After taking the unit out of the polyethylene bag, be
sure to dispose of the polyethylene bag out of the
reach of children. Otherwise, they may play with the
bag, which could cause hazard of suffocation.
Après avoir retiré l'appareil du sac de polyéthylène,
bien placer ce dernier hors de la portée des enfants.
S'ils jouent avec ce sac, un risque d'étouffement est
Después de sacar la unidad de la bolsa de polietileno,
asegúrese de poner la bolsa de polietileno donde no
puedan alcanzarla los niños. De otra forma, éstos
podrían jugar con la bolsa y se podría producir un
Estratta l'unità dal sacchetto in polietilene, gettatelo
in modo che non possa cadere in mano a bambini.
Essi potrebbero altrimenti rimanere soffocati.
Connect the illumination lamp-
equipped speakers to DC 12V,
Raccorder les haut-parleurs
munis d'in éclairage sur 12 V CC,
mise à la terre négative.
Conecte los altavoces equipados
con lámpara de iluminación a
una batería de 12 V CC con pues-
Se i diffusori possiedono indica-
tori, collegateli ad una sorgente
di energia a 12V di c.c. a terra
Do not install the speakers in
locations which may be subject
Ne pas installer les haut-parleurs
dans des endroits où ils peuvent
être exposés à de l'eau ou à l'hu-
No instale los altavoces en luga-
res sometidos al agua o a la
Non installate i diffusori in posi-
zioni esposte ad acqua ed umidi-
4. Dust and unstable locations
Do not install the speakers in
unstable locations or locations
Poussière et endroits instables
Ne pas installer les haut-parleurs
dans des endroits instables ou
exposés à de la poussière.
Polvo y ubicaciones inestables
No instale los altavoces en luga-
res inestables ni en lugares
Non installate i diffusori in posi-
zioni pericolose instabili o espo-
Do not attempt to open or modify
the unit, for this could cause fire haz-
Ne pas essayer de démonter ni de
modifier l'appareil car ceci risque de
provoquer un risque d'incendie ou
un fonctionnement incorrect.
No trate de abrir ni modificar la uni-
dad porque podría producirse un
peligro de incendio o una avería.
Non tentate di aprire o modificare
l'unità, dato che ciò potrebbe causare
incendi o errori di funzionamento.
Do not use gasoline, naphtha, or any
type of solvent to clean the speakers.
Clean by wiping with a soft, dry cloth.
Ne pas utiliser d'essence, de naphte
ni de diluant pour nettoyer les haut-
parleurs. Les nettoyer avec un chiffon
No utilice gasolina, nafta ni ningún
otro tipo de disolvente para limpiar
los altavoces. Límpielos con un paño
Non pulite l'unità con benzina, nafta
o solventi molto volatili in generale.
Usate solo un panno morbido ed
In the event the unit generates smoke or abnormal smell or no sound comes out
from the speaker, immediately switch the power OFF. After this, please contact your
dealer or nearest service station as soon as possible.
Dans le cas où l'appareil dégage de la fumée ou une odeur anormale, ou si aucun
son ne provient du haut-parleur, couper immédiatement l'alimentation. Contacter
ensuite votre concessionnaire ou centre de service le plus proche le plus rapidement
En caso de que la unidad genere humos u olores anormales o no genere sonido a
través del altavoz, desconecte inmediatamente la alimentación. Después, consulte
con su concesionario o centro de reparaciones más cercano tan pronto como sea
Nel caso che l'unità producesse del fumo o un odore anomalo, oppure non si sentis-
se nessun suono dagli altoparlanti, spegnerla immediatamente (OFF).Ciò fatto, con-
tattare appena possibile il rivenditore di fiducia o il centro di assistenza tecnica più
Information on Disposal of Old Electrical and Electronic Equipment (applica-
ble for EU countries that have adopted separate waste collection systems)
Products with the symbol (crossed-out wheeled bin) cannot be dis-
posed as household waste. Old electrical and electronic equipment
should be recycled at a facility capable of handling these items and
their waste byproducts. Contact your local authority for details in locat-
ing a recycle facility nearest to you. Proper recycling and waste disposal
will help conserve resources whilst preventing detrimental effects on our health
Information sur l'élimination des anciens équipements électriques et élec-
troniques (applicable dans les pays de l'Union Européenne qui ont adopté
des systèmes de collecte sélective)
Les produits sur lesquels le pictogramme (poubelle barrée) est apposé ne peuvent
pas être éliminés comme ordures ménagères. Les anciens équipements électriques
et électroniques doivent être recyclés sur des sites capables de traiter ces produits
et leurs déchets. Contactez vos autorités locales pour connître le site de recyclage
le plus proche. Un recyclage adapté et l'élimination des déchets aideront à conser-
ver les ressources et à nous préserver des leurs effets nocifs sur notre santé et sur
Información acerca de la eliminación de equipos eléctricos y electrónicos al
final de la vida útil (aplicable a los países de la Unión Europea que hayan
adoptado sistemas independientes de recogida de residuos)
Los productos con el símbolo de un contenedor con ruedas tachado no podrán ser
desechados como residuos domésticos. Los equipos eléctricos y electrónicos al
final de la vida útil, deberán ser reciclados en instalaciones que puedan dar el tra-
tamiento adecuado a estos productos y a sus subproductos residuales correspon-
dientes. Póngase en contacto con su administración local para obtener informa-
ción sobre el punto de recogida más cercano. Un tratamiento correcto del reciclaje
y la eliminación de residuos ayuda a conservar los recursos y evita al mismo tiempo
efectos perjudiciales en la salud y el medio ambiente.
Informazioni sullo smaltimento delle vecchie apparecchiature elettriche ed
elettroniche (valido per i paesi europei che hanno adottato sistemi di raccol-
I prodotti recanti il simbolo di un contenitore di spazzatura su ruote barrato non
possono essere smaltiti insieme ai normali rifiuti di casa. I vecchi prodotti elettrici
ed elettronici devono essere riciclati presso una apposita struttura in grado di trat-
tare questi prodotti e di smaltirne i loro componenti. Per conoscere dove e come
recapitare tali prodotti nel luogo a voi più vicino, contattare l'apposito ufficio
comunale. Un appropriato riciclo e smaltimento aiuta a conservare la natura e a
prevenire effetti nocivi alla salute e all'ambiente.
KENWOOD follows a policy of continuous advancements in development. For
this reason specifications may be changed without notice.
KENWOOD applique une politique de progrès continus. Les caractéristiques
peuvent donc être modifiées sans préavis.
Subwoofer ..................................... Cône en fibre de verre-carbone de 300 mm
Impédance nominale............................... 3 + 3 (Double bobine mobile)
Entrée de crête momentanée ................. 3.000 W
Entrée nominale....................................... 700 W
Niveau de pression sonore de sortie ...... 91 dB / W à 1 m
Résonance air libre .................................. 35 Hz
Réponse en fréquence............................. 20 - 800 Hz
Poids net ................................................... 12.800 g
KENWOOD persegue una politica di continua ricerca e sviluppo. Per tale ragio-
ne, i dati tecnici sono soggetti a modifiche senza preavviso.
Subwoofer ..................................... Cono in fibra di vetro e carbonio da 300 mm
Impedenza nominale ................... 3 + 3 (A doppia bobina della fonia)
Potenza di ingresso di picco .........3.000 W
Ingresso nominale ........................ 700 W
Pressione suono emesso ................91 dB / W a 1 m
Risonanza nell' aria....................... 35 Hz
Risposta in frequenza................... 20 - 800 Hz
Net Weight ..................................... 12.800 g
KENWOOD sigue una política de avances continuos en el campo del desarrollo.
Por esta razón, las especificaciones están sujetas a cambios sin previo aviso.
Altavoz de frecuenciasr ultrabajas
.......................................... Cono de fibra de vidrio-carbono de 300 mm
Impedancia nominal ..................... 3 + 3 (Bobina de voz doble)
Potencia máxima de entrada .........3.000 W
Potencia de entrada nominal.........700 W
Sensibilidad ................................... 91 dB / W bis 1 m
Resonancia al afire libre ..................35 Hz
Respuesta de frecuencia .................20 - 800 Hz
Peso neto........................................ 12.800 g
Subwoofer .......................300 mm (12") Cabon-glass fiber cone
Nominal Impedance .......3 + 3 (Dual voice coil)
Peak Input Power ............3,000 W
Rated Input Power ..........700 W
Sensitivity........................91 dB / W at 1 m
Free Air Resonance .........35 Hz
Frequency Response ......20 - 800 Hz
Net Weight .......................12,800 g (28.0 lb)
Dimensions / Dimensions / Dimensiones / Dimensioni
1. Place the supplied template on the panel and then mark the hole positions.
2. Cut open a large hole and make screw holes.
3. Peel off the covering sheet from the spacer, and attach the spacer on the back of
the speaker flange so that the flange is completely covered.
1. Placer le gabarit fourni sur le panneau et marquer les positions des trous.
2. Découper un trou de grande dimension et percer trous pour les vis.
3. Retirez la feuille de protection placée sur la bande et fixez cette bande sur le
bord arrière du haut-parleur de manière qu'il soit entièrement couvert.
1. Ponga la plantilla suministrada en el panel y luego marque las posiciones de los
2. Haga un agujero grande y agujeros para los tornillos.
3. Desprenda la cubierta del espaciador y coloque el espaciador en la parte poste-
rior de la brida del altavoz para que la brida quede cubierta completamente.
1. Posate la mascherina, in dotazione, sul pannello e marcate le posizioni per i fori.
2. Tagliate un grande foro e eseguirei fori per le viti.
3. Togliete il foglio protettivo del distanziale e applicatelo sul bordo posteriore del
diffusore, in modo che esso sia completamente coperto.
Recommended enclosure
(Use 21 mm (3/4 inch) thick Medium Density Fiberboard (MDF) or High Density Particleboard.)
mm (in.) (W, H, D : External dimensions)
1.5 [cu.ft] :Port(d×l)3"×7"
Recommended enclosures / Enceintes recommandées / Cajas recomendadas /
---