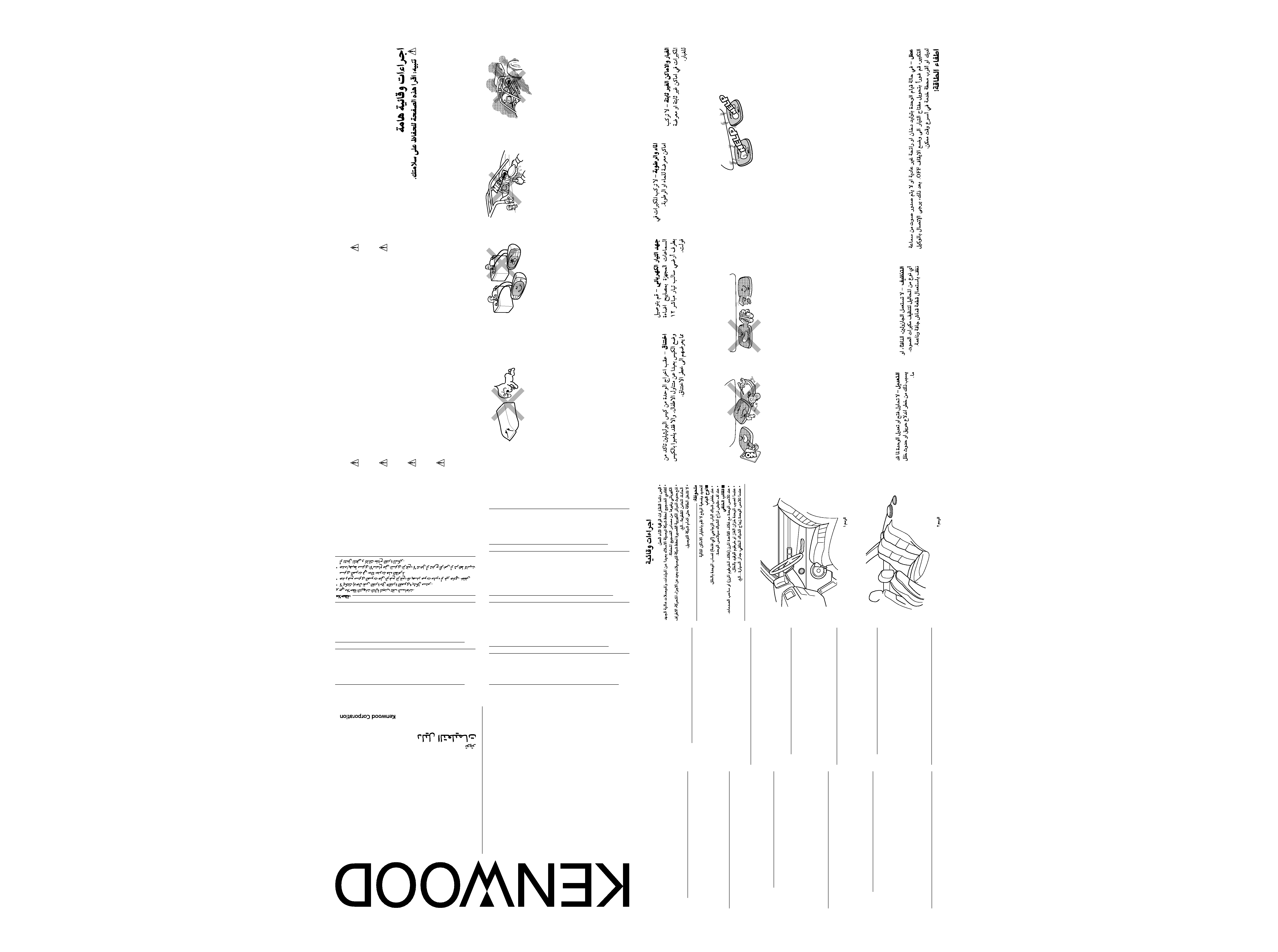 Caution : Read this page carefully to keep your safety.
AVERTISSEMENTS IMPORTANTS
Attention : Lire attentivement cette page pour votre sécurité.
WICHTIGE SICHERHEITSHINWEISE
Achtung : Diese Seite aus Sicherheitsgründen sorgfältig durchlesen.
BELANGRIJKE VOORZORGSMAATREGELEN
Let op : Lees voor uw veiligheid deze bladzijde zorgvuldig door.
Attenzione : Per vostra sicurezza, leggete attentamente questa pagina.
Precaución : Para su seguridad, lea con atención esta página.
1. Suffocation -- After taking the unit out of the polyethylene
bag, be sure to dispose of the polyethylene bag out of the
reach of children. Otherwise, they may play with the bag, which
could cause hazard of suffocation.
Etouffement -- Après avoir retiré l'appareil du sac de
polyéthylène, bien placer ce dernier hors de la portée des
enfants. S'ils jouent avec ce sac, un risque d'étouffement est
Erstickungsgefahr -- Nach der Entnahme der Lautsprecher
aus dem Polyäthylenbeutel muß dieser für Kinder unerreichbar
endsorgt werden. Wenn Kinder mit dem Beutel spielen, besteht
Verstikking -- Nadat u de luidsprekers uit de polyethyleen zak
heeft verwijderd, moet u deze zak weggooien. Zorg dat de zak
uit de buurt van kinderen blijft. Kinderen zouden met de zak
kunnen gaan spelen en de zak bijvoorbeeld over hun hoofd
trekken met verstikking tot gevolg.
Pericolo di soffocamento -- Estratta l'unità dal sacchetto in
polietilene, gettatelo in modo che non possa cadere in mano a
bambini. Essi potrebbero altrimenti rimanere soffocati.
Asfixia -- Después de sacar la unidad de la bolsa de poli-
etileno, asegúrese de poner la bolsa de polietileno donde no
puedan alcanzarla los niños. De otra forma, éstos podrían
jugar con la bolsa y se podría producir un peligro de asfixia.
2. Power supply voltage -- Connect the
illumination lamp-equipped speakers to
Tension d'alimentation -- Raccorder
les haut-parleurs munis d'in éclairage
sur 12 V CC, mise à la terre négative.
Betriebsspannung -- Die Lautsprecher
mit Beleuchtung an Gleichstrom 12 V
mit negativer Masse anschließen.
Spanningvoorziening -- Verbind de
luidsprekers voorzien van verlichting
met een 12 Volt, negatieve geaarde
Alimentazione -- Se i diffusori
possiedono indicatori, collegateli ad
una sorgente di energia a 12V di c.c. a
Tensión de alimentación -- Conecte
los altavoces equipados con lámpara
de iluminación a una batería de 12 V
CC con puesta a masa negativa.
3. Water and moisture -- Do not install
the speakers in locations which may
be subject to water or moisture.
Eau et humidité -- Ne pas installer
les haut-parleurs dans des endroits où
ils peuvent être exposés à de l'eau ou
Wasser und Feuchtigkeit -- Die
Lautsprecher nicht an Stellen ein-
Feuchtigkeit ausgesetzt werden.
Water en vocht -- Installeer de luid-
sprekers niet op plaatsen waar ze
mogelijk aan water of vocht bloot wor-
Acqua ed umidità -- Non installate i
diffusori in posizioni esposte ad acqua
Agua y humedad -- No instale los
altavoces en lugares sometidos al
4. Dust and unstable locations -- Do
not install the speakers in unstable
locations or locations subject to dust.
Poussière et endroits instables --
Ne pas installer les haut-parleurs dans
des endroits instables ou exposés à de
Staub und unstabile Stellen -- Die
Lautsprecher nicht an unstabilen
Stellen oder Stellen, wo sie Staub aus-
Stoffige en instabiele plaatsen --
Installeer de luidsprekers niet op stof-
fige plaatsen of instabiele plaatsen
onderhevig aan trillingen.
Urti e polvere -- Non installate i diffu-
sori in posizioni pericolose instabili o
esposte a polvere e sporco.
Polvo y ubicaciones inestables --
No instale los altavoces en lugares
inestables ni en lugares donde haya
5. Modification -- Do not attempt to open or
modify the unit, for this could cause fire haz-
Modification -- Ne pas essayer de
démonter ni de modifier l'appareil car ceci
risque de provoquer un risque d'incendie ou
un fonctionnement incorrect.
Veränderungen -- Niemals versuchen, die
Lautsprecher zu öffnen oder zu verändern,
Fehlfunktionen hervorgerufen werden
Aanpassingen -- Voorkom brand of
beschadiging en open derhalve de luid-
sprekers niet en breng er geen veranderin-
Modifiche -- Non tentate di aprire o modifi-
care l'unità, dato che ciò potrebbe causare
incendi o errori di funzionamento.
Modificación -- No trate de abrir ni modi-
ficar la unidad porque podría producirse un
peligro de incendio o una avería.
6. Cleaning -- Do not use gasoline, naphtha,
or any type of solvent to clean the speakers.
Clean by wiping with a soft, dry cloth.
Nettoyage -- Ne pas utiliser d'essence, de
naphte ni de diluant pour nettoyer les haut-
parleurs. Les nettoyer avec un chiffon doux
Reinigung -- Zum Reinigen der Laut-
sprecher niemals Benzin, Farbverdünner
oder andere Lösungsmittel verwenden. Zum
Reinigen ein weiches, trockenes Tuch ver-
Reinigen -- Gebruik geen benzine, thinner
of andere oplosmiddelen voor het reinigen
van de luidsprekers. Reinig de luidsprekers
met een zachte, droge doek.
Pulizia -- Non pulite l'unità con benzina,
nafta o solventi molto volatili in generale.
Usate solo un panno morbido ed asciutto.
Limpieza -- No utilice gasolina, nafta ni
ningún otro tipo de disolvente para limpiar
los altavoces. Límpielos con un paño suave
7. Malfunction -- In the event the unit generates smoke or abnormal smell or no sound comes out
from the speaker, immediately switch the power OFF. After this, please contact your dealer or near-
est service station as soon as possible.
Mauvais fonctionnement -- Dans le cas où l'appareil dégage de la fumée ou une odeur anormale,
ou si aucun son ne provient du haut-parleur, couper immédiatement l'alimentation. Contacter
ensuite votre concessionnaire ou centre de service le plus proche le plus rapidement possible.
Fehlfunktion -- Wenn aus dem Gerät Rauch austritt oder kein Ton von den Lautsprechern zu
hören ist, so schalten Sie sofort die Stromversorgung aus. Wenden Sie sich anschließend so bald
wie möglich an Ihren Händler oder an die nächstliegende Kundendienststation.
Storing -- Wanneer er rook of een vreemde geur uit de luidsprekers komt of deze in het geheel
geen geluid produceren, moet u direct de stroom uit (OFF) schakelen. Raadpleeg vervolgens uw
handelaar of een erkend onderhoudscentrum.
Malfunzionamento -- Nel caso che l'unità producesse del fumo o un odore anomalo, oppure non
si sentisse nessun suono dagli altoparlanti, spegnerla immediatamente (OFF).Ciò fatto, contattare
appena possibile il rivenditore di fiducia o il centro di assistenza tecnica più vicino.
SCOLLEGATE L'ALIMENTAZIONE!
Fallo de funcionamiento -- En caso de que la unidad genere humos u olores anormales o no
genere sonido a través del altavoz, desconecte inmediatamente la alimentación. Después, consulte
con su concesionario o centro de reparaciones más cercano tan pronto como sea posible.
¡DESCONECTE LA ALIMENTACION!
· Always wear protective eyewear during installation.
· To prevent noise pick-up, keep the wiring of this unit away from motors, high-
voltage leads and other possible noise sources.
· To prevent short-circuit, keep all wiring away from moving parts, sharp edges,
· Do not switch ON power until wiring is completed.
For mounting location, do not select the following places.
· When the door window glass is lowered (opened), the unit is damaged.
· When the window crank handle is rotated, it comes into contact with the unit.
· When the unit comes into contact with the boot lid spring (trunk lid spring) or
shock absorbers (shock towers).
· When the unit damages the gas tank or fuel hose.
· When the unit comes into contact with the rear window glass, car wall, etc.
· Portez toujours de protections oculaires pendant l'installation.
· Afin de supprimer les bruits, placer le câblage de cet appareil loin des moteurs,
câbles conducteurs de haute tension et autres sources possibles de bruit.
· Afin d'éviter la création de courts-circuits, éloigner le câblage des pièces
mobiles, arêtes vives, métal découpé, etc.
· Ne pas mettre l'appareil en route tant que le câblage n'est pas complètement
Ne pas choisir les emplacements suivants pour effectuer le montage.
· Lorsque le fait d'abaisser la vitre risque d'endommager l'appareil.
· Lorsque le fait de tourner la poignée d'ouverture de la vitre la met en contact
· Lorsque l'appareil vient en contact avec l'amortisseur arrière ou le renfort du
· Lorsque l'appareil risque d'endommager le réservoir à gaz ou la tuyauterie sou-
· Lorsque l'appareil entre en contact avec la vitre de la lunette arrière, les parois
· Tragen Sie während der Installation immer Augenschutz.
· Zur Verhinderung von Störgeräuschen die Kabel dieses Geräts von Motoren,
Hochspannungskabeln und anderen möglichen Störquellen fernhalten.
· Zur Verhinderung von Kurzschlüssen die Kabel von beweglichen Teilen, schar-
fen Kanten usw, fernhalten.
· Die Spannungsversorgung erst einschalten, wenn alle Anschlüsse durchgeführt
Die folgenden Stellen sollten nicht für den Einbau gewählt werden.
· Stellen, wo das Gerät durch Öffnen (Senken) der Fenster beschädigt werden
· Stellen, wo beim Öffnen der Fenster die Kurbel in Kontakt mit dem Gerät
· Stellen, wo das Gerät mit den Federn oder Dämpfern des Kofferraumdeckels in
· Stellen, wo das Gerät den Kraftstofftank oder die Benzinleitungen beschädigen
· Stellen, wo das Gerät mit dem Rückfenster, der Karosserie usw. in Kontakt
· Draag altijd een beschermende bril tijdens de installatie.
· Voorkom interferentie en houd de draden van de luidsprekers uit de buurt van
de motor, spanningsdraden en andere bronnen die mogelijk ruis of interferentie
zouden kunnen veroorzaken.
· Voorkom kortsluiting en houd de draden uit de buurt van bewegende onderde-
len, scherpe randen, etc.
· Schakel de spanning pas aan (ON) nadat alle aansluitingen zijn gemaakt.
Installeer de luidsprekers niet op de volgende plaatsen
· Op plaatsen waar de luidsprekers mogelijk worden beschadigd wanneer het
raam wordt geopend (het raam "zakt" omlaag).
· Op plaatsen waar de luidsprekers mogelijk worden beschadigd door het draaien
van de raamhendel voor het openen en sluiten van het raam.
· Op plaatsen waar de luidsprekers in kontakt komen met de veer van de koffer-
· Op plaatsen waar de luidsprekers mogelijk de benzinetank of -slang kan
· Op plaatsen waar de luidsprekers in kontakt komen met het glas van het achter-
ruit, of andere onderdelen van de auto.
· Durante l'installazione portate sempre gli occhiali di protezione.
· Per evitare l'intercettazione di rumori, tenere i fili di questo apparecchio lontani
da motori, fili ad alta tensione ed altre possibili sorgenti di rumori.
· Per prevenire corti circuiti, tenere i fili di collegamento lontani da parti mobili,
spigoli, parti di metallo taglienti, ecc.
· Non accendere l'apparecchio fino a quando tutti i collegamenti siano terminati.
Non installare l'apparecchio nei punti seguenti.
I Pannelli delle portiere
· Se abbassando il finestrino, l'apparecchio viene danneggiato.
· Se facendo girare la leva del finestrino, essa urta contro l'apparecchio.
I Dietro i sedili posteriori
· Se l'apparecchio viene in contatto con le molle del cofano o con gli ammortizza-
· Se l'apparecchio danneggia il serbatoio della benzina o il tubo del carburante.
· Se l'apparecchio viene in contatto con il vetro del finestrino posteriore, con le
· Siempre use protección para los ojos durante la instalación.
· Para evitar la captación de ruidos, mantenga el cableado de esta unidad aleja-
do de motores, conductores de alta tensión y otras posibles fuentes de ruido.
· Para evitar cortocircuitos, mantenga todo el cableado alejado de las partes
móviles, bordes agudos, metal cortado, etc.
· No conecte la alimentación hasta después de completar todas las conexiones.
Como ubicación de montaje, no seleccione ninguno de los lugares siguientes
· Donde la unidad pueda estropearse cuando baje (abra) el cristal de la ventanil-
· Donde la manilla de la ventana entre en contacto con la unidad al girarla.
· Donde la unidad entre en contacto con el muelle de la tapa del compartimiento
de equipajes (muelle de la tapa del portamaletas) o con los amortiguadores
(torres de amortiguadores).
· Donde la unidad pueda estropear el depósito o la manguera de combustible.
· Donde la unidad entre en contacto con la ventana trasera, paredes del
Fig. 1 Abb. 1 Afb. 1 Figura 1
Fig. 2 Abb. 2 Afb. 2 Figura 2
Precautions / Précautions / Zur Beachtung / Voorzorgsmaatregelen / Precauzioni / Precauciones /
---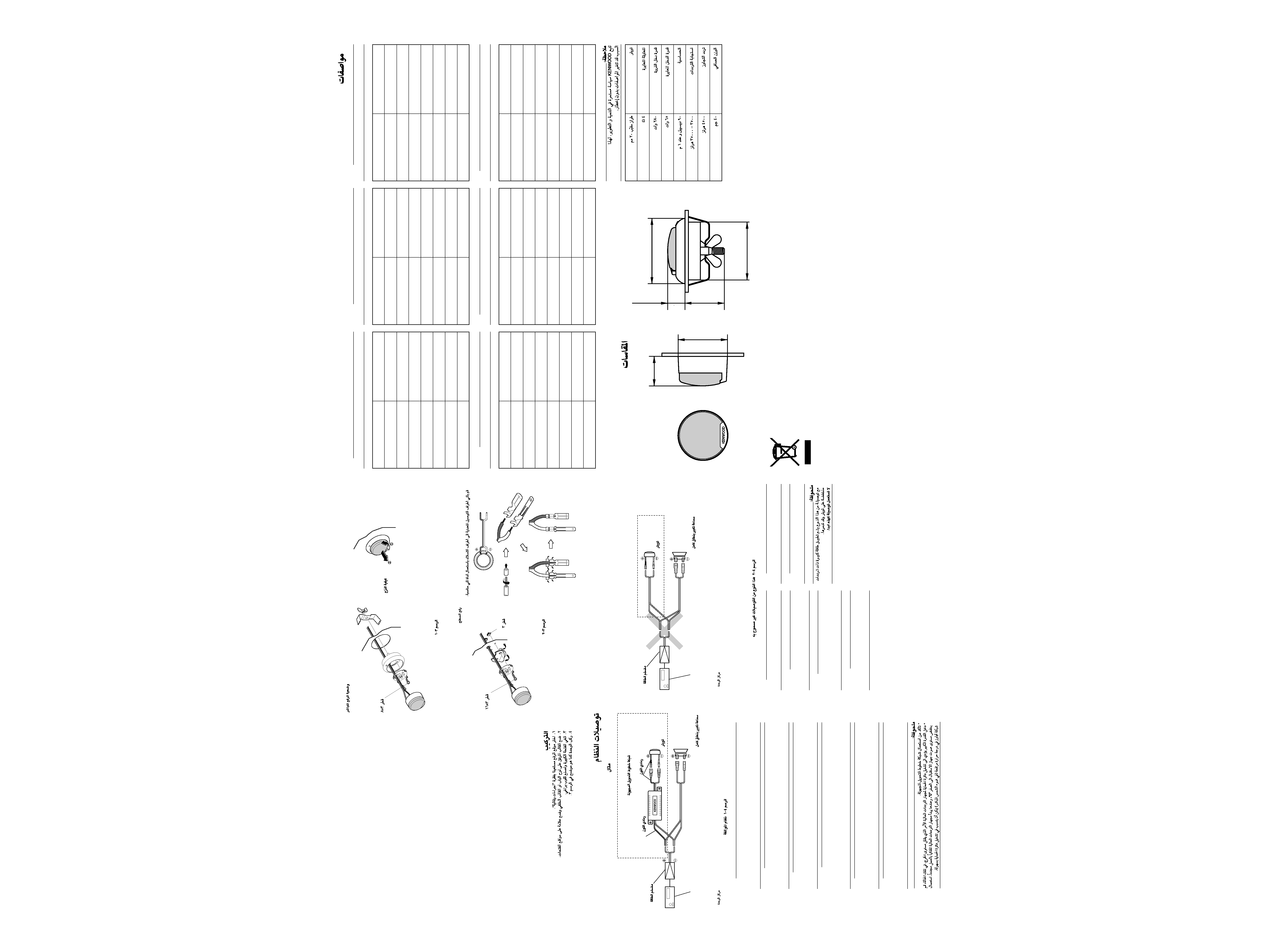 1. Select the mounting position, referring to "Precautions".
2. Place the supplied template on the door panel or the rear deck and mark the hole posi-
3. Cut off a large hole and make screw holes.
4. Install the unit as shown in Fig. 3.
1. Déterminer la position de montage en se référant aux instructions intitulées "Précautions".
2. Placer la gabarit fourni sur la plage arrière et repérer la position des trous de montage.
3. Découper un trou de grande dimension et percer trous pour les vis.
4. Installer l'appareil de la manière indiquée à la Fig. 3.
1. Die Einbauposition unter Beachtung von "Zur Beachtung" bestimmen.
2. Die mitgelieferte Schablone auf die Hutablage legen und die Positionen für die Löcher
3. Eine große Öffnung schneiden und Schraubenlöcher bohren.
4. Das Gerät einbauen, wie in Abb. 3 dargestellt.
1. Kies een geschikte plaats. Zie het gedeelte "Voorzorgsmaatregelen".
2. Plaats het bijgeleverde malplaatje op het portierpaneel of de hoedeplank en markeer de
3. Snijd een opening en maak schroefgaten.
4. Installeer de luidsprekers zoals in Afb. 3 aangegeven.
1. Scegliere la posizione di montaggio facendo riferimento alla sezione "Precauzioni".
2. Disporre la mascherina in dotazione sulla superficie di montaggio e marcare la posizione
3. Tagliare il foro centrale ed i fori laterali per le viti.
4. Installare l'apparecchio come illustrato in Fig. 3.
1. Seleccione la posición de montaje consultando "Precauciones".
2. Ponga la plantilla suministrada en el panel de la puerta o en la estantería trasera y marque
las posiciones de los agujeros.
3. Haga un agujero grande y agujeros para los tornillos.
4. Instale la unidad como se muestra en las figuras 3.
Specifications / Caractéristiques / Technische Daten / Technische gegevens / Dati tecnici / Especificaciones /
Dimensions / Abmessungen / Afmetingen /
Dimensioni / Dimensiones /
I Example / Beispiel / Voorbeeld / Esempio / Ejemplo /
Amplificateur de puissance
*Passive crossover network
*Réseau séparateur passif
*Passief scheidingsfilter-netwerk
*Filtro crossover passivo
· With such a connection, large energy of the low frequen-
cies is applied to the tweeters and may destroy them.
Never use such a connection.
· Avec une telle méthode de raccordement, les haut-par-
leurs d'aigus (tweeters) encaissent tout la puissance des
basse fréquence, ce qui risque de les endommager.
Ne jamais adopter ce type de raccordement.
· Bei einem Anschluß ohne Frequenzweiche wird den
Hochtönern eine große niederfrequente Energie
zugeführt, wodurch sie zerstört werden können.
Daher darf ein derartiger Anschluß niemals verwen-
· Met een dergelijke verbinding, worden te sterke lage frek-
wenties naar de tweeters gestuurd waardoor de tweeters
mogelijk worden beschadigd. Sluit derhalve nooit op
· Con tale collegamento, la grande energia delle basse fre-
quenze viene applicata ai tweeter e può causare danni.
Non utilizzare mai tale collegamento.
· Con esta conexión, se aplica una gran energía de bajas
frecuencias a los altavoces de agudos que podría estro-
pearlos. Nunca utilice esta conexión.
Fig. 4-1 Dispositif d'accord
Abb. 4-1 Abstimmungssystem
Afb. 4-1 Uitbreiding van systeem
Fig. 4-1 Sistema di sintonia
Figura 4-1 Sistema de afinación
Fig. 4-2 This kind of connection is not permitted
Fig. 4-2 Ce type de raccordement n'est pas possible
Abb. 4-2 Dieser Anschluß zerstört den Hochtöner
Afb. 4-2 Sluit nooit op deze manier aan
Fig. 4-2 Questo tipo di collegamento non è idoneo
Figura 4-2 No se permite realizar este tipo de conexión
Gray / Gris / Grau / Grijs /
KENWOOD follows a policy of continuous advancements in development. For this
reason specifications may be changed without notice.
KENWOOD applique une politique de progrès continus. Les caractéristiques peu-
vent donc être modifiées sans préavis
KENWOOD arbeitet ständig an der technologischen Weiterentwicklung seiner
Produkte. Aus diesem Grund bleibt die Änderung der technischen Daten vorbehalten.
Gray / Gris / Grau / Grijs /
Amplificateur de puissance
Entrée de crête momentanée
Niveau de pression sonore de sortie
Fréquence de recouvrement
KENWOOD technische gegevens zijn ter produktverbetering zonder voorafgaande
KENWOOD persegue una plitica di continua ricerca e sviluppo. Per tale ragione, i
dati tecnici sono soggetti a modifiche senza preavviso.
KENWOOD sigue una política de avances continuos en el campo del desarrollo.
Por esta razón, las especificaciones están sujetas a cambios sin previo aviso.
Picco istantaneo di ingresso
Potencia máxima de entrada
Potencia de entrada nominal
System connections / Connexions du système / Systemanschlüsse / Systemaansluitingen /
Collegamenti / Conexiones del sistema /
Information on Disposal of Old Electrical and Electronic Equipment
(applicable for EU countries that have adopted separate waste collec-
Products with the symbol (crossed-out wheeled bin) cannot be disposed as house-
hold waste. Old electrical and electronic equipment should be recycled at a facility
capable of handling these items and their waste byproducts. Contact your local
authority for details in locating a recycle facility nearest to you. Proper recycling and
waste disposal will help conserve resources whilst preventing detrimental effects on
our health and the environment.
Information sur l'élimination des anciens équipements électriques et électroniques
(applicable dans les pays de l'Union Européenne qui ont adopté des systèmes de
Les produits sur lesquels le pictogramme (poubelle barrée) est apposé ne peuvent pas être éliminés
comme ordures ménagères. Les anciens équipements électriques et électroniques doivent être
recyclés sur des sites capables de traiter ces produits et leurs déchets. Contactez vos autorités
locales pour connître le site de recyclage le plus proche. Un recyclage adapté et l'élimination des
déchets aideront à conserver les ressources et à nous préserver des leurs effets nocifs sur notre
santé et sur l'environnement.
Entsorgung von gebrauchten elektrischen und elektronischen Geräten (anzuwenden
in den Ländern der Europäischen Union und anderen europäischen Ländern mit
einem separaten Sammelsystem für solche Geräte)
Das Symbol (durchgestrichene Mülltonne) auf dem Produkt oder seiner Verpackung weist darauf
hin, dass dieses Produkt nicht als normaler Haushaltsabfall behandelt werden darf, sondern an einer
Annahmestelle für das Recycling von elektrischen und elektronischen Geräten abgegeben werden
muss. Durch Ihren Beitrag zur korrekten Entsorgung dieses Produktes schützen Sie die Umwelt und
die Gesundheit Ihrer Mitmenschen. Unsachgemässe oder falsche Entsorgung gefährden Umwelt
und Gesundheit. Weitere Informationen über das Recycling dieses Produktes erhalten Sie von Ihrer
Gemeinde oder den kommunalen Entsorgungsbetrieben.
Informatie over het weggooien van elektrische en elektronische apparatuur (partic-
Dit symbool geeft aan dat gebruikte elektrische en elektronische producten niet bij het normale
huishoudelijke afval mogen. Lever deze producten in bij de aangewezen inzamelingspunten, waar
ze gratis worden geaccepteerd en op de juiste manier worden verwerkt, teruggewonnen en herge-
bruikt. Voor inleveradressen zie www.nvmp.nl, www.ictmilieu.nl, www.stibat.nl. Wanneer u dit prod-
uct op de juiste manier als afval inlevert, spaart u waardevolle hulpbronnen en voorkomt u potentiële
negatieve gevolgen voor de volksgezondheid en het milieu, die anders kunnen ontstaan door een
onjuiste verwerking van afval.
Informazioni sullo smaltimento delle vecchie apparecchiature elettriche ed elettron-
iche (valido per i paesi europei che hanno adottato sistemi di raccolta separata)
I prodotti recanti il simbolo di un contenitore di spazzatura su ruote barrato non possono essere
smaltiti insieme ai normali rifiuti di casa. I vecchi prodotti elettrici ed elettronici devono essere riciclati
presso una apposita struttura in grado di trattare questi prodotti e di smaltirne i loro componenti. Per
conoscere dove e come recapitare tali prodotti nel luogo a voi più vicino, contattare l'apposito ufficio
comunale. Un appropriato riciclo e smaltimento aiuta a conservare la natura e a prevenire effetti
nocivi alla salute e all'ambiente.
Información acerca de la eliminación de equipos eléctricos y electrónicos al final de
la vida útil (aplicable a los países de la Unión Europea que hayan adoptado sistemas
independientes de recogida de residuos)
Los productos con el símbolo de un contenedor con ruedas tachado no podrán ser desechados
como residuos domésticos. Los equipos eléctricos y electrónicos al final de la vida útil, deberán ser
reciclados en instalaciones que puedan dar el tratamiento adecuado a estos productos y a sus sub-
productos residuales correspondientes. Póngase en contacto con su administración local para
obtener información sobre el punto de recogida más cercano. Un tratamiento correcto del reciclaje y
la eliminación de residuos ayuda a conservar los recursos y evita al mismo tiempo efectos perjudi-
ciales en la salud y el medio ambiente.
· Be sure to use the supplied Passive crossover network.
· Large power input will cause the protection circuit for the tweeter to operate, which will decrease
output level. In this case, turn the volume of the receiver to "0", then eventually the tweeter will
automatically start working again. Using the crossover network in high temperature (under direct
sunlight) may cause the protection circuit to operate easily.
· Il est indispensable d'utiliser le Réseau séparateur passif.
· Le circuit de protection du tweeter s'activera si le signal entrant est trop puissant, et le niveau de
sortie diminuera. Dans ce cas, réglez le volume de l'ampli-tuner sur «0», pour que le tweeter fonc-
tionne de nouveau. Le circuit de protection risque de s'enclencher facilement si un filtre d'aiguil-
lage est utilisé à haute température (par exemple en plein soleil).
· Unbedingt die mitgelieferte Passive Frequenzweiche.
· Große Eingangsleistung bewirkt Aktivierung der Schutzschaltung für Hochtöner, wodurch der
Ausgangspegel gesenkt wird. In diesem Fall die Lautstärke des Receivers auf "0" stellen, und
dann beginnt der Hochtöner wieder zu arbeiten. Bei Verwendung des Crossover-Netzes bei hoher
Temperatur (in direktem Sonnenlicht) kann die Schutzschaltung leicht ausgelöst werden.
· Gebruik het bijgeleverde Passief scheidingsfilter-netwerk.
· Bij een te hoog ingangsniveau zal de beveiliging voor de tweeter in werking treden, waardoor het
uitgangsniveau lager zal worden. In een dergelijk geval dient u het volume van de receiver op "0"
te zetten, waarna de tweeter automatisch weer normaal zal gaan functioneren. Gebruik van een
crossover netwerk bij hoge temperaturen (in direct zonlicht bijvoorbeeld) kan de beveiliging
gemakkelijker in werking doen treden.
· Accertarsi di utilizzare il filtro crossover passivo.
· Un aumento considerevole della potenza farà scattare il circuito di protezione del tweeter, che farà
diminuire il livello di uscita. In questo caso, portare il volume del ricevitore su "0" e poi il tweeter
riprenderà a funzionare automaticamente. L'uso della rete di crossover a temperature elevate (in
luce solare diretta) può far facilmente scattare il circuito di protezione.
· Asegúrese de utilizar el filtro separador pasivo incluido.
· Una gran entrada de potencia causará la activación del circuito de protección del altavoz de agu-
dos, lo cual reducirá el nivel de salida. En este caso, gire el volumen del receptor a "0", y luego el
altavoz de agudos eventualmente volverá a funcionar. El empleo de la red de cruce a altas tem-
peraturas (bajo la luz directa del sol) puede facilitar la activación del circuito de protección.
· Surface mounting / Montage en surface /
Montage auf Fläche / installatie op oppervlak /
Montaggio in superficie / Montaje en superficie /
Fig. 3-2 Abb. 3-2 Afb. 3-2 Figura 3-2
· Flush mounting / Montage encastré / bündige Montage /
Verzonken installatie / Montaggio a livello / Montaje nivelado /
Crimp the metal terminals to the wire ends using appropriate
Fixez l'extrémité des câbles aux bornes métalliques à l'aide
Befestigen Sie die Metallverbinder mit einer geeigneten
Crimpzange an den Kabelenden.
Plooi de metalen uiteinden van de draden met behulp van
Serrare le estremità del cavo ai terminali metallici utilizzando
opportuni strumenti di fissaggio.
Fije el extremo de los cables a los terminales metálicos uti-
lizando una herramienta apropiada.
Fig. 3-1 Abb. 3-1 Afb. 3-1 Figura 3-1
---