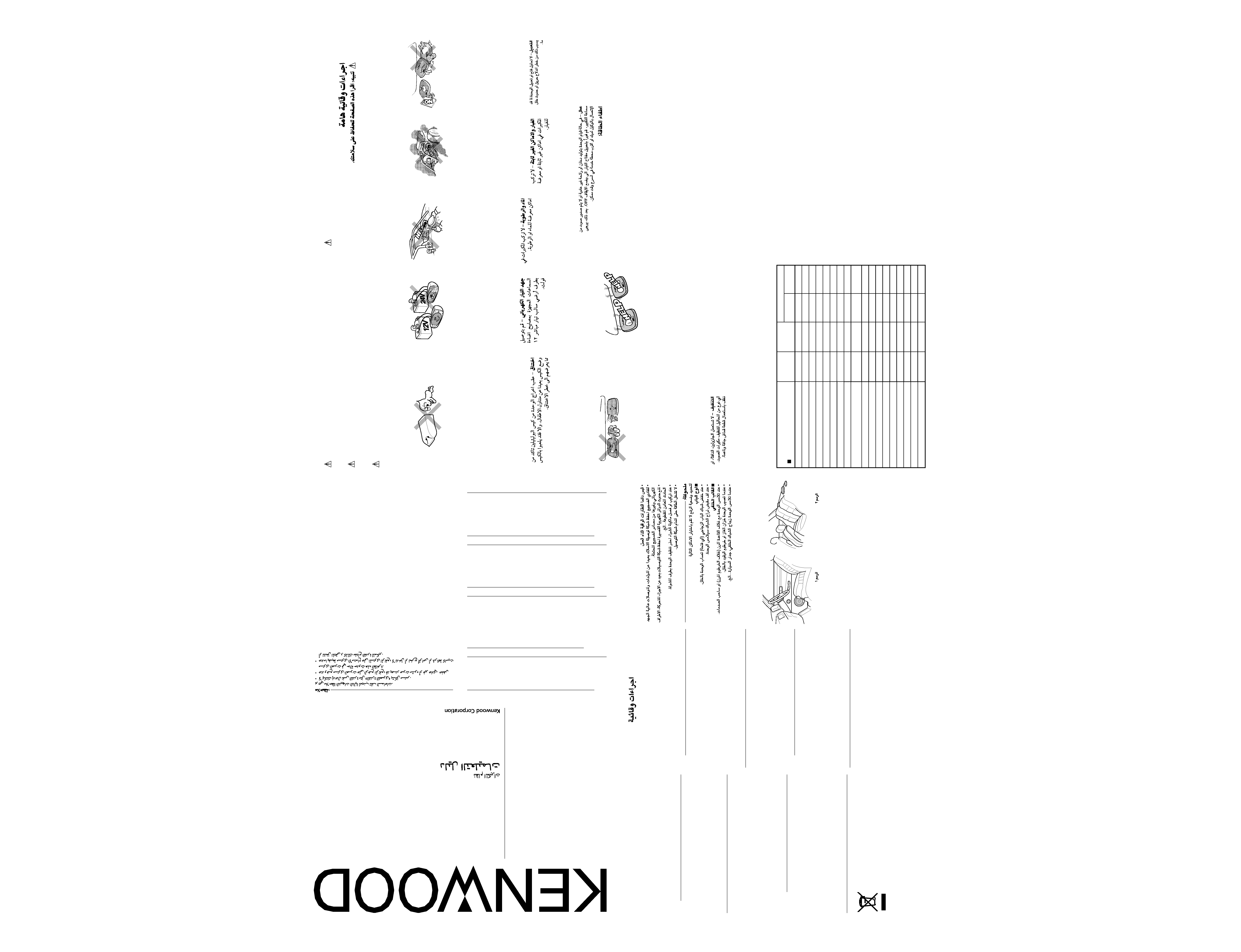 2. Power supply voltage -- Connect
the illumination lamp - equipped
speakers to DC 12V, negative ground.
Tension d'alimentation -- Raccorder
les haut-parleurs munis d'in éclairage
sur 12 V CC, mise à la terre négative.
Tensión de alimentación -- Conecte
los altavoces equipados con lámpara
de iluminación a una batería de 12 V
CC con puesta a masa negativa.
Tensão da alimentação -- Ligue
os altifalantes equipados com ilumi-
nação a 12 V CC, terra negativa.
Caution : Read this page carefully to keep your safety.
AVERTISSEMENTS IMPORTANTS
Attention : Lire attentivement cette page pour votre sécurité.
Precaución: Para su seguridad, lea con atención esta página.
Atenção : Leia atentamente esta página para garantir a sua segurança.
· Always wear protective eyewear during instllation.
· To prevent noise pick-up, keep the wiring of this unit away from motors, high-
voltage leads and other possible noise sources.
· To prevent short-circuit, keep all wiring away from moving parts, sharp edges,
· When removing or installing the grille, be careful not to brush the unit with
· Do not switch ON power until wiring is completed.
For mounting location, do not select the following places.
· When the door window glass is lowered (opened), the unit is damaged.
· When the window crank handle is rotated, it comes into contact with the unit.
· When the unit comes into contact with the boot lid spring (trunk lid spring) or
shock absorbers (shock towers).
· When the unit damages the gas tank or fuel hose.
· When the unit comes into contact with the rear window glass, car wall, etc.
Portez toujours de protections oculaires pendant l'installation.
· Afin de supprimer les bruits, placer le câblage de cet appareil loin des
moteurs, câbles conducteurs de haute tension et autres sources possibles
· Afin d'éviter la création de courts-circuits, éloigner le câblage des pièces
mobiles, arêtes vives, métal découpé, etc.
· Faire attention, au cours de la dépose ou pose de la grille, de ne pas toucher
l'appareil avec les bords de la grille.
· N e p a s m e t t r e l 'a p p a r e i l e n r o u te t a n t q u e l e c â b l a g e n 'e s t p a s
Ne pas choisir les emplacements suivants pour effectuer le montage.
· Lorsque le fait d'abaisser la vitre risque d'endommager l'appareil.
· Lorsque le fait de tourner la poignée d'ouverture de la vitre la met en contact
· Lorsque l'appareil vient en contact avec l'amortisseur arrière ou le renfort du
· Lorsque l'appareil risque d'endommager le réservoir à gaz ou la tuyauterie
· Lorsque l'appareil entre en contact avec la vitre de la lunette arrière, les parois
· Siempre use protección para los ojos durante la instalación.
· Para evitar la captación de ruidos, mantenga el cableado de esta unidad
alejado de motores, conductores de alta tensión y otras posibles fuentes de
· Para evitar cortocircuitos, mantenga todo el cableado alejado de las partes
móviles, bordes agudos, metal cortado, etc.
· Cuando extraiga o instale la rejilla, tenga cuidado para no rozar la unidad con
· No conecte la alimentación hasta después de completar todas las conexiones.
Como ubicación de montaje, no seleccione ninguno de los lugares siguientes
· Donde la unidad pueda estropearse cuando baje (abra) el cristal de la
· Donde la manilla de la ventana entre en contacto con la unidad al girarla.
· Donde la unidad entre en contacto con el muelle de la tapa del
compartimiento de equipajes (muelle de la tapa del portamaletas) o con los
amortiguadores (torres de amortiguadores).
· Donde la unidad pueda estropear el depósito o la manguera de combustible.
· Donde la unidad entre en contacto con la ventana trasera, paredes del
· Usar sempre protecção ocular durante a instalação.
· Para evitar a captação de ruídos, mantenha a fiação desta unidade afastada
de motores, fios de alta tensão e outras possíveis fontes de ruídos.
· De modo a evitar curtos-circuitos, mantenha toda fiação afastada de peças
móveis, bordas afiadas, metais cortantes, etc.
· Na remoção ou instalação da tela, tenha o cuidado de não resvalar a unidade
· Não ligue a alimentação (ON) até o término da ligação das fiações.
Não seleccione os seguintes locais para a montagem.
· Quando o vidro da janela for rebaixado (aberto), a unidade poderá ser avariada.
· Quando a manivela da janela for girada, a mesma poderá entrar em contacto
· Se a unidade entrar em contacto com a mola do compartimento de bagagens
(mola da cobertura da bagageira) ou os amortecedores (torres de amortecimento).
· Se a unidade avariar o tanque ou a mangueira de combustível.
· Se a unidade entrar em contacto com o vidro da janela posterior, divisórias do
Precautions / Précautions / Precauciones / Precauções /
Information on Disposal of Old Electrical and Electronic Equipment (applicable for EU countries
that have adopted separate waste collection systems)
Products with the symbol (crossed-out wheeled bin) cannot be disposed as household waste. Old electri-
cal and electronic equipment should be recycled at a facility capable of handling these items and their
waste byproducts. Contact your local authority for details in locating a recycle facility nearest to you.
Proper recycling and waste disposal will help conserve resources whilst preventing detrimental effects on
our health and the environment.
Information sur l'élimination des anciens équipements électriques et électroniques (applicable dans les pays de l'
Union Européenne qui ont adopté des systèmes de collecte sélective)
Les produits sur lesquels le pictogramme (poubelle barrée) est apposé ne peuvent pas être éliminés comme ordures
ménagères. Les anciens équipements électriques et électroniques doivent être recyclés sur des sites capables de traiter
ces produits et leurs déchets. Contactez vos autorités locales pour connître le site de recyclage le plus proche. Un recy-
clage adapté et l'élimination des déchets aideront à conserver les ressources et à nous préserver des leurs effets nocifs
sur notre santé et sur l'environnement.
Información acerca de la eliminación de equipos eléctricos y electrónicos al final de la vida útil (aplicable a los
países de la Unión Europea que hayan adoptado sistemas independientes de recogida de residuos)
Los productos con el símbolo de un contenedor con ruedas tachado no podrán ser desechados como residuos domés-
ticos. Los equipos eléctricos y electrónicos al final de la vida útil, deberán ser reciclados en instalaciones que puedan dar
el tratamiento adecuado a estos productos y a sus subproductos residuales correspondientes. Póngase en contacto con
su administración local para obtener información sobre el punto de recogida más cercano. Un tratamiento correcto del
reciclaje y la eliminación de residuos ayuda a conservar los recursos y evita al mismo tiempo efectos perjudiciales en la
salud y el medio ambiente.
Informação sobre a forma de deitar fora Equipamento Eléctrico ou Electrónico Velho (aplicável nos países da UE
que adoptaram sistemas de recolha de lixos separados)
Produtos com o símbolo (caixote do lixo com um X) não podem ser deitados fora junto com o lixo doméstico.
Equipamentos eléctricos ou electrónicos velhos deverão ser reciclados num local capaz de o fazer bem assim como os
seus subprodutos. Contacte as autoridades locais para se informar de um local de reciclagem próximo de si. Reciclagem
e tratamento de lixo correctos ajudam a poupar recursos e previnem efeitos prejudiciais na nossa saúde e no ambiente.
1. Suffocation -- After taking the unit out of the polyethylene
bag, be sure to dispose of the polyethylene bag out of the
reach of children. Otherwise, they may play with the bag,
which could cause hazard of suffocation.
Etouffement -- Après avoir retiré l'appareil du sac de polyé-
thylène, bien placer ce dernier hors de la portée des enfants. S'
ils jouent avec ce sac, un risque d'étouffement est possible.
Asfixia -- Después de sacar la unidad de la bolsa de polietile-
no, asegúrese de poner la bolsa de polietileno donde no pue-
dan alcanzarla los niños. De otra forma, éstos podrían jugar
con la bolsa y se podría producir un peligro de asfixia.
Sufocamento -- Após a retirada da unidade do saco de polie-
tileno, assegure-se de descartar o saco de polietileno num
lugar fora do alcance das crianças. Doutro modo, as crianças
poderão brincar com o saco, podendo causar o perigo de sufo-
3. Water and moisture -- Do not install
the speakers in locations which may
be subject to water or moisture.
Eau et humidité -- Ne pas installer
les haut-parleurs dans des endroits où
ils peuvent être exposés à de l'eau ou
Agua y humedad -- No instale los
altavoces en lugares sometidos al
Água e humidade -- Não instale os
altifalantes em locais que possam
estar sujeitos a água ou humidade.
4. Dust and unstable locations -- Do
not install the speakers in unstable
locations or locations subject to dust.
Poussière et endroits instables --
Ne pas installer les haut-parleurs dans
des endroits instables ou exposés à de
Polvo y ubicaciones inestables --
No instale los altavoces en lugares
inestables ni en lugares donde haya
Pó e locais instáveis -- Não instale
os altifalantes em locais instáveis ou
5. Modification -- Do not attempt to
open or modify the unit, for this could
cause fire hazard or malfunction.
Modification -- Ne pas essayer de
démonter ni de modifier l'appareil car
ceci risque de provoquer un risque d'
incendie ou un fonctionnement incor-
Modificación -- No trate de abrir ni
modificar la unidad porque podría
producirse un peligro de incendio o
Modificação -- Não intente abrir
ou modificar a unidade. Pois poderá
causar perigo de incêndio ou o mau
6. Cleaning -- Do not use gasoline, naphtha,
or any type of solvent to clean the speakers.
Clean by wiping with a soft, dry cloth.
Nettoyage -- Ne pas utiliser d'essence, de
naphte ni de diluant pour nettoyer les haut-
parleurs. Les nettoyer avec un chiffon doux et
Limpieza -- No utilice gasolina, nafta ni
ningún otro tipo de disolvente para limpiar
los altavoces. Límpielos con un paño suave y
Limpeza -- Não utilize gasolina, nafta ou
qualquer tipo de solvente para limpar os alti-
falantes. Limpe-os passando um pano seco e
7. Malfunction -- In the event the unit generates smoke or abnormal smell
or no sound comes out from the speaker, immediately switch the power
OFF. After this, please contact your dealer or nearest service station as soon
Mauvais fonctionnement -- Dans le cas où l'appareil dégage de la fumée
ou une odeur anormale, ou si aucun son ne provient du haut-parleur, cou-
per immédiatement l'alimentation. Contacter ensuite votre concession-
naire ou centre de service le plus proche le plus rapidement possible.
Fallo de funcionamiento -- En caso de que la unidad genere humos
u olores anormales o no genere sonido a través del altavoz, desconecte
inmediatamente la alimentación. Después, consulte con su concesionario
o centro de reparaciones más cercano tan pronto como sea posible.
¡DESCONECTE LA ALIMENTACION!
Mau funcionamento -- Caso a unidade gere fumaça ou cheiro anormal,
ou se nenhum som for emitido pelo altifalante, desligue imediatamente o
interruptor de alimentação (OFF). Feito isto, entre em contacto, assim que
possível, com o seu revendedor ou o centro de consertos técnicos mais
Resonance frequency impedance
Volume acoustic compliance
Emissive diameter of the diaphragm
KFC-P708 KFC-S702P KFC-P508 KFC-S502P
B61-1316-00_0_KFC-P708_1.indd 1
---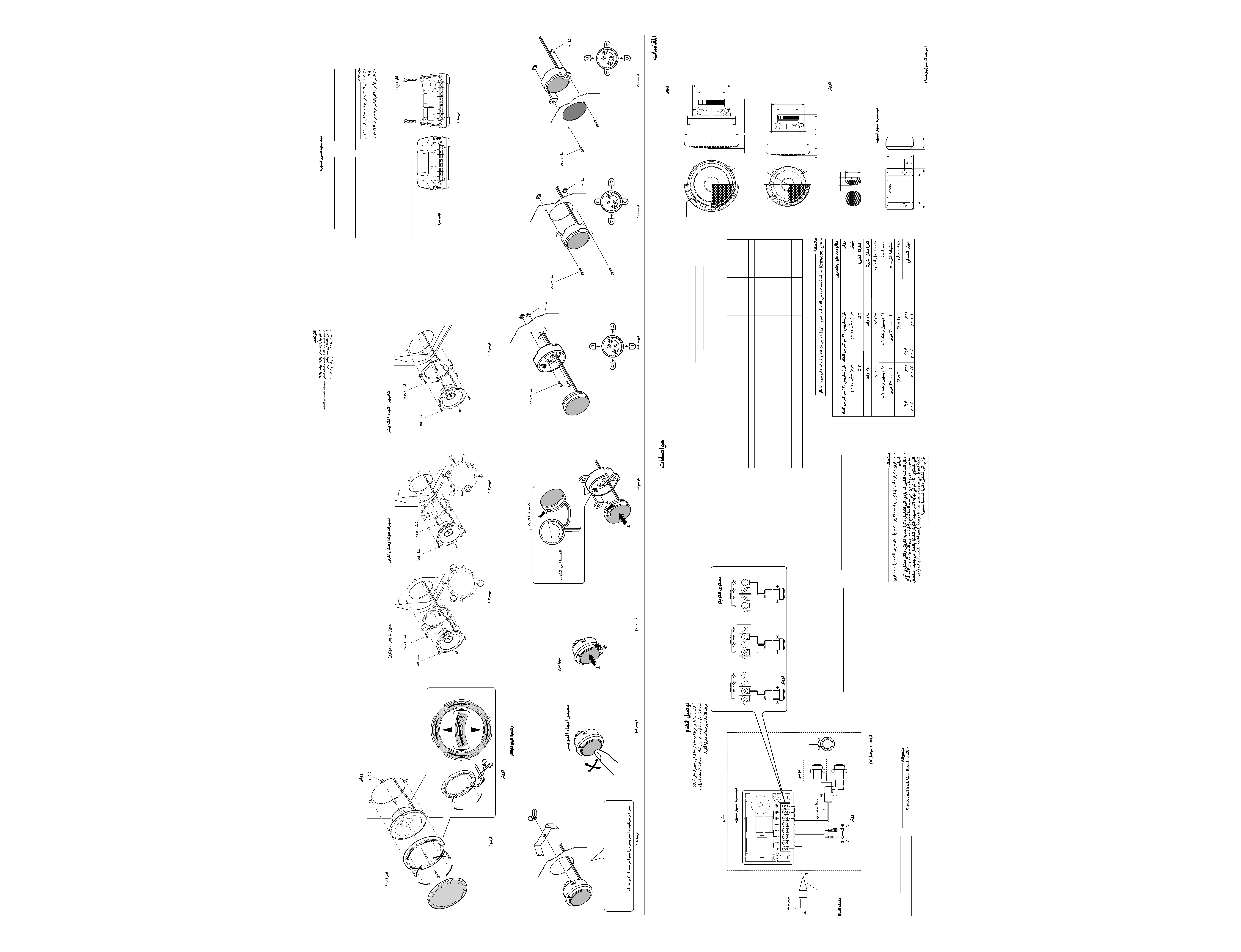 Dimensions / Abmessungen / Dimensiones / Dimensões /
1. Select the mounting position, referring to "Precautions".
2. Place the supplied template on the door panel or the rear deck
and mark the hole positions.
3. Cut off a large hole and make screw holes.
4. Install the unit as shown in Fig. 3, Fig. 4.
1. Déterminer la position de montage en se référant aux instruc-
tions intitulées "Précautions".
2. Placer la gabarit fourni sur la plage arrière et repérer la posi-
tion des trous de montage.
3. Découper un trou de grande dimension et percer trous pour
4. Installer l'appareil de la manière indiquée à la Fig. 3, Fig. 4.
1. Seleccione la posición de montaje consultando "Precauciones"
2. Ponga la plantilla suministrada en el panel de la puerta o en la
estantería trasera y marque las posiciones de los agujeros.
3. Haga un agujero grande y agujeros para los tornillos.
4. Instale la unidad como se muestra en las figuras 3 y 4.
1. Seleccione a posição de montagem, consultando "Precauções".
2. Coloque o gabarito fornecido no painel da porta ou no painel
posterior e marque as posições dos orifícios.
3. Recorte um grande orifício e perfure os orifícios dos parafusos.
4. Instale a unidade conforme mostram Fig. 3 e Fig. 4.
Woofer / Basses / Altavoz de graves / Altifalante de graves /
Woofer / Basses / Altavoz de graves / Altifalante de graves /
Tweeter / Aigus / Altavoz de agudos / Altifalante de agudos /
With this unit, the speaker cords are not supplied. Obtain
the audio speaker cords with the required length. To con-
nect the speaker cords to the unit, terminate the wires with
Avec cet appareil, les câbles des enceintes ne sont pas four-
nis. Se procurer des câbles d'enceinte de la longueur req-
uise. Pour connecter les câbles à l'appareil, les équiper à leur
extremité d'une prise femelle à cosse.
Con esta unidad no se suministran los cables de los altavo-
ces. Obtenga los cables de altavoces de la longitud necesa-
ria. Para conectar los cables de altavoces a la unidad, ponga
antes conectores de horquilla hembra en los conductores.
Fig. 6-1 General connection / Fig. 6-1 Raccordement ordinaire /
Figura 6-1 Conexión general / Fig. 6-1 Ligações gerais /
Be sure to use the supplied Passive crossover
Il es t indisp ens ab l e d 'utiliser le Réseau
Asegúrese de utilizar el filtro separador pasivo
Assegure-se de utilizar a rede de separação
Kenwood follows a policy of continuous advancements
in development. For this reason specifications may be
Kenwood applique une politique de progrès continus.
Les caractéristiques peuvent donc être modifiées sans
Kenwood sigue una política de avances continuos
en el camp o del des a rrollo. Po r es ta razón, la s
especificaciones están sujetas a cambios sin previo
A Kenwood segue uma política de avanço continuado
em desenvolvimento. Por esta razão, as especificações
poderão ser alteradas sem aviso prévio.
Specifications / Caractéristiques / Especificaciones / Especificações /
2-Way 2-Speaker System/2-Way 2-Speaker System/Sistema de 2 altavoces de 2 vías/
Sistema de 2 altifalantes de 2 vias
Woofer/Basses/Altavoz de graves/Altifalante de graves