GET0691-001A (MW/M2W/M0/M20)
© 2010 Kenwood Corporation All Rights Reserved.
Declaration of Conformity with regard to the EMC Directive 2004/108/EC
2967-3 Ishikawa-machi, Hachioji-shi, Tokyo, 192-8525 Japan
Kenwood Electronics Europe BV
Amsterdamseweg 37, 1422 AC UITHOORN, The Netherlands
About "KENWOOD Music Editor"
This unit supports the PC application "KENWOOD Music Editor Light ver1.0" or later.
When you use the audio file with database information added by the "KENWOOD Music Editor
Light ver1.0," you can search a file by title, album or artist name using Music Search.
In the Instruction manual, the term "USB device" is used to mean the device that contains audio
files with database information added with KENWOOD Music Editor.
"KENWOOD Music Editor Light ver1.0" is available from the following web site:
For further information on "KENWOOD Music Editor Light ver1.0," refer to the site above or the
KDC-U449/ KDC-U3049/ KDC-U349: MP3 (.mp3), WMA (.wma)
KDC-4051UM: AAC-LC (.m4a), MP3 (.mp3), WMA (.wma)
Playable disc media: CD-R/RW/ROM
Playable disc file format: ISO 9660 Level 1/2, Joliet, Romeo, Long file name.
Playable USB device file system: FAT16, FAT32
Although the audio files are complied with the standards listed above, the play maybe impossible
depending on the types or conditions of media or device.
Bu ürün 26891sayili Resmi Gazete'de yayimlanan Elektrikli ve Elektronik Eyalarda Bazi Zararli Maddelerin
Kullaniminin Sinirlandirilmasina Dair Yönetmelie uygun olarak üretilmitir.
This product complies with Directive, Number 26891 regarding "REGULATION ON THE RESTRICTION OF THE USE
OF CERTAIN HAZARDOUS SUBSTANCES IN ELECTRICAL AND ELECTRONIC EQUIPMENT".
"Made for iPod," and "Made for iPhone" mean that an electronic accessory has been designed to connect
specifically to iPod, or iPhone, respectively, and has been certified by the developer to meet Apple
performance standards. Apple is not responsible for the operation of this device or its compliance with safety
and regulatory standards. Please note that the use of this accessory with iPod or iPhone may affect wireless
iPhone, iPod, iPod classic, iPod nano, and iPod touch are trademarks of Apple Inc., registered in the U.S. and
The "AAC" logo is a trademark of Dolby Laboratories.
This symbol mark indicates that Kenwood manufactured this product so as to decrease
harmful influence on the environment.
CoverRear_KDC-U449[M]4.indd 1-2
CoverRear_KDC-U449[M]4.indd 1-2
---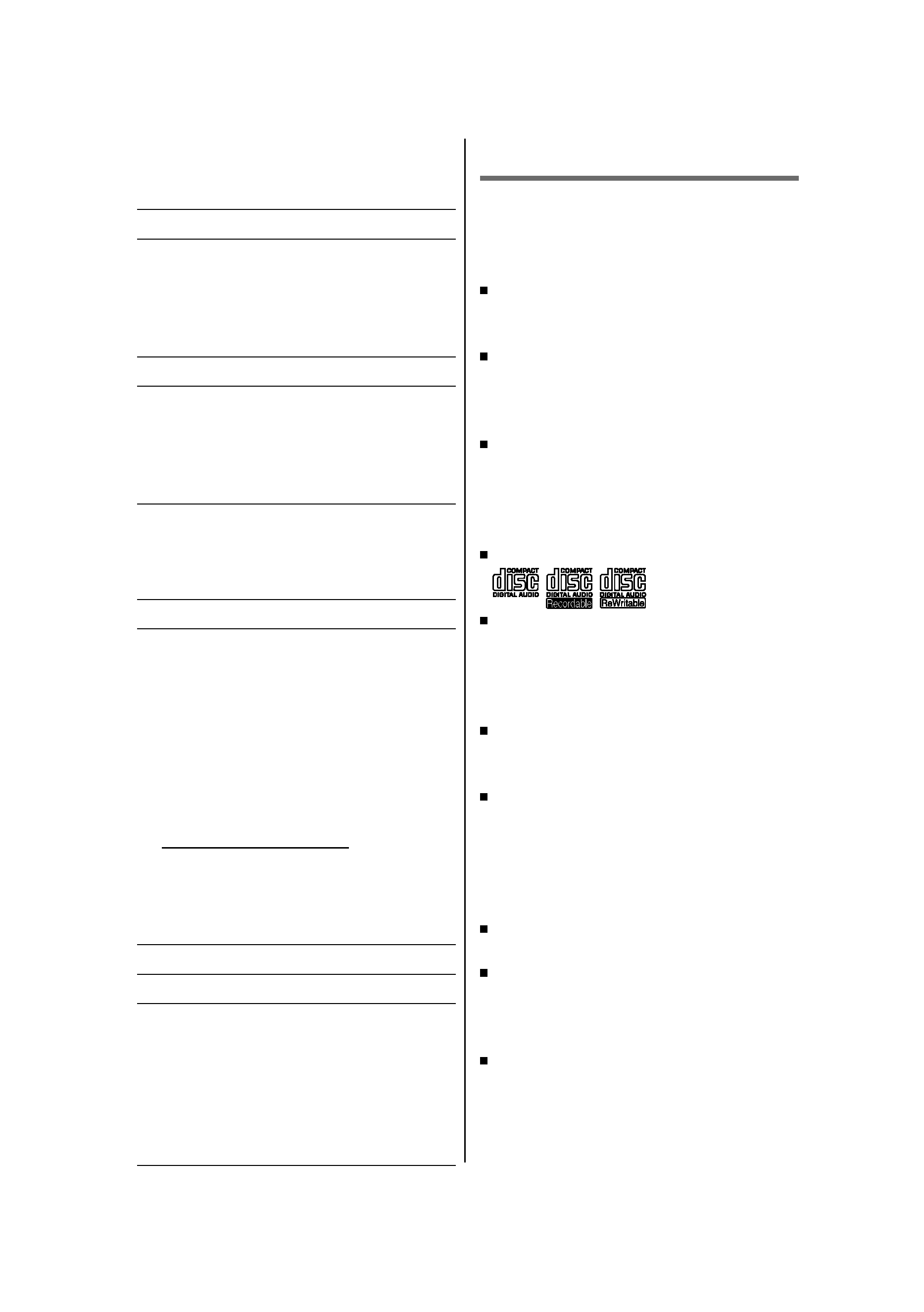 How to attach/detach the faceplate
How to prepare the remote controller
Canceling the display demonstration
Setting the demonstration mode
Initial settings before operations
Changing the frequency steps
(KDC-U449/ KDC-U3049/ KDC-U349 only)
Adjust [SETTINGS] mode settings
Listening to the other external components 9
Listening to a disc/ USB device/ iPod
Direct Music Search using the remote
Connecting an iPod (KDC-U449 only)
Selecting a folder/track/file
Functions of KDC-U449 with iPod
Alphabet Search and My Playlist for iPod
iPod control by Hand Mode
Adjust [SETTINGS] mode settings
Stop the car before operating the unit.
To prevent a short circuit, never put or
leave any metallic objects (such as coins or
metal tools) inside the unit.
Caution: Adjust the volume so that you
can hear sounds outside the car. Driving
with the volume too high may cause an
Condensation: When the car is air-
conditioned, moisture may collect on the
laser lens. This may cause disc read errors.
In this case, remove the disc and wait for
the moisture to evaporate.
This unit can only play the CDs with:
The illustrations in this manual are
examples used to explain more clearly
how the controls are used. Therefore, what
appears on the illustrations may differ from
what appears on the actual equipment.
A USB connection cable, CA-U1EX (optional
accessory) is required for connecting a USB
You can connect an Apple iPod/iPhone
The word "iPod" appearing in this manual
indicates the iPod or iPhone connected
to this unit with a connection cable,
KCA-iP101 (optional accessory).
If you experience problems during
installation, consult your Kenwood dealer.
When you purchase external components,
check with your Kenwood dealer to make
sure that they work with your model and in
Detailed information and notes about the
playable audio files are stated in an online
manual on the following site:
www.kenwood.com/cs/ce/audiofile/
EN02-19_KDC-U449[M]4.indd 2
EN02-19_KDC-U449[M]4.indd 2
---
How to attach/detach the faceplate
Do not expose the faceplate to direct
sunlight, excessive heat, or humidity. Also
avoid places with too much dust or the
possibility of water splashing.
Keep the faceplate in its casing while
The faceplate is a precision piece of
equipment and can be damaged by shocks
To prevent deterioration, do not touch the
terminals of the unit and faceplate with
If this unit fails to operate properly, press the
The unit returns to factory
How to prepare the remote
When you use the remote controller for the
first time, pull out the insulation sheet.
If the effectiveness of the remote
controller decreases, replace the battery.
Do not set the remote control in hot places
such as on the dashboard.
Danger of explosion if the battery is
incorrectly replaced. Replace only with the
The battery pack or batteries shall not be
exposed to excessive heat such sunshine,
Keep battery out of reach of children and in
original package until ready to use. Dispose
of used batteries promptly. If swallowed
contact physician immediately.
Remote controller (RC-405) is equipped
for KDC-U449/ KDC-U3049/ KDC-U349.
KDC-4051UM can also be remotely
controlled with an optionally purchased
The marking of products using lasers
The label is attached to the chassis/case
and says that the component uses laser
beams that have been classified as Class 1.
It means that the unit is utilizing laser
beams that are of a weaker class. There is
no danger of hazardous radiation outside
EN02-19_KDC-U449[M]4.indd 3
EN02-19_KDC-U449[M]4.indd 3
---
KDC-U3049/ KDC-U349/ KDC-4051UM:
The following indicator lights up when...
: A stereo broadcast is received.
ATT (blink) : The sound attenuates.
: [SYSTEM Q] is set to an EQ
mode other than [NATURAL].
B.BOOST : [BASS BOOST] is set to [1] or
: In Search Mode or when a
: Traffic Information function is turned
RDS : Radio Data System service is available.
Do not expose to bright sunlight.
Muting upon the reception of a phone call
To use this feature, connect the MUTE lead to your telephone using a commercial telephone
When a call comes in, "CALL" appears.
To continue listen to the audio system during a call, press
SRC. "CALL" disappear and the audio system resumes.
The audio system resumes.
EN02-19_KDC-U449[M]f.indd 4
EN02-19_KDC-U449[M]f.indd 4
---
When you press or hold the following button(s)...
Turns off if pressed and held.
Selects the available sources (TUNER, USB or iPod, CD, AUX,
STANDBY), if the power is turned on.
· If the source is ready, playback also starts. "iPod" or "CD" is selectable
only when an iPod is connected or a disc is loaded.
Adjusts the volume level.
Enters [FUNCTION] settings.
Selects the FM bands (FM1/ FM2/ FM3), MW/ SW1/ SW2, or MW/
Selects the next/previous folder. (Pressing BAND on the main
unit can only select the next folders.)
Pauses/resumes playback of a disc/ USB device/ iPod.
Searches for a radio station.
Fast-forwards/reverses tracks if pressed and held. (Fast-forwards/
reverses cannot be performed using the remote controller.)
Changes the display information.
Scrolls the display information if pressed and held.
Enters clock adjustment mode directly (page 6) if pressed and
held while in clock display screen.
Switches the controlling terminal (HANDS ON/ HANDS OFF) for
iPod playback if pressed and held. (page 12)
KDC-U3049/ KDC-U349/ KDC4051URM/ KDC-4051UGM only: Selects
Enters [AUDIO CONTROL/ AUDIO CTRL] settings directly.
· To return to the previous level, press the button again.
Returns to the previous item.
on the main unit will also exit from the setting
The illustration and button names used for explanation in this manual are of KDC-U449 (unless
mentioned otherwise). Refer to the table below for the difference:
KDC-U3049/ KDC-U349/ KDC-4051UM :
EN02-19_KDC-U449[M]f.indd 5
EN02-19_KDC-U449[M]f.indd 5
---