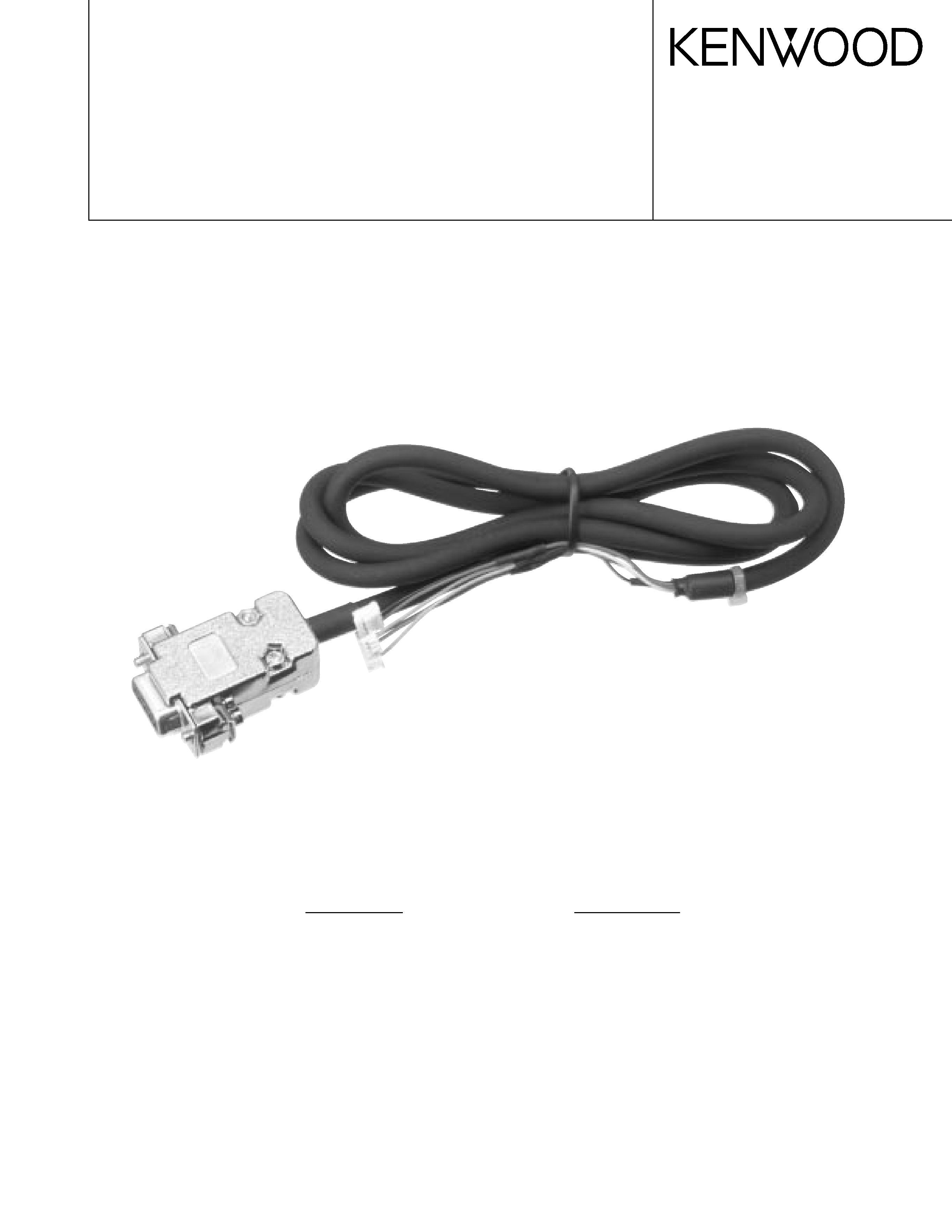 © 2000-2 PRINTED IN JAPAN
OUTLINE ................................................................... 2
FEATURES ................................................................ 2
TERMINAL FUNCTION ............................................. 2
INSTALLATION ......................................................... 2
PARTS LIST ............................................................... 3
SCHEMATIC DIAGRAM ............................................ 3
PC BOARD VIEWS .................................................... 4
---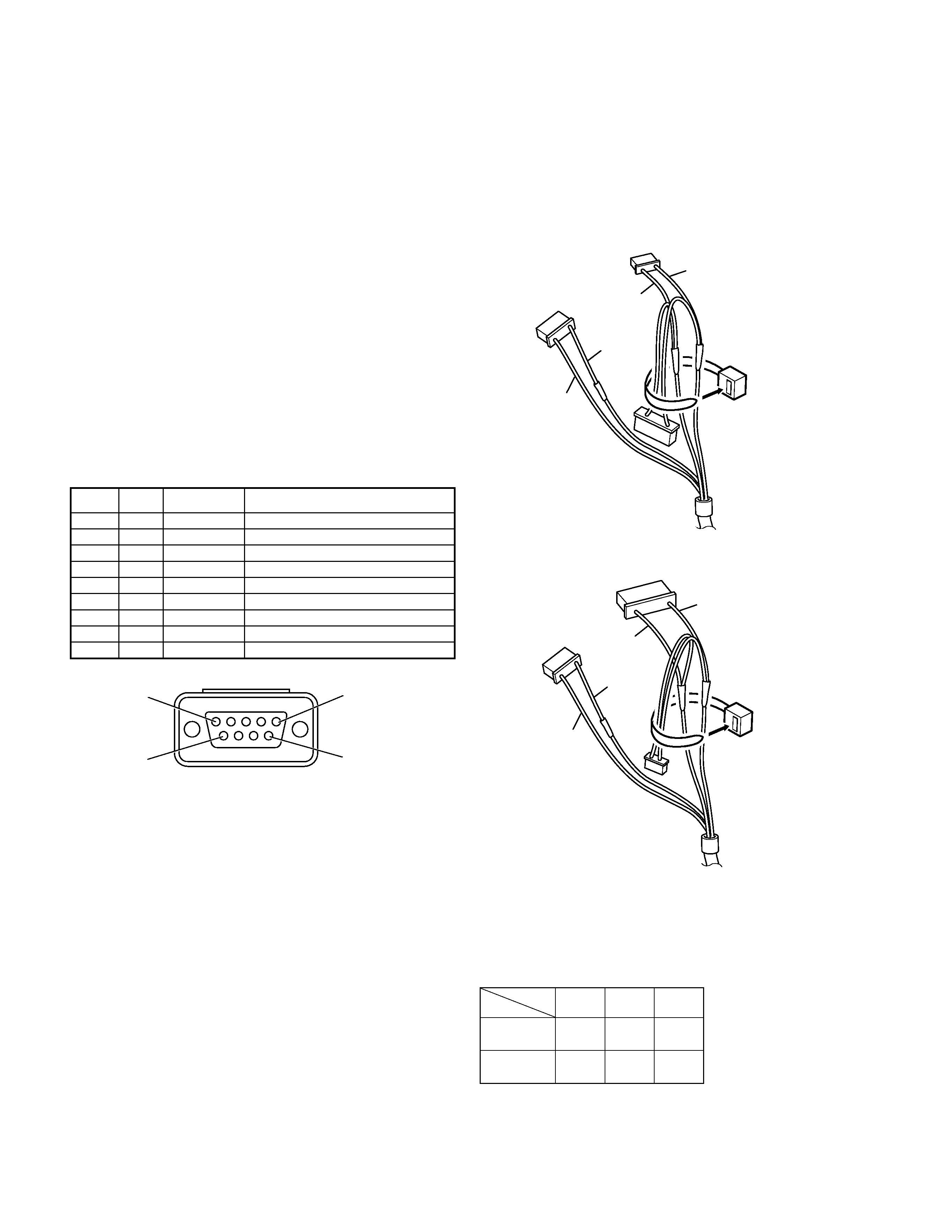 OUTLINE/FEATURES/TERMINAL FUNCTION/INSTALLATION
1. The KCT-31 is a RS-232C interface cable for LMR Mobile
radios, TK-780,880,980,981 and TK-785,885.
The 9-pin (D-sub) connector is connected to an external
The other end of the cable is connected to the internal
connector of LMR mobile radio.
Note: You cannot write a firmware with the KCT-31.
1. This KCT-31 has a RS-232C-TTL level interface circuit.
2. This KCT-31 does not require an external power supply.
3. This KCT-31 can be used up to 9600 bps.
4. Compatible with an ER terminal of DTE that has the voltage
Note: When the COM 1 is used, A connector is unused.
When the COM 2 is used, C connector is unused.
1. Bind the unused connector to the cable with a retaining
2. Make sure the unit's power is tuned off.
---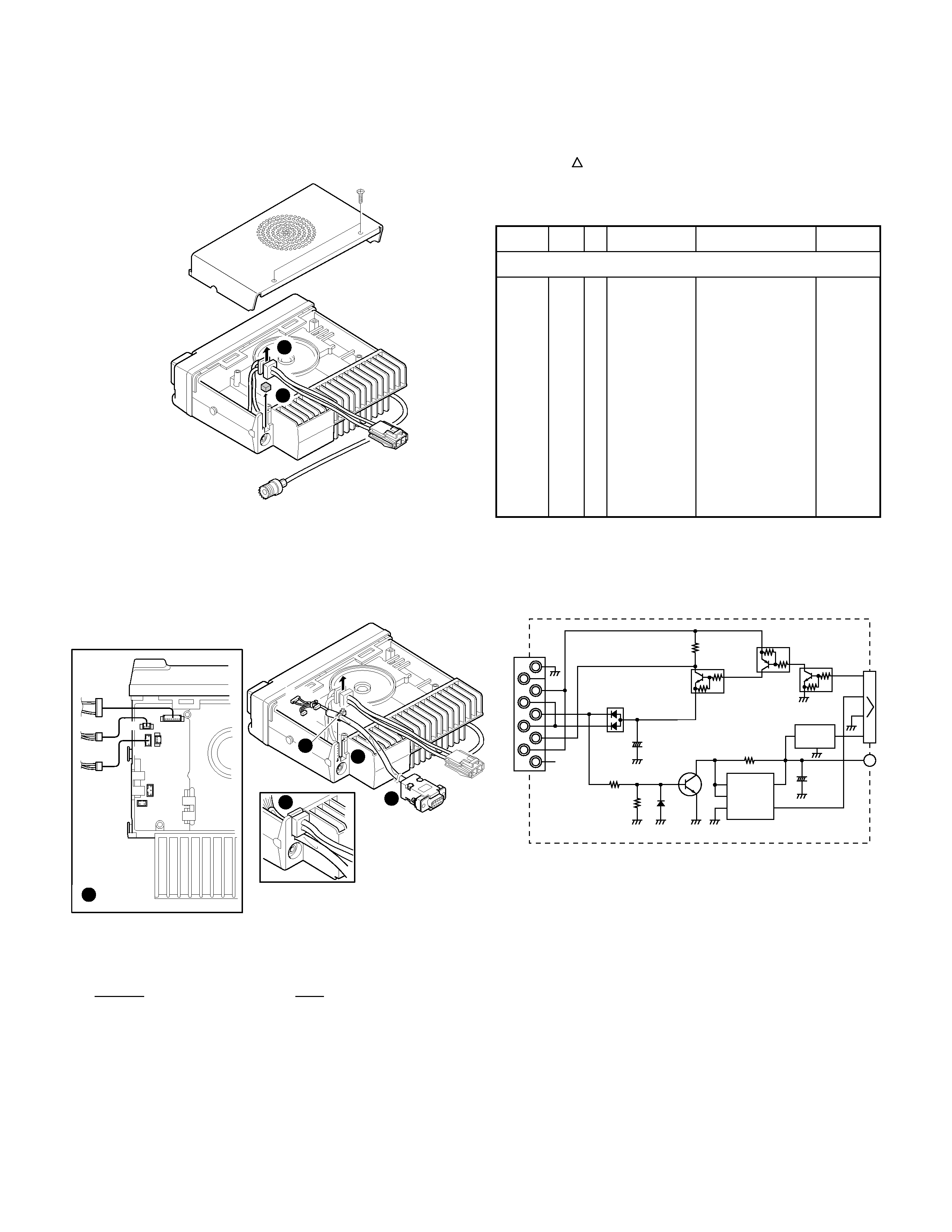 INSTALLATION/PARTS LIST/SCHEMATIC DIAGRAM
Enable the Serial Port function on the terminal.
Refer to the service manual of each radio or the help file that
came with the FPU (Field Programming Unit) for details.
indicates safety critical components.
Parts without Parts No. are not supplied.
Les articles non mentionnes dans le Parts No. ne sont pas fournis.
Teile ohne Parts No. werden nicht geliefert.
3. Remove the upper case of the transceiver and lift the DC
cable bushing () from the chassis.
4. Remove the pad as shown in figure2 ().
5. Insert the KCT-31 cable () into the chassis ().
The wire retaining band () must be inside the chassis.
6. Replace the DC cable bushing ().
7. Connect the KCT-31 to the TX-RX unit (A/2) as shown in
8. Replace the upper case.
The above modification has already been applied to the TK-
780/TK-880 transceivers with a serial number of 30200001 or
When using a COM2 port, replace the 47 k
resistor on the TX-RX unit B/2 with a 4.7 k
---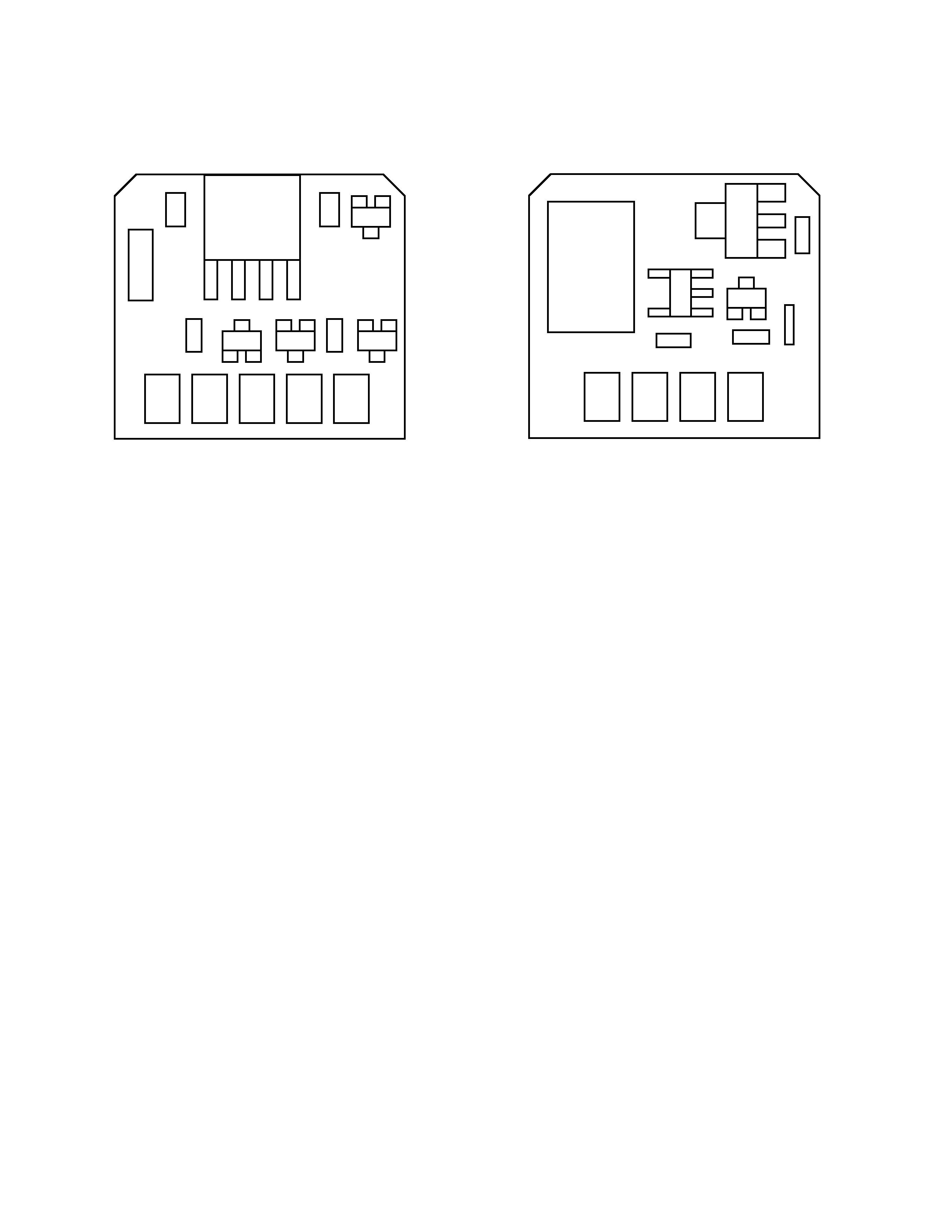 14-6, Dogenzaka 1-chome, Shibuya-ku, Tokyo 150-8501, Japan
KENWOOD SERVICE CORPORATION
P.O. BOX 22745, 2201 East Dominguez Street, Long Beach, CA 90801-5745,
KENWOOD ELECTRONICS CANADA INC.
6070 Kestrel Road, Mississauga, Ontario, Canada L5T 1S8
KENWOOD ELECTRONICS DEUTSCHLAND GMBH
Rembrücker Str. 15, 63150 Heusenstamm, Germany
KENWOOD ELECTRONICS BELGIUM N.V.
Mechelsesteenweg 418 B-1930 Zaventem, Belgium
KENWOOD ELECTRONICS FRANCE S.A.
13, Boulevard Ney, 75018 Paris, France
KENWOOD ELECTRONICS U.K. LIMITED
KENWOOD House, Dwight Road, Watford, Herts., WD1 8EB United Kingdom
KENWOOD ELECTRONICS EUROPE B.V.
Amsterdamseweg 37, 1422 AC Uithoorn, The Netherlands
KENWOOD ELECTRONICS ITALIA S.p.A.
Via G. Sirtori, 7/9 20129 Milano, Italy
Bolivia, 239-08020 Barcelona, Spain
KENWOOD ELECTRONICS AUSTRALIA PTY. LTD.
16 Giffnock Avenue, Centrecourt Estate, North Ryde, N.S.W. 2113, Australia
KENWOOD ELECTRONICS (HONG KONG) LTD.
Unit 3712-3724, Level 37, Tower one Metroplaza, 223 Hing Fong Road, Kwai Fong, N.T.,
KENWOOD ELECTRONICS TECHNOLOGIES(S) PTE LTD.
1 Ang Mo Kio Street 63, Singapore 569110
---