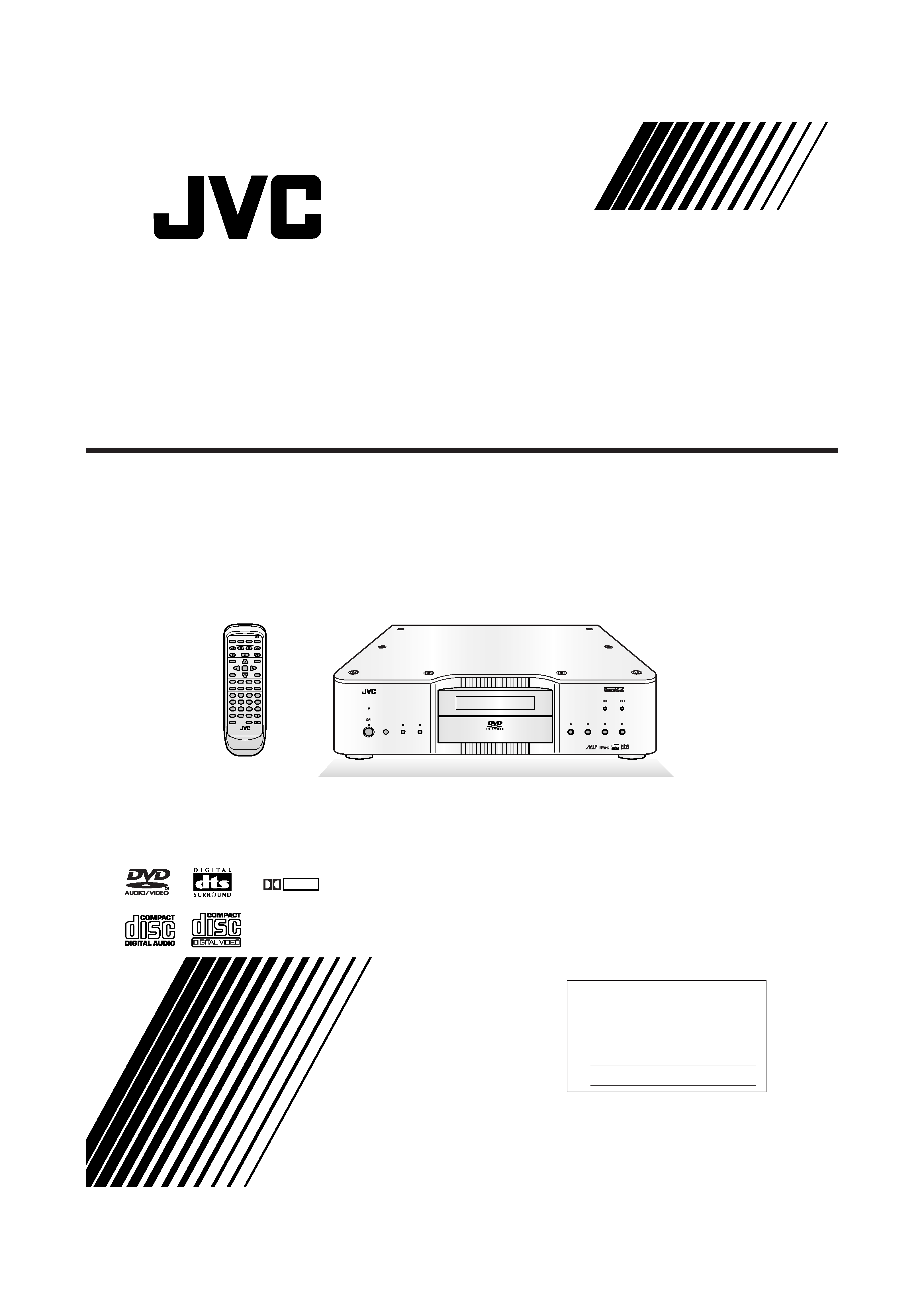 Enter below the Model No. and Serial
No. which are located either on the rear,
bottom or side of the cabinet. Retain this
information for future reference.
RM-SXVD9000A REMOTE CONTROL
---

Warnung, Achtung und sostige Hinweise
Mises en garde, précautions et indications diverses
Waarschuwingen, voorzorgen en andere mededelingen
Zur Verhinderung von elektrischen Schlägen, Brandgefahr, usw:
Keine Schrauben lösen oder Abdeckungen enternen und
nicht das Gehäuse öffnen.
Dieses Gerät weder Regen noch Feuchtigkeit aussetzen.
Afin d'éviter tout risque d'électrocution, d'incendie, etc.:
Ne pas enlever les vis ni les panneaux et ne pas ouvrir le
Ne pas exposer l'appareil à la pluie ni à l'humidité.
Ter vermindering van gevaar voor brand, elektrische schokken, enz.:
Verwijder geen schroeven, panelen of de behuizing.
Stel dit toestel niet bloot aan regen of vocht.
Den Netzstecker aus der Steckdose ziehen, um die Stromversorgung
vollkommen zu unterbrechen. Der Schalter
Stellung die Stromversorgung vollkommen. Die Stromversorgung kann
mit der Fernbedienung ein- und ausgeschaltet werden.
Déconnecter la fiche de secteur pour couper complètement le
ne coupe jamais complètement la
ligne de secteur, quelle que soit sa position. Le courant peut être
Om de stroomtoevoer geheel uit te schakelen, trekt u de stekker uit
het stopkontakt. Anders zal er altijd een geringe hoeveelheid stroom
naar het apparaat lopen, ongeacht de stand van de
U kunt het apparaat ook met de afstandsbediening aan- en
· Blockieren Sie keine Belüftungsschlitze oder -bohrungen.
(Wenn die Belüftungsöffnungen oder -löcher durch eine Zeitung
oder ein Tuch etc. blockiert werden, kann die entstehende Hitze
· Stellen Sie keine offenen Flammen, beispielsweise angezündete
· Wenn Sie Batterien entsorgen, denken Sie an den Umweltschutz.
Batterien müssen entsprechend den geltenden örtlichen
Vorschriften oder Gesetzen entsorgt werden.
· Setzen Sie die Anlage nicht in einem Badezimmer oder an Orten
ein, an denen Wasser verwendet wird. Stellen Sie auch keine
Behälter, die mit Wasser oder anderen Flüssigkeiten gefüllt sind
(beispielsweise Kosmetik- oder Medikamentenbehälter, Blumen-
vasen, Topfpflanzen, Tassen etc) auf diese Anlage.
· Zorg dat u de ventilatieopeningen en -gaten niet afsluit.
(Als de ventilatieopeningen en -gaten worden afgesloten door
bijvoorbeeld papier of een doek, kan er hitte in het apparaat
· Zet geen bronnen met open vuur, zoals brandende kaarsen, op
· Wees milieubewust en gooi lege batterijen niet bij het huishoude-
lijk afval. Lege batterijen dient u in te leveren met het KCA of bij
een innamepunt voor batterijen.
· Gebruik dit apparaat niet in een badkamer of in andere natte
Zet ook geen voorwerpen op het apparaat die zijn gevuld met
water of andere vloeistoffen (zoals cosmetica, medicijnen,
bloemenvazen, bloempotten, kopjes enz.).
Warnings, Cautions and Others
Disconnect the mains plug to shut the power off completely.
switch in any position does not disconnect the mains
line. The power can be remote controlled.
To reduce the risk of electrical shocks, fire, etc.:
Do not remove screws, covers or cabinet.
Do not expose this appliance to rain or moisture.
· Do not block the ventilation openings or holes.
(If the ventilation openings or holes are blocked by a newspaper
or cloth, etc., the heat may not be able to get out.)
· Do not place any naked flame sources, such as lighted candles,
· When discarding batteries, environmental problems must be
considered and local rules or laws governing the disposal of these
batteries must be followed strictly.
· Do not use this apparatus in a bathroom or places with water.
Also do not place any containers filled with water or liquids (such
as cosmetics or medicines, flower vases, potted plants, cups, etc.)
on top of this apparatus.
· Ne bloquez pas les orifices ou les trous de ventilation.
(Si les orifices ou les trous de ventilation sont bloqués par un
journal un tissu, etc., la chaleur peut ne pas être évacuée
correctement de l'appareil.)
· Ne placez aucune source de flamme nue, telle qu'une bougie,
· Lors de la mise au rebut des piles, veuillez prendre en
considération les problèmes de l'environnement et suivre
strictement les règles et les lois locales sur la mise au rebut
· N'utilisez pas cet appareil dans une salle de bain ou un autre
Ne placez aucun récipient contenant de l'eau (tel que des
cosmétiques ou des médicaments, un vase de fleurs, un pot
de fleurs, une tasse, etc.) sur cet appareil.
---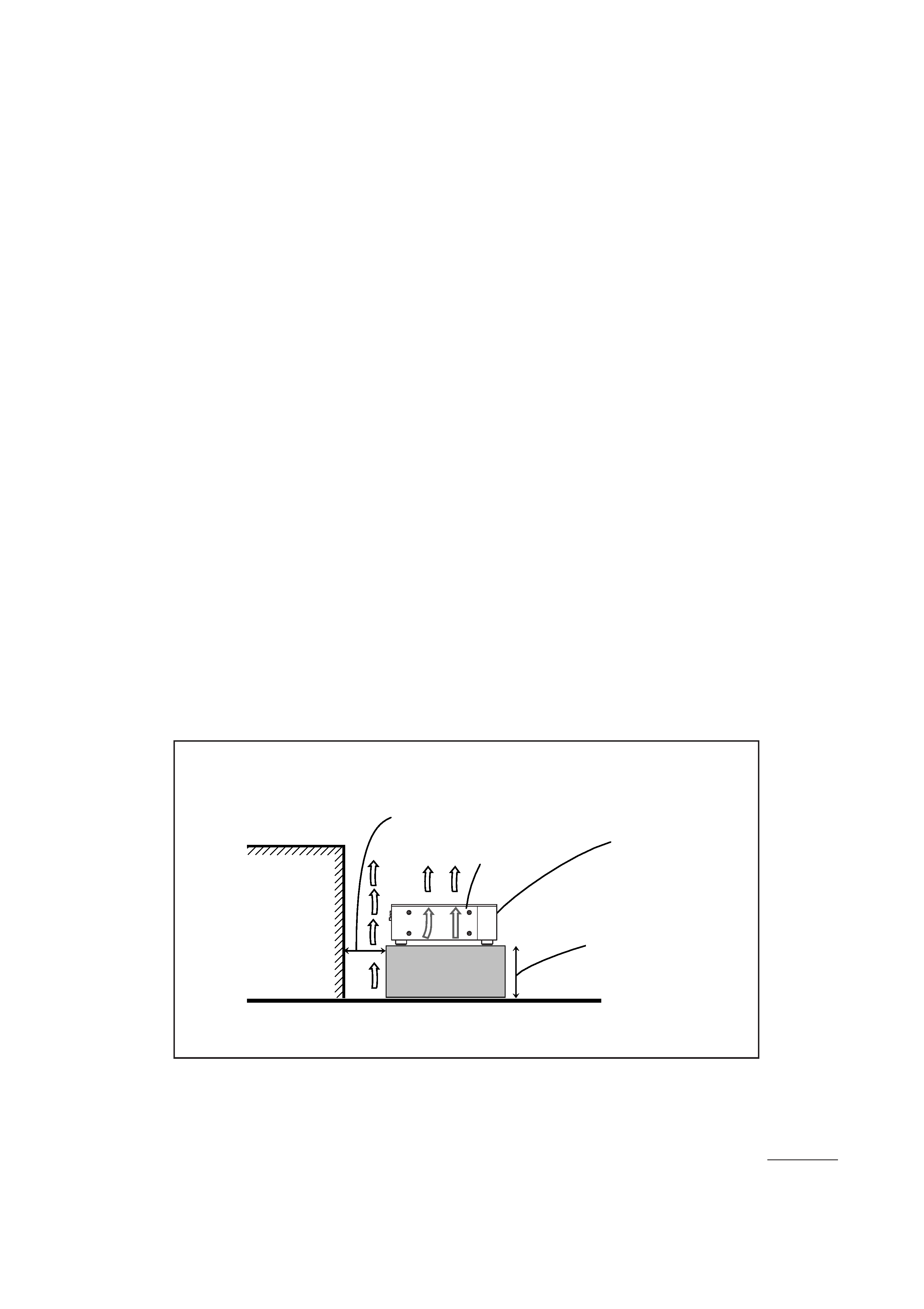 Achtung: Angemessene Ventilation
Stellen Sie das Gerät zur Verhütung von elektrischem Schlag und
Feuer und zum Schutz gegen Beschädigung wie folgt auf:
Vorderseite: Offener Platz ohne Hindernisse.
Keine Hindernisse innerhalb 3 cm von den Seiten.
Keine Hindernisse innerhalb 5 cm von der Oberseite.
Keine Hindernisse innerhalb 15 cm von der Rückseite.
Keine Hindernisse. Auf eine ebene Oberfläche stellen.
Attention: Ventilation Correcte
Pour éviter les chocs électriques, l'incendie et tout autre dégât.
Disposer l'appareil en tenant compte des impératifs suivants
Rien ne doit gêner le dégagement
Laisser 3 cm de dégagement latéral
Laisser 5 cm de dégagement supérieur
Laisser 15 cm de dégagement arrière
Rien ne doit obstruer par dessous; poser l'appareil sur
Voorzichtig: Zorg Voor Goede Ventilatie
Om gevaar voor brand of een elektrische schok te voorkomen, dient
u bij opstelling van het apparaat op de volgende punten te letten:
Voldoende ruimte vrij houden.
Minstens 3 cm aan weerszijden vrij houden.
Niets bovenop plaatsen; 5 cm speling geven.
Minstens 15 cm ruimte achteraan vrij houden.
Opstellen op een egaal horizontaal oppervlak.
Abstand von 15 cm oder mehr
Dégagement de 15 cm ou plus
Minstens 15 cm tussenruimte
Caution: Proper Ventilation
To avoid risk of electric shock and fire and to protect from damage.
Locate the apparatus as follows:
No obstructions open spacing.
No obstructions in 3 cm from the sides.
No obstructions in 5 cm from the top.
No obstructions in 15 cm from the back
No obstructions, place on the level surface.
Hauteur du socle: 5 cm ou plus
Standard op minstens 5 cm van de vloer
Stand height 5 cm or more
---

WICHTIGER HINWEIS FÜR LASER-PRODUKTE / IMPORTANT POUR LES PRODUITS LASER / BELANGRIJKE INFORMATIE VOOR
ANBRINGUNGSORTE FÜR LASER-PRODUKTE / REPRODUCTION DES ETIQUETTES / VERLARING VAN DE LABELS
1 KLASSIFIKATIONSETIKETTE AN DER RÜCKSEITE
1 ETIQUETTE DE CLASSIFICATION, PLACÉE A L'ARRIÈRE
1 KLASSIFIKATIELABEL, OP DE ACHTERZIJDE VAN HET
2 WARNETIKETTE IM GERÄTEINNEREN
2 ETIQUETTE D'AVERTISSEMENT PLACÉE À L'INTERIEUR
2 WAARSCHUWINGSLABEL, IN HET APPARAAT
LASER-PRODUKT DER KLASSE 1
GEFAHR: Sichtbare Laserstrahlung bei Öffnung und
fehlerhafter oder beschädigter Spre. Direkten Kontakt mit dem
ACHTUNG: Das Gehäuse nicht öffnen. Das Gerät enthält
keinerlei Teile, die vom Benutzer gewartet werden können.
Überlassen Sie Wartungsarbeiten bitte qualifizierten
ATTENTION: Radiation laser visible quand l'appareil est ouvert
ou que le verrouillage est en panne ou désactivé. Eviter une
exposition directe au rayon.
ATTENTION: Ne pas ouvrir le couvercle du dessus. Il n'y a
aucune pièce utilisable à l'intérieur. Laisser à un personnel
qualifié le soin de réparer votre appareil.
GEVAARLIJK: Zichtbaar laserstraling wanneer open en de
beveiliging faalt of uitgeschakeld is. Voorkom het direkt
blootstaan aan de straal.
VOORZICHTIG: De bovenkap niet openen. Binnenin het
toestel bevinden zich geen door de gebruiker te repareren
onderdelen: laat onderhoud over aan bekwaam vakpersoneel.
interlock failed or defeated.
sikkerhedsafbrydere er ude
af funktion. Undgå udsæt-
strålning när denna del är
jalukitus ohitettaessa olet
lasersäteilylle. Älä katso
IMPORTANT FOR LASER PRODUCTS
1 CLASSIFICATION LABEL, PLACED ON REAR ENCLOSURE
2 WARNING LABEL, PLACED INSIDE THE UNIT
DANGER: Invisible laser radiation when open and interlock
failed or defeated. Avoid direct exposure to beam.
CAUTION: Do not open the top cover. There are no user
serviceable parts inside the Unit; leave all servicing to qualified
---

Warnings, Cautions and Others ................................................... 2
Features ......................................................................................... 6
Usage Precautions ........................................................................ 7
Connections .................................................................................. 8
Precautions to Observe When Setting Up the Connections ............... 8
Connecting to a TV with a DVD Component Video
Input Terminal .......................................................................... 9
Connecting to a TV .................................................................... 10
Connecting to an Amplifier or Receiver ..................................... 11
Connecting to an Amplifier with a 5.1 Channel Input Terminal .. 12
Connecting to a Device with a Digital Input Terminal ................ 13
Connecting to the Power Supply ............................................... 14
Preparing the Remote Control ................................................... 15
Parts and Their Functions .......................................................... 16
Front Panel ................................................................................ 16
Display Section .......................................................................... 17
Rear Panel ................................................................................ 18
Remote Control ......................................................................... 19
Before You Start .......................................................................... 21
Opening Screen ........................................................................ 21
Preventing Screen Burn-in [Screen Saver] ................................ 21
On-screen guide icons .............................................................. 21
Types of Disc Supported by this Player ..................................... 22
Disc Composition ...................................................................... 23
Switching the Power On ............................................................. 24
Initial Settings ............................................................................. 25
Setting Up the Initial Settings .................................................... 25
PREFERENCE 1 Settings ......................................................... 26
PREFERENCE 2 Settings ......................................................... 28
SPK. SETTING Screen Settings ............................................... 30
Basic Operations ........................................................................ 33
Loading a Disc .......................................................................... 33
Playing a Disc ............................................................................ 34
Step-by-Step Procedure for Playing a Disc ........................... 34
Stopping a Disc ..................................................................... 34
Pausing a Disc ....................................................................... 34
Skipping Through a Disc ....................................................... 34
Fast Forward/Backward Through a Disc ................................ 35
Resume Playback [RESUME] ................................................... 35
Storing the resume position ................................................... 35
Resuming Playback ............................................................... 35
Viewing One Frame at a Time ................................................... 36
Slow Motion Playback ............................................................... 36
Playing Time Display [TIME DISPLAY] ...................................... 37
Using time display during playback ....................................... 37
Using time display while a disc is stopped
(using [TIME DISPLAY]) .................................................... 37
Using time display while a disc is stopped ............................ 38
Turning the Display Off to Get Better Sound Quality
[DISPLAY OFF] ..................................................................... 39
Adjusting the Image Brightness [THEATER POSITION] ........... 40
fs/RATE Display [fs/RATE] ......................................................... 40
Enjoying DVD Audio ................................................................... 42
Using the menu to select an item to play .................................. 42
Selecting a Track ....................................................................... 43
Selecting an Index Item ............................................................. 44
Still image display operations .................................................... 44
Advancing/replaying still images [PAGE +/­] ......................... 44
Jumping to specified still images on a disc [RETURN] ......... 44
Program Playback ..................................................................... 45
Random Playback ..................................................................... 46
Repeat Playback ....................................................................... 46
A-B Repeat Playback ................................................................ 47
Changing the Angle [ANGLE] ................................................... 47
Changing the Subtitles [SUBTITLE] .......................................... 48
Changing the Audio Setting [AUDIO] ........................................ 49
Playing a Bonus Group ............................................................. 49
Playing DVD Video Discs ............................................................ 51
Selecting the Section You Want to Watch .................................. 51
Using the menu to select an item to play ............................... 51
Specifying the title number to begin playback ....................... 52
Specifying the chapter number to begin playback
(Chapter search) ................................................................ 52
Repeat Playback ....................................................................... 52
A-B Repeat Playback ................................................................ 53
Changing the Angle [ANGLE] ................................................... 53
Changing the Subtitles [SUBTITLE] .......................................... 54
Changing the Audio Language [AUDIO] .................................... 54
Parental Lock Setting ................................................................ 55
Setting Parental Lock ............................................................ 55
Changing Parental Lock ........................................................ 56
Temporarily Cancelling Parental Lock ................................... 57
Playing Audio CD and Video CD Discs ..................................... 58
Selecting a Song from a Menu .................................................. 59
Selecting a Track ....................................................................... 59
Selecting an Index Item ............................................................. 59
Program Playback ..................................................................... 60
Random Playback ..................................................................... 61
Repeat Playback ....................................................................... 61
A-B Repeat Playback ................................................................ 62
Changing the Audio Channel [AUDIO] ...................................... 62
Extended K2 Processing Version 2.0 Function ........................ 63
Handling Discs ............................................................................ 64
Troubleshooting .......................................................................... 65
Specifications .............................................................................. 66
Dimensions .................................................................................. 67
Table of Languages and Their Abbreviations ........................... 68
Country Code List for Parental Lock ......................................... 70
Glossary ....................................................................................... 71
---