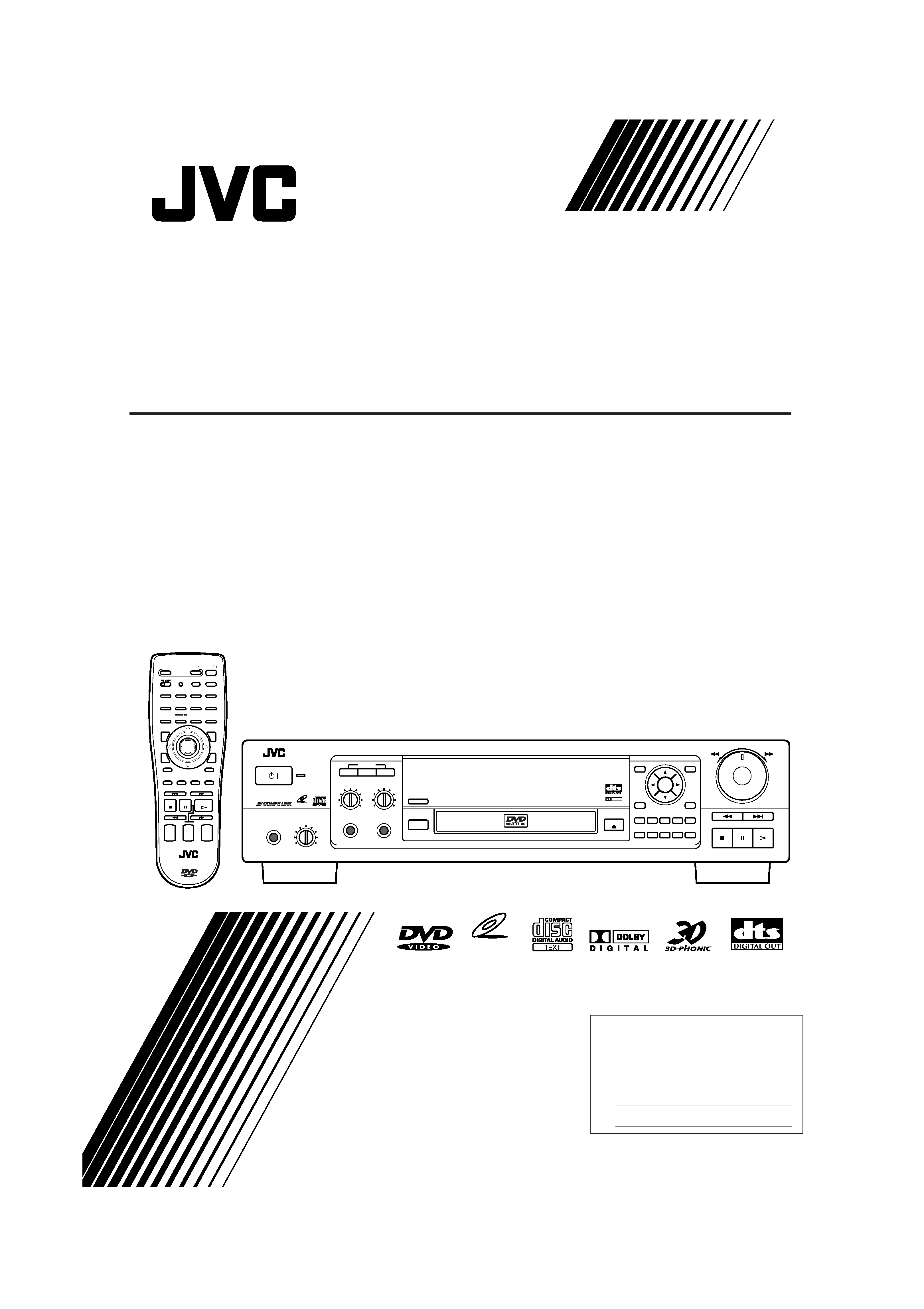 [2U, 3U, 4U, US, UB, UT] EN
Enter below the Model No. and Serial
No. which are located either on the rear,
bottom or side of the cabinet. Retain this
information for future reference.
[ 2U, 3U, 4U, US, UB, UT ]
Enter below the Model No. and Serial No.
which are located on the rear, bottom or
side of the cabinet. Retain this information
---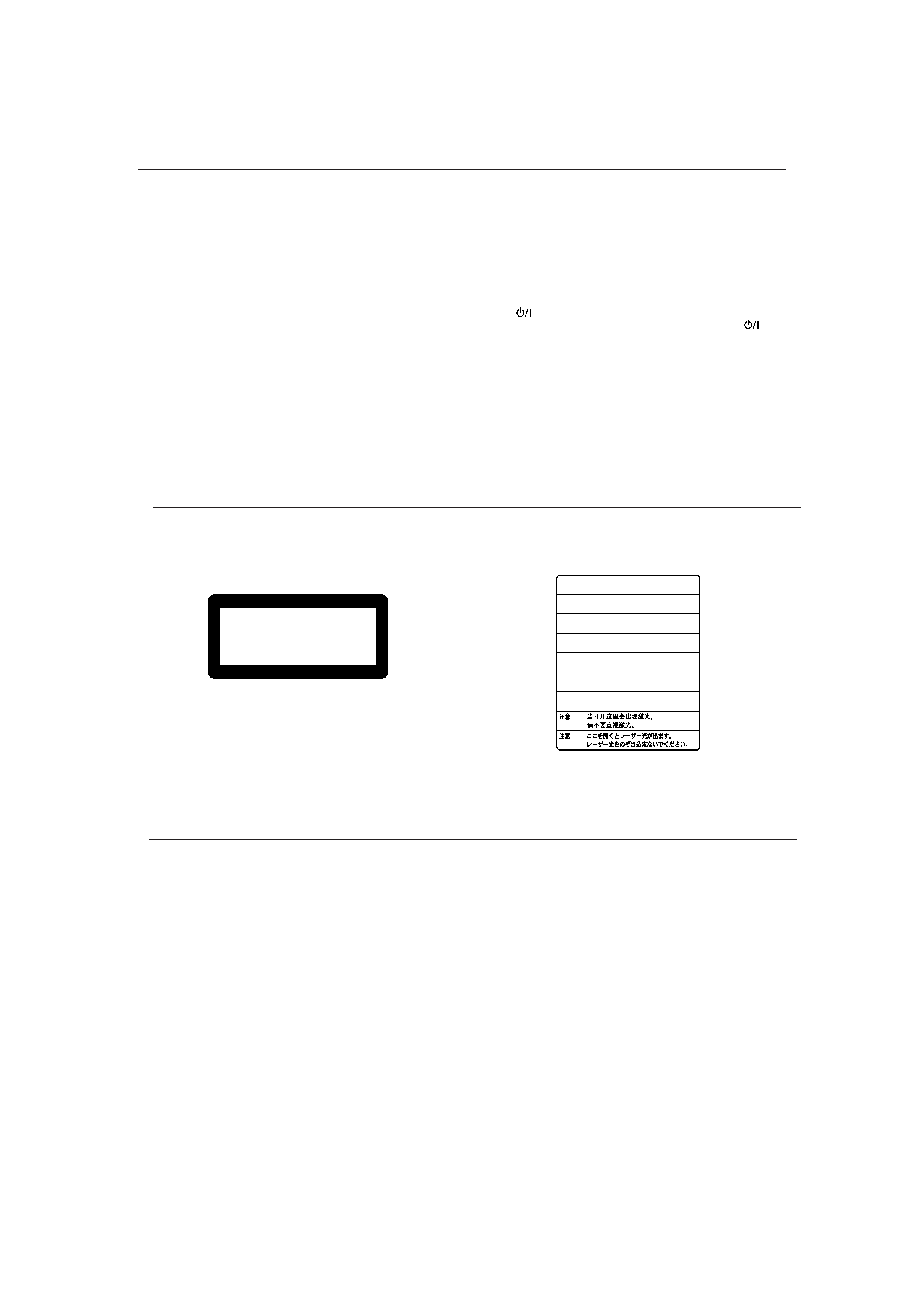 [2U, 3U, 4U, US, UB, UT] EN
Warnings, Cautions and Others
LASER RADIATION WHEN OPEN.
ATTENTION RAYONNEMENT LASER EN CAS D'OUVERTURE.
NE PAS REGARDER DANS LE FAISCEAU.
VORSICHT LASERSTRAHLUNG, WENN ABDECKUNG GEÖFFENET.
NICHT IN DEN STRAHL BLICKEN.
ADVARSEL LASERSTRÅLING VED ÅBNING.
ADVARSEL LASERSTRÅLING NÅR DEKSEL ÅPNES.
STIRR IKKE INN I STRÅLEN.
LASERSTRÅLNING NÄR DENNA DEL ÄR ÖPPNAD.
AVATTAESSA OLET ALTTIINA LASERSÄTEILYLLE.
To reduce the risk of electrical shocks, fire, etc.:
1. Do not remove screws, covers or cabinet.
2. Do not expose this appliance to rain or moisture.
Disconnect the mains plug to shut the power off completely. The
in any position does not disconnect the mains line. The power can be remote
IMPORTANT FOR LASER PRODUCTS
1 CLASSIFICATION LABEL, PLACED ON REAR ENCLOSURE
2 WARNING LABEL, PLACED INSIDE THE UNIT
DANGER:Visible laser radiation when open and interlock
failed or defeated. Avoid direct exposure to beam.
CAUTION: Do not open the top cover. There are no user
serviceable parts inside the Unit; leave all servicing to quali-
Caution: Proper Ventilation
To avoide risk of electric shock and fire and to protect from damage.
Locate the apparatus as follows:
No obstructions open spacing.
No obstructions in 3 cm from the sides.
No obstructions in 5 cm from the top.
No obstructions in 15 cm from the back
No obstructions, place on the level surface.
---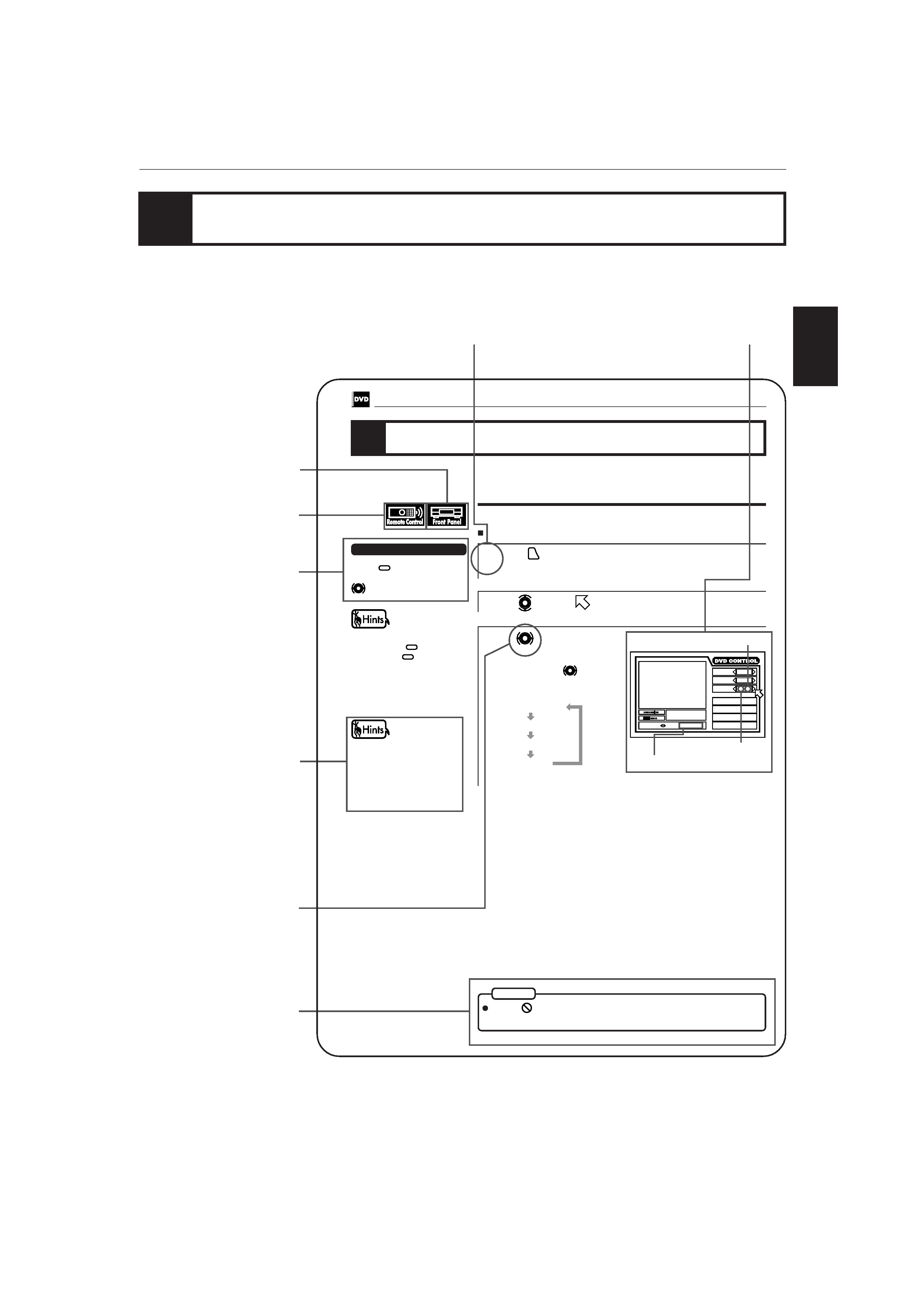 [2U, 3U, 4U, US, UB, UT] EN
To select the subtitle language [SUBTITLE]
The on-screen display appears on the TV screen.
Changing the language and sound
You can choose the sub-title or audio language from among the languages
included on a disc and select the sound from a variety of sounds included on a
appears on the TV screen:
You cannot select the subtitle.
When you select the language, if
the abbreviation appears on the
abbreviation corresponding to
the desired language. For
details on abbreviations, see
the end of this instruction.
desired subtitle by using
You can turn ON/OFF the sub-
OFF status is switched. When
the subtitle function is ON, the
subtitle language appears on the
The instructions basically explain operations as follows:
The number indicates the procedural step.
The on-screen display displayed
The buttons used in steps
are shown as illustlations.
---

[2U, 3U, 4U, US, UB, UT] EN
Notes on care and handling
Names of parts and controls
Front panel ................................................................................................................. 6
Display window ......................................................................................................... 7
Rear panel .................................................................................................................. 7
Remote control unit .................................................................................................. 8
On-screen displays .................................................................................................. 10
To prevent the monitor from burning out ­ SCREEN SAVER ............................. 12
On-screen guide icons ............................................................................................ 12
Preliminary knowledge about discs
Playable disc types .................................................................................................. 13
Disc construction ..................................................................................................... 14
Before making any connections ............................................................................ 16
To connect to a TV, monitor, or projector with the audio input and video input jacks .......... 16
To connect to an audio amplifier or receiver ....................................................... 17
To connect to an amplifier/receiver equipped with Dolby Digital 5.1-channel inputs .. 18
To connect to audio equipment with a digital input ........................................... 19
To connect the power cord ..................................................................................... 20
To install batteries in the remote control unit ...................................................... 21
To turn on/off the unit ............................................................................................. 22
Using the remote control unit
To use the remote control unit for TV operation ................................................. 23
To turn on your TV and the unit ............................................................................ 26
To select the source you want to operate ............................................................. 26
Inserting and removing discs
To insert or remove discs ....................................................................................... 27
Playing back a DVD VIDEO or CD disc
To playback a disc from the beginning ................................................................. 28
To stop playback completely ................................................................................. 28
To stop playback temporarily ................................................................................ 29
To advance or reverse play rapidly while monitoring ........................................ 29
To locate the beginning of the scene or song ...................................................... 29
To store the point where you want to resume playback from ­ RESUME ........ 30
To resume playback from the stored point ­ RESUME ....................................... 30
Adjusting the surround sound
To simulate the surround sound ­ 3D PHONIC .................................................... 31
Summary of basic operations
................................................................................ 32
---

[2U, 3U, 4U, US, UB, UT] EN
Playing a specific scene on a DVD disc
............................................................... 34
Playing in slow-motion
............................................................................................ 40
Playing a scene close-up
......................................................................................... 41
Repeat playback
........................................................................................................ 42
Viewing from multiple angles
............................................................................... 44
Changing the language and sound
...................................................................... 46
Selecting preferences
............................................................................................... 50
Limiting playback by children
................................................................................ 62
Playing a specific track on a disc
.......................................................................... 66
Changing the track order
........................................................................................ 68
Repeat playback
........................................................................................................ 70
Sampling all tracks
................................................................................................... 72
Checking the elapsed time or remaining time
................................................. 73
Information about CD TEXT
................................................................................... 74
Playing a specific scene on a Video CD
............................................................... 76
Playing in slow-motion
............................................................................................ 81
Playing a scene close-up
......................................................................................... 82
Changing the track order
........................................................................................ 83
Repeat playback
........................................................................................................ 85
Sampling all tracks
................................................................................................... 87
Adjusting the sound to suit preferences
............................................................ 88
Checking the total disc time
.................................................................................. 89
Preparation
.................................................................................................................. 92
Reserving songs
........................................................................................................ 93
Selecting audio
.......................................................................................................... 94
Adding an effect to your voice
.............................................................................. 98
Shifting the musical key
.......................................................................................... 99
Rating your voice
.................................................................................................... 100
Care and handling of discs
................................................................................... 102
Troubleshooting
....................................................................................................... 103
AV COMPU LINK remote control system
......................................................... 104
Specifications
........................................................................................................... 106
Table of languages and their abbleviations
....................................... Appendix A
Country code list for parental lock
....................................................... Appendix B
---