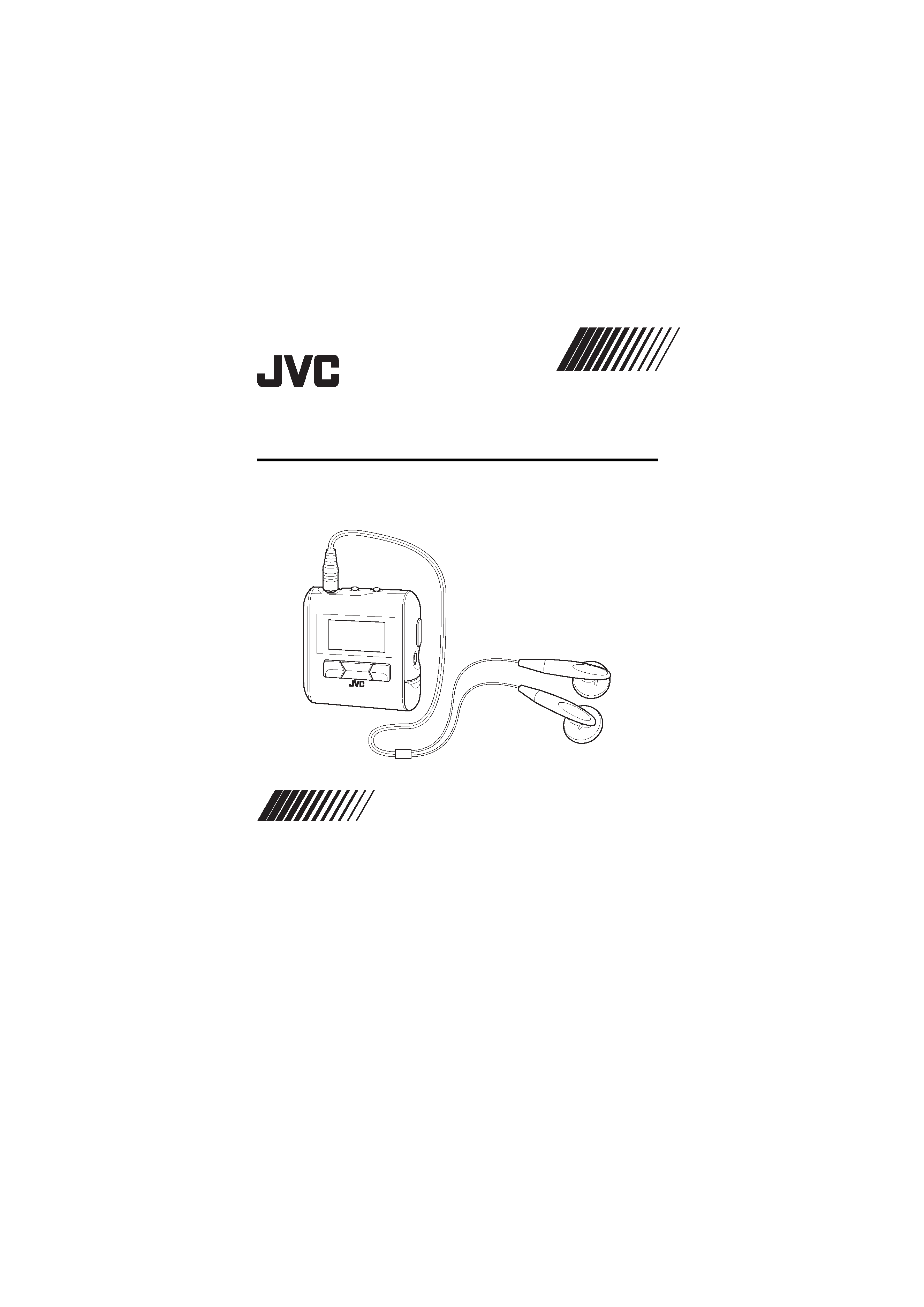 Thank you for purchasing this JVC product.
Please read these instructions carefully before starting operation to be
sure to obtain optimum performance and a longer service life from the unit.
XA-MP52-102(E).book Page 1 Wednesday, October 5, 2005 9:45 AM
---

To prevent damage to the batteries and electrolyte leakage, heed the
» and á polarities properly when inserting the battery.
· Remove the battery if you do not plan to use the player for a long
· Do not throw batteries into a fire, and do not short-circuit, disassemble
or subject them to excessive heat.
· Do not attempt to recharge dry cell batteries.
Carrying dry cell batteries around
When putting dry cell batteries in a pocket or bag, ensure that no other
metal objects such as a necklace are placed together with them. Contact
with any metal may cause short-circuiting which may cause a fire.
· Do not place any naked flame sources, such as lighted candles, on
· When discarding batteries, environmental problems must be
considered and local rules or laws governing the disposal of these
batteries must be followed strictly.
· Do not expose this apparatus to rain, moisture, dripping or splashing.
XA-MP52-102(E).book Page 2 Wednesday, October 5, 2005 9:45 AM
---

· Do not play your Headphones at a high volume.
· Hearing experts advise against continuous extended play.
· If you experience a ringing in your ears, reduce volume or discontinue use.
· Do not use while operating a motorized vehicle. It may create traffic
hazard and is illegal in many areas.
· You should use extreme caution or temporarily discontinue use in
potentially hazardous situations.
· Even if your Headphones are an open-air type designed to let you
hear outside sounds, do not turn up the volume so high that you
cannot hear what is around you.
· Once you have established a comfortable sound level, leave the level
· No altering or remodeling
This can cause malfunctioning.
· No dropping or strong impacts
This may damage the player.
· Locations to be avoided
Avoid using the player in the following locations since they can cause
1. Bathrooms and other moisture-prone places
2. Warehouses and other dusty places
3. Very hot places near heating appliances, etc.
XA-MP52-102(E).book Page 3 Wednesday, October 5, 2005 9:45 AM
---

Do not leave the player exposed to direct sunlight for long periods of
This may deform or discolor the player and may also cause
· We have no responsibility for any improper recording or
playback incurred by equipment malfunction.
· It is recommended to store backup copy of your important data
XA-MP52-102(E).book Page 4 Wednesday, October 5, 2005 9:45 AM
---

CAUTIONS .............................................................................................. 2
TABLE OF CONTENTS .......................................................................... 5
GETTING STARTED............................................................................... 6
INSTALLING BATTERY ...................................................................... 6
INSTALLING USB DRIVER (FOR WINDOWS 98SE ONLY) .............. 7
CONNECTING TO PC......................................................................... 8
PARTS OF THE DIGITAL AUDIO PLAYER ...................................... 10
TURNING POWER ON/OFF ............................................................. 11
DISPLAY OVERVIEW ....................................................................... 12
BASIC OPERATIONS........................................................................... 13
USING THE MAIN MENU.................................................................. 13
PLAYING MUSIC .............................................................................. 14
RECORDING MUSIC FROM EXTERNAL AUDIO EQUIPMENT IN
LINE-IN MODE .................................................................................. 16
DELETING FILES .............................................................................. 18
ADVANCED FEATURES ...................................................................... 19
SET MENU ITEMS ............................................................................ 19
EQUALIZER .................................................................................... 20
PLAYMODE .................................................................................... 22
SLEEP TIMER................................................................................. 23
AUTO POWER OFF........................................................................ 24
BACKLIGHT .................................................................................... 25
CONTRAST..................................................................................... 26
RECORD SET................................................................................. 27
MENU LANGUAGES ...................................................................... 29
FONTS ............................................................................................ 30
ABOUT .............................................................................................. 31
RESETTING THE UNIT .................................................................... 32
NAVIGATE ........................................................................................ 33
LOCKING BUTTONS (HOLD) ........................................................... 35
TROUBLESHOOTING .......................................................................... 36
SPECIFICATIONS................................................................................. 37
ACCESSORIES ................................................................................. 38
XA-MP52-102(E).book Page 5 Wednesday, October 5, 2005 9:45 AM
---