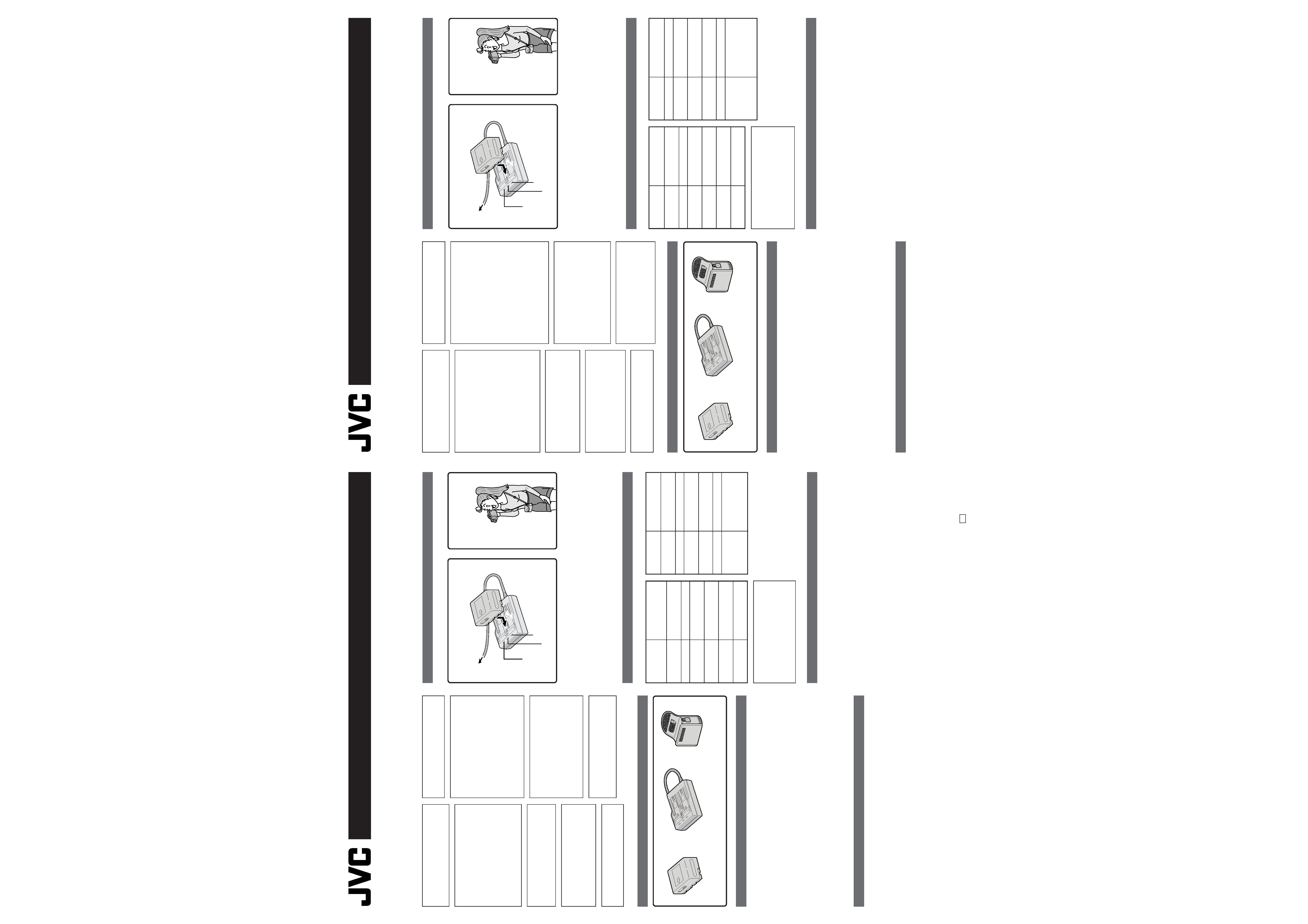 VU-V856KIT
EXTENDED-USE BATTERY PACK KIT
Thank you for purchasing this JVC Extended-Use Battery Pack Kit.
This is a lithium-ion type Battery Pack, and is intended for use only with JVC camcorders.
Before using, be sure to read these instructions carefully to ensure safe use of your new Battery Pack. For more details, consult your nearest JVC dealer.
Some camcorders do not display the Battery Pack's remaining power.
Lithium-ion Battery Packs are small but possess a large power capacity. However, when the
Battery Pack becomes cool in an environment subject to cold temperature (below 10°C), the
Battery Pack has a characteristic that its usage time becomes shorter and may cease to
function. If this happens, place the Battery Pack in your pocket or other warm protected place
for a short time, then re-insert it into the Battery Pouch. As long as the Battery Pack itself is not
cold, it should not affect performance. (If you're using some kind of the heating pad, make
sure the Battery Pack does not come in direct contact with the pad.)
The Battery Packs should be charged at a temperature of 10°C to 35°C. If the Battery Pack is
charged in an environment subject to high temperatures, it may deteriorate. On the other
hand, if the Battery Pack is charged at a cooler temperature, it will not be charged fully.
It is normal for the Battery Pack to become warm after charging or after use.
If the Battery Pack is not in use for an extended period of time, natural discharge will occur.
Before use, charge it fully.
If the Battery Pack's power duration becomes drastically shortened immediately after charging,
it is run down. Purchase a new one.
Avoid using strong, volatile cleaning agents such as benzine, alcohol or thinner. This may
damage the Battery Pack's body or cause a malfunction.
Precautions for proper storage
When not in use, store the Battery Packs in a cool, dry place where the temperature will not
Be sure to remove the Battery Pack from the AC Power Adapter/Charger for storage.
The AA-V80EG AC Power Adapter/Charger should be used for charging only. For the
camcorder's power supply, use the AC Power Adapter/Charger provided with your camcorder.
Use only the included AC Power Adapter/Charger. Use of another battery charger may result
in incomplete charging, malfunctions and risk of fire.
Do not incinerate or disassemble; may explode or release toxic chemicals.
Do not short circuit; may cause burns.
When transporting, carry the Battery Pack in a plastic bag.
For more details on handling precautions, use and proper storage of Battery Packs, please refer
to your video camera's instruction manual.
When charging a brand new Battery Pack, or one that's been in storage for an extended
period, the Charging Indicator may not come on. In this case, remove the Battery Pack, then
reattach and try charging again.
Vibration noise can sometimes be heard coming from the inside of the AC Power Adapter/
The AC Power Adapter/Charger processes electricity internally, and will become warm during
use. This is normal. Make sure to use the AC Power Adapter/Charger in well-ventilated areas
Charging and Installing the Battery Pack
Note that it is possible to charge a Battery Pack that has not been completely exhausted.
1
Plug the AC Power Adapter/Charger's Power Cord
2
Attach the Battery Pack to the AC Power Adapter/
Charger Indicator 1 starts to blink. Charger
Indicator 2 does not blink.
The Charger Indicator stops blinking but stays lit to
indicate charging has finished.
Attach the Battery Pouch to
your belt or hang it from
E. O. E. Design and specifications subject to
1
Install the Battery Pack in the
2
Connect the DC Cord to the
camcorder. Use only the DC
Cord provided with the AC
Perform charging where the temperature is
between 10° and 30°C. (20°­25°C is the
ideal temperature range for charging.) If the
environment is too cold, charging may be
AA-V80EG AC Power Adapter/Charger
KIT BATTERIE LONGUE DURÉE
Précautions de manipulation
Les batteries lithium-ion sont petites mais ont une grande capacité. Cependant, quand la
batterie devient froide dans un environnement sujet à des températures basses (en dessous de
10°C), la batterie a une caractéristique qui fait que sa durée d'utilisation devient plus courte et
elle peut cesser de fonctionner. Dans ce cas, mettez la batterie dans votre poche ou dans un
endroit chaud pendant un instant, puis installez-la de nouveau dans la trousse batterie. Tant
que la batterie proprement dite n'est pas froide, ses performances devraient être intactes. (Si
vous utilisez des sachets chauffants, veillez à ne pas mettre la batterie directement au contact
Les batteries doivent être chargées à une température de 10°C à 35°C. Si la batterie est chargée
dans un endroit sujet à des températures élevées, elle peut se détériorer. D'autre part, si la
batterie est chargée à une température plus basse, elle ne sera pas complètement rechargée.
Il est normal que la batterie devienne chaude après recharge ou après utilisation.
Si la batterie n'est pas utilisée pendant une longue période, une décharge naturelle se
produira. Avant utilisation, la recharger complètement.
Si la durée d'utilisation de la batterie devient nettement raccourcie immédiatement après la
recharge, elle est complètement épuisée. Achetez une nouvelle batterie.
Évitez d'utiliser des produits de nettoyage volatils puissants tels que de la benzine, de l'alcool
ou du diluant. Ce qui pourrait endommager le corps de la batterie ou causer un mauvais
Précautions pour un stockage correct
Lorsqu'elles ne sont pas utilisées, rangez les batteries dans un endroit froid et sec où la
température n'augmentera pas.
Bien s'assurer de retirer la batterie de l'adaptateur secteur/chargeur pendant le stockage.
Nous vous remercions pour l'achat de ce kit batterie longue durée.
Cette batterie est de type lithium-ion, et elle est prévue pour n'être utilisée qu'avec des camescopes JVC.
Avant utilisation, bien lire avec soin ces instructions pour garantir un usage sûr de votre nouvelle batterie. Pour plus de détails, consulter le revendeur JVC le plus proche.
Certains camescopes n'indiquent pas l'énergie restante dans la batterie.
VU-V856KIT
KIT BATTERIE LONGUE DURÉE
L'adaptateur secteur/chargeur AA-V80EG ne doit être utilisé que pour charger la batterie. Pour
l'alimentation du camescope, utiliser l'adaptateur secteur/chargeur fourni avec votre
N'utiliser que l'adaptateur secteur/chargeur fourni. L'utilisation d'un autre chargeur de batterie
pourrait conduire à une recharge incomplète, à de mauvais fonctionnements ou à des risques
Ne pas incinérer ni démonter; pourrait exploser ou libérer des produits chimiques toxiques.
Ne pas mettre en court-circuit; pourrait causer des brûlures.
Lors du transport, porter la batterie dans un sac en plastique.
Pour plus de détails sur les précautions de manipulation, l'utilisation et le stockage correct des
batteries, veuillez vous référer au mode d'emploi de votre camescope.
Quand vous rechargez une batterie neuve, ou une batterie qui n'a pas été utilisée pendant
longtemps, le témoin de charge peut ne pas s'allumer. Dans ce cas, enlevez la batterie puis
Un bruit de vibration provenant de l'intérieur de l'adaptateur secteur/chargeur peut être
L'adaptateur secteur/chargeur produit de l'électricité et peut devenir chaud pendant la
recharge. C'est normal. Assurez-vous que l'adaptateur secteur/chargeur se trouve dans un
Recharge et installation de la batterie
Notez qu'il est possible de recharger une batterie qui n'a pas été complètement déchargée.
1
Brancher le cordon d'alimentation de l'adaptateur
secteur/chargeur à une prise secteur.
2
Installer la batterie sur l'adaptateur secteur/
L'indicateur de charge 1 commence à clignoter.
L'indicateur de charge 2 ne clignote pas.
L'indicateur de charge 1 s'arrête de clignoter et
reste allumé lorsque la recharge est terminée.
Erreurs et omissions possibles. Présentation et
caractéristiques modifiables sans préavis.
1
Placer la batterie dans la
2
Raccorder le cordon CC à la
batterie et au camescope.
N'utiliser que le cordon CC
La plage de température pour la recharge
est comprise entre 10°C et 30°C (20°C à
25°C est la température idéale). Dans un
environnement froid, la recharge risque
Adaptateur secteur/chargeur AA-V80EG
Attachez la trousse batterie à
votre ceinture ou laissez-la
When you are not using this unit for a long
period of time, it is recommended that you
disconnect the power cord from AC outlet.
As an AC Power Adapter/Charger, the AA-
V80EG is used exclusively with the JVC
·If used near a radio, this unit may
interfere with reception.
·Prevent inflammables, water and metallic
objects from entering the unit.
·Do not disassemble or modify the unit.
·Do not apply shocks to the unit.
·Do not subject the unit to direct sunlight.
·Avoid using the unit in extremely hot or
·Avoid using the unit in places subject to
HAZARD, DO NOT EXPOSE THIS
UNIT TO RAIN OR MOISTURE.
This unit should be used with AC 110 ­
To prevent electric shocks and fire
hazards, do NOT use any other power
To prevent electric shock, do not open the
cabinet. No user serviceable parts inside.
Refer servicing to qualified service
The rating plate (Serial number plate) is on
TO PREVENT ELECTRIC SHOCK MATCH
WIDE BLADE OF PLUG TO WIDE SLOT,
A WORD ON THE EXCLUSIVE BATTERY
The battery packs are lithium-ion.
Give attention to the following to make the
most of their characteristics.
For charging: 10°C to 35°C
For operating: 0°C to 40°C
For storing: ­10°C to 30°C
Si l'on ne se sert pas de l'appareil pendant
une longue période, il est recommandé de
débrancher le cordon d'alimentation de la
EXPOSER L'APPAREIL A LA PLUIE OU
Cet appareil doit être utilisé que sur du
courant alternatif en 110 ­ 240 V.
Afin d'éviter tout risque d'incendie ou
d'électrocution, NE PAS utiliser d'autres
sources d'alimentation électrique.
Pour éviter tout risque d'électrocution, ne
pas ouvrir le boîtier. Aucune pièce
intérieure n'est à régler par l'utilisateur. Se
référer à un agent qualifié en cas de
La plaque d'identification (numéro de série)
est située sous l'appareil.
Comme adaptateur secteur/chargeur, le
AA-V80EG est utilisé exclusivement avec
A PROPOS DES PILES RECHARGEABLES
Les piles rechargeables sont au lithium-ion.
Tenez compte des informations suivantes
pour profiter au maximum de toutes leurs
Température de recharge: 10°C à 35°C
Température de fonctionnement: 0°C à
Température de stockage: ­10°C à 30°C
Pour Éviter LES CHOCS ÉLECTRIQUES,
INTRODUIRE LA LAME LA PLUS LARGE
DE LA FICHE DANS LA BORNE
CORRESPONDANTE DE LA PRISE ET
·Si l'adaptateur/chargeur est utilisé près
d'une radio, il peut provoquer des
interférences sur la réception.
·Evitez que des matières inflammables, de
l'eau ou des objets métalliques ne
pénètrent dans l'adaptateur/chargeur.
·Ne pas démonter ou modifier
·Ne pas exposer à des chocs.
·Ne pas exposer en plein soleil.
·Evitez d'utiliser l'adaptateur/chargeur
dans des lieux extrêmement chauds ou
·Evitez d'utiliser l'adaptateur/chargeur
dans des lieux exposés à des vibrations.
---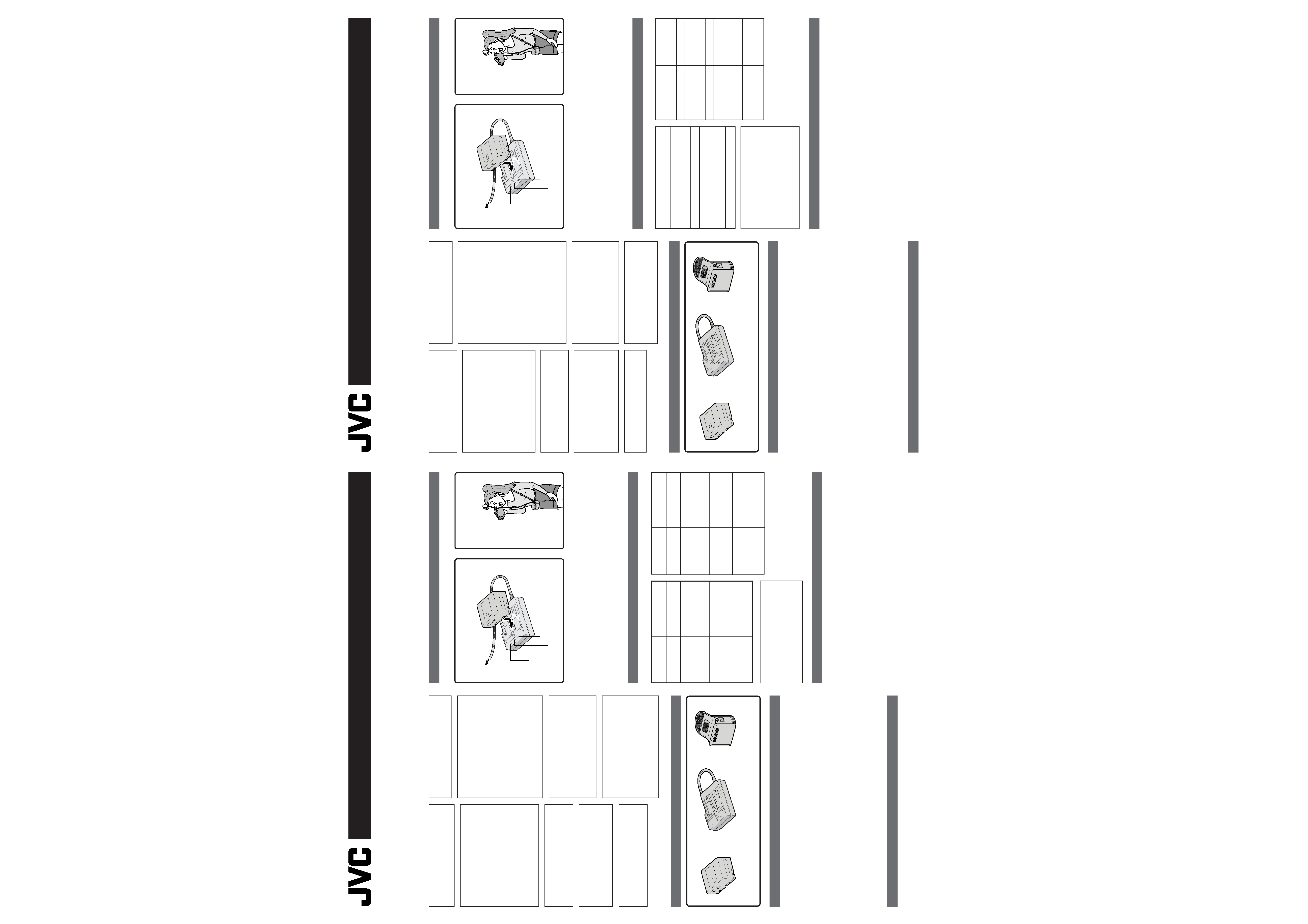 PARA EL KIT DE LA BATERÍA DE USO PROLONGADO
Precauciones para el manejo
Las baterías de ion de litio son pequeñas pero tienen gran capacidad. Sin embargo, cuando la
batería se enfría en un ambiente sujeto a bajas temperaturas (por debajo de 10°C), el tiempo
que puede ser usada se reduce y puede dejar de funcionar. Si ocurre esto, meta la batería
durante corto tiempo en su bolsillo o en cualquier otro lugar protegido y templado, luego
vuelva a colocarla en la funda de batería. Mientras la batería no esté fría, no habrá problemas
con las prestaciones. (Si usted está usando cierto tipo de almohadilla térmica, asegúrese de
que la batería no entre en contacto directo con la almohadilla.)
Las baterías deberán ser cargadas a una temperatura de entre 10°C y 35°C. Si se cargan en un
ambiente sujeto a altas temperaturas, podrán deteriorarse. Por el contrario, si se cargan a una
temperatura más baja, no se cargarán completamente.
Es normal que la batería se caliente después de haberla cargado o después de haberla usado.
Si la batería no se usa durante largo tiempo, se descargará de forma natural. Cárguela
completamente antes de usarla.
Si la duración de la carga de la batería se acorta de forma drástica inmediatamente después de
haberla cargado, habrá llegado al final de su vida útil. Adquiera una nueva.
Evite usar productos de limpieza fuertes o volátiles, tales como bencina, alcohol o diluyente.
Estos productos pueden dañar el cuerpo de la batería u ocasionar un mal funcionamiento.
Precauciones para un almacenamiento apropiado
Cuando no use la batería, guárdela en un lugar frío y seco donde no suba la temperatura.
Cuando vaya a guardar la batería, asegúrese de extraerla del adaptador de CA/cargador.
Adaptador de CA/cargador AA-V80EG
Efectúe la carga dónde las temperaturas
estén entre 10 y 30°C. (Los límites ideales
de temperatura para carga van de 20 a
25°C). Si el ambiente está demasiado frío,
la carga puede ser incompleta.
Muchas gracias por la adquisición de la batería de uso prolongado JVC del kit.
Esta es una batería tipo lítio-ion, y está diseñada para ser usada con videocámaras JVC.
Antes de utilizarla, asegúrese de leer estas instrucciones atentamente, para garantizar un empleo seguro de su nueva batería. Para más detalles, consulte a su distribuidor JVC
Algunas videocámaras no muestran la carga restante de la batería.
Carga e instalación de la batería
Tenga en cuenta que podrá cargar una batería que aún no esté completamente descargada.
1
Enchufe el cable de alimentación del adaptador de
CA/cargador en una toma de corriente de CA.
2
Coloque la batería en el adaptador de CA/cargador.
El indicador de carga 1 comenzará a parpadear. El
indicador de carga 2 no parpadeará.
El indicador de carga dejará de parpadear, pero se
mantendrá encendido para indicar que ha
1
Menta la batería en la funda
2
Conecte el cable de CC a la
batería y a la videocámara.
Utilice únicamente el cable de
adaptador de CA/cargador.
E.O.E. Diseño y especificaciones sujetos a
El adaptador de CA/cargador AA-V80EG deberá ser utilizado únicamente para cargar. Para
suministrar alimentación a la videocámara, utilice e adaptador de CA/cargador suministrado
Utilice únicamente el adaptador de CA/cargador. El empleo de otro cargador podrá resultar en
una carga incompleta, funcionamiento defectuoso o riesgo de incendio.
No la incinere ni desarme; podría explotar o soltar productos químicos tóxicos.
No la cortocircuite, podría producirle quemaduras.
Cuando lleve la batería encima, llévela en una bolsa de plástico.
Para más detalles sobre precauciones para el manejo, empleo y almacenamiento de las
baterías, consulte el manual de instrucciones de la videocámara.
Cuando cargue una pila nueva, o una que ha estado almacenada durante un largo período, la
indicación de carga puede no encenderse. En este caso extraiga la pila y recolóquela para
Es posible que a veces se escuche un ruido vibratorio proveniente del interior del adaptador/
cargador de CA. Esto es normal.
El adaptador/cargador de CA procesa electricidad internamente y se calentará durante el uso.
Esto es normal. Asegúrese de utilizar el adaptador/cargador de CA en lugares bien ventilados
Como adaptador/cargador de CA, el AA-
V80EG se utiliza exclusivamente con la
ACERCA DE LAS PILAS EXCLUSIVAS
Las pilas son de iones de litio.
Preste atención a lo siguiente para obtener
las mejores prestaciones.
Para cargarlas: 10 a 35°C
Para funcionamiento: 0 a 40°C
Para almacenarlas: ­10 a 30°C
PARA EVITAR ELECTROCHOQUES, NO
UTILICE ESTA CLAVIJA POLARIZADA
CON UN CORDÓN DE EXTENSIÓN,
TOMACORRIENTE A MENOS QUE LAS
CUCHILLAS PUEDAN INSERTARSE
·Si se la utiliza cerca de una radio esta
unidad puede interferir con la recepción.
·Evite que entren dentro de la unidad
productos inflamables, agua y objetos
·No desarme ni modifique la unidad.
·No sujete la unidad a la luz directa del
·Evite utilizar la unidad en lugares
extremadamente calientes o húmedos.
·Evite usar la unidad en lugares sujetos a
A fin de prevenir electrocuciones, no abra
la caja. No hay partes reparables por el
usuario en su interior. Consulte al personal
calificado en caso de reparaciones.
La placa indicadora (placa del número de
serie) está en la parte inferior de la unidad
Le recomendamos que desconecte el cable
de alimentación del tomacorriente si no va
a utilizar la unidad durante mucho tiempo.
INCENDIO O ELECTROCUCION,
NO EXPONGA ESTA UNIDAD A LA
Esta unidad debe utilizarse únicamente
con corriente alterna de 110 ­ 240 V`
Para evitar riesgos de electrocuciones o
incendios, NO use ninguna otra fuente de
VU-V856KIT
LANGZEIT-BATTERIESATZ-SET
Lithium-Ion-Batteriesätze bieten hohe Leistung bei geringen Abmessungen. Allerdings
bestehen Anwendungseinschränkungen, wenn der Batteriesatz bei niedrigen
Umgebungstemperaturen (unter 10°C) kalt wird: die Nutzungsdauer wird in diesem Fall
erheblich kürzer, und der Batteriesatz kann unter Umständen ganz versagen. Zum Videofilmen
bei niedrigen Temperaturen sollte der Batteriesatz in einer Tasche oder einem geeigneten
Behälter warmgehalten und erst unmittelbar vor Gebrauch am Camcorder angebracht werden.
Solange der Batteriesatz nicht abkühlt, gibt er seine volle Leistung ab. (Wenn Sie den
Batteriesatz mit einem chemischen Heizkissen warmhalten, direkte Berührung zwischen
Heizkissen und Batteriesatz vermeiden.)
Der Ladebetrieb sollte bei Umgebungstemperaturen zwischen 10° C und 35° C erfolgen.
Oberhalb dieses Temperaturbereichs können Batterieleistungseinbußen auftreten. Unterhalb
dieses Temperaturbereichs kann der Batteriesatz nicht vollständig geladen werden.
Nach dem Ladevorgang oder Gebrauch erwärmt sich der Batteriesatz. Dies ist keine
Bei längerer Lagerung tritt Selbstentladung auf. Den Batteriesatz vor dem erneuten Gebrauch
Wenn sich die Nutzungsdauer im voll geladenen Zustand deutlich verringert, ist der
Batteriesatz verbraucht. Verwenden Sie einen neuen Batteriesatz.
Zur Reinigung keine starken volatilen Reinigungsmittel wie Benzin, Alkohol oder
Farbverdünner verwenden! Andernfalls kann das Batteriesatzgehäuse beschädigt werden und/
oder es können Fehlfunktionen auftreten.
Den Batteriesatz an einem trockenen Ort aufbewahren, an dem keine hohen Temperaturen
Niemals den Batteriesatz bei der Lagerung am Netzadapter/Batterielader angeschlossen lassen!
Netzadapter/Batterielader
Netzadapter/Batterielader AA-V80EG sollte ausschließlich für den Ladebetrieb verwendet
werden. Zur Spannungsversorgung Ihres Camcorders verwenden Sie bitte den zum Camcorder
mitgelieferten Netzadapter/Batterielader.
Ausschließlich mit dem mitgelieferten Netzadapter/Batterielader laden. Andernfalls besteht die
Möglichkeit von unvollständigen Ladevorgängen, Fehlfunktionen oder Feuergefahr.
Niemals zur Entsorgung verbrennen oder zerlegen. Andernfalls besteht Explosionsgefahr und
es können giftige Chemikalien austreten.
Die Batteriepole niemals kurzschließen. Andernfalls besteht Verbrennungsgefahr.
Den Batteriesatz stets in seiner Tragetasche transportieren.
Weiter Angaben bezüglich Handhabung, Gebrauch und Aufbewahrung des Batteriesatzes
siehe die Benutzerdokumentation des Camcorders.
Bei Ladebetrieb für einen neuen oder besonders lange gelagerten Batteriesatz leuchtet die
Ladeanzeige ggf. nicht auf. In diesem Fall den Batteriesatz abnehmen und erneut anbringen.
Gelegentlich kann der Netzadapter/Batterielader bei Betrieb leichte Brummvibrationen
abgeben. Dies ist keine Fehlfunktionen.
Der Netzadapter/Batterielader erwärmt sich während des Betriebs. Dies ist keine Fehlfunktion.
Sicherstellen, daß der Netzadapter/Batterielader an einem Ort aufgestellt wird, an dem kein
Hitzestau auftreten kann.
Vielen Dank für den Kauf dieses JVC Langzeit-Batteriesatz-Sets.
Dieser Batteriesatz ist eine Lithium-Ion-Ausführung für JVC Camcorder.
Bitte lesen Sie diese Anleitung vor der Ingebrauchnahme sorgfältig durch, um den Batteriesatz sachgemäß und betriebssicher zu nutzen. Weitere Informationen erhalten Sie bei
Ihr Camcorder kann ggf. nicht den Ladezustand für diesen Batteriesatz anzeigen.
So laden und verwenden Sie den Batteriesatz
Sie können einen Batteriesatz aufladen, selbst wenn dieser nicht vollständig entladen ist.
1
Schließen Sie das Netzkabel des Netzadapter/
Batterieladers an einer Netzsteckdose an.
2
Schieben Sie den Batteriesatz am Netzadapter/
Nur die Ladeanzeige 1 beginnt zu blinken.
Ladeanzeige 2 arbeitet nicht.
Nach vollständig ausgeführtem Ladevorgang
wechselt das Blink- auf ein Dauerleuchtsignal.
Bringen Sie die Tragetasche
1
Setzen Sie den Batteriesatz in
2
Verbinden Sie Batteriesatz und
Camcorder mit dem Gleich-
spannungskabel. Verwenden Sie
Netzadapter/Batterielader
mitgelieferte Gleichspannungs-
Irrtümer sowie Änderungen der Konstruktion
und der technischen Daten vorbehalten.
Netzadapter/Batterielader (AA-V80EG)
Der Netzadapter/Batterielader AA-V80EG
ist ausschließlich für JVC Camcorder
HINWEISE ZU DEN BATTERIESÄTZEN
Zur Erzielung optimaler Batterieleistung die
folgenden Umgebungstemperaturbereiche
für die Lithium-Ion-Batteriesätze beachten.
Bei Ladebetrieb: 10°C bis 35°C.
Bei Gebrauch: 0°C bis 40°C.
Bei Lagerung: ­10°C bis 30°C.
·Bei zu geringem Abstand zu einem
Rundfunkempfänger kann dieses Gerät
Empfangsstörungen verursachen.
·Niemals Flüssigkeit oder brennbare bzw.
metallische Gegenstände in das
Geräteinnere gelangen lassen.
·Das Gerät niemals zerlegen oder
·Das Gerät niemals heftigen
Erschütterungen aussetzen.
·Das Gerät niemals direkter
Sonneneinstrahlung aussetzen.
·Das Gerät nicht extrem hohen
Temperaturen oder extrem hoher
Luftfeuchtigkeit aussetzen.
·Das Gerät nicht Vibrationseinwirkungen
STROMSCHLÄGEN DEN BREITEREN
STECKERKONTAKT IN DEN BREITEREN
BUCHSENKONTAKT EINFÜHREN.
SCHÜTZEN SIE DIESES GERÄT VOR
NÄSSE UND FEUCHTIGKEIT, DAMIT
ES NICHT IN BRAND GERÄT UND
KEIN KURZSCHLUSS ENTSTEHT.
Dieser Netzadapter kann nur mit 110 ­
, 50/60 Hz betrieben werden.
Zur Vermeidung von elektrischen Schlägen
und Feuergefahr keine andere Spannung
Bei Nichtgebrauch über einen längeren
Zeitraum wird empfohlen, das Netzkabel
von der Netzsteckdose abzuziehen.
Zur Vermeidung von elektrischen Schlägen
nicht das Gehäuse öffnen. Das Gerät
enthält keinerlei Teile, die vom Benutzer
gewartet werden können. Überlassen Sie
Wartungsarbeiten bitte qualifizierten
Das Typenschild (mit der Seriennummer)
befindet sich am Geräteboden.
Den Ladebetrieb im Umgebungstempera-
turbereich zwischen 10° C und 35° C
durchführen. (Die ideale Umgebungstem-
peratur für den Ladebetrieb liegt zwischen
20°C und 25°C). Bei zu niedrigen
Umgebungstemperaturen kann der
Batteriesatz ggf. nicht vollständig geladen
---