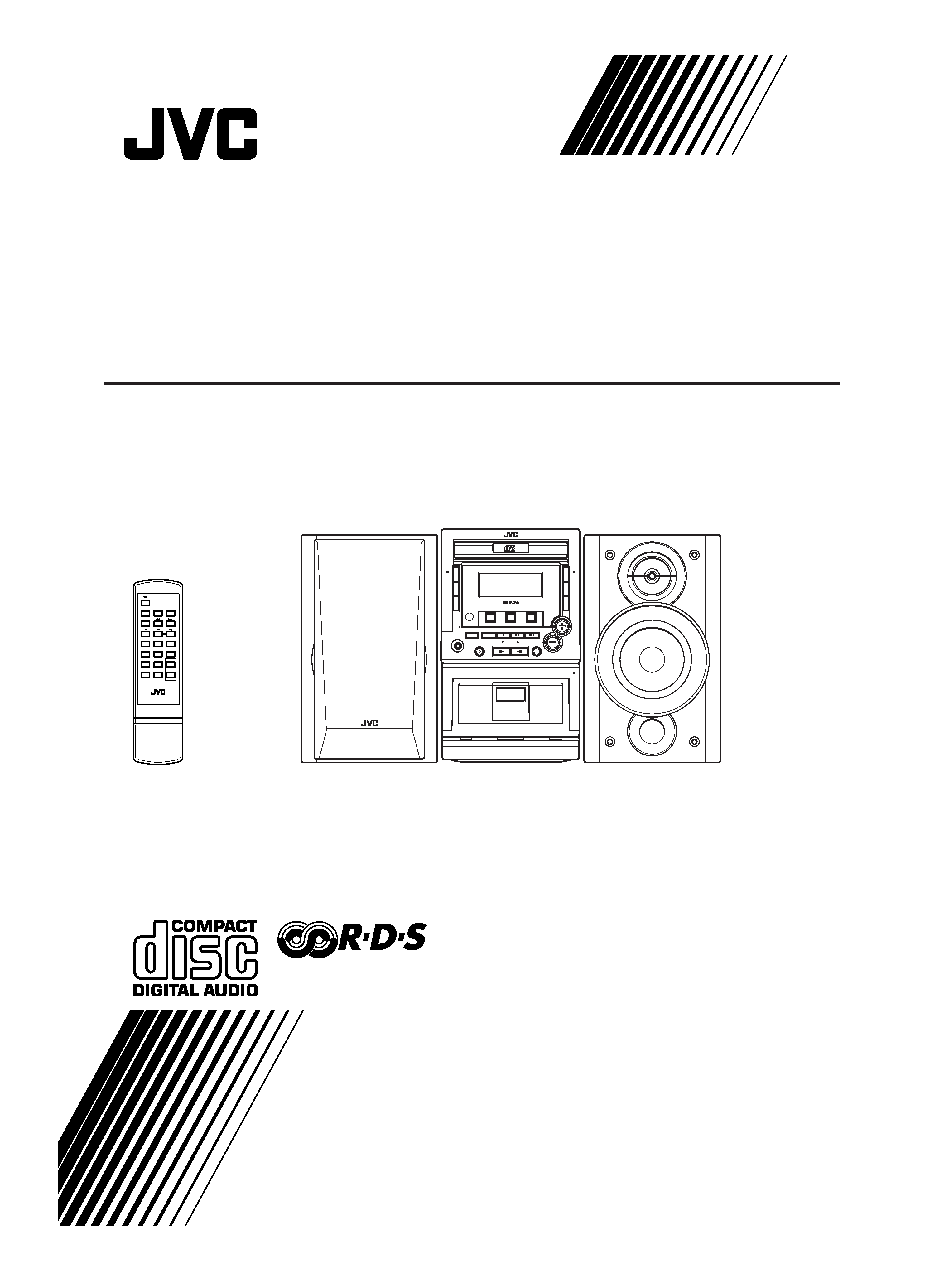 UX-M55
-- Consists of CA-UXM55 and SP-UXM5.
MIKROKOMPONENTTIJÄRJESTELMÄ
SYSTEME DE MICROCOMPOSANTS
SISTEMAS DE MICROCOMPONENTES
SISTEMA A MICROCOMPONENTI
---

Att observera -- Nätströmsknapp
Drag ut nätströmssladden för att stänga av strömmen helt.
STANDBY/ON kopplar ej bort nätströmmen.
Nätströmmen kan styras med fjärrkontrollen.
Jos haluat katkaista laitteistosta virran kokonaan, irrota sähköpistoke
seinäpistorasiasta. Virta on päällä kaikissa virtakytkimen(
STANDBY/ON) asennoissa. Virran voi kytkeä myös kaukosäätimellä.
Forsigtig -- STRØMAFBRYDER! (
Tag netstikket ud for at afbryde strømtilførslen fuldstændigt. Med
STANDBY/ON Strømafbryderen alene kan man ikke helt afbryde
lysnetforbindelsen. Strømtilførslen kan fjernbetjenes.
Den Netzstecker aus der Steckdose ziehen, um die Stromversorgung
vollkommen zu unterbrechen. Der Schalter
unterbricht in keiner Stellung die Stromversorgung vollkommen. Die
Stromversorgung kann mit der Fernbedienung ein- und ausgeschaltet
Déconnecter la fiche de secteur pour couper complètement le
STANDBY/ON ne coupe jamais
complètement la ligne de secteur, quelle que soit sa position. Le
courant peut être télécommandé.
Precaución ­­ Interruptor
Desconectar el cable de alimentación para desactivar la alimentación
totalmente. Cualquiera que sea la posición de ajuste del interruptor
STANDBY/ON, la alimentación no es cortada completamente. La
alimentación puede ser controlada remotamente.
Attenzione ­­ L'interruttore
Disinserire la spina del cavo di alimentazione dalla presa della rete
elettrica per staccare completamente l'alimentazione. L'interruttore
STANDBY/ON in nessuna posizione stacca la linea di
alimentazione elettrica principale. È possibile il controllo remoto
Varningar, att observera och övrigt
Varoitukset, huomautukset, yms
Advarsler, forsigtighedsregler og andet
Warnung, Achtung und sonstige Hinweise
Mises en garde, précautions et indications diverses
Avisos, precauciones y otras notas
Avvertenze e precauzioni da osservare
---

För att minska riskerna för elektriska stötar, brand, etc.:
Lossa into på skruvar, lock eller hölje.
Utsätt inte enheten för regn eller fukt.
Vältä sähköiskun ja tulipalon vaara:
Älä avaa ruuveja tai koteloa.
Älä jätä laitetta sateeseen tai kosteaan paikkaan.
For at reducere faren for elektrisk stød, brand, etc.:
Fjern ikke skruer, dæksler eller kabinet.
Udsæt ikke dette apparat for regn eller fugt.
Zur Verhinderung von elektrischen Schlägen, Brandgefahr, usw:
Keine Schrauben lösen oder Abdeckungen enlfernen und das
Dieses Gerät weder Regen noch Feuchtigkeit aussetzen.
Afin d'éviter tout risque d'électrocution, d'incendie, etc.:
Ne pas enlever les vis ni les panneaux et ne pas ouvrir le
Ne pas exposer l'appareil à la pluie ni à l'humidité.
Para reducir riesgos de choques eléctricos, incendio, etc.:
No extraiga los tornillos, las cubiertas ni la caja.
No exponga este aparato a la lluvia o a la humedad.
Per ridurre il rischio di shock elettrici, incendi, ecc...
Non togliete viti, coperchi o la scatola.
Non esponete l'apparecchio alla piogggia e all'umidità.
· Blockera inte ventilationsöppningarna på apparaten.
(Om ventilationsöppningarna blockeras av en tidning, en duk eller
liknande kan värme i apparaten eventuellt inte komma ut.)
· Placera ingenting med öppen låga, exempelvis ett tänt ljus, på
· Använda batterier måste handhas på ett miljömässigt korrekt sätt
och de lagar och förordningar som gäller på platsen för begagnade
batterier måste följas noga.
· Undvik att utsätta denna apparat för regn, fukt, droppand eller
stänkande vätskor, och ställ ingenting med vatten i på den,
· Tuuletusrakoja tai -aukkoja ei saa tukkia.
(Jos tuuletusraot tai -aukot tukitaan sanomalehdellä tai vaatteella
yms., lämpö ei mahdollisesti pääse ulos.)
· Laitteen päälle ei saa asettaa avotulen lähteitä, kuten palavia
· Paristoja hävitettäessä on huomioitava ympäristöongelmat. Näiden
paristojen hävitystä koskevia paikallisia määräyksiä ja lakeja on
noudatettava ehdottomasti.
· Tätä laitetta ei saa altistaa sateelle, kosteudelle, veden tippumiselle
tai roiskumiselle eikä laitteen päälle saa asettaa nesteellä täytettyjä
esineitä, kuten kukkamaljakoita.
· Undgå at tilstoppe ventilationsåbningerne.
(Hvis de tilstoppes af avispapir, en klud el.lign., vil varmen muligvis
· Undlad at anbringe åben ild (f.eks. tændte stearinlys) oven på
· Ved bortskaffelse af batterier bør de miljømæssige konsekvenser
tages i betragtning, ligesom de relevante lokale bestemmelser nøje
· Apparatet må ikke udsættes for regn, fugtighed, dryp eller stænk,
ligesom der ikke bør anbringes beholdere med væske, f.eks. vaser,
· Blockieren Sie keine Belüftungsschlitze oder -bohrungen.
(Wenn die Belüftungsöffnungen oder -löcher durch eine Zeitung
oder ein Tuch etc. blockiert werden, kann die entstehende Hitze
· Stellen Sie keine offenen Flammen, beispielsweise angezündete
· Wenn Sie Batterien entsorgen, denken Sie an den Umweltschutz.
Batterien müssen entsprechend den geltenden örtlichen
Vorschriften oder Gesetzen entsorgt werden.
· Setzen Sie dieses Gerät auf keinen Fall Regen, Feuchtigkeit oder
Flüssigkeitsspritzern aus. Es dürfen auch keine mit Flüssigkeit
gefüllen Objekte, z. B. Vasen, auf das Gerät gestellt werden.
· Ne bloquez pas les orifices ou les trous de ventilation.
(Si les orifices ou les trous de ventilation sont bloqués par un
journal, un tissu, etc., la chaleur peut ne pas être évacuée
correctement de l'appareil.)
· Ne placez aucune source de flamme nue, telle qu'une bougie, sur
· Lors de la mise au rebut des piles, veuillez prendre en considération
les problèmes de l'environnement et suivre strictement les règles et
les lois locales sur la mise au rebut des piles.
· N'exposez pas cet appareil à la pluie, à l'humidité, à un
égouttement ou à des éclaboussures et ne placez pas des objets
remplis de liquide, tels qu'un vase, sur l'appareil.
· No obstruya las rendijas o los orificios de ventilación.
(Si las rendijas o los orificios de ventilación quedan tapados con un
periódico, un trozo de tela, etc., no se podrá disipar el calor).
· No ponga sobre el aparato ninguna llama al descubierto, como
· Cuando tenga que descartar las pilas, tenga en cuenta los
problemas ambientales y observe estrictamente los reglamentos o
las leyes locales sobre disposición de las pilas.
· No exponga este aparato a la lluvia, humedad, goteos o
salpicaduras. Tampoco ponga recipientes conteniendo líquidos,
como floreros, encima del aparato.
· Evitare di ostruire le aperture o i fori di ventilazione con giornali,
indumenti etc., in quanto s'impedirebbe al calore di fuoriuscire.
· Non collocare fiamme libere (es. candele accese) sull'apparecchio.
· Le batterie devono essere smaltite nel rispetto dell'ambiente,
attenendosi ai regolamenti locali in materia.
· Non esporre l'apparecchio a pioggia, umidità, gocciolamenti e
spruzzi d'acqua ed evitare di sovrapporvi oggetti contenenti liquidi
"Si dichiara che il questo prodotto di marca JVC è conforme
alle prescrizioni del Decreto Ministeriale n.548 del 28/08/95
pubblicato sulla Gazzetta Ufficiale della Repubblica Italiana
---

VIKTIGT: Korrekt ventilering
För att undvika risker för elektriska stötar, brand och skador bör utrust-
ningen placeras på följande sätt:
Inga hinder och fritt utrymme.
2 Sidor/Översida/Baksida:
Inga hinder bör finnas i de områden som dimensionerna nedan
Placera apparaten på en plan yta. Se till att tillräcklig ventilering
finns för ventilering genom ett placera apparaten på ett bord med
MUISTA: Huolehdi ilmanvaihdosta!
Voit välttää sähköiskun ja tulipalon vaaran sekä estää vahingot, kun
sijoitat laitteiston seuraavien ohjeiden mukaan:
Jätä eteen esteetön, avonainen tila.
2 Sivuilla/päällä/takana:
Laitteiston ympärillä on oltava vapaata tilaa alla olevien mittojen
Sijoita laitteisto tasaiselle vaakasuoralle alustalle. Ilmanvaihdon
kannalta riittävä tila saadaan, kun laitteisto on vähintään 10 cm
For at undgå elektisk stød, brand eller anden skade, skal man ved
placering af anlægget sørge for følgende:
Ingen forhindringer, god åben plads.
Ingen forhindringer må placeres i de områder, der er vist på
nedenstående dimensioner.
Stil på plan overflade. Sørg for tilstrækkelig adgang for luft til venti-
lation ved at stille apparatet på et bord, der er mindst 10 cm højt.
WICHTIG: Ausreichende Belüftung
Zur Vermeidung von elektrischen Schlägen, Feuer und sonstigen
Beschädigungen gilt für die Geräteseiten folgendes:
Hindernisfrei und gut zugänglich.
2 daneben/darüber/dahinter:
Hindernisfrei in allen angegebenen Abständen (s. Abbildung).
Absolut ebene Stellfläche; ausreichende Belüftung durch Aufstellen
auf einem Tischchen von mindestens 10 cm Höhe.
ATTENTION: Aération correcte
Pour prévenir tout risque électrique ou d'incendie et éviter toute
détérioration, placez l'appareil de la manière suivante:
Bien dégagé de tout objet.
Ne laissez rien aux endroits indiqués dans les figures ci-dessous.
Posez l'appareil sur une surface plane et horizontale. Veillez à ce
que sa ventilation correcte puisse se faire en le plaçant sur une
table d'au moins dix centimètres de hauteur.
PRECAUCION: ventilación correcta
Para evitar el riesgo de descargas eléctricas e incendio y prevenir
posibles daños, instale el equipo en un lugar que cumpla los siguientes
Sin obstrucciones, espacio abierto.
2 Lados/parte superior/parte posterior:
No debe haber ninguna obstrucción en las áreas mostradas por las
dimensiones de la siguiente figura.
Sitúe el equipo sobre una superficie nivelada. Mantenga un espacio
adecuado para permitir el paso del aire y una correcta ventilación,
situando el equipo sobre un soporte de 10 o más cm de altura.
ATTENZIONE: Per una corretta ventilazione
Per prevenire il rischio di scosse elettriche e di incendio ed evitare
possibili danni, collocare le apparecchiature nel modo seguente:
Nessun ostacolo e spazio libero.
2 Lati/Parte superiore/Retro:
Lasciare libere le zone indicate dalle dimensioni di seguito.
Collocare su una superficie piana. Consentire un'adeguata
ventilazione dell'impianto appoggiandolo su un tavolinetto alto almeno
---

VIKTIGT BETRÄFFANDE LASERPRODUKTER
TÄRKEITÄ TIETOJA LASERLAITTEISTA
VIGTIGT FOR LASERPRODUKTER
WICHTIGER HINWEIS FÜR LASER-PRODUKTE
IMPORTANT POUR LES PRODUITS LASER
IMPORTANTE PARA LOS PRODUCTOS LÁSER
IMPORTANTE PER I PRODOTTI LASER
PLACERING AV ETIKETTER / TARRAT JA NIIDEN SIJAINTI / PLACERING AF MÆRKATER / ANBRINGUNGSORTE FÜR LASER-
PRODUKTE / REPRODUCTION DES ÉTIQUETTES / REPRODUCCIÓN DE ETIQUETAS / RIPRODUZIONE DELLE ETICHETTE
1 KLASSIFIKATIONSETIKETT, PLACERAD PÅ UTSIDAN
1 LUOKITUSTARRA, SIJOITETTU ULKOPINNALLE
1 KLASSIFIKATIONSMÆRKAT. SIDDER UDVENDIGT PÅ
1 KLASSIFIKATIONSETIKETT AUF DER AUßENSEITE
1 ÉTIQUETTE DE CLASSIFICATION, PLACÉE SUR LA SURFACE
1 ETIQUETA DE CLASIFICACIÓN, PEGADA EN LA SUPERFICIE
1 ETICHETTA DI CLASSIFICAZIONE, SITUATA SULLA
2 VARNINGSSKYLT, INUTI APPARATEN
2 VAROITUSTARRA, LAITTEEN SISÄLLÄ
2 ADVARSELSMÆRKAT, PLACERET INDENIAPPARATET
2 WARNETIKETTE IM GERÄTEINNEREN
2 ÉTIQUETTE D'AVERTISSEMENT PLACÉE À L'INTÉRIEUR DE
2 ETIQUETA DE ADVERTENCIA, PEGADA EN EL INTERIOR DE
2 ETICHETTA DI AVVERTENZA, SITUATA ALL'INTERNO
VARNING: Om apparaten används på annat sätt än i denna
bruksanvisning specificerats, kan användaren utsättas för osynlig
laserstrålning, som överskrider gränsen för laserklass 1.
VAROITUS: Laitteen käyttäminen muulla kuin tässä käyttöohjeessa
mainitulla tavalla saattaa altistaa käyttäjän turvallisuusluokan 1
ylittävälle näkymättömälle lasersäteilylle.
VARO: CD-soittimessa on laserdiodi jonka aallonpituus on 760-
800nm ja jonka tyypillinen optinen antotehe on diodin dohdalla
ADVARSEL: Usynlig laserstråling ved åbning, når
sikkerhedsafbrydere er ude af funktion, Undgå udsættelse for
ADVERSEL: Usynlig laserstråling ved åpning, når
sikkerhetsbryteren er avslott. Unnçå utsettelse for stråling.
FARA: Osynlig lasertrålning när denna del är öppen och spärren
urkopplad. Utsätt dig ej för strålen.
VIKTIGT: Öppna inte höljet. Det finns ingenting du kan åtgärda
inne i enheten. Överlåt all service till kvalificerad servicepersonal.
VARO: Näkymättömän lasersäteilyn vaara, jos turvalukitus ei
HUOM: Älä avaa laitteen kantta. Sisällä ei ole käyttäjän
huollettavia osia. Teetä kaikki huoltotyöt valtuutetussa huollossa.
ADVARSEL: Usynlig laserstråling ved åbning, når
sikkerhedsafbryderen er ude al funktion. Undgå udsættelse for
ADVARSEL: Åbn ikke dækslet. Der findes ingen dele indeni
apparatet som brugeren kan reparere. Overlad al service till
kvalificeret servicepersonale.
LASER-PRODUKT DER KLASSE 1
GEFAHR: Unsichtbare Laserstrahlung bei Öffnung und
fehlerhafter oder beschädigter Spre. Direkten Kontakt mit dem
ACHTUNG: Das Gehäuse nicht öffnen. Das Gerät enthält
keinerlei Teile, die vom Benutzer gewartet werden können.
Überlassen Sie Wartungsarbeiten bitte qualifizierten
ATTENTION: Radiation laser invisible quand l'appareil est ouvert
ou que le verrouillage est en panne ou désactivé. Eviter une
exposition directe au rayon.
ATTENTION: Ne pas ouvrir le couvercle du dessus. Il n'y a
aucune pièce utilisable à l'intérieur. Laisser à un personnel
qualifié le soin de réparer votre appareil.
PELIGRO: En el interior hay radiación láser invisible. Evite el
contacto directo con el haz.
PRECAUCIÓN: No abra la tapa superior. En el interior de la
unidad no existen piezas reparables por el usuario; deje todo
servicio técnico en manos de personal calificado.
PERICOLO: Radiazione laser invisibile quando l'apparecchio è
aperto ed il dispositivo di sicurezza è guasto o disattivato. Evitare
l'esposizione diretta ai raggi.
ATTENZIONE: Non aprire il coperchio superiore. Non vi sono
parti adoperabili dall'utente all'interno di questo apparecchio;
lasciare tutti i controlli a personale qualificato.
INVISIBLE LASER RADIATION WHEN OPEN AND INTERLOCK
DEFEATED. AVOID DIRECT EXPOSURE TO BEAM.
UNSICHTBARE LASERSTRAHLUNG TRITT AUS, WENN DECKEL
GEÖFFNET UND WENN SICHERHEITSVERRIEGLUNG ÜBERBRÜCKT
IST. NICHT DEM STRAHL AUSSETZEN!
OSYNLIG LASERSTRÄLNING NÄR DENNA DEL ÄR ÖPPNAD OCH
SPÄRR ÄR URKOPPLAD STRÅLEN ÄR FARLIG.
USYNLIG LASERSTRÅLING VED ÅBNING NÅR
SIKKERHEDSAFBRTDERE ER UDE AF FUNKTION. UNDGÅ
---