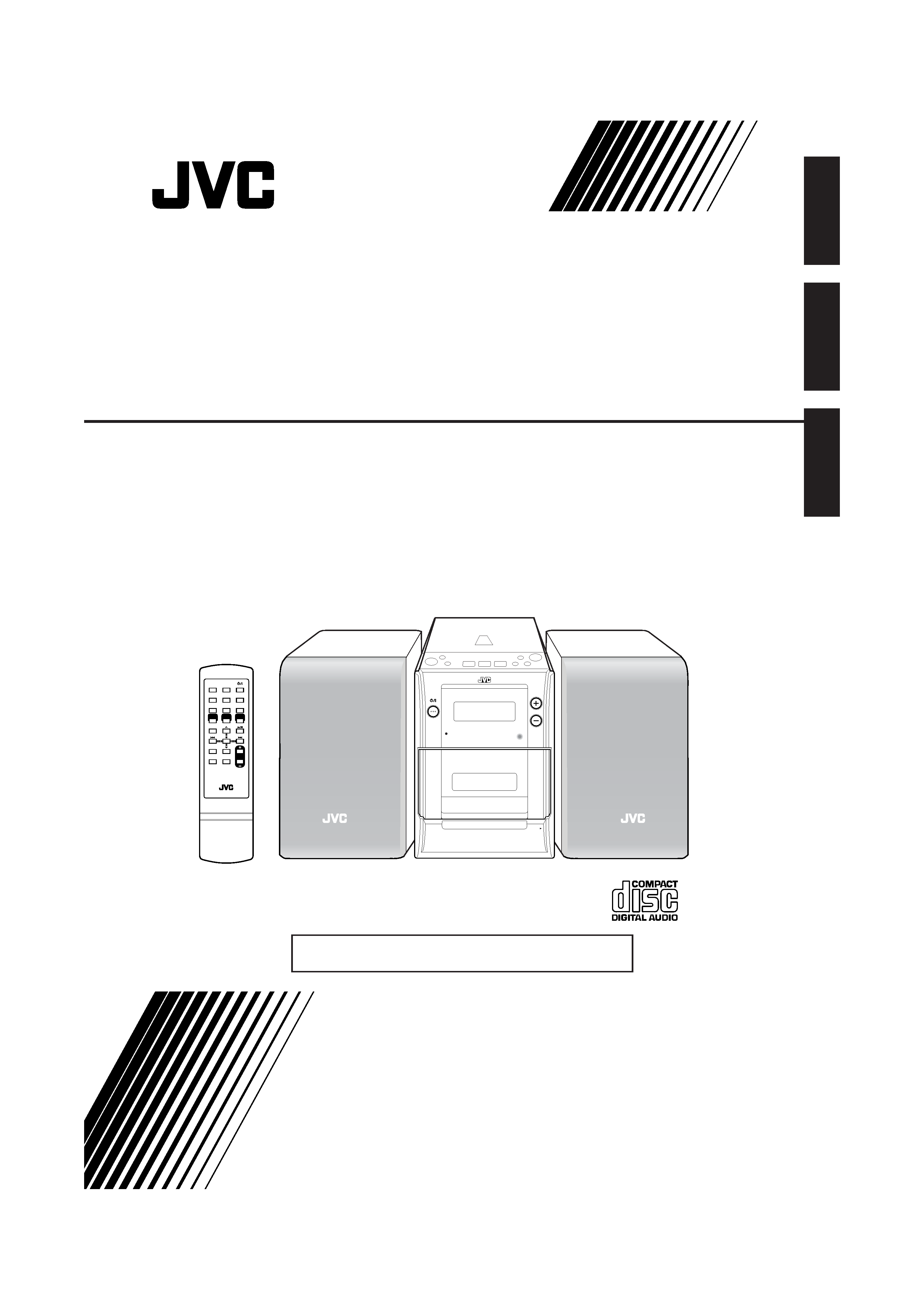 SISTEMAS DE MICROCOMPONENTES
SISTEMA DE MICRO COMPONENTES
UX-G1
--ConsistsofCA-UXG1andSP-UXG1
Antes de operar su equipo, lea cuidadosamente este instructivo.
---

Warnings, Cautions and Others
Avisos, precauciones y otras notas
Advertências, precauções e outras notas
Disconnect the mains plug to shut the power off completely (all lamps
and indications go off). The
STANDBY/ON button in any position
does not disconnect the mains line.
· When the unit is on standby, the STANDBY lamp lights red.
· When the unit is turned on, the STANDBY lamp goes off.
The power can be remote controlled.
Desconecte el enchufe tomacorriente para desconectar la alimentación
completamente (se apagan todas las lámparas e indicaciones).
Ninguna posición del botón
STANDBY/ON conseguirá desconectar
la red de alimentación eléctrica.
· Cuando la unidad está en espera, la lámpara STANDBY se enciende
· Cuando la unidad está encendida, la lámpara STANDBY se apaga.
La alimentación puede controlarse mediante control remoto.
Desligue a ficha da tomada da parede para desligar completamente a
alimentação (todas as luzes e indicadores apagam-se). O botão
STANDBY/ON, quer esteja premido ou solto, não desliga a alimentação
· Quando a unidade estiver em standby, a luz STANDBY fica vermelha.
· Quando a unidade estiver ligada, a luz STANDBY apaga-se.
A alimentação pode ser controlada à distância.
---

To reduce the risk of electrical shocks, fire, etc.:
Do not remove screws, covers or cabinet.
Do not expose this appliance to rain or moisture.
Para reducir riesgos de choques eléctricos, incendio, etc.:
No extraiga los tornillos, los cubiertas ni la caja.
No exponga este aparato a la lluvia o a la humedad.
Para reduzir riscos de choques elétricos, incêndio, etc.:
Não remova parafusos e tampas ou desmonte a caixa.
Não exponha este aparelho à chuva nem à umidade.
· Do not block the ventilation openings or holes.
(If the ventilation openings or holes are blocked by a
newspaper or cloth, etc., the heat may not be able to get
· Do not place any naked flame sources, such as lighted
candles, on the apparatus.
· When discarding batteries, environmental problems must be
considered and local rules or laws governing the disposal of
these batteries must be followed strictly.
· Do not expose this apparatus to rain, moisture, dripping or
splashing and that no objects filled with liquids, such as
vases, shall be placed on the apparatus.
· No obstruya las rendijas o los orificios de ventilación.
(Si las rendijas o los orificios de ventilación quedan tapados
con un periódico, un trozo de tela, etc., no se podrá disipar
· No ponga sobre el aparato ninguna llama al descubierto,
· Cuando tenga que descartar las pilas, tenga en cuenta los
problemas ambientales y observe estrictamente los
reglamentos o las leyes locales sobre disposición de las
· No exponga este aparato a la lluvia, humedad, goteos o
salpicaduras. Tampoco ponga recipientes conteniendo
líquidos, como floreros, encima del aparato.
· Não obstrua as aberturas e orifícios de ventilação.
(Se os orifícios ou aberturas de ventilação estiverem
obstruídos por qualquer papel ou tecido, não haverá
circulação do ar quente.)
· Não coloque nenhum objeto com chamas, como velas
acesas, sobre o aparelho.
· Ao descartar as baterias, leve em consideração os
problemas que possam ser causados ao meio ambiente e
os regulamentos e leis locais e governamentais sobre
recolhimento dessas baterias devem ser rigorosamente
· Não exponha este aparelho à chuva, umidade, pingos ou
esguichos de água, nem coloque em cima do mesmo
qualquer tipo de recipiente que contenha líquidos, como por
---

CAUTION: Proper Ventilation
To avoid risk of electric shock and fire, and to prevent damage, locate the apparatus as follows:
No obstructions and open spacing.
No obstructions should be placed in the areas shown by the dimensions below.
Place on a level surface. Maintain an adequate air path for ventilation by placing on a stand with a height of 10
PRECAUCIÓN: Ventilación correcta
Para evitar el riesgo de descargas eléctricas e incendio y prevenir posibles daños, instale el equipo en un lugar que
cumpla los siguientes requisitos:
Sin obstrucciones, espacio abierto.
Lados/parte superior/parte posterior:
No debe haber ninguna obstrucción en las áreas mostradas por las dimensiones de la siguiente figura.
Sitúe el equipo sobre una superficie nivelada. Mantenga un espacio adecuado para permitir el paso del aire y
una correcta ventilación, colocando el equipo sobre un soporte de 10 cm o más de altura.
PRECAUÇÃO: Ventilação adequada
Para evitar riscos de choques elétricos e incêndios, e prevenir avarias, instale o aparelho como segue:
Sem obstruções e espaços abertos.
2Partes laterais/ Tampa/ Posterior:
Nenhuma obstrução deverá ser colocada entre as áreas cujas dimensões são indicadas abaixo.
Instale-o sobre uma superfície plana. Deverá ser mantido espaço suficiente para a ventilação se este for
instalado numa posição que tenha uma altura de 10 cm ou mais.
---

IMPORTANT FOR LASER PRODUCTS
CAUTION: Do not open the top cover. There are no user
serviceable parts inside the unit; leave all servicing to qualified
CAUTION: Visible and invisible laser radiation when open and
interlock failed or defeated. Avoid direct exposure to beam.
REPRODUCTION OF LABEL: CAUTION LABEL, PLACED
PARA PRODUTOS LASER, IMPORTANTE
PRODUTO LASER DE CLASSE 1
PRECAUÇÃO: não abrir a cobertura superior. Dentro da unidade
não existem partes cuja manutenção tenha de ser feita pelo
usuário; deixe qualquer manutenção a cargo do pessoal de
PRECAUÇÃO: radiação laser visível e invisível quando se abre e
com a conexão interna em falha ou frustrada. Evite a exposição
REPRODUÇÃO DE ETIQUETA: ETIQUETA DE AVISO SITUADA
IMPORTANTE PARA PRODUCTOS LÁSER
PRECAUCIÓN: No abra la tapa superior. En el interior de la
unidad no hay piezas que pueda reparar el usuario; encargue el
servicio a personal técnico cualificado.
PRECAUCIÓN: Radiación láser visible e invisible en caso de
apertura o con interbloqueo averiado o defectuoso. Evite la
exposición directa a los haces.
RREPRODUCCIÓN DE LA ETIQUETA: ETIQUETA DE
PRECAUCIÓN, COLOCADA EN EL INTERIOR DE LA UNIDAD.
CAUTION -
INVISIBLE LASER RADIATION WHEN OPEN AND INTERLOCKS
DEFEATED. AVOID EXPOSURE TO BEAM.
VORSICHT !
UNSICHTBARE LASERSTRAHLUNG TRITT AUS, WENN DECKEI.
GEÖFFNET UND WENN SICHERHEITSVERRIEGELUNG ÜBERBRÜCKT
IST. NICHT DEM STRAHL AUSSETZEN!
VARNING -
OSYNLIG LASERSTRÄLNING NÄR DENNA DEL ÄR ÖPPNAD OCH
SPÄRR ÄR URKOPPLAD STRÅLEN ÄR FARLIG.
ADVARSEL -
USYNLIG LASERSTRÅLING VED ÅBNING NÅR
SIKKERHEDSAFBRYDERE ER UDE AF FUNKTION. UNDGÅ
---