Précautions d'installation
Precauciones de instalación
To the person installing this device:
Read this manual carefully for instructions on how to install this device
correctly. Upon completion, give this manual to the customer.
Pour la personne en charge de l'installation de
Lisez ce manuel attentivement pour savoir comment installer l'appareil
correctement. Une fois l'installation effectuée, donnez ce manuel à
Al personal encargado de instalar este dispositivo:
Lea atentamente las instrucciones de este manual para la correcta
instalación de este dispositivo. Cuando termine, entregue este manual
---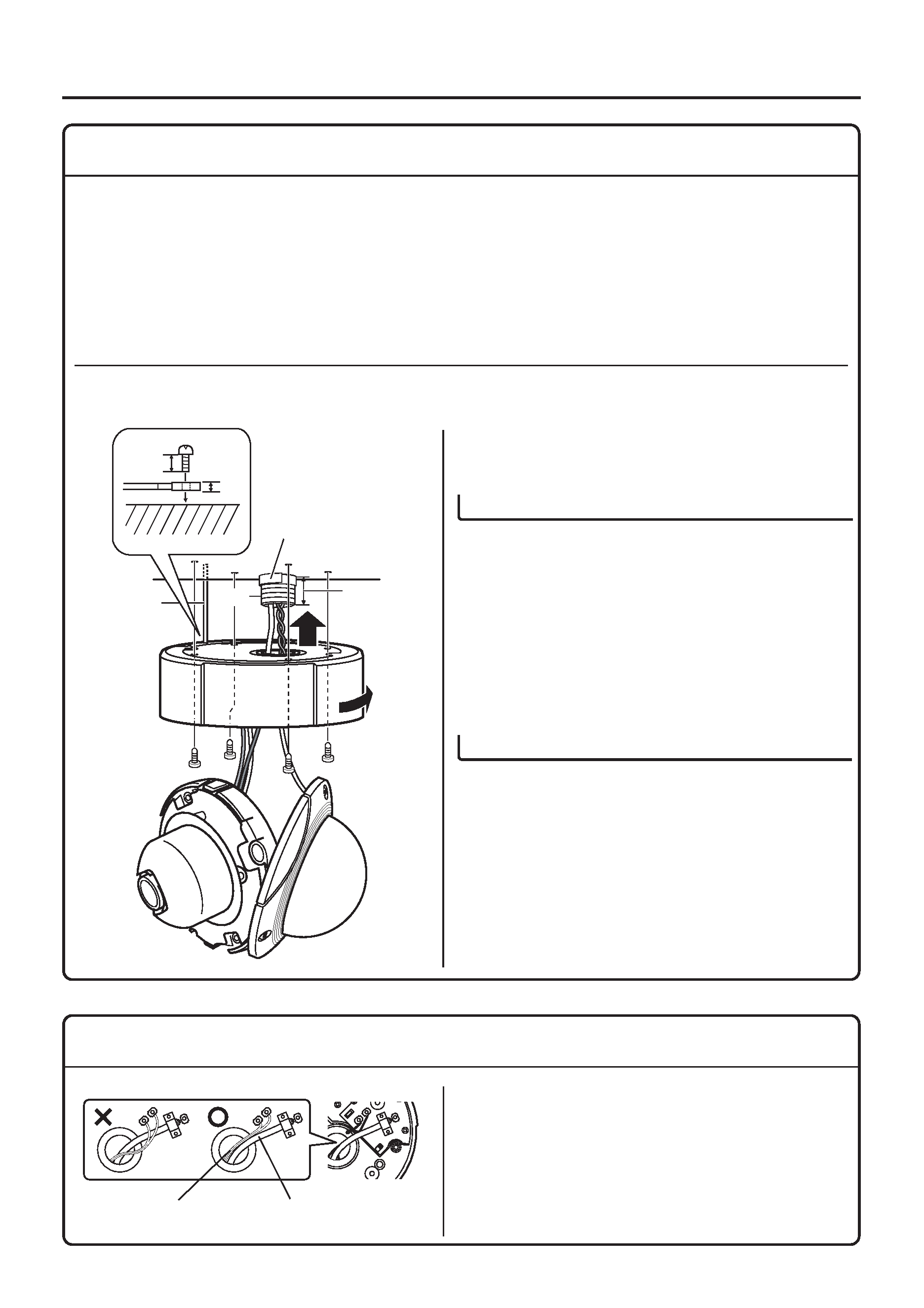 · The ceiling to mount the camera has to be strong enough to support the weight of this
If the ceiling is not strong enough, make sure to apply reinforcement to the ceiling
· Be sure to tighten the screws or nuts securely, Insufficient tightening may cause the
unit to fall from its mount.
·To avoid unforeseen accidents, attach the safety cable. Otherwise, there is nothing to
prevent the camera from falling should it come loose.
Use screw size suitable for the mounting
Connecting the safety cable
·To prevent dropping, connect the unit to a
sturdy location (ceiling slab or channel)
· For the used safety cable, pay particular
caution to the length, strength, pull, mate-
· Always use the M4 screws mounted on
Do not cross the power supply cable and
---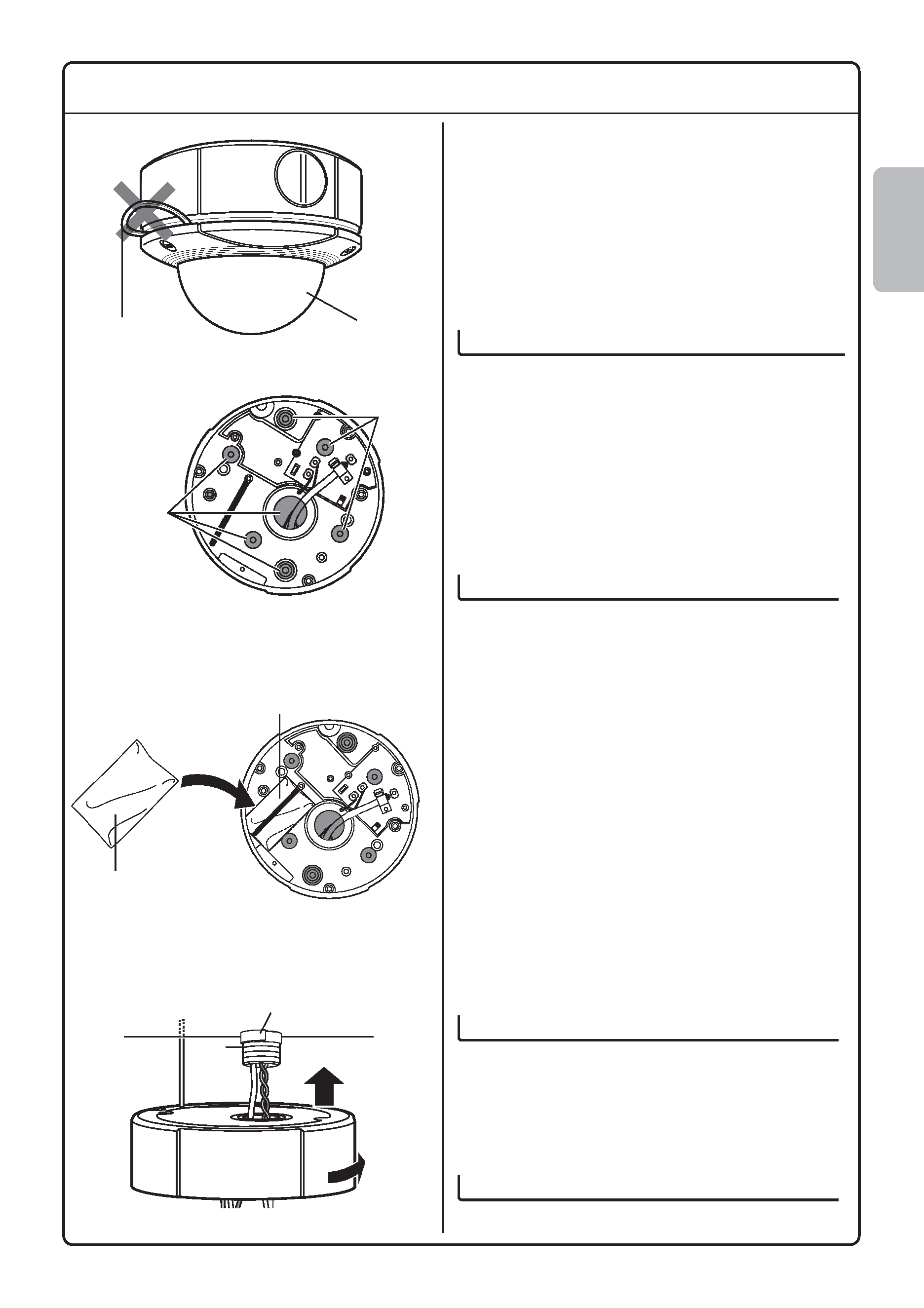 ·Be sure that dome cover is firmly attached.
Attaching the dome improperly may cause
moisture to enter and cloud the inside or
result in the cover coming loose and fall-
· Be sure to not pinch the safety cable be-
tween the dome cover and base. Water
proof and dustproof features may not per-
form properly as aresult.
· Completely fill the conduit hole using seal-
ing agent. Also fill the mounting holes when
· The sealant should be GE silicone or
· Not filling the holes completely with seal-
ing agent may cause moisture to enter,
clouding the lens and dome cover as a re-
sult. Be sure to completely close the holes.
Insert the included Silica gel
· Insert the provided silica gel in the Base
interior and hold using the lug plate.
· Always use the provided silica gel. When
not using the silica gel, the dome cover of
the camera lens may cloud as a result.
· When performing installation under rain-
ing conditions, take caution as not to al-
low rain to enter inside the unit.
· If the camera angle is not adjusted at in-
stallation, insert the silica gel inside the
unit after adjustment. The effects of the
gel diminish with prolonged exposure to
· Always replace the silica gel when recon-
necting/resetting during repair or mainte-
Service parts No. LW40500-001A
Wrap seal tape (When installing the
camera to a ceiling with pipe)
Wrap the screw section of the pipe with at
least 2 rolls of seal tape.
Wrap the seal tape where the pipe-hole
screws and pipe screws meet.
Dust and water prevention
---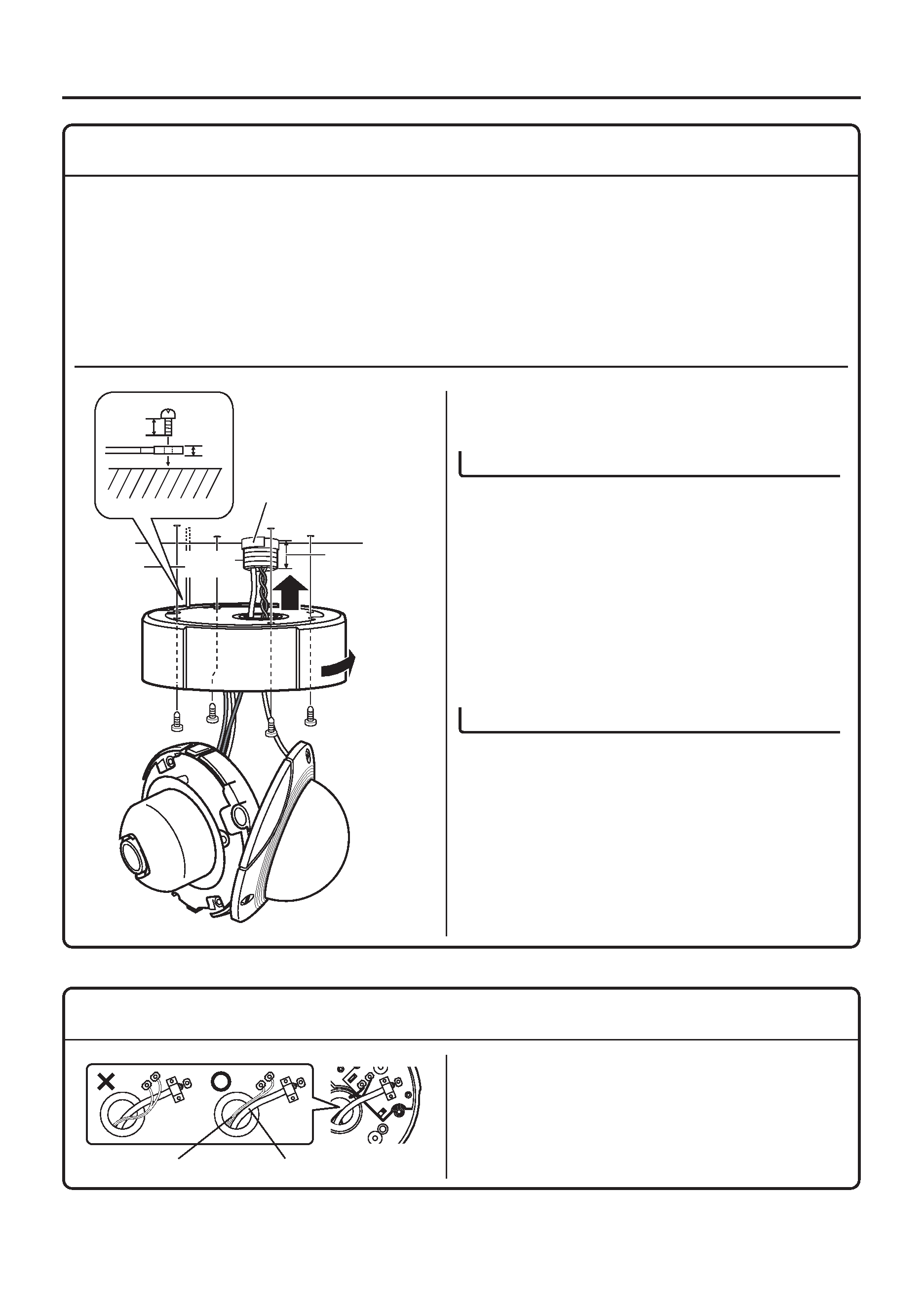 Prévention contre la chute de l'appareil
· Le plafond auquel doit être fixé la caméra doit présenter une résistance suffisante
pour en supporter le poids.
Si ce n'est pas le cas, veillez à renforcer le plafond avant toute installation.
· Serrez bien les vis ou les écrous à fond. Si le serrage est insuffisant, l'appareil risque
de se détacher de sa monture.
· Pour éviter des accidents imprévisibles, fixez le câble de sécurité. Dans le cas
contraire, aucun dispositif ne retient la caméra si elle vient à se détacher.
Utilisez des vis d'une taille adaptée aux ori-
fices de montage (ø5 mm (
3
/
16
")).
Raccordement du câble de sécurité
· Pour que l'appareil ne tombe pas, raccor-
dez-le à un endroit solide (dalle de plafond
ou cannelure) et au câble de sécurité.
· Pour le câble de sécurité que vous utilisez,
faites particulièrement attention à la lon-
gueur, la résistance, la traction, le matériau
· Utilisez toujours les vis M4 fixées à l'appa-
N'entrecroisez pas le câble d'alimentation
---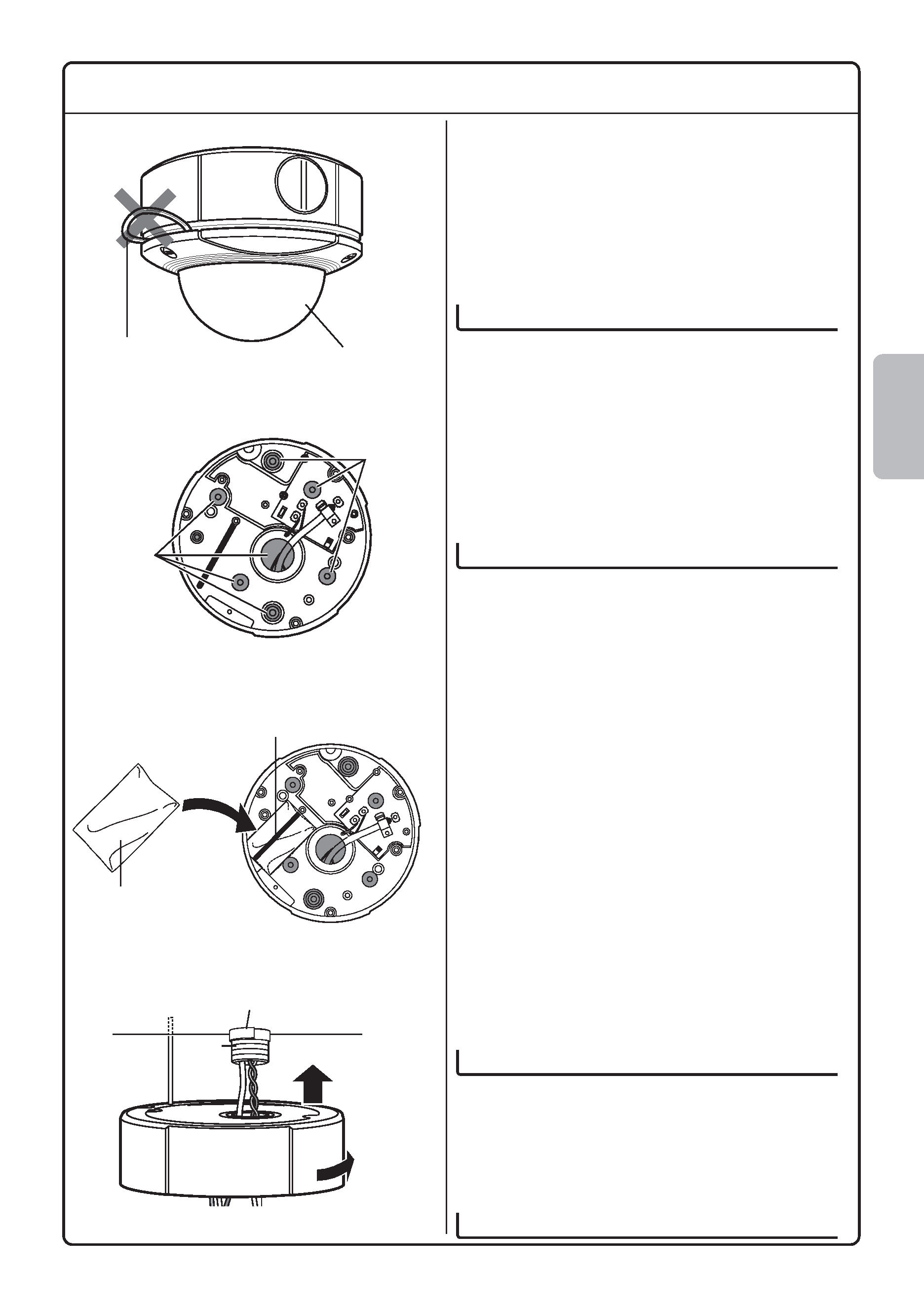 · Assurez-vous que le dôme est solidement
attaché. Fixer le dôme de façon incorrecte
peut permettre à l'humidité de pénétrer à l'in-
térieur et de couvrir l'intérieur, ou entraîner
un détachement et une chute du cache.
·Veillez à ne pas pincer le câble de sécurité
entre le cache du dôme et le socle. Cela
pourrait affecter ses caractéristiques d'étan-
chéité à l'eau et à la poussière.
Obstruez à l'aide d'une matière isolante
· Étanchéifiez complètement la sortie du con-
duit à l'aide d'un matériau isolant. Bouchez
également les orifices de fixation non utilisés.
·L'agent d'étanchéité doit être du silicone GE
ou un produit équivalent.
· Un remplissage incomplet des orifices avec
un agent d'étanchéité risque de provoquer
la pénétration d'humidité, ce qui embuera
l'objectif et le cache du dôme. En consé-
quence, comblez bien tous les orifices.
Appliquez le gel de silice inclus avec
· Insérez le gel de silice fourni à l'intérieur du
socle et tenez-le à l'aide de la plaque à
· Utilisez toujours le gel qui est fourni avec
l'appareil. En cas de non-utilisation de ce
produit spécifique, de la buée peut se dé-
poser dans le dôme et recouvrir l'objectif
· Si vous effectuez l'installation un jour de
pluie, veillez à ce que l'eau de pluie ne pé-
nètre pas à l'intérieur de l'appareil.
· Si le réglage de l'angle de la caméra n'est
pas réalisé au moment de l'installation, in-
troduisez le gel de silice dans l'appareil
après que les réglages ont été réalisés.
L'effet du gel diminue lors d'une exposition
· Remplacez toujours le gel de silice lorsque
vous raccordez/reréglez l'appareil pendant
des réparations ou un entretien.
Pour le remplacement, utilisez: Pièces de
remplacement No LW40500-001A
Enroulez un ruban d'étanchéité
(Installationdelacaméraauplafondavecuntuyau)
Recouvrez la section filetée du tuyau avec au
moins 2 rouleaux de ruban d'étanchéité.
Enroulez le ruban d'étanchéité à l'endroit où
les vis d'orifice de tuyau et les vis de tuyau se
Prévention contre la poussière et l'eau
---