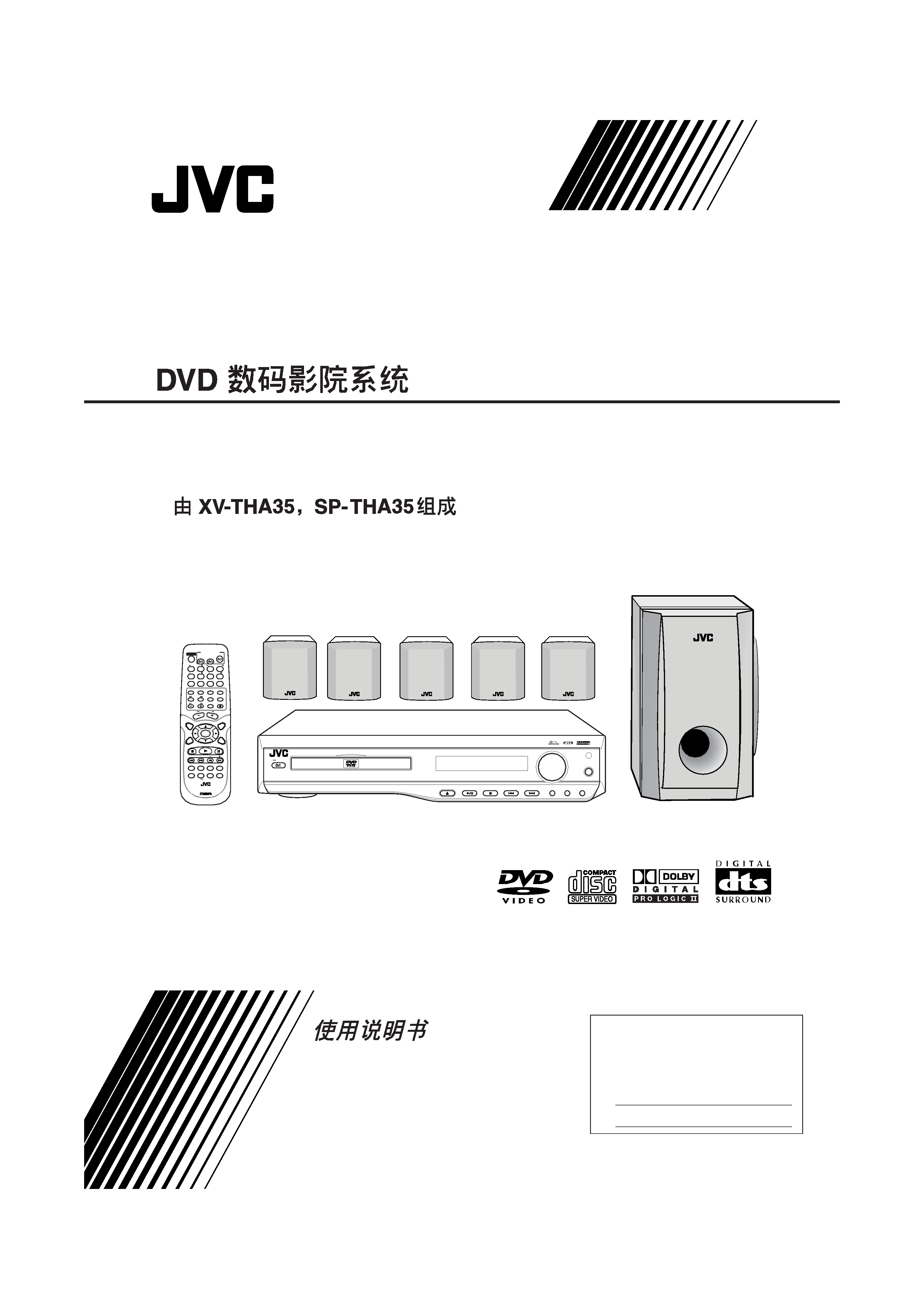 Enter below the Model No. and Serial
No. which are located either on the rear,
bottom or side of the cabinet. Retain this
information for future reference.
DVD DIGITAL CINEMA SYSTEM
Consists of XV-THA35, SP-THA35
---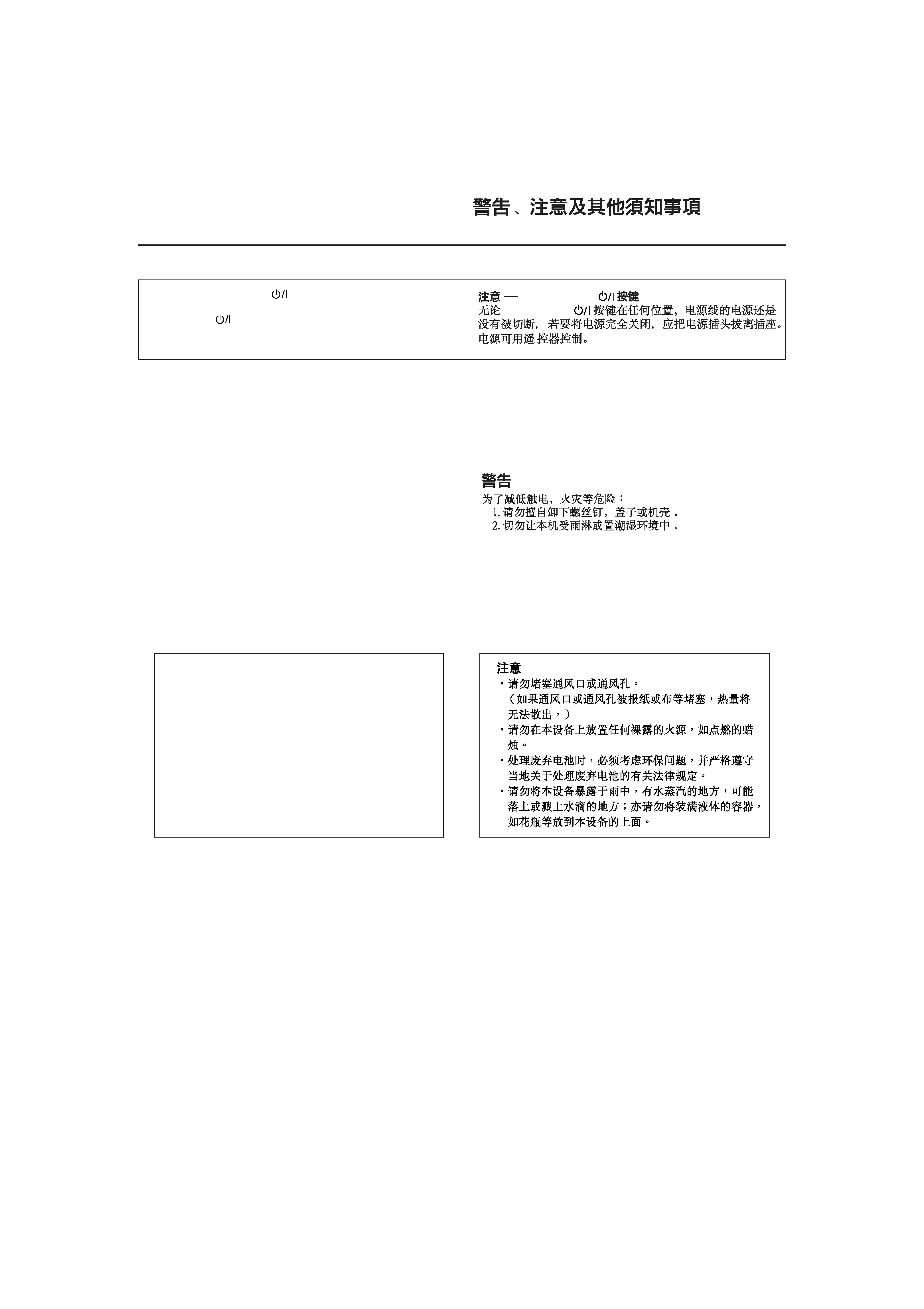 To reduce the risk of electrical shocks, fire, etc.:
Do not remove screws, covers or cabinet.
Do not expose this appliance to rain or moisture.
Disconnect the mains plug to shut the power off completely. The
switch in any position does not disconnect the
mains line. The power can be remote controlled.
Do not block the ventilation openings or holes.
(If the ventilation openings or holes are blocked by a
newspaper or cloth, etc., the heat may not be able to
Do not place any naked flame sources, such as
lighted candles, on the apparatus.
When discarding batteries, environmental problems
must be considered and local rules or laws governing
the disposal of these batteries must be followed strictly.
Do not expose this apparatus to rain, moisture,
dripping or splashing and that no objects filled with
liquids, such as vases, shall be placed on the
Warnings, Cautions and Others /
---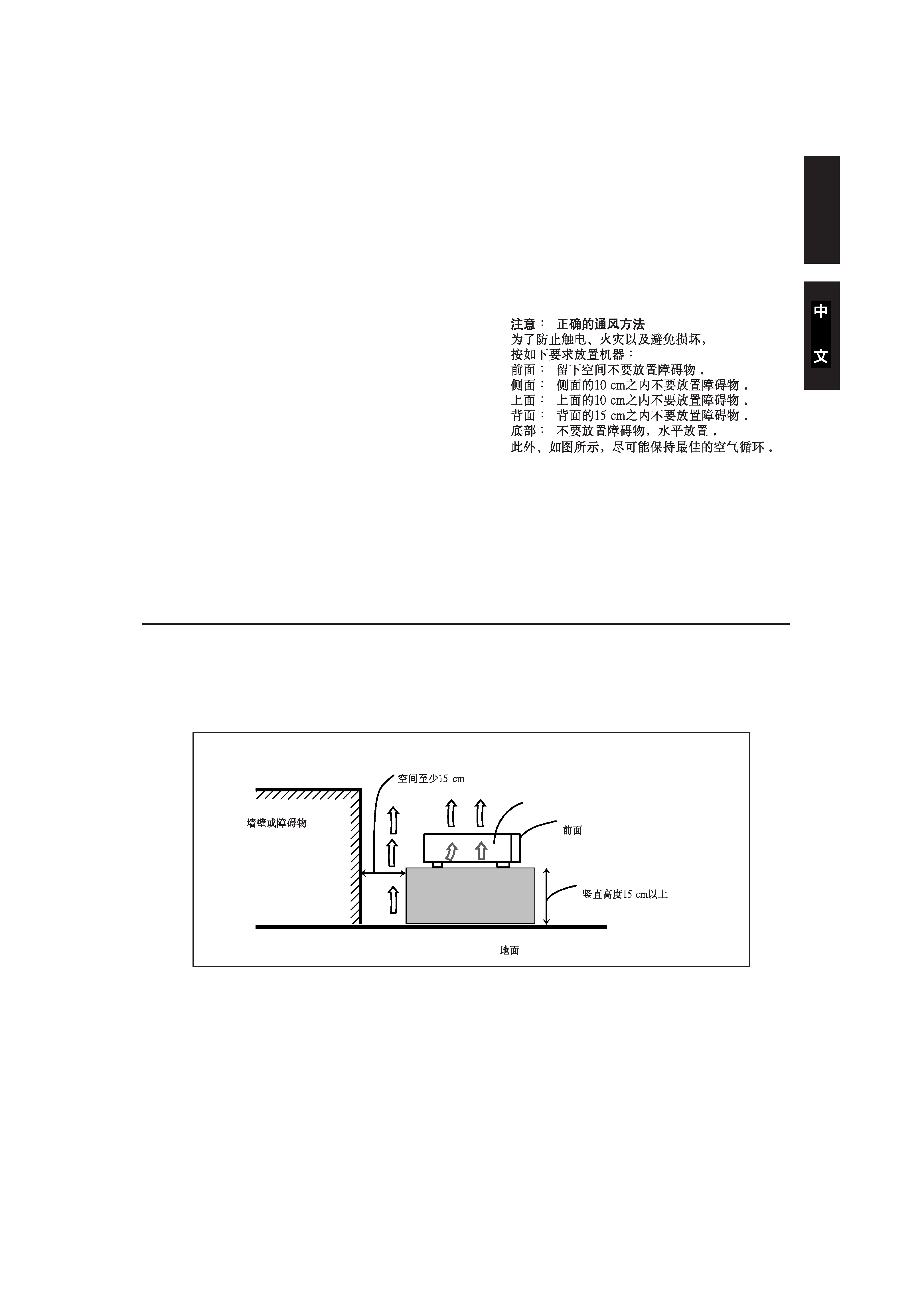 Caution: Proper Ventilation
To avoid risk of electric shock and fire and to protect from damage.
Locate the apparatus as follows:
No obstructions open spacing.
No obstructions in 10 cm from the sides.
No obstructions in 10 cm from the top.
No obstructions in 15 cm from the back
No obstructions, place on the level surface.
In addition, maintain the best possible air circulation as illustrated.
Stand height 15 cm or more
---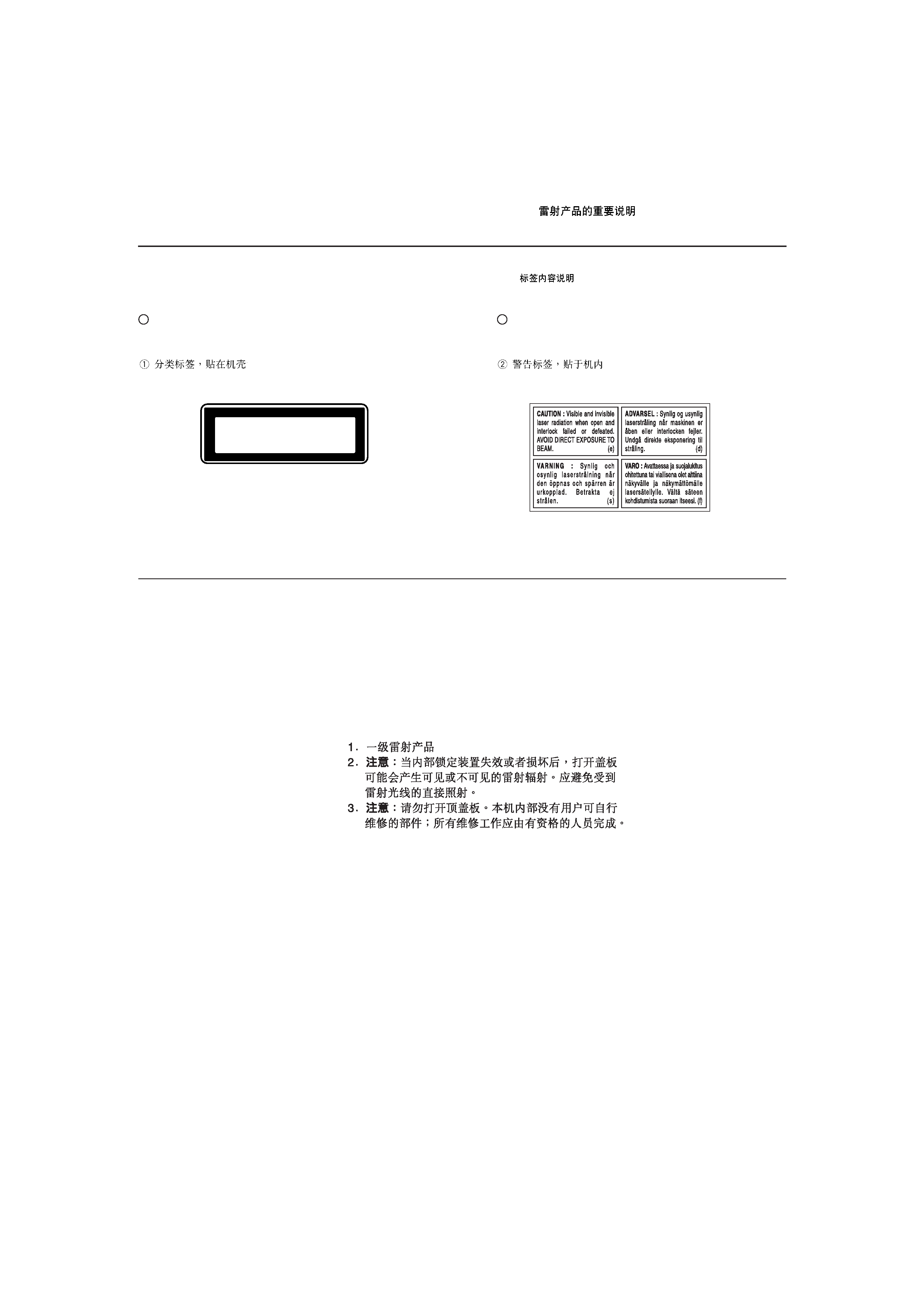 2. CAUTION: Visible and invisible laser radiation
when open and interlock failed or defeated.
Avoid direct exposure to beam.
3. CAUTION: Do not open the top cover. There
are no user serviceable parts inside the unit;
leave all servicing to qualified service personnel.
IMPORTANT FOR LASER PRODUCTS /
CLASSIFICATION LABEL, PLACED ON EXTERIOR
WARNING LABEL, PLACED INSIDE THE UNIT
---

Parts Identification ...................................... 2
Center Unit ................................................................................. 2
Remote Control .......................................................................... 3
Getting Started ........................................... 4
Before Installation ...................................................................... 4
Checking the Supplied Accessories ........................................... 4
Adjusting the Voltage Selector ................................................... 4
Putting Batteries in the Remote Control .................................... 4
Connecting the FM and AM Antennas ....................................... 5
Speaker Layout Diagram ............................................................ 6
Connecting the Speakers ............................................................ 7
Connecting Audio/Video Component ........................................ 8
TV Setting ................................................ 10
Changing the Color System ..................................................... 10
Changing the Scanning Mode .................................................. 10
Adjusting the Pictures .............................................................. 11
Basic DVD Operations ................................ 12
1 Turn On the Power ............................................................... 12
2 Select the Source .................................................................. 12
3 Load a DVD ......................................................................... 12
4 Start Playback ...................................................................... 12
5 Adjust the Volume ................................................................ 12
6 Activate Surround or DSP Mode ......................................... 13
7 Stop Playback ...................................................................... 13
Basic VCD/CD Operations .......................... 14
1 Turn On the Power ............................................................... 14
2 Select the Source .................................................................. 14
3 Load a VCD/CD .................................................................. 14
4 Start Playback ...................................................................... 14
5 Adjust the Volume ................................................................ 14
6 Activate Surround or DSP Mode ......................................... 15
7 Stop Playback ...................................................................... 15
Basic Tuner Operations .............................. 16
1 Turn On the Power ............................................................... 16
2 Select the Band .................................................................... 16
3 Adjust the Volume ................................................................ 16
4 Tune into a Station ............................................................... 16
5 Activate Surround or DSP Mode ......................................... 17
Other Basic Operations .............................. 18
Enjoying Sounds from the External Component ..................... 18
Listening with the Headphones ................................................ 19
Adjusting the Brightness .......................................................... 19
Turning Off the Power with the Timer ..................................... 20
Creating Realistic Sound Fields ................... 21
7 Dolby Surround .................................................................... 21
7 Dolby Digital ........................................................................ 21
7 DTS Digital Surround .......................................................... 21
7 DSP (Digital Signal Processor) Modes ................................ 22
Activating the Surround Mode ................................................. 22
Adjusting the Sound ................................................................. 23
Disc Introduction--DVD/VCD/CD ................ 24
Basic Disc Operations ................................ 25
DVD Playback ........................................... 26
Showing the On-Screen Menu ................................................. 26
Showing the Information on the TV Screen ............................. 26
Selecting the Subtitles .............................................................. 27
Selecting the Audio Languages ................................................ 27
Selecting the Multi-Angle Views ............................................. 27
Disc Menu-Driven Playback .................................................... 28
Moving to a Particular Portion Directly ................................... 28
Searching for a Particular Point ............................................... 29
Repeating Playback .................................................................. 29
7 Repeat Play ........................................................................... 29
7 A­B Repeat........................................................................... 29
Playing Back Chapters in Random Order--Shuffle Play ........ 30
Programming the Playing Order of the Chapters
--Program Play .................................................................. 31
DVD Special Effect Playback .................................................. 32
7 Still Picture/Frame-by-Frame Playback ............................... 32
7 Slow Motion Playback ......................................................... 33
7 Zoom .................................................................................... 33
VCD/CD Playback ...................................... 34
Showing the On-Screen Menu ................................................. 34
Showing the Information on the TV Screen ............................. 34
Disc Menu-Driven Playback (Only for VCD) .......................... 35
Selecting Playback Channel ..................................................... 35
Moving to a Particular Portion Directly ................................... 35
Searching for a Particular Point ............................................... 36
Repeating Playback .................................................................. 36
7 Repeat Play ........................................................................... 36
7 A­B Repeat........................................................................... 37
Playing Back Tracks in Random Order--Shuffle Play ............ 37
Programming the Playing Order of the Tracks
--Program Play .................................................................. 38
VCD Special Effect Playback .................................................. 39
7 Still Picture/Frame-by-Frame Playback ............................... 39
7 Slow Motion Playback ......................................................... 39
7 Zoom .................................................................................... 39
MP3 Playback ........................................... 40
Starting Playback ..................................................................... 41
Operations Using the On-Screen Display ................................ 42
Moving to a Particular Track Directly ...................................... 42
Programming the Playing Order of the Tracks
--Program Play .................................................................. 42
JPEG Playback .......................................... 44
Loading the Disc ...................................................................... 44
Operations Using the On-Screen Display ................................ 45
Moving to a Particular File Directly ........................................ 46
Programming the Playing Order of the Files
--Program Play .................................................................. 46
Tuner Operations ....................................... 48
Setting the AM Tuner Interval Spacing .................................... 48
Tuning in Stations .................................................................... 48
Using Preset Tuning ................................................................. 49
Selecting the FM Reception Mode ........................................... 49
Setting up the DVD Preferences ................. 50
Using the Choice Menus .......................................................... 50
Language Menu ........................................................................ 51
Picture Menu ............................................................................ 52
Audio Menu ............................................................................. 53
Setting Menu ............................................................................ 53
Setting the Parental (Rating) Level .......................................... 55
Operating JVC's Components ...................... 56
Operating Other Manufacturers' TV ............ 57
Maintenance ............................................. 58
Troubleshooting ......................................... 59
Specifications ............................................ 60
---