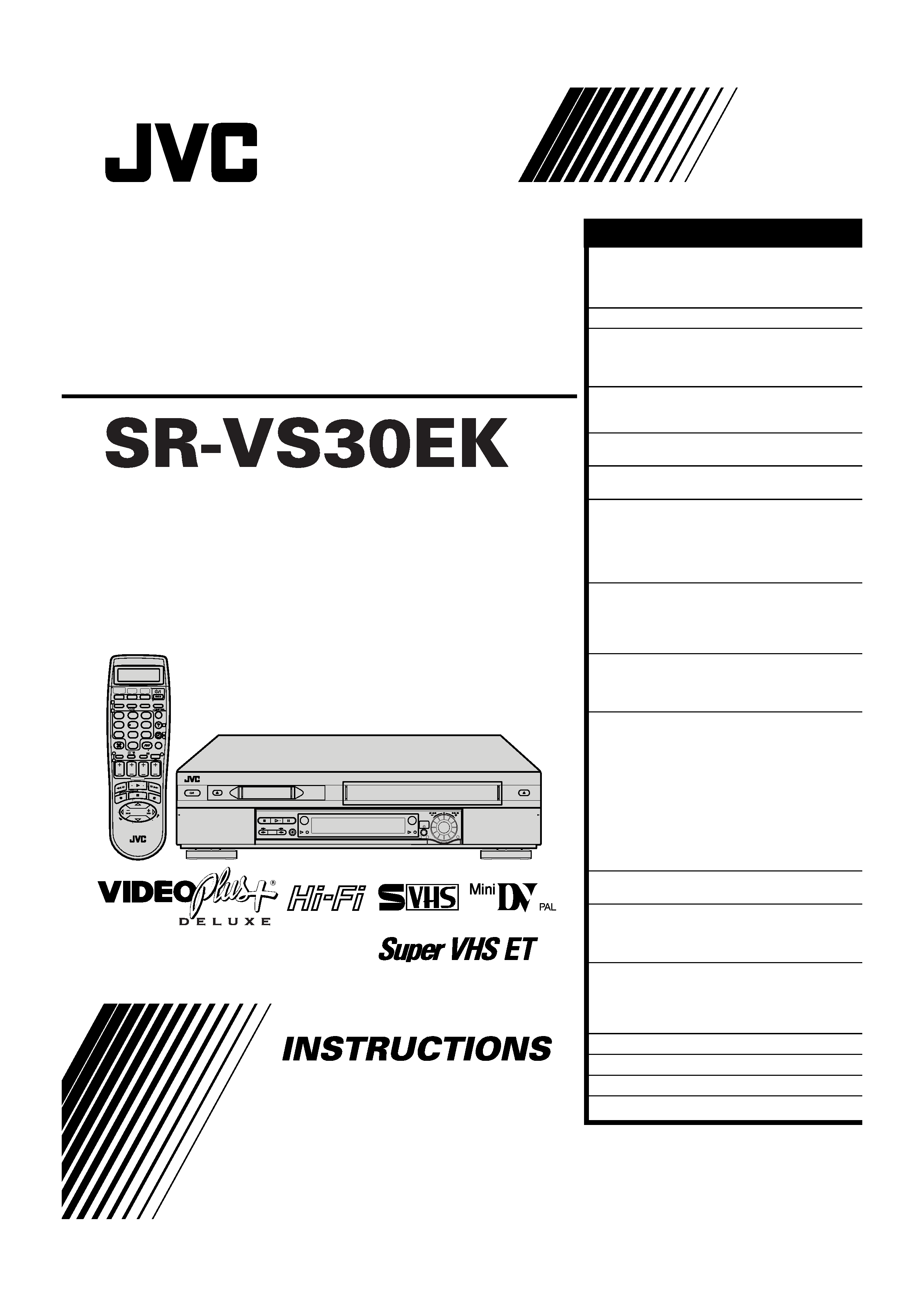 Filename [SR-VS30EK_Cov1-EN.fm]
Safety Precautions .....................................2
Some Do's And Don'ts On The Safe Use
Of Equipment ............................................3
INSTALLING YOUR NEW RECORDER
Check Contents .......................................10
Basic Connections ...................................11
S-VIDEO Connection ...............................12
Auto Set Up .............................................13
Preset Download .....................................14
T-V Link Functions ..................................16
Satellite Receiver Control Setting .............17
PLAYBACK/RECORDING ON VHS DECK
Basic Playback (VHS deck) ......................20
Basic Recording (VHS deck) ....................21
Playback Features (VHS deck) .................22
Recording Features (VHS deck) ................26
B.E.S.T. Picture System (VHS deck) ..........29
PLAYBACK/RECORDING ON DV DECK
Basic Playback (DV deck) ........................30
Basic Recording (DV deck) ......................31
Playback Features (DV deck) ...................32
Recording Features (DV deck) .................34
VIDEO Plus+
®
Timer Programming .........36
Express Timer Programming ....................38
24 Hour Express Timer Programming ......40
Tape Dubbing (from DV to VHS) .............44
Tape Dubbing (from VHS to DV) .............45
Normal Dubbing (from DV to VHS) .........46
Normal Dubbing (from VHS to DV) .........47
Edit From A Camcorder ...........................48
Edit To Or From Another Video
Recorder ..................................................50
Output/Input Set ......................................52
Audio Dubbing ........................................54
Insert Editing ............................................56
Random Assemble Editing .......................58
Remote Control Functions .......................60
Connecting To A Printer ..........................63
Connecting To A Satellite Receiver ..........64
Connecting/Using A Stereo System ..........65
Mode Set .................................................66
Tuner Set .................................................72
Clock Set .................................................80
VIDEO Plus+
®
System Setup ....................82
SR-VS30EK_Cov1-EN.fm Page 1 Tuesday, February 19, 2002 12:56 PM
---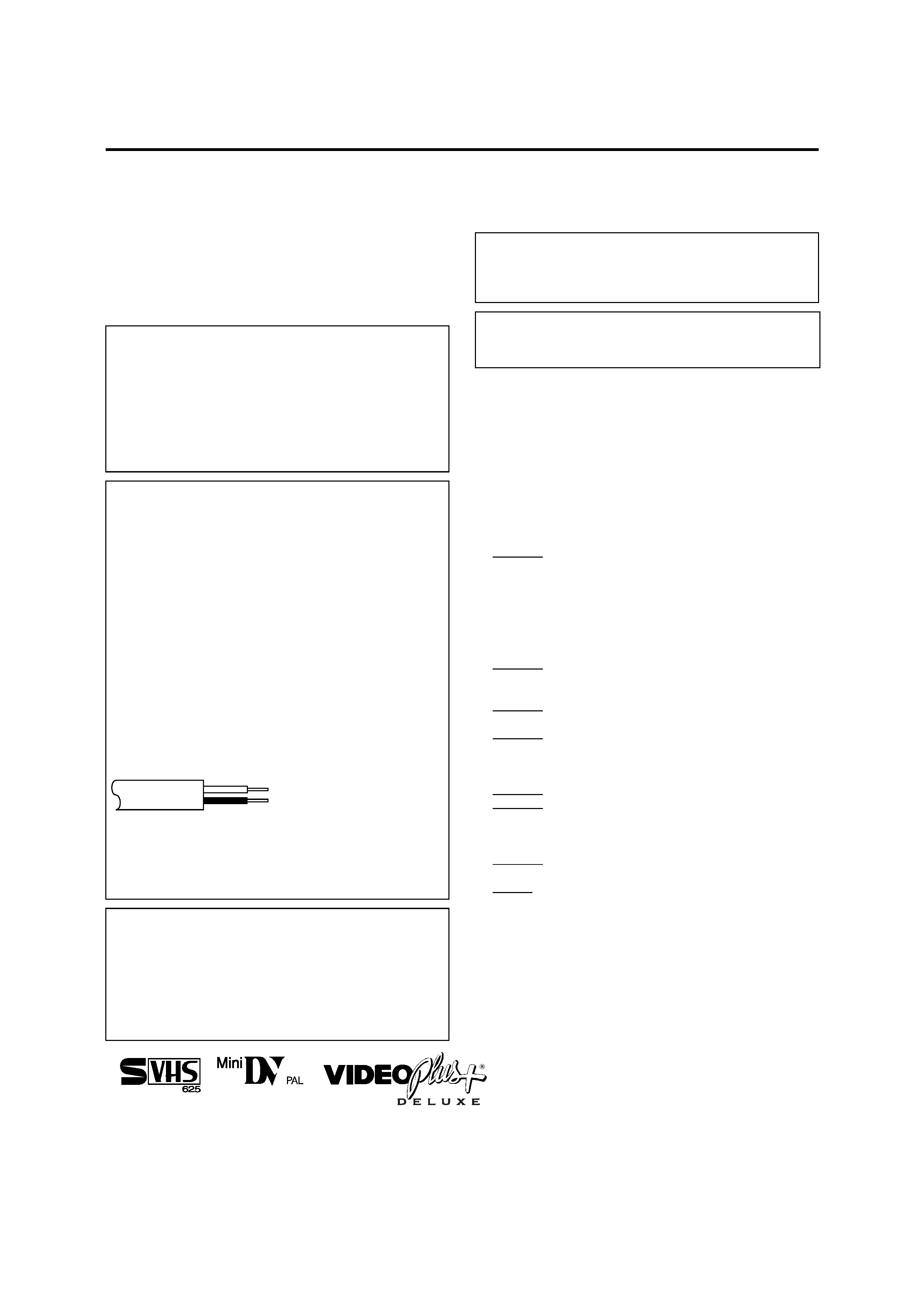 Filename [SR-VS30EK_1-EN.fm]
The rating plate and the safety caution are on the rear of the unit.
WARNING: DANGEROUS VOLTAGE INSIDE
WARNING: TO PREVENT FIRE OR SHOCK
HAZARD, DO NOT EXPOSE THIS
UNIT TO RAIN OR MOISTURE.
When the equipment is installed in a cabinet or a shelf, make
sure that it has sufficient space on all sides to allow for
ventilation (10 cm or more on both sides, on top and at the rear.)
When discarding batteries, environmental problems must be
considered and the local rules or laws governing the disposal of
these batteries must be followed strictly.
Failure to heed the following precautions may result in damage
to the recorder, remote control or video cassette.
1. DO NOT place the recorder ...
... in an environment prone to extreme temperatures or
... in a dusty environment.
... in an environment where strong magnetic fields are
... on a surface that is unstable or subject to vibration.
2. DO NOT block the recorder's ventilation openings or holes.
(If the ventilation openings or holes are blocked by a
newspaper or cloth, etc., the heat may not be able to get out.)
3. DO NOT place heavy objects on the recorder or remote
4. DO NOT place anything which might spill on top of the
recorder or remote control.
(If water or liquid is allowed to enter this equipment, fire or
electric shock may be caused.)
5. DO NOT expose the apparatus to dripping or splashing.
6. DO NOT use this equipment in a bathroom or places with
water. Also DO NOT place any containers filled with water
or liquids (such as cosmetics or medicines, flower vases,
potted plants, cups, etc.) on top of this unit.
7. DO NOT place any naked flame sources, such as lighted
candles, on the apparatus.
8. AVOID violent shocks to the recorder during transport.
Moisture in the air will condense on the recorder when you
move it from a cold place to a warm place, or under extremely
humid conditions--just as water droplets form in the surface of a
glass filled with cold liquid. Moisture condensation on the head
drum will cause damage to the tape. In conditions where
condensation may occur, keep the recorder turned on for a few
hours to let the moisture dry.
Cassettes marked "S-VHS" and "VHS" can be used with this video cassette recorder. However, S-VHS recordings are possible only
with cassettes marked "S-VHS".
By using the S-VHS ET function, it is possible to record and play back with S-VHS picture quality on VHS cassettes with this recorder.
Cassettes marked "Mini DV" can be used with the DV deck of this recorder. The DV deck can play back and record only PAL signals.
VIDEO Plus+ and PlusCode are registered trademarks of Gemstar Development Corporation. The VIDEO Plus+ system is
manufactured under license from Gemstar Development Corporation.
8
When you are not using the recorder for a long period of
time, it is recommended that you disconnect the power
cord from the mains outlet.
8
Dangerous voltage inside. Refer internal servicing to
qualified service personnel. To prevent electric shock or
fire hazard, remove the power cord from the mains outlet
prior to connecting or disconnecting any signal lead or
Connection to the mains supply in the United Kingdom.
DO NOT cut off the mains plug from this equipment. If the
plug fitted is not suitable for the power points in your home
or the cable is too short to reach a power point, then obtain a
proper safety approved extension lead/adapter or consult
In the unlikely event of the plug fuse failing be sure to
replace the fuse only with an identical approved type, as
originally fitted, and to replace the fuse cover. If the fuse
fails again consult your nearest JVC dealer.
If nonetheless the mains plug is cut off remove the fuse and
dispose of the plug immediately, to avoid a possible shock
hazard by inadvertent connection to the mains supply.
If this product is not supplied fitted with a mains plug then
follow the instructions given below:
DO NOT make any connection to the Larger Terminal coded
The wires in the mains lead are coloured in accordance with
If these colours do not correspond with the terminal
identifications of your plug, connect as follows:
Blue wire to terminal coded N (Neutral) or coloured Black.
Brown wire to terminal coded L (Live) or coloured Red.
If in doubt -- consult a competent electrician.
8
Please read the various precautions on pages 2
­
3 before
installing or operating the recorder.
8
It should be noted that it may be unlawful to re-record
pre-recorded tapes, records, or discs without the consent
of the owner of copyright in the sound or video recording,
broadcast or cable programme and in any literary,
dramatic, musical, or artistic work embodied therein.
Blue to N (Neutral) or Black
1
button does not completely shut off
mains power from the unit, but switches operating current on
`
" shows electrical power standby and "
!
" shows
Video tapes recorded with this video recorder in the LP (Long
Play) mode cannot be played back on a single-speed video
SR-VS30EK_1.book Page 2 Friday, February 1, 2002 1:50 PM
---

Masterpage:Right-Full-NoTitle0
Filename [SR-VS30EK_1-EN.fm]
Some Do's And Don'ts On The Safe Use
This equipment has been designed and manufactured to meet international safety standards but, like any
electrical equipment, care must be taken if you are to obtain the best results and safety is to be assured.
DO read the operating instructions before you attempt to use the equipment.
DO ensure that all electrical connections (including the mains plug, extension leads and interconnections
between pieces of equipment) are properly made and in accordance with the manufacturer's
instructions. Switch off and withdraw the mains plug when making or changing connections.
DO consult your dealer if you are ever in doubt about the installation, operation or safety of your
DO be careful with glass panels or doors on equipment.
DON'T continue to operate the equipment if you are in any doubt about it working normally, or if it is
damaged in any way -- switch off, withdraw the mains plug and consult your dealer.
DON'T remove any fixed cover as this may expose dangerous voltages.
DON'T leave equipment switched on when it is unattended unless it is specifically stated that it is designed
for unattended operation or has a standby mode. Switch off using the switch on the equipment and
make sure that your family knows how to do this. Special arrangements may need to be made for
infirm or handicapped people.
DON'T use equipment such as personal stereos or radios so that you are distracted from the requirements
of road safety. It is illegal to watch television whilst driving.
DON'T listen to headphones at high volume, as such use can permanently damage your hearing.
DON'T obstruct the ventilation of the equipment, for example with curtains or soft furnishings.
Overheating will cause damage and shorten the life of the equipment.
DON'T use makeshift stands and NEVER fix legs with wood screws -- to ensure complete safety always fit
the manufacturer's approved stand or legs with the fixings provided according to the instructions.
DON'T allow electrical equipment to be exposed to rain or moisture.
-- NEVER let anyone especially children push anything into holes, slots or any other opening in the
case -- this could result in a fatal electrical shock;
-- NEVER guess or take chances with electrical equipment of any kind -- it is better to be safe than
SR-VS30EK_1.book Page 3 Friday, February 1, 2002 1:50 PM
---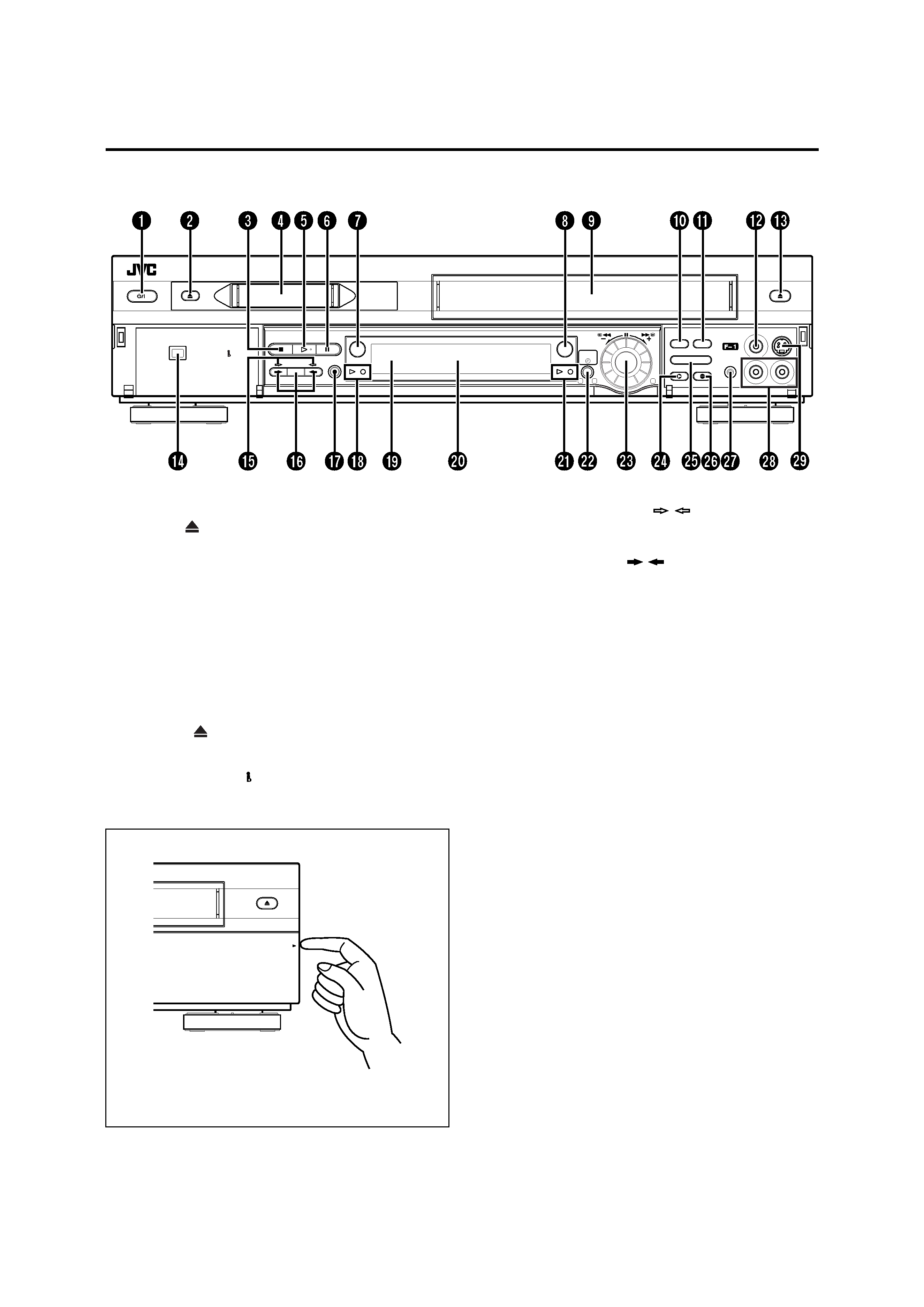 Filename [SR-VS30EK_1-EN.fm]
D Mini DV Cassette Loading Slot
I VHS Cassette Loading Slot
J Random Assemble Edit (R.A.EDIT) Button
K Random Assemble Edit START Button
N DV IN/OUT connector (i.Link*)
* i.Link refers to the IEEE1394-1995 industry specification and
logo is used for products compliant with
S Infrared Beam Receiving Window
Y Random Assemble Edit IN/OUT Button
Z Audio Dubbing (A.DUB) Button
c S-VIDEO Input Connector
To access covered buttons/connectors, pull and open the
SR-VS30EK_1.book Page 4 Friday, February 1, 2002 1:50 PM
---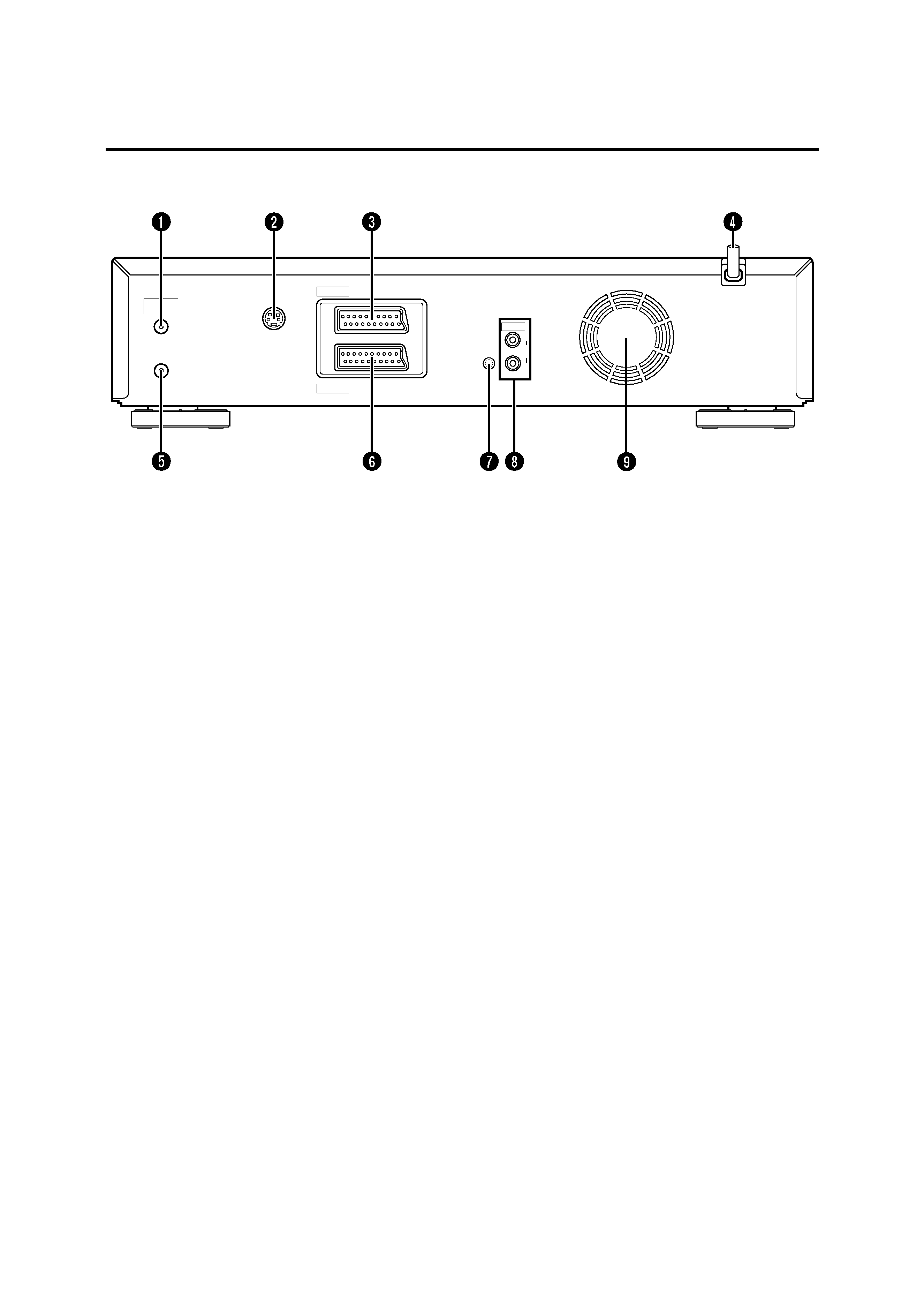 Filename [SR-VS30EK_1-EN.fm]
C AV1 (L-1) IN/OUT Connector
F AV2 (L-2) IN/DECODER Connector
H AUDIO OUT (L/R) Connectors
This prevents the temperature from rising inside the recorder.
Install the recorder so as not to block the area around the fan.
The fan may be activated even if the recorder is turned off.
SR-VS30EK_1.book Page 5 Friday, February 1, 2002 1:50 PM
---